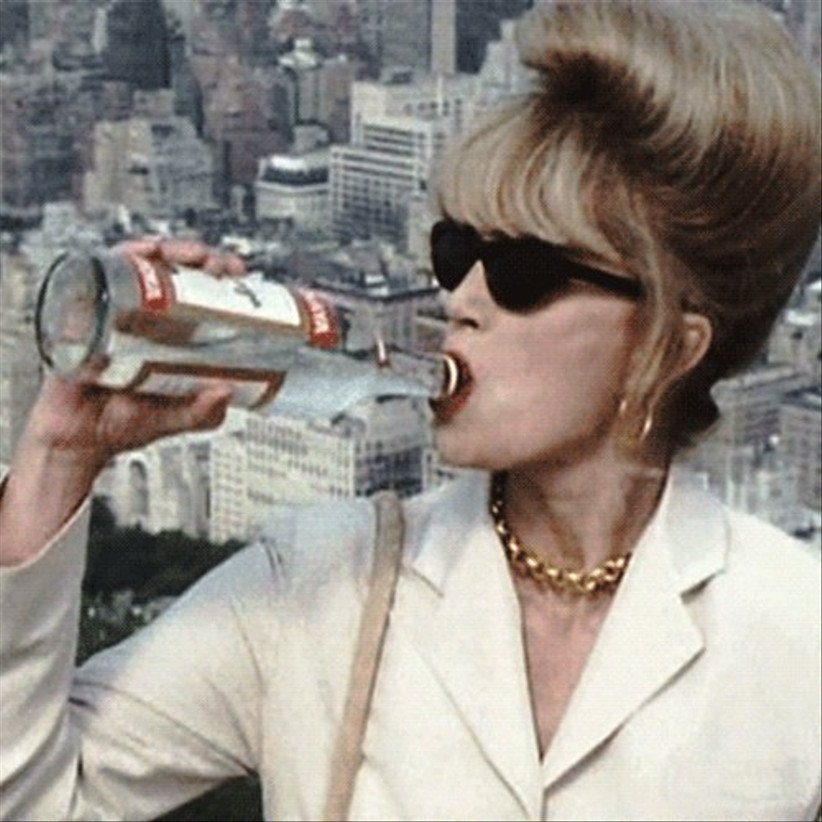 You will need as much support as you can get when it comes to planning your wedding – that's why it's important to build a bridal party so epic it'd give Taylor Swift squad goals.
We've come up with a guide to building the ultimate bridal squad – how to choose your bridesmaids, what to consider and what to expect before asking 'Will you be my bridesmaid?'
Read this and you'll have the perfect hentourage!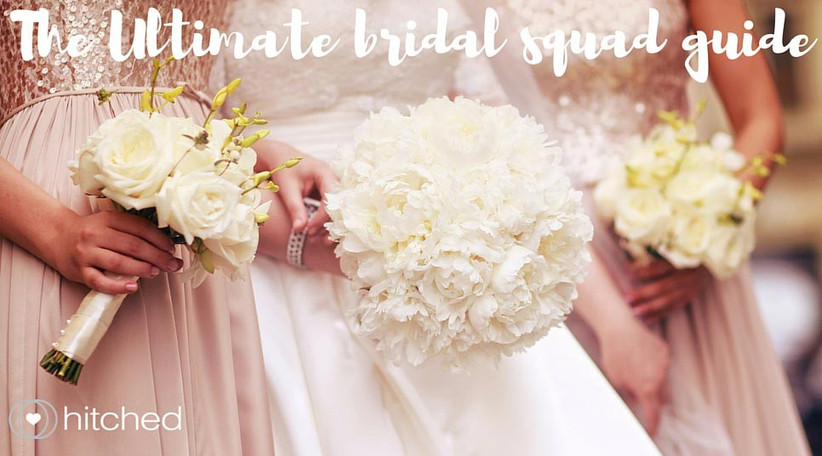 How to Assemble Your Bridal Squad
You might have told Jessica when you were both in Year Five that you'll be friends forever and that you'd be each other's maid of honour. However, people grow up and Jessica is quite annoying now and keeps posting '#blessed' on Facebook, even if it's just a picture of her dinner.
The moral of this story is that you can change your mind. Picking your bridesmaids is a serious task and you need to consider the following:
– Can you spend lots of time with her without her driving you insane?
– Can you rely on her in a time of need?
– Can you trust her?
– Are you fine with the idea of her helping you to go to the bathroom?
If you can answer yes to all the above, we're pretty confident she's bridesmaid material. However, you might have a lot of friends who tick all those boxes – lucky you. If that's the case, having 12 bridesmaids isn't the most practical option. It's time to get ruthless, Simon Cowell style.
To narrow down your list of bridesmaid potentials, think about these:
– Are they one of your closest friends?
– Are they related to you by blood?
– Are they related to your partner by blood?
– Were you their bridesmaid?
– Are they likely to take it personally if you don't choose them?
– Have you seen them in the last year?
We're going to say they need three out of six of those to make the next cut. But before you pop open the champagne and give them a cute card, it's time for the character reference.
The Type of Bridesmaids You'll Need
It is very important to consider the above when it comes to assembling your bridal squad, but you also need to think about their character – there are 10 types of ideal bridesmaid and every girl needs at least a couple of them in her entourage. It might be time to bring in some substitutions and put some other girls on the bench.
The Planner
Of course you need a 'planner'. Every friendship group has one, she's the girl who suggests syncing up your iPhone calendars so you can plan your next night out easily. She's always researched ideas and comes prepared with an agenda, even if you're just going shopping. She will be on it when it comes to hen party ideas and timings for the day.
The Party Animal
You know her – you love to hate your nights out with her as you end up on the 5am train home and can't do a thing the next day. But you have amazing memories (the ones that aren't too hazy). She'll help to bring out the fun side of the planner and spice up your hen do.
The Veteran Bridesmaid
She's been a bridesmaid at more weddings than you've attended in your life and she knows the ropes. In fact, she knows more than you do – where would you be without her asking 'At which point in the music do you want us to walk out to?'
The Married One
If you don't have a veteran bridesmaid, consider your married friend. They've done it all already and know which bridezilla moments are totally legit and they can call you out on all your unreasonable wedding worries.
The Funny One
As unreasonable as those wedding worries are, they will stress you out and at times you'll get upset. The funny one will be there like a flash filling up your group WhatsApp with hilarious one-liners and memes to make you forget your issues – like these sassy wedding eCards.
The Samantha Jones
We all remember Samantha Jones – you need your flirtiest, dirtiest friend on hand as she'll know all the naughty hen party games and if the group is getting lots of male attention on your hen do, she can flirt her way to a few free drinks.
The Fitness Freak
If one of your besties is a health nut, take advantage! She can help you get fit for your wedding, make sure everyone is equipped with coconut water and eggs on toast to beat any hangovers, and has what you need to eat on the morning of your wedding sorted.
The One That You Go Way Back With
She knows you better than anyone so if makes sense to have her in your bridal squad. She'll nail the Mr & Mrs Quiz questions and is the best way to make sure all your pre-wedding celebrations suit you and are personal.
The Fashionista
Hate shopping? Stressing about the idea of finding one dress to suit five very different girls, that won't break the bank? Introducing your fashionista friend. She always looks immaculate and has an eye for an amazing deal – she will be your bridal shopping soul mate.
The DIY Diva
Got a friend who's really good at hair, makeup, calligraphy or baking? She's a valuable asset to your bridal squad – she can help write out place cards, style the rest of the bridesmaids' hair or whip up a storm in the kitchen baking wedding cookies.
The Type of Bridesmaids to Avoid
We all have that one friend we love but is a bit of a let-down – you know the one, your mum or partner will roll their eyes about when you mention their name. Don't feel obliged to have someone you can't trust as a bridesmaid – it's not worth the stress dealing with a bad bridesmaid in the long run. Be sure to avoid these characters…
The Flake
She agrees to meet up and you're already counting down the minutes to her cancellation text. The Flake means well – she doesn't think about whether her presence will be missed or how disappointing it is to be let down – but actions speak louder than words.
The Unreliable One
You ask her to do something – just a simple task – but on the day there's always an excuse. That's fine if she just needed to bring an extra bottle of red to your gathering (well, it's not fine but you can deal with it), but imagine if she needed to bring your guest book, collect your gifts or remember a reading for the ceremony. Do you want to risk it?
The Jealous One
Oh, this is awkward. Sometimes friends get jealous of each other, even if it's forbidden in the friendship code. If from the start one of your friends has made comments about the proposal, the engagement ring and your unusual wedding dress idea, don't feel like you have to allow a frenemy into your bridal squad.
The Fussy One
She makes every get-together difficult, even just picking where to have brunch because she's so fussy. If you can already imagine her 'Oh, but I just don't like…' face when thinking about the sparkly bridesmaid dresses you've had your eye on for ages, you know it's not meant to be.
The Social Media Queen
"Selfie!" she'll trill at 5am, whilst you're all bleary eyed and makeup free at the airport about to jet off to Ibiza. She'll sneakily upload pics of you in your wedding dress on Facebook on the day and Instagram all the wedding details you wanted to be a surprise. She's already added all the other potential bridesmaids on FB, even though she hasn't met them, and is drafting wedding hashtag ideas. Save yourself the hassle.
The 'Always Broke' One
You feel awkward just thinking about it. Everyone knows someone who claims they're always broke, but still finds the time to post on Facebook about their latest holiday or designer bag. Whilst it's totally fine for your bridesmaids to spend their money as they choose, you don't want to be limited to a night at the local pub for your hen do, just to make sure your tightest friend can go.
The Big Spender
Just as awkward, but on the other side of the scale. This girl has done seriously well for herself and has money to burn – but forgets that not everyone else does. She'll be ordering bottles of Moet on the group tab and pricing up a hen party trip to Vegas – which in turn will make everyone else want to drop out.
The Drunk
This is very different to the party animal. The drunk gets very drunk. Too drunk. You've seen her be sick out of the window of the Uber on the way home and you don't want to see her be sick in your centrepieces – even if they are fishbowls.
How to Break It to the Non-Bridesmaids
If they don't meet the required criteria, don't bury your head in the sand about it. Be honest (and nice) about it. Explain why you can't have them – don't blame them, even if they are 'the unreliable one' or 'the flake' down to a T – but instead break down the costs involved or explain how you chose to only have your sisters. They'll appreciate the heads up way more than being left hanging.
Remember you can also include some of your best girls by giving them a wedding reading (we have some amazing Disney wedding readings to inspire you!) or asking them to be a witness when you sign the register – it's a nice (and free) way to show someone they're important to you.
Now all you need is some creative ways to ask the key members of your bridal squad if they'll be your bridesmaid!