Wedding Garter: 21 Unique Styles to Shop and Everything You Need to Know About the Tradition
Find out everything you need to know about wedding garters and their tradition - along with a selection of our favourite bridal garter styles
We have included third party products to help you navigate and enjoy life's biggest moments. Purchases made through links on this page may earn us a commission.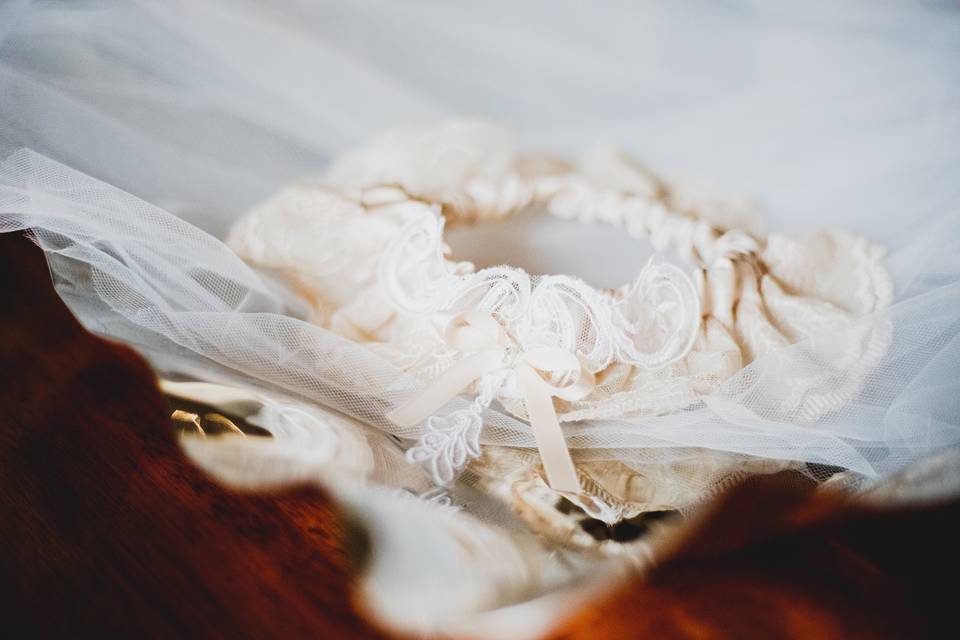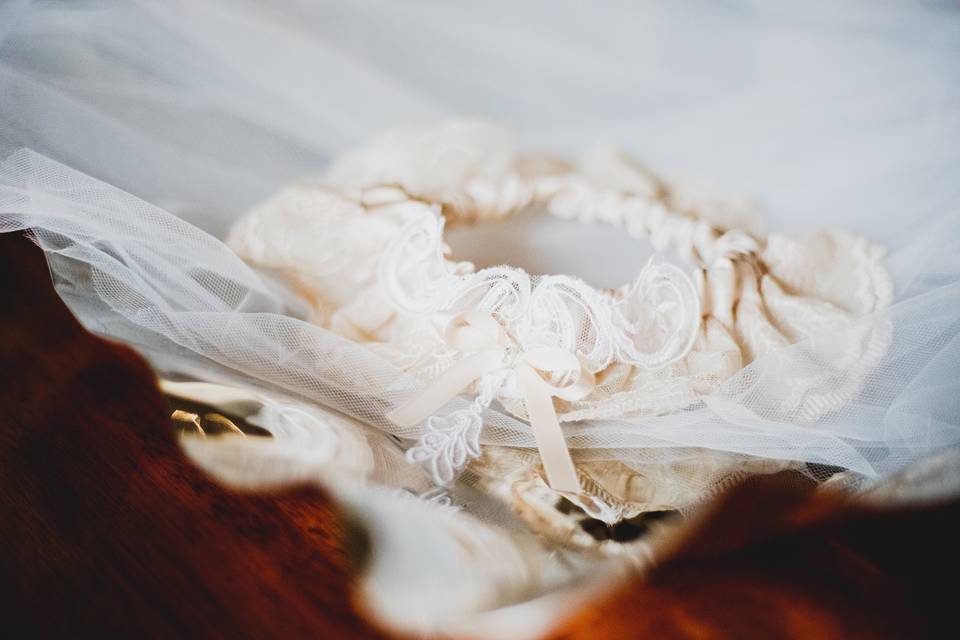 If you're a bride-to-be, at some point someone will probably ask you if you intend to wear a garter at the wedding. You may, quite reasonably, wonder why you'd need a garter if you're not wearing stockings - and why just the one?
Like many wedding traditions, the bridal garter is at face value pretty weird, but there is a meaning behind it. Or rather, several meanings. There's more than one theory surrounding the origins of the wedding garter, which we'll get to.
The contemporary Western custom is that the garters are to be worn under wedding dresses, on just one leg. At heterosexual weddings in America, part of the tradition is that the groom removes the garter during the reception, with either his hands or his teeth, then tosses it to the guests. While the bride wearing a garter is an established custom in the UK and Europe, this "garter toss" element is not.
Whether you wear a garter depends on your view on the importance of traditional wedding customs. If you think this is one you'd like to follow, read on to learn about the origins of this piece of bridal lingerie and shop our gorgeous garter edit.
NB: We have included third party products to help you navigate and enjoy life's biggest moments. Purchases made through links on this page may earn us a commission.
READ MORE
What Is the Purpose of a Garter?
In general lingerie terms, a garter was used to hold up stockings, before elasticated tights were invented. Obviously, in that case, a garter was worn on each leg. In the context of a wedding, it's a Western custom for the bride to wear a single garter on one leg, without a stocking.
What Does the Garter Symbolise?
There are different versions of the origins of the garter at weddings, and the custom has developed over the centuries. Some say it dates back to the Middle Ages, when guests would rip off bits of the bride's outfit as she passed them, apparently for good luck. In order to try to prevent this dress-trashing, brides apparently started throwing their garters to the crowd. It's also said to be linked to the custom that a couple was expected to consummate the marriage straight after the ceremony back then. In this version, the garter would be tossed out of the bedroom to prove the couple had in fact got down to business. Nothing like a bit of first night pressure. According to other accounts, the groom's friends would remove the bride's garter as good luck for their own future marriages.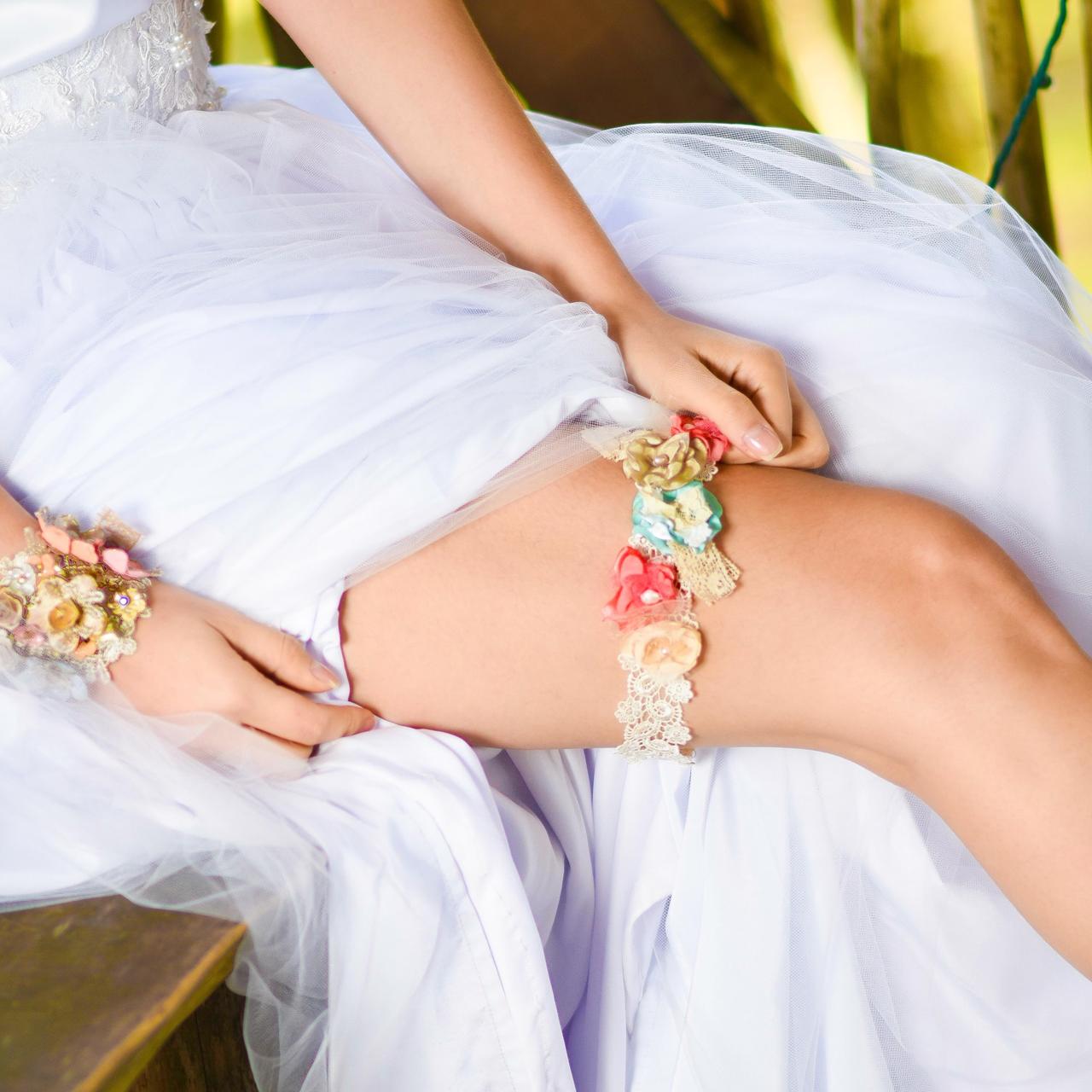 Why Do Grooms Take off The Garter?
It's rather more civilised than letting the guests rip it off the bride, as apparently happened in the Middle Ages. There's also a suggestion that the removal of the garter traditionally symbolises the removal of the bride's virginity later in the evening. One word: creepy. In any case, grooms don't usually remove the garter in front of guests at weddings in the UK and Europe - it's more common in the USA.
READ MORE: 10 Traditions to Ditch or Reinvent for a Same-Sex Wedding
What Is a "Toss Garter"?
After removing the garter, the groom is supposed to throw it at the unmarried male guests. However, some brides don't want to lose their garter, particularly if they've had it customised. In that case they have an extra, less expensive "toss garter" on hand for the groom to throw for the "garter toss" - still with us?
What Does Catching the Garter Mean?
Much like the traditional bouquet toss, the wedding guest who catches the garter is supposed to be the next to get married.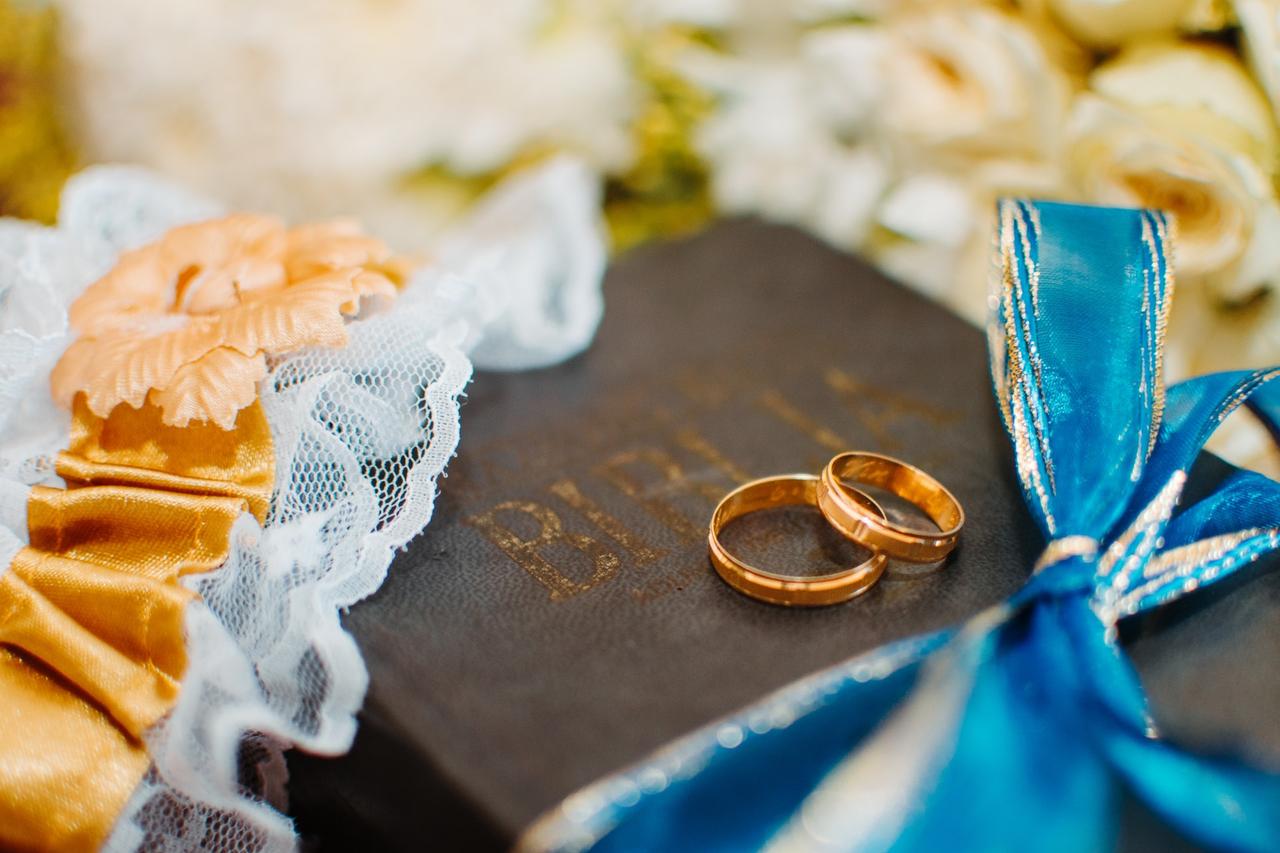 Who Buys the Bride's Garter?
Anyone - there's no set tradition when it comes to who buys the garter. If you buy your own, you can make sure you get the style you want, and even have it customised so it's unique to you.
Do You Have to Wear a Garter For Your Wedding?
Absolutely not. It's up to you which traditions you include in your wedding - if you include any at all!
What Do You Do With the Garter After the Wedding?
Just like preserving your bouquet or storing your wedding dress, you may decide to hold on to the garter as a keepsake.
21 of the Best Garters to Shop Now
1. Simone Perele at Selfridges Wish Tulle Wedding Garter - £24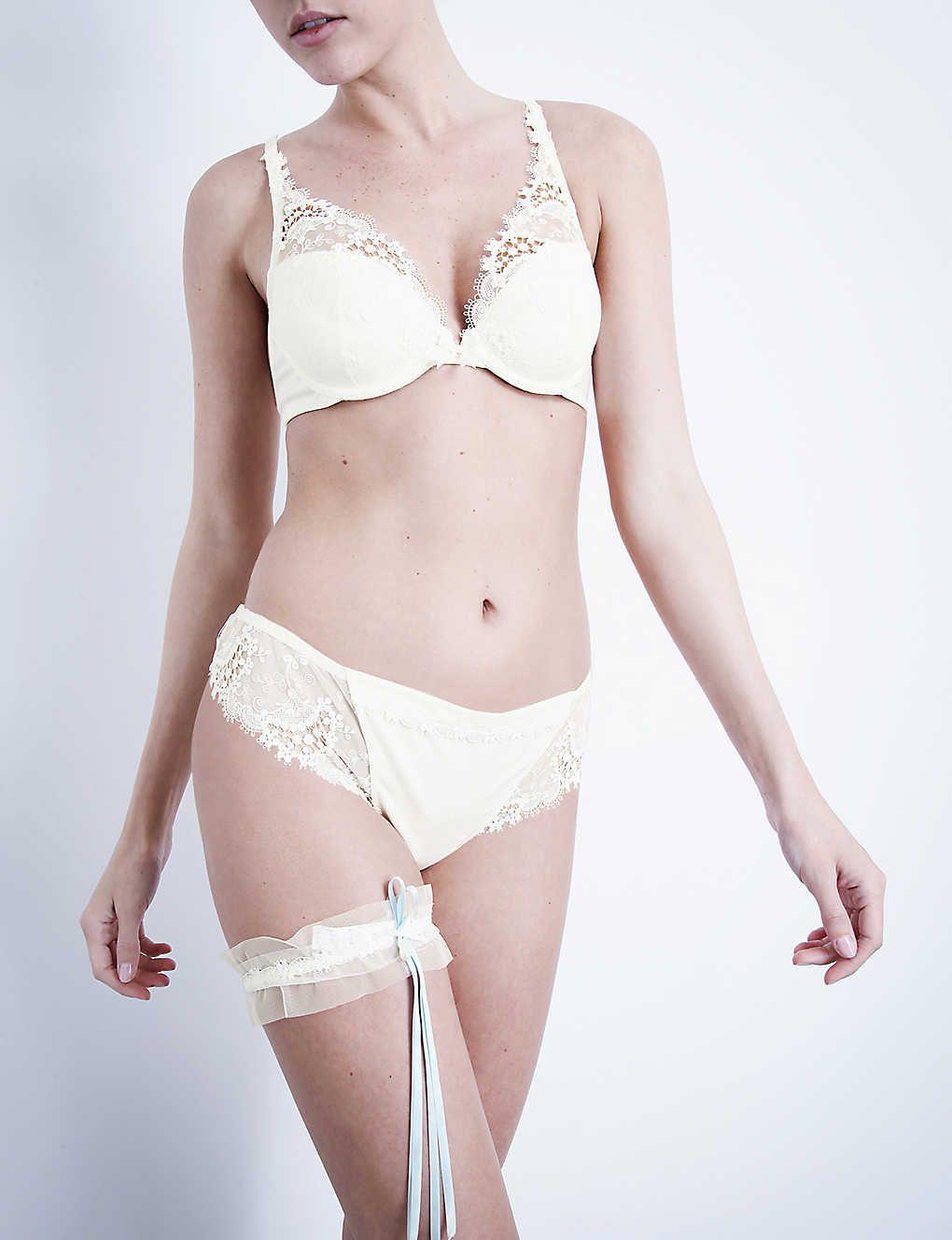 You don't want a wedding garter that'll show through the lining of your dress, particularly if you're wearing something figure-skimming, so this delicate Simone Perele garter is ideal. As an added bonus, the ribbon trim means it could be your "something blue".
2. Hunkemöller Sexy Garter - €6.99 (£6, approx.)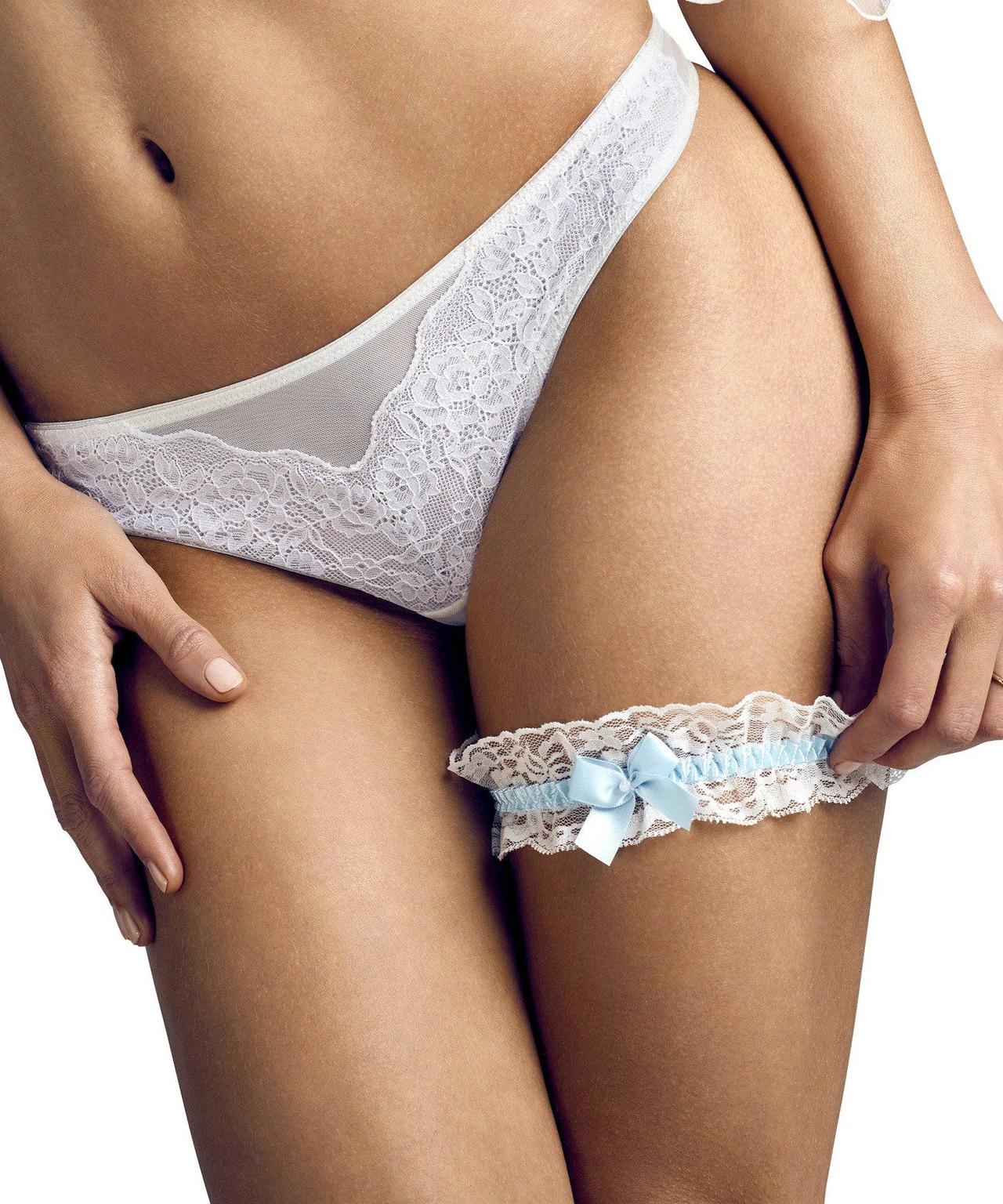 If you're looking for a wedding garter on a budget, Hunkemöller have you covered with this semi-transparent lace version. You can buy a bra and knickers in the same fabric, if you want to be fully matched up.
3. Aubade Garter - £30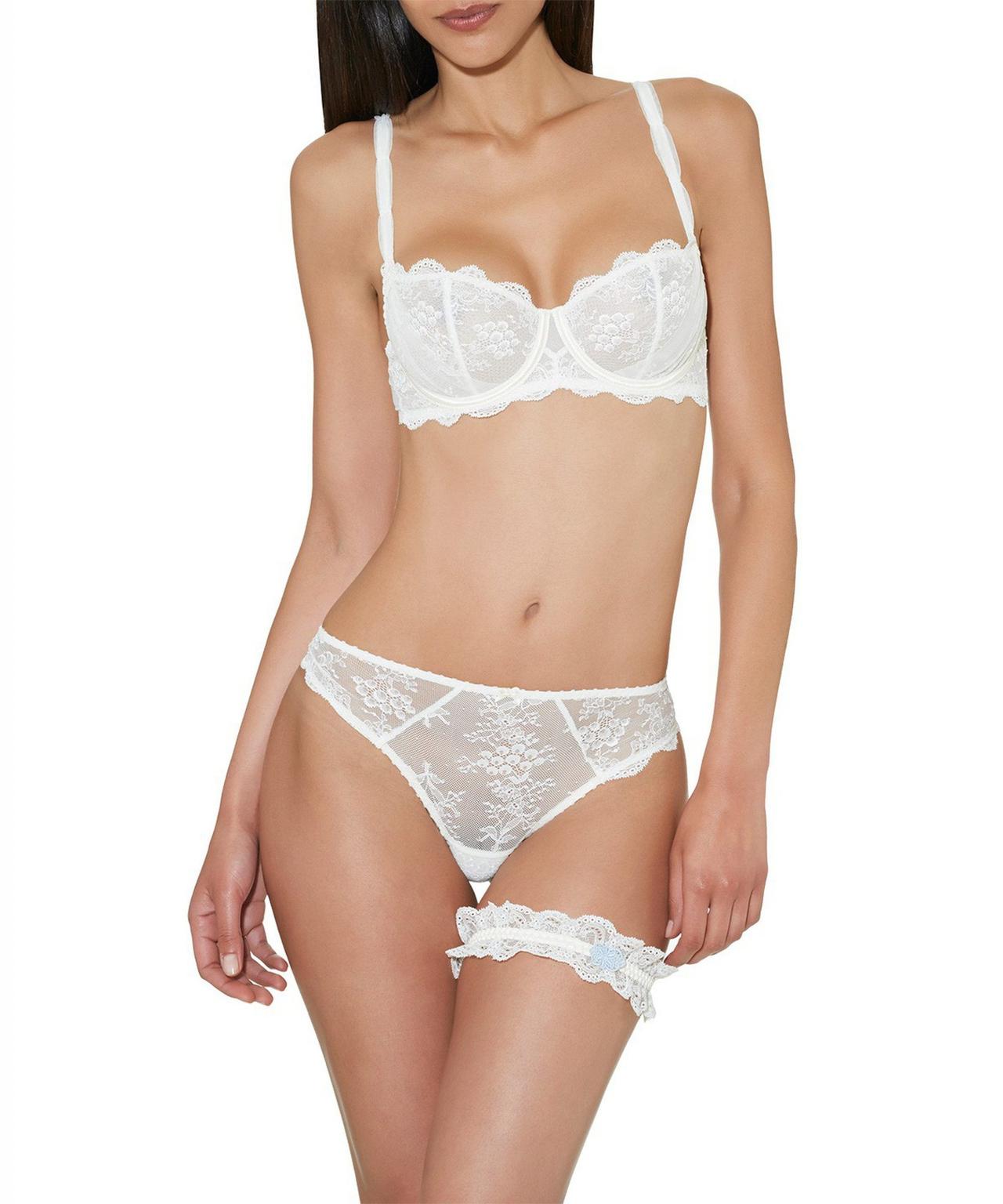 We're fans of luxe French lingerie brand Aubade, and their lace bridal garter is intricate and delicately pretty.
4. Britten Weddings Sophia Wedding Garter - £43.80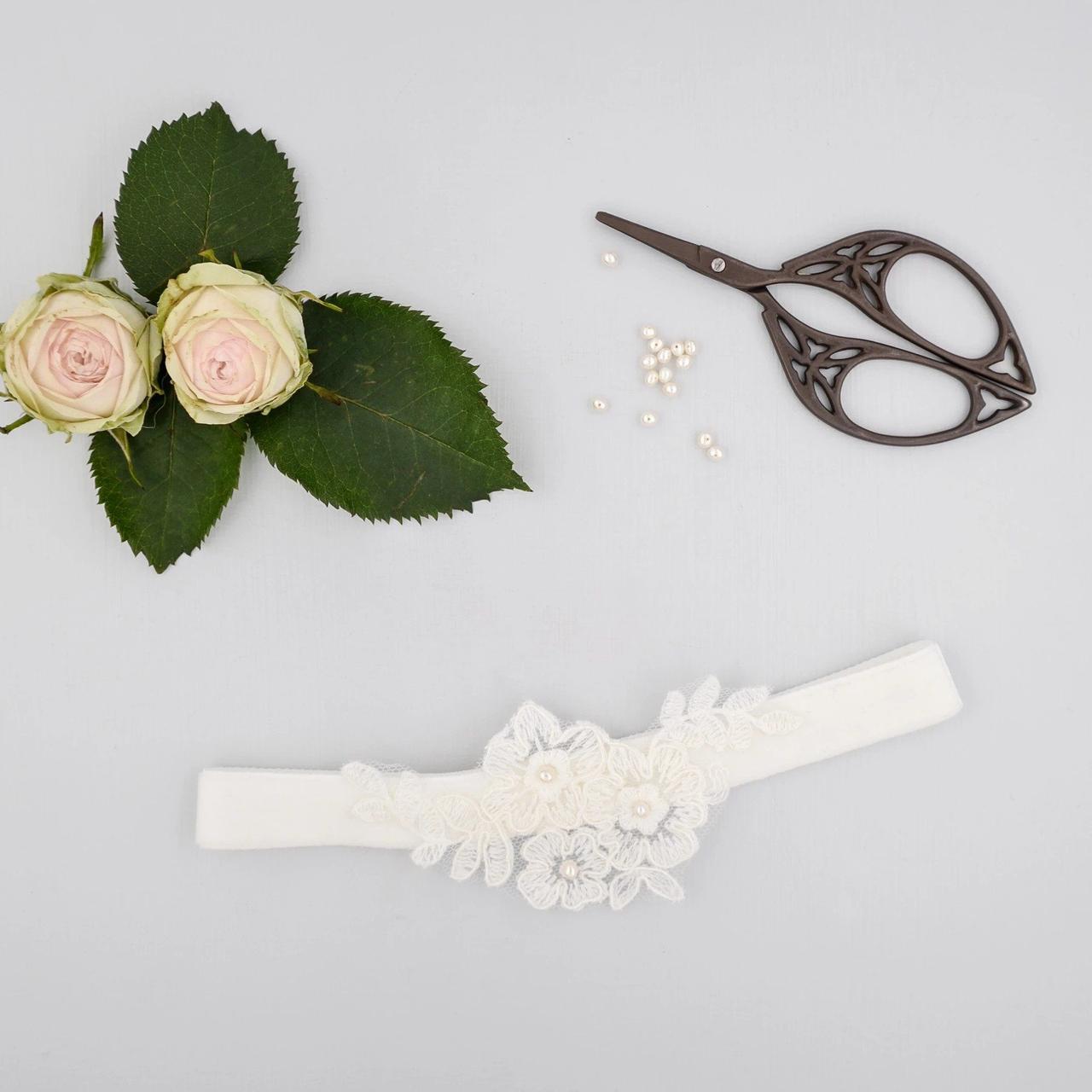 It drives us mad that so many wedding garters are "one size", which isn't very inclusive. At Britten Weddings, however, their garters range from extra small to extra large, or you can send them your measurements for a custom fit - a terrific system. The designs are pretty yet fresh and contemporary, like the Sophia, and can be personalised with embroidery and charms.
5. GartersByMcFaydens at Etsy Wedding Garter - from £14.99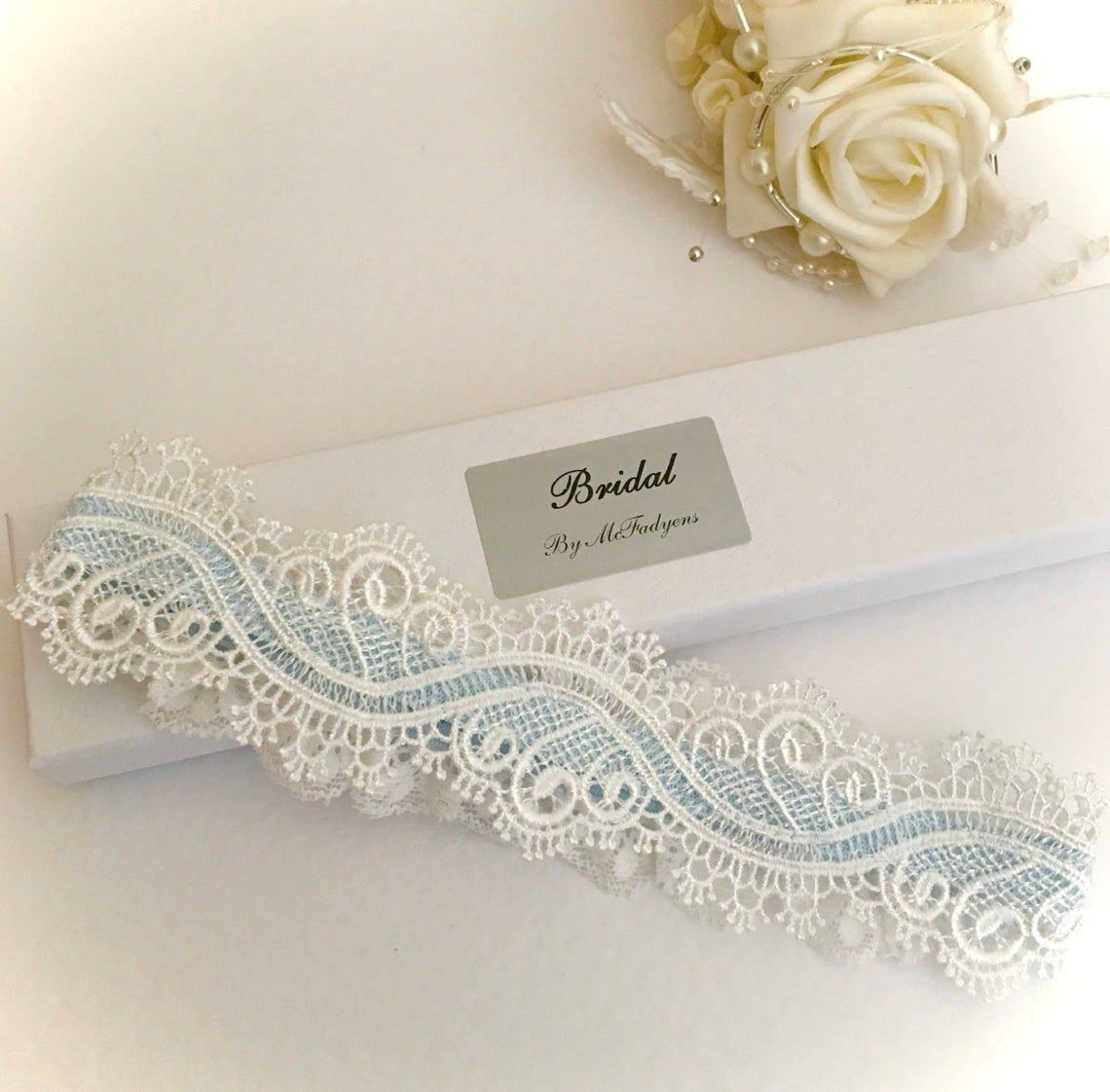 This chic Guipure lace design comes in a range of sizes - we love the colour combination of light blue against ivory.
READ MORE: 29 of the Best Bridal Capes: Our Top Picks
6. Vivien J at Not On The High Street Grace Wedding Garter - £50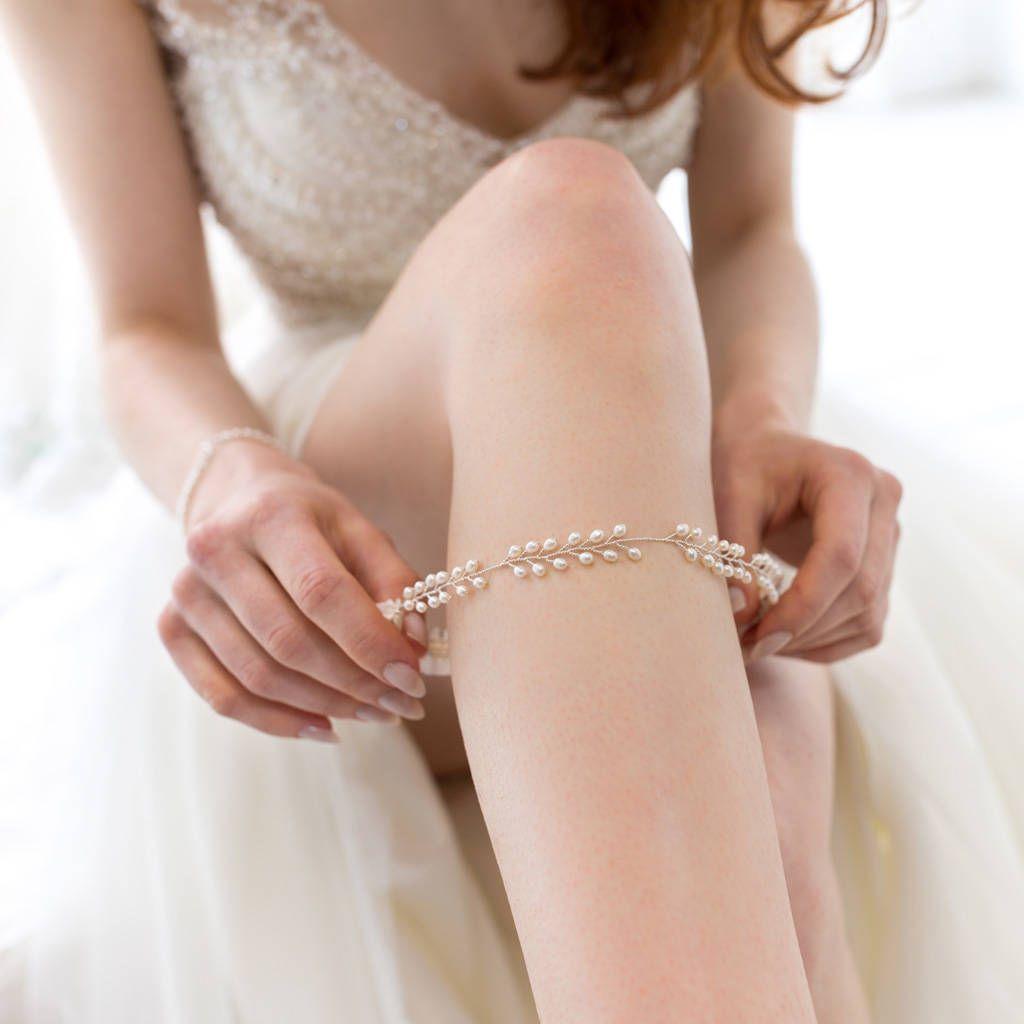 Looking for a unique wedding garter? The Grace design features freshwater pearls and a lace trim, for a look that's contemporary yet timeless.
7. Silver Sixpence In Her Shoe at Not On The High Street Personalised Wedding Garter - £35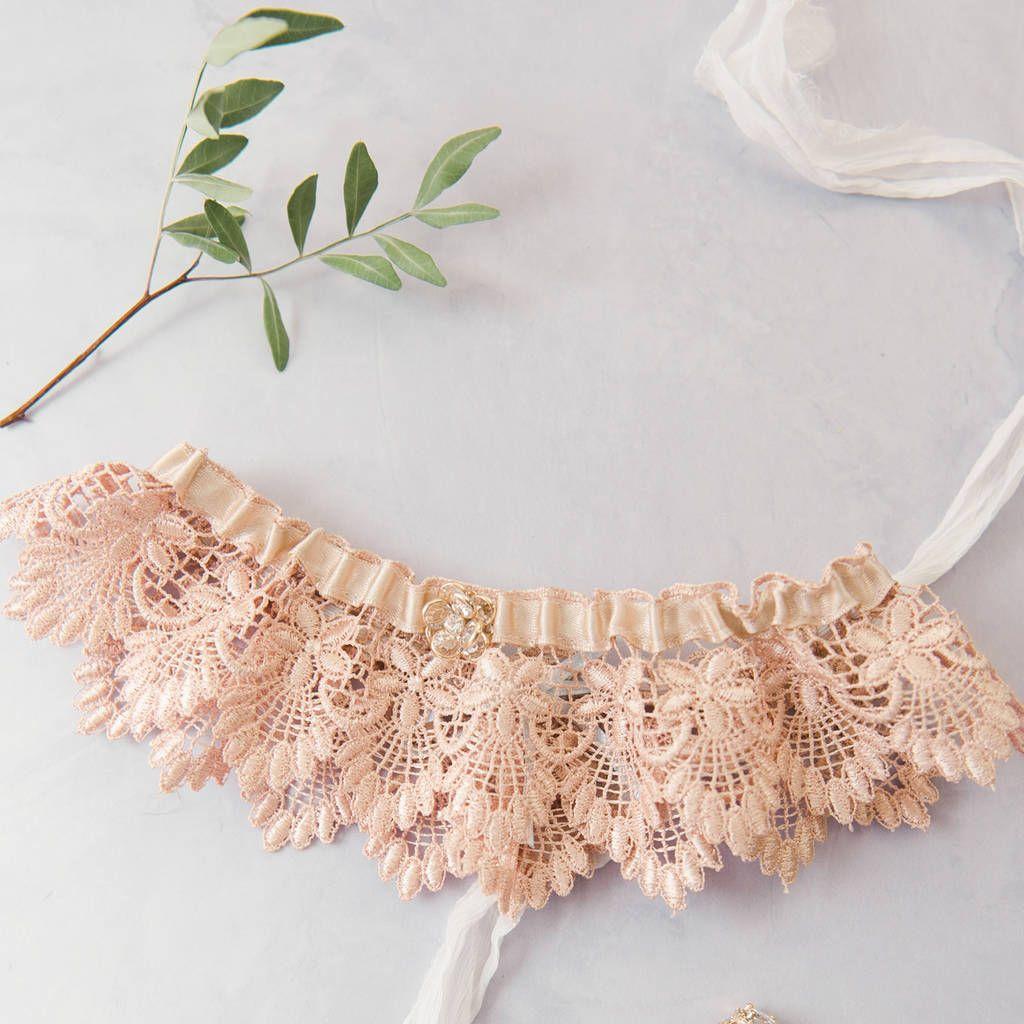 Available in blush (as seen here) or ivory, this sumptous wedding garter feels wonderfully romantic. It comes in a keepsake box that you can have personalised with your name.
8. La Perla Exquisite Leaves Garter - £86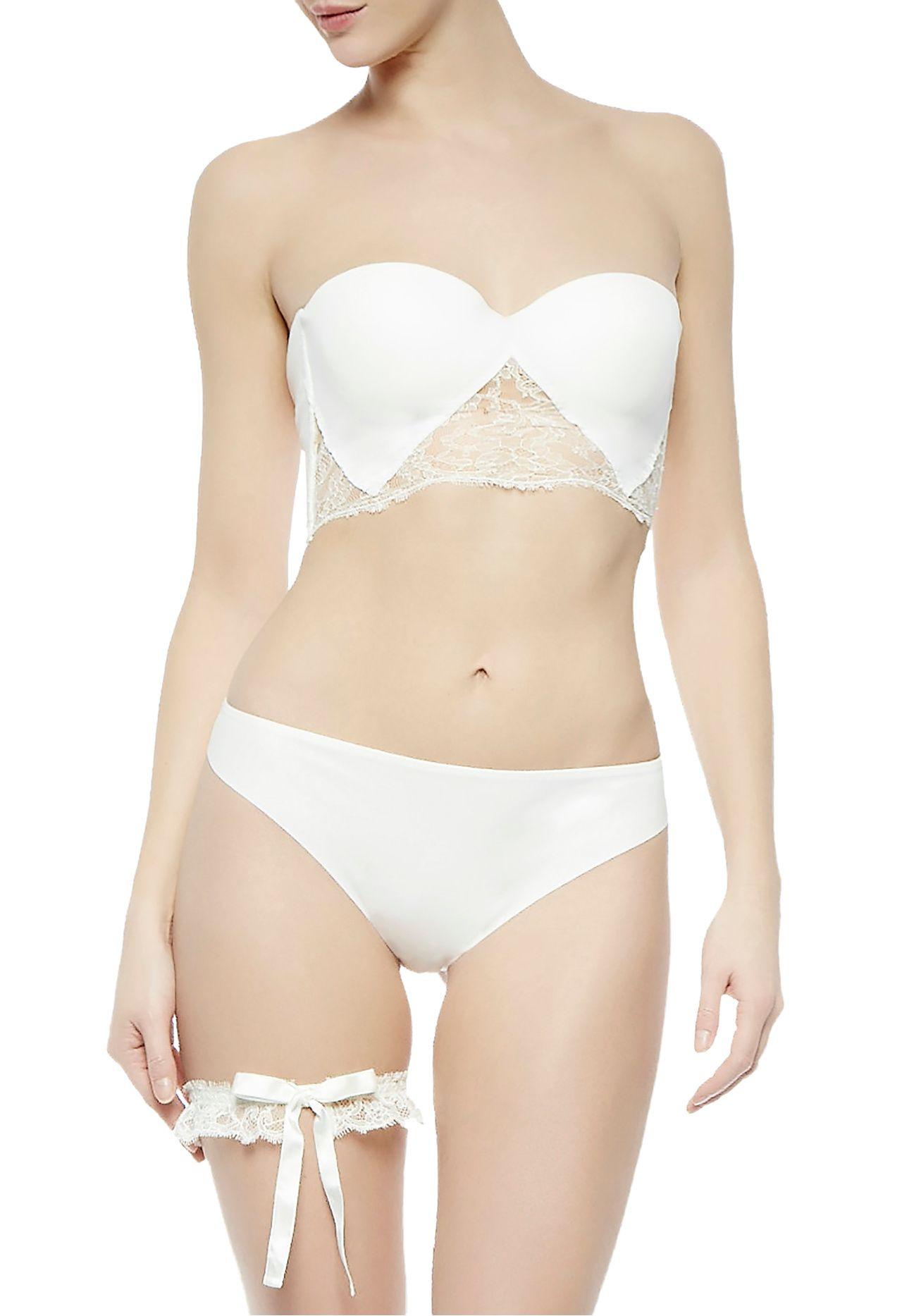 For a luxe treat, choose this exquisite lace garter. As it's La Perla, you know the quality will be of the highest order.
9. Britten Weddings Elva Wedding Garter - £43.60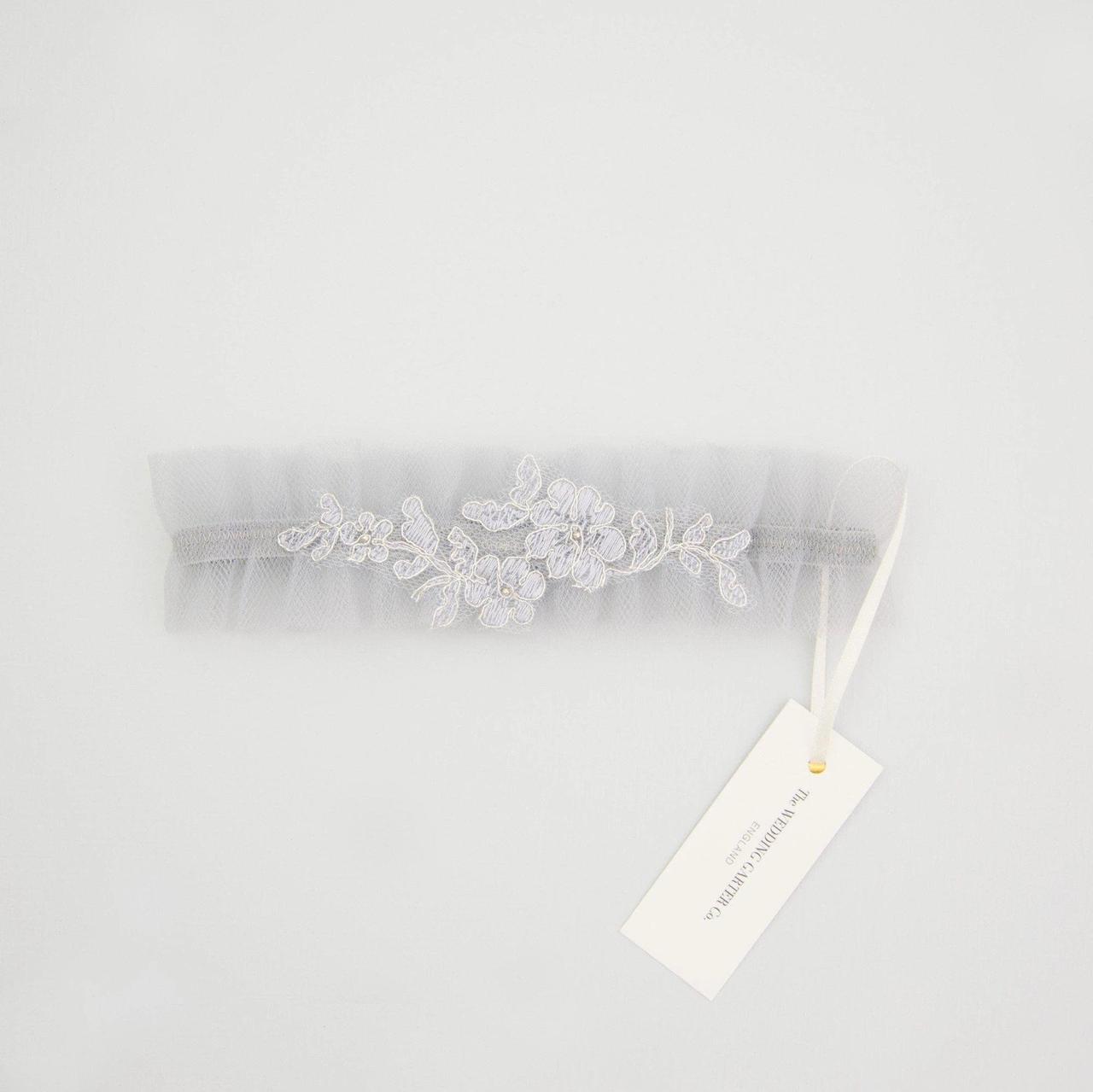 We love the delicate shade of blue of this elegant wedding garter, which features tiny seed pearls stitched onto the floral decoration.
10. Myla Colville Mews Garter - £40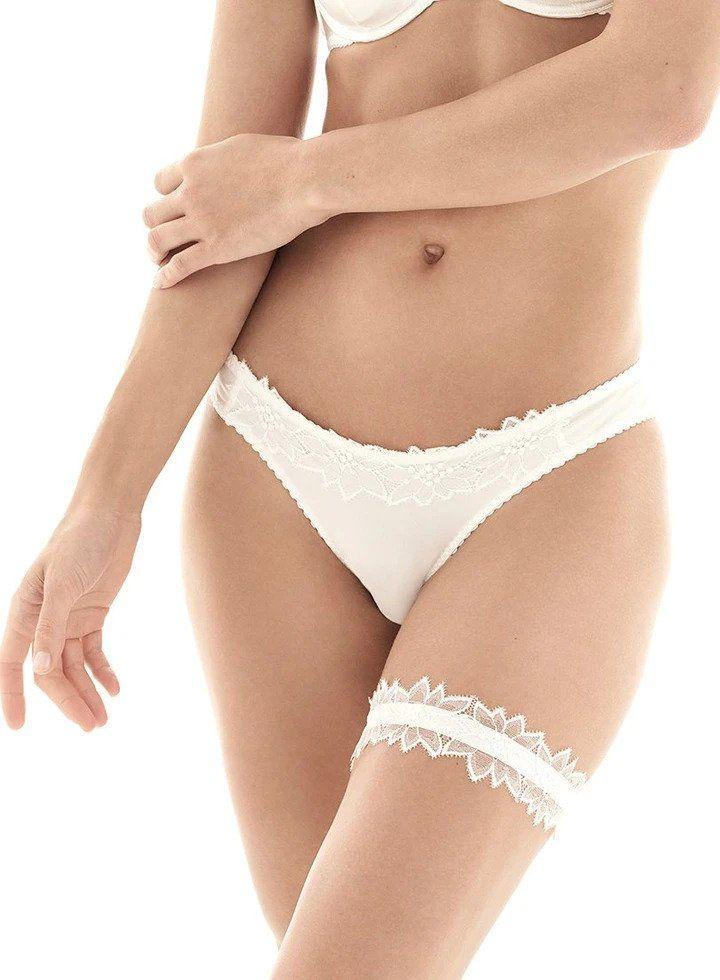 Lingerie brand Myla are famed for their pared-back yet pretty designs, and this Colville Mews wedding garter is no exception. You can also get a bra, briefs or thong in the same style.
READ MORE: 23 Designer Wedding Shoes That Are Worth Blowing the Budget For
11. Intimissimi Love Knot Garter - £15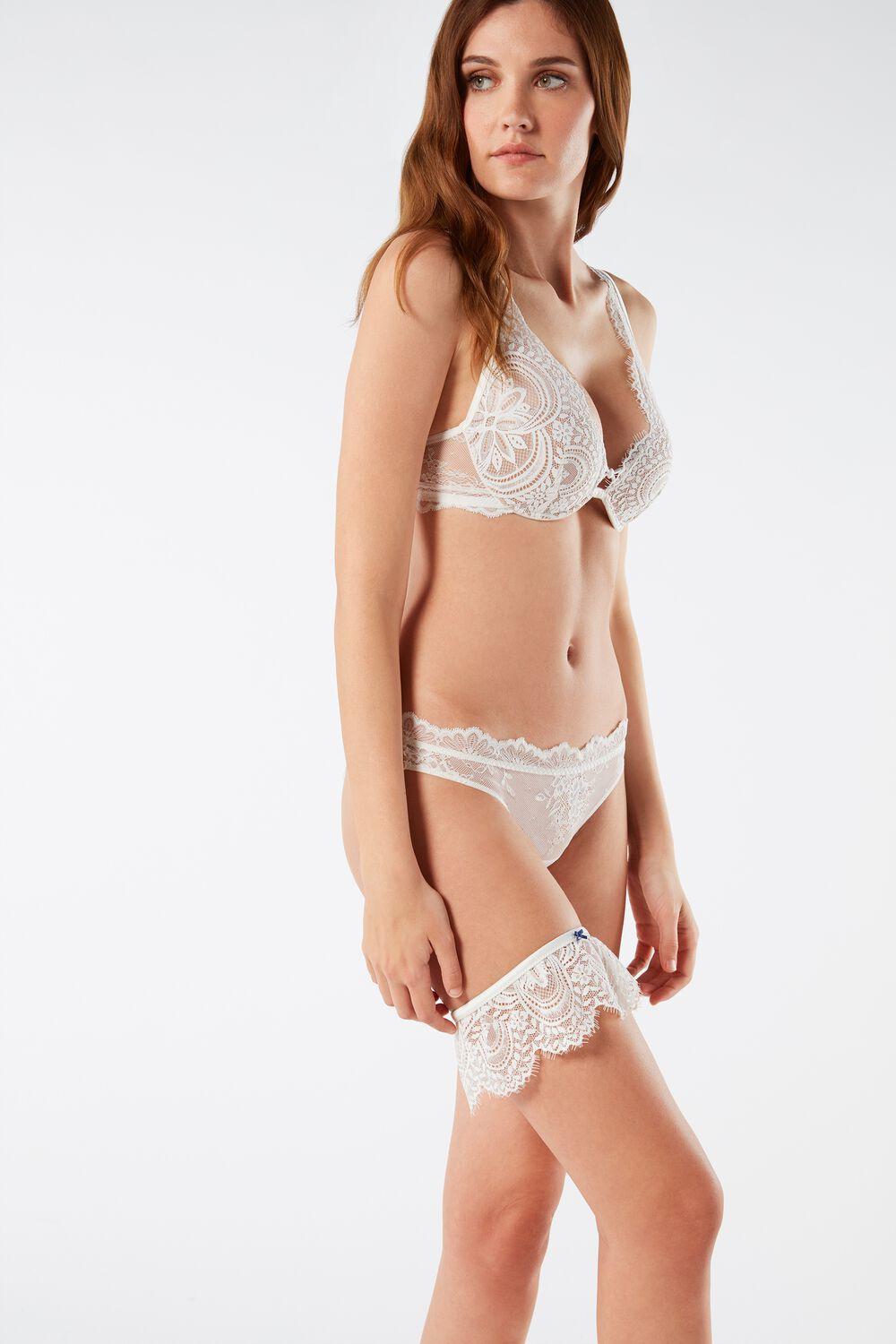 Intimissimi are a good brand to know for luxe-looking lingerie at relatively affordable prices. Their wedding garter features a subtle blue love knot decoration.
12. Agent Provocateur Lindie Garter - £35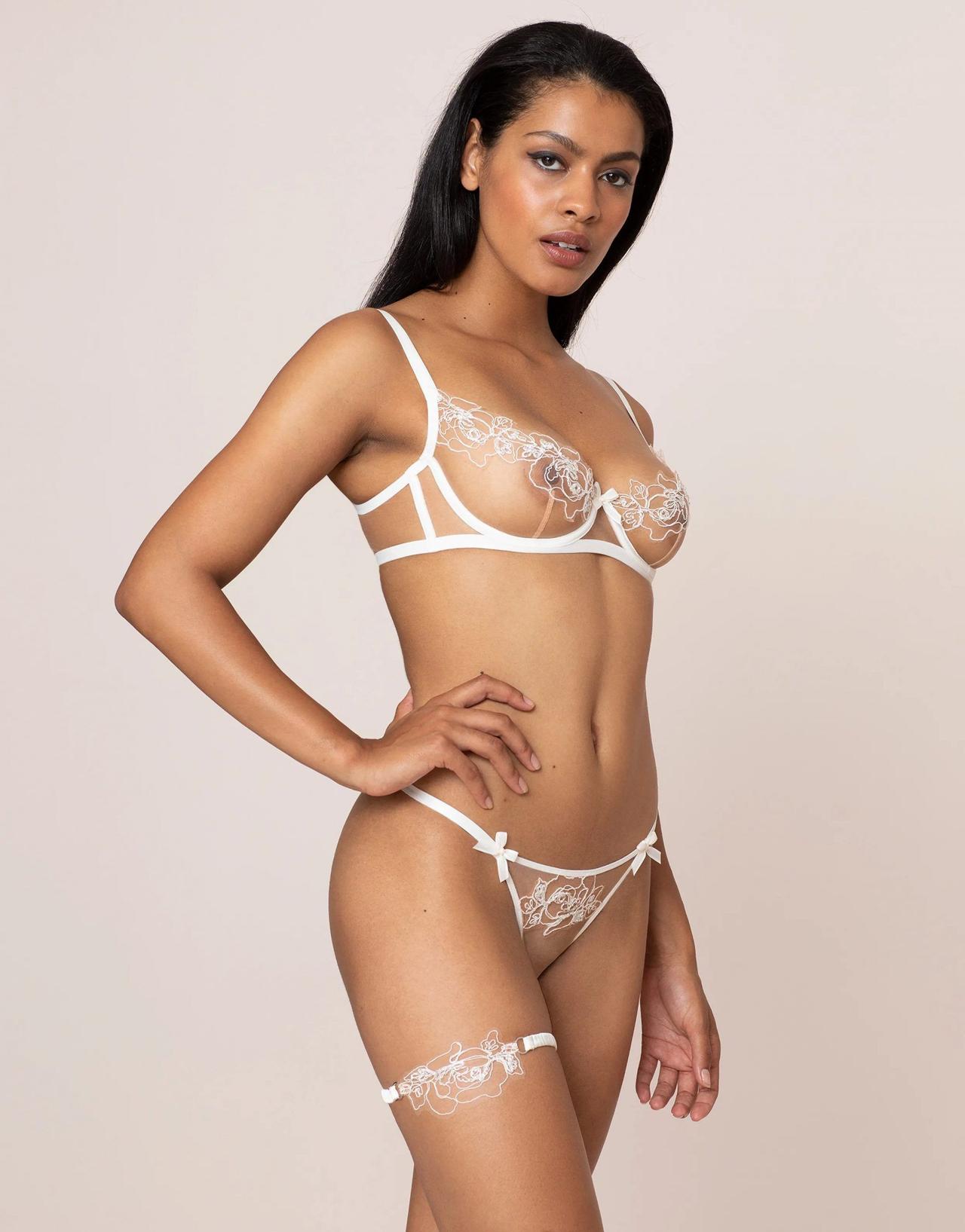 Agent Provocateur's Lindie wedding garter is a cool, sexy and modern take on the tradition. We love that intricate floral design against bare skin.
13. Oysho Lace Garter - £15.99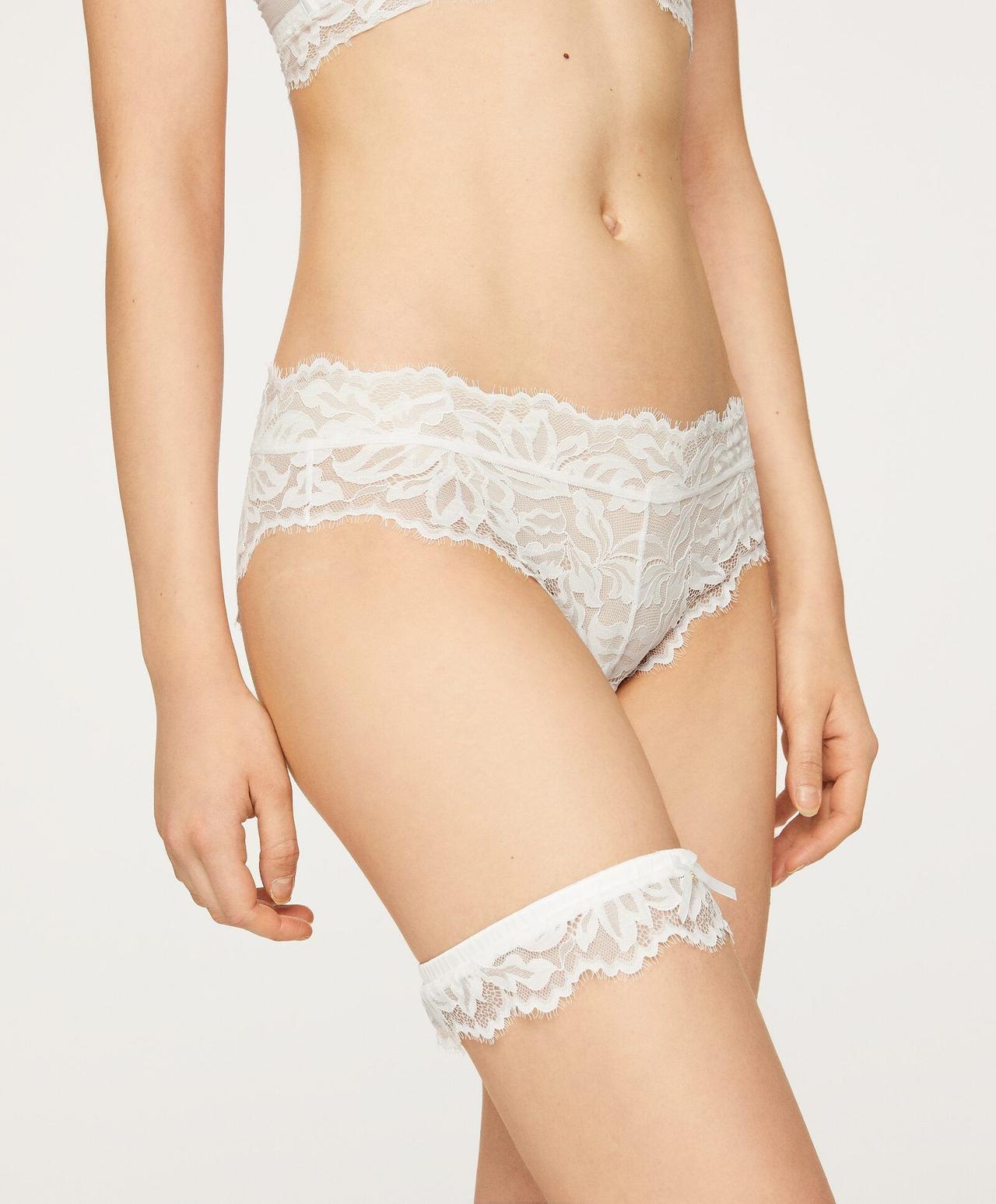 Zara's lingerie-focused sister brand Oysho should be your go-to destination for both cool and classic designs at affordable prices. This lace garter is a case in point, with its chic and sexy feel.
14. Mabelicious Bridal at Not On The High Street Simply Love Bridal Garter - £14.50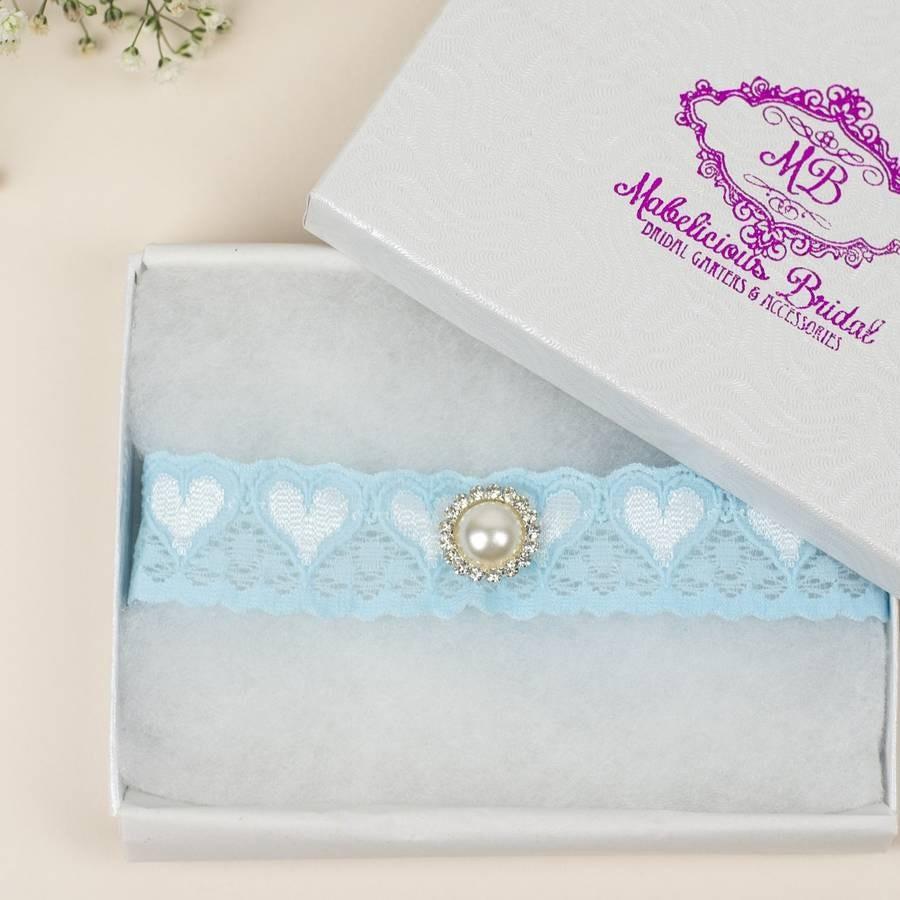 We love the pretty pale blue colour of this bridal garter from Mabelicious Bridal. You can choose from blue, white, ivory or black lace and also have your choice of a crystal or pearl embellishment in the centre.
15. Boux Avenue Lace Garter – £10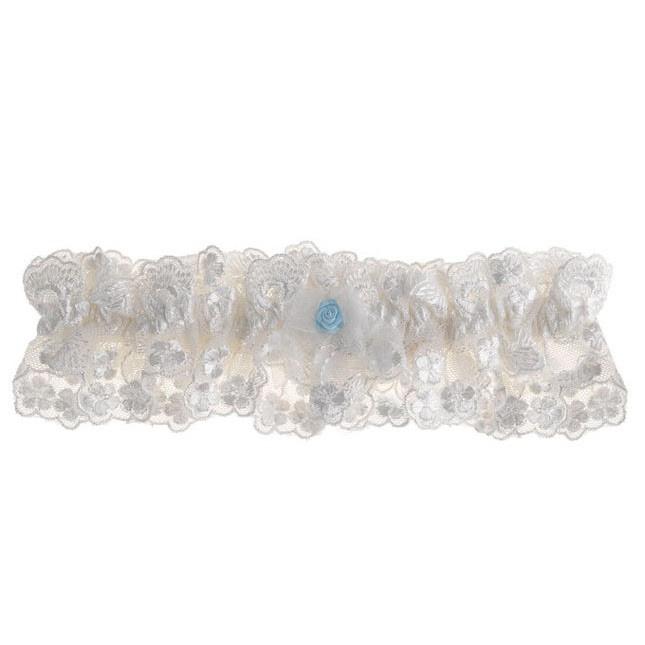 This ivory lace garter from Boux Avenue is perfect for brides on a budget – priced at just £10. If you are looking for a traditional bridal garter with just a hint of blue then this is the perfect style for you.
READ MORE: 32 Gorgeous Wedding Nail Ideas (That Aren't Just 'Nude')
16. Britten Weddings Ada Garter – £29.80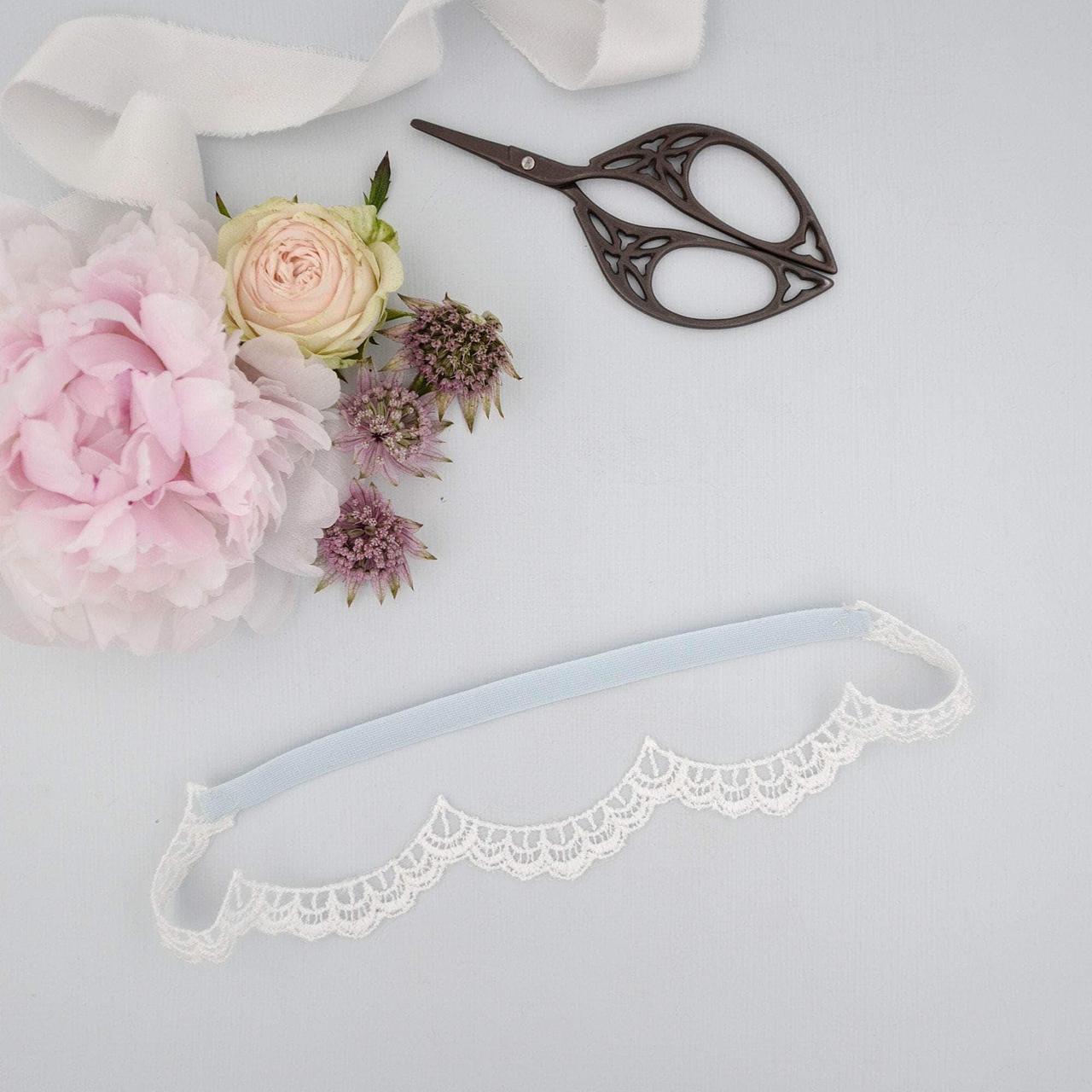 For a wedding garter that is simple, elegant and won't show up under your dress then this dainty scalloped style from Britten Weddings has a unique design and can be personalised with a charm engraved with your initials and wedding date.
17. The Crafty Hen Garter Making Kit – £21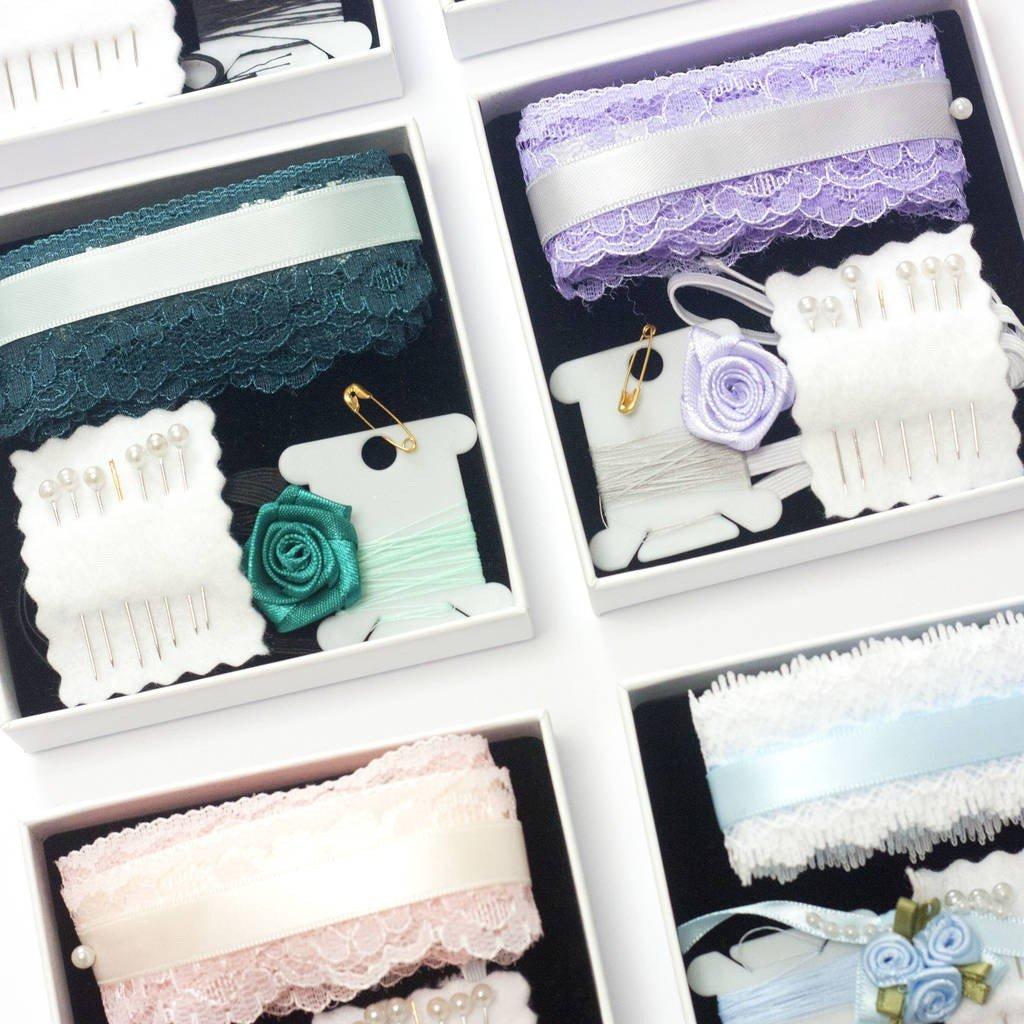 We love the idea of making your wedding garter at your hen party. Why not order these garter making kits from The Crafty Hen – you could then choose the best garter to wear on your wedding day.
READ MORE: 70 Hen Party Ideas You Will Love
18. The Wedding Garter Co Eyelash Lace Wedding Garter - £42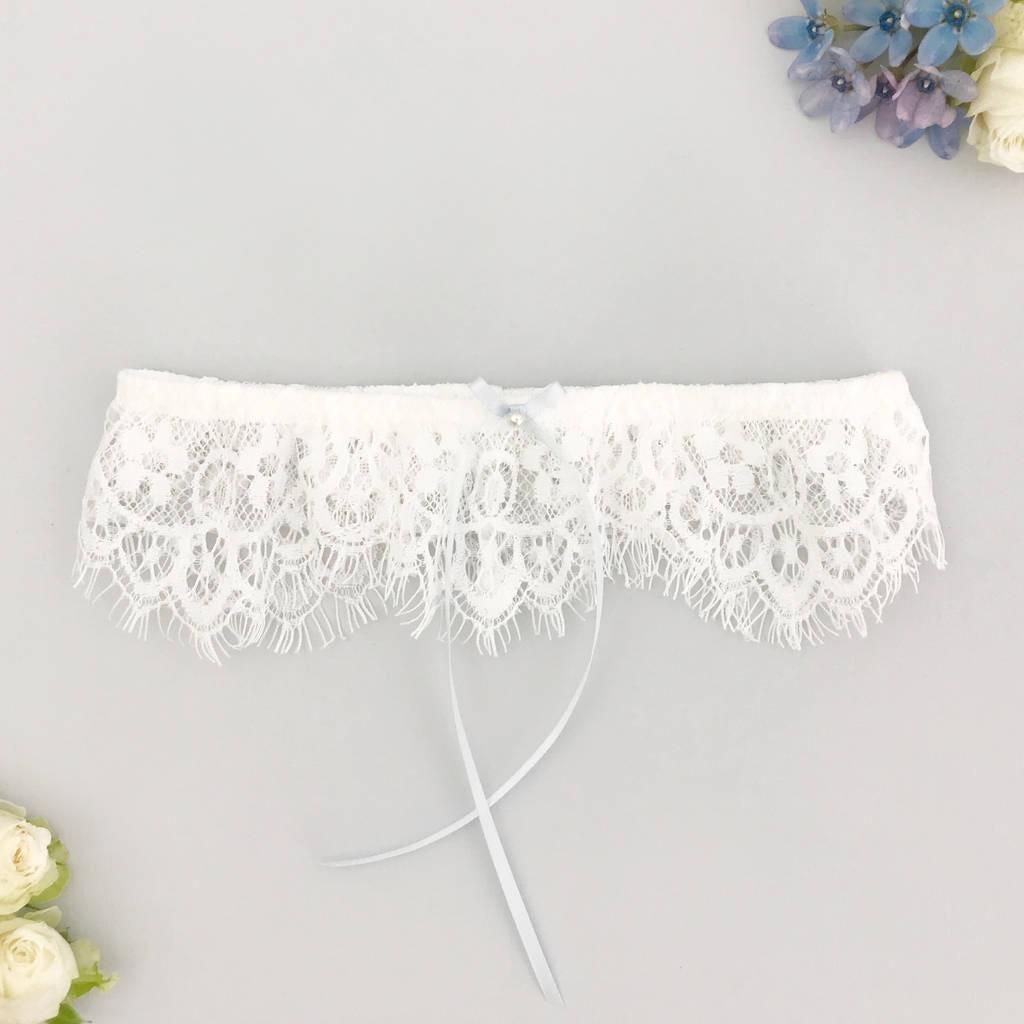 This pretty ivory style from The Wedding Garter Co is a subtle design and would work beautifully with a wedding dress made from the same style of eyelash lace.
19. Lucie Green Couture Something Blue Garter - £35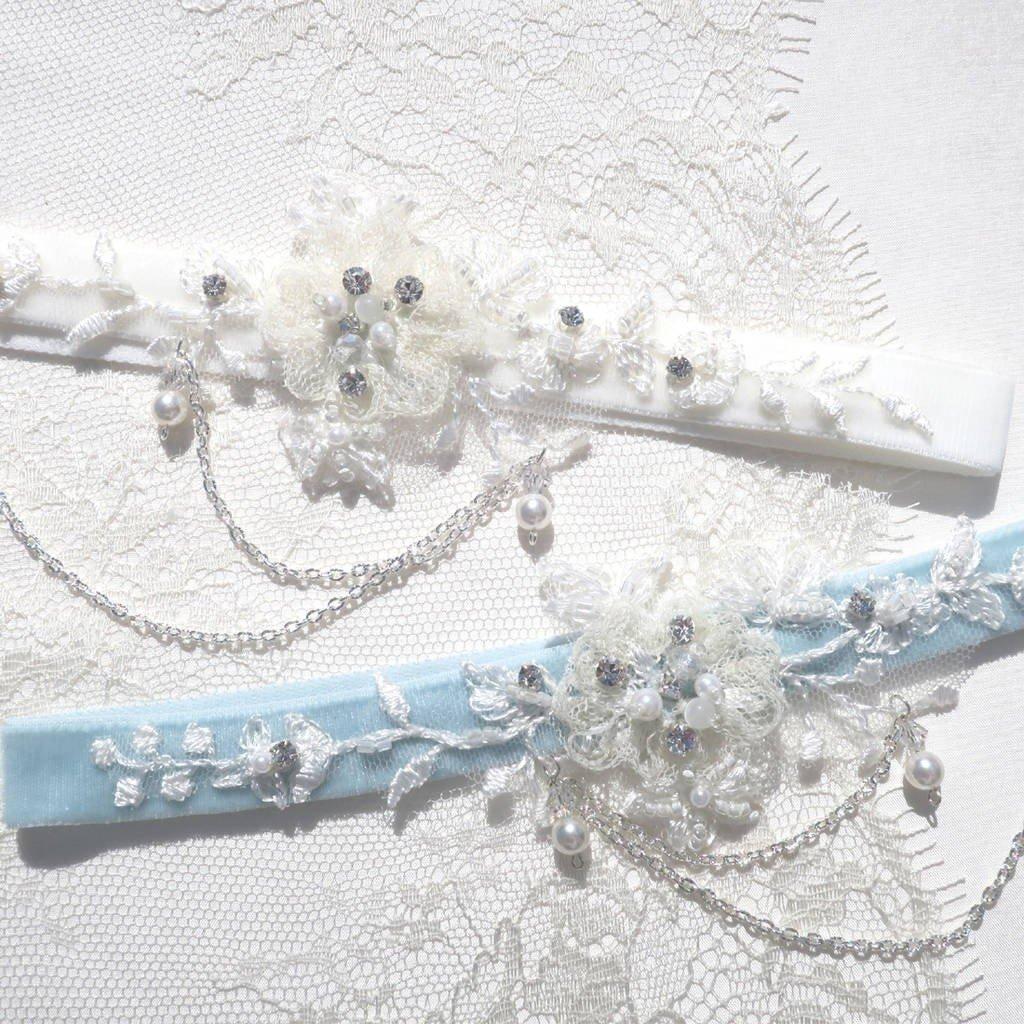 This beaded garter from Lucie Green Couture has a luxury feel with its pearl strands and crystal detailing. The unique style also makes it a little bit different from a traditional lace bridal garter.
20. Amazon Adjustable Pearl Garter – £30.99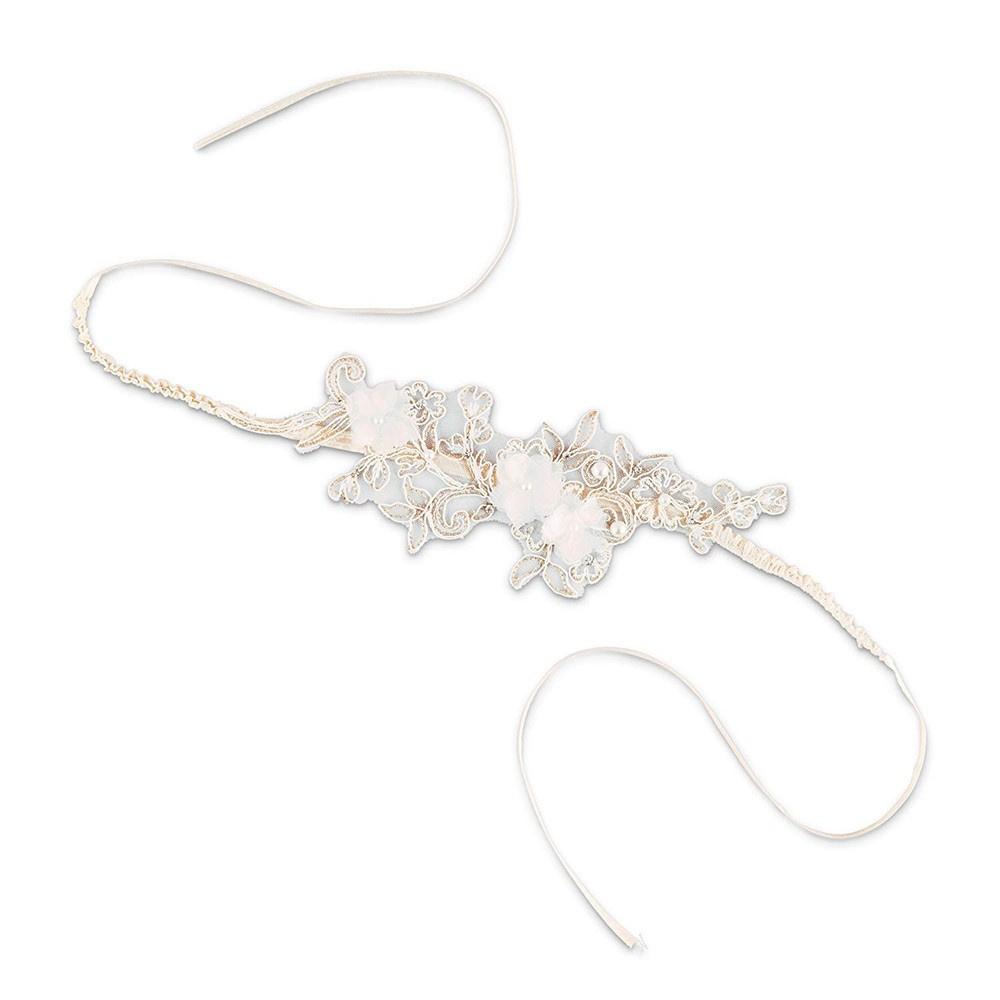 If you are unsure on what size to order your garter then this adjustable pearl style from Amazon is perfect for you. We love the delicate detail and it can be fastened to fit you perfectly.
21. Mabelicious Bridal Vintage Inspired Garter - £28.50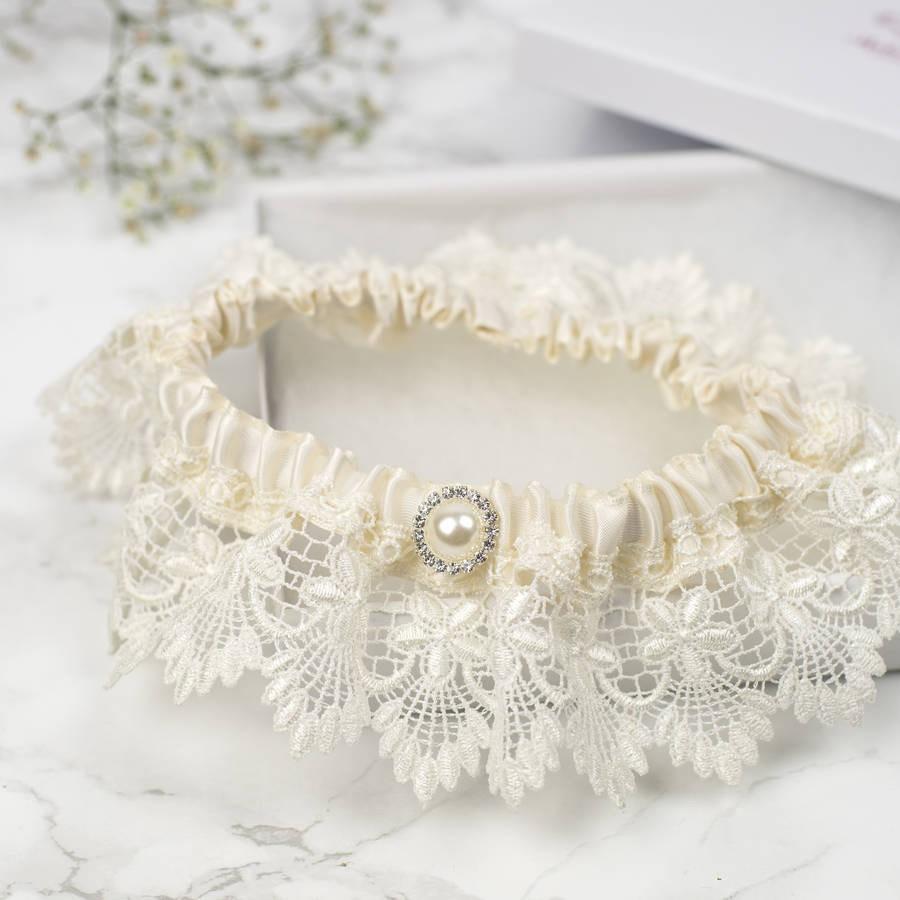 This pretty pearl wedding garter from Mabelicious Bridal will add some Gatsby glam to your wedding style. The crystal and pearl detailing is a gorgeous finishing touch.
Ready for some more bridal finishing touches? These are our favourite blue wedding shoes.