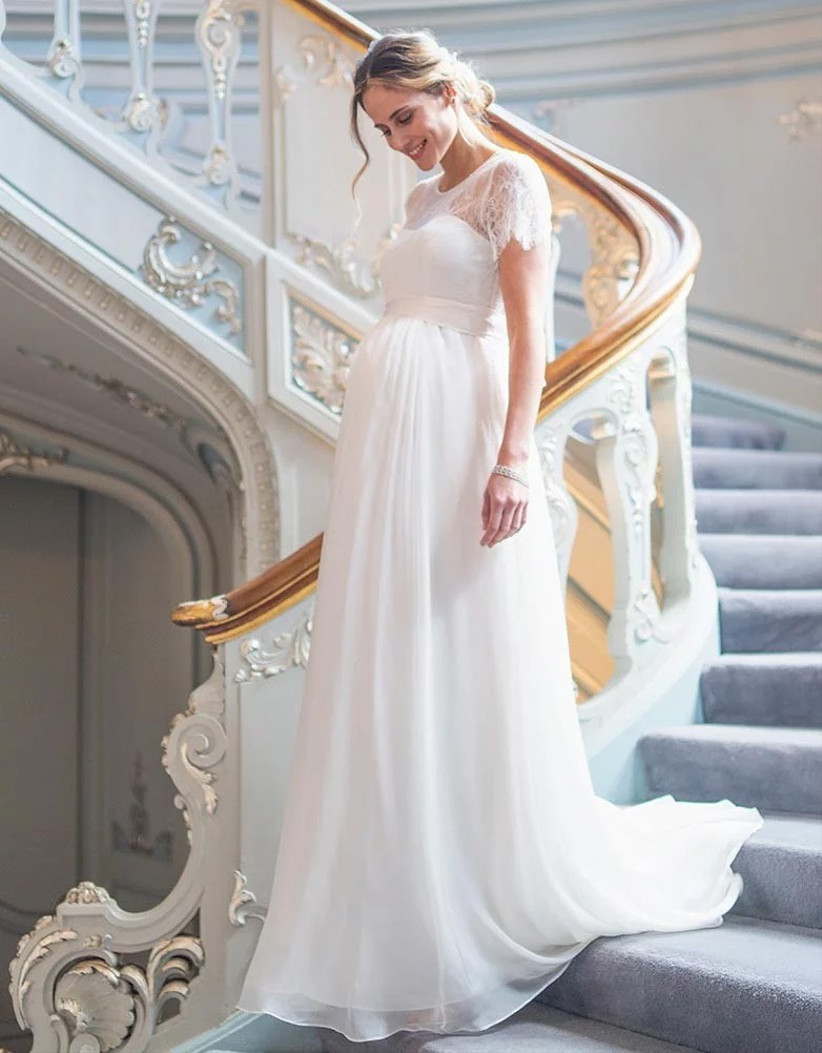 If you are both a bride-to-be and a mum-to-be then you have some extra considerations to think about as you plan your wedding dress. Although it may seem tricky buying a wedding dress ahead of time, we promise it's not impossible to find a gorgeous maternity wedding dress.
We have picked out a range of gorgeous maternity bridal dresses that are simply stunning, from beautifully boho dress styles, to dresses that are fitted and fabulous.
NB: We have included third party products to help you navigate and enjoy life's biggest moments. Purchases made through links on this page may earn us a commission.
Alaska – Tiffany Rose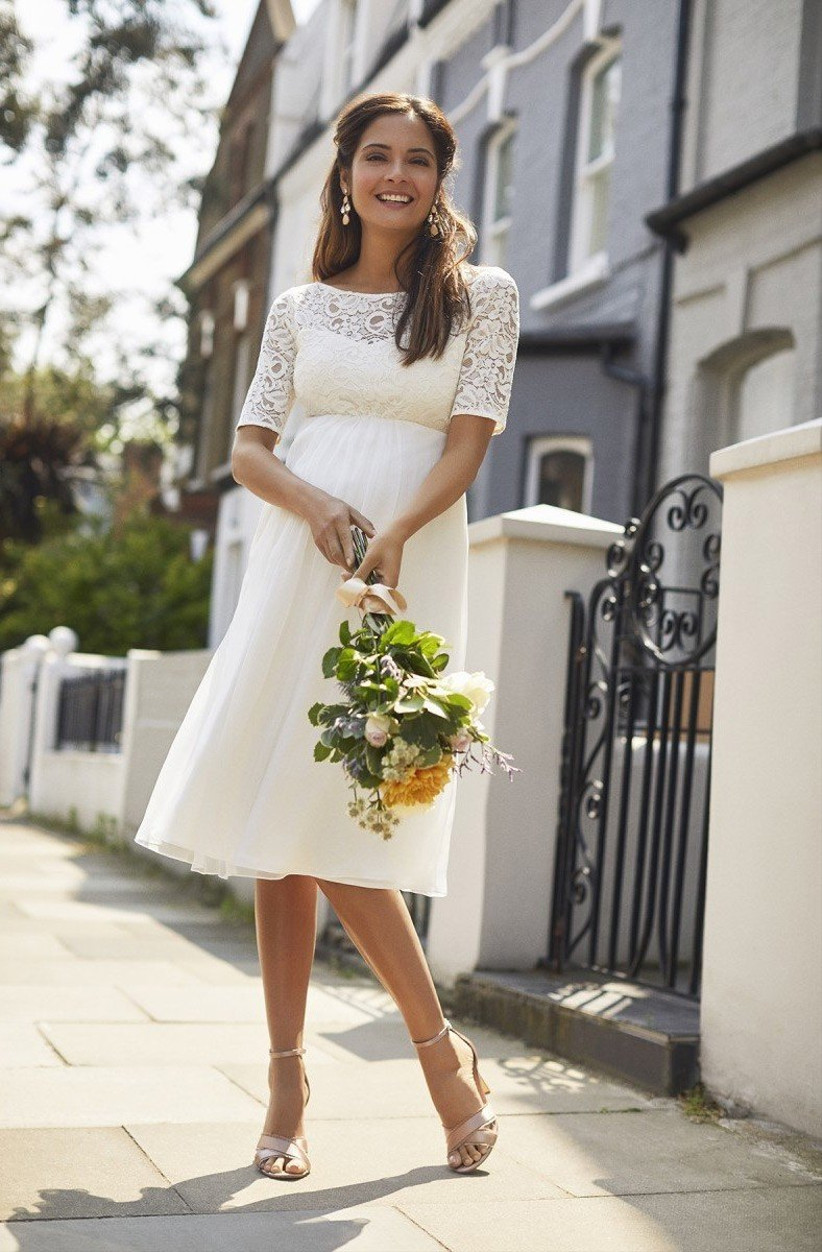 The Alaska maternity wedding dress from Tiffany Rose is perfect for a summer wedding. The light fabric makes it easy to wear and the detailed sleeves are a pretty finishing touch. The dress is also tailored with a stretch finish and no zip so you don't need to worry about a poor fit.
Lace and Silk Dress – Seraphine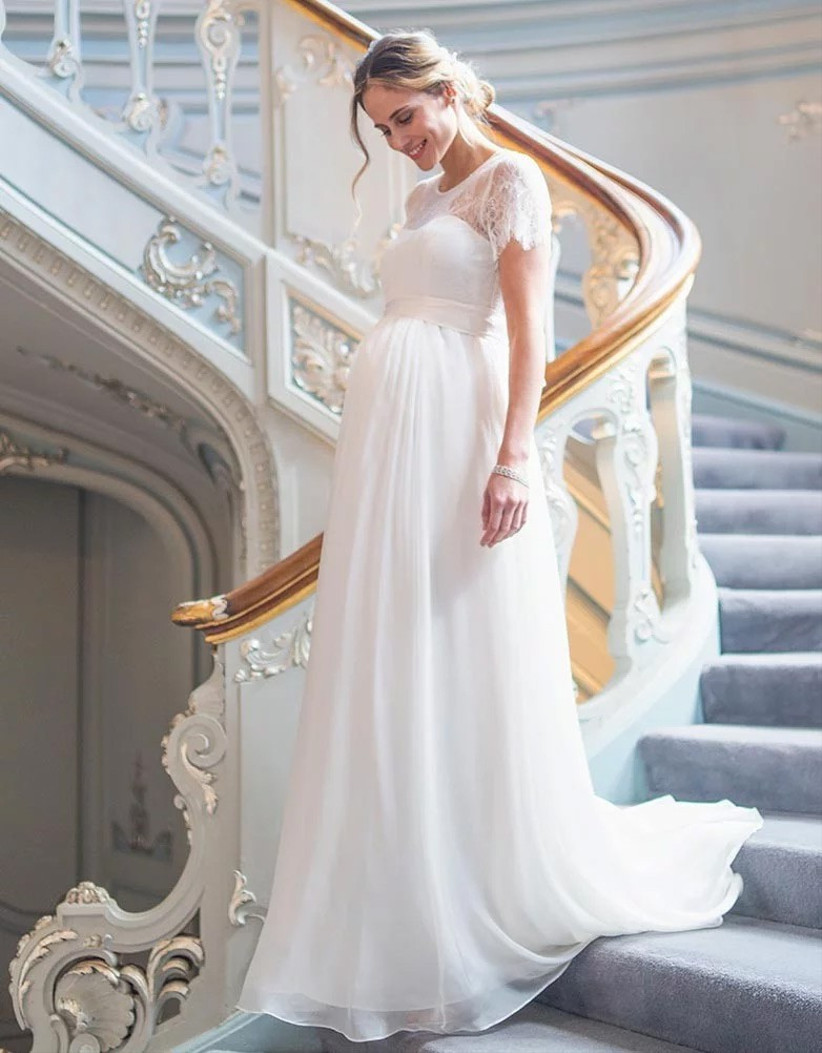 This gorgeous wedding dress from Seraphine is so pretty, the lace flutter sleeves and silk fabric make this gown feel like something out of a fairytale. A silk satin sash means you can give the dress a tailored feel no matter what stage of your pregnancy.
READ MORE: 30 Stunning Wedding Tiaras Fit For a Fairytale Wedding
Eden – Tiffany Rose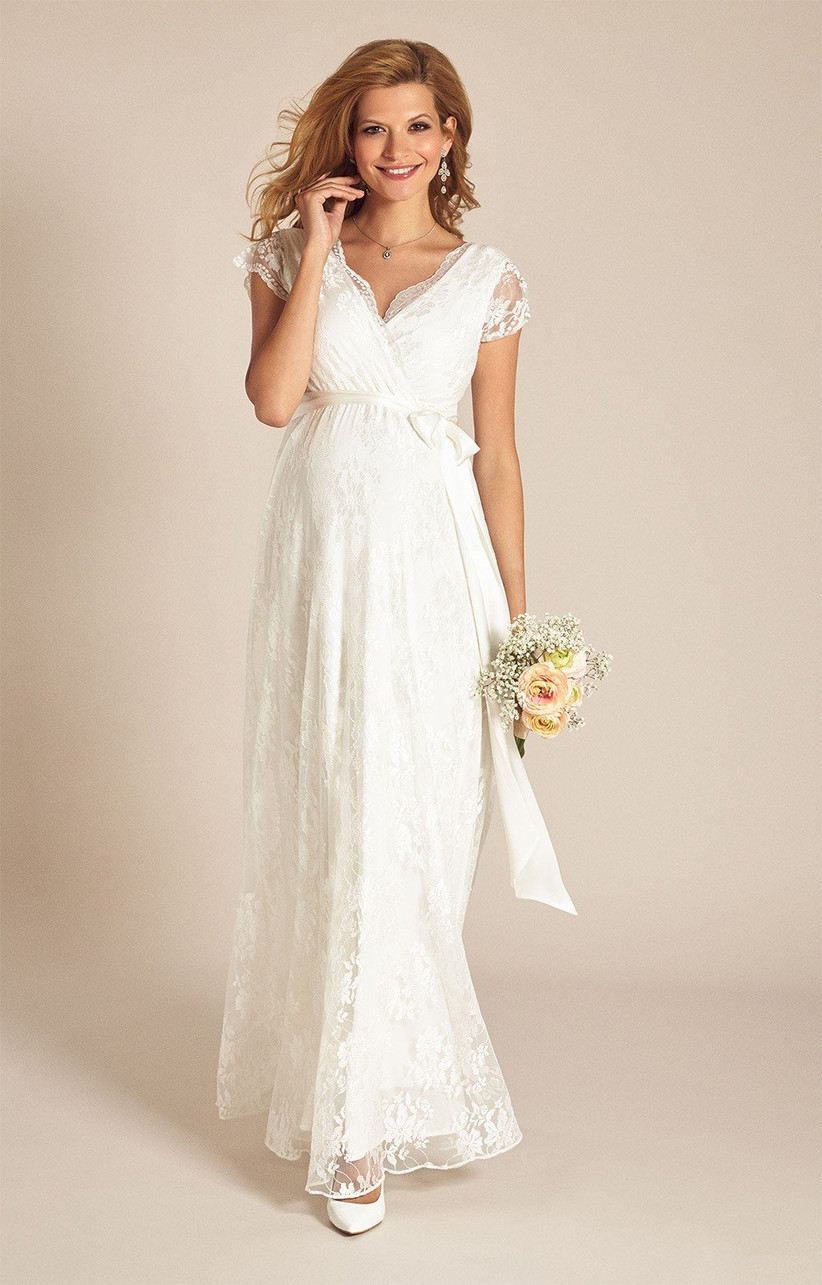 We adore the Eden dress from Tiffany Rose. Shimmering jersey fabric makes for an elegant and flowing silhouette and we love the stretch lace overlay on the gown – and it's all pulled in beautifully with a satin waist belt.
Floral and Sequin Dress – ASOS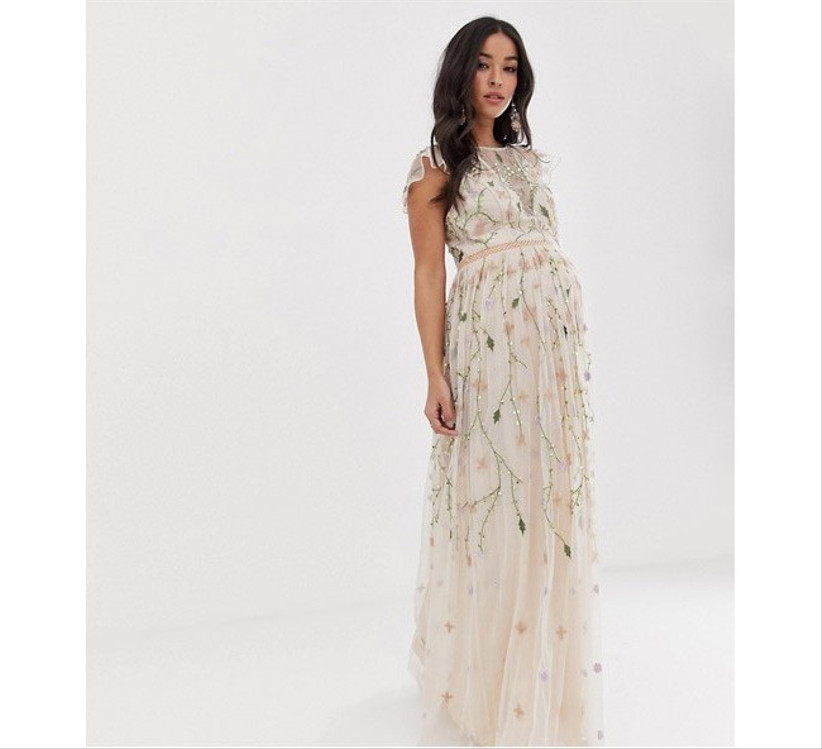 This floral and sequin maternity wedding gown from ASOS has a gorgeous ethereal style. The pretty floral embroidery and sparkling sequin detail make this dress perfect for a boho style wedding day.
READ MORE: Rustic Wedding Venues – 27 Breathtaking Locations for Your Big Day
Wrap Maternity Wedding Dress – Seraphine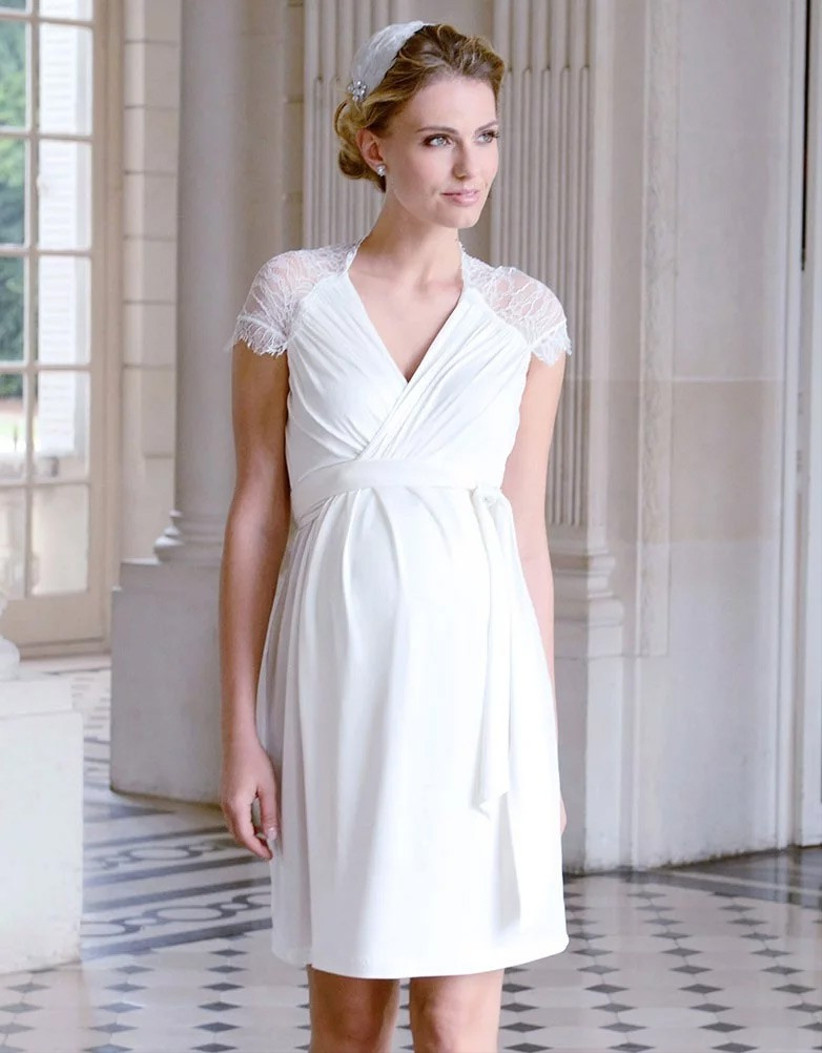 This wrap style wedding dress from Seraphine is ideal if you are looking for a maternity wedding gown that is flexible with your size. The shorter hemline means you can wear some gorgeous wedding shoes – browse our list of the prettiest wedding flats for comfortable choices that don't compromise on style.
Mia – Tiffany Rose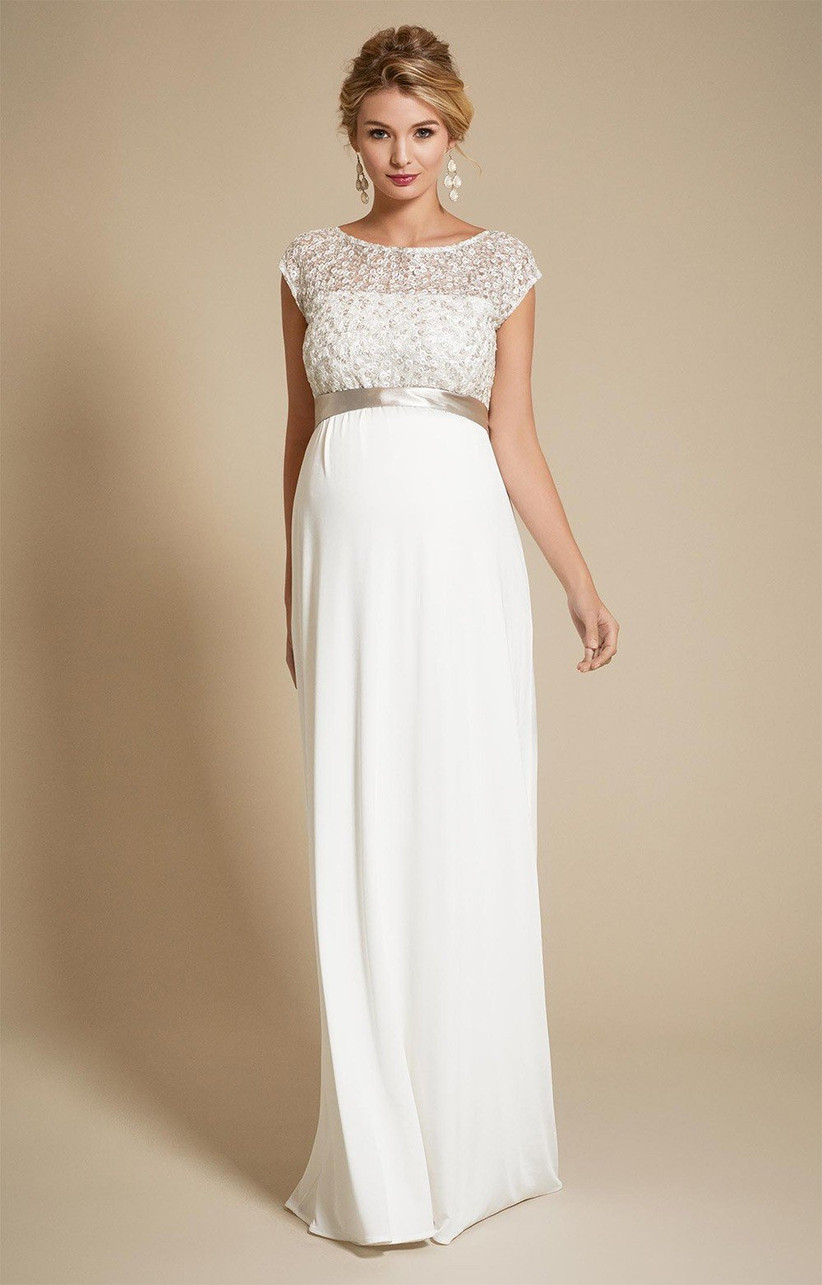 Add some glitz and glam to your bridal look with the Mia wedding dress from Tiffany Rose. An embellished bodice is highlighted with a metallic sash at the waist. Soft-fitting jersey fabric make this dress a comfortable fit.
Sienna – Tiffany Rose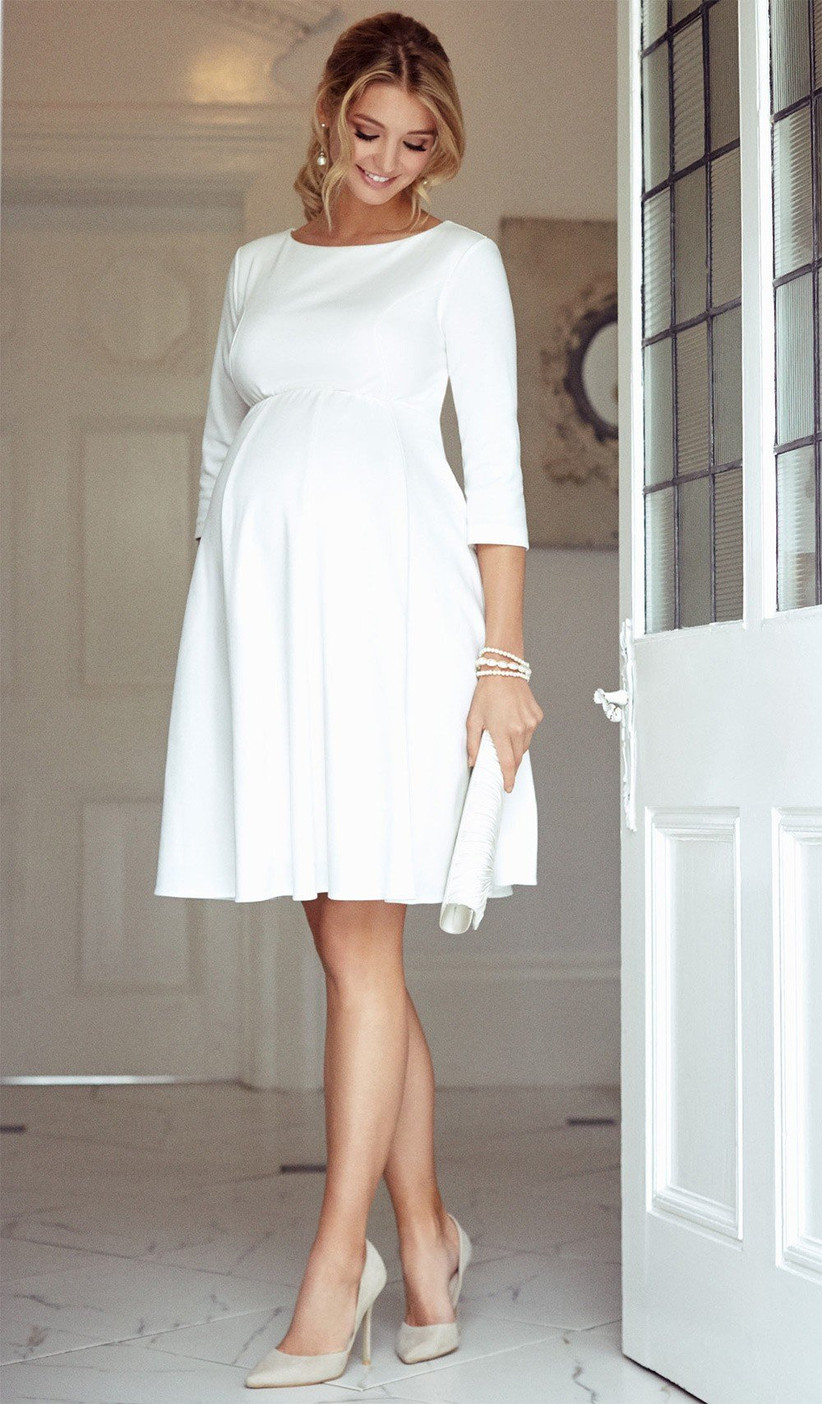 We think this maternity wedding dress from Tiffany Rose has serious Meghan Markle vibes – with its simple fabric and clean lines. The gently tailored fit means it will fit your new shape beautifully.
Lace Maternity Wedding Dress – Seraphine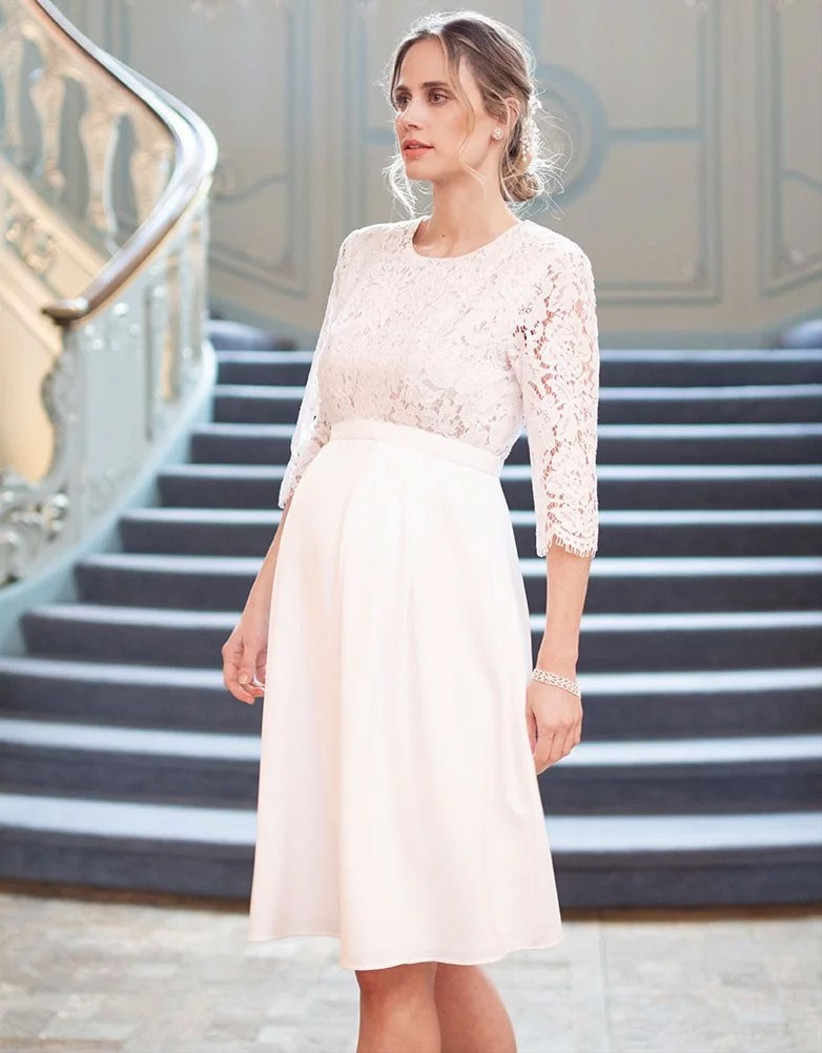 This lace wedding dress from Seraphine is a stunning choice for brides looking to add some vintage style to their wedding day.Lace illusion sleeves and a lace bodice lead to a flowing skirt. A stretch finish means you will feel comfortable and if your bump ends up a little bigger than expected you don't need to worry your dress won't fit.
Amelia – Tiffany Rose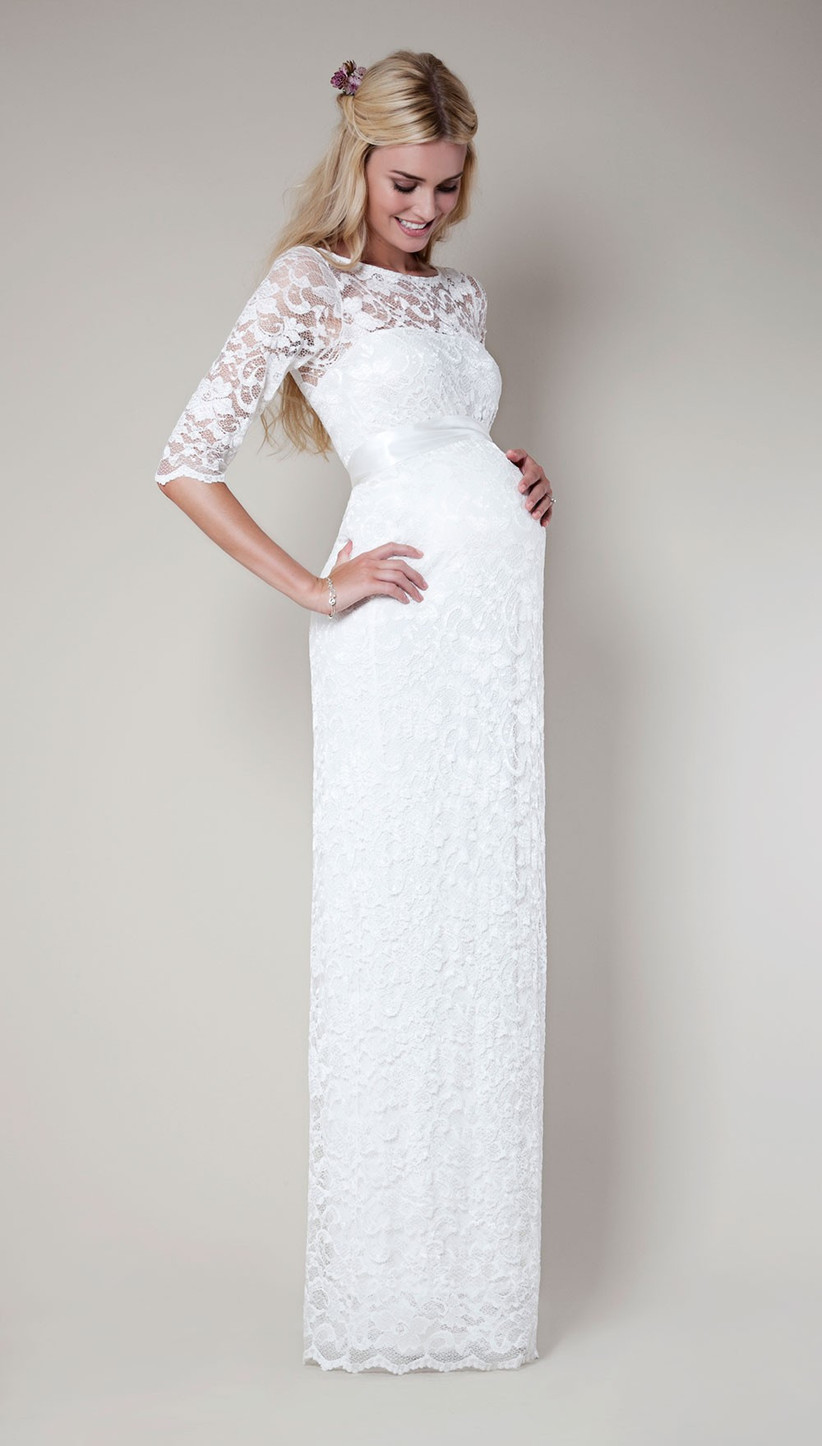 The Amelia dress from Tiffany Rose is absolutely stunning! Available in both full length and mid length so you can pick a style to suit you. We love how this dress is all about embracing your bump – the soft ivory jersey is also light weight and super comfortable so you won't need to worry about feeling too hot on the day.
Anastasia – Tiffany Rose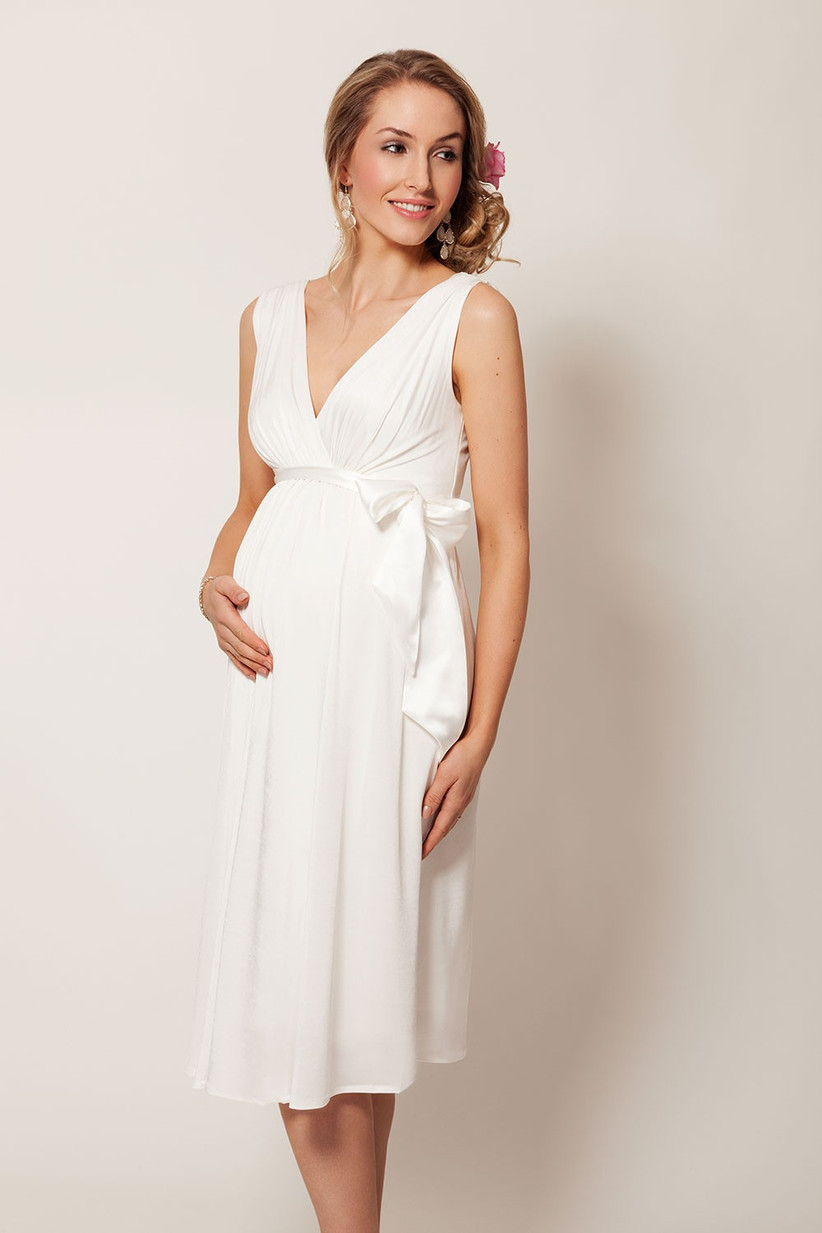 If you are considering wearing a shorter length wedding dress then this gorgeous Grecian style wedding dress could be perfect for you. The Anastasia dress has a detachable ivory satin sash is perfect for cinching in your silhouette or for a bit of sparkle you can upgrade the belt to a glittering vintage option.
Chloe – Tiffany Rose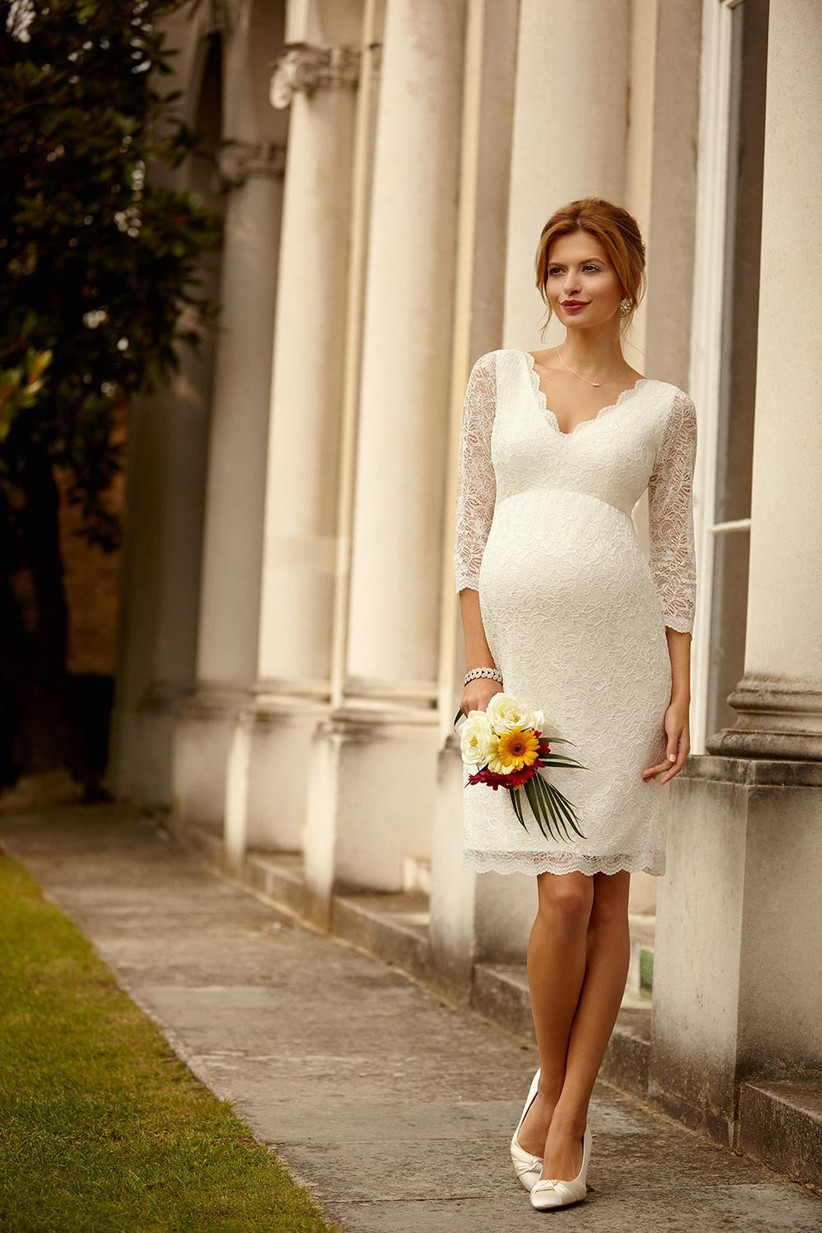 We are in love with the Chloe dress with its three quarter length lace sleeves and elegant scalloped neckline. It's the perfect wedding dress for brides that want to feel sexy and sophisticated and really embrace their bump.
Liberty – Tiffany Rose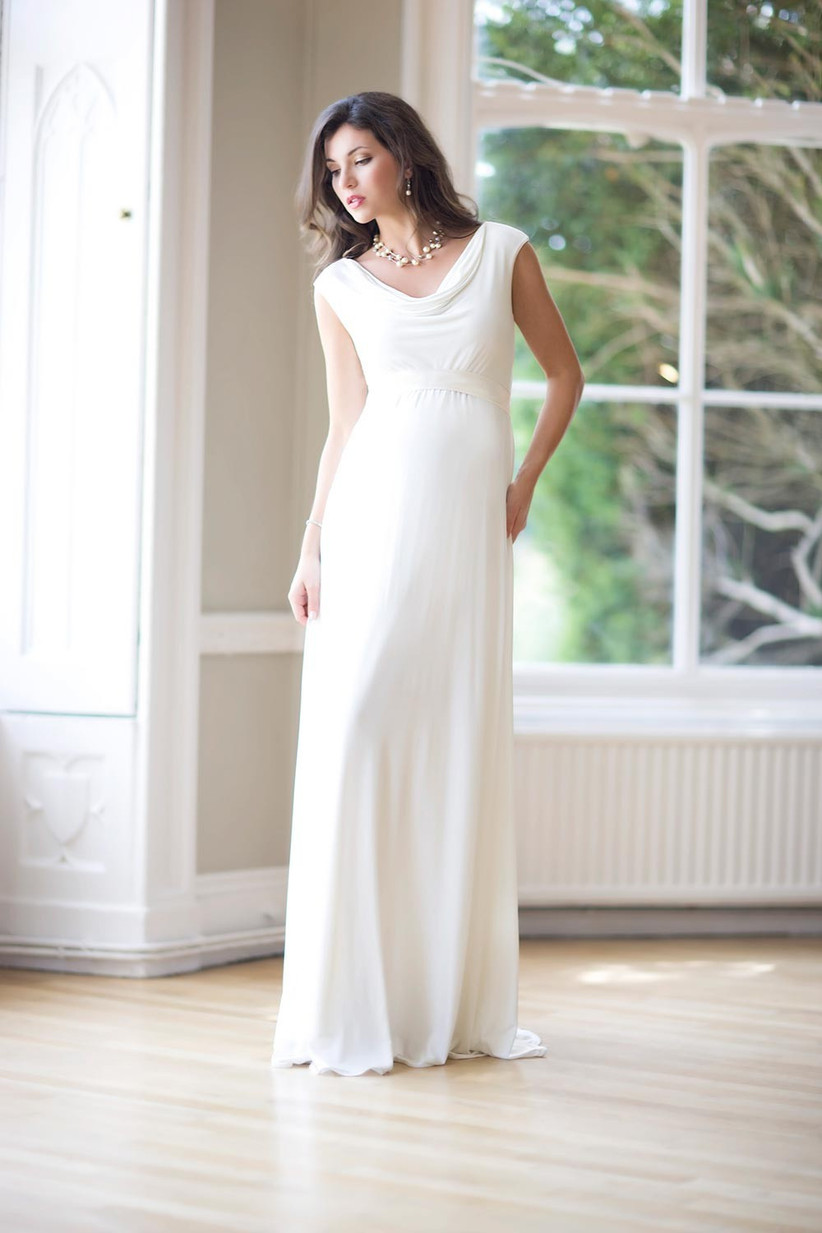 If you are looking for a dress that is elegant and timeless then the Liberty dress from Tiffany Rose could be the wedding gown for you. The scooped neck and off the shoulder sleeves give this dress a relaxed feel, team with simple jewellery or a flower crown for a laid back summer look.
Verona – Tiffany Rose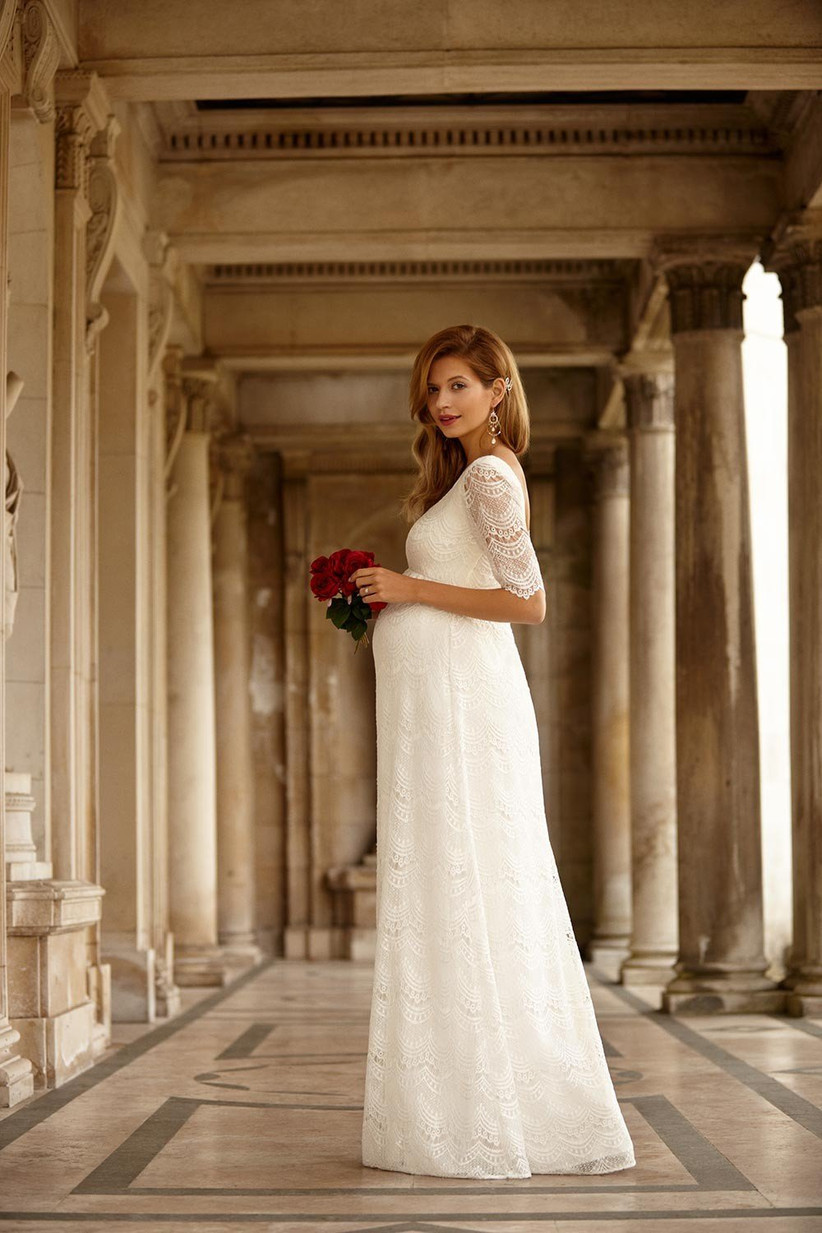 One of our absolute favourites from the Tiffany Rose collection is the Verona gown – made with a delicate eyelash lace overlay and lined with a soft ivory jersey so as well as looking gorgeous, you will also feel comfortable and cool all day long. You will also be in great company as this is the same dress worn by Hollywood actress Julia Stiles on her wedding day.
If you have questions about finding the right maternity wedding dress for you then take a look at our maternity wedding dress questions answered:
We asked Tiffany London, owner and founder of Tiffany Rose, a maternity occasion wear brand that specialises in maternity bridal, and Ann Beggs, owner of Ann's Bridal Room, for their fashion advice for pregnant brides.
When you design dresses for pregnant brides, what factors do you take into account?
Tiffany: First, the "wow factor", because every bride deserves to feel amazing on her special day. Second, a flattering fit: confidence is everything, and if you feel your absolute best, this shines through. Third is comfort – we ensure all of our fabric is of the highest quality.
When an expectant bride comes into the shop, what do you need to know?
Ann: First thing is how pregnant she's going to be at the time of the wedding as this affects the styles we consider. Then we ask if this is the bride's first pregnancy: if the bride already has children, chances are her waistline will expand much quicker than if she was having her first baby.
Do most brides want to hide or show off their bump?
Tiffany: We prefer to work with the bump rather than disguise it. The majority of our customers are around six to eight months pregnant on their wedding day, so their biggest concern is wearing something that is flattering. Often, pregnant brides opt for an empire waist which can be very flattering as it accentuates the slimmest part of the body – it doesn't show off or disguise the bump.
What fabrics suit pregnant brides and why?
Tiffany: If the design is done well and the fabric is good quality, any type of fabric can be used. It's best to avoid anything overly stiff and we specialise in floating silks, soft satin jerseys and elegant lace fabrics – all of which are breathable and tailored to enhance growing curves.
Ann: Soft fabrics like chiffon and tulle for heavily pregnant brides as they are more comfortable and flow over the bump. For earlier stages of pregnancy, lace or lace appliqué is good, as the pattern distracts from the bump.
What happens when a bride falls pregnant after she has ordered her gown?
Ann: This is the case for the majority of pregnant brides I deal with. We have to work with what we've got. We've converted many zip back gowns to lace-ups, let out side seams, and more recently taken a waisted ballgown and shortened the bodice to create an empire line dress.
Can any trend be incorporated into maternity bridal?
Tiffany: A good designer knows how to adapt the style and tailor it accordingly so it works on all levels for pregnant brides. They will select the right fabric for weight and drape and focus on the fit and areas of the body that can expand during pregnancy.
Ann: The current trend of low backs and sheer backs wouldn't work. Lace-up backs are preferable, allowing the bride greater flexibility.
What would you say to a pregnant bride who is hoping to wear a non-maternity dress for her wedding?
Tiffany: Many customers originally bought a transitional non-maternity dress, only to find out that it no longer fits further down the line, or that it has been adjusted so many times it is barely recognisable. At Tiffany Rose we hold all of our bridal dresses in stock and have saved the day for many brides in distress!
Are maternity bridal dresses more expensive than other bridal fashion?
Ann: Maternity gowns tend to be of a similar price point to your average bridal gown.
What kind of accessories would you recommend to go with a maternity bridal dress?
Tiffany: Minimalist styling tends to work best. We love pearl drop or chandelier earrings to draw your eye to the neckline and shoulders. A silk satin or beaded sash along your empire line provides a beautifully neat touch. At Tiffany Rose we stock a selection of sashes, my favourite being the Diamante sash Katherine Jenkins wore recently.
Ann: It depends on the bride's own sense of style, but if you don't normally wear statement jewellery, don't do it in the hope that it will distract from your bump – it will just annoy you when you look back at photos.
Is there any other fashion advice you would give to a pregnant bride?
Tiffany: Don't compromise on your style: you can still wear your dream dress whether you are pregnant or not. Also, choose a dress designed for pregnancy and opt for Made in Britain to be assured of high quality, beautiful craftsmanship and personal customer care.
Ann: Stay true to your own sense of style and don't assume that because you're pregnant you have to have an empire line gown – but definitely have a lace-up back, not a zip.
If you also have some weddings to attend as a guest then browse some of our favourite maternity wedding guest dresses.