35 Stunning Maternity Wedding Dresses for Stylish Brides
With so many 2020 couples postponing their weddings (thanks Covid) many refused to put their big plans on hold, so expect to see a lot of pregnant brides in 2021! If you're an expectant bride, here are the best maternity wedding dresses to buy now
We have included third party products to help you navigate and enjoy life's biggest moments. Purchases made through links on this page may earn us a commission.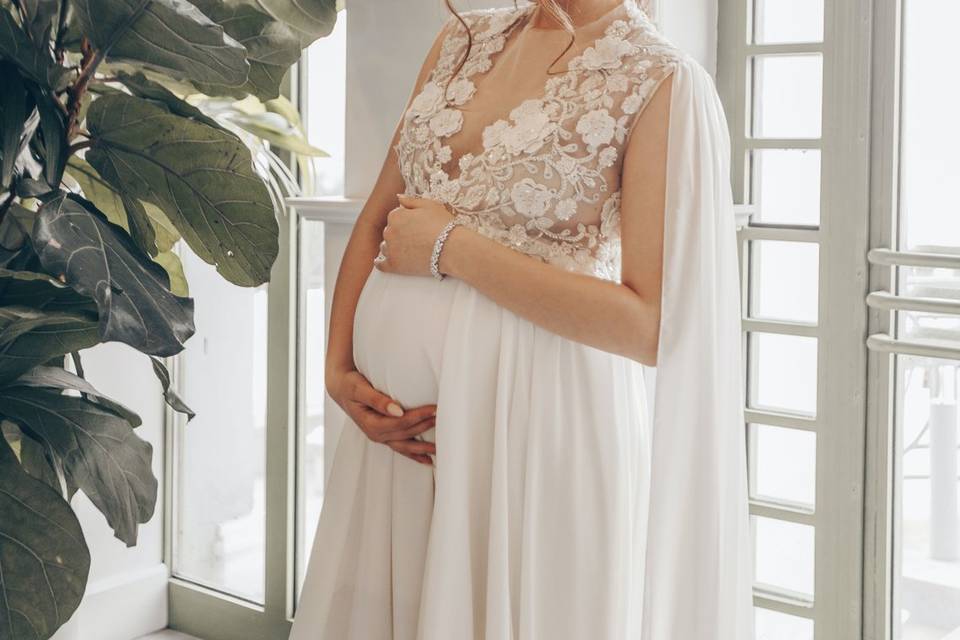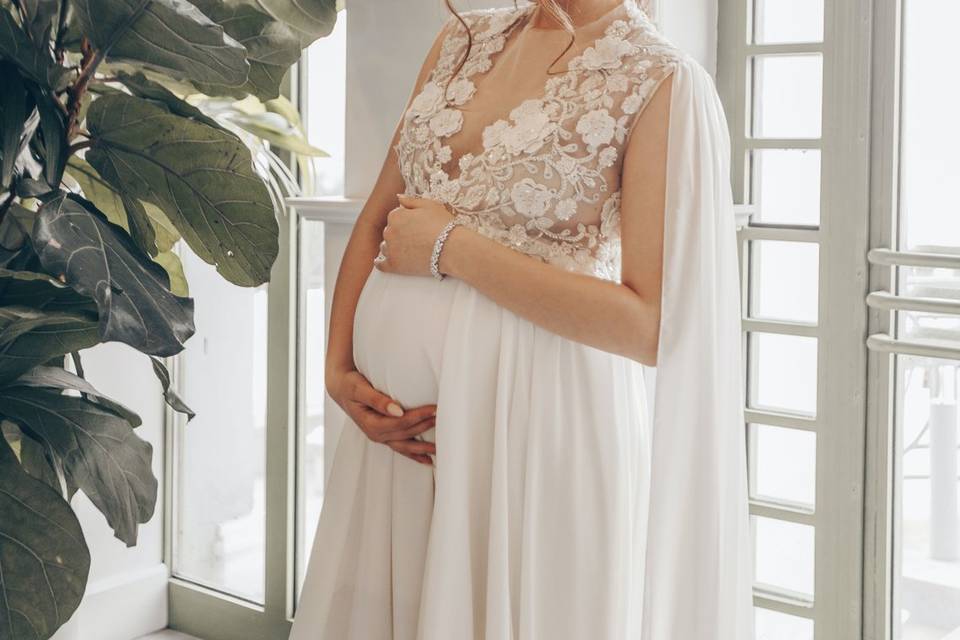 According to Google Trends, searches for 'maternity wedding dresses' increased by 80% between March and April this year, showing that a growing number of brides refuse to put their big life plans on hold following thousands of Covid wedding postponements.
If you're going to be pregnant for your big day, congratulations! Starting your life as newlyweds while expecting is incredibly exciting, and you'll no doubt want to find the perfect dress to celebrate in.
In the not-too distant past, 'maternity wedding dress' pretty much translated to 'sack'. Not any more. Admittedly, not all wedding dress designers have maternity-specific dresses, so if you're hitting up the bridal boutiques, it's worth checking before your appointment that your chosen shops carry designs to suit your growing bump.
If you don't find what you're looking for in a bridal boutique, don't panic - simply head online and you'll be spoilt for choice. From high-end to budget-friendly brands, designers have cottoned on to the fact that as both a bride-to-be and a mum-to-be, you still want to look sensational when you take to the aisle.
You can find gorgeous maternity wedding dresses to suit all kinds of aesthetic, from glam to boho, from minimalist cool to vintage-inspired elegance.
We've picked out our favourite maternity wedding dresses. But before we get to the shopping, we also talked to the experts for their fashion insights into what pregnant brides-to-be should look for in a gown.
NB: We have included third party products to help you navigate and enjoy life's biggest moments. Purchases made through links on this page may earn us a commission.
When an Expectant Bride Visits a Boutique, What Information Should She Share?
"The first thing is how pregnant she's going to be at the time of the wedding as this affects the styles the boutique consultant will consider," says Ann Beggs, wedding planner and owner of Ann Nicholas. "The boutique may also ask if this is the bride's first pregnancy: if the bride already has children, chances are her waistline will expand much quicker than if she was having her first baby."
Do Most Brides Want to Hide or Show off Their Bump?
"We prefer to work with the bump rather than disguise it," says Tiffany London, owner and founder of Tiffany Rose. "The majority of our customers are around six to eight months pregnant on their wedding day, so their biggest concern is wearing something that is flattering.
"Often, pregnant brides opt for an empire waist which can be very flattering as it accentuates the slimmest part of the body – it doesn't show off or disguise the bump."
What Fabrics Suit Pregnant Brides and Why?
"If the design is done well and the fabric is good quality, any type of fabric can be used," says Tiffany. "It's best to avoid anything overly stiff - look for floating silks, soft satin jerseys and elegant lace fabrics, all of which are breathable and tailored to enhance growing curves."
Ann agrees that comfort is key: "Soft fabrics like chiffon and tulle for heavily pregnant brides as they are more comfortable and flow over the bump. For earlier stages of pregnancy, lace or lace appliqué is good, as the pattern distracts from the bump."
What Happens If a Bride Becomes Pregnant after She Has Ordered Her Gown?
"This is the case for the majority of pregnant brides I've dealt with!" says Ann. "You can convert many zip back gowns to lace-ups, let out side seams, or take a waisted ballgown and shorten the bodice to create an empire-line dress."
READ MORE: 25 Maternity Bridesmaid Dresses Your Bestie Will Love
Can Any Trend Be Incorporated into Maternity Bridal?
"A good designer knows how to adapt a trend and tailor it accordingly so it works on all levels for pregnant brides," says Tiffany. "They will select the right fabric for weight and drape, and focus on the fit and on the areas of the body that can expand during pregnancy."
Are Maternity Dresses More Expensive Than Other Bridal Fashion?
"Maternity gowns tend to be of a similar price point to your average bridal gown," says Ann.
What Fashion Advice Would You Give to a Pregnant Bride?
"Don't compromise on your style: you can still wear your dream dress whether you are pregnant or not," says Tiffany. "Also, choose a dress designed for pregnancy."
"Stay true to your own sense of style and don't assume that because you're pregnant you have to have an empire-line gown – but definitely have a lace-up back, not a zip," says Ann.
The Best Maternity Wedding Dresses for 2021
1. Alaska – £299, Tiffany Rose
The Alaska maternity wedding dress from Tiffany Rose is perfect for a summer wedding, thanks to the light, easy-wearing silk-chiffon skirt.
The dress is tailored with a stretch finish, so you don't need to worry about accommodating a growing bump!
2. Lucky Star 01 – £POA, Pronovias
Pronovias is the designer to know for bridal glamour, and that's certainly true of this maternity wedding dress.
That chiffon skirt contrasts beautifully with the intricate lace bodice that has a hint of sparkle.
3. Lace and Silk Dress – £329, Seraphine
This wedding dress from Seraphine is so pretty, with lace flutter sleeves and flowing silk-chiffon fabric giving it a fairytale feel.
The silk satin sash is an elegant finishing touch.
READ MORE: Wedding Readings From Children's Books: 7 Cute Choices
4. Eden – £269, Tiffany Rose
We adore the Eden dress from Tiffany Rose. Shimmering jersey fabric makes for a chic, figure-skimming silhouette, and the stretch lace overlay on the gown adds a note of prettiness.
You can add a sash to amp up the elegance, with options including plain satin or vintage-inspired embellishment.
5. Romia Tank – £34.99, Envie de Fraise
Envie de Fraise are a great brand to know for everyday maternity wear - and they also have some wedding-worthy designs that won't break the bank. The Romia Tank dress is all about understated chic, with a flatter-all wrap neckline.
It's been designed to be suitable for breastfeeding, so you can also wear it post-pregnancy.
6. MAMA Smock-Topped Dress – £29.99, H&M
It's not specifically a wedding dress, but we'd be remiss if we didn't show you this bargain stunner from H&M's maternity collection.
The smocked bodice, volume sleeves and free-flowing silhouette are bang on trend, and we love the delicate shade of pink - ideal if you want a maternity wedding dress with a difference.
7. Ivory Pleated Midi Maternity Dress – £169, Seraphine
With a fitted bodice against a pleated skirt, this Seraphine wedding dress is a wonderfully elegant proposition.
It's a design that manages to be both contemporary and timeless, and choosing a midi means you can show off your wedding shoes.
READ MORE: 27 Chic Flat Wedding Shoes Your Feet Will Thank You For
8. Mia – £225, Tiffany Rose
Add some glitz and glam to your bridal look with the Mia wedding dress from Tiffany Rose, featuring an embellished bodice of sequins and lace.
It's a dress that's as practical as it is pretty, made from soft-fitting jersey fabric for a comfortable fit.
9. Mldenise Maternity Dress – £38, Mamalicious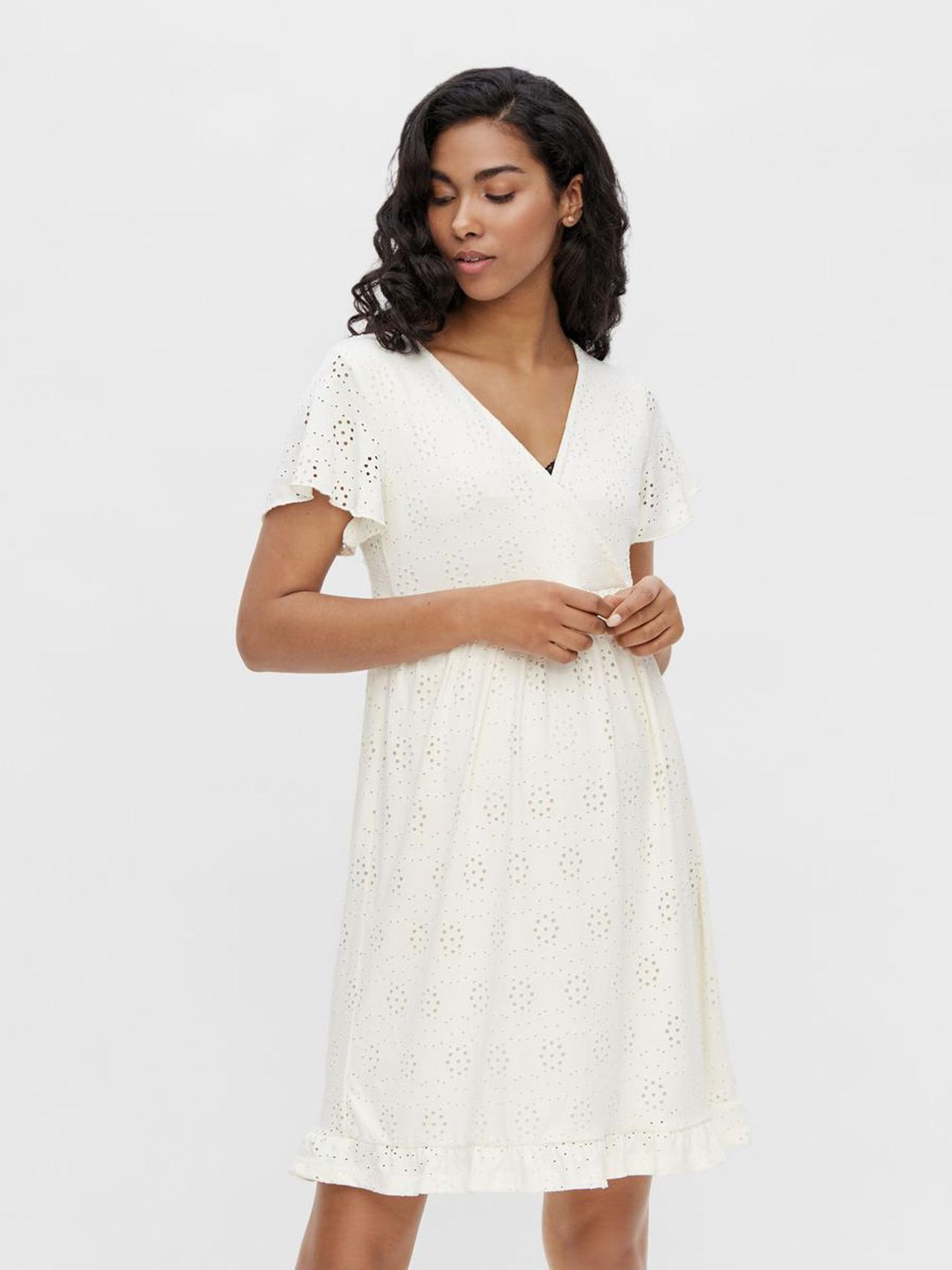 Nothing says summer like broderie anglaise, and this pretty fabric is used to full effect in Mamalicious's Midenise dress. It's perfect for a laidback wedding on a sunny day.
10. Laeticia Maternity Jumpsuit – £43.99, Envie de Fraise
Prefer a jumpsuit to a dress? Your wish is our command!
This Laeticia maternity jumpsuit is super-slick, and would look incredibly stylish at a city wedding.
11. Maternity Wedding Dress – £289.02, Son de Flor at Etsy
If you're looking for an alternative maternity wedding dress, Etsy has some excellent options - such as this beautiful high-waisted smock dress.
It's Bridgerton-meets-boho, and we particularly love that ruffled high collar.
READ MORE: 42 of the Most Beautiful Boho Wedding Dresses
12. Maternity Off the Shoulder Wrap Midi Dress – £25, Boohoo
It's not specifically a bridal gown, but we reckon this Boohoo dress is special enough for a wedding.
The off-the-shoulder neckline and figure-skimming silhouette are smoulderingly sexy, but still on the right side of sophisticated.
13. Sienna – £119, Tiffany Rose
We think this maternity wedding dress from Tiffany Rose has serious Meghan Markle vibes, with its simple fabric and clean lines.
The gently tailored fit means it will fit your new shape beautifully.
14. Pink Maternity Slip Dress – £49, Lily & Ribbon
Who says you have to wear white? This pink slip dress is effortlessly chic, and would look gorgeous at a spring or summer wedding.
Worried about getting the wrong kind of chills? Add a bridal cover-up for the evening.
15. Ivory Maternity Wedding Dress – £259, Seraphine
This stylish wedding dress from Seraphine is the modern way to do pretty.
The flowing silhouette is elevated by just a couple of judiciously thought-through details: a touch of lace at the shoulders and back and a bow at the neckline.
READ MORE: Comfortable Wedding Shoes: 33 Perfect Pairs to Shop Now
16. Amelia – £199, Tiffany Rose
The Amelia dress from Tiffany Rose is absolutely stunning! Available in both full length and mid length so you can pick a style to suit you.
We particularly appreciate that this dress is all about embracing your bump. Even though it's form-fitting, however, the soft ivory jersey is light weight and super comfortable so you won't need to worry about feeling too hot on the day.
17. Maternity White Bardot Dress – £22.95, Want That Trend
Want a cheap maternity wedding dress that doesn't look cheap? This Want That Trend gown should fit the bill.
The Bardot neckline keeps the overall look sophisticated, and on the practical side, it's been designed without fastenings for extra comfort.
18. MAMA Nursing Dress – £34.99, H&M
If you're planning to rock a wedding-day floral, this H&M dress is a beautiful option.
With flounces at the neckline and that painterly pattern, it would look fabulous at a laidback spring or summer wedding.
19. Chloe – Tiffany Rose

The Chloe dress is so sophisticated, with its three quarter length lace sleeves and elegant scalloped neckline.
It's the perfect wedding dress for brides who want to feel refined on the big day, while really embracing their bump.
20. Maggie Boho Lace Maternity Dress – £120, Design by C Maternity at Etsy
Embrace your inner boho goddess with this sensational lace maternity dress.
It's available in a whole host of different colours, so don't feel you're limited to a white dress - have fun with your look.
READ MORE: Colourful Wedding Dresses: 30 Stunning Designs That Prove You Don't Have to Wear White
21. Ivory Silk & Lace Maternity Wedding Gown – £329, Seraphine
Crafted from pure silk, this Seraphine wedding dress is a luxurious option for a bride who wants a timeless look.
The lace shoulders are so elegant, and we love the flattering sweetheart neckline.
22. Christina Maternity Dress – Envie de Fraise
The Christina dress features a beautifully fluid silhouette, with side slits for ease of movement (and to provide some subtle sexiness).
What makes it really stand out from other bridal maxis is that patterned waistband - so chic.
23. Gwen Baby Blue Maternity Dress with Slip – £180, Design by C Maternity at Etsy
Add a dash of colour to your bridal look with this pretty-as-a-picture maternity dress.
The blue tulle skirt will look incredible in the wedding photos!
24. Maternity Tie Waist Broderie Midi Dress – £30, Boohoo
This midi dress would be ideal for a wedding that's high on style but low on formality.
Keep it paired back, or amp up the glamour through your makeup and accessories - this is such a versatile design.
READ MORE: 63 Outdoor Wedding Ideas You'll Fall in Love With
25. Ivory Chevron Mesh Overlay Dress – £51.61, Pink Blush
Pink Blush take a cool and contemporary approach to maternity wear - like this chic dress. That chevron mesh just feels so fresh.
They're based in the US but do ship internationally - before you buy, check out what custom duties you'll be liable for, as you'll need to factor those into your budget.
26. Cream Thin Strap Maternity Dress – £51.61, Pink Blush
Another seriously special design from Pink Blush, this maternity dress features raised polka dots and a ruffled hem.
If you want to take your bridal look in a fashion-focused direction, this is the one.
27. Maternity Wedding Midi Dress – €199, Mamarella
German brand Mamarella has a seriously covetable maternity wedding dress collection. They ship worldwide, but just make sure you check whether you'll need to pay taxes and customs duties.
We particularly like this pared-back dress - it's simple, and there's something rather regal about it.
28. Maternity Wedding Dress with Dots – €429, Mamarella
Polka dots are a chic alternative to the classic wedding florals, and they look particularly lovely on this maternity wedding dress.
There's a removable sash, so you can choose whether or not to add extra emphasis to the empire-line waist.
29. Penelope Maternity Jumpsuit – £68.99, Envie de Fraise
We're head over heels for this maternity jumpsuit, which would be just the thing for a chic city wedding.
We'd style it with gold accessories and a pair of pale blue shoes (as your something blue) for a winning bridal look.
READ MORE: Something Blue: 33 of the Best Blue Wedding Shoes
30. Bailey Gown – £269, Tiffany Rose
We love Tiffany Rose's wedding dress collection, but if you want something alternative, take a look at their maternity party looks - like the glorious Bailey dress.
The colours are stunning, with a tulle overlay contrasting perfectly with the blush lining.
31. MAMA Glittery Dress – £39.99, H&M
If the idea of a floral maternity wedding dress appeals, you should also check out this pretty H&M design.
It's great for brides on a budget, and it has a touch of sparkle for an elevated feel.
32. Lucky Star 06 – £POA, Pronovias
The detailing on this Pronovias maternity wedding dress is exquisite, with floral appliqués across the bodice and illusion sleeves.
The silhouette is beautiful, too, thanks to the chiffon skirt that flows so effortlessly.
33. Ivory Mesh Neckline Maternity Gown – £78.32, Pink Blush
This gorgeous maternity dress is described as an evening gown, but we think it would be perfect for a sophisticated bridal look.
That mesh neckline makes the whole thing feel fresh and contemporary while still timeless.
34. Lace Sleeved Mesh Maternity Maxi Dress – £60, Mamalicious
Looking for a traditional wedding dress? This Mamalicious design is classically elegant, with a fluid skirt against a pretty lace bodice.
35. Verona – Tiffany Rose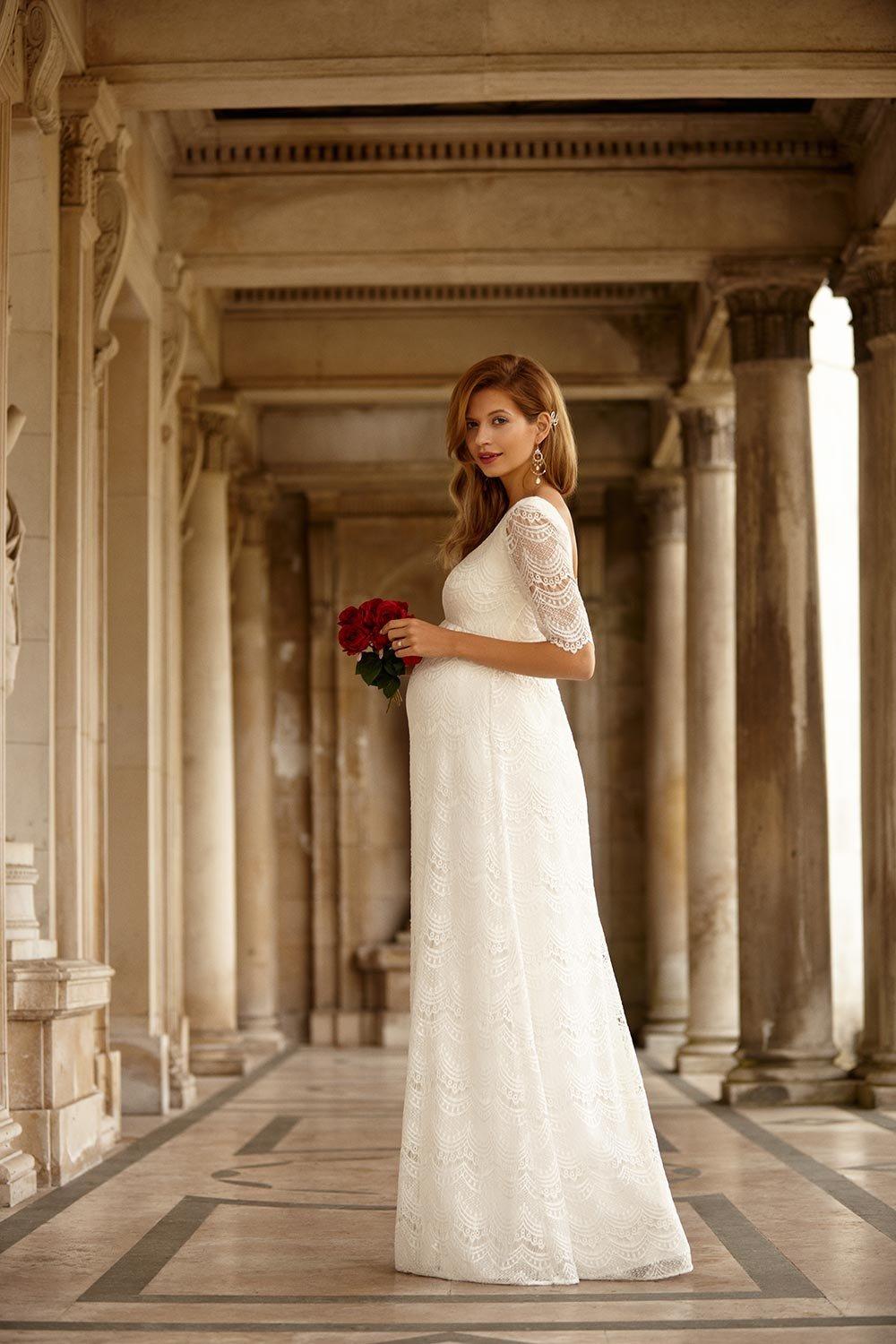 The Verona gown has a delicate eyelash lace overlay and is lined with a soft ivory jersey - so as well as looking gorgeous, you'll feel comfortable and cool all day long.
You'll also be in great company as this is the same dress worn by Hollywood actress Julia Stiles on her wedding day!
If you also have some weddings to attend as a guest, check out some of our favourite maternity wedding guest dresses.