Picking a dress a wedding guest dress can be tricky enough in itself – you will want to stick to traditional wedding guest etiquette and avoid the easy and safe choice of black and especially keep away from anything in bridal white! It can feel even more difficult if you are also a mum-to-be – finding something that is comfortable, stylish and able to accommodate your ever growing bump can feel like a challenge.
But it doesn't have to be, Tiffany London, founder of Tiffany Rose talks about how you can find the perfect maternity wedding guest dress for you and your bump. 
"When you're pregnant, no matter how glamorous the wedding, comfort is paramount. We keep this front of mind when designing all of our dresses – from the quality fabrics used to the cut of the neckline – making it easy to look fabulous and feel comfortable.
Confidence is key so wearing something that makes you look and feel great will shine through. We find an empire line can be most flattering when pregnant – a higher waist line that sits just under your bust accentuates the slimmest part of your body, while a cleverly tailored skirt will skim and enhance your curves in all the right places."
To help you find the right dress for you, take a look at our pick of some of the most gorgeous maternity wedding guest dresses out there.
Chloe Lace Dress Short – Tiffany Rose
We love how simple and elegant the Chloe dress from Tiffany Rose is, shown here in shade coralista but it is also available in six other gorgeous shades. This knee-length gown is made from soft and stretchy lace making it really comfortable as well as super-stylish. The plunging v-neckline will add a hint of cleavage and the three-quarter length sleeves will give you some extra arm cover. The scalloped edging is then a pretty finishing touch to this gorgeous gown.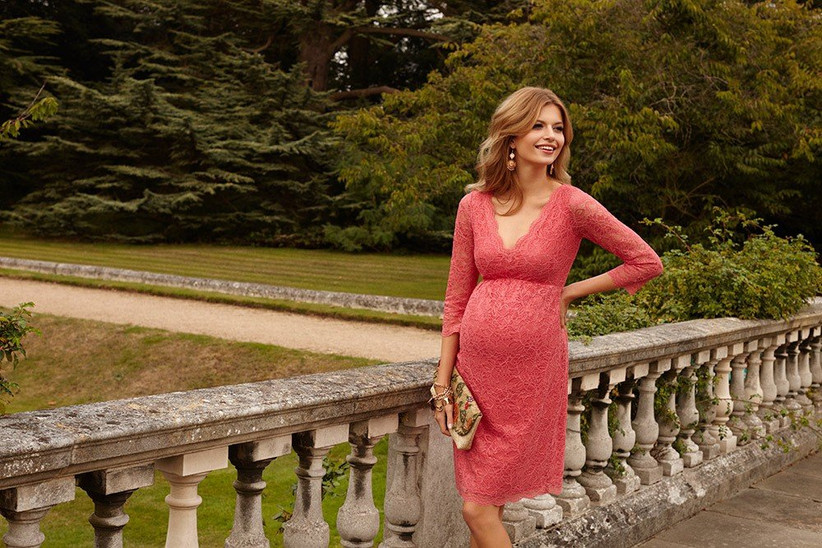 Pollyanna – Rock-a-Bye-Rosie
If you are looking for the perfect maternity wedding guest dress but you don't want to lose your quirky sense of style then this asymmetrical dress from Rock-a-Bye Rosie could be the perfect choice for you. The pleated sunray fabric is light-weight and easy to wear, while the draped style means if your bumps grows a little faster than expected, you will still have a dress that fits you perfectly. We also love the contrasting yellow band at the bottom of the dress that adds a simple splash of colour.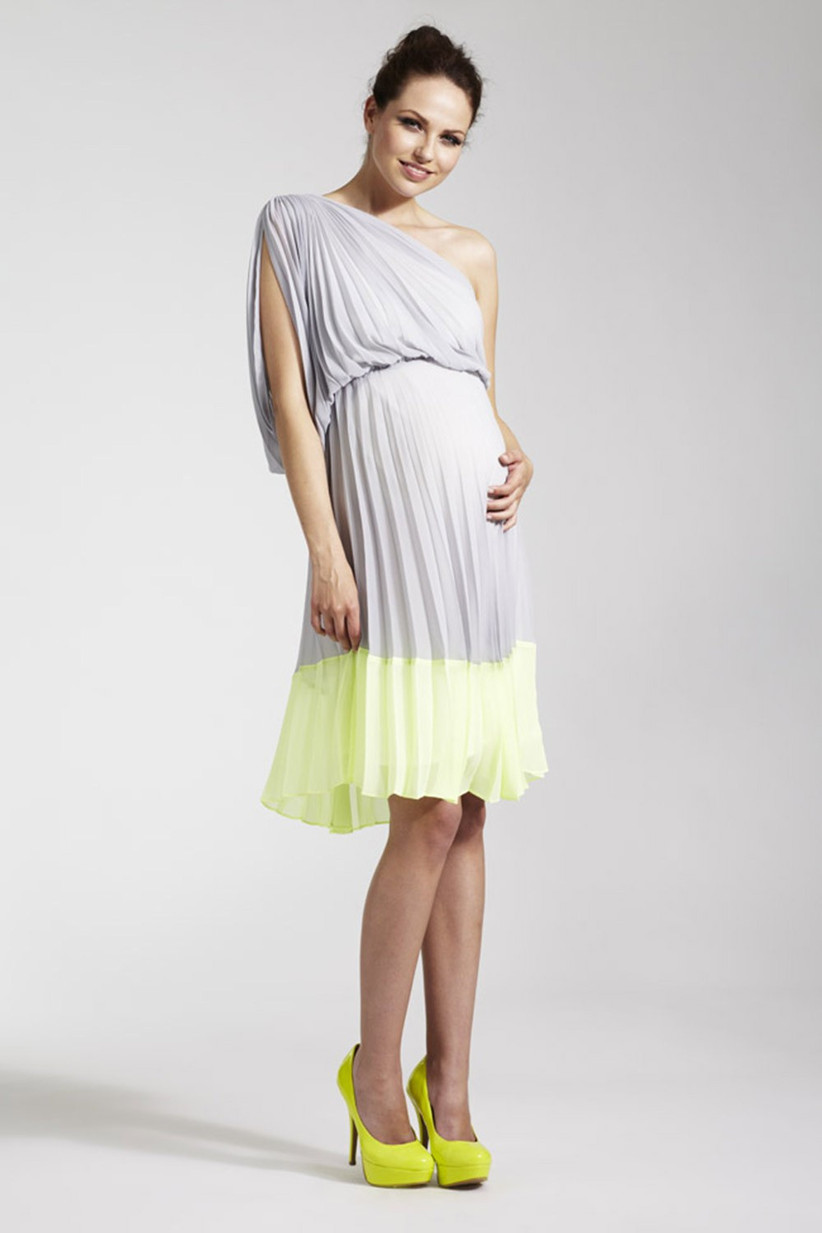 Maternity Embellished Jumpsuit – ASOS
If you are looking for something a little bit different then why not consider a maternity jumpsuit. This lavender style from ASOS is a bargain at just £65 and the full length means you can easily get away with wearing a low heeled or flat shoe to the wedding without anybody noticing. We also love the pretty detail on the body of the jumpsuit that you can easily highlight by teaming your look with black accessories. Wear alone for a summer wedding or wrap up with a black blazer if you are wearing this outfit to a winter wedding day.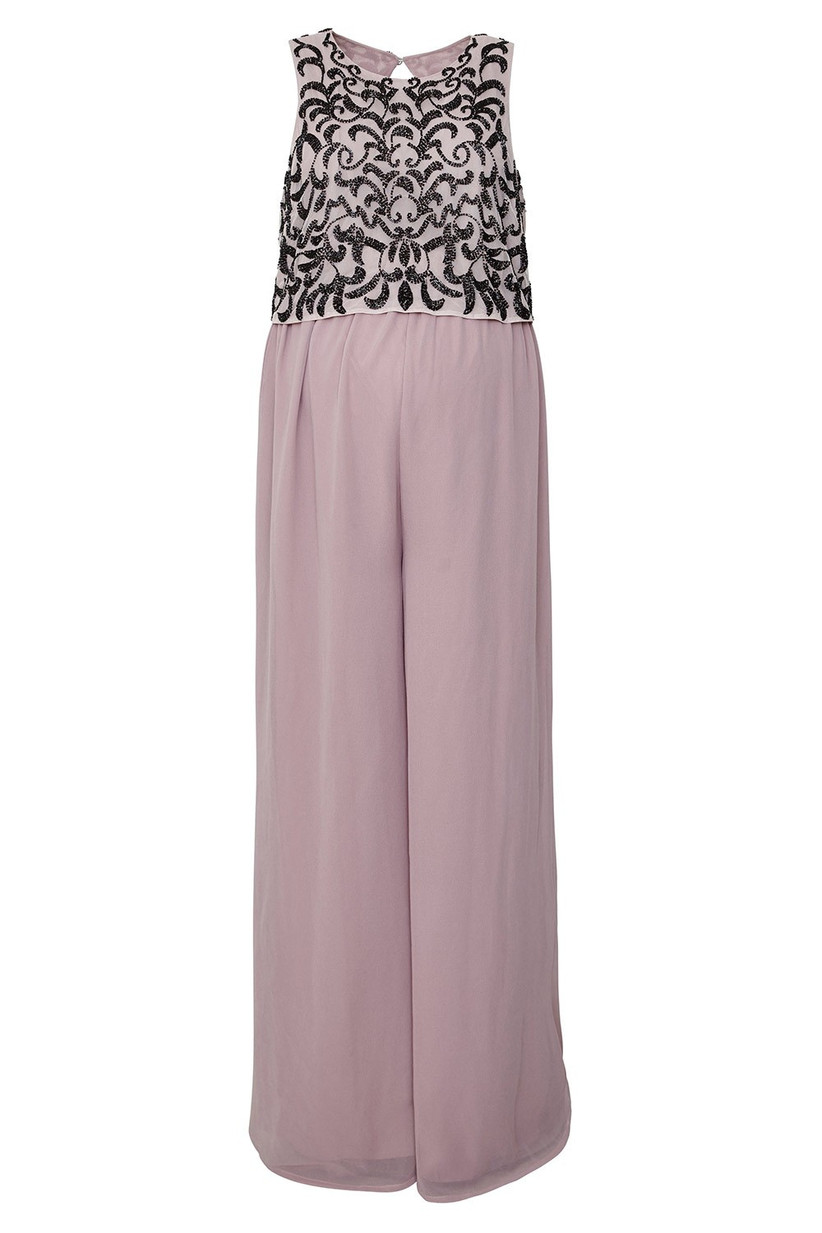 Lizzie – Rock-a-Bye Rosie
If you want to wear flattering black but you don't want anything that is too heavy for a wedding then this elegant maternity lace prom dress is black lace with a neutral ivory underneath. The sweetheart illusion neckline is a flattering shape and the empire line that nips in under the bust will highlight your shape and then the A-line skirt will perfectly accommodate your bump. Team this dress with black or nude heels to complete the look. This stunning dress is also available in red with a grey lace overlay.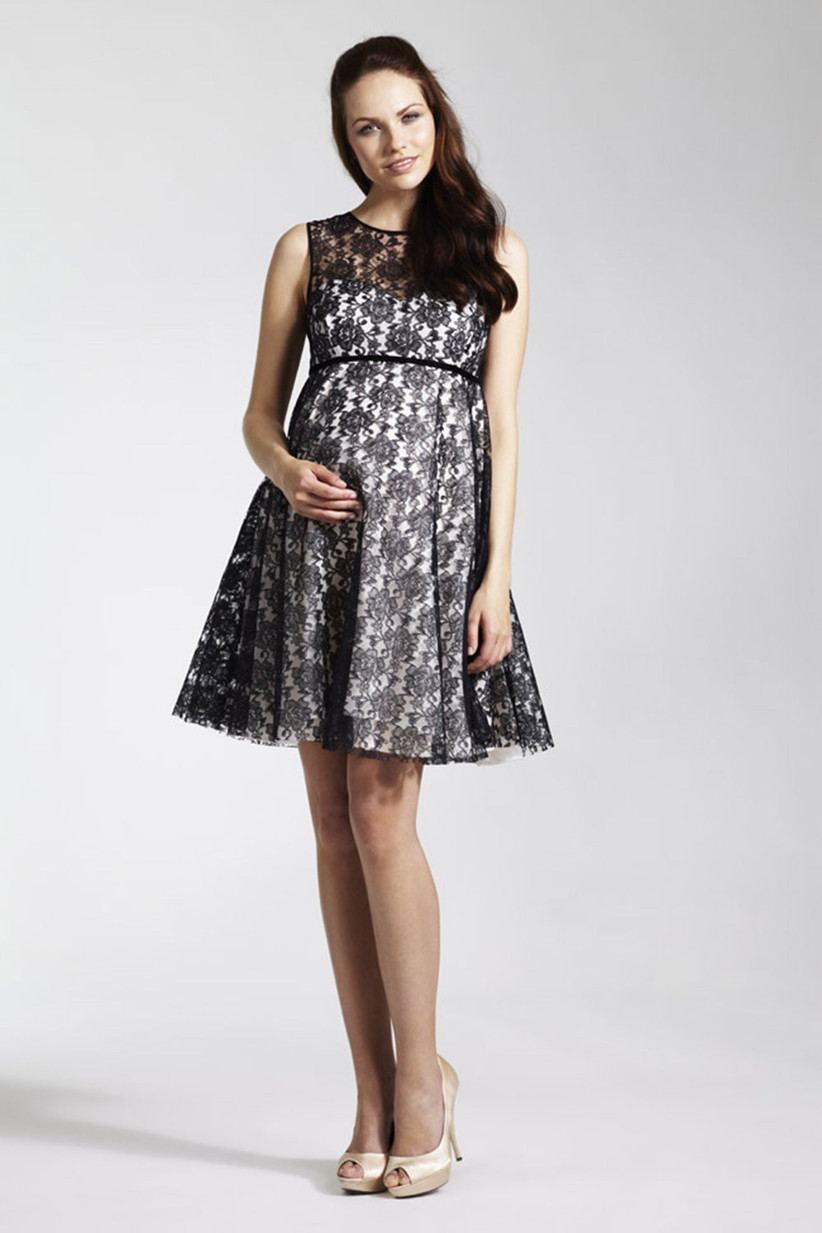 Anastasia Dress Short – Tiffany Rose
The Anastasia dress is shown here in a shorter length but it is also available in full length is you are looking for a more formal gown. This gathered Grecian style dress is made from a super soft fabric that is light weight and comfortable to wear but you won't need to compromise on style and this silhouette on this dress is simply stunning. This gown is also available in ivory and would be the perfect option if you were looking for a maternity Grecian style wedding dress.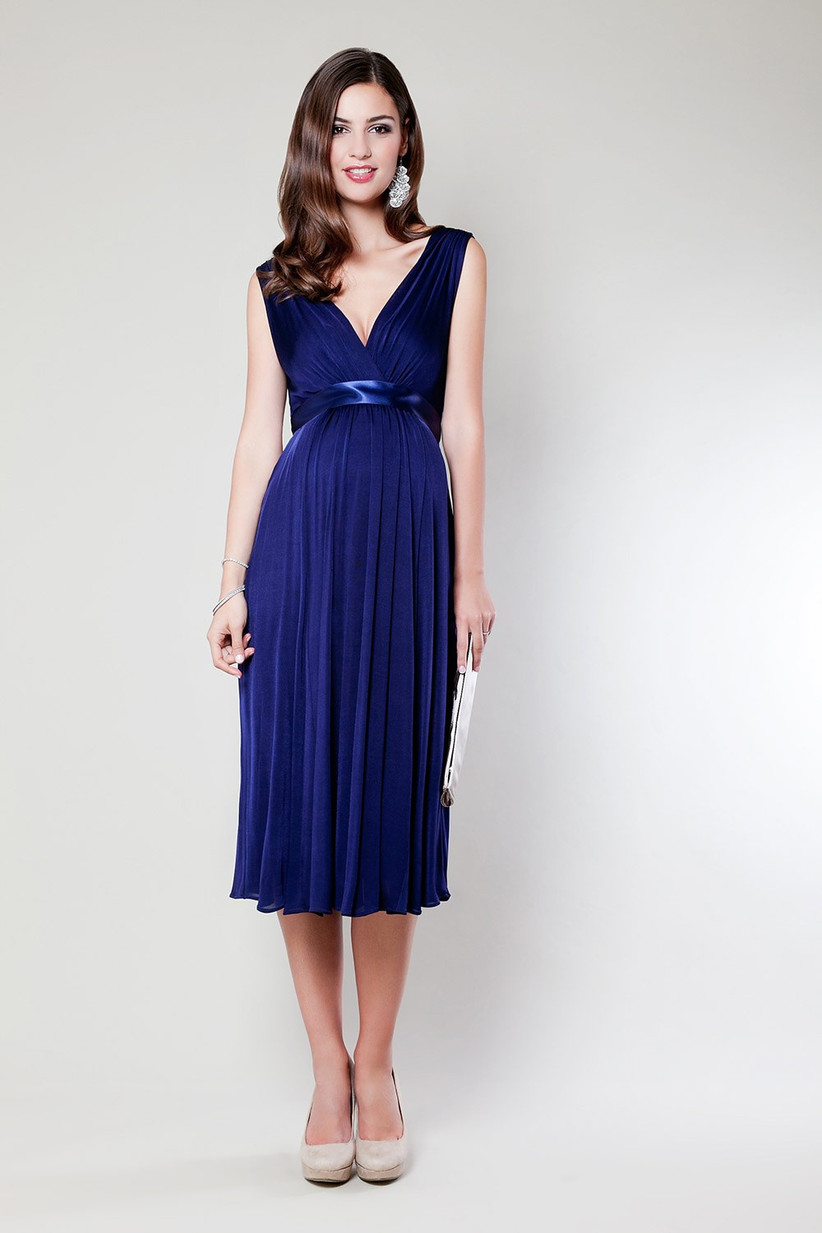 Maternity Crepe Dress – ASOS
If you are attending a winter wedding day then this red mid-length dress from ASOS will be perfect. The cross-over v-neckline will be really flattering and the soft material will perfectly accommodate your growing bump. The three-quarter length sleeve will also give you a bit of extra coverage without the need for a jacket if you know you are prone to getting too hot.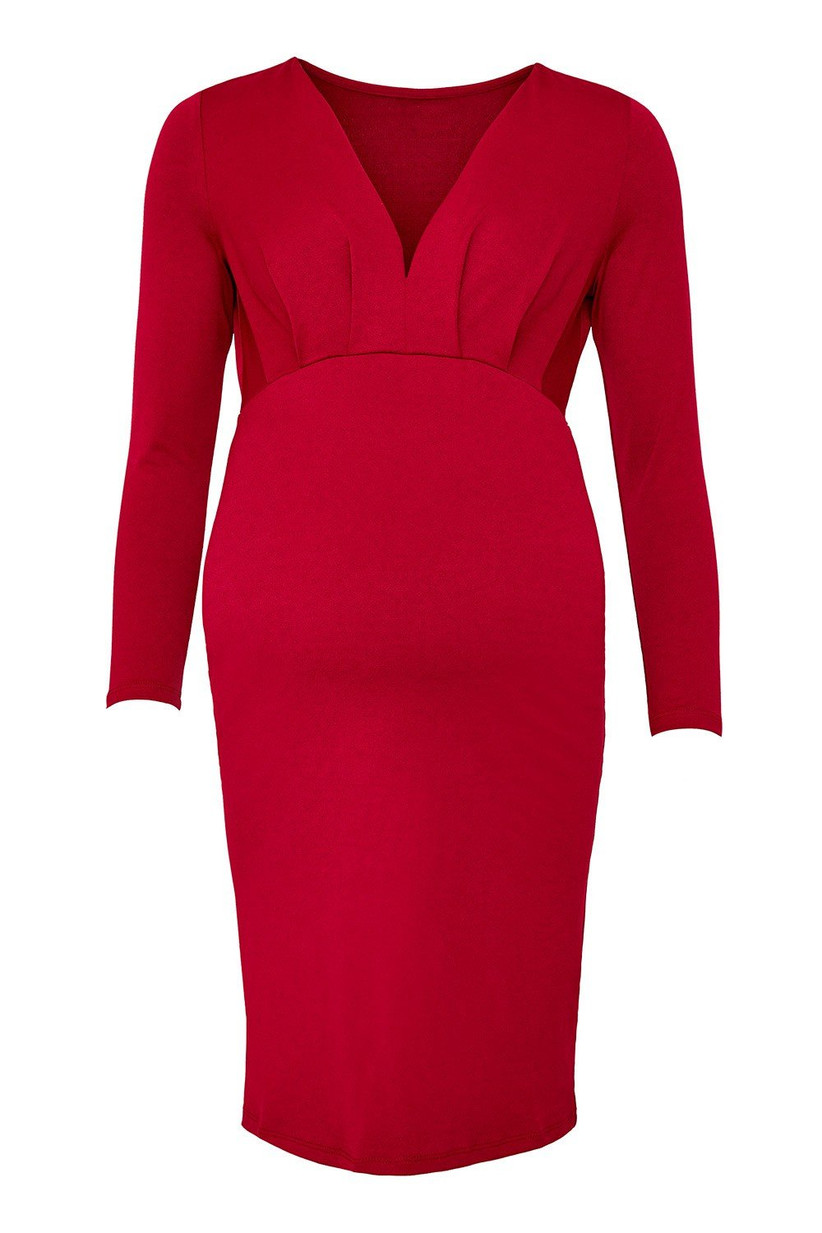 Stardust – Rock-a-Bye Rosie
If you want to add some sparkle to your look then the Stardust dress from Rock-a-Bye Rosie could be perfect for you. The jewel-encrusted top is light-weight and then leads to a pretty and feminine sunray pleated skirt that will gently skim over your baby bump. Shown here in nude this is a pretty shade for a summer wedding, this dress is also available in dark berry which would be great for a winter wedding day.
Amelia Dress Short – Tiffany Rose
It's no wonder the Amelia dress from Tiffany Rose is one of their most popular designs. Made in Tiffany Rose's signature stretch floral lace and is shown here is a gorgeous deep purple shade but is also available in ten further shades from deep burgundy to mint green. The Amelia dress is also available in full length and worn in white it would also make the perfect maternity wedding dress.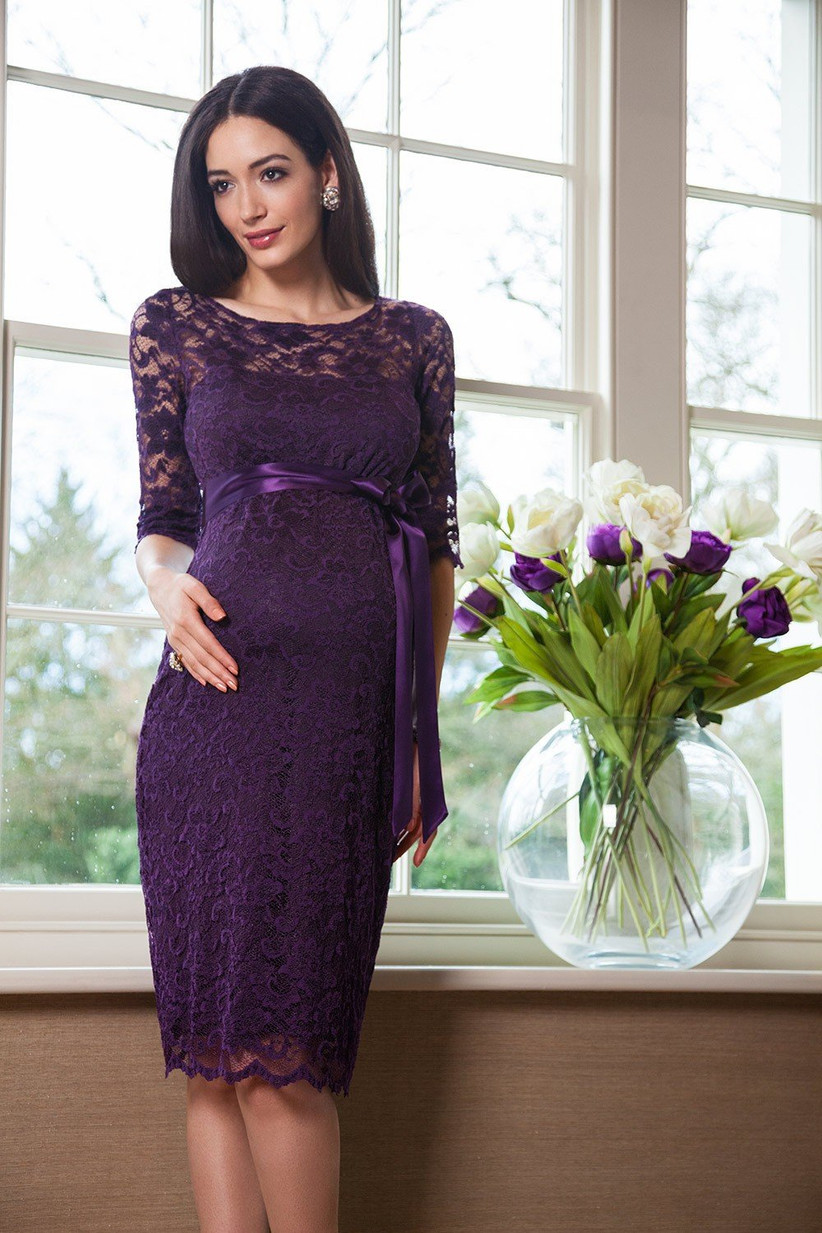 Annabelle – Rock-a-Bye Rosie
For a pretty and glamorous maternity wedding guest dress consider the Annabelle dress from Rock-a-Bye Rosie. This chiffon tunic dress has pleated shoulders and a flattering v-neckline that then leads to a floaty chiffon skirt. Shown here in purple but this pretty dress is also available in a vibrant cobalt blue.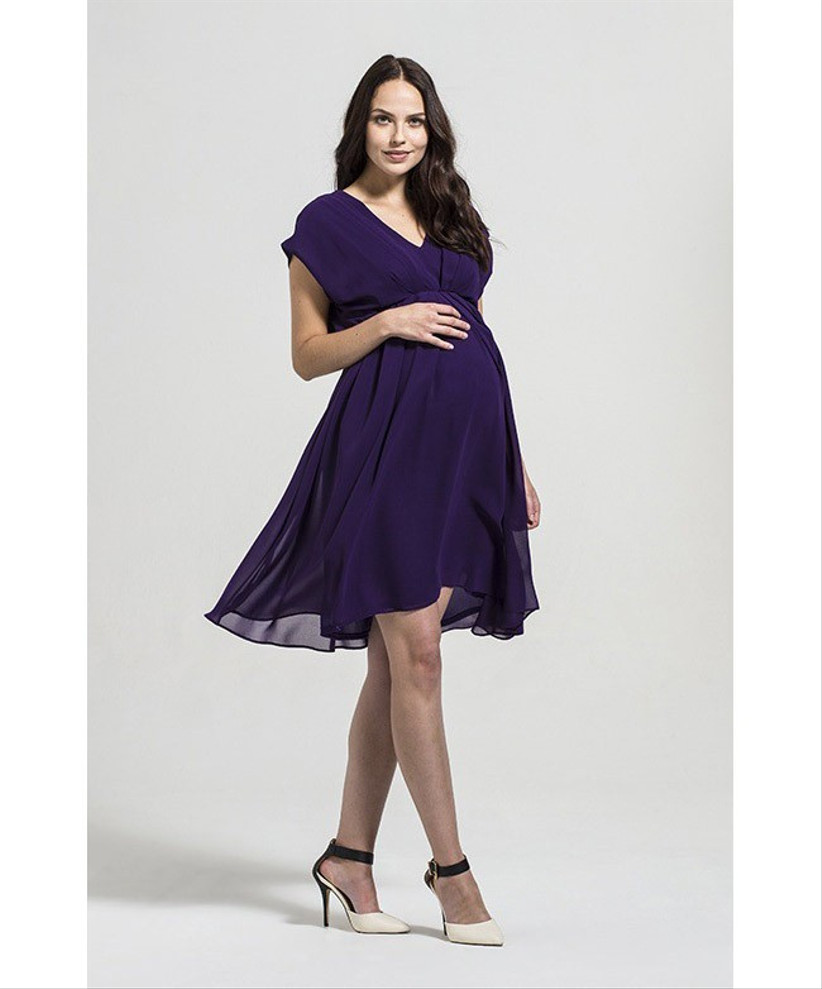 If you are a mum-to-be attending a wedding in the near future then use our top tips to ensure you feel fab on the day of the wedding.
Don't stress about your bump growing!
Most dresses will be made from stretchy or floaty fabric so even if you are bigger than you expected, it's likely your dress will fit just fine.
Think about your footwear
If you are wearing heels then don't forget to pack a pair emergency wedding flats – in fact we'd advise this whether you are pregnant or not!
Remember you will be wearing your dress all day long
Even if your dress is just mildly uncomfortable when you try it on then put it back on the hanger! You will be wearing it for possibly up to 12 hours so even the tiniest niggle will be fully frustrating after a few hours.
Stay true to your sense of style
With so many gorgeous maternity wedding guest dresses to choose from, you will be able to stay true to your own sense of style, whether that is fun and quirky or elegant and glamorous.
Don't forget your accessories
A simple dress can be made absolutely stunning with the right accessories, if you are keeping your dress simple then why not add a statement necklace or some chandelier earrings.
We also have a fab selection of the best maternity wedding dresses if you are a bride-to-be as well as a mum-to-be, along with your maternity wedding dress questions answered.