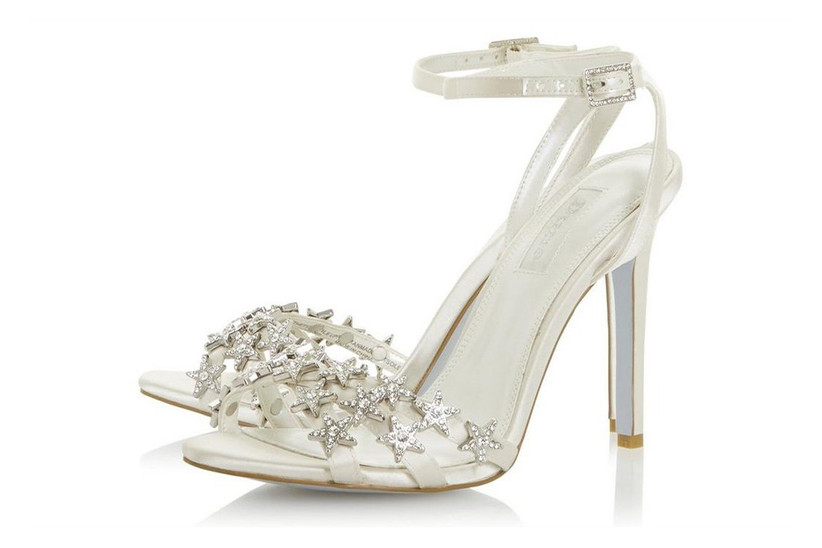 If you're a big fan of designer wedding shoes, but only have a high street budget, don't panic.
We've rounded up the best high street wedding shoes so you can have serious style on your big day without the worry of blowing your budget.
If you're after the most on-trend set of heels, Dune has just dropped its 2020 collection of gorgeous wedding shoes! Found exclusively online, this edit of 19 glamorous satin shoes comes in a design to suit every bride and adorned with chic pearls and crystals. Even better, prices start from just £120.
Find our pick of our four favourites from the Dune collection below and the rest of the high street wedding shoes we love below!
Markles – Dune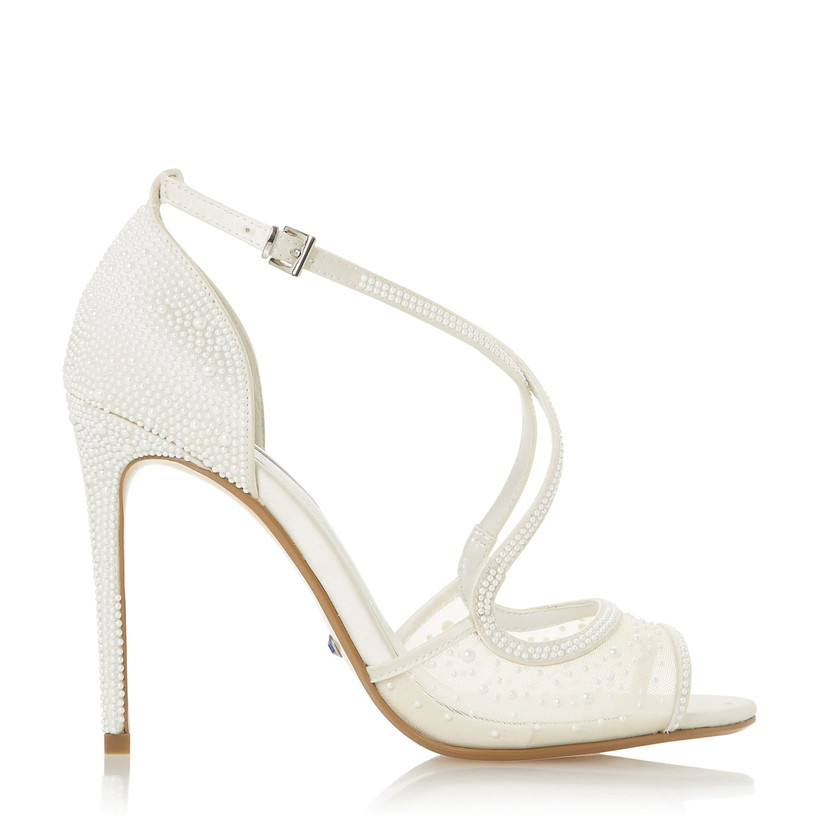 This ivory, beaded shoe is the height of sophistication and glamour thanks to being hand-embellished with pearls. If you want to add some height to your big day, this high stiletto heel is perfect. It'll also show off your pedicure wonderfully.
Mary – Dune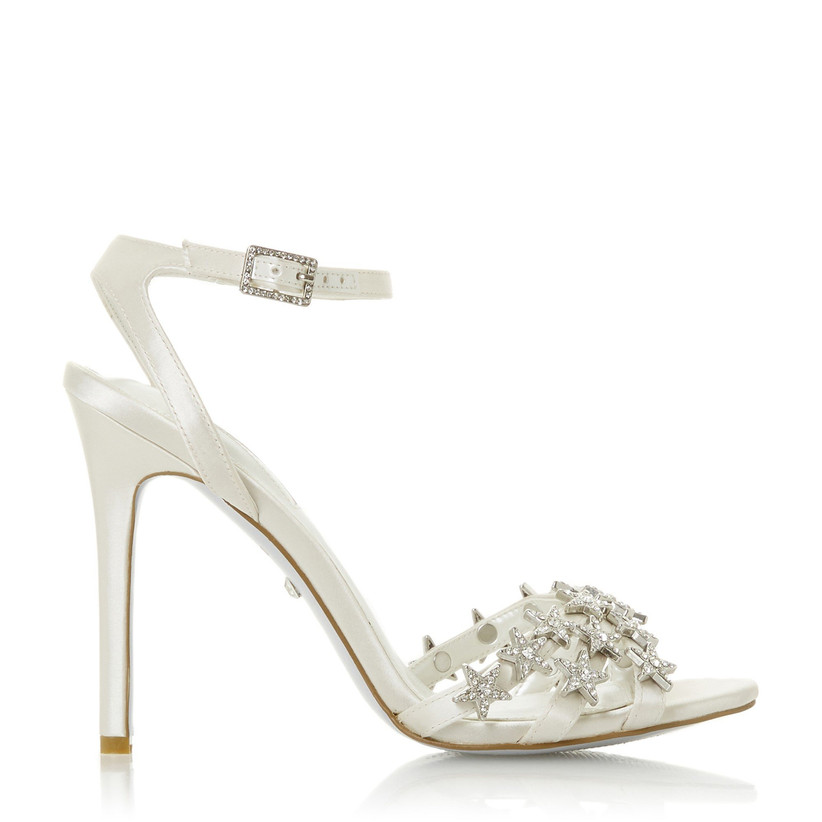 An ethereal wedding theme calls for a shoe which is embellished with stars! The Mary shoe certainly suits its name. We love the dainty look of the shoe and the subtly embellished buckle.
Martine – Dune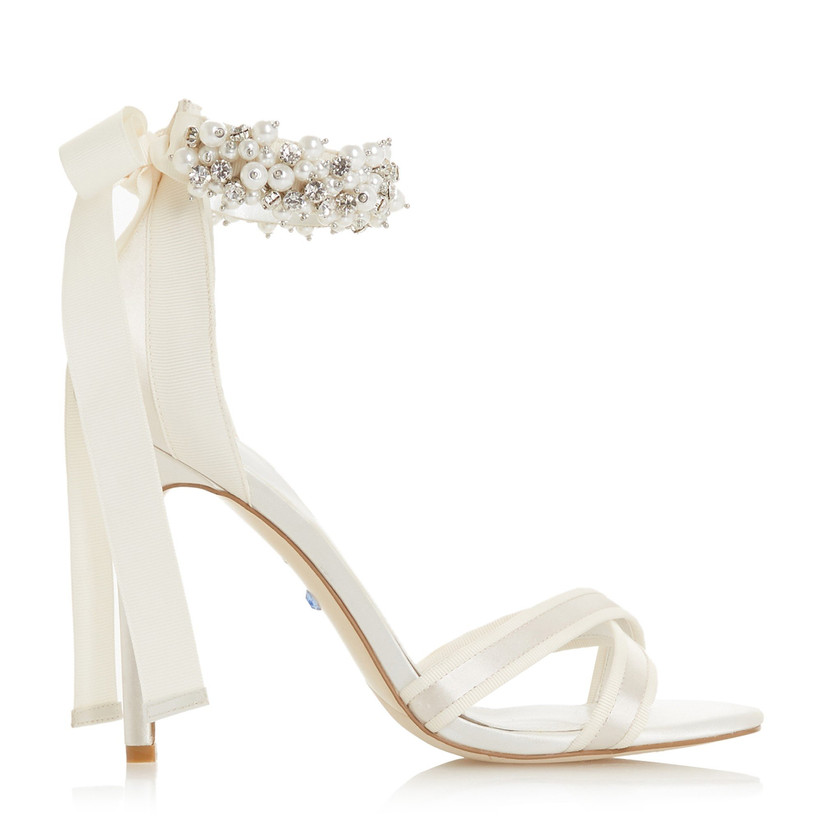 The Martine is a satin shoe in ivory. It's a beautifully simple bridal look at the front, but with a stunning ankle strap adorned with crystals and pearls. Wear with a short wedding dress to show off to full effect!
Chancey – Dune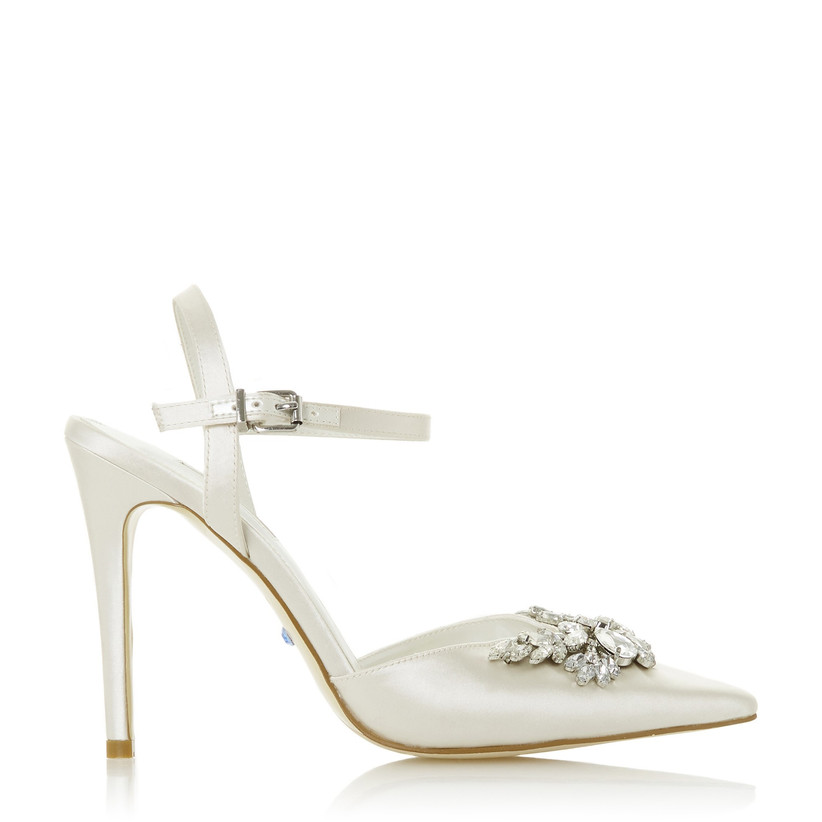 Pair a sleek dress with this gorgeous pointed shoe. Its subtle crystal embellishment on the sole and the front are the height of chic. If you're worried about being comfortable on your big day, this is a great choice as it boasts memory foam sock padding!
Ruben Snake Effect Sandals – Topshop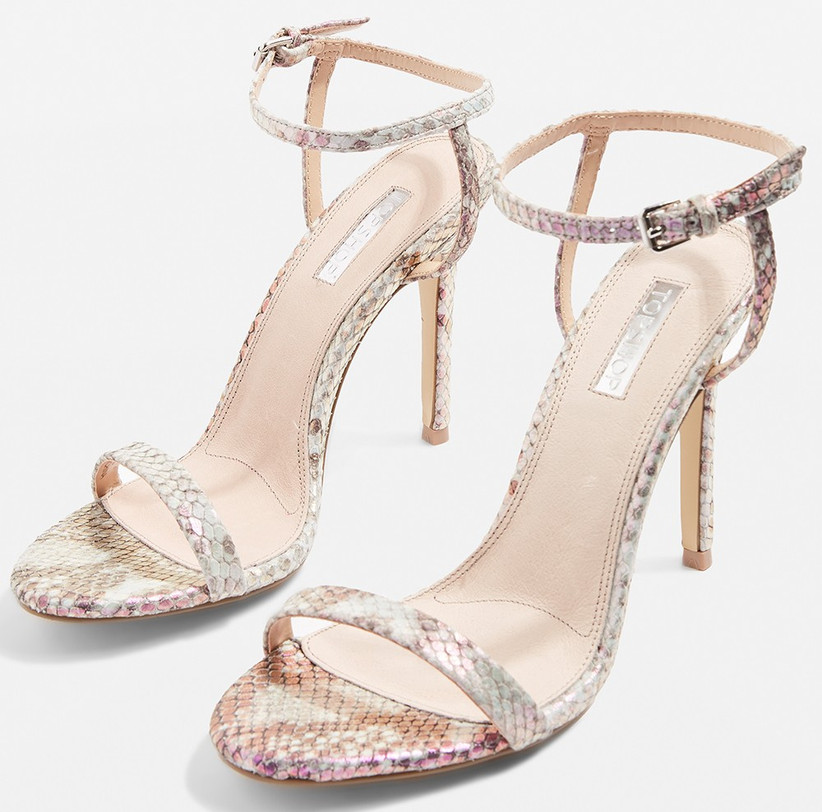 If your wedding dress is simple, modern and stylish, we suggest you pair it with these Topshop snakeskin sandals. They're dainty enough to show off your gorgeous pedicure but also have a beautiful enough design to make them wedding-day worthy.
White Leather Floral Sandals – Next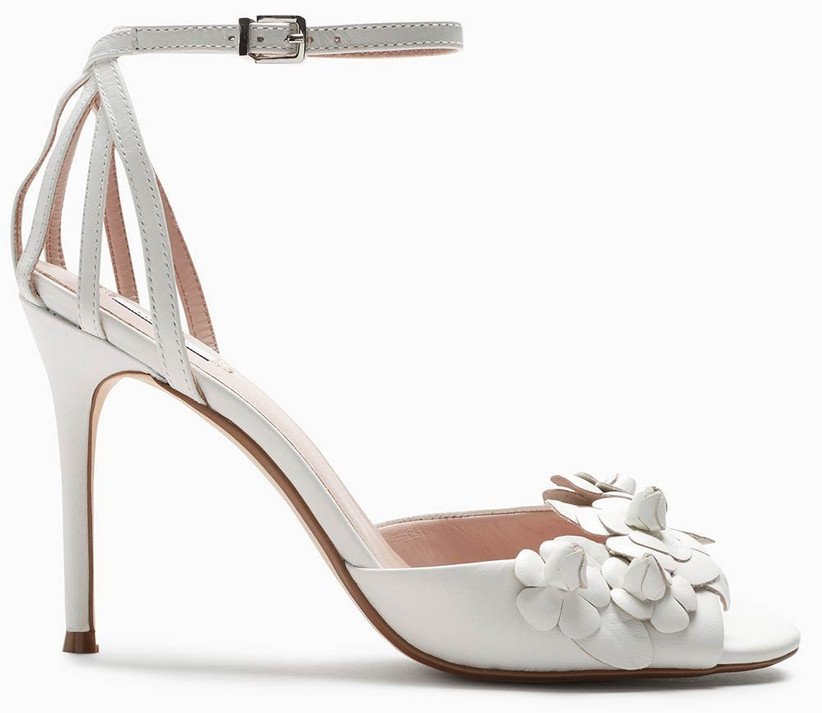 Floral wedding accessories come in all different forms, including these white leather sandals from Next. We love the 3D flowers and caged heel strap – the detail is beautiful and would look amazing with a tea length dress to really show them off.
Gisele Asymmetric Frill Sandals in Pink – V by Very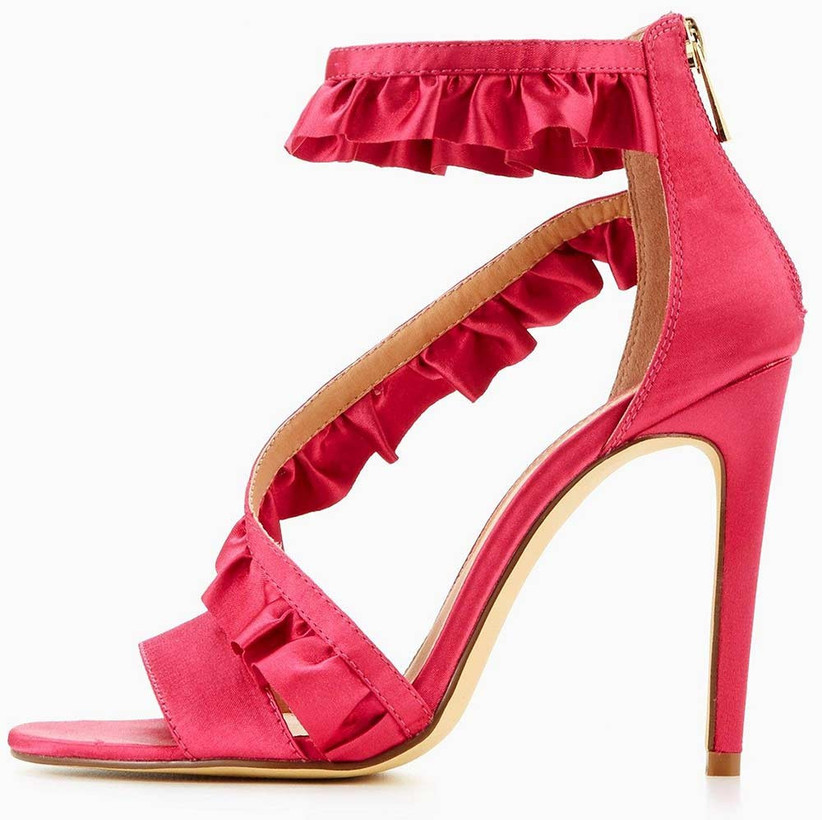 Go bold with your heel choice and opt for these bright pink frilled sandals from Very. Shoe fanatics will adore this style – it's the perfect heel to really make a statement on your wedding day.
Izabela Block Heel in Beige – ALDO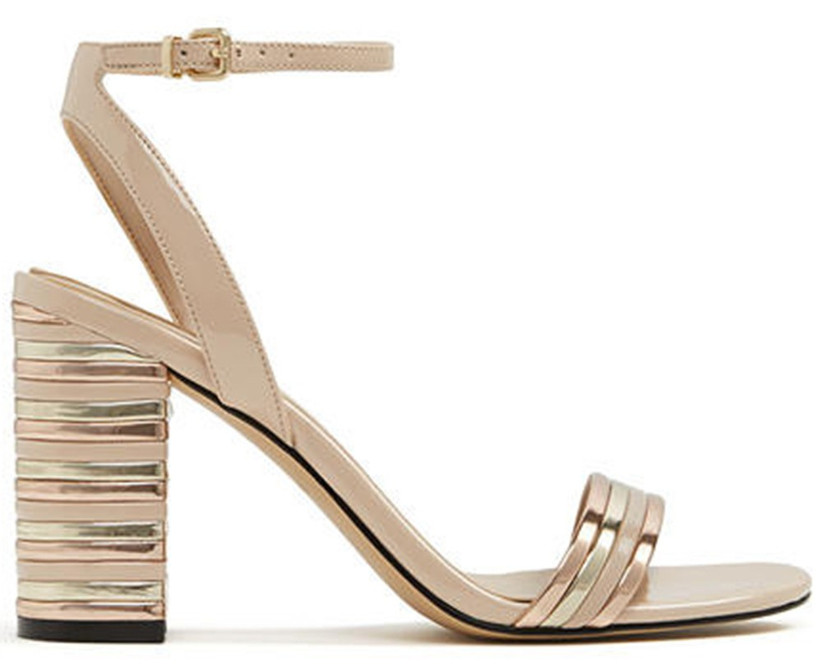 Pair comfort with style and opt for a block wedding heel just like this metallic style from ALDO. The tri-tone of beige, gold and rose gold is really glamorous and would look gorgeous with a neutral wedding colour scheme.
Embellished Court Heels in Blush – Next
These embellished court heels from Next are so elegant. They combine a simple style with detailed embellishment perfectly and we love the combination of sparkles and pearls – so sophisticated.
The Meadow Sandal – Hobbs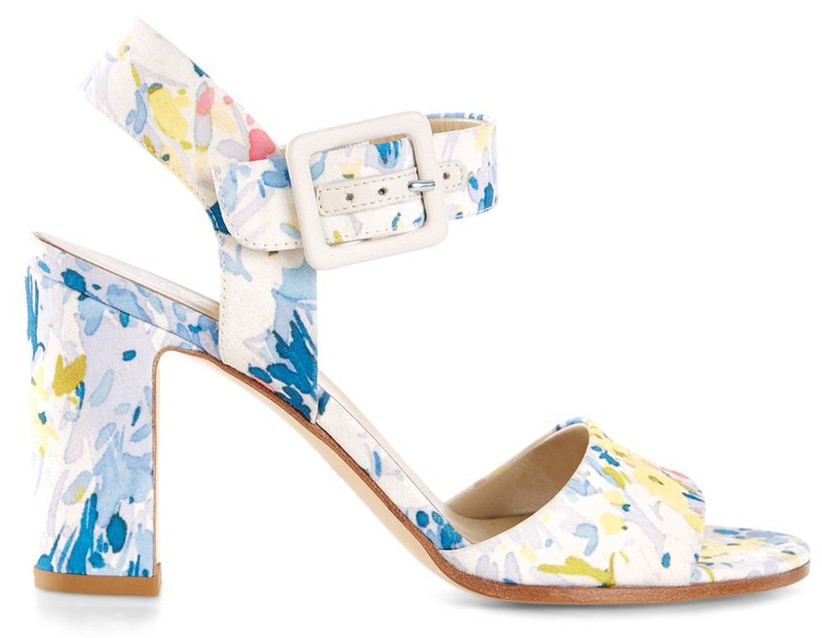 Getting married in the spring or summer months? If so, why not spice up your wedding day look with these fun and playful floral sandals? The colours are fresh and bright with plenty of neutral and white tones, which come together to make the most dreamy pair of wedding heels… ever!
Alix Metallic Lizard Open Courts – L. K. Bennett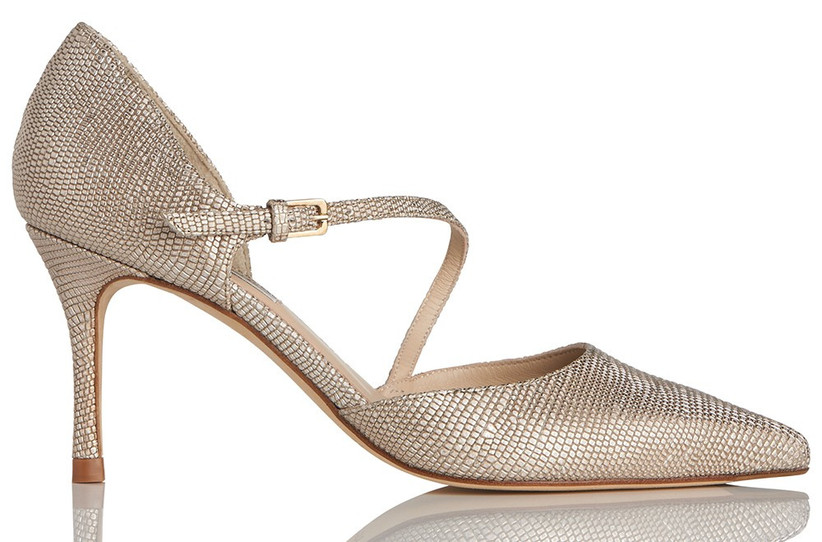 These beautiful court shoes are perfect for creating a classic bridal look with a metallic twist. The lower heel is perfect for all-day comfort and we love the asymmetric strap and texture, it really adds to the glamour of the heel.
Grill Frill Court Heel Shoes – Topshop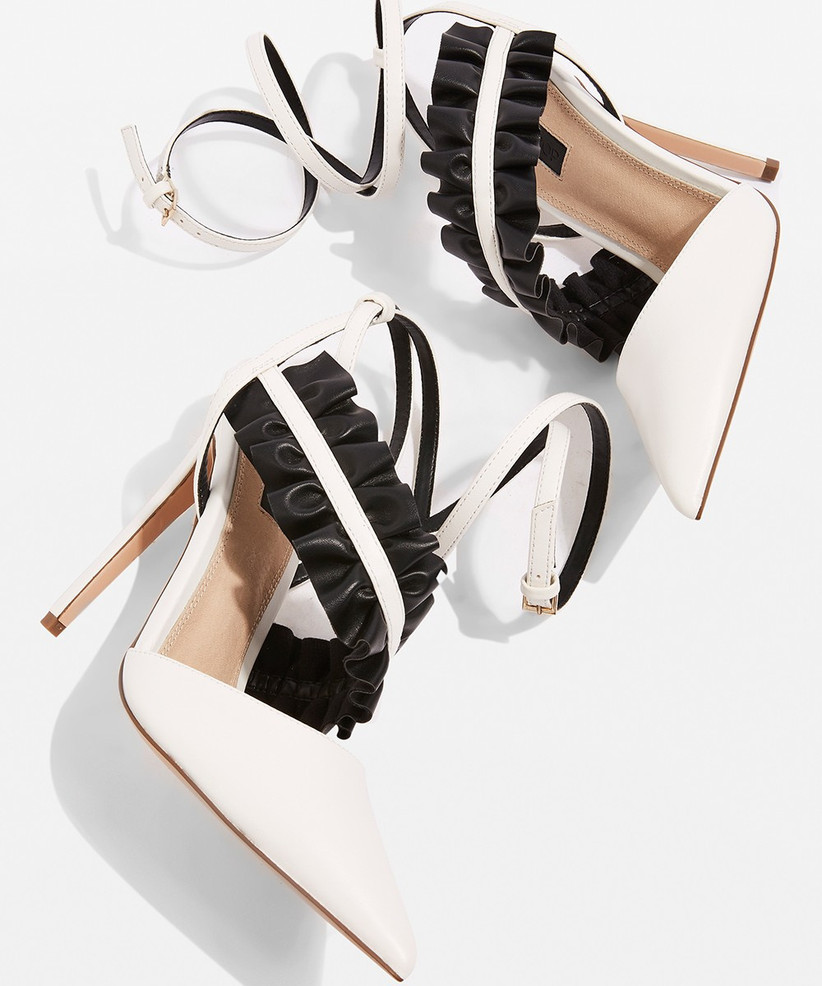 Fashion-forward brides, this pair of Topshop beauties are for you. We absolutely adore this style, it's the perfect choice for brides who want to give their wedding day outfit a little edge to it. The monochrome frills are bold and they're beautifully finished off with a triple ankle strap that we're really loving.
Kaelia Cream Wedges – ALDO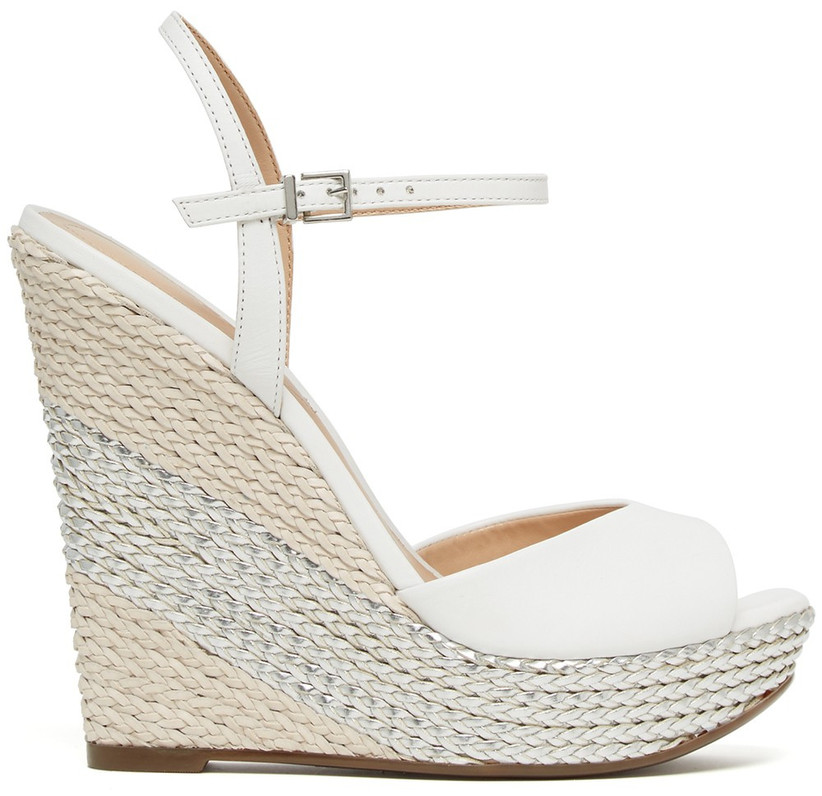 Wedding wedges are a must if you're getting married in the summer or if your vows are taking place on a beach. The thick metallic stripe on the wedge heel jazzes up the design and the heel height is just amazing. Petite brides who're looking for the world's most glamorous height acceleration can look no further than this ALDO wedge.
READ MORE: The Most Beautiful Beach Wedding Shoes
Hibiscus Two Part Sandal with Cherries – Office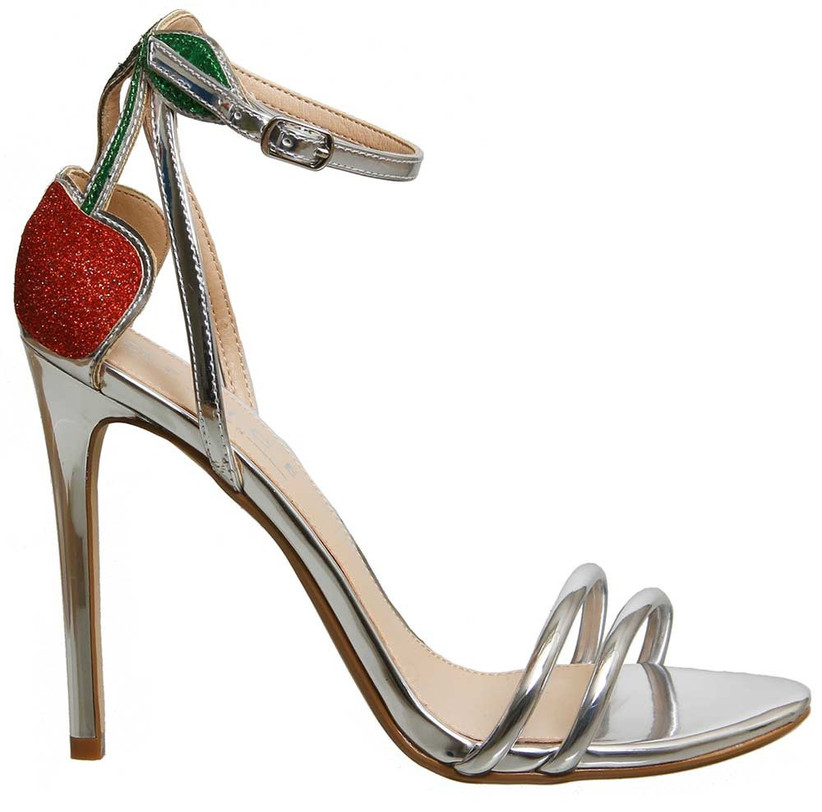 Brides who want to add a bit of fun into their wedding day look will love these cherry-themed sandals from Office. They're the perfect combination of playful and glamorous, which is why we love them so much.
Number One by Jenny Packham Heels – Debenhams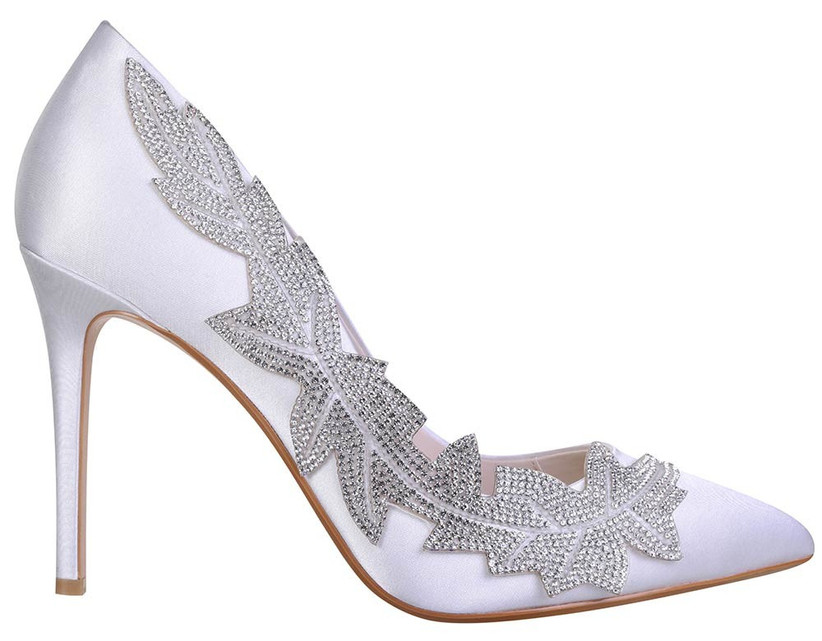 Wedding heels really don't come more glamorous than these leafy embellished courts by Jenny Packham. The traditional shape and added glitz will make any bride feel like a supermodel, we guarantee it.
The Clara Court – Hobbs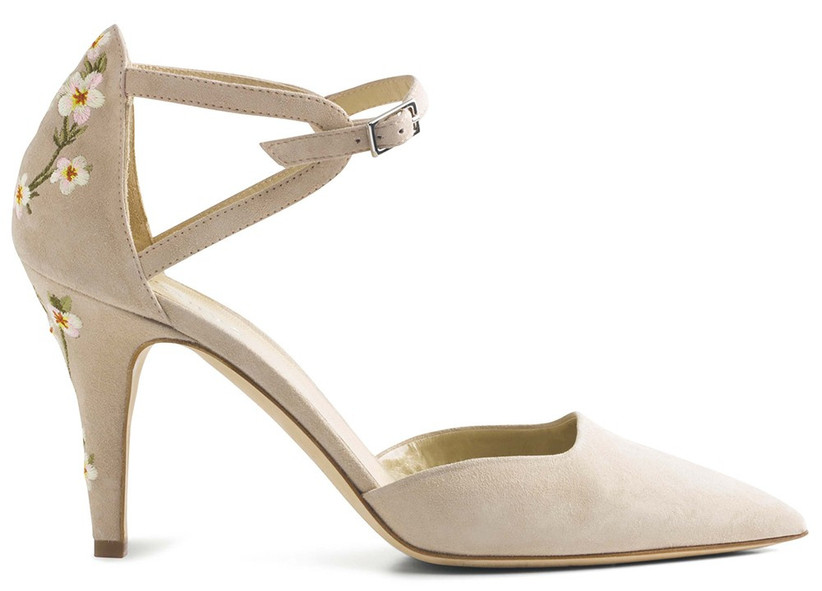 Brides who want to keep their look more low-key will adore this charming heel from Hobbs. The floral embellishment on the back and nude colour make them the perfect fit for a rustic or woodland wedding.
Floret Pink Lace Closed Courts – L. K. Bennett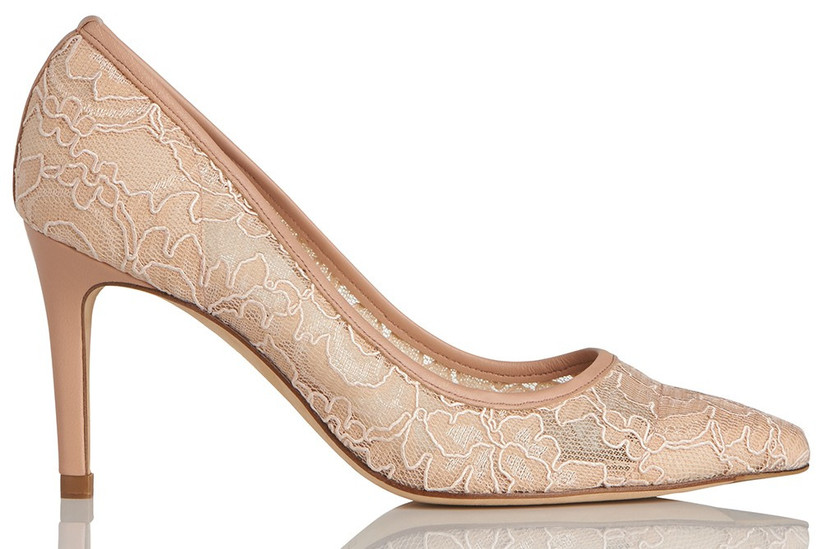 Understated and elegant, these blush pink-coloured court heels from L. K. Bennett are to die for. We adore the feminine colour, and how gorgeous is the lace pattern? We recommend wearing a tea length dress on the day to really show off how beautiful these are.
Hyacinth Mary Jane Glitter Heel – Office
Yes, yes and YES again to these glitter block heels from Office. They have absolutely everything we look for in a wedding heel: fun, glamour and bags of style. The block heel makes them super easy to walk in and the ankle strap will elongate your legs and make petite brides out there look 10 foot tall (almost).
Abalenia Gold Flats – ALDO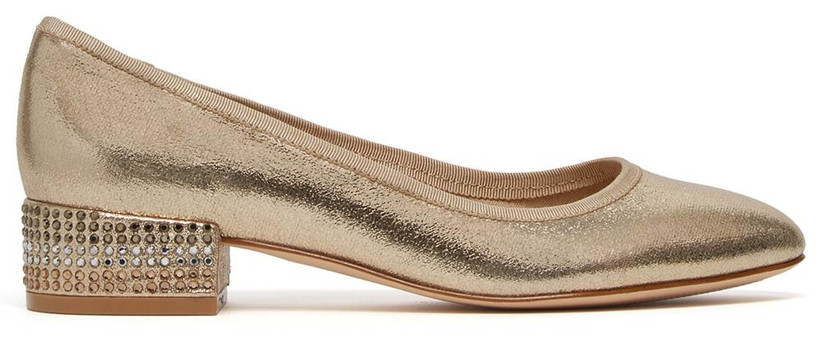 Wearing flat wedding shoes can be one of the best decisions you'll ever make as a bride, especially if they look anything like the ALDO Abalenia gold pumps. They're stylish and will definitely turn heads with the metallic colour and array of sparkles on the heel. Pair with a gold wedding dress to really make a statement.
Gem Embellished Court Shoes – Topshop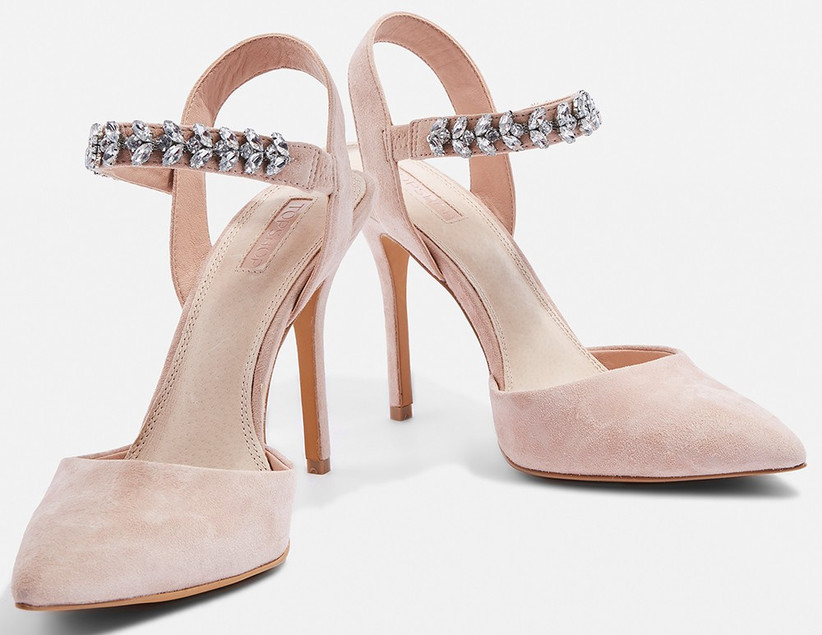 Stylish brides across the country will fall totally in love with this Topshop embellished court shoe. The dusty pink colour is beyond beautiful and the sparkly strap adds the wow-factor. These heels are totally wedding worthy and we fully envy any bride who walks down the aisle wearing them.
Shimmer Mid Courts – Next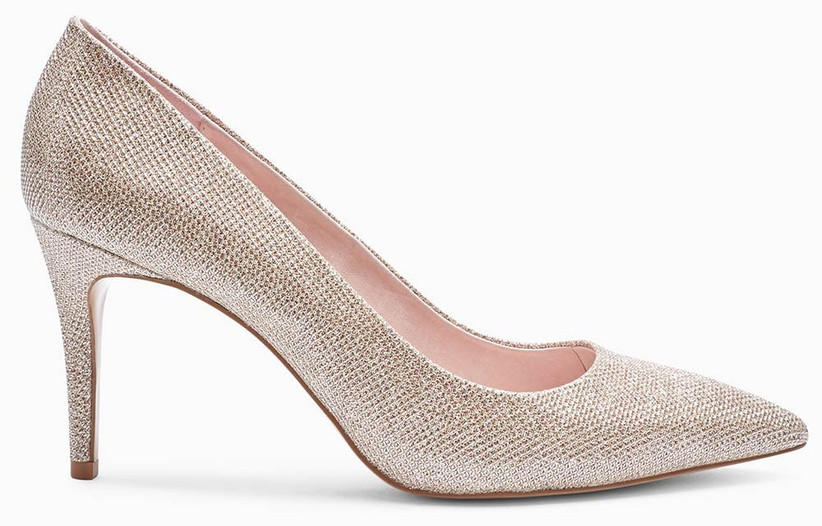 Are you a fan of all things rose gold? If so, we have the perfect high street wedding shoes for you. Say hello to the shimmer mid court heel from Next, the glistening, elegant shoe that every sophisticated bride needs in her life.
Harsh Studded Mules with Silver Studs – Office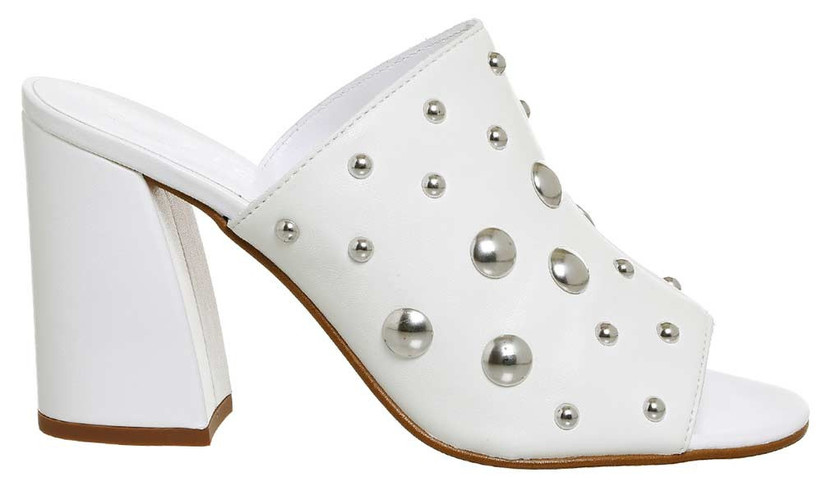 Quirky brides will know exactly how big a role mules are playing right now and these white studded block heels are the wedding version of our day-to-day fashionable shoe friend. We absolutely love this design, it's modern, fresh and totally on trend – perfect for the 21st century bride.
Fern Gold Metallic Leather Courts – L. K. Bennett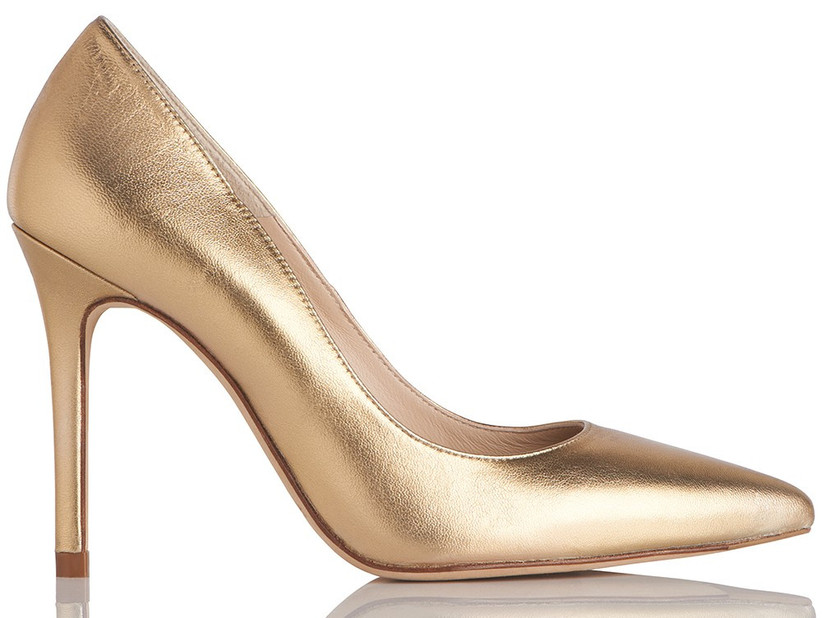 These metallic gold wedding court shoes have completely stolen our hearts here at Hitched HQ. The high heel and bold colour will have any bride looking like the world's most glamorous woman on her wedding day and are the perfect accessory to give your bridal look a modern edge.
Still want to blow the budget? Don't miss our edit of seriously stylish designer wedding shoes.