The 18 Best Bridal Makeup Artists in London for Your Wedding Day Glow
These top bridal makeup artists located in London will have you feeling like the very best version of yourself on the big day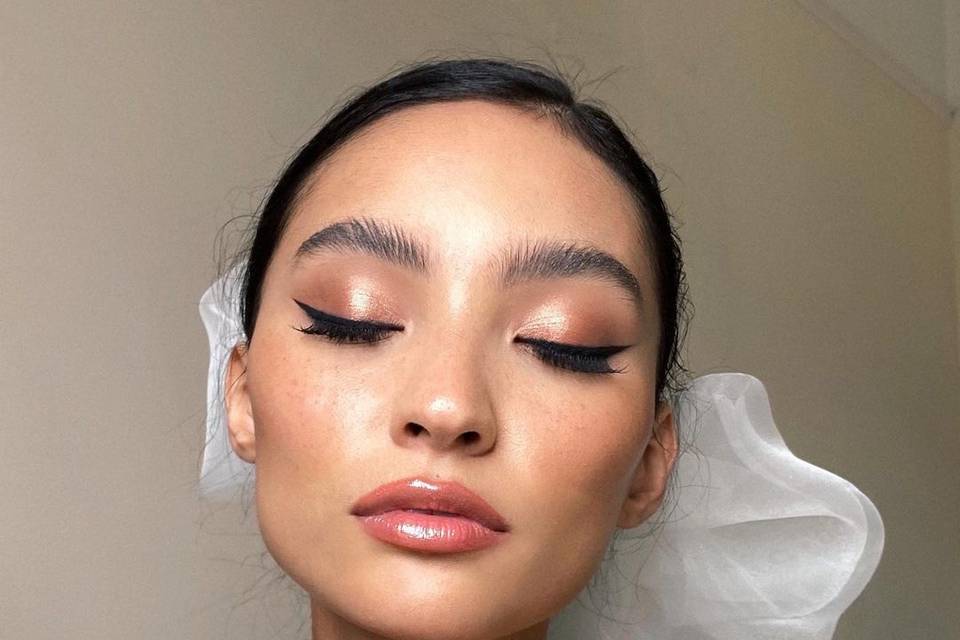 Bridal makeup artists play a very important role on your wedding day - they'll be working their magic shaping your brows and glazing your cheekbones until you look and feel your best.
If you're getting married in London or the surrounding areas there are lots of talented bridal makeup artists to consider, but you'll want to find someone who you have complete faith in to create your dream look - trust us, the last thing you need on the morning of your wedding day is a makeup meltdown.
We've rounded up the most passionate and creative bridal makeup artists in London to save you the trouble. Whether you want a statement making high-glam finish or you'd rather a soft and romantic look, here are the MUAs you need to book.
READ MORE
1. Wedding Makeup and Hair by Pam Wrigley
With over 25 years working as a wedding makeup artist and bridal hair stylist, Pam Wrigley has extensive experience working with all kinds of brides. Whether you opt for a natural look or sultry makeup, she can turn her hand to any style you like. Pam is incredibly skilled in makeup for mature and older brides, ensuring everyone she works with feels comfortable.
2. Chynara Kojoeva
If you're after a traditional look with a twist, drop Chynara Kojoeva a message. Her wedding looks are often classically bridal with an unexpected addition - such as winged liner or a coloured lip - and feature her signature fluffy brows and doe-like eyes (ideal if you want your eyes to a be focal point).
3. Beaut Bride
Camila, founder of Beaut Bride, has worked with lots of high-fashion brands - including Prada, Gucci and Mui Mui - so stylish brides are in luck. She has a keen eye for detail and tailors every look to her client's request, whether that's a soft smoky eye or a or a red lip like the one above.
4. Adeola Gboyega
Adeloa Gboyeha is often referred to as the 'Queen of Glow' and we only had to glance at her portfolio of beautiful brides to see why. She creates natural and high-glam looks - all with a glass-like skin finish. If you're feeling a little daunted prior to your big day, Adeloa's friendly nature will soon put you at ease.
5. CJC Hair & Makeup
Camilla is the brains behind CJC Hair & Makeup but she has a whole team of talented bridal makeup artists working with her so you'll be in very safe hands. Not afraid to use a bit of colour, she has lots of cool, edgy and contemporary looks under her belt.
READ MORE: The 15 Best Charlotte Tilbury Makeup Products
6. Kelly Dawn Makeup
Previously a Senior Global Pro Artist for Charlotte Tilbury, Kelly Dawn has worked with a seriously impressive list of celebs - even doing Made in Chelsea's Binky Felstead's bridal makeup. Expect romantic and warm looks with unbelievable radiance.
7. Fai Archer Hair and Makeup
Based in South East London, Fai Archer is passionate about creating flawless, photo-ready looks - having worked on several TV shows such as the X Factor and Love Island. She offers bridal makeup at a really affordable price, while still using high-quality products from the likes of Chanel, YSL and NARS.
8. Brides by Aina M
Aina M creates modern looks for all skin tones and also specialises in Afro and European bridal hair, so you can guarantee your whole look will work for you. Covering London and the surrounding areas, for a look that is effortlessly beautiful Aina is a go-to.
9. Sylwia Kunysz Makeup Artist
Sylwia Kunysz is a bridal makeup artist who will go above and beyond to create a look that is bespoke to you. Having a background as a beauty therapist means she has a keen eye for skincare too so if you're worried about a breakout on the big day, she has you covered. What's more, the majority of her kit is 100% cruelty free, natural, organic and vegan.
10. Mehwish Almas
Mehwish Almas travels the world for her brides' weddings but she is based in London for the most part so if you live near the capital she's one to have on your radar. Specialising in Asian bridal makeup, her high-glam looks have earnt her a huge portfolio of raving reviews and celebrity clientele.
READ MORE: The 8 Beauty Treatments to Avoid Before Your Big Day
11. The Bridal Stylists
Located in Islington, North London, The Bridal Stylists are made up of 25 passionate MUAs with over 24 years' experience in the makeup industry between them. They've made their booking process so quick and easy, allowing you to choose from several style guides if you aren't sure where to start - including modern, boho, classic, alternative and vintage. They also offer four different price points to suit all budgets.
12. The Queen Hadassah
The Queen Hadassah (otherwise known as Esther), is one of London's top rated makeup artists and is the ideal woman to have with you on the morning of your wedding. She even has her own YouTube channel so you can get to know her before you book!
13. Makeup by Juancy
Juancy Chapellin provides fresh and effortless makeup looks for her brides that ensure you'll still look like yourself on your wedding day - just with an extra special touch. Better yet, she's also a qualified nail technician so you can get your finger tips and toes wedding-ready too.
14. Wedding Day MUA
Wedding Day MUA is a London-based bridal makeup service run by professional makeup artist Tamara. Having worked in the fashion industry for 11 years, Tamara is able to coordinate your makeup look perfectly with your wedding attire for a finish that's truly breathtaking from all angles.
15. Makeupology Bridal Makeup Artist
Bev, founder of Makeupology, is passionate about creating gorgeous looks for brides - her signature style being a natural application with a hint of soft glam. With over 10 years' experience as a makeup artist, Bev is also a specialist for Black/African and mixed race skin and will have every bride feeling their most confident.
READ MORE: The 17 Best Makeup Ideas for Black Brides
16. James Adisai
James Adisai is seriously talented and versatile, showcased by his ability to create everything from soft, natural looks to breathtaking drag makeup. He also specialises in makeup for East and South Asian clients and even offers hen party spa services!
17. Dani Ottmann Makeup
Dani Ottmann makes giving brides five-star treatment on their special day her priority and its clear to see based on her shining reviews. She has years of experience in television and commercial, as well as bridal, so your makeup will look just as good in your wedding photographs as it will in person.
18. Wedding Code
Jolita Miseviciute is one half of Wedding Code, providing expert bridal makeup in South East London and the surrounding areas. For Jolita, her skills are about enhancing a bride's features and revealing your natural beauty - something we totally agree with. You can rest assured she can give you exactly what you want with plenty of advice along the way too.
In need of bridal hair inspiration too? These wedding updo ideas will look stunning!