11 Beauty Editor-Approved Sleep Products to Help You Drift Off Before Your Wedding
Not being able to sleep is one of the worst feelings - especially when you're busy planning a wedding. From body oil to supplements, pillow sprays to bath bombs, these are the sleep-inducing essentials to add to your routine
We have included third party products to help you navigate and enjoy life's biggest moments. Purchases made through links on this page may earn us a commission.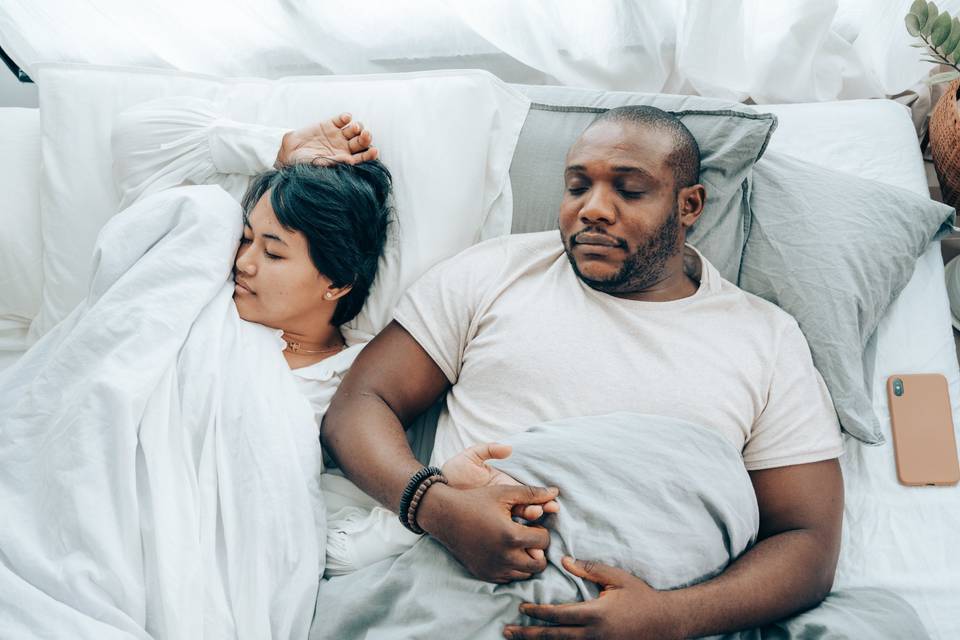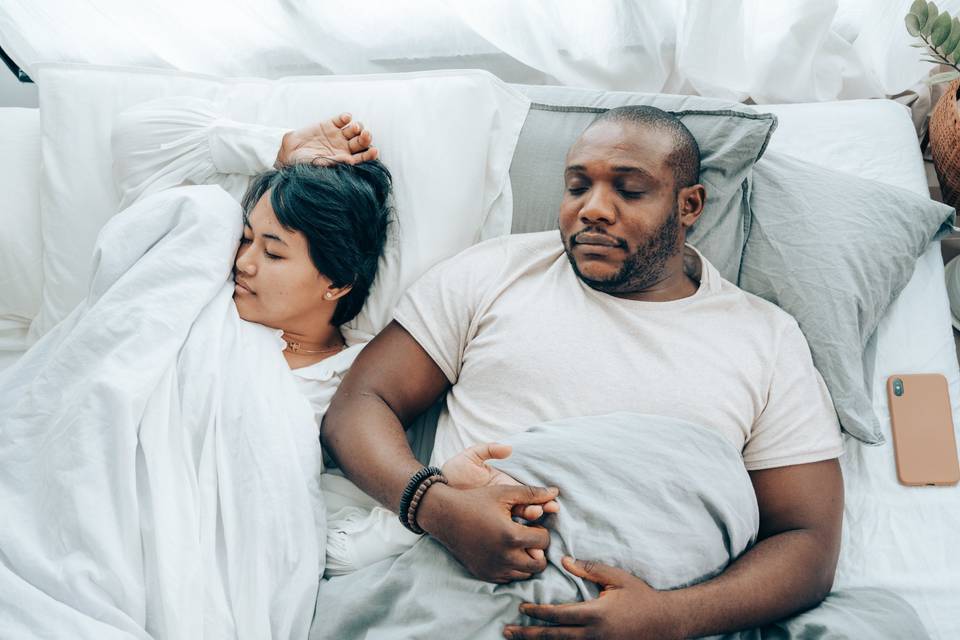 Struggling to sleep ahead of your wedding? You're not alone. With to-do lists and errant RSVPs whizzing around your head, it's no wonder you're having difficulty nodding off.
"The lead up to your wedding can be an incredibly stressful and unsettled time, which can play havoc with your sleep routine," says Dreams sleep expert Sammy Margo. "This can be for a whole host of different reasons, from nerves to excitement. Weddings also require lots of planning and organisation and worrying about to do lists right before we go to bed is a reason we struggle to sleep before the big day."
Luckily, for the sleep-deprived among us, there's a plethora of natural, sleep-inducing products out there that will ease you into the land of nod, without that drowsy morning-after feeling that so often comes with over-the-counter medication.
As a beauty editor who often struggles to fall asleep (even when I don't have a wedding to plan!), I'm lucky enough to have tried endless pillow sprays, an ever-growing list of slumber-inducing bath buys and countless sleep supplements, so I'm well equipped to advise on the sleep-supporting buys that actually work.
Read on for my list of sleep products that will help you drift off into the land of nod, even when you have a million and one wedmin tasks to complete.
This content is provided for informational purposes only and is not intended to provide health advice. Please consult with your doctor for information relating to your specific circumstances.
Best Sleep Patches For When You Can't Nod Off
1. Ross J Barr Sleep Patches, £15 for 10 Patches
These two pence sized patches were created by acupuncturist Ross J Barr (he was Meghan Markle's acupuncturist when she lived in the UK), and are applied to your wrist, temples or behind your ear.
As they warm up to your body, they steadily release herbs and essential oils for between two and four hours to relieve your sleeplessness. It's not just the aromatherapy oils that work magic though. Where you place them on your body is key too.
Given that they're made by an acupuncturist, whose whole job is to treat the body by applying pressure to certain places, it makes sense that these patches be applied to certain points in the body to work deeper than just scent.
They get to work in a few seconds, and last for up to four hours. I tried the anxiety patches on a particularly stressful drive and felt remarkably zen.
The patches certainly don't look pretty, but they work - and nobody will see them if you're wearing them at night time anyway.
READ MORE: How to Plan a Wedding When You Suffer from Anxiety
2. Kloris Sleep Support Patches, £48 for 30 Patches
Kloris make some of my favourite CBD beauty products (scroll down for why I rate their bath bombs), and these sleep support patches are just as high-performing.
They look like, and apply like, temporary tattoos, but do so much more than the dolphin transfers of your youth.
They're infused with a blend of selected herbs known to support sleep, helping the wearer to fall asleep faster and improve sleep quality. Said herbs include valerian (if you've ever taken Kalms, that's the herb that's in there) along with CBD and passionflower, which is known to lower brain activity - ideal if your mind won't shut off after an evening scrutinising wedding planning spreadsheets.
Best Sleep Supplements To Help You Fall Asleep
3. JS Health PM+, £24.99 for 30
I've taken Kalms for as long as I can remember, but these have taken their place on my bedside table. Be warned, they are a large pill to swallow, but the benefits are more than worth it.
They are strongly lavender scented and designed to promote deeper sleep, soothe the nerves and help you relax more easily. Ingredients include magnesium, chamomile, passionflower and lavender oil for a cocktail of sleep promoting powerhouses.
I met JS Health's founder Jessica Sepel recently and became even more convinced by the brand. She's a nutritionist who fights to have only the best, most powerful blends in her supplement, continually tweaking them until they're just right, and I'd say she's nailed it with these.
READ MORE: 17 Beauty Hacks Experts Swear By
4. PureSport Unwind CBD & Nootropic Oil, £80
CBD has been buzzing about in the wellness industry for a few years now, and I've tried my fair share, and this one from PureSport comes out tops (although I also highly rate OTO Sleep Drops and Dreem Distillery's CBD Night Drops)
PureSport's Unwind CBD gets my vote because it actually tastes pleasant (not the muddy CBD taste you might expect) but it seriously works. A few drops under my tongue 20 minutes before bed, plus a few chapters of my book, and I'm out like a light, sleeping through until morning.
One thing I will say is that if I'm super-anxious this doesn't soothe me to sleep, but on a normal night it works like a charm for a deep, restful sleep.
It blends CBD with l-theanine, chamomile and lavender for a sleep-inducing concoction that feels comforting, with no drowsiness come morning.
Bathtime Buys To Help Soothe Sleeplessness
5. Plantopia At Ease Soaking Salts, £18
Plantopia only landed in the UK in 2022, but quickly found their way into my bedtime routine. These salts transform from salt to milk when swirled in your bath, making it feel ultra-soft and nourishing.
Himalayan pink salt to ease stress is blended with aromatherapeutic essential oils to refocus the mind. These are the bath salts to reach for when your brain simply won't stop whirring. They soothe and calm, all the while making your skin baby soft.
READ MORE: Our Favourite Anti-Redness Products
6. Therapie Himalayan Detox Salts, £40
I first started using these heavenly-scented bath salts back in 2015, during a particularly bad bout of anxiety. Zoe Sugg recommended them, and even though they were £40, I decided to buy them and have never looked back.
A sprinkle in your bath, followed by a 20 minute soak, helps combat insomnia and stress, leaving your bathroom smelling like a spa. They infuse Himalayan rock salt with powdered amethyst and lemongrass, juniper and geranium, which come together to settle even the busiest of brains. The brand also says they re-centre energy and counteract the energy we absorb from our devices - I'm not sure how much I buy into that, but I do know these make me feel ultra-relaxed.
7. Kloris Restore 25mg CBD Bath Block, £15
£15 sounds expensive for a bath bomb, especially when it's not an all-singing, all–dancing one from Lush, but this is well worth the price if you're struggling to sleep. I had a bath with this at about 8:30pm and by 10pm I was fast asleep in bed.
It combines CBD with magnesium for a soothing soak and while it doesn't smell like the bath bombs you might be used to, it works better for relaxing than any other one I've tried. It comes in a cardboard box and is wrapped in biodegradable cellulose so zero waste too.
If you've had a frustrating day, this helps you reset, ready to take on whatever tomorrow throws at you.
READ MORE: The Best Online Sex Toy Shops to Spice Things Up
Best Pillow Sprays For When You Can't Sleep
8. This Works Sleep Plus Pillow Spray, £19.55
I don't think I've met a bad sleeper who doesn't have this in their 'can't sleep' tool box. It's a classic sleep aid, and with good reason. Just one spritz has me feeling dozy, and my favourite thing about it is that when you move about in your sleep, it re-releases the scent, making you less likely to wake up - ideal if it's taken forever for you to drop off.
I'd choose this Plus version over the original - the calming smell is stronger, and lasts longer, leaving a dreamy scent in its wake.
9. Aromatherapy Associates Deep Relax Pillow Mist, £23.44
If you've ever used Aromatherapy Associates' Deep Relax bath oil, you'll be familiar with the cocooning, ultra-relaxing scent of this spray. It's like stepping into a spa without leaving your home, and is made from 100% natural essential oils, which means the scent lingers long after you've sprayed it. It's also safe to be sprayed on your skin and pyjamas to really envelop yourself in the fragrance.
It is a fairly strong aromatherapy scent, made from chamomile, vetiver and sandalwood, so doesn't have the comforting lavender smell you'd normally associate with pillow sprays, but for me, that's what sets it apart from the crowd and makes me repurchase again and again.
READ MORE: Best Exfoliators to Use Now for a Pre-Wedding Glow
Body Buys To Help You Sleep
10. The Body Shop Sleep Balmy Body Cream, £25
I don't think anyone does better body lotions than The Body Shop. I'm a slave to their Body Yoghurts in summer and use the Body Butters all winter-long, so I was thrilled when they launched a sleep range.
This ultra-rich, super-nourishing body cream makes me feel sleepy just rubbing it in. It's thick and decadent with a soft, gentle sleep scent that isn't overpowering - think lavender mixed with vetiver, for a plush, comforting fragrance.
Use this as the last step in your bedtime routine and I promise you'll feel all snuggly straight away.
11. Dreem Distillery Among The Stars Body Oil, £75
For a real 'treat yourself' purchase, I cannot recommend luxe UK CBD brand Dreem Distillery enough. I've lost count of the number of friends I've encouraged to buy the brand's wares, but I do know they've all experienced the same 'lulled to sleep' feeling after using the products.
This body oil is a decadent, after-bath ritual that not only leaves your skin feeling sublimely soft (thanks to smoothing oils), it soothes the mind too. It feels thick and nourishing (it's not runny like baby oil, seeping through your fingers ) but it sinks in easily with no stickiness, meaning you can hop into bed immediately. The CBD absorbs into the skin, and while this takes longer than using CBD orally, you'll still feel the calming effects, plus your body will be softer than ever for your wedding.
Now you're ready for the perfect night's sleep, make sure you shop the best wedding PJs and robes!