You planned your dream wedding for 100 guests, sent out the invites, watched the RSVPs trickle back in - and then Coronavirus hit. Now you're looking at a guest list of just 15 loved ones and a whole lot of disappointed friends and family.
There'll be different reactions among your guests as they find out they can no longer come to the wedding. Some guests may take being uninvited very personally, while others might have been secretly nervous to attend and quite relieved they can watch online instead. Most will fall in the middle: feeling gutted they can't join you but acknowledging the choice is out of your hands.
It's a tough enough situation as it is, then throw into it a difficult etiquette question: what do you do if your guests have already bought you a wedding gift but you're going to have to uninvite them? Is it rude to keep it? Is it rude to assume they'd want it returned? What do you tell your gift list provider?
Here's a guide to what you should do and some wording ideas to deal with even the most affronted guests.
READ MORE:
How Do Gift Lists Work?
A little on how a gift lists work first of all. Couples choose items that they'd like their guests to buy them - or contribute towards, if they're higher price items - and compile them in a list with a gifting website, such as The Wedding Shop, Prezola and John Lewis. Guests then log in to the list and buy a gift which the couple receive after their wedding day.
What a guest is actually doing is pledging money to a specific item; when the couple are ready, they use that pledged money to place an order for the item. Once the couple have submitted their order, the gift list provider gets your gifts sent out to you. Until the moment the couple place their order, the money is ring-fenced in a secure account and is kept entirely safe.
From a consumer standpoint, purchasing from a gift list works the same as buying something online or in a shop, even if the money isn't immediately going anywhere. The guests is the consumer and has the legal right to cancel their purchase within 14 days. However, where the 14 days starts from will depend on the gift list. Some count 14 days from when the guest gets a confirmation order of their purchase, while others count it from 14 days after the couple receive the gift. It's important that guests read and understand their cancellation rights before buying a gift (although most will never need to use them).
Is It OK to Keep Gifts from Guests Who Are No Longer Invited to the Wedding?
In our experience, guests aren't buying you a gift as a tit-for-tat thank you for an invite. Your guests are buying you a gift as a way of celebrating the new future you're starting together and offering their best wishes to you as a couple. Many guests who can't make a wedding for whatever reason will still ask to be sent gift list details so that they can send a gift as their way of being a part of the day.
There is, however, a small contingent who follow the traditional (and we'd argue outdated) concept that the cost of the wedding present should match the price-per-head that the couple are paying for you to be there. That school of thought argues that if you're not attending, you don't need to buy a gift. It's these guests who might balk at the idea of you keeping their wedding gift if they're uninvited from the big day.
Many guests will understand that in Covid times, things are a bit different. Weddings are now subject to guest list limits beyond your control. But don't take for granted this will be the case for more traditional friends and family. Here's how to handle it:

Guests Who Are Understanding
In most cases, your guests will be very understanding of the situation and still want to purchase a gift for you, even if they no longer are able to join you on the day.
If they have already bought you a gift from your list that you have not yet redeemed, we suggest you send them a follow-up email. In this email, you should apologise once again for the situation and let them know that you understand the circumstances around their generous gift may have changed. It's not just the wedding invite; be aware that your guests' financial position may have changed in 2020 too.
Here's some suggested wording:
"We wanted to say how sorry we are again that you won't be able to join us on our wedding day. It was an incredibly tough decision for us to go ahead with a limit of just 15 guests, but we felt marrying this year was the right thing for us to do. It will be sad not having you with us on the day, but we intend to have a larger celebration at a later date when we hope you can join us.
"We are incredibly grateful for your generous wedding gift, however, we understand that many people's circumstances have changed this year. If you would no longer like to commit to your gift or wish to change it, please let us know. We can arrange for a refund directly with our gift list provider."
You'll need to edit the last line based on how your gift list works - sometimes you as a couple will be able to arrange the refund, sometimes the guest will need to request it.
What's important here is that you don't make your guest feel awkward in any way if they no longer wish to give you a gift. Never pry for reasons; it could be that they're struggling financially and feel embarrassed.
In all honesty, you're unlikely to get many guests taking you up on the offer of returning their gift. However, it is always polite to ask and no guest will feel offended by your considerate email.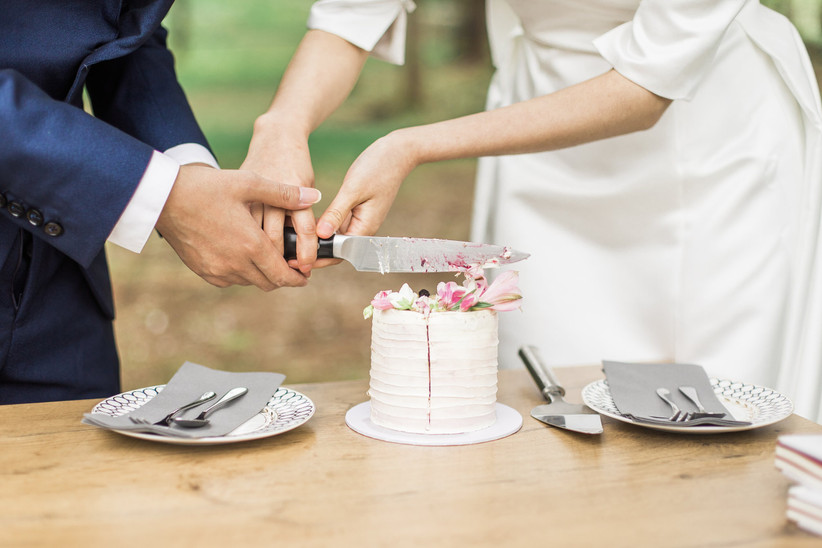 Guests Who Feel Slighted
Sadly, we have heard from couples who've found that some relatives take being uninvited as a personal snub. This can be very distressing for the couple: once you take into account immediate family and perhaps one or two closest friends, your 15 person limit is reached quickly, even though you'd dearly love to have others there. To be made to feel selfish and ungrateful (as some couples have told us they've been called), only adds to the pain of a wedding that is far from what you imagined.
On top of everything else, those miffed guests can sometimes demand their gift back. In this situation, take the high road and layer the politeness on thick. Here's an idea how to word an email:
"We wanted to say again how sad we are that you can't join us on our day. We are limited to just 15 people and decided to make the day immediate family only. It was an incredibly tough decision, but marrying this year is the right thing for us to do. We will be livestreaming the ceremony and would love you to watch; we'll also be sending around a gallery of our professional photos when they're ready and we'd love you to download as many as you like.
"We understand that you'd like us to return your wedding gift. We're very grateful to you for being so generous in the first place and completely understand that the situation has now changed. These are the details to do so..."
If you hear on the grapevine that a relative or friend feels insulted but hasn't mentioned the situation to your face, it can be pertinent to tackle the situation head on. We'd go for the same explanation of why they can't be invited as above, then layer on the gratitude in the second half of your email. As the saying goes, kill them with kindness!
"We're very grateful for your generous wedding gift, however, we understand that many people's circumstances have changed this year. We are very happy to return any gift from those no longer attending the wedding; please do let us know. We've not been delivered any of the gifts yet, so it is easy for us to arrange. We hope we can celebrate with you at a later date."
If you are definitely having a celebration at a later date, make this clear to your guest. Great Aunt Maud might be satisfied she's getting to celebrate with you at some point and will enjoy having it in her diary to look forward to. That could be enough to keep her happy and for you to keep your gift, or alternatively, she may prefer to give you something at that later date.
What to Do If:
You Have Already Received the Gifts and the Guest Refund Time Has Passed
Gift lists don't tend to be delivered until after the wedding (typically they close two weeks after the wedding date), therefore it's unlikely that the gifts will have already been delivered to you when a guest is demanding theirs back. We never say never though!
If a guest has passed their return time limit, the next step is that you as the gift receivers return the item. How long you have to do this depends on the gift list provider. John Lewis, for example, allows you return a gift up to 35 days after delivery, as long it's not personalised items, perishable goods, or goods which have been opened and aren't faulty. This money won't be refunded to the guest but will be returned to you on a gift card, which could be given to the disgruntled guest as a solution.
Check the T&Cs for a refund date: for some providers you only have 14 days to request a refund.
If it is past the return limit for both of you, unfortunately there's nothing that can be done.
You're Having Two Celebrations
Many gift lists will let you keep your gift list open to accommodate two wedding dates. The Wedding Shop, for example, are happy to keep your gift list live for both occasions: you just need to change the wedding date in your account details after the first occasion has passed. Don't worry if you don't have a set date for your second celebration yet, you can add a temporary one and amend when you're ready.
This means that guests who want to wait until they have a firm invite to your later celebration can do so.
The Guest Hasn't Bought a Gift Yet
We'd highly recommend you keeping details of your wedding gift list on your wedding website. As we mentioned, many people see giving a wedding gift as a gesture of well wishes to the couple and your future. Particularly in times like this when your friends and family know how much you've struggled to make your wedding day happen, they may be very happy to buy you a gift even if they aren't invited. Having the details there makes it their decision.
Discover the best wedding gift lists with an amazing array of gift ideas to choose from.