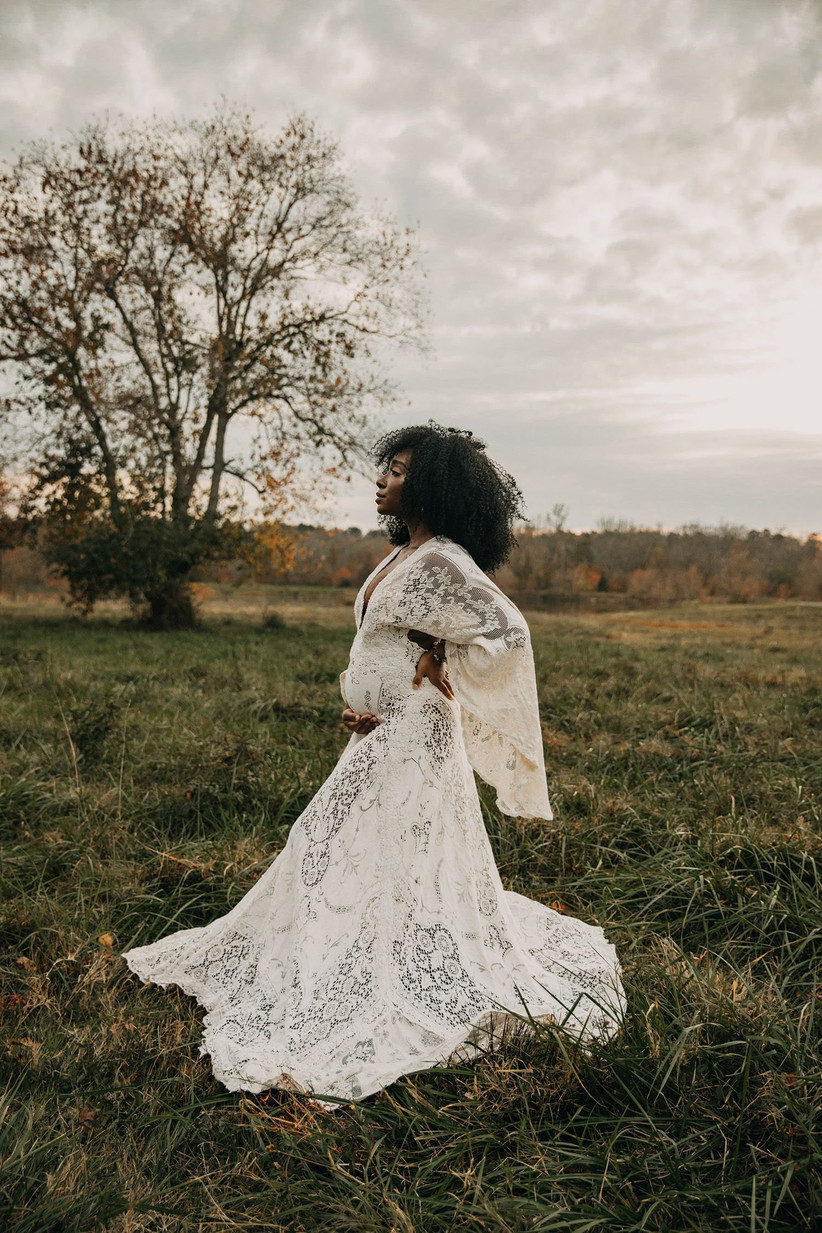 Getting pregnant while wedding planning can feel quite overwhelming. It's already a stressful time pulling a wedding together and now you've got morning sickness and a nursery to decorate.
Being pregnant is one of most exciting pieces of news you can receive and, together with getting married, a hugely special milestone in a person's life. Getting to experience them both at the same time is a unique feeling that can make your day even more precious.
Most couples take on average 13 months to plan their wedding, so whether it's a planned pregnancy or a happy surprise, you're likely to have already started your planning journey by the time you know you've got a bundle of joy on the way. It's completely up to you if you decide to pause your wedding plans or press ahead, but we can promise you that whatever you choose, getting pregnant will not stop you having your dream day.
With some smart planning and using our expert tips, your wedding planning can go smoothly, all while you nurture a happy, healthy bump.
READ MORE
Should We Continue with Our Wedding Planning If We're Pregnant?
This is obviously the big question and will totally depend on when your wedding is and when you're due. This is the first question to sit down and decide upon as a couple.
You're Due Before Your Wedding: Think about how the timeline of your wedding will work when you've recently given birth. You absolutely can have a wedding not long after having a baby, but it will take some adjustments to your plans. There's lots to consider that we'll go into more depth about further in the article, like your finances, your wellbeing and whether the kind of wedding you're having fits the situation (e.g. a destination wedding is likely a no-no), but there are loads of benefits to having your baby with you on your big day too. Honestly, it really depends on how far apart the birth and wedding date are - and even if they're not that far apart, it's what feels right to you.
You're Due Around the Time of Your Wedding: It's probably best to postpone your wedding if your due date is close to your wedding date. It may be manageable if its a small registry office wedding, but you need to bear in mind that when heavily pregnant you will be very tired, there is the potential for health problems like preeclampsia, and you don't want to go into labour at the wedding if the baby is early. Here's our guide to how to postpone your wedding and how to tell your guests you're postponing.
You're Due After Your Wedding: This is the most common scenario as many couple find themselves falling pregnant during wedding planning or bringing the wedding day forward so the bride is pregnant on the big day. Depending on how far along you are, you'll probably need to make very few adjustments - it might be some tailoring to your wedding dress and finding alcohol-free alternatives for the hen party and for toasts on the day. Keep reading for lots of tips on how to adjust your day, the suppliers you'll need to tell, and what to do about your dress.
11 Tips for Pregnant Brides for the Best Wedding Day

1. Adjust the Timing of Your Wedding Day
The second trimester is often the best time for pregnant brides to marry; you should have passed the morning sickness stage, have a manageable bump, and still have enough energy to take on a day of celebrating. If you can move your wedding forwards or backwards to your second trimester, we'd ask the question.
If you're planning to keep your pregnancy a secret at the wedding, bumps tend to start showing between 12 and 16 weeks, so you're best to marry in the first trimester. By the third trimester, you're going to get tired quite easily - this shouldn't put you off a wedding, it just means a few changes. It may be better as a morning ceremony with a sit-down lunch and an early evening cake cutting and first dance so you can head off before it gets too late.
Consider your own body ahead of the day itself too. Do you find you have bad morning sickness? Perhaps you should push the wedding to a twilight ceremony and dinner. Do you find yourself exhausted by 8pm? Then make it a daytime event. Venues and suppliers will be very understanding.
2. Budget Smartly
Babies are expensive and weddings are expensive: two universal truths. Being pregnant may make you reassess your priorities, but it also might make you even more certain of your current plans. You have to do what works for you as a family.
We'd recommend discussing finances early on with anyone who might be making a contribution to your wedding day, as some relatives may decide they want to save that money for the baby. You'll need to know exactly how much you're working with as a wedding budget, and how much you need to have saved for the baby and all the prams, car seats, toys, clothes and nappies that come with it. Split these into two separate bank accounts and don't dip into one for the other.
It may be that a baby makes the wedding financially impossible and this is OK. You can delay the wedding until after you've saved up again following the birth, or you can have a small, inexpensive legal ceremony before the baby's birth and save the big reception for later. Both your baby and your wedding are incredibly important to you, but the baby's health and provisions should come first and no-one should be upset by you delaying your wedding until you can do it justice.

3. Get a Comfortable Wedding Dress or Outfit
Your body will be changing rapidly throughout your pregnancy. If you've already bought a wedding dress, it may still fit if it's a floaty, relaxed design, otherwise you might need some creative tailoring, such as changing zips to lace-ups, having sides taken out, and waist lines changed to empire-style. Any good boutique will have experience with this and be able to advise.
If you're starting the dress search or know you'll need a replacement dress, we recommend you buy a maternity wedding dress.
Maternity wedding dresses have an empire or A-line waist that sits above the bump and either stretch or float down over it. They're often lightweight, made from breathable, soft fabrics, and very comfortable to wear all day long. There are, of course, figure-hugging dresses and jumpsuits for pregnant brides that will make you feel sexy and chic - and why shouldn't you feel sexy on your day?
The most important things are that your wedding outfit is comfortable and sits well on your body (and it's easy for you to go to the toilet in).
Wedding photographer Lottie Ettling has experience photographing pregnant brides and knows how important it is for good photos to stay on top of your changing size. "Have a really great relationship with your wedding dress maker!" she advises. "You're going to change shape and size in different areas right up to your wedding day. It's so important that your dress fits in all the right places. If your dress doesn't fit, there's no amount of post production work that can make it look like it does!"
4. Keep Your Suppliers in the Know
Telling your venue and suppliers might slip your mind among all the excitement, but they're important people to let know - and some even if you're still in the first trimester.
Caterer: The caterer is a big one to let know your situation as they may need to adjust the meal completely or provide something different just for you. Remember that pregnant people should not have rare meat or high-mercury fish, raw cured meats, pate, raw eggs in things like chocolate mousse and mayonnaise, and certain cheeses. Keep caffeine levels very low and avoid alcohol. Your caterer will be able to adjust where needed.
Venue: Your venue will be very flexible and help where they can. This could mean adding chairs at the front of your ceremony so you can sit if needed; it could be working a quick afternoon nap into the normal timings of the day. You'll undoubtedly want to push the partying as late as you can, but you might need to leave early. Agree with the venue a time for the reception to continue until and let your guests carry on partying - your guests won't mind you leaving when you need to.
Planner: If you have a planner, they'll work with your suppliers to arrange the best timings of the day and take into account your increased tiredness throughout the planning journey. Trust your planner and let them take on some of your stress, let them troubleshoot on the day, and take a rest when they tell you to!
Waiting Staff: This is mainly for alcohol reasons. They'll need to be in the know if you're having a different meal served to you and if you need an alcohol-free alternative for your toasts (this is especially important if your pregnancy is a secret and you're pretending to be on the Champers while sipping Shloer). We'd also recommend asking them to keep a bottle of your wedding wine back so you can enjoy it once the baby is born.
Photographer: Lottie says it's best to be upfront with your photographer about pregnancy as they can help you find the most flattering and natural poses. "An experienced photographer will always make the bride and groom look amazing in their wedding images, no matter what their shape or size. I use natural posing techniques to capture people at their absolute best, celebrating their most attractive features," she says. "One of my couples used an image [that celebrated the bump] to make the announcement about their

pregnancy

after the wedding." The photographer will need to know any changes to the order of the day as soon as possible and let them know if you need to go slow on the day.
DJ or Band: You may not stay until the final song of the evening if you're tired, so chat to the DJ to prioritise the songs you desperately want to dance to earlier in the evening. Do you and bridesmaids have a special song you want to dance to? Is there a slow song you absolutely must share with your new spouse? Give the DJ or band a heads up.
5. Simplify Your Plans If Needed
You may find the best solution for adapting your wedding day is to simplify or downsize your plans, and you'll need to inform your suppliers as soon as possible.
A really popular option is a civil ceremony in a registry office followed by a relaxed late lunch in a restaurant. Many couples have been doing this for smaller weddings during Covid and found that it's a fantastic intimate, meaningful option. A larger guest list and a bigger party can follow after the baby is born.
Don't be worried about reducing the number of guests either. They will understand and will be excited to celebrate with you when the time is right. You might even find eloping is the right option, with none of your original guests. It's perfectly OK, it's about what works best for you.
And we can't say this enough, delegate where needed. Create a to do list and assign tasks to trusted loved ones. Simplifying your schedule might be enough for the day to go ahead exactly as you planned.
6. Be Prepared for Strong Emotions
You will almost definitely cry, lean into it. Your hormones will be soaring, and the happiness, excitement, nerves and joy will make themselves known - probably through tears. Make sure your bridal party have tissues on hand and your makeup artist uses waterproof mascara. You'll probably want the maid of honour to keep some concealer for touch-ups in the wedding day emergency kit.
Our best advice is to try and remain as calm as possible (easier said than done, we know!). Assign someone to be in charge of any problems on the day (a trusted parent or sibling is a great choice) and make sure you're taking time out to rest when your body needs it. Some simple breathing techniques to lower stress can be super helpful in moments when it's getting a bit much.
7. Hide Snacks Everywhere
Most brides complain they never see a single canapé on their wedding day; don't let this be you. The last thing we need is a light-headed bride.
Assign a member of the bridal party to keep some snacks like dried fruit and nuts in her bag and stash something in the car between the ceremony and reception. Ask the venue/caterer to set aside some canapés for you and your partner and take 10 minutes together after the ceremony to connect before you enter the reception or go for couples' photos. Use this time to snack!
8. Do Not Compare Yourself to Other Pregnant Brides/Guests
Comparison is the thief of joy - and can piss you off too.
Do not compare yourself to pregnant guests and their energy levels - they have not just pulled together a wedding. And do not compare yourself to other pregnant brides on the internet - on forums, Pinterest, Instagram, Facebook Groups, etc. You have to listen to your body and be true to your physical and mental health. A photograph on Instagram cannot tell you how someone is feeling inside, and if following someone makes you feel worse about yourself, stop following them.
Protect your health and energy, first and foremost. You're growing a baby (and planning a wedding) so go gentle on yourself.
9. Don't Feel Bad About Hiding Your Pregnancy If Needed...
In your first trimester, you're advised not to announce your pregnancy as there's a higher risk of miscarriage. Any bride in the first 12 weeks (and beyond, if that's what you prefer) may want to follow a few tricks to keep the news on the downlow.
Hold your bouquet lower down so it covers any potential bump; this works down the aisle, during the ceremony and in group photos until you can sit down at the wedding breakfast. When you're on your own as a couple for wedding photos, you may want to embrace the bump in special photos that just the two of you know about.
Add flattering ruching to your dress as shapewear is not advised during pregnancy. Any bump can be brushed off as part of the dress design.
Ask waiting staff to keep your glass topped up with a non-alcoholic alternative if you think not drinking will be a big giveaway. A pale fizzy soft drink like Appletiser or Shloer is a great choice, as are the amazing 0% alcohol wines and Prosecco you can now buy. Mocktails will fool even the most eagle-eyed friends. 'Clean' spirits like Seedlip replicate the taste of a G&T so you don't feel you're missing out.
Got a pal who loves buying shots? Savvy bar staff might be able to make you a "special" shot which is actually just water or juice.
Have flip flops available on the dance floor for all your guests so it seems normal for you to slip off your heels into something more comfortable. Pregnancy can make your shoe size go up by a half or full size so bear this in mind when buying shoes.
It can be tempting, but try to avoid touching your stomach as this is a big tell-tale sign.
10. ...Or Embracing the Bump In Every Way
There'll always be those kind of naysayers who said Meghan Markle touched her bump too much - well, we say savour every moment of the pregnancy. Make the bump a star in every photo if you want and take as many photos as you can. You are about to bring new life into this world and you are allowed to be as excited as you like. Your future child really will be your best accessory on the day (and your glowing skin will look amazing in every shot).
Lottie agrees: "Choose your photographer carefully and follow their guidance and suggestions but most importantly, enjoy your day, enjoy each other and relax. That way your love and happiness will always be the main focus of the images."
11. Choose an Appropriate Honeymoon
You might choose to delay your honeymoon, but if you're early enough in the pregnancy, you can do a combined honeymoon and babymoon.
Think carefully about the kind of destination that will work for you. A city break is lovely in principle but can involve a lot of walking and steps, which take their toll. A resort or beach break where you can get a pregnancy massage at the spa, soak up some vitamin D and exercise gently in the pool is a great option.
Honeymoons and babymoons are both about quality spending time together as a couple and you'll know where you connect best. A mini-moon by the sea in the UK could be all you need.
Already had your baby? You'll love these gorgeous wedding outfits for babies and toddlers.