Match Your Dog to Your Bridesmaids With These Bridesmaid Dresses for Dogs
Want your pup to feel like they're part of the wedding party? You can now buy matching bridesmaid or wedding dresses for your dog!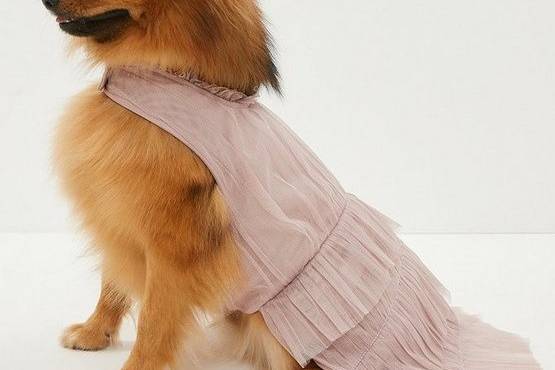 They say dogs are man's best friend - and what do you do with your best friends? Include them in your wedding party. Coast's new bridesmaid dresses for dogs allow you to match your pup with the rest of your 'I do' crew, and we are here for it!
Dressing up your dog for your wedding is not a minor detail to be overlooked - and now it's easier than ever to coordinate your fluffy friend with your bridesmaids thanks to Coast's offering - see some of our favourite picks here:
Sequin Dog Dress, £59
This ivory sequin dog dress is ideal if you want Fido to twin with you on your wedding day - get a matching dress for yourself by snapping up this ivory sequin shell top (£79) from the bridal separates range!
Blush Tulle Dog Dress, £39
If you've found the perfect pink bridesmaid dresses, put your pup in a pink dress too. This blush tulle dog dress will have your dog feeling like Hairy Bradshaw (sorry).
Match your maids with this blush tulle bridesmaid dress (£119).
Sequin Tulle Dog Dress, £59
Maybe your dog prefers a little sparkle? How about this sequin tulle dog dress so she can strut down the aisle in style?
Get your girls matching gowns with these sequin tulle bridesmaid dresses (£149). You can also get a sequin bow tie for your furry friend, if dresses aren't his thing…
Ivory Tulle Dog Dress, £39
They say you shouldn't wear white to a wedding, but we love white bridesmaid dresses - and this ivory tulle dog dress is no exception!
She'll be the belle of the ball, and you can twin with her with this ivory tulle wedding dress (£279)! Alternatively, this ivory tulle bow tie for dogs is the perfect pick.
Still looking for perfect dog wedding outfits? We've got you!