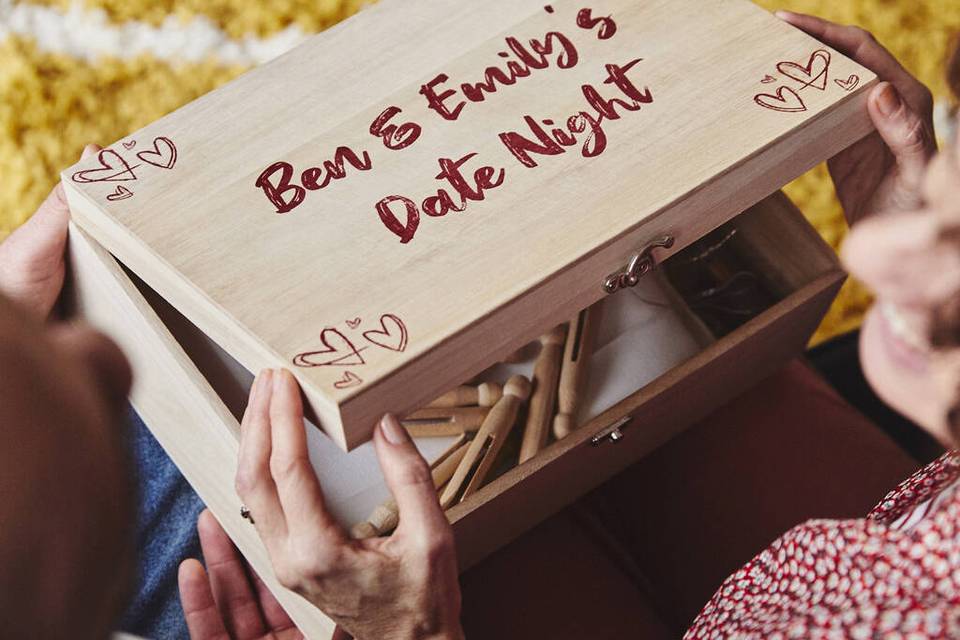 There's nothing better than a cosy night in with your partner, but if you've exhausted all that Netflix has to offer, or the weather has you wanting to hunker down at home, a date night box could be the perfect idea to keep the romantic spark alive.
We aren't talking your typical date night in - we've rounded up 21 unique date night boxes that'll keep you and your other half entertained no matter what type of couple you are. You can play Miss Marple with a murder mystery game, whip up a delicious dinner with a cookery kit or turn a night in front of the telly into a cinematic experience.
So if you don't fancy heading out or your restaurant options are starting to look a little dry, try a couple of these date night box ideas for a fun night in! Now all that's left to do is agree on which one you're going to order first...
1. Tuscan Pottery Date Night Experience - £34.99, Box42
Box42 design and package unforgettable date night boxes to suit all kinds of couples. We love the idea of this Tuscany pottery date night experience that includes pottery crafting equipment, Italian-themed Pictionary and delicious drinks and chocolates. Oh, and you have the option of a two-course dinner menu and playlist to really set the scene - bravo!
2. Funfair Champions Date Night Experience - £34.99, Box42
We're also obsessed with Box42's funfair champions date night experience. Release your competitive spirit by taking part in the funfair games championship before feasting on cream soda, popcorn and candy floss meringues. There's also a carnival kissing booth and we're predicting you might get lucky...
3. A Cosy Night In Gift Box - £50, Marks & Spencer
Marks & Spencer have a range of fabulous night in boxes that include lots of luxury treats. The cosy night in box is perfect for a winter's evening - it comes complete with a fragranced candle, pampering goodies, hot chocolate and biscuits.
4. Engagement Edition - from £28, A Year Of Dates
Planning a wedding can be overwhelming at times so this year of dates box is ideal if you and your fiancé or fiancée want a night to de-stress. It's specifically designed for engaged couples and contains 52 fun surprise activities that you can do together, and while there are a few that mean you'll have to venture out there are lots that you can do at home.
5. Movie Quiz Gift Box - £30, Joe & Seph's
Film buffs - this one's for you. Enjoy the ultimate movie night with this date box by Joe & Seph's that includes a movie trivia quiz and of course their best-selling popcorn. You'll get 5 different flavours to try such as toffee apple and cheddar cheese so they'll be no fighting over whether to choose sweet or salt.
READ MORE: 21 Questions and Fun Topics You Need to Discuss on Your Next Date Night
6. Classic Edition Gourmet Marshmallow S'mores Gift Set - £24, The Naked Marshmallow Co.
Snuggle around this mini marshmallow toasting kit and enjoy making (and eating) s'mores indoors! Simply pop the lid off the toaster, light with a match to ignite it and melt your marshmallows on bamboo skewers before squeezing them between layers of biscuit and chocolate. Delicious!
7. Date Night Luxury Face Mask Kit Gift Box - £21, Fruits of the Nut Tree
Treat you and your other half to a night in face mask with this organic and vegan date night box that contains everything you'll need for soft smooth skin. You can even pop a handwritten message inside the box in amongst the ingredients to surprise them with as they open it. Warning: things could get a little messy.
8. The Classic Box - from £16.50, The Cake Tasting Club
If you're engaged to be married we can't think of a better date night idea than trialling cake flavours together. The Cake Tasting Club delivers 6 portions of freshly baked treats to your door so you can do just that. It's a tough job, but somebodies gotta do it...
9. Gin Tasting Box - £75, Fox's Kiln Distillery
Take yourselves on a gin tasting journey with Fox's Kiln Distillery tasting box. It contains more than enough for a few tipples, plus two gin glasses and a gin tasting guide. Plus, if that isn't enough to keep you suitably entertained, the gift tag is made from biodegrable seeded card so you can plant your own wild flowers at home.
10. The Date Night Curry Kit - £14.49, Tyga
Forget Deliveroo, you and your loved one can whip up your very own Indian feast with this date night curry kit from Tyga. Packed full of enough ingredients to make three authentic mains and two delicious sides, it's guaranteed to heat things up in the kitchen.
READ MORE: 40 Fun Double Date Ideas You'll Actually Enjoy
11. Jungle Survival Date Night Box - £36.75, Created With Love Shop
This jungle survival date night box will be unlike anything you've ever done before as you journey into Ecuador's Bellavista Cloud Forest Reserve. There you must survive a series of challenges, including a perilous journey through crocodile-infested waters, by completing the games included.
12. Murder Mystery Date Night - £26.01, Scarlet Envelope Games
If you and your partner can't get enough of true crime documentaries, why not put your detective skills to the test with this murder mystery date night box? Okay, it's more of an envelope than a box but it contains all sorts of evidence to help you solve the case. You will find case files, coroner's reports, suspect video footage and more.
13. Romantic Date Night Box - £35, The Salty Herb
Grab some fizz and head to the tub to get ready for a relaxing and intimate date night for the two of you. This box includes a sensual bath bomb (filled with organic rose petals that'll add extra romance to the bath), a French clay mask, body oil, luxury chocolates and 6 tea light candles.
14. Deluxe At Home Date Night Pizza Making Kit - £58, Rosso Pizza
This pizza making kit has everything you'll need to create two 12 inch gourmet pizzas, plus a four cheese garlic bread, olives and Italian cannoli. You can choose from 5 delicious artisan pizza recipes such as French onion, herby balsamic mushrooms and goats cheese, and basil pesto, feta cheese, toasted pine nuts and wild rocket. We bet you're drooling!
15. Anniversary Date Night Box - £25.27, Open Mity
Spice up your date night with this steamy anniversary box that's filled with more than enough goodies to keep you entertained all night including sensual scratch-off card games and a feather tickler. Open Mity offer free international shipping but it's worth noting your order might take up to 12 days to arrive so if your anniversary is coming up we suggest ordering pronto.
READ MORE: 33 Unusual London Date Ideas
16. Sip n' Paint Date Night Box - from £23, Events At Home
Release your inner artists with this Sip n' Paint date night box. There are 2 canvases, a set of acrylic colours, paint brushes, easels, punch drinks and vegan sweets included so you'll have everything you need to let your creative juices flow. Better yet, you'll have 2 amazing (or...average) paintings to pop on the wall afterwards as a keepsake.
17. The Tokyo - £35, The Date Night Box Company
If you didn't manage to head off on holiday this year this date night box from The Date Night Box Company is bringing your dream destination to your living room - and you won't have to worry about forgetting your passport. We love the Tokyo box that contains a sushi making kit, karaoke and loads more Japanese activities but you can pick from Rome or Paris too.
18. The Date Night - £39.99, Wonder & Awe
Indecisive couples will love this date night box from Wonder & Awe as it's filled with all sorts of fun things to use depending on your mood. There's snacks, a massage dice, love coupons and whole array of cool activity kits to get stuck into.
19. '90s Rewind Date Night Box - £59.99, Let's Date Crate
Rewind time and spend the night reminiscing on the '90s with this nostalgic date night box from Let's Date Crate. You'll be tie-dying your socks and wearing bucket hats before the night is up so if you got together in this decade it'll bring back some amazing memories.
20. Date Night Coffee Tasting Gift Case - £64.99, Paddy & Scott's Coffee Shop
Struggling to actually stay awake long enough to enjoy date night? That'll be no problem with Paddy & Scott's date night coffee tasting case. You'll receive their finest ground coffee, an AeroPress Go travel coffee maker and a guide on how to capture love in a cup and romance your taste buds together.
21. Personalised Date Night Den Kit - from £59.95, The Little Boys Room
Making a den is about to get a serious upgrade with this date night den kit from The Little Boys Room. Packaged inside a gorgeous personalised wooden box is all that's needed to create and decorate a homemade den for you to watch a romantic film under. We're talking wooden pegs, a projector, fairy lights and more.
Caught the at-home date night bug? If you need even more ideas, check out our round-up of the best subscription boxes for couples to keep you entertained every month.