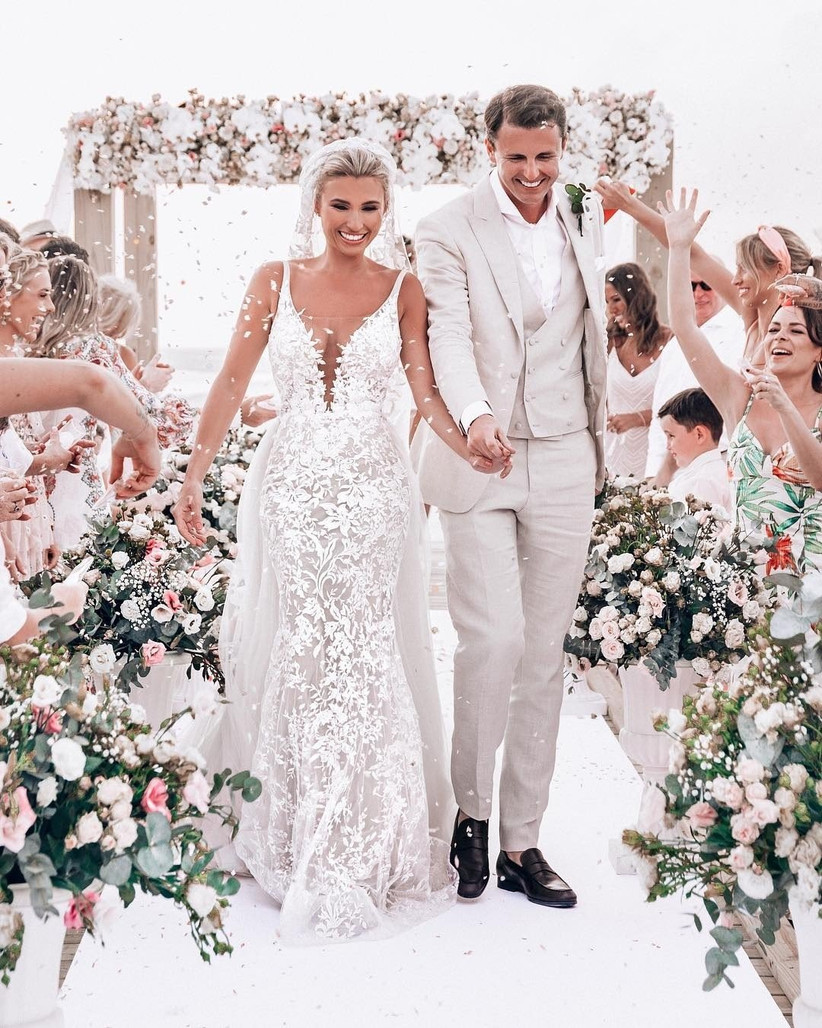 The Mummy Diaries: The Wedding left Billie Faiers fans everywhere shedding tears of joy on Wednesday night, as we were finally able to see the moment Billie Faiers and Greg Shepherd tied the knot.
The couple married on the island of Kuramathi in the Madives in front of 95 friends and family on the 5th of March, and last night, ITVBe aired a 90 minute special allowing us to watch the magical day unfold.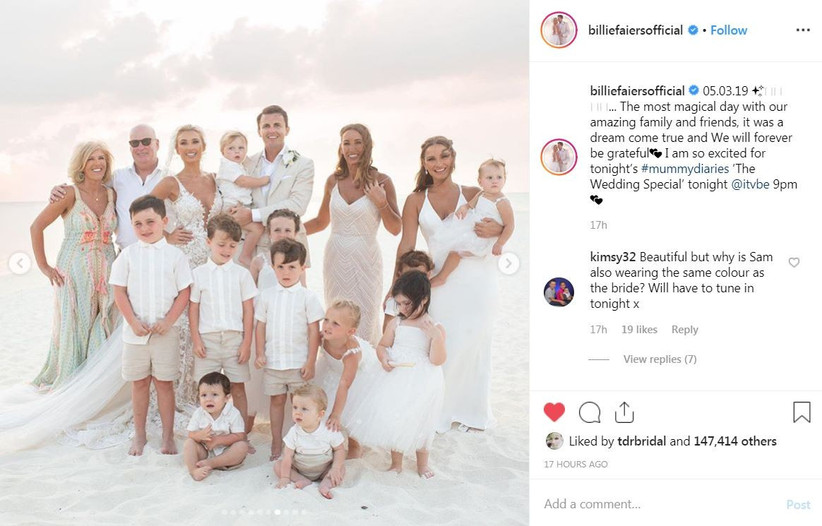 Image: Instagram/@billiefaiersofficial
Speaking of the wedding, former TOWIE star Billie, 29, told OK! magazine, "Other than the days that Nelly and Arthur were born, it was the best day of my life.
"It was like a fairy tale – all the stress and tears were worth it."
From the moment Billie thought her step-dad wouldn't make it to the Maldives to give her away, to her long-awaited walk down the aisle, here's everything we now know…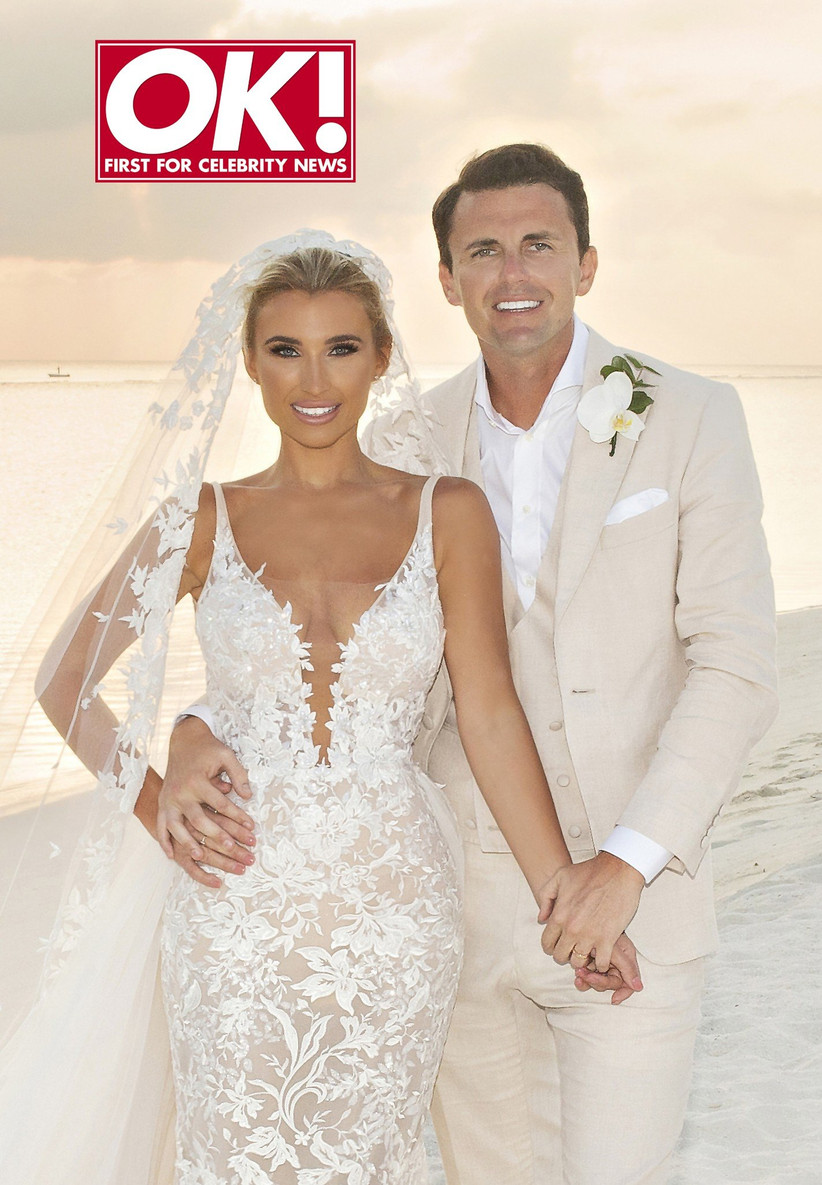 The wedding day was full of surprises, from long-term beau Greg's arrival by speedboat to a special performance of Stand By Me by friend Ferne McCann at the reception.
"It was such a lovely surprise, she's got a brilliant voice," revealed Billie.
Speaking about their family, Billie said, "It's so lovely for me to finally be a Shepherd and share a surname with my children. Marriage ties our little family together completely."
READ MORE: How to Have an Unplugged Wedding
When Did They Get Married?
Billie and Greg tied the knot on the 5th March after a five-year engagement.
Her first reveal that she'd said 'I do' was a boomerang, posted to her Instagram story, where she's seen posing with a rubber ring which says "Mr and Mrs Shepherd".
She then shared a picture posing happily with her hand in the air, proudly proclaiming, "#BillieisaShep".
The pair's trip has tied in nicely with another celebration in the Shepherd family. Their son Arthur's 2nd birthday fell just two days after their wedding, so of course they threw an ocean-side party to mark the occasion.
Billie, sister Sam and friend Ferne all shared videos of the fun, where their children were seen dancing to saxophonists and playing the drums.
Greg also shared an adorable snap to his Instagram, where he's seen on the beach kissing Arthur.
He captioned the picture: "Happy 2nd birthday son #choppysbirthday" – how cute?!
READ MORE: Everything You Need to Know About Getting Married Abroad
What Was Billie's Wedding Dress Like?
The mum-of-two looked stunning in a fishtail, lace Berta dress, embellished with crystals.
"As soon as I tried it on I had 'the feeling'; when you know you know! Because we didn't get married in a church I could get away with something more daring," Billie said of the plunging, illusion neckline gown.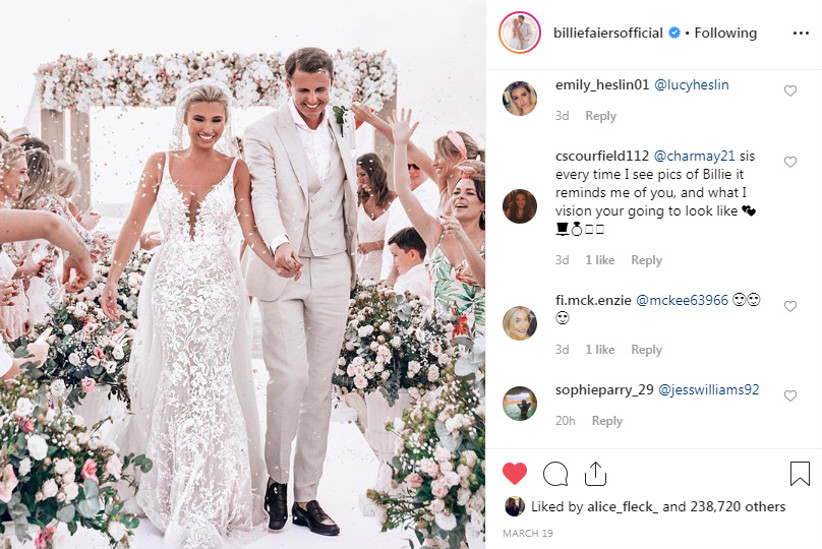 Image: Instagram/@billiefaiersofficial
Billie's dress choice went down a treat, and it was not just Greg who was blown away by her gown.
In heartwarming scenes on The Mummy Diaries: The Wedding, Billie was seen being walked down the aisle by her step-dad as crowds gasped at how beautiful she looked.
Billie's blonde hair was styled in an elegant up-do, and she wore a beautiful veil featuring the same design as on her dress.
Her makeup was picture perfect for her big day. Not only did she rock a tan we were all envious of, but she had a beautiful smokey eye, glossy lip and dewy skin. The perfect wedding day makeup look, if you ask us.

Continuing the all-white theme of her bridal shower, all of the bridal party wore white, including maid of honour, sister Sam Faiers.
Daughter Nelly, 4, looked adorable in her white flower girl dress, while page boy Arthur, who celebrated his second birthday just two days after their wedding, wore a suit matching his dad.
Greg, 33, looked handsome in a pale three-piece linen suit, complete with orchid buttonhole.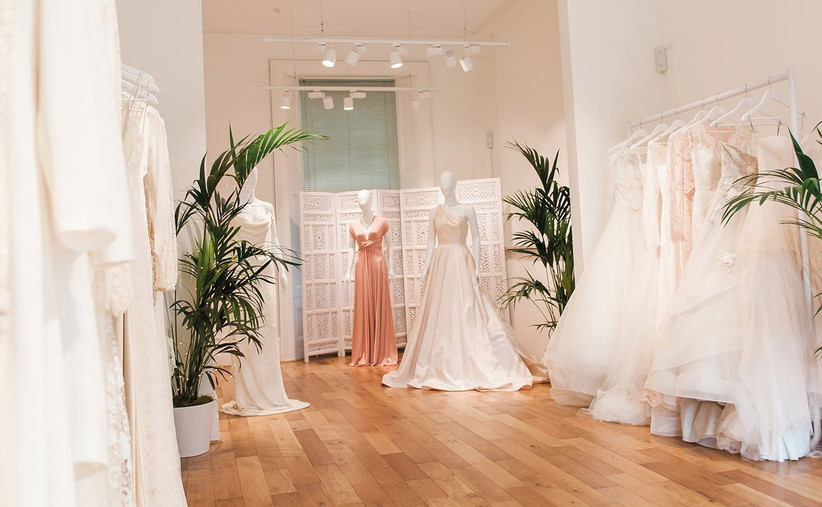 In an earlier episode of The Mummy Diaries, sister Sam took Billie wedding dress shopping at the gorgeous Blackburn Bridal wedding dress shop in London.

She tried on lots of potential boho style dresses, but her favourite was a sequined, V-neck number. It featured a mirrored V-back, flattering waistline, full skirt and stunning court train.

It was unsurprising then that Billie picked a similarly dramatic gown for her big day. She chose a fishtail Berta gown, made of lace and embellished with crystals, that featured a plunging neckline and sheer panel.

"She looked incredible in her dress," Greg said.

READ MORE: The Best Wedding Dress Shops in London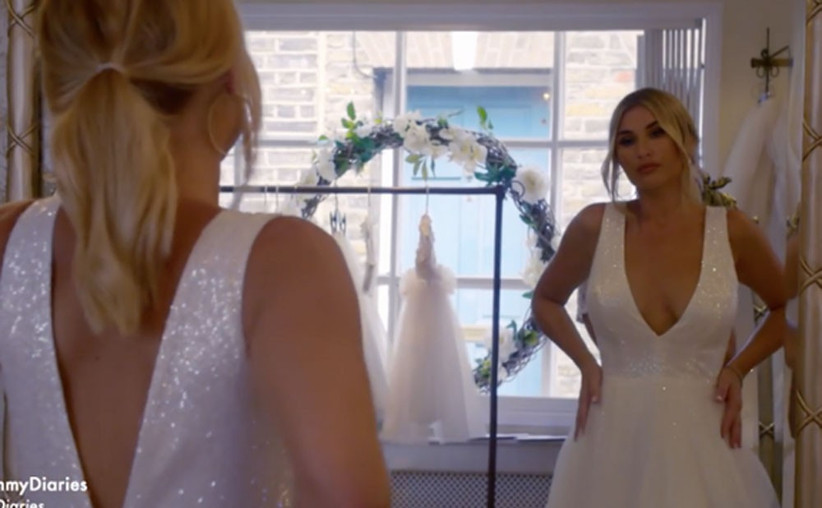 Billie collected her chosen wedding dress alongside mum Sue, 50, and sister Sam prior to flying to the Maldives.

Billie shared a picture posing outside West London's The Wedding Club with the caption: "Ready dress GO". The trio looked so excited to finally be able to take the gown home with them!
READ MORE: Our Favourite Lace Wedding Dresses
What Was The Wedding Like?
Billie and Greg hosted a lavish affair. Doesn't that go without saying when you jet off to the Maldives to get married?
Greg arrived at the wedding in style by speedboat and the dancing went on until 3am. Not that we don't know Greg loves to party, with him hosting two stag dos in both Las Vegas and Spain!
Billie and Greg also performed a Charlston-inspired first dance routine, as taught to them by The Pussycat Dolls' Kimberly Wyatt.
The wedding had a tropical wedding theme with lots of flowers, palm leaves and fairy lights.
Billie previously revealed to Greg that she had considered spending £30,000 on imported wedding flowers, and although we don't know exactly how much she spent, we know white orchids featured heavily.
She said to her flabbergasted fiancé: "Anyone will tell you flowers make the biggest difference at a wedding."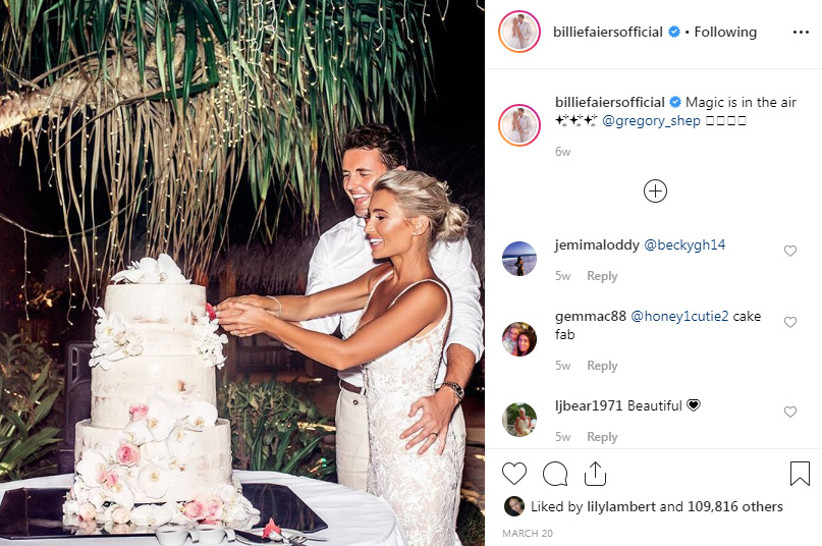 Image: Instagram/@billiefaiersofficial
At the ceremony, guests were left teary-eyed as Sam gave a speech at the altar.
She started her speech with: "To my beautiful sister Billie and my brother-in-law Greg, it feels like just yesterday when we were standing in the sea in Ibiza. I was the annoying little sister who asked: 'You fancy my sister, don't you?'"
She continued: "When Greg replied 'yes', I instantly told Billie and that's when the seed was planted. I'm so happy that my big sister is marrying the man of her dreams. She may not tell you that Greg, but as her sister I know she loves you unconditionally."
She ended the speech by officially welcoming Greg into the family, and thanking the pair for blessing her with her beautiful niece and nephew.
Known for their love of a party, the reception continued until 3am, and their guests showered them with Pink Lemonade confetti in monogrammed confetti pillows from Shropshire Petals.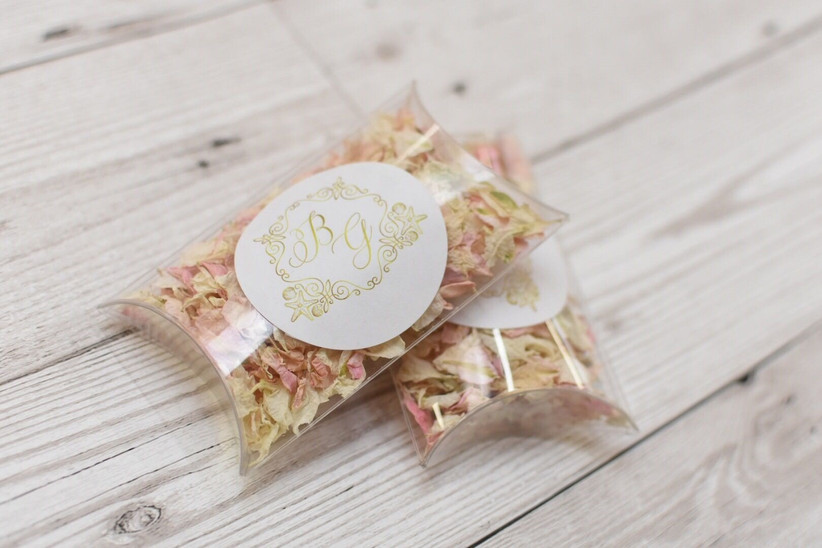 Despite some publications reporting the celebrations had got out of hand, Billie dismissed the idea.
"The hotel manager hasn't had any complaints about our party. I was half expecting some loudness as there are 95 of us out here celebrating [but] we have always been very respectful of the island and the other guests holidaying here," she said.
READ MORE: Check Out of Maid of Honour Speech Examples!
Did Anything Go Wrong on the Wedding Day?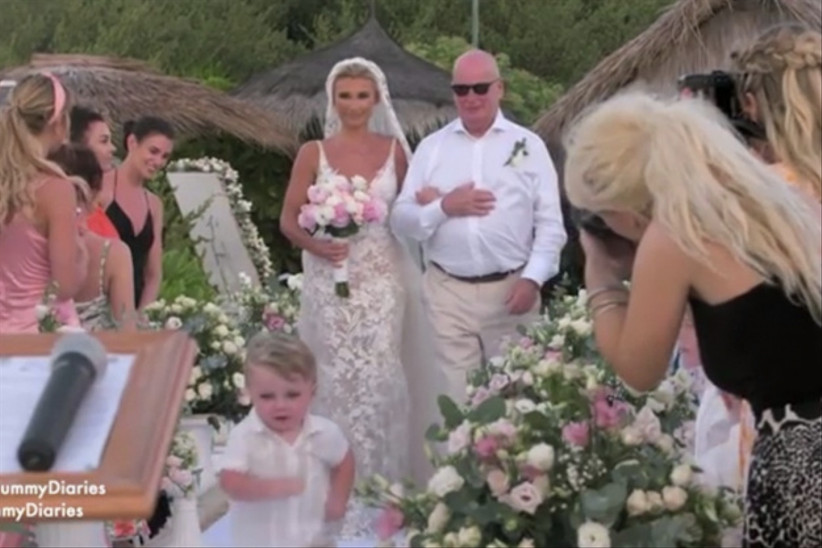 Image: ITVBe
Although nothing went wrong on the day itself, there were a few glitches in the run up to the wedding.
In The Mummy Diaries: The Wedding, viewers saw Billie and Sam feeling let down after their step-dad Dave Chatwood wasn't allowed on his original flight to the Maldives.
He suffered side effects after taking sleeping pills with a bottle of wine, and Billie was left terrified that her dad wouldn't make it to the island in time for her wedding day.
Luckily, he later arrived in the Maldives… but to a very unimpressed Billie.
She said: "So glad you finally made it… Dad seriously… why did you take the sleeping tablets before you got on the flight?"
He admitted he'd taken the tablets to ease his fear of flying, but added that he would've "swam here" for Billie to ensure he made the day.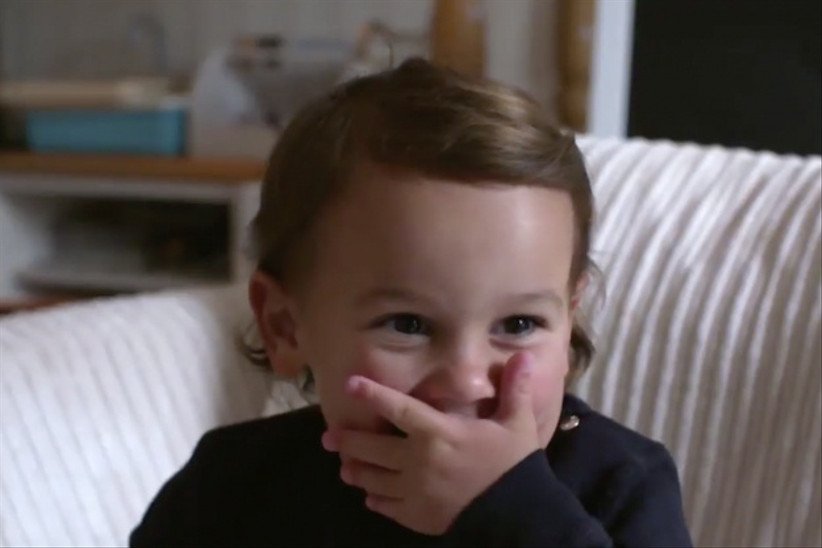 Image: ITVBe
Any other glitches, we hear you ask?
Only that Billie's sister Sam was left with a cut nose a couple of days before the wedding, after her son Paul threw a plastic toy at her face in their swimming pool! Thank goodness for concealer, hey?
READ MORE: The Best Tried & Tested Flawless Foundations for Brides
Who Was Invited to The Wedding?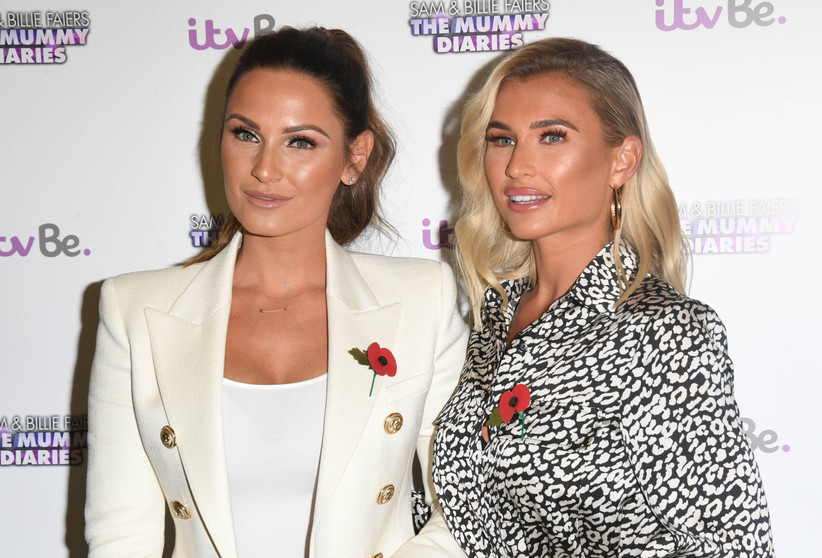 Image: Stuart C. Wilson / Getty Images
There was a total of 95 guests who attended the week of celebrations in the Maldives.
Among these was, of course, Billie's sister and The Mummy Diaries co-star Sam Faiers who was the Maid of Honour.
She joined the pair on the exotic island alongside her boyfriend Paul Knightley and their two children, Paul and Rosie.
She appeared to be having a wonderful time, sharing images of herself and her little girl Rosie in front of the shimmering blue ocean. We're not jealous at all…
Among the other guests was fellow TOWIE babe Ferne McCann, 28, and her daughter Sunday.
The First Time Mum star remained silent on social media until she landed on the island, but has since shared a video to her Instagram, showing off her slender figure in a black strapless bikini.
READ MORE: 22 Bridal Bikinis You Can Totally Wear Again
She also shared an adorable picture of her holding Sunday, where she donned a gorgeous wrap-style yellow maxi dress and straw sunhat. Top style points to Ferne!
She captioned the photo: "My ray of sunshine (look at her little beach bag though)" alongside a heart-eye emoji.
Billie and Greg's nearest and dearest, including their parents and Billie's grandparents, flew out with them a couple of days before the other guests arrived on the island.
This gave them time to settle in and prep the all-important wedding gift bags (including sun cream, flip-flops and hangover kits) which Billie left in everyone's bedrooms in time for their arrival.
READ MORE: 17 Summery Beach Wedding Shoes
Who Wasn't On the Guest List?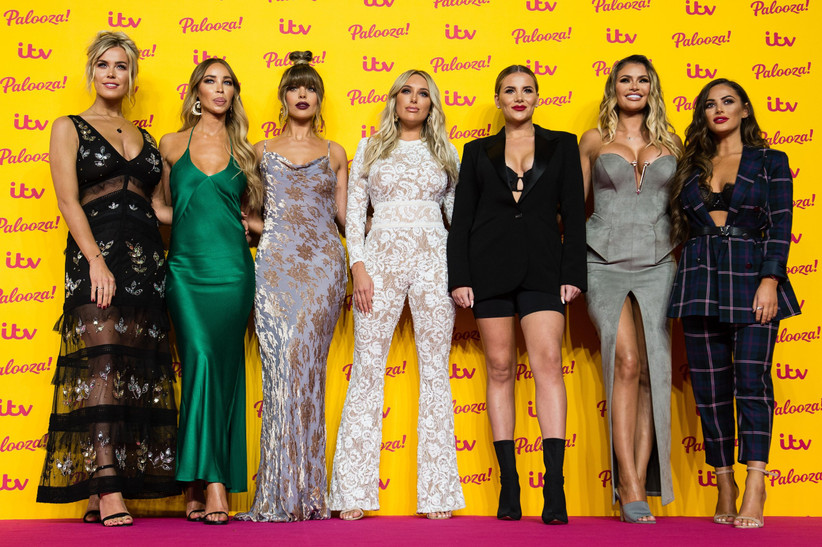 Image: Jeff Spicer / Getty Images
Wedding guest list politics are a total minefield, and brides are often left having to cut their guest lists down in the name of the dreaded wedding budget.
It would seem Billie has had to do just that, meaning some of her former The Only Way is Essex cast mates didn't quite made the cut.
The show's Georgia Kousoulou shared a snap to her Instagram, posing with fellow TOWIE star, Chloe Simms.
She captioned the post: "Thailand let's go…" alongside a film camera emoji, hinting at the fact that they might be jetting off to film for the upcoming series of The Only Way is Essex instead of attending Billie's Maldives wedding.
READ MORE: How to Uninvite Wedding Guests
Where Did Billie and Greg Go on Honeymoon?
We don't know the exact location of their honeymoon but it wasn't far away from their wedding location.
Greg and Billie both posted pictures of themselves on a sea plane, heading off on honeymoon to another island within the Maldives.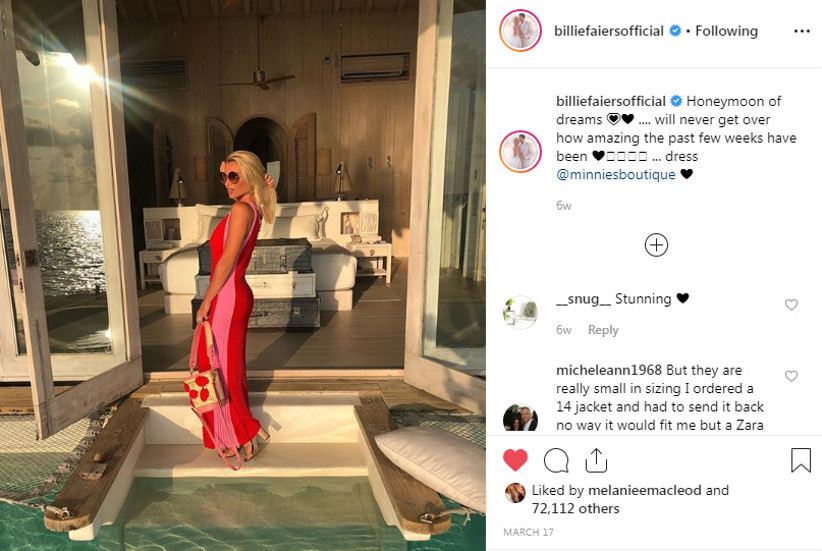 Greg seemed happy to be alone with Billie after the hectic wedding, writing, "Finally get her to myself."
READ MORE: Our Ultimate Guide to Wedding Themes
For more, check out The Mummy Diaries: The Wedding, now available for catch-up on ITVBe.