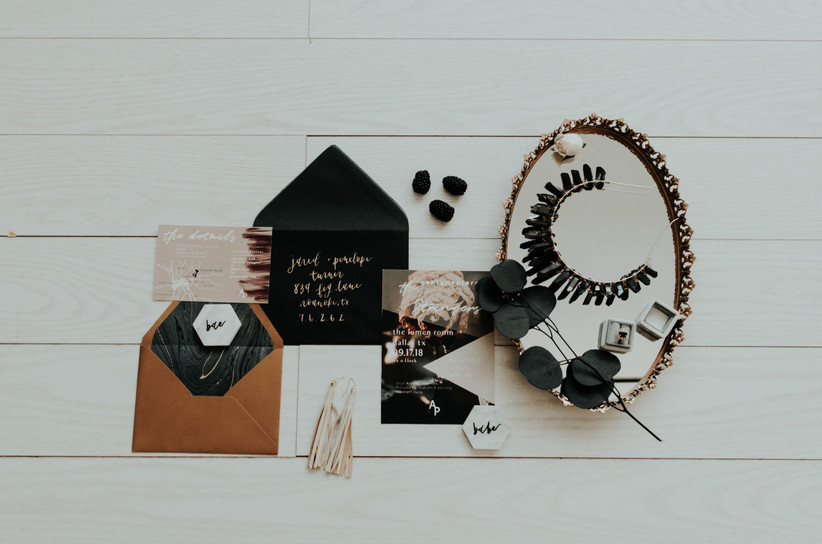 Perhaps you're reworking your wedding invitations for the first time or maybe you're on your fifth draft thanks to ever-changing COVID-19 wedding regulations – wherever you're at, we've got the expert view on what to bear to mind when sending out wedding invites to guests during the pandemic.
From the extra information to include, what to leave out and the tricky task of nailing a cheerful yet sensitive tone, this COVID-19 wedding invitation cheat-sheet will ensure that guests know what's up and avoid any additional upheaval on your part. Because let's be honest, you've had quite enough upheaval to deal with as it is. It's time to get creative in the face of coronavirus.
READ MORE:
Do. Not. Worry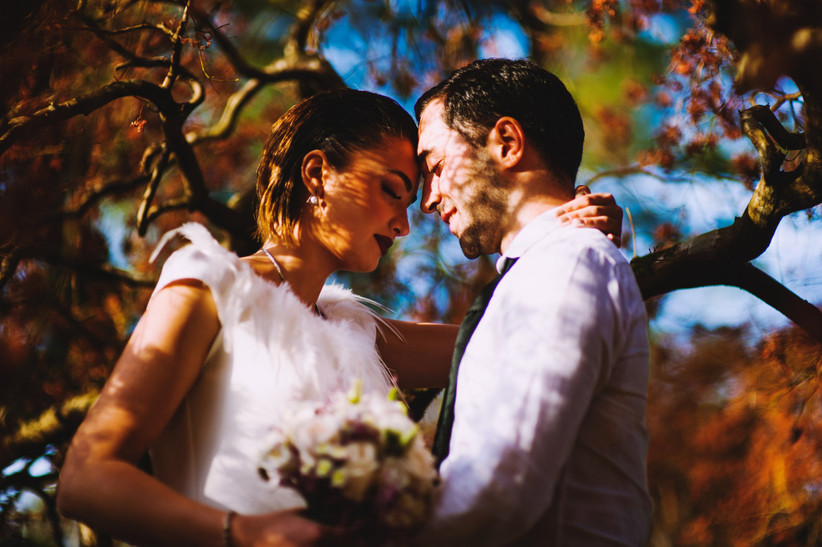 Debrett's etiquette spokesperson Lucy Hume advocates a no-stress approach, first and foremost:
"The important thing is to try not to worry - any changes that you have to make to the guest list, venue or date are unlikely to come as a surprise to your guests given the current climate, and undue anxiety will only have a further negative impact on what should be a happy day for you and your spouse-to-be.
"Understandably you might be disappointed or fear that you're causing guests and suppliers extra hassle, but don't feel that you have to apologise for any changes to your wedding day plans – the effects and impact of COVID-19 on your wedding are beyond your control and most definitely not your fault!
With that pep talk in mind, onto the practicalities.
Keep It On a 'Need to Know' Basis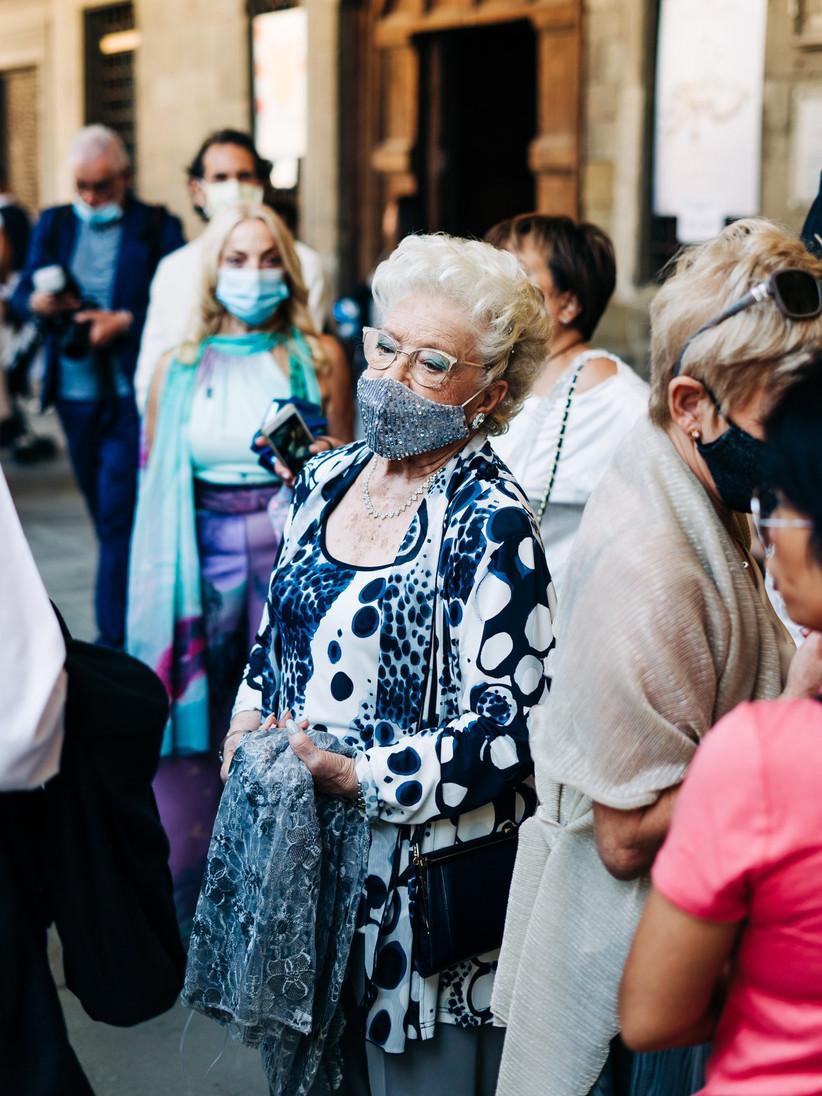 Lucy advises that it's best to keep wedding invitation wording as clear and concise as possible:
"Let people know about changes that will affect them directly - including factors that might affect travel, accommodation or childcare arrangements.
"There's no need to share any changes that won't affect your guests, however - as much as you might be tempted to vent about last-minute renegotiations with your caterers, sharing anything that's not strictly relevant might cause confusion"
Wedding stationery specialist and founder of Ananya Cards Vaishali Shah also suggests priming guests for future potential changes to your wedding day plans:
"It's key to advise guests that there may be some further last-minute changes due to the unprecedented and unpredictable nature of the COVID-19 pandemic. Supply key information when and how you can and don't panic – that way your guests are far more likely to go with the flow, as we're all having to at the current time."
READ MORE: How Many People Can Attend a Wedding? The Latest Coronavirus Rules for Weddings Explained
Don't Ignore COVID-19 (as If You Could)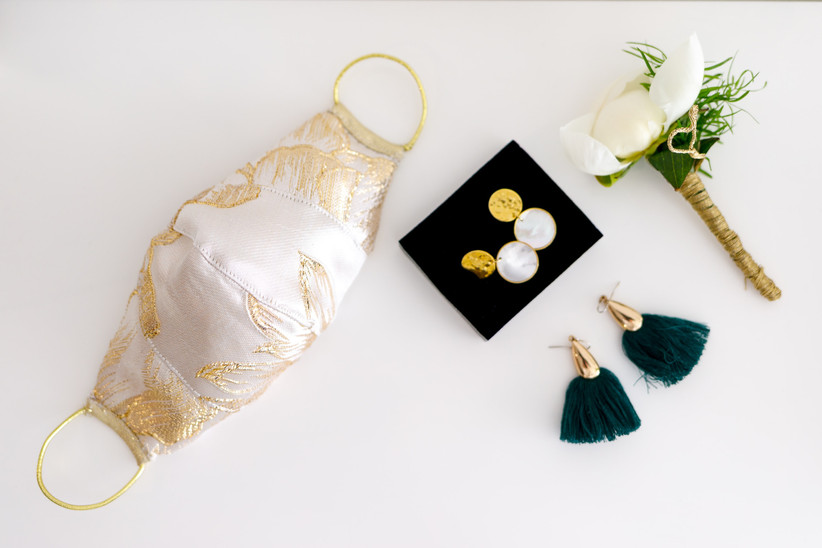 You needn't let coronavirus warnings dominate your wedding invitation but mentioning safety measures, procedure and protocol will make guests feel more secure and ensure that COVID-19 regulations are fully adhered to on the day. Lucy explains how to strike the right balance:
"Reminders about social distancing, using hand sanitiser and wearing masks (where necessary) should be delivered gently and in the spirit of 'we have to comply with certain stipulations' rather than a flat-out order."
Vaishali also emphasises that it's important to convey that your venue and suppliers are taking the pandemic seriously too:
"It is essential for guests to know that the venue is COVID-19 secure and that all the suppliers on the day are free from COVID-19. They need to be reassured that all the necessary steps have been taken to ensure their safety and wellbeing.
"I would suggest having increased signage on the day itself – for example, signs indicating the direction that you need to walk in at the reception venue or to guide guests to the hand sanitiser station. These can be light-hearted with fun phrasing to match the rest of the wedding stationery."
If you're supplying wedding face masks for guests be sure to let them know – you can personalise or monogram them to add a sense of occasion to an otherwise quite literally sterile but vital pandemic accessory. Lastly, reiterate that due to COVID-19 regulations, plus-ones aren't on the cards.
READ MORE: 29 Stylish Wedding Face Masks for Couples and Guests
Ask Your Wedding Stationer for Inspo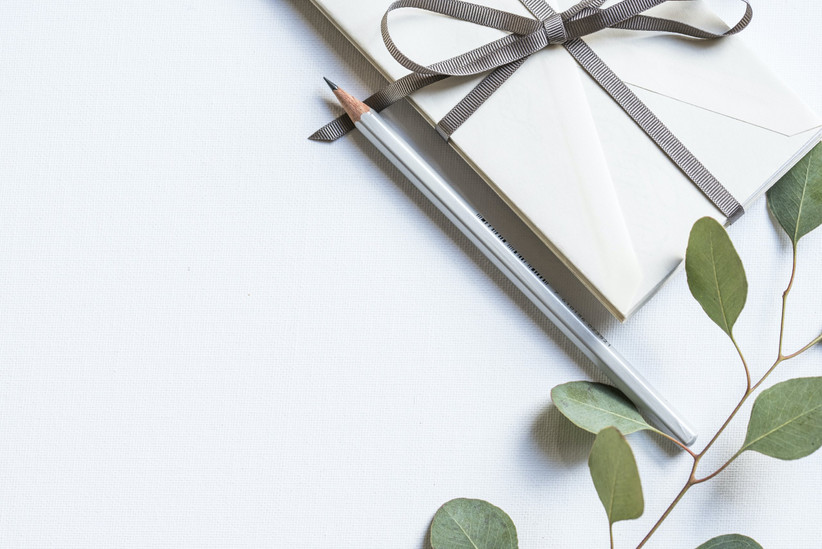 Adjusting your wedding stationery wording needn't involve doing away with your original stationery design and vision – chances are that your stationer can quickly adapt your invites. Vaishali provides reassurance:
"Work with your stationer to create any new notifications or inserts that you might need. If time does not allow for printing, you can still create beautifully designed digital invitations. We have recently created e-invites for couples where we have incorporated the same wedding colours and theme as would have been in the paper stationery."
Even if wedding changes are close to the wire, Vaishali advises contacting your stationery designer to ask whether a new card could be created in line with the original style of your wedding invites. Request the digital file and you can send this out via email, text or Whatsapp if the timeline doesn't allow for printing and posting.
Most of us have adapted to conducting both professional and personal business online post-COVID-19 so guests won't see it as unusual and most should get the message immediately. You may need to follow up with a phone call for any technophobes or older family members who prefer a more formal approach, but don't stress about calling each guest individually – most will get the message loud and clear.
READ MORE: Wedding Invitation Wording: 17 Example Templates to Make Your Own
Set up a Wedding Website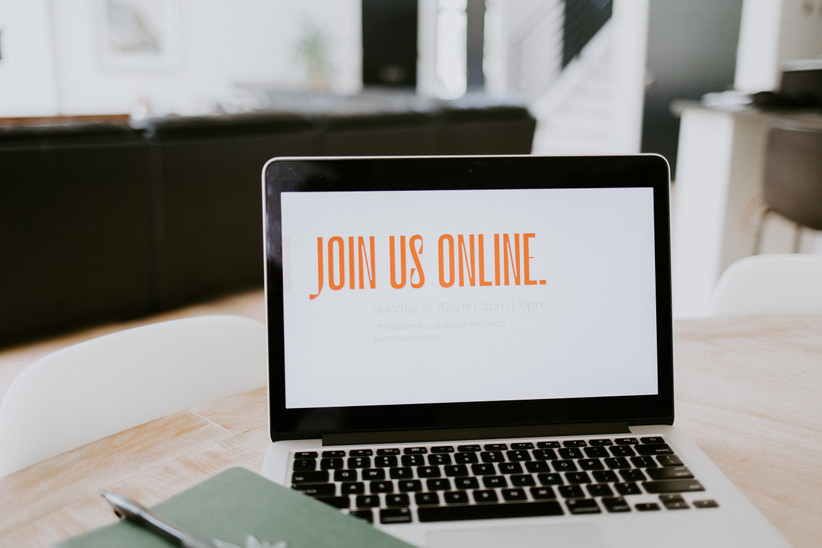 Wedding websites are slick additions to planning at the best of times but having all of your wedding information in one easily editable and accessible place is more useful than ever considering the uncertainty brought about by the pandemic.
Provide all guests with the link and password and point them towards the website for both basic information and regular updates – many websites notify guests as soon as a change is made. Most wedding websites also provide an RSVP functionality to make it easier to collate any eleventh hour guest number changes. Lucy recommends posting any final information on your wedding website as close to the wedding date as possible to avoid guests receiving a series of contradictory or confusing messages. It also saves you from sending the same Whatsapp multiple times and fielding individual guests' queries.
Having said that, it is useful to have all guests' mobile numbers on file in addition to addresses when putting together your invites just in case there is a sudden turn of events. If you're sending a group email to notify guests of new plans, Lucy encourages the use of 'bcc' and also recommends asking guests not to 'reply all' so that recipients' inboxes aren't flooded with personal messages.
READ MORE: The 10 Best Wedding Websites for Your Big Day
Zoom in on the Details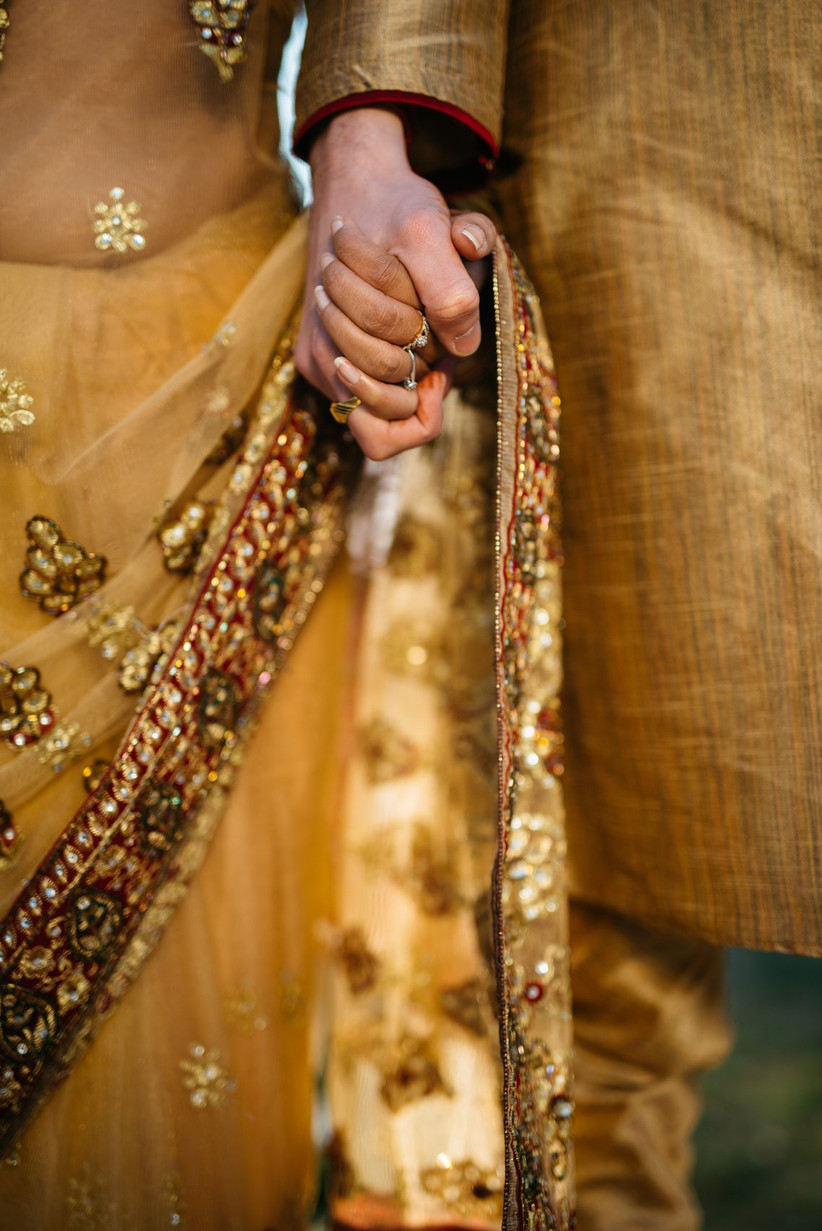 Zoom wedding on the cards? A customised wedding invitation still very much has its place according to Vaishali:
"Zoom wedding invitations can be digitised or printed and are a great way to make guests feel included and 'present' to join in with your celebrations on the day, albeit from afar.
"Unlike when planning a conventional wedding, a ceremony streamed on Zoom means that you're not restricted when it comes to guest numbers so it provides a great opportunity to invite more people than you may have originally intended, or than your budget allowed. Friends and family living in other countries or those who may not be able to travel can also witness the ceremony – an exciting prospect that didn't often arise pre-pandemic."
Approach Zoom wedding invitations in a similar manner to regular wedding invitations, including key elements such as the log in details and link, order of service and dress code. Personalisation will distinguish it from day-to-day virtual meetings – send an individual invite to guests and ask them to wear something in line with the feel of your wedding, whether formal, festive or floral – it's your call. Vaishali notes that "a Zoom wedding invitation is also a great way to introduce details of specific conventions or traditions that could be involved in your ceremony, whether religious, cultural or both."
Lucy agrees that sending a printed Zoom wedding invitation, if you have time and budget to do so, not only lends your wedding day a sense of formality and excitement but also serves as "a physical reminder and memento of the event." Guests will most likely be delighted to have an excuse to dress up from their sofa and your invitation will be a permanent and treasured keepsake of a time when love overcame all (even global pandemics).
If you're wondering where to begin when planning a Zoom ceremony, here's everything you need to know about live streaming your wedding.