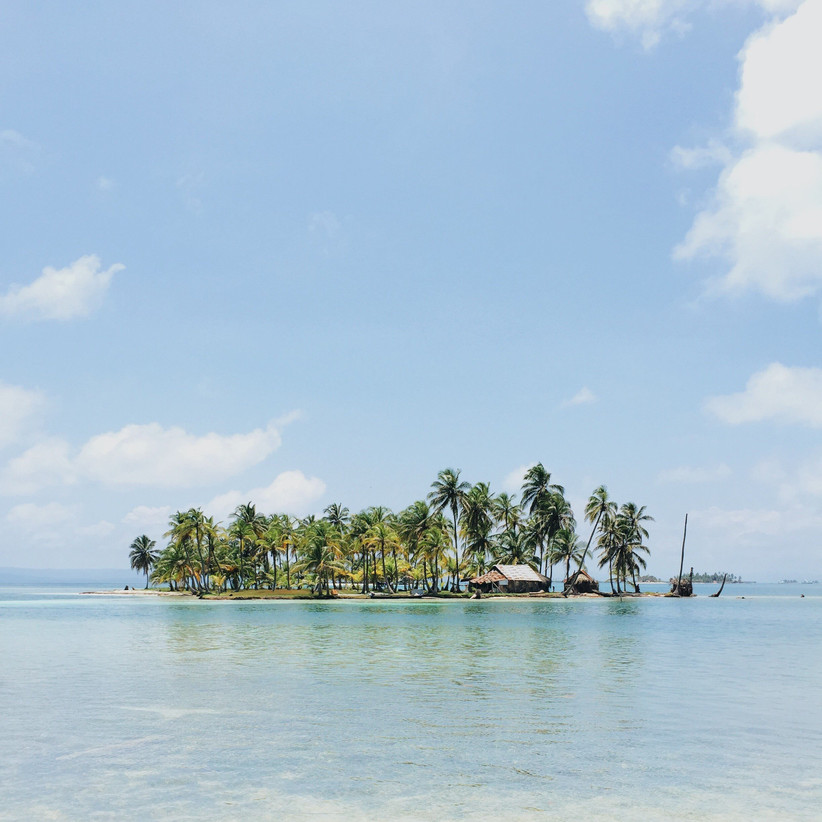 Booking your honeymoon is one of the most exciting parts of your wedding planning journey. It's the holiday of a lifetime, after all, and the perfect chance to relax after months and months of wedmin.
According to the National Wedding Survey 2019, 73% of couples planned to take a honeymoon after their wedding, and 29% planned both a honeymoon and mini-moon. This proves that honeymoons are still a hugely important part of the wedding experience.
If you're struggling to narrow down your shortlist of potential holiday spots, our round-up of the most popular honeymoon destinations will help. We've even recommended the best hotels to stay in once you get there. Apologies in advance if your bucket list grows significantly…
The Most Popular Honeymoon Destinations
Blessed with two weeks' worth of annual leave and ready to splash out on the holiday of a lifetime? Choose from one of the most popular honeymoon destinations of the year.
1. Maldives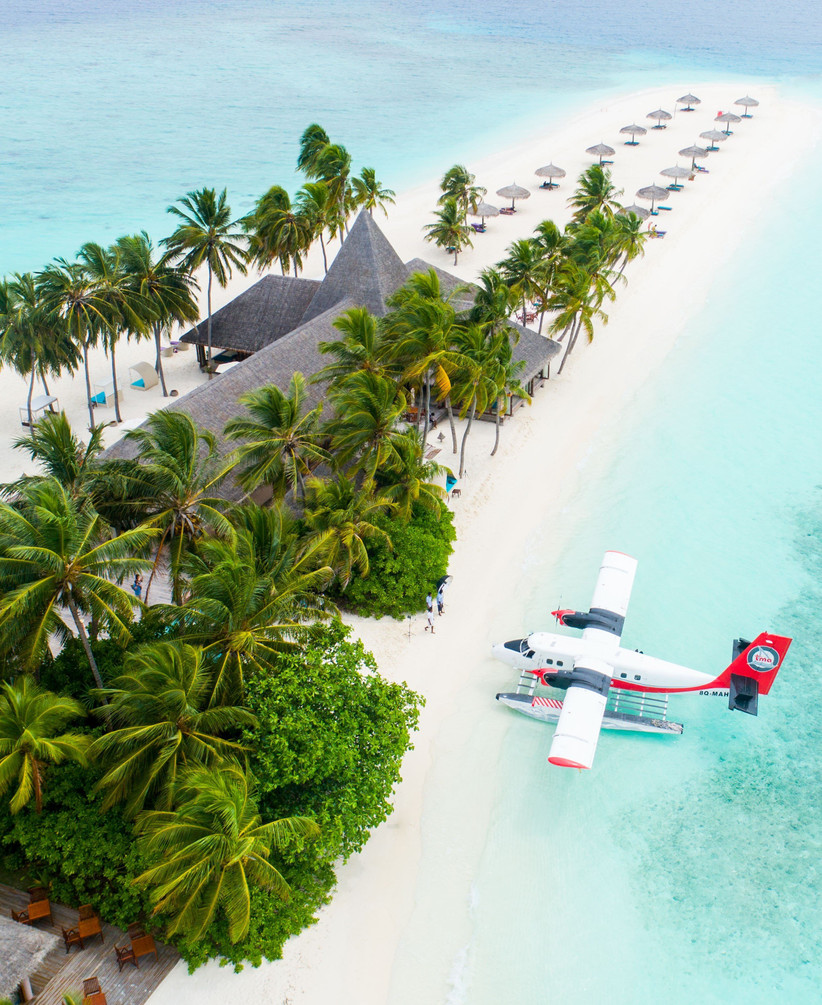 The Maldives has long been a favourite among honeymooners, and this year's National Wedding Survey proved it's still adored. In fact, 12% of couples surveyed are jetting off there. Thanks to its sparkling oceans, pristine private beaches and array of overwater bungalows, we're not surprised it came out top. It's an obvious choice for a holiday of a lifetime.
Located in the heart of the Indian Ocean, the Maldives are just as perfect for a relaxing break as they are a holiday packed full of water sports and yoga on the beach. Undeniably romantic, each of the islands are a total escape from reality.
If the Maldives sounds like it could be the honeymoon destination for you, March is the time to go. It has an average high of 29 degrees (making it the hottest month), and the conditions in the Indian Ocean are perfect for snorkelling.
Where to Stay in the Maldives
Shangri-La's Villingili Resort & Spa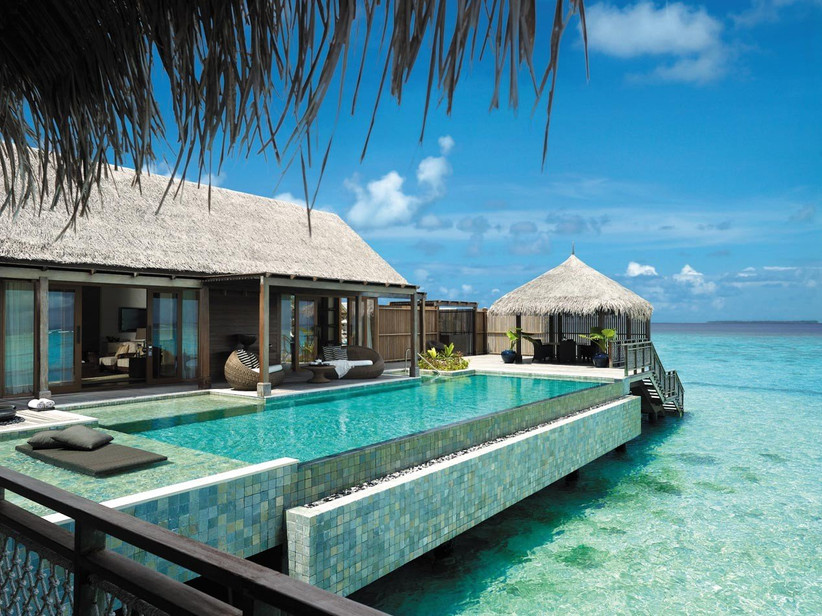 Shangri-La's Villingili Resort & Spa is the definition of luxurious. On arrival, you'll be taken to your private villa perched on the edge  of the turquoise shoreline. From that moment on, your Island Host will cater to your every need.
There's an uncompromising selection of island dining destinations to choose from, including the Dine by Design experience. Here, the resort's chefs will prepare you a meal at the most exclusive and romantic locations on the island. Private dinner on the beach, anyone? You'll also be able to explore the tropical forest, play a round at the only 9-hole golf course in the Maldives or embark on an ocean adventure through numerous water sports.
The St. Regis Maldives Vommuli Resort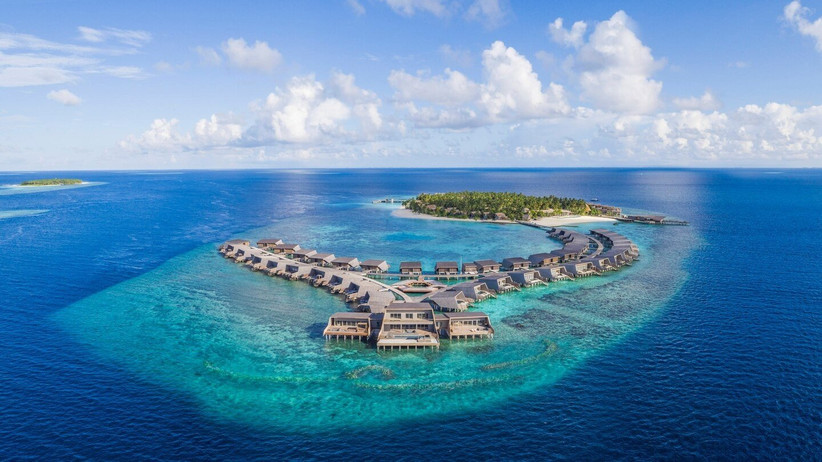 Couples looking to stay in an untouched area of the Maldives should consider The St. Regis Vommuli Resort. It's located in the Southern Dhaalu Atoll and reached via a seaplane from Male International Airport.
You'll be able to choose between villas with a garden view, beachfront bedrooms or over-water villas with pools (we'll take the latter), and you'll be assigned a personal butler for the entirety of your stay. We can't imagine a more perfect start to married life.
READ MORE: Your Complete Guide to a Honeymoon in the Maldives
2. USA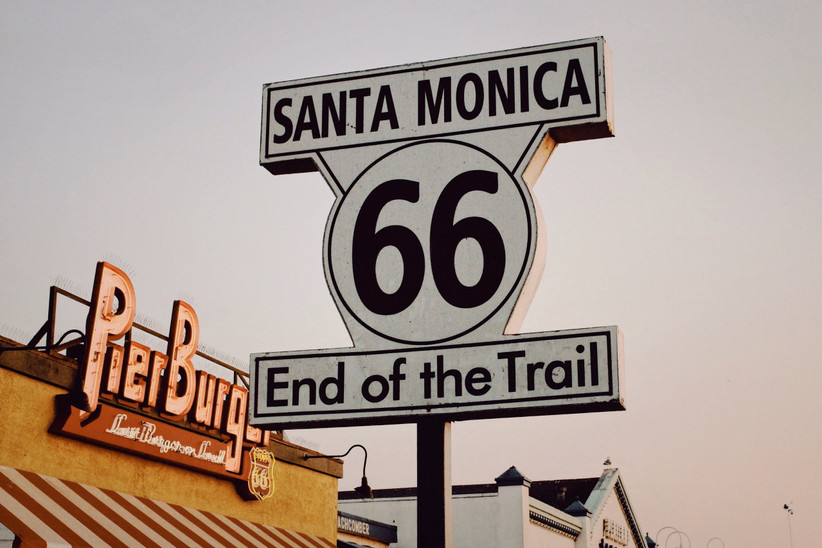 7% of couples chose America as their honeymoon destination of choice this year. Granted, 'America' covers quite a sizeable chunk of the globe, so which state in particular should you make a beeline for?
Well, opting for a a self-drive tour (one of the hottest honeymoon trends of 2019, FYI) will allow you to see numerous. Road trips offer total flexibility with where you go and what you see, and they can be done on a budget.
Head to the historic Route 66 which starts in Chicago and comes to an end just before the world-famous Santa Monica Pier. If you drive the whole thing, you'll pass through Oklahoma, Arizona, California and more. Just make sure you ask the locals for their favourite off-the-beaten-track spots.
Where to Stay in the USA
Hotel Lincoln – Chicago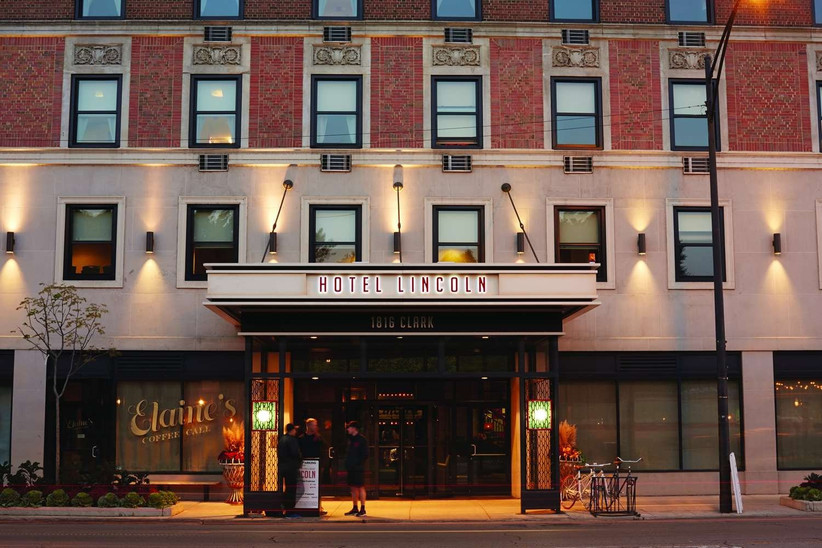 Start your journey in Hotel Lincoln, one of the best hotels in Chicago. Even if you're going to do the rest of your trip on a  strict budget, it's nice to start things off with a bit of luxury.
This place is seriously cool. The interiors are eclectic and retro-inspired with a "wall of bad art", plaid armchairs and blue-fringe couches. What's more, Hotel Lincoln is located in an unusually leafy area of the city, right on the edge of Lincoln Park.
Santa Monica Proper Hotel – Santa Monica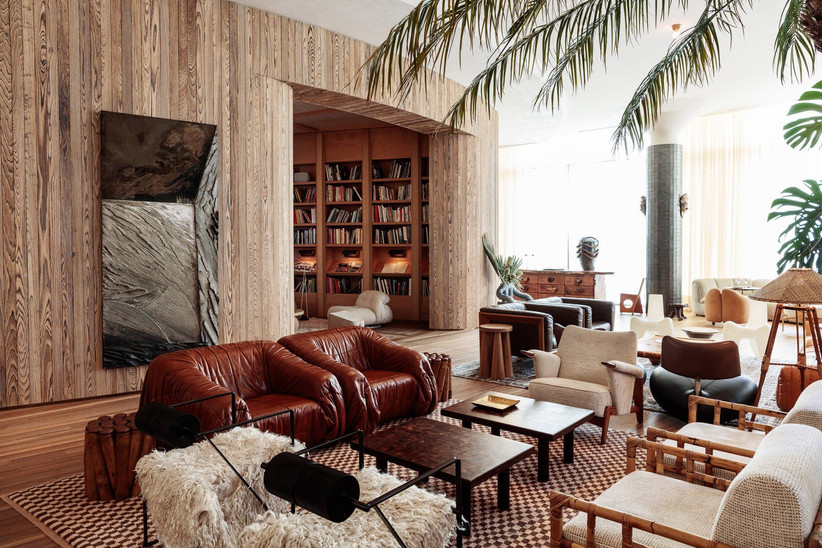 End your road trip in style with a stay at the luxurious and boutique Santa Monica Proper Hotel. It oozes class and elegance and boasts an outdoor pool, 24-hour fitness centre, three delicious restaurants and an array of bars and cafes. It's also located within a kilometre of the pier, making it extremely easy to walk to all the sights.
3. Italy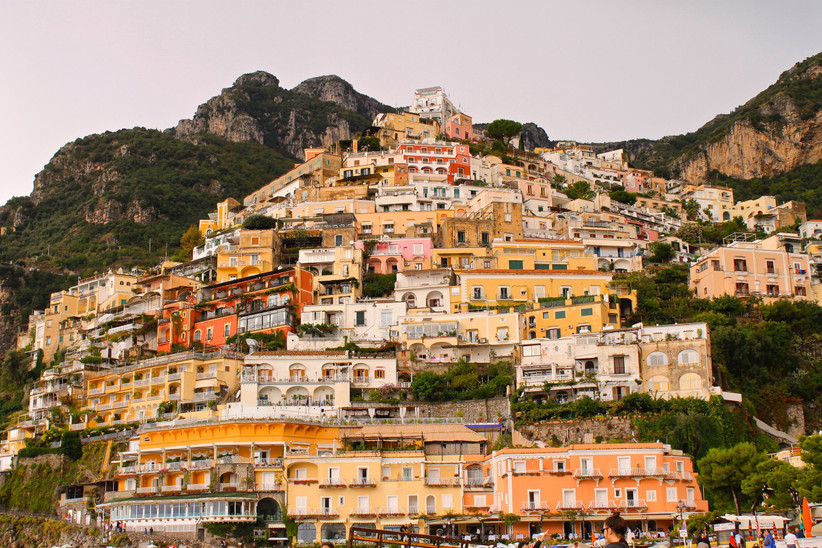 If it's a European honeymoon that you're dreaming of, Italy is a beautiful choice. It's the third most popular honeymoon destination of the year, largely because the Amalfi Coast has become increasingly popular with loved-up couples looking to celebrate their vows. We're not sure whether it's the cliffs scattered with pastel-coloured homes, the pizza at every turn or the amazing local wine that makes it so magical… But what we do know is you'll absolutely love your stay. Base yourselves in Sorrento and take day trips to Amalfi, Positano and Capri.
If you'd rather head inland, Tuscany is an equally fabulous choice. It comes into its own in May, when you'll experience gloriously warm temperatures without the flocks of tourists. Visit the capital, Florence, tour the local vineyards and explore the area's abundance of UNESCO world heritage sites.
READ MORE: Your Complete Guide to an Italian Honeymoon
Where to Stay in Italy
Hotel La Fortezza – Florence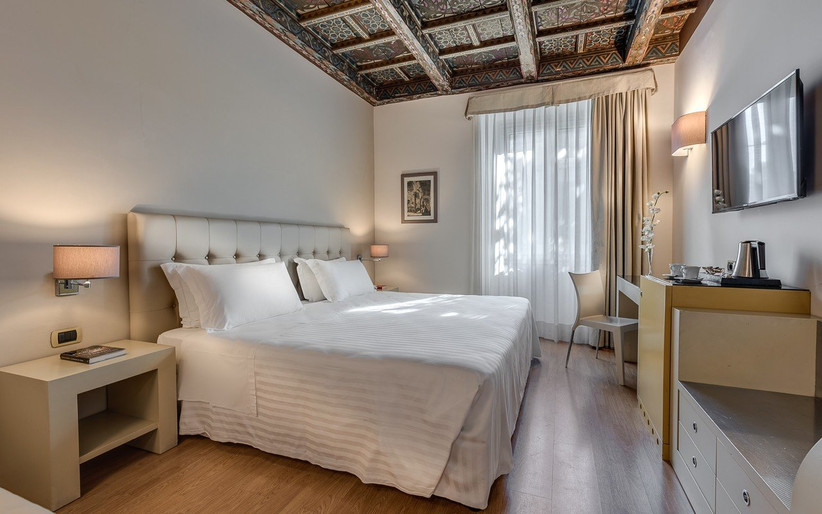 Nestled in the heart of Florence is Hotel La Fortezza, the perfect romantic honeymoon retreat. If you're like us and you judge your hotel on the extravagance of its breakfast buffet, you'll be pleasantly surprised. Your first meal of the day will have *serious* wow-factor.
Past that, the bedrooms are delightful, the interiors are light and contemporary, and the prices are affordable. Oh, and Hotel la Fortezza is located in a quiet and residential area of the city which is still close enough to get you to the chaos of the city in a heartbeat. It's a thumbs up from us.
Monteverdi Tuscany – Tuscany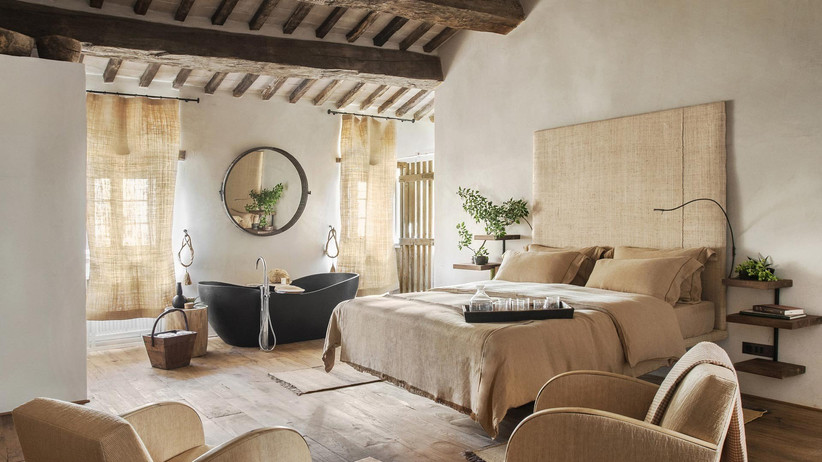 If you're hoping to spend your honeymoon in uncompromising luxury, Monteverdi is the property for you. It's a boutique hotel nestled in a Medieval hilltop village with no paved roads or sidewalks. Stay here and you'll enjoy sweeping views of fields of gold and green, vineyards and walled cities. It is totally idyllic. Each room is rich in history and character. They're all individually designed and totally chic, decorated with a slice of Tuscan life in mind.
4. Bali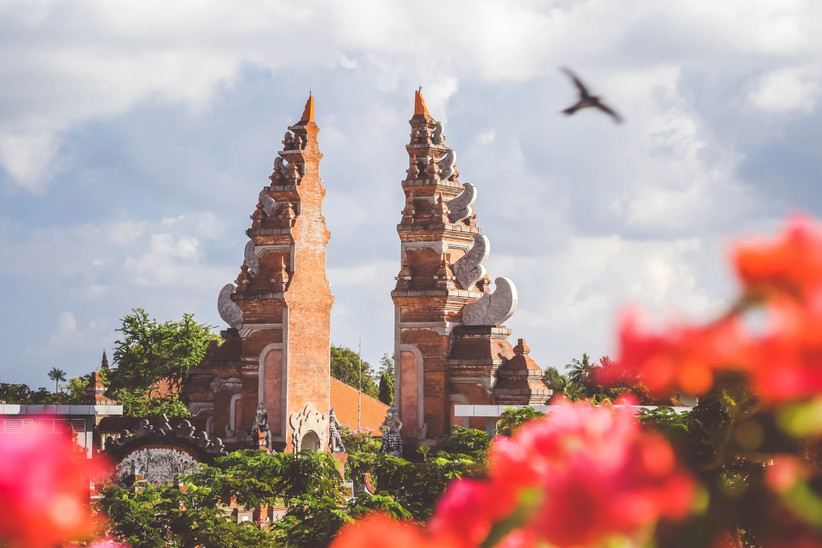 Since the film adaption of Elizabeth Gilbert's Eat, Pray, Love popularised the island, millions of tourists have been landing on the shores of Bali every year. And for good reason. With its beautiful beaches, bustling night life and fascinating culture, Bali has it all.
Bali is just over 2,000 square miles in area, so it's perfect for honeymooners who want to move around a bit (without spending hours and hours travelling). Ubud is the cultural heart of the island, famed for its rice terraces, monkey forests, markets and traditional Balinese dancers. In stark contrast, chilled out Canggu and splashy Seminyak both sit on the coast, offering beach bars, Instagrammable brunch spots and sunsets aplenty. Oh, and we mustn't forget the Gili islands – Gili Trawagan is particularly beautiful. Accessible from Padang Bai port in just under two hours, you can cycle around the entire diameter of the island (which is littered with more white sandy beaches and beach-front bars than you could ever dream of) in under an hour. The absence of cars (instead, horse drawn carriages) makes you feel fabulously far from reality.
Where to Stay in Bali
The Akasha Luxury Villas – Seminyak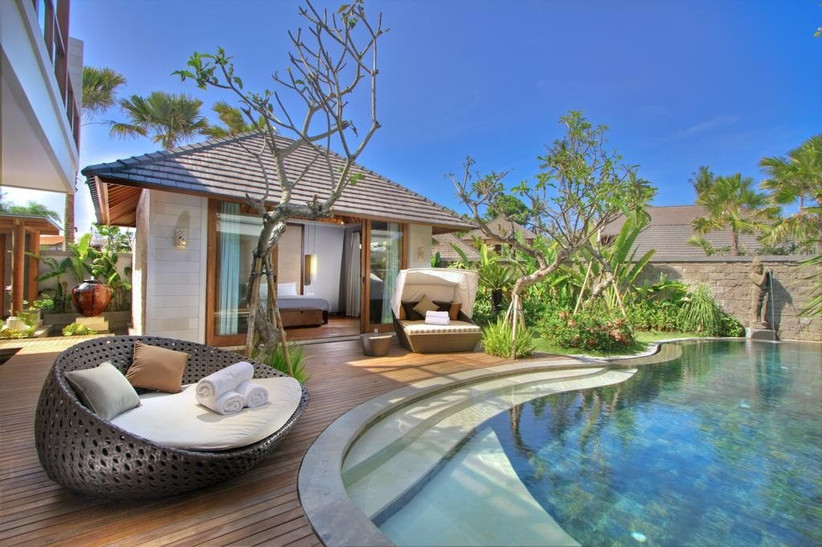 Fancy staying in your own private luxury villa? Who wouldn't! The Akasha Luxury Villas are located a two minute walk from Batubelig Beach and offer a free drop-off shuttle service to the centre of Seminyak.
Each villa comes with a separate living room, spacious bedroom, outdoor shower and private pool. In-villa spa treatments are also available. What are you waiting for?
Alamdini Resort – Ubud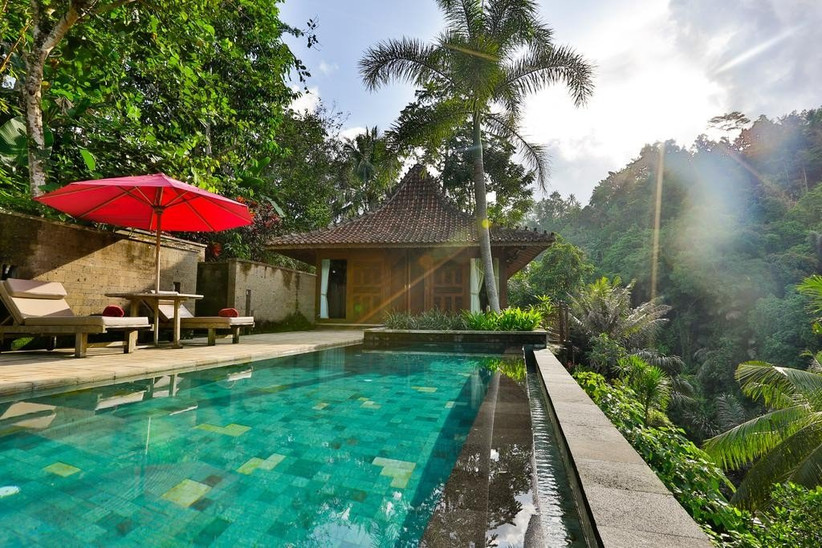 The three-star Alamdini Resort in Ubud is a total jungle escape. It has an on-site restaurant, beautiful interior and a large outdoor pool which overlooks luscious greenery.
This property is particularly perfect for couples who enjoy cycling. The resort offers bike hire so you'll be able to explore the local area in your own time.
READ MORE: Everything You Need to Know About Honeymooning in Bali
5. Mexico
Mexico is the fifth most popular honeymoon destination of 2019. It has all the components necessary for a romantic honeymoon getaway: sand, surf, delicious local food, incredible cocktails and plenty of culture.
Granted, Mexico is a large country, so there's a lot of choice when it comes to places to stay. The Caribbean-fronting Rivera Maya is home to the popular towns of Tulum, Playa del Carmen and Merida. The Yutican Peninsula is great for picture-perfect beaches and ancient Mayan ruins, while Pacific coasts retreats in Los Cabos and Baja are jam packed-full of never-lift-a-finger resorts.
Where to Stay in Mexico
The Cape – Cabo San Lucas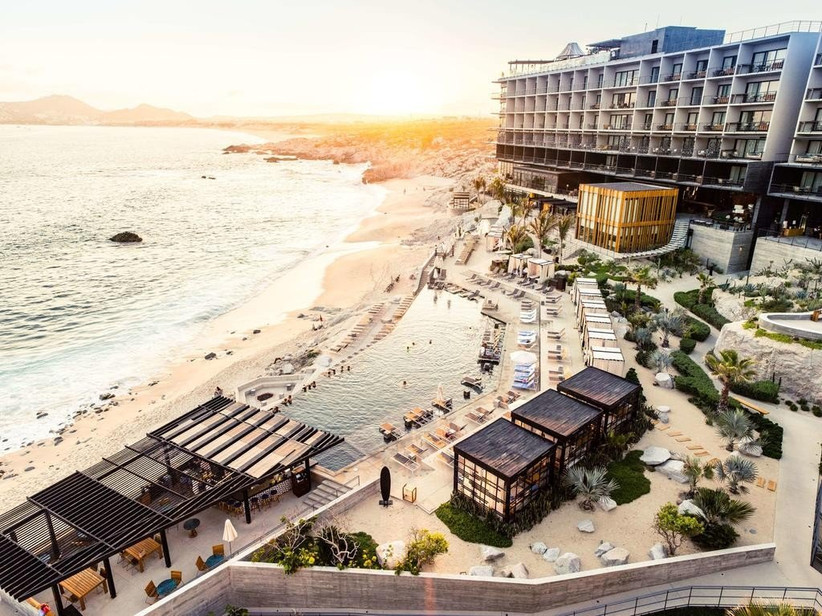 If it's stunning views you're after, check in to The Cape in Cabo San Lucas. Every room offers a snapshot of the famed arch-shaped rock formation of El Arco. In the day, soak up the sun by the pool or read a book on your private balcony. As the sun sets, take to rooftop lounge (the only in the area) for a cocktail (or four).
Four Seasons Resort Punta Mita – Punta Mita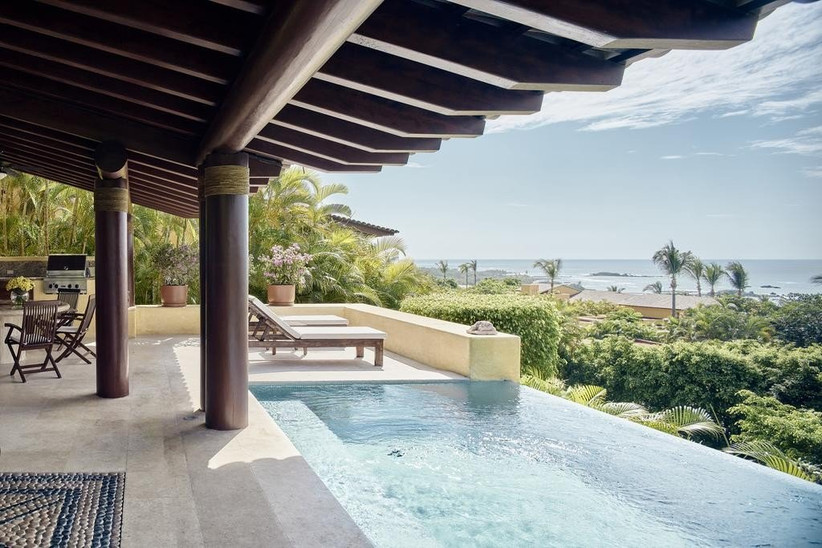 Make yourself right at home at the Four Seasons Resort Punta Mita, a hotel which sits behind two private beaches. You'll be able to enjoy three swimming pools, four restaurants and the 200 (plus) types of tequila that are stocked by the bar. Need we say more?
6. The Caribbean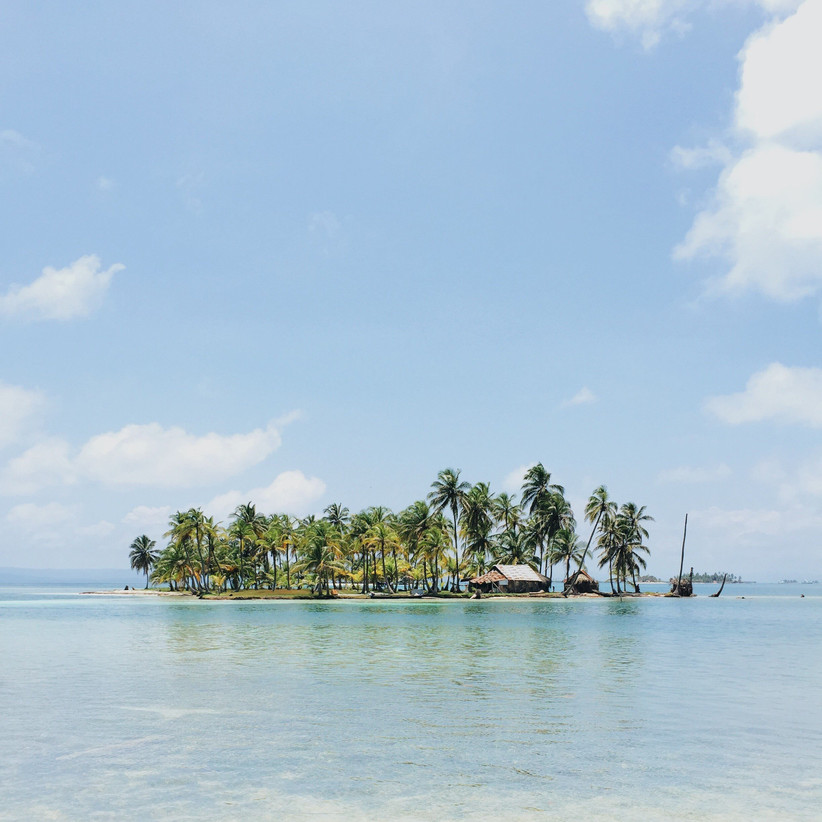 The sixth most popular honeymoon destination is the Caribbean – a corner of the globe which never fails in its bid to offer an unforgettable holiday. Winter sun worshippers should consider the Caribbean carefully, because the best time to visit is January.
With 28 island nations including Jamaica, Barbados, Antigua and St Lucia, the Caribbean has something for everyone. If you're after exciting outdoor experiences, white sandy beaches and an infectious culture, consider Jamaica. For such a small island, it packs a serious punch. For luxury hotels, unspoilt coastlines and a slightly more relaxed vibe, head to St Lucia.
Where to Stay in the Caribbean
Sandals Montego Bay – Jamaica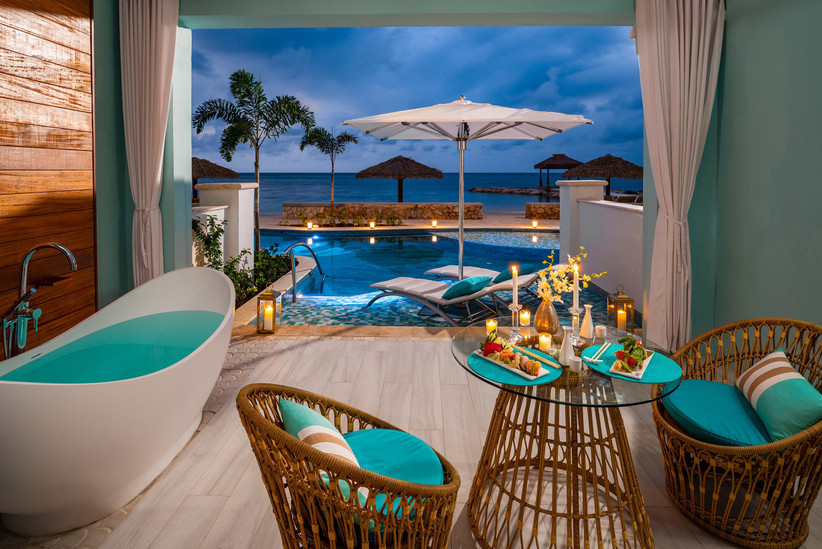 If you're after an all-inclusive honeymoon spot where everything you could ever need is at your fingertips, the recently renovated Sandals Montego Bay could be for you. Whether you fancy a swim-up honeymoon apartment or a beach front villa with sea views (think white sand and crystal blue water as far as the eye can see), there will be a space for you to fall in love with. Some rooms even come with butler service, if you really want to push the boat out.
There are eight restaurants on site (we'd highly recommend Soy, the resort's sushi restaurant) as well as an award-winning spa and more activities than you'll have time for. Snorkelling followed by a sunset cruise on a catamaran, anyone?
Fond Doux Plantation Resort – St Lucia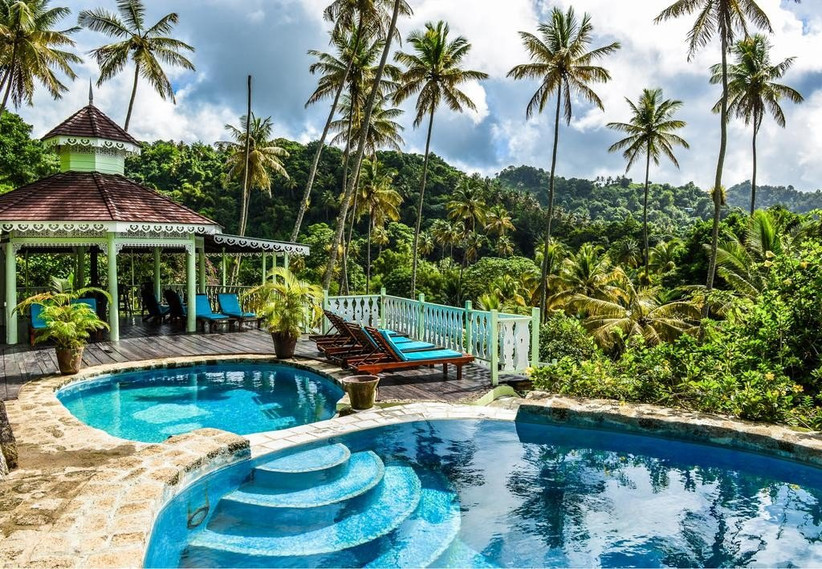 With three outdoor swimming pools, two delicious restaurants, a bar and complimentary breakfast every morning, Fond Doux Planation Resort in St Lucia is a perfect honeymoon spot.
It is nestled in a 250 acre working plantation and features an assortment of 15 uniquely crafted cottages for you to stay in. We love that you get your own space.
7. Mauritius
Best visited in September, Mauritius is the perfect post-wedding stress buster. It's famed for its sapphire waters, white sandy beaches and hospitable people, with a vast array of luxurious resorts to choose from.
If life on the sun-lounger gets boring (could it ever?) there are plenty of quiet fishing villages for a welcome injection of culture. That's how you'll see the real Mauritius. There are also opportunities to dive, snorkel, visit volcanoes, see the botanical gardens, go zip-lining, quad biking and even walk with lions. Looks like you'll have to extend that annual leave…
Where to Stay in Mauritius
Bubble Lodge – Bois Cheri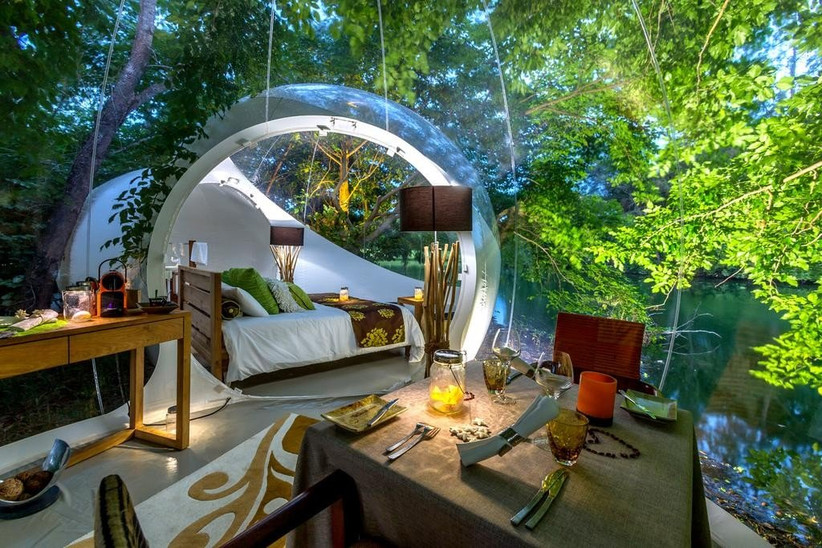 You've not glamped until you've glamped at Bubble Lodge – a tea plantation resort made up of transparent eco-bubbles. They're much more high-tech than you'd imagine. In fact, they're even decked out with an app that allows you to see the constellations from bed!
Angsana Balaclava Mauritius – Balaclava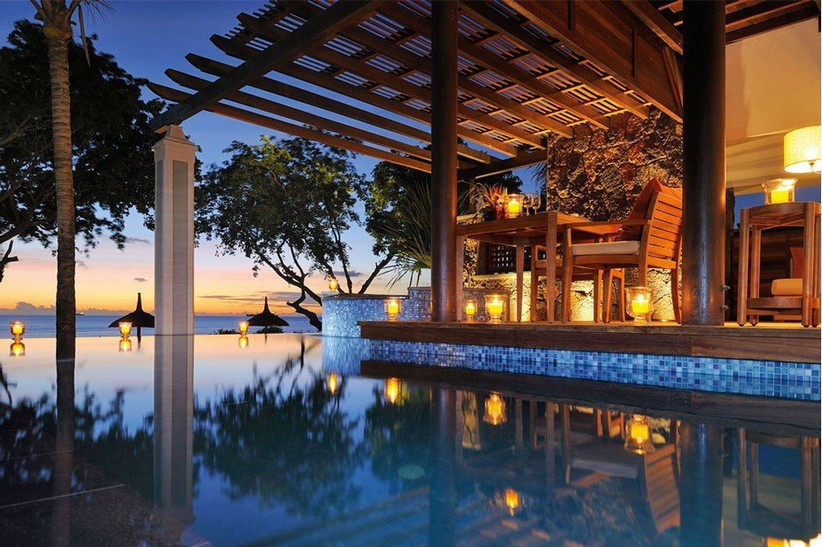 This five-star luxury hotel has been created with couples and honeymooners in mind. The spa is world-class (it was created by the team behind the Banyan Tree, so it was always going to be) and the staff are beyond attentive. Whether you want to dine alone on a deserted beach or take a private catamaran ride, they'll make your honeymoon dreams become a reality.
8. Thailand
Coming in at number eight in our round-up of the most popular honeymoon destinations is Thailand – a friendly and food-obsessed tropical paradise.
Begin a Thai honeymoon by flying into the bustling capital of Bangkok and spending a few days exploring all it has to offer. Bangkok is a city of contrasts, where the golden hued temples stand proud against neon-lit party streets and monumental skyscrapers. Take a boat across the Chao Phraya river, sip cocktails from the top of the Banyan Tree hotel and shop 'til you drop in the ginormous shopping malls.
From the capital, head south to Railay, Krabi or the Andaman Islands. Thanks to their white sands and crystal-clear waters, they're the perfect relaxation spot. Alternatively, the Northern city of Chiang Mai is great for food markets, outdoor adventures and charming elephant sanctuaries.
Where to Stay in Thailand
Banyan Tree – Bangkok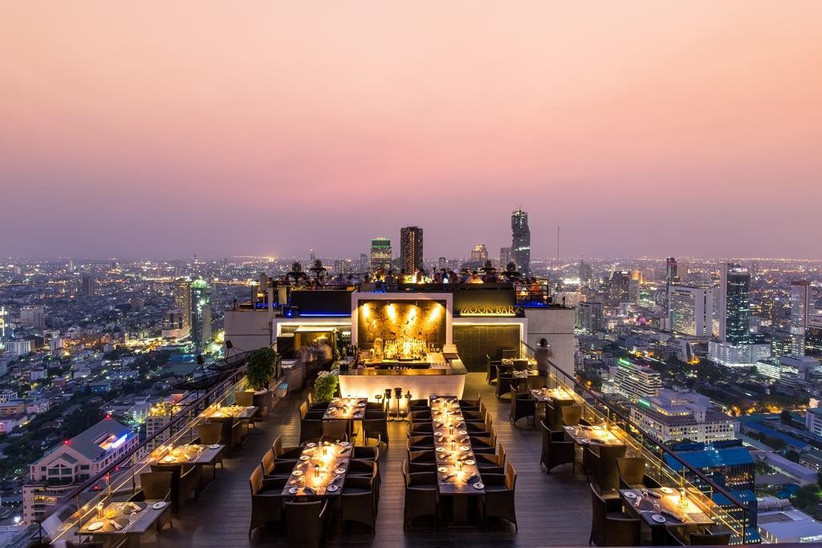 Upon arrival in Bangkok, head to the Banyan Tree – a hotel which is worth staying at for it's rooftop bar alone. This five-star property offers luxurious rooms with views over the city and the Chaophraya River. It also has seven restaurants, a sky-high infinity pool and the best rooftop bar you could ever dream of visiting.
Panacea Retreat – Ko Samui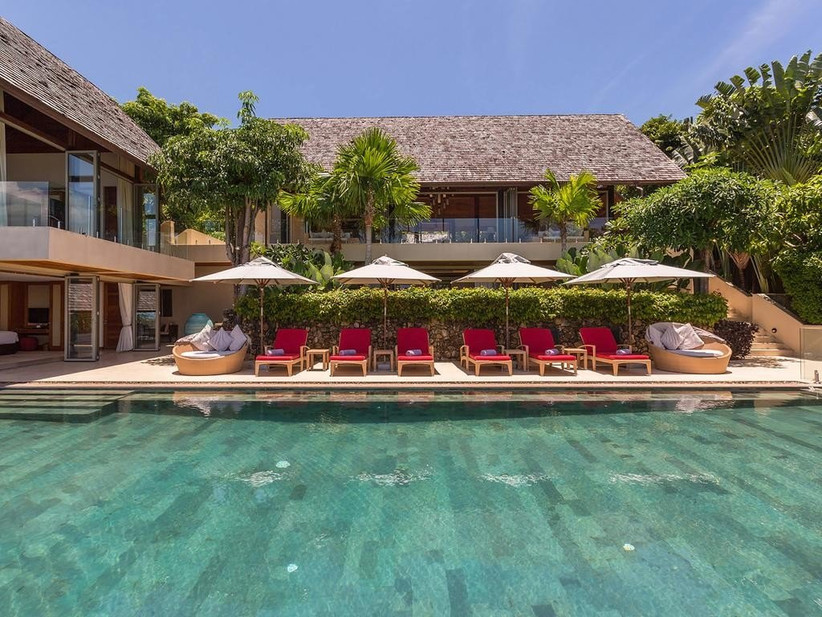 Of all the Thai islands, Ko Samui has long been regarded among the best for honeymooners. It has luxury beach resorts, beach clubs, Michelin-started restaurants and some of the best yoga and spa spots in the world.
The Panacea Retreat is set on a hill above the fashionable Bophut beach. It's made up of five enormous villas, each with an infinity pool and chic interior. There's also a nightclub, landscaped garden and private cinema on site.
9. Hawaii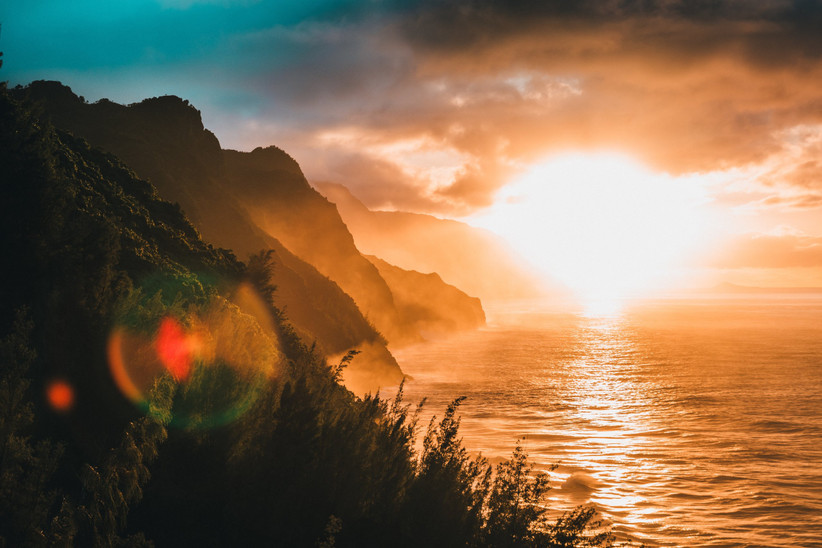 Hawaii is one of the most popular honeymoon destinations in September, because the end of the summer sees a drop in tourists and prices without a drop in temperatures. It'll still be extremely hot.
Hawaiian life is lived outdoors, so if you're a couple looking for an injection of adventure, you've come to the right place. Whether it's surfing, diving with sea turtles or snorkelling with giant manta rays that you fancy, there is plenty on offer. Back on land, visit crystal waterfall pools and golden sandy beaches before riding horseback with paniolo, Hawaii's cowboys.
Where to Stay in Hawaii
Halekulani – Honolulu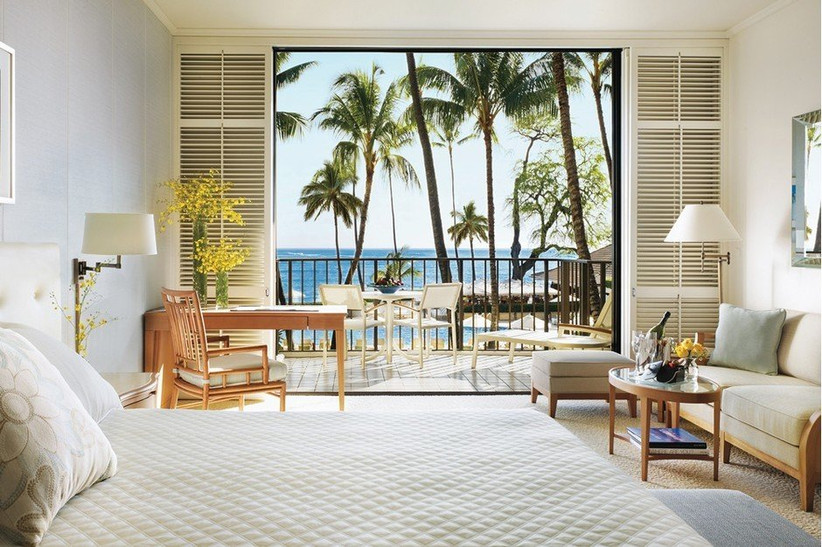 Hawaii first-timers should make a bee-line for Halekulani, a resort that is unashamedly kitted out for honeymooners. It's located on the upmarket and bustling Waikiki Beach and has three beach-side restaurants, a jazz lounge and attentive staff who'll wait on your every need.
Travassa Hanu – Maui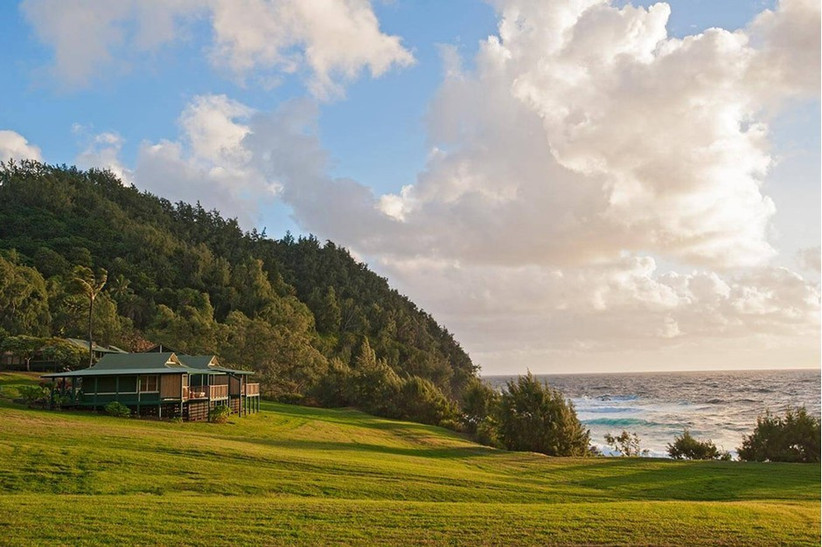 If you and your other half are more of the adventurous types, head to Travaasa Hanu. It's surrounded by 70 acres of lush tropical gardens and is the perfect base from which to explore the nearby Haleakala National Park. This hotel is for those who know there's more to Hawaii than all-day boozing.
10. Greece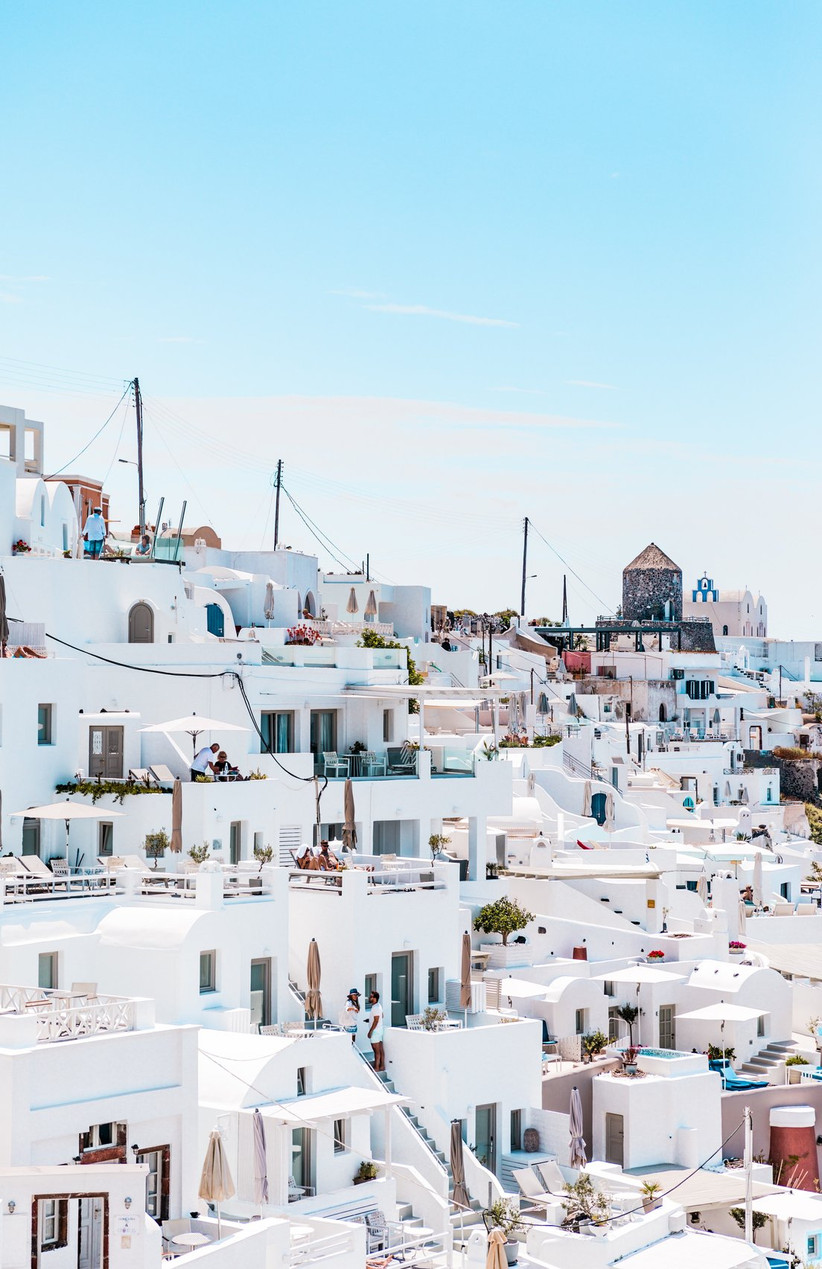 It's easy to see why the Greek islands have become synonymous with paradise. They're the perfect spot for the ultimate island hopping honeymoon – why settle for one when you can see them all in one go?
Santorini is perhaps the most famous honeymoon isle, where hours will melt away as you explore the winding streets and admire the white-washed buildings with blue rooftops. What's more, the food is divine and there are plenty of opportunities for local wine tasting. There's a reason Oia is among the most Instagrammed of holiday haunts in the world.
Once you've enjoyed all Santorini has to offer, jump on over to Ios for spectacular golden sandy beaches (and a lively night scene) or Sifnos for gastronomic pleasures. Mykonos offers luxury resorts, bustling towns and sandy beaches aplenty while Pano Koufonisi is much more mellow.
Where to Stay in Greece
Andronis Boutique Hotel – Santorini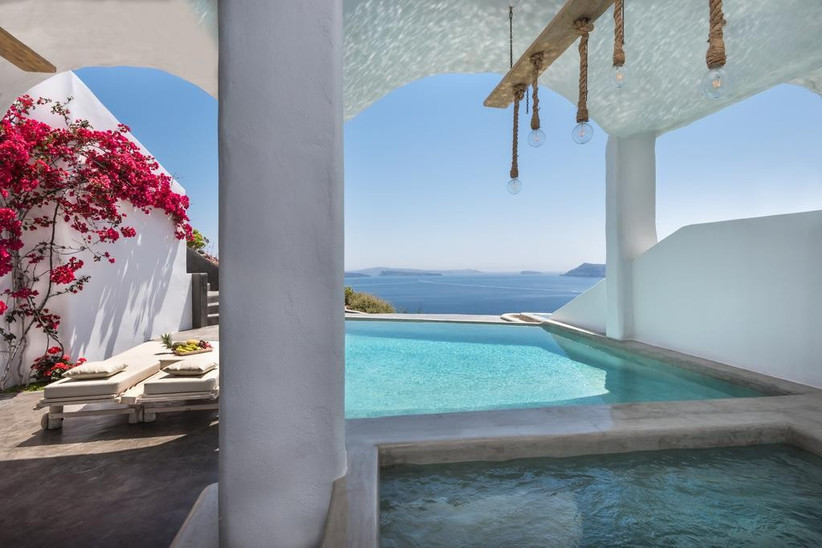 If seclusion and seriously striking views are what you're after, make immediate moves for Andronis Boutique Hotel. It's quite pricey, but if you can't treat yourself on your honeymoon, when can you?
This property has stunning views from every suite, a restaurant over-seen by a Michelin-starred chef and private pools. Oh, and it's right in the middle of Oia – the island's most popular destination.
Semeli Hotel – Mykonos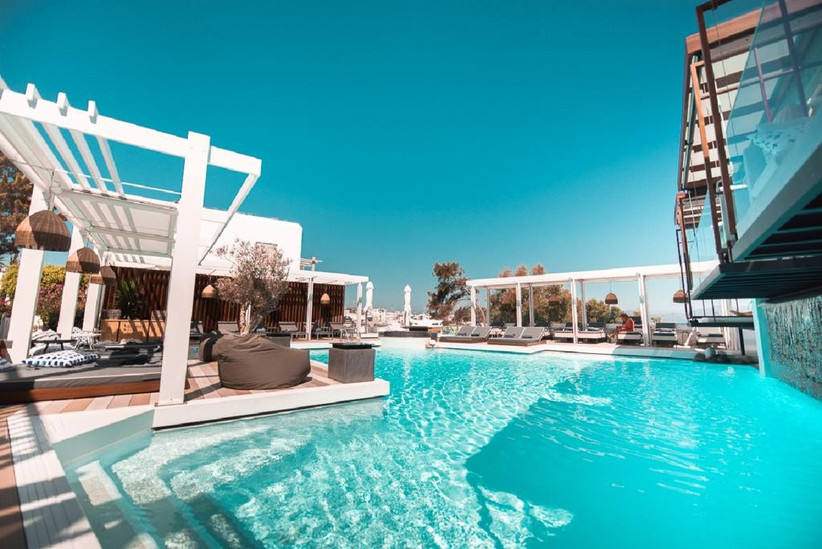 If you're looking for slightly lower prices but the same standard of luxury, Mykonos is a great choice. At Semeli Hotel, honeymoon standard service is standard. It's located in a fairly central corner of the island and is styled with beige, white and grey tones throughout. Perfectly understated.
READ MORE: The Best Honeymoon Hotels in Greece
Most Popular Mini-Moon Destinations
If you haven't got your heart set on a lavish honeymoon (or you're just saving up for a while before you book something bigger), choose from these enchanting mini-moon destinations in the UK and across Europe.
1. Italy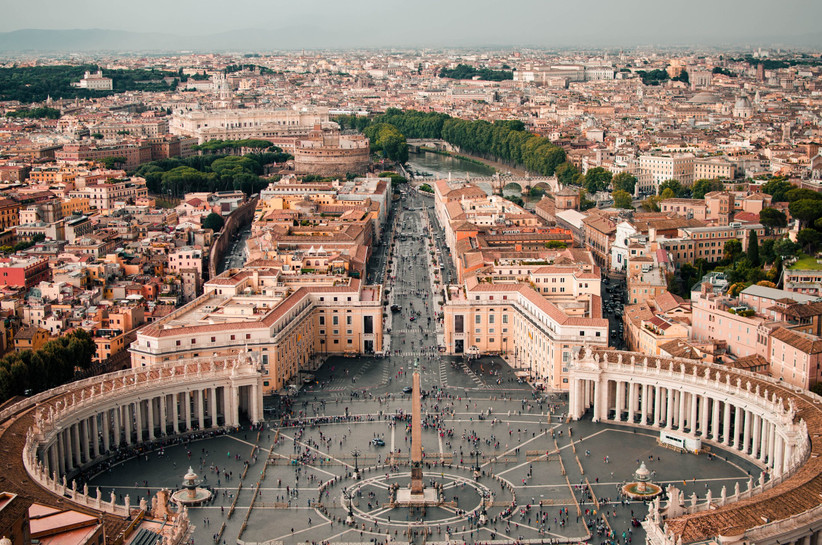 There's a why reason Italy is listed as both one of the most popular honeymoon and mini-moon destinations in the world. Even if you aren't taking a full two weeks off, there's no reason why you can't celebrate your marriage lavishly; Italy is the perfect place to do exactly that.
Milan can be reached within two hours of London, while flight times to Rome average at two and a half hours. There's also Sorrento, Capri and Venice all within easy reach. Live la dolce vita and explore the gastronomy, fashion, art and history which the country has in abundance.
Where to Stay in Italy
Casa Fabbrini Boutique B&B – Rome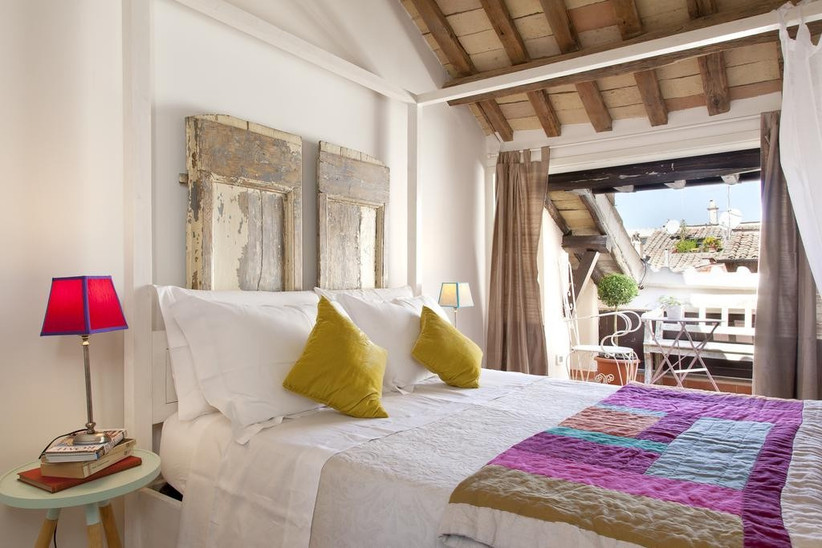 We know we use the phrase "home away from home" a lot, but there really is no better way to describe Casa Fabbrini. This boutique B&B is nestled away in a cute and cobbled street in Rome's Centro Storico.
There are only four rooms here, each decorated with contemporary furnishings, bright pops of colour and cute ceramic tiles. You won't get room service or 24/7 pampering, but you will be able to pretend you live in a chic Roman pad for the entirety of your mini-moon. We're totally OK with that.
Palazzo Cristo – Venice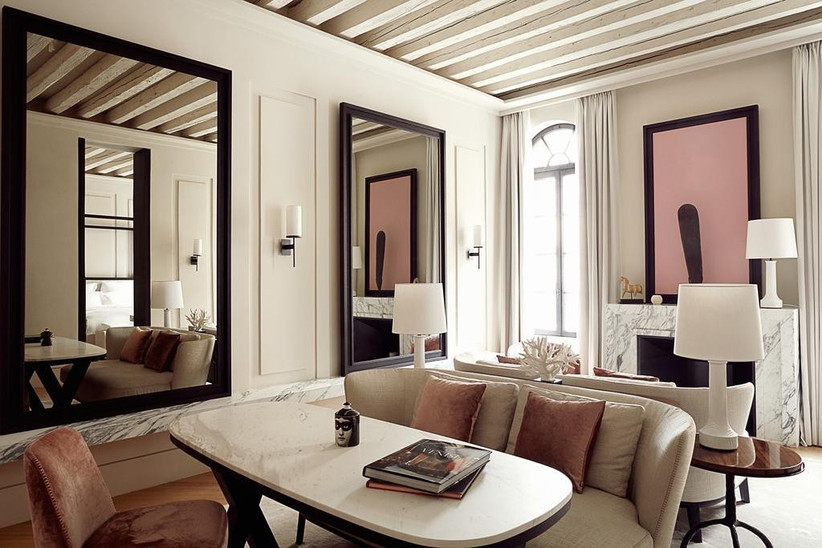 Housed within a 13th century building in the heart of Venice, Palazzo Cristo offers three elegant, spacious and perfectly-appointed apartment suites. If you stay here, you'll be able to walk to the majority of the city's sites within 10 minutes, while still being surrounded by glimpses of modern Venetian life.
Each suite comes with maid service, a huge bath tub and custom-designed furnishings. Bear in mind that these apartments are self-catering, but with so many delicious local restaurants on your doorstep, the absence of a restaurant is a blessing in disguise.
2. South West UK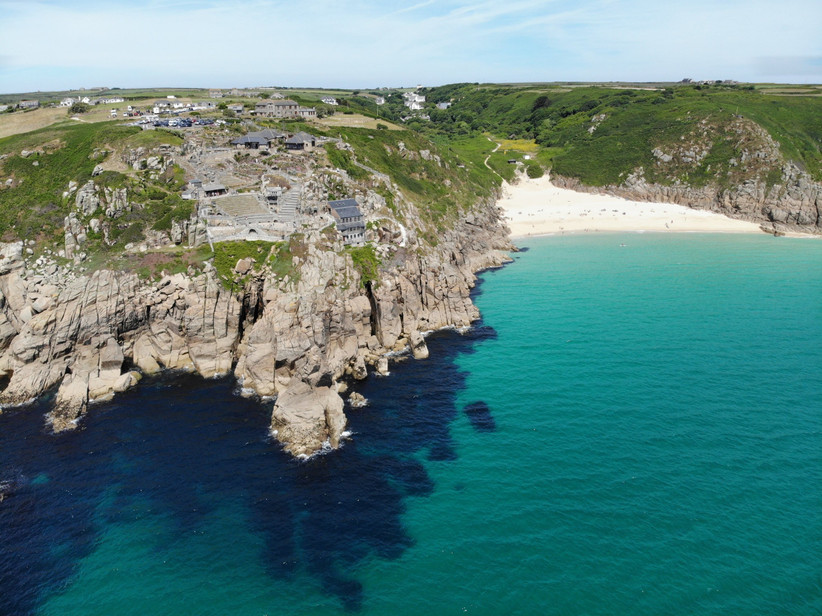 A mini-moon in the UK can be just as luxurious as a mini-moon abroad. Staying within your home country will not only save you pennies but it'll also force you to explore a corner of the British Isles that you've never been before. It's a win-win situation, really.
Devon and Cornwall are perhaps the shining stars of the South West – two beautiful counties which (if you strike lucky with the weather) will have you feeling as though you're abroad.
READ MORE: 30 of the Most Amazing Places to Mini-Moon in the UK
Where to Stay in the South West of the UK
The Pig on the Beach Hotel – Dorset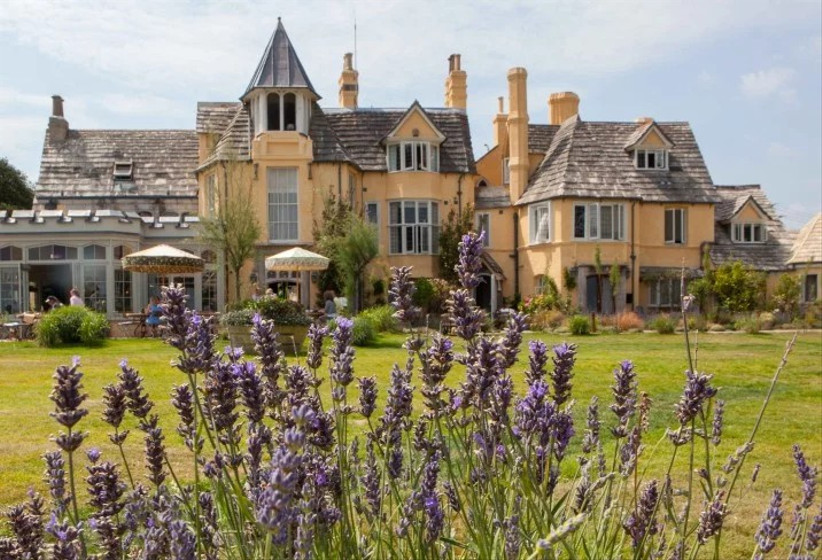 As one of the hotels in the Pig Hotels chain, The Pig on the Beach sits overlooking the sea, with the dramatic chalk stacks of Old Harry Rocks in the foreground and the Isle of Wight in the distance.
The beach is a five minute walk away, the restored manor house is cosy and full of antiques and everything on the menu is made from fresh produce picked in the garden. And don't get us started on the breakfast spread…
Carbis Bay Hotel – St. Ives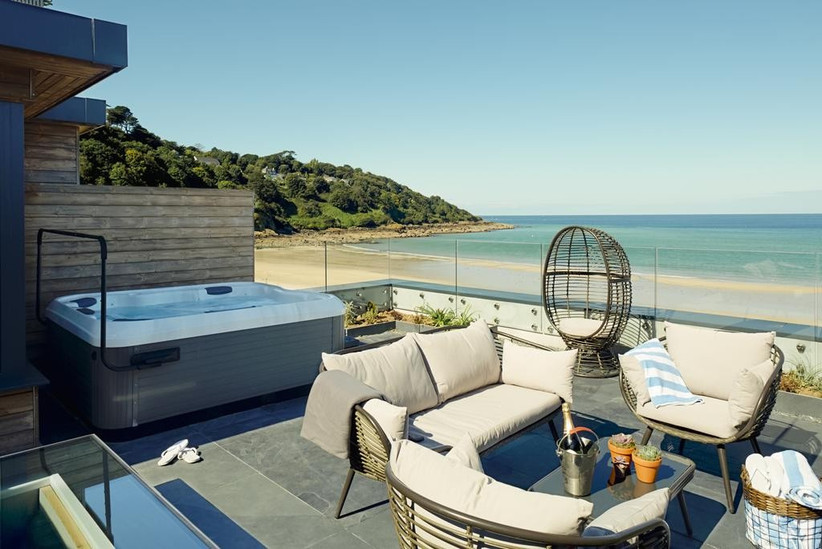 Carbis Bay Hotel's luxury beach lodges are the perfect escape for mini-mooners. They're located just two miles from St. Ives and have incredible views of the bay, Godrevy lighthouse and beyond. Each lodge has a seaside-chic décor, hot tub, sauna pot and plunge pool. There's no place more perfect to lose yourself with a sea view and a glass of bubbly. You can get married here, too.
READ MORE: Our Stay at Carbis Bay Hotel
3. Scotland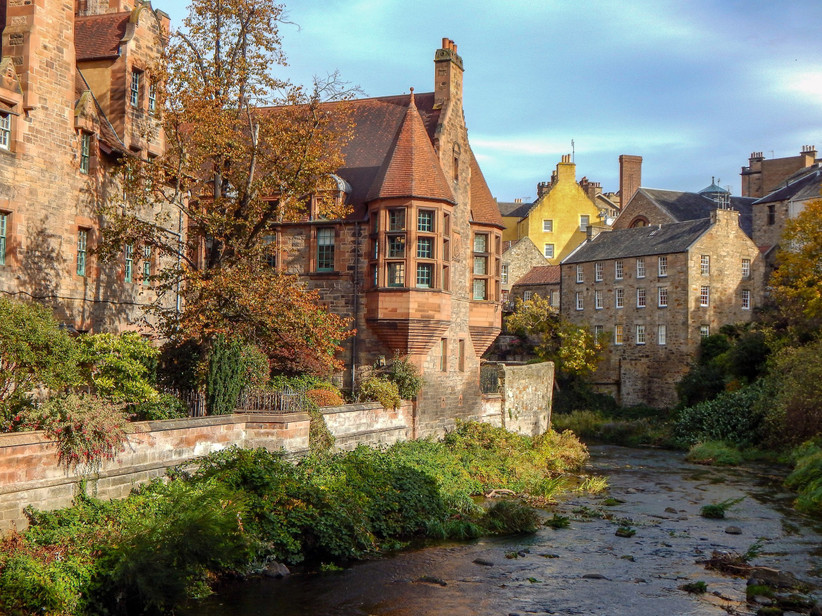 Home to Edinburgh, Glasgow, the unbeatable Scottish Highlands and a whole lot in between, Scotland is a romantic mini-moon choice.
Glasgow is one of the most underrated European city destinations, in our humble opinion – the perfect staycation for a cultural couple. It's Scotland's biggest city and home to the Scottish Opera, Scottish Ballet and National Theatre of Scotland. There's also a bustling nightlife scene with plenty of fabulous restaurants, music venues and bars.
Alternatively, Edinburgh comes alive both at Christmas and during their annual summer Fringe Festival. It's draped across a series of rocky hills and overlooks the sea, with medieval tenements, winding streets and intimate nooks and crannies which are just begging to be explored.
Where to Stay in Scotland
Rock House – Edinburgh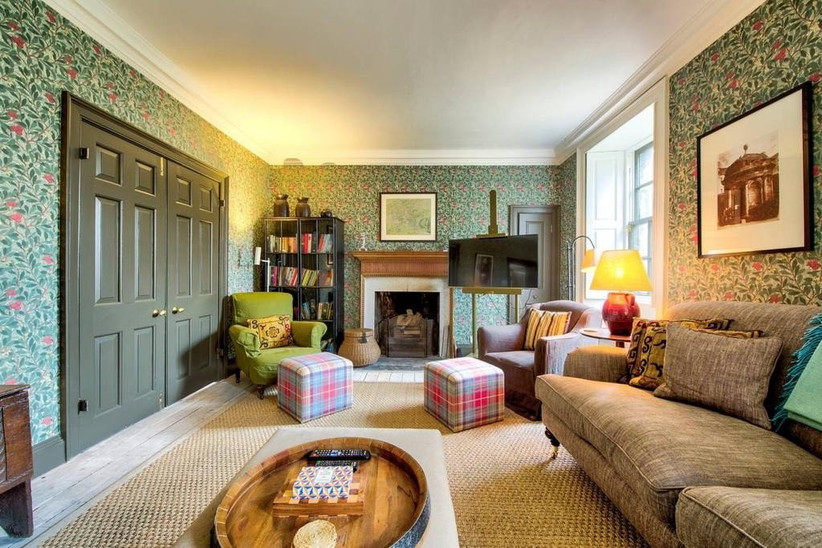 Rock House is a gorgeous 18th century property hidden on the top of Calton Hill. It has a cosy interior, courtyard garden to the front and beautiful walled garden out the back. Stay in the stunning self-contained annex if you fancy total privacy and striking views. We're obsessed.
Hotel Du Vin at One Devonshire Gardens – Glasgow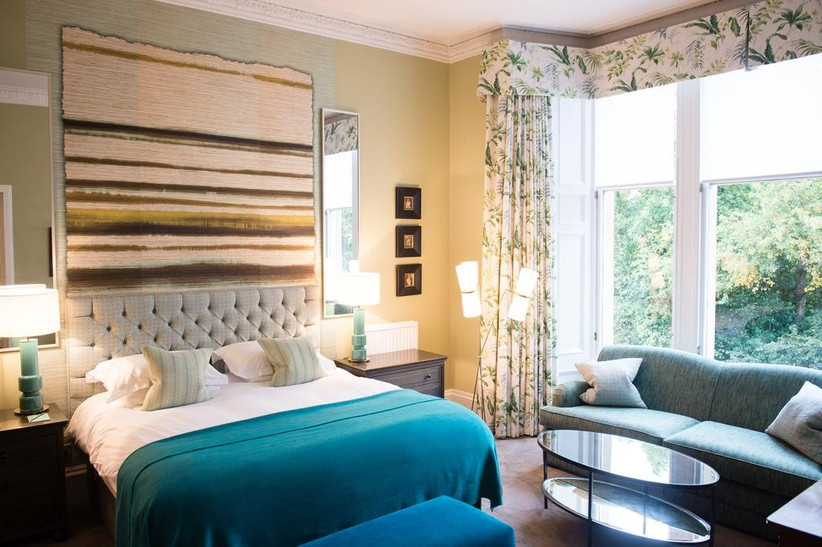 If Glasgow is your Scottish city of choice, we're huge fans of One Devonshire Gardens. In fact, we're huge fans of all Hotel Du Vin properties in general, because you know exactly what you're going to get. That is: fabulous food, excellent service and some seriously cool interior design.
This five-star boutique hotel sits on a tree-lined Victorian street in the fashionable West End, just a 30 minute drive from Loch Lomond. Room prices start at just £95 per night.
4. Greece
Image: Getty
From the sun-soaked ancient ruins of Athens to the endlessly romantic Cyclades, Greece is a country boasting a contagious spirit, fresh cuisine and a beautiful coastline. Thanks to its jam-packed calendar which is bursting with festivals, holidays and annual exhibitions, it has a huge amount on offer for couples hoping to dig their teeth into the culture of their mini-moon destination.
Athens is Greece's cutting-edge capital – a tantalising mix of ancient history and contemporary cool. It takes just over three and a half hours to reach from London. The Acropolis Area is not to be missed (not that it can be, since it's visible from almost every point in the city).
Where to Stay in Greece
Oniro City – Athens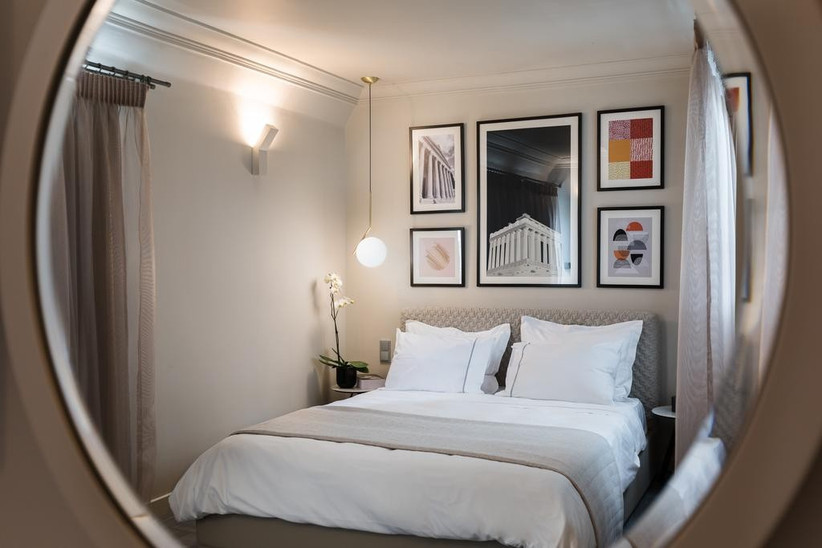 At Oniro City in Athens, everything is at your fingertips. That's what makes it such a perfect spot for a mini-moon – you'll be able to totally kick back and relax. Situated in the upmarket and central district of Kolonaki, Oniro has a gym, a wine bar and a selection of beautifully designed suites. Start your day right with the delicious buffet and à la carte breakfast, served every morning.
Estia Boutique Apartments – Athens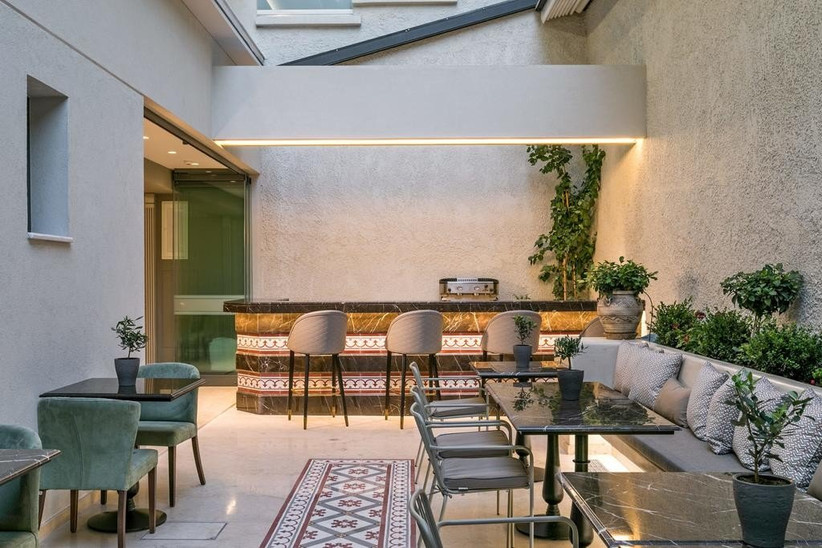 Situated close to the acropolis and some of the most renowned attractions in the city are Estia Boutique Apartments. If you're seeking one-of-a-kind accommodation in the Greek capital which feels like a home away from home, this is the mini-moon destination for you.
Each apartment is designed to reflect the culture of a particular region in Greece. You can choose from double rooms, one bedroom apartments and two bedroom apartments.
5. Spain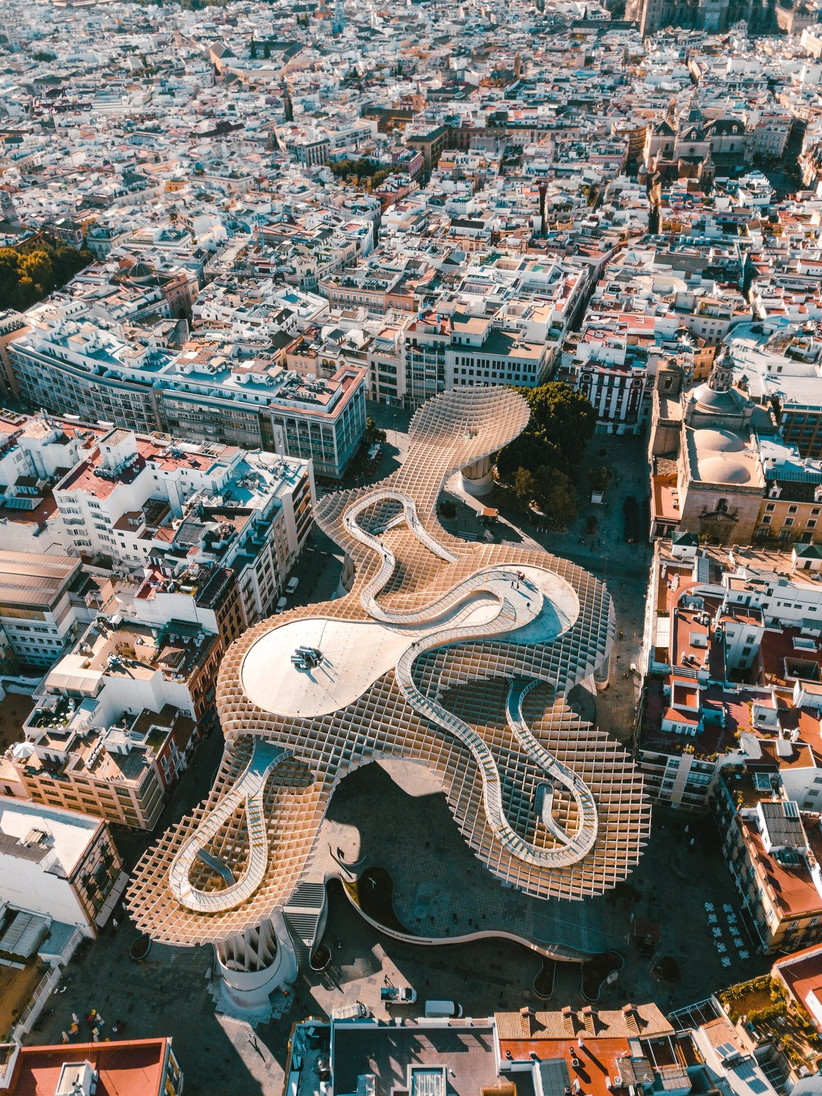 Our fifth most popular mini-moon destination is Spain. Spain is a country more diverse than you could ever realise; it's close proximity to the UK (and cheap flight prices) makes it hugely convenient. The cities of Barcelona, Madrid, Granada and Seville will quickly seduce you while The Pyrenees and the Picos de Europa are among the most beautiful mountain ranges on the continent.
Seville is becoming increasingly popular among couples searching for an injection of culture and sun. It's small enough to wander on foot and boasts an intoxicating mix of medieval lanes, baroque churches, contemporary tapas bars and Flamenco clubs. Real Alcazar, the Metropol Parasol and colossal Gothic cathedral are three sights not to be missed.
Where to Stay in Spain
Hotel Zenit Sevilla – Seville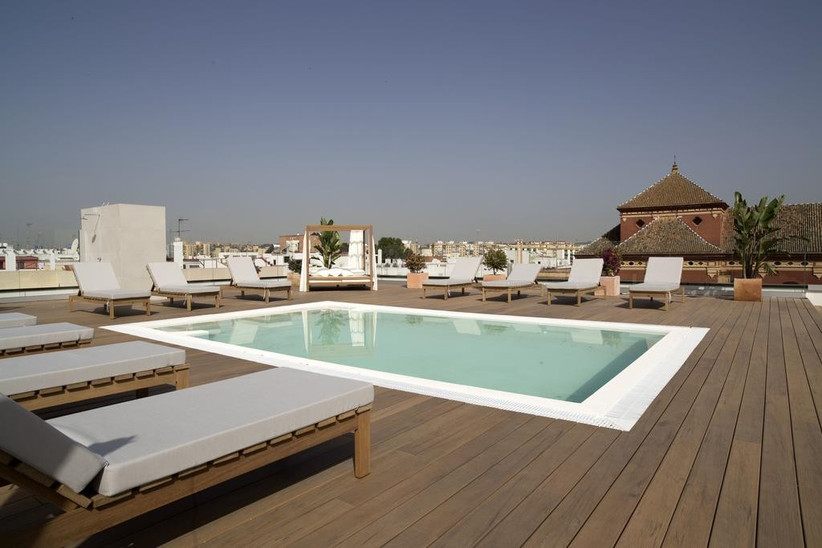 Hotel Zenit is a modern and contemporary hideaway close to the centre of Seville's old town. If you want somewhere slightly removed from the hustle and bustle of the city centre but still within walking distance of the main attractions, this place is perfect.
It has one of the top five rooftop bars in the city (we can vouch for the amazing views which stretch as far as the Cathedral), as well as a fabulous restaurant and stylish interior. The staff are beyond helpful and the sangria is delicious.
Hotel Alfonso XIII – Seville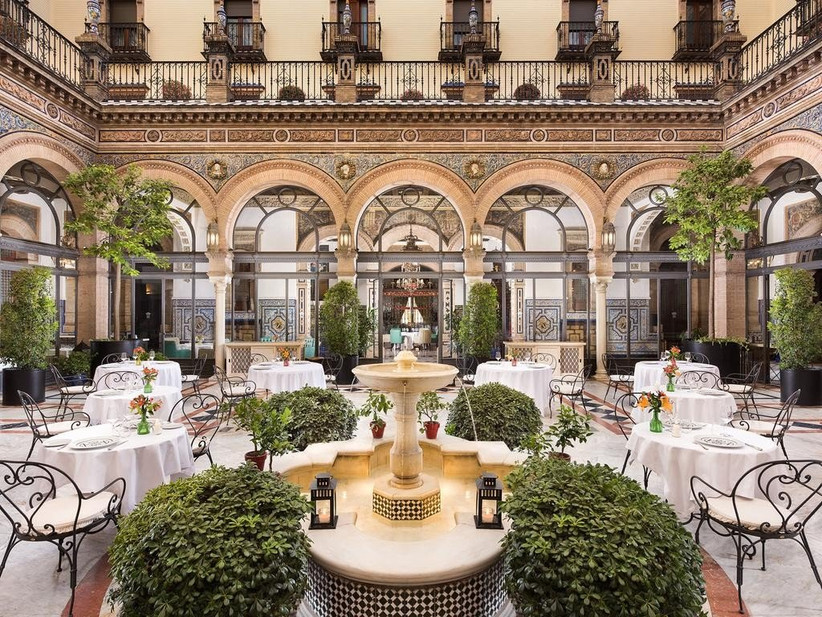 It doesn't get much more glamorous than Hotel Alfonso, a five star retreat in the heart of the city. In addition to the outdoor pool, there's a 24-hour fitness centre, sauna and three fabulous restaurants. Feel like royalty in their luxurious bedrooms.
6. Cumbria & The Scottish Borders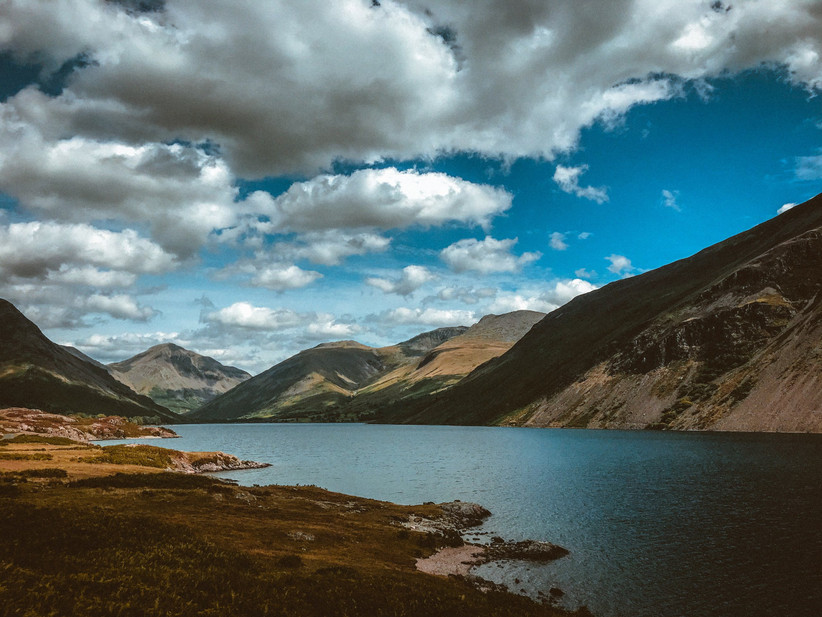 Have you ever considered heading up to Cumbria and the Scottish Borders for your mini-moon? If not, you might be a bit late to the party, because the beautiful British region came out as one of the most popular mini-moon destinations in our National Wedding Survey.
Cumbria encompasses the Lake District National Park – an UNESCO World Heritage site – which is probably the sole reason for this region being so popular. As well as its close proximity to Gretna Green, a hugely popular elopement spot, of course.
If you want total relaxation post-wedding sprinkled with long countryside walks and spectacular views, the Lake District is the place for you. It's centred around the main Cumbrian towns of Keswick, Windemere, Ambleside and Bowness-on-Windemere and contains England's deepest and longest lakes. You can spend your days climbing Scafell Pike, relaxing in one of the many spas, enjoying traditional grub in a local pub, hire a rowing boat and spot the wildlife. Wholesome or what?
Where to Stay in the Lake District
Gilpin Hotel & Lake House – Windemere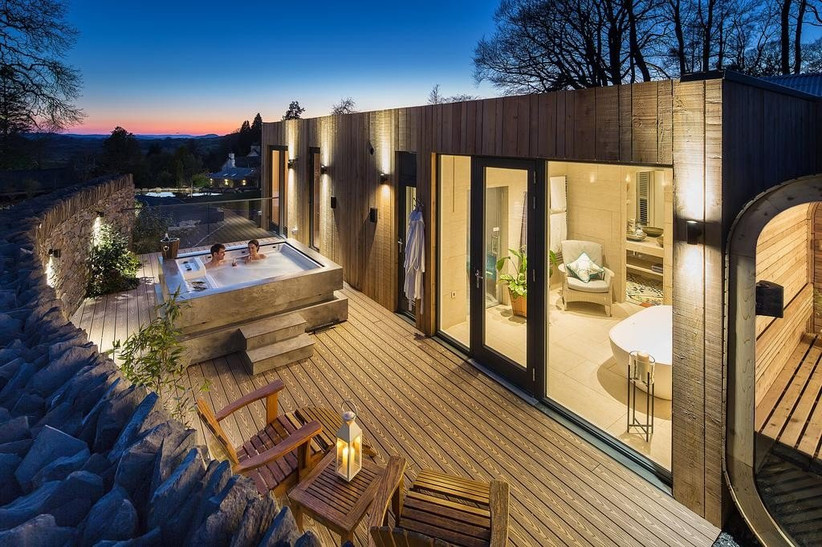 The Gilpin Hotel and Lake House boasts hot-tubs, saunas, Michelin-starred restaurants and an army of staff. It's an English country house bought bang up to date thanks to glamorous, contemporary interiors.
The main house is made up of a series of lavishly decorated rooms, while the nearby former outhouses have been transformed into a slick second restaurant. There's also a selection of glass and wooden lodges – perfect if you want ultimate privacy – and a six-bedroomed Lake House (available for exclusive hire with its own staff).
The Swan Hotel & Spa – Newby Bridge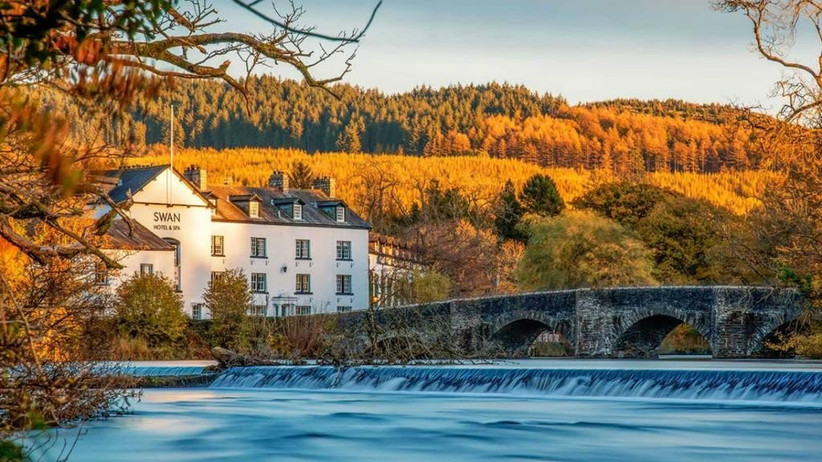 The four-star Swan Hotel and Spa sits in the beautiful village of Newby Bridge, overlooking the southern waters of Lake Windemere. Cute and quintessentially English, it offers a cosy vibe with excellent service, delicious food and colourful interiors.
The standard double rooms are fairly affordable – perfect if you're attempting to do things on a budget – but there are also luxurious loft suites and a £400-per-night studio on offer if you're looking to push the boat out.
7. South and South East of England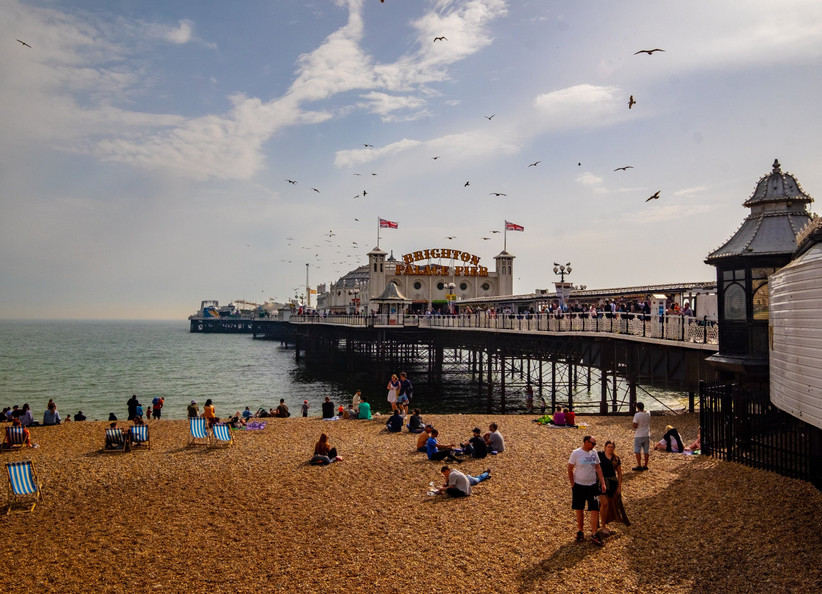 The South and South East of England encompasses London, Kent, Sussex, Surrey, Oxfordshire and Hampshire. Plenty of choice for a mini-moon, then. Whether you want a bustling and glamorous couple of nights in the capital or five nights by the sea, this region is sure to deliver.
Take to London and experience a mini-moon jam-packed with shows, fabulous restaurants and sight-seeing. Alternatively, head to the beautiful county of Oxfordshire for a rural spa retreat. Or how about a mini-moon in Brighton? This lively town has plenty to see, plenty to eat and even more to drink.
READ MORE: 7 of the Best No-Fly Honeymoon Ideas
Where to Stay in the South East of England
Chewton Glen Hotel – New Milton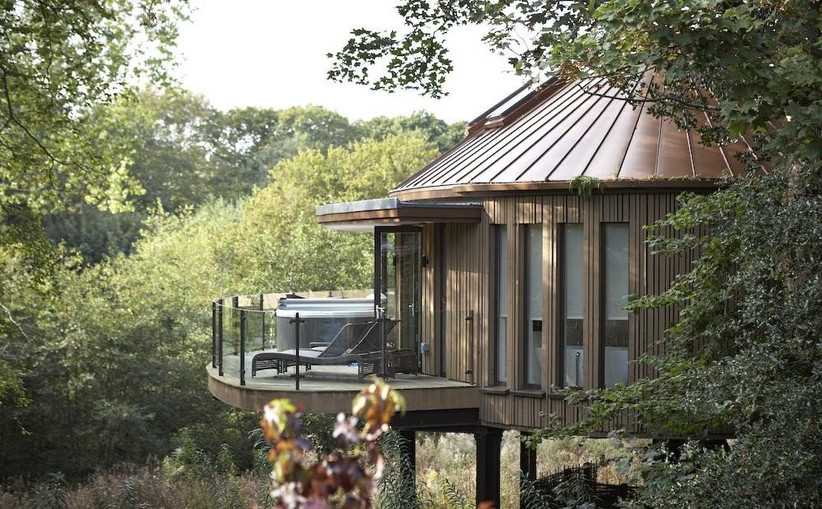 Chewton Glen Hotel is renowned the continent over. This ultra-luxurious Hampshire retreat has a world-class spa, award-winning restaurant and array of treehouse suites located in the forest canopy.
Staff will deliver DVDs, pizza hampers, wine, beer and breakfast to your room, as well as driving you to and from the main hotel in electric buggies. There's a whole host of activities on offer throughout your stay, too, including archery, duck herding and swimming. The £325 per night price tag is totally justified.
The Artist Residence – Brighton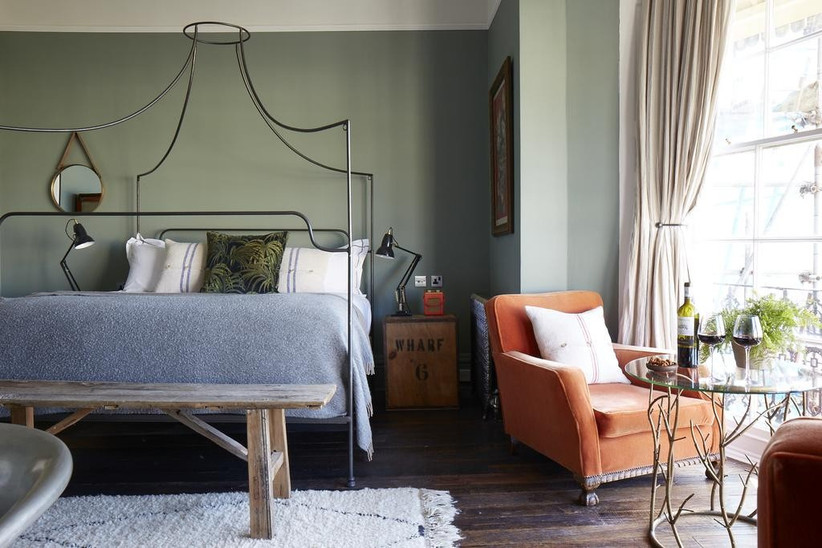 The Artist Residence group pride themselves on offering the best boutique hotels in the UK. They have properties in London, Oxfordshire, Brighton, Penzance and Bristol, each with a strong focus on food, drink and interior design.
Their Brighton property is located smack-bang in the centre of town and has 24 individually designed bedrooms. If you mini-moon here, your break will be filled with walks along the beach, long dinners at Dan Kenny's The Set and cocktails with a view at the buzzing Fix bar.
8. France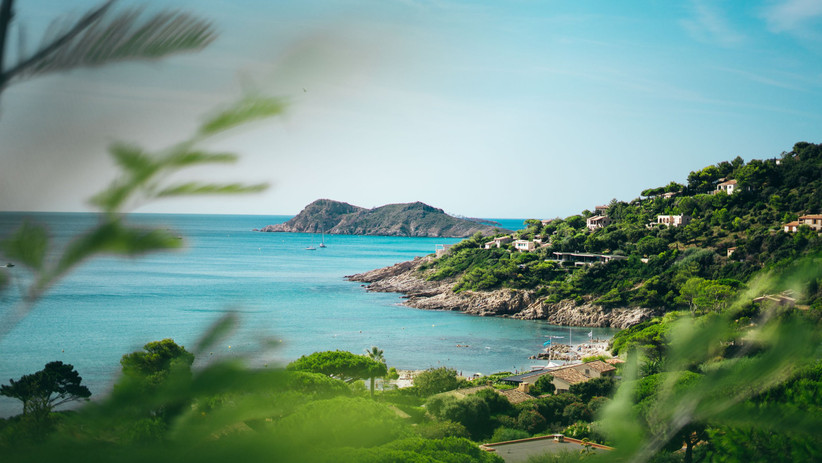 France is up there with the most delicious of mini-moon destinations in the world. After all, we're talking about a country where food and wine are national obsessions. The countryside is littered with more vineyards than you could ever imagine, and there's nothing more romantic than eating fresh oysters in the seaside villages of Brittany.
Jet off to the South of France and cruise along the lavender-lined roads of Provence before sipping rose at one of Europe's best beach clubs. In the Loire Valley, spend your days exploring traditional French restaurants and the abundance of castles, or sip your way around Bordeaux – the wine-making capital of France. If you got married in the winter, a snowy mini-moon in the French Alps would be the perfect way to celebrate.
Where to Stay in France
Pan Dei Palais – St. Tropez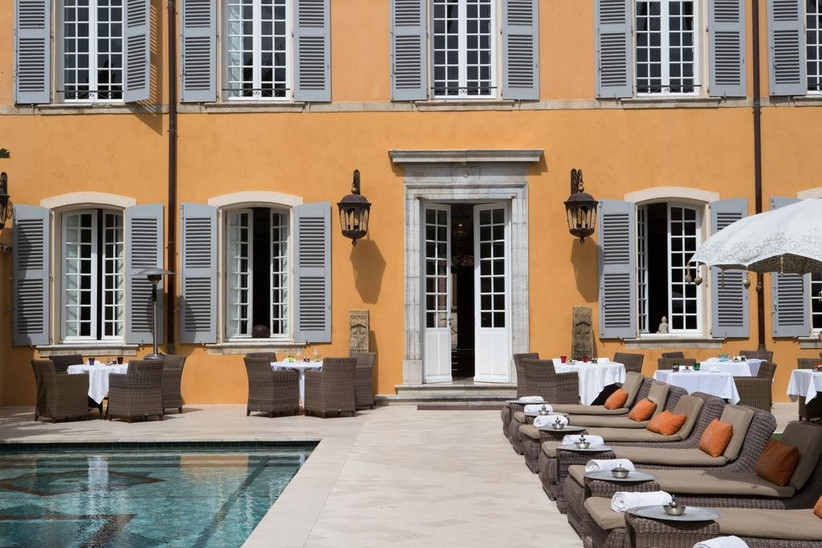 The Pan Dei Palais is a beautiful Asian-inspired boutique hotel in the heart of St. Tropez which has bags of history and a romantic story behind it. Apparently, a French general fell in love with an Asian princess and commissioned this royal residence for her in 1835.
The outdoor pool is the perfect spot to spend the day relaxing, while the spa is among the best in the region. When you're done, how about taking a trip on the hotel's yacht?
La Bastide de Gordes – Luberon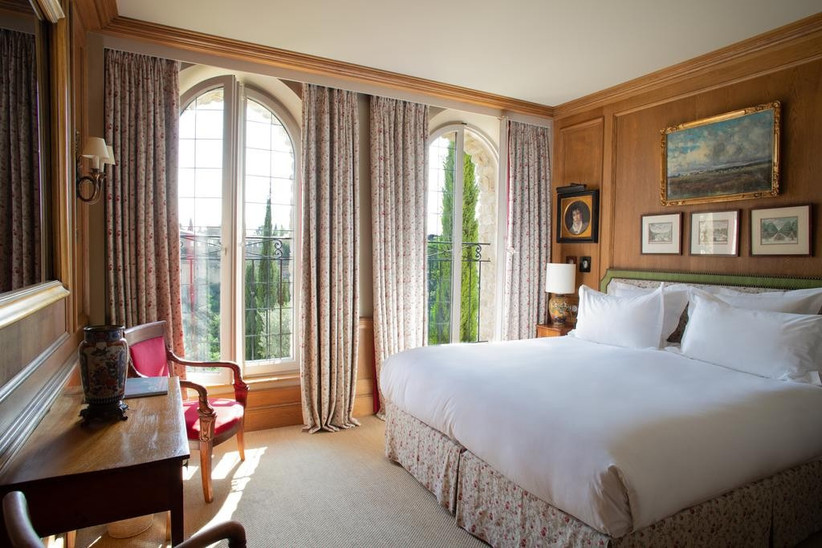 Over in Provence is La Bastide de Gordes, a hilltop retreat in the beautiful village of Gordes. It features 18th century décor, panoramic views over the Luberon valley and countless terraces.
Perhaps our favourite feature of this hotel is its restaurants, of which there are two. L'Orangerie and La Citadelle both feature Provencal cuisine made with local and seasonal products, as well as regional wines. Delicious!
9. Wales
Don't be too quick to disregard a mini-moon in Wales. It's 2019's ninth most popular mini-moon spot – a small but geologically diverse country with mountains, river valleys and beautiful beaches aplenty.
Wales is a hiker's paradise, so if you and your other half are big fans of walking then it could be the spot for you. That said, if you're more of a remain-horizontal-all-day type while on holiday, you'll also be in luck. Wales has some of the best beaches along the British coast, sprinkled with charming eateries, ice cream shacks and cosy pubs. Whether you choose Tenby, Pembroke or the northern gem of Anglesey, we're pretty certain you'll love it.
Where to Stay in Wales
St Brides Spa Hotel – Saundersfoot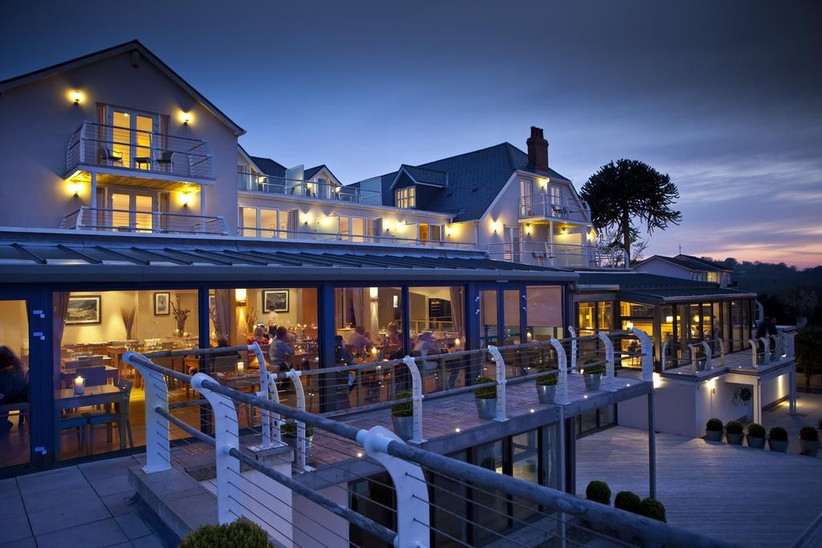 Saundersfoot is a large seaside village nestled between Tenby and Amroth, perfect for a relaxed mini-moon. Perched above the harbour and within the Pembrokeshire National Park is St Brides Spa Hotel, an award-winning retreat with outdoor infinity pool, luxurious spa and fabulous restaurant.
Each bedroom is individually styled in a light and airy seaside theme, which we love. You'll also enjoy a complimentary 90 minutes in the Thermal Suite and Hydro Infinity Pool with your booking! And the best part? Rooms are nowhere near as expensive as you'd expect.
Fforest Farm Hotel – Cardigan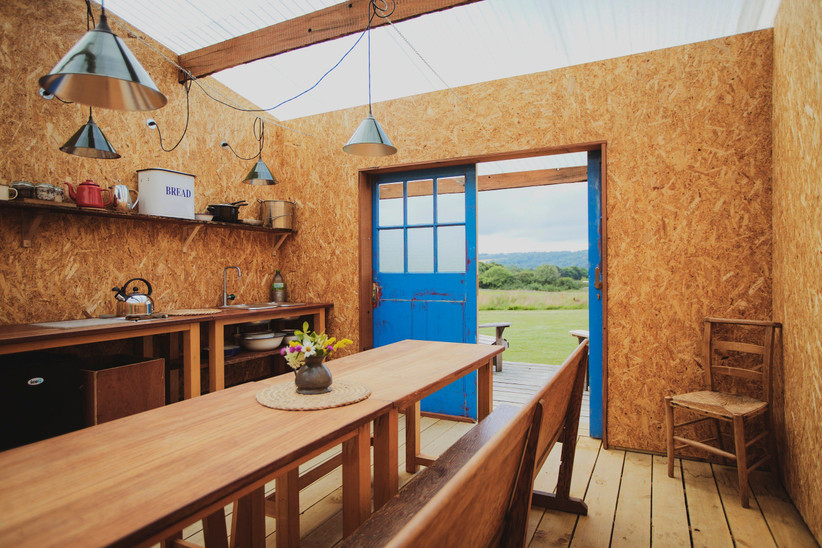 This recommendation is something a little different, because Fforest is technically a campsite. Kind of. Picture a cool blend of traditional working Welsh farm and Japanese forest retreat, where you can feel totally at-one with nature and enjoy privacy from a bell tent, dome or cabin.
After a day spent exploring the 200-acre farm, head to the nearby town of Cardigan for a wood-fired pizza in the hotel's pizza restaurant (which is housed under a giant tipi).
READ MORE: The Best Wedding Venues in Wales
10. Yorkshire and Lincolnshire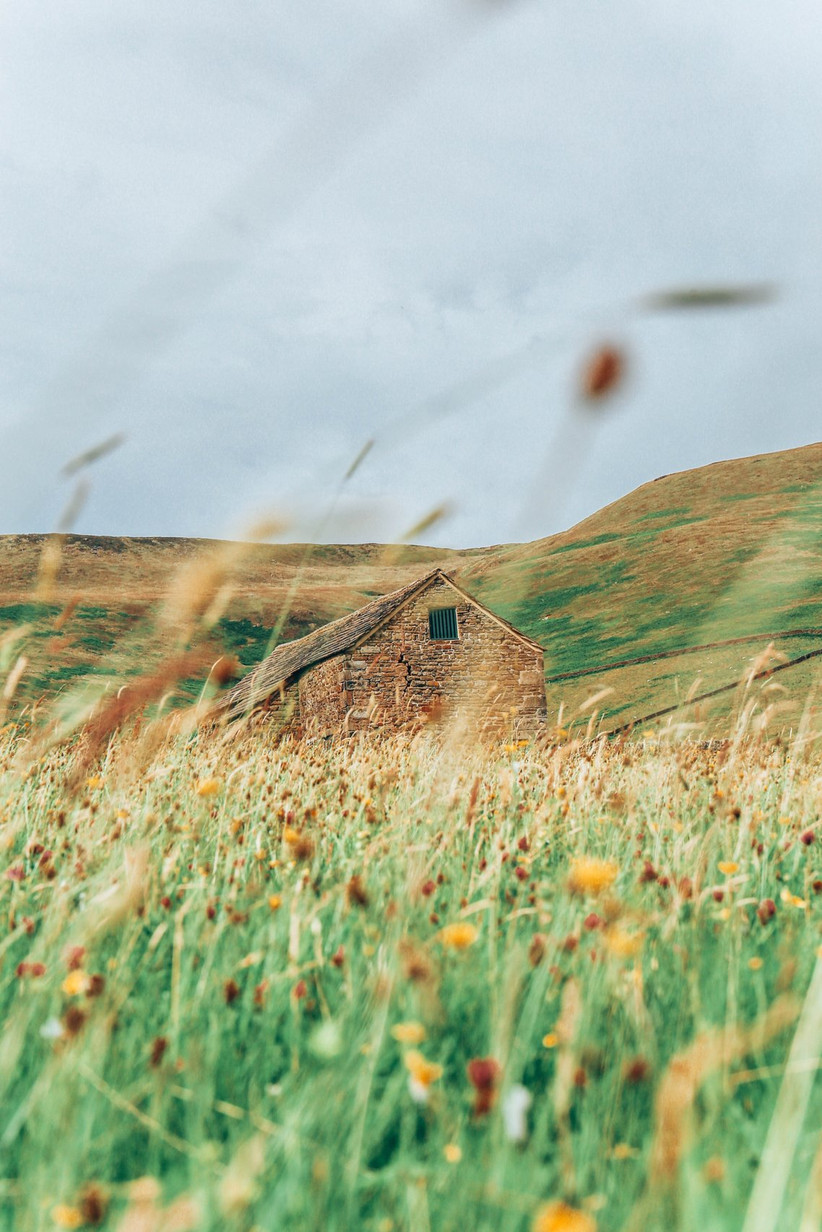 From countryside retreats to inner city chic, Yorkshire and Lincolnshire are two counties that'd be perfect for your mini-moon.
Yorkshire boasts the Peak District National Park – an Area of Outstanding Natural Beauty where you can enjoy cosy cottages, English pubs and countryside walks in abundance. If you're city lovers, Sheffield, Leeds, Hull and York all offer plenty of bars, restaurants and spots of cultural interest. Or how about heading to East coast? There's plenty to explore there, too.
Where to Stay in Yorkshire and Lincolnshire
Brocco on the Park Boutique Hotel – Sheffield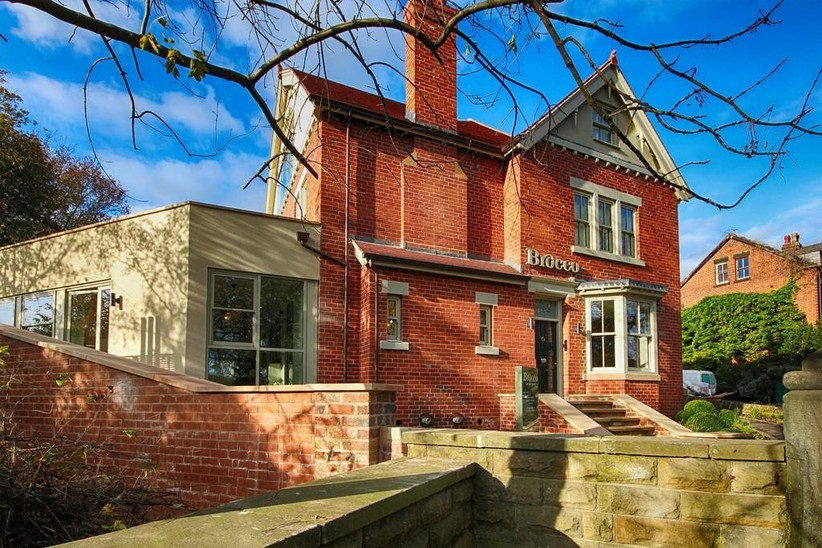 We're huge fans of Brocco on the Park, a beautiful boutique hotel in Sheffield's trendy Ecclesall Road district. It sits on the edge of the lovely Endcliffe Park, with a whole array of independent bars and restaurants within easy walking distance.
You're also on the doorstep of the Peak District, perfect for days spent walking and exploring. There's a fabulous restaurant on-site, bathrooms with free-standing baths and a stylish interior.
The Cavendish Hotel – Peak District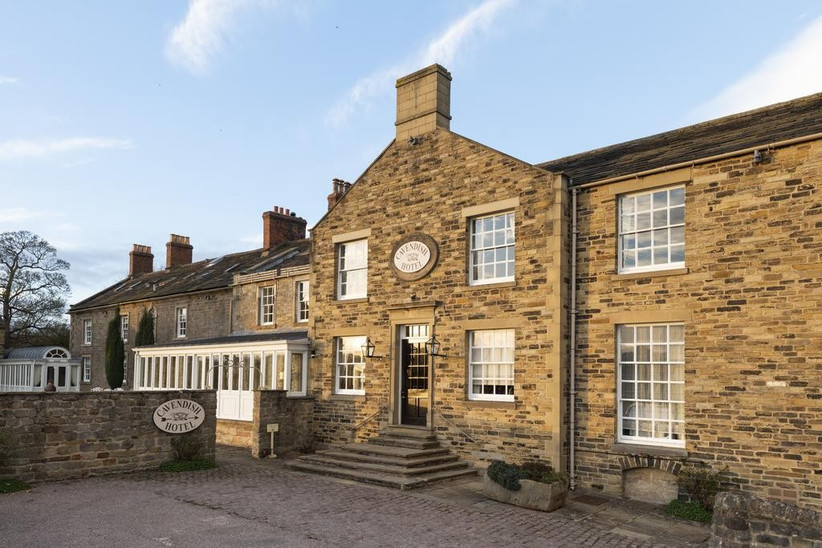 Owned by the Chatsworth Estate (and within walking distance of the house itself), this elegant country house hotel is perfect mini-moon material. The bedrooms overlook rolling countryside and boast huge fireplaces and cosy interiors.
After a day of countryside walks (or visits to the local villages of Bakewell and Baslow), relax in the on-site restaurant before doing it all over again in the morning. It's the dream set-up if you ask us.
READ MORE: The Best Months to Visit Your Favourite Destinations
If you're still undecided on your honeymoon or mini-moon spot, check out our round-up of the hottest honeymoon trends of the year. They'll offer you something completely different.