The Ultimate Guide to a Honeymoon in Europe
Find dreamy inspiration to help you plan your perfect European honeymoon by browsing these tempting (and nearby!) destinations
We have included third party products to help you navigate and enjoy life's biggest moments. Purchases made through links on this page may earn us a commission.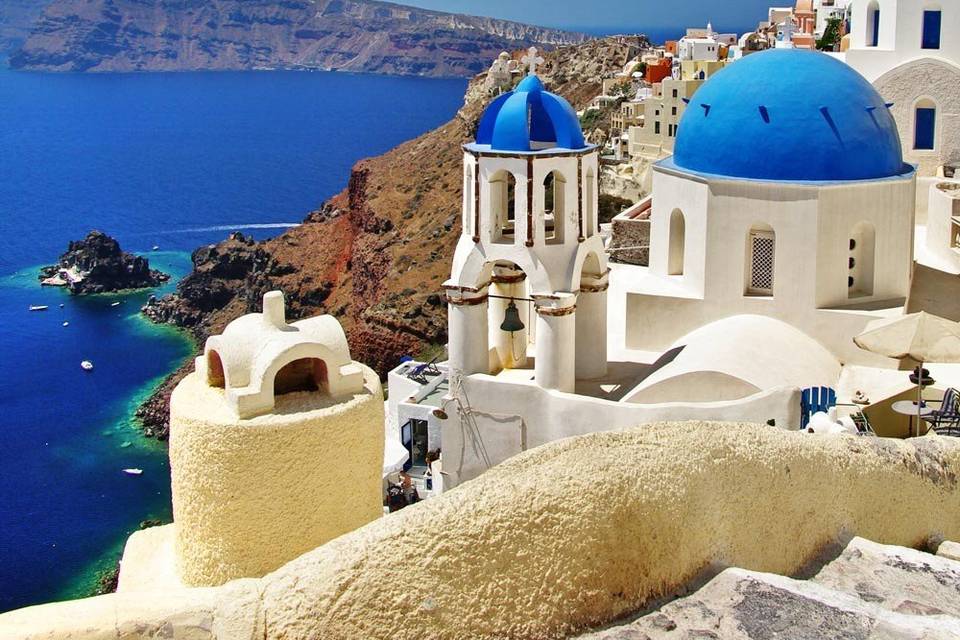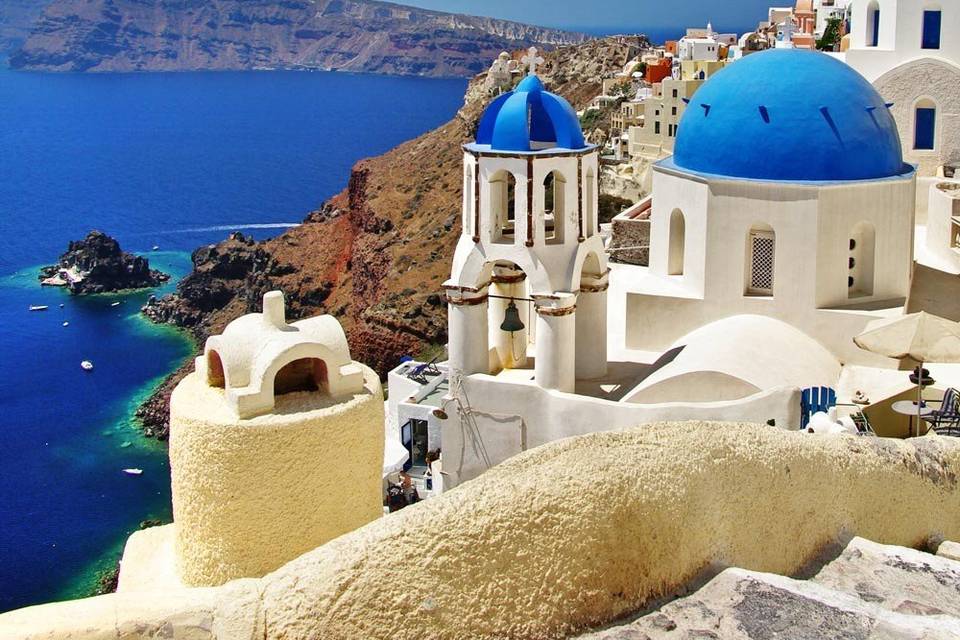 Thinking about a honeymoon in Europe? Staying close to home is a trend that's on the rise so we've rounded up some of the best places to have a European honeymoon. Check out the results of our latest wedding survey to find out even more emerging wedding trends!
Greece
Greece is a beautiful destination when it comes to choosing the perfect place for your European honeymoon – the food is delicious (lamb koftas and Greek salad, anyone?) and there are plenty of islands to explore. History buffs will love learning about the rich history of the country and taking in the ruins.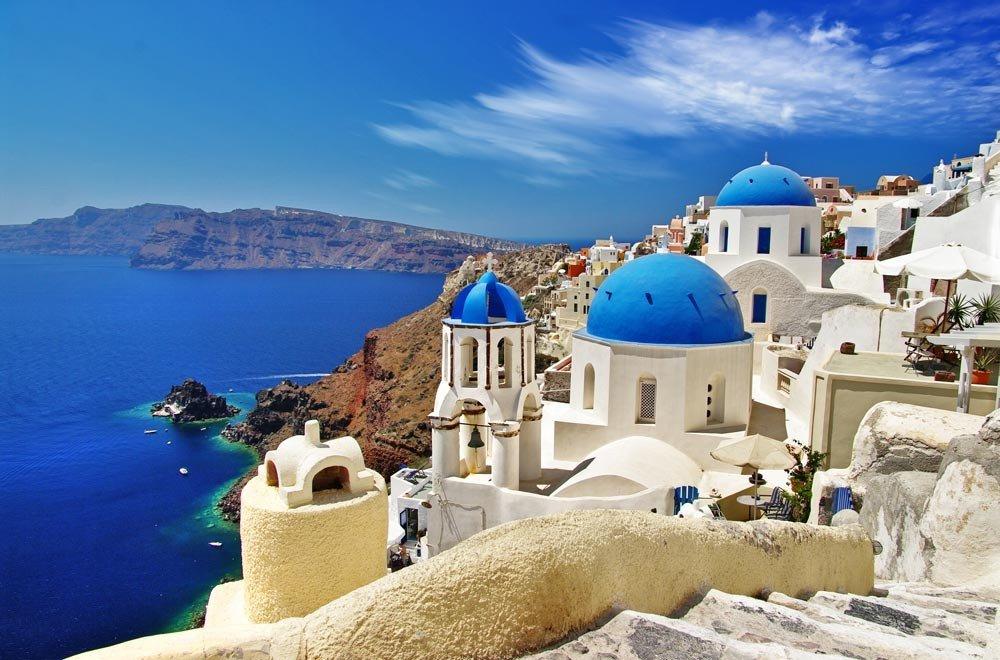 Where to Go
Athens
If you love nothing more than geeking out over ancient history then you must visit Athens – take in the Acropolis with its Parthenon, the Ancient Agora, the Temple of Olympian Zeus and more. Have a Greek coffee in one of the cafes and watch the world go by.
Santorini
This picture-perfect place is ideal for couples looking for a dreamy and relaxing honeymoon destination that will clock up the Instagram likes from family and friends back home. Go out of season to get the best of it – during the peak summer months it can get incredibly busy which isn't the ideal atmosphere for a romantic escape.
READ MORE: Amazing Celebrity Honeymoon Destinations
Corfu
This beautiful Greek island is a dream escape for a honeymoon – there's lush green landscape, olive groves and beaches lapped by the Ionian Sea. Explore the cobbled streets of the old town or visit the mainland for even more history.
Mykonos
Stay in one of Mykonos's stylish boutique hotels for a truly luxurious getaway. There are plenty of chic beach clubs to sip cocktails in and plenty of places to party the night away, if that's your thing. If you want to take in a bit of culture too, one of Greece's most treasured ancient sites, Delos, is situated on a small island just offshore.
Crete
Foodie couples need to consider Crete – you can visit working farms and sample authentic regional cooking, as well as rakí or tsikoudiá, the famous local distilled clear spirits made from grape pressings. There's also plenty of beautiful scenery to explore.
Italy
Pizza, pasta, prosecco and amazing scenery – what more could you want from a honeymoon? Italy has so much to offer, whether you're looking for a beach break or a cultural city trip.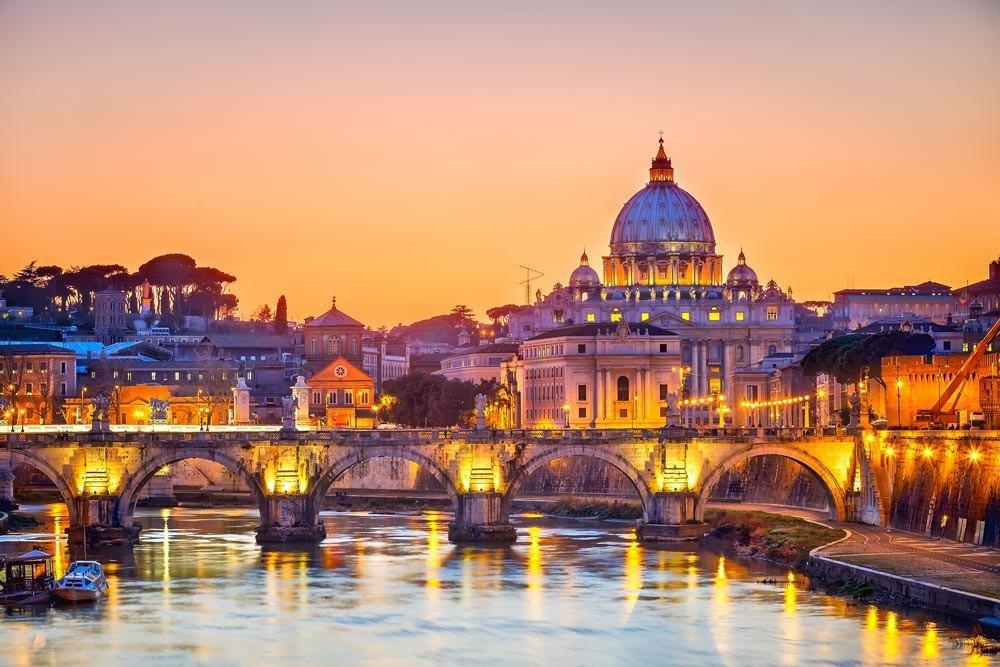 Where to Go
Venice
Venice is one of the most romantic cities in the world, making it the perfect place for a pitstop on your Italian honeymoon. The island is a magic hideaway from the rest of the world – there are no cars and almost every street is flanked by a vivid sparkling blue canal. Ride in a gondola, visit the seafood markets, pose for selfies on the bustling Rialto Bridge and sip Bellinis at Harry's Bar – it's where they were invented! If you go out of season, you're almost guaranteed to have the streets to yourself as you explore at night.
Rome
History buffs won't want to miss the chance to take in Rome, and when better to do it than on your honeymoon? Tour the incredible Coliseum and the amazing Pantheon and see the famous Spanish Steps, before relaxing over a bottle of red wine and a delicious authentic pizza in the evening. And don't forget about the gelato, either…
Amalfi Coast
A visit to the beautiful Amalfi Coast will leave you feeling like a 1950s film star. Take in the beautiful coastal scenery, the buildings built into the hills and the delicately scented lemon trees – the sea breeze will carry the citrus smell to you as you sit outdoors and sample the local wine. Bliss!
Capri
This beautiful island in the Bay of Naples is a dream destination for romantic honeymooners. Take in the famous Blue Grotto, where you'll see the sea glow a vivid electric blue inside a dark cavern, due to light passing under the water. It's a truly magical sight. Shoppers will adore the island too – stock up on everything from designer fashions to locally made limoncello.
READ MORE: The Most Beautiful Italian Wedding Venues
Italian Lake District
It's the lake district, but not as you know it. There are five major lakes in the Italian lake district, including the famous Lake Garda and Lake Como (where George Clooney has a house – not that that will interest you, being on honeymoon and all…). Take in the breath-taking scenery as you explore the lakes by boat, cable car or by wandering around then pretty local towns by foot.
France
France is a popular choice for a European honeymoon as it's so easy to get to from the UK and there's something to suit everyone – whether you want a dynamic escape exploring an exciting city or lazy days unwinding in a fairytale chateau.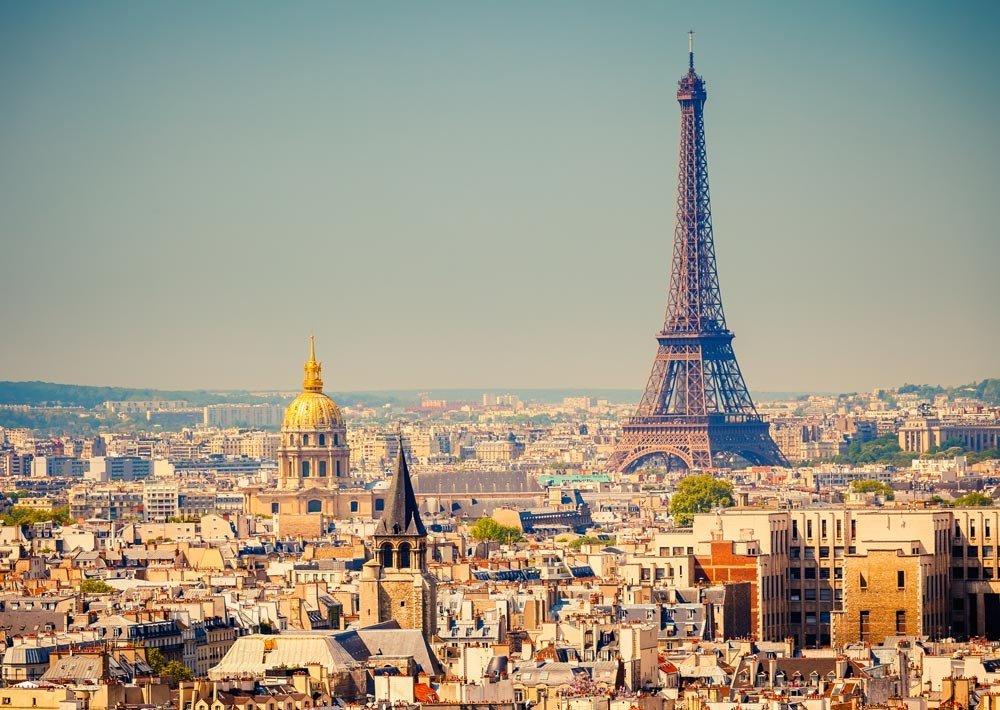 Where to Go
Paris
Of course the city of romance has to be included! Paris is the perfect setting for loved-up couples to begin their married life together. You can wander down charming backstreets and along the Seine and sip café au lait on café terraces, before dining on confit duck and steak frites in the evening as the Eiffel Tower light show illuminates the night sky. For the best views of the entire city, head to the Sacre Couer and climb to the top at sunset – you'll see the whole skyline, including the Eiffel Tower.
French Riviera
Make like the movie stars and tell everyone you're summering on the French Riviera. The dazzling blue sea and gorgeous beaches will look amazing in your pictures, and you might even spot a few A-listers as you dine out in glamorous places such as Nice and St Tropez.
Provence
If you're a little most rustic, Provence is for you! There's amazing historic architecture to explore as well as beautiful cherry orchards and lavender fields. Sample cheeses and locally made bread in the food markets, and don't miss the Gorges du Verdon, Europe's deepest canyon.
French Alps
If you're having a winter wedding and want an active honeymoon, head to the French Alps for their ski season (December to April). Go to Chamonix to party in the evening and ski away the days, or to Mont Blanc to mingle with the serious skiiers.
READ MORE: The Ultimate Guide to Honeymoon Gift Lists
Normandy
For a cultural break, head to northern France. It's a little windier but you'll enjoy exception seafood and gorgeous cliff-top walks. When the tide is out, walk over to Mont St. Michel and if the weather isn't all that great, take in the impressive Bayeux Tapestry. You can also visit the D-Day beaches and the WWII cemeteries and museums – it may be melancholy but it's incredibly significant.
Champagne
For those that want something a little different from their trip to northern France, what could be better than Champagne? The region is heavy with medieval villages and vineyards and you can sample a variety of wines and of course bubbly too. Visit the big name Champagne houses such as Moët & Chandon and Mumm to really add a fancy edge to your trip.
Spain
Sunny Spain is a popular choice for holidays, so why not consider it for your honeymoon too? There are many gorgeous places to take in, from the vibrant cities to the sleepier islands.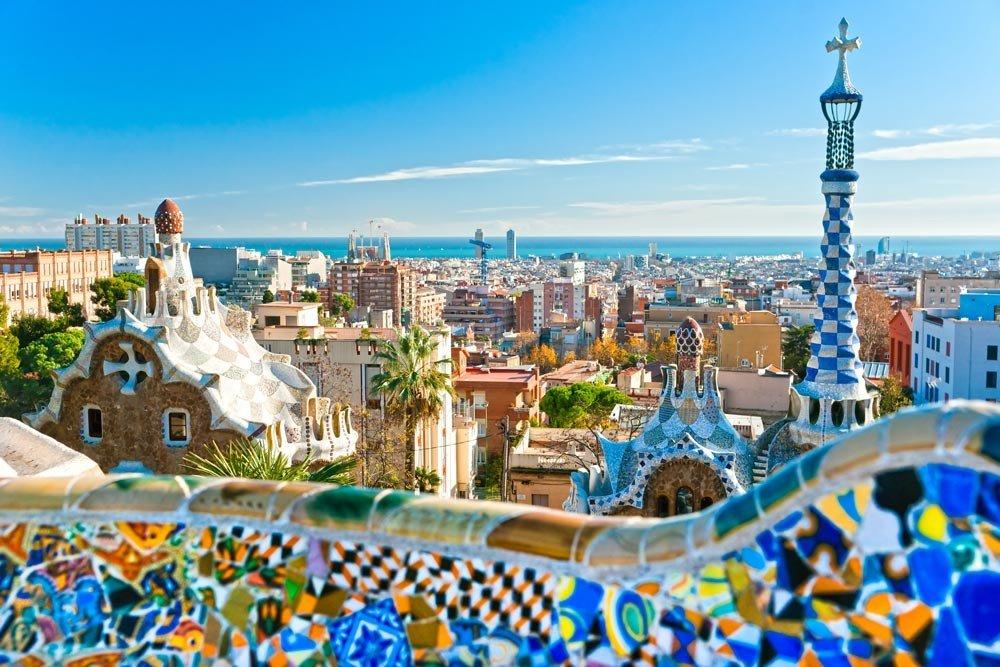 Where to Go
Barcelona
Barcelona has everything you could need for the perfect honeymoon. There are beaches to relax on, stunning sights to take in and amazing food. Explore Parc Guell and the Sagrada Familia one day, before sipping ice cold beers on the beach the next. In the evening, sample absinthe the authentic way in the Gothic Quarter and tuck into paella by the harbour.
Formentera
Formentera is the smallest of Spain's Balearic islands, but it's arguably the most beautiful. You'll feel as though you're in the Caribbean as you stroll along the white sands and spot marine life in the clear sea. It's easy to access by ferry from Ibiza so you can easily travel between the two islands if you fancy a night of partying…
READ MORE: 21 Awesome Honeymoon Packing Hacks
Madrid
Spain's capital city comes alive at night, but there's plenty to do in the day, including the lively San Miguel Market, one of Madrid's many food markets full of delicious local delicacies. You can also see the home of Spain's monarchy, the Royal Palace, and take in street performers in Puerta del Sol.
San Sebastian
Northern Spain boasts beautiful coastal scenery, and San Sebastian is one such example. It boasts beautiful beaches with vast stretches of golden sand and excellent local cuisine. If you love the idea of eating and lazing on a beach this could be the perfect place for you – although if you feel restless you can try kayaking or water skiing.
Germany
You might not have considered Germany for your honeymoon, but there's plenty to see and do here, especially if you love city breaks and have a fondness for fairytale castles.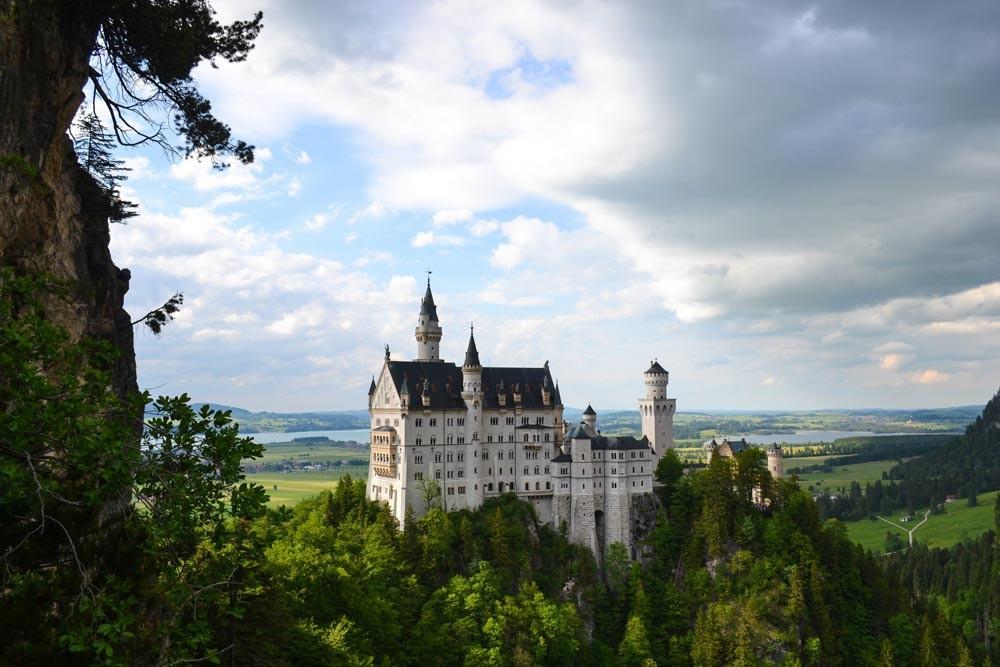 Where to Go
Berlin
This historic city has plenty to see and learn about, from its WWII history to the fall of the Berlin Wall, but you can also take in the city's vibrant nightlife and cultural attractions such as the Brandenburg Gate. If you venture there in the winter there will be magical Christmas markets, lebkuchen and gluhwein.
Neuschwanstein
You might recognise Neuschwanstein Castle, as it's the most photographed building in all of Germany. It's location amongst the beautiful Bavarian alps only adds to the whimsical fairytale feel – Disney-loving couples will adore it as it was Walt Disney's inspiration for the Sleeping Beauty castle.
READ MORE: The Best Honeymoon Castles from Around the World
Rügen Island
Did you know there were beaches in Germany? Rügen Island boasts white-sand beaches, chalky cliffs and its own national park, Jasmund National Park. There are romantic seaside resorts to explore and quaint architecture to take in, as well as the remnants of a Slavic castle, an old lighthouse and a gorgeous fishing village which is postcard material for sure.
Portugal
Portugal is famous for the Algarve, but there's plenty more to see and do there – it's the origin of piri piri so you know you're in for good food!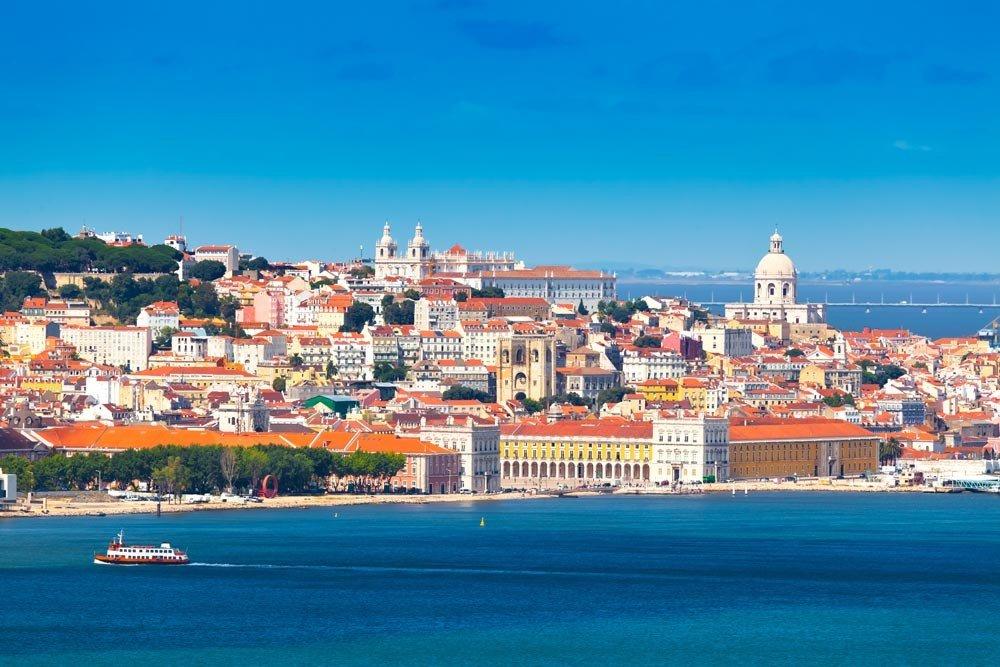 Where to Go
Algarve
The stunning Algarve is the perfect place for a beach honeymoon in Europe. Depending on what you want from your trip, there are several regions to choose from. Take in the orange groves and the iconic red sandstone castle of Silves, or conquer the Via Algarviana hiking trail before enjoying fresh seafood by one of the pretty harbours.
READ MORE: 47 of the Best Beaches Around the World
Lisbon
Why not have a twin-centre honeymoon and take in Portugal's capital, Lisbon, where you can take the famous Tram 28 up the steep hills, take in St George's Castle and sample piri piri seafood and traditional custard tarts.
Porto
Fans of port wine will definitely want to take in Porto on their European honeymoon. This colourful town overlooks the Douro River and you'll find plenty to entertain you as you wander round, including street performers and live music amongst the many cafes and restaurants.
Switzerland
Switzerland is the perfect choice for the outdoorsy couple who want beautiful scenery and delicious chocolate.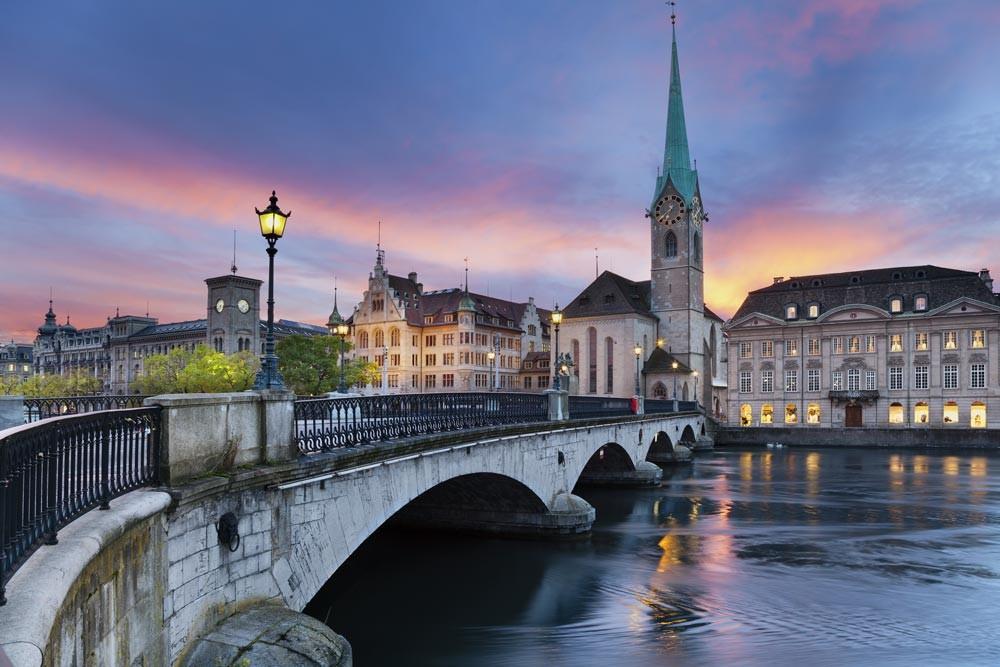 Where to Go
Lucerne
This beautiful mountain-based city boasts a reputation as one of the world's prettiest cities. It features a stunning lake and a 14th century Chapel Bridge and Water Tower, which is considered to be the most photographed building in Switzerland. Try one of the local delicacies, Luzerner Chugelipastete, which consists of puff pastry, veal and mushrooms in a cream sauce, as you enjoy the mountain views.
Zurich
Take in gorgeous blue water, vibrant greenery and snow-capped mountains as you explore Switzerland's largest city. You can hike in the mountains, view the city from a boat on Lake Zurich, shop for famous Swiss goods (Toblerone anyone?) and visit the 150 art galleries and museums that make up this cultural hotspot, including one in a castle.
Geneva
Geneva is located on the banks of Lake Geneva, one of the largest lakes in Europe. It's a green city, with 20% of its land devoted to parks. Take in the European headquarters for the United Nations and the Cathedral of St Pierre, amongst other iconic sights.
READ MORE: The Ultimate Honeymoon Checklist
Croatia
Croatia has recently become a holiday hotspot, so why not consider it for your honeymoon? It's one of the more affordable places to visit and is still a little off the beaten track in terms of popularity.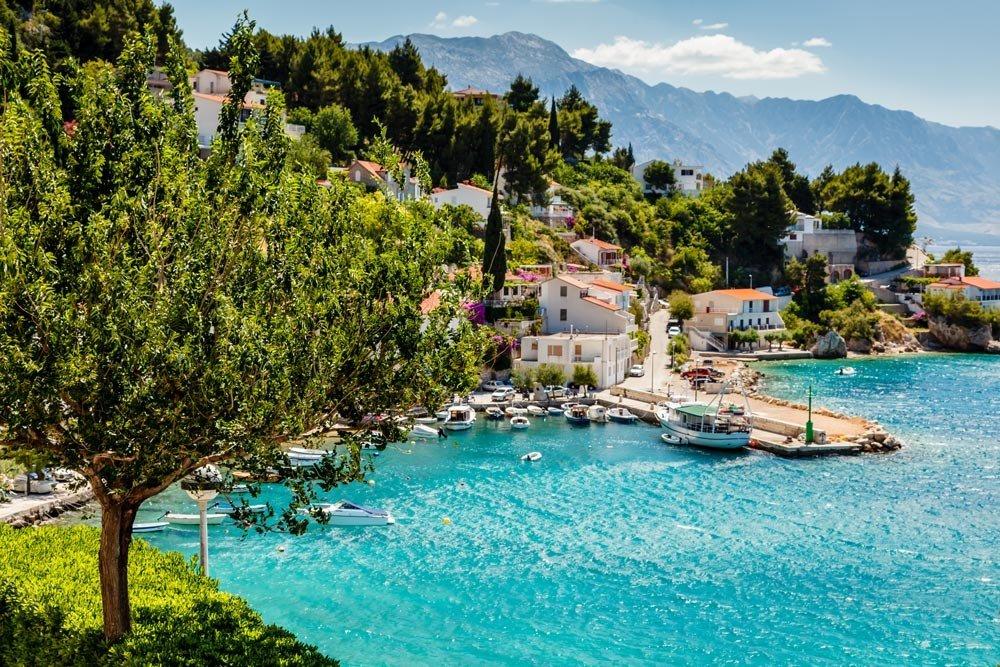 Where to Go
Dubrovnik
This historic city on the coast of the Adriatic Sea dates back to the 7th century. Within the Old Town you'll be able to explore the cobbled streets, old palaces and pretty churches. Once you need a rest from sight-seeing, head to one of the nearby beaches to relax.
Hvar
If you want beautiful beaches, luscious lavender fields and historic sights, you'll adore Hvar. There's plenty to explore, whether it's assessing the beaches to find your favourite or hiking up the cliffs to take in the views of the Dalmatian coast.
Iceland
Want to do something a bit more unusual for your honeymoon? Want about heading to Iceland? It's a once in a lifetime experience – take in the awesome geysers, gorgeous waterfalls and more in this amazing country.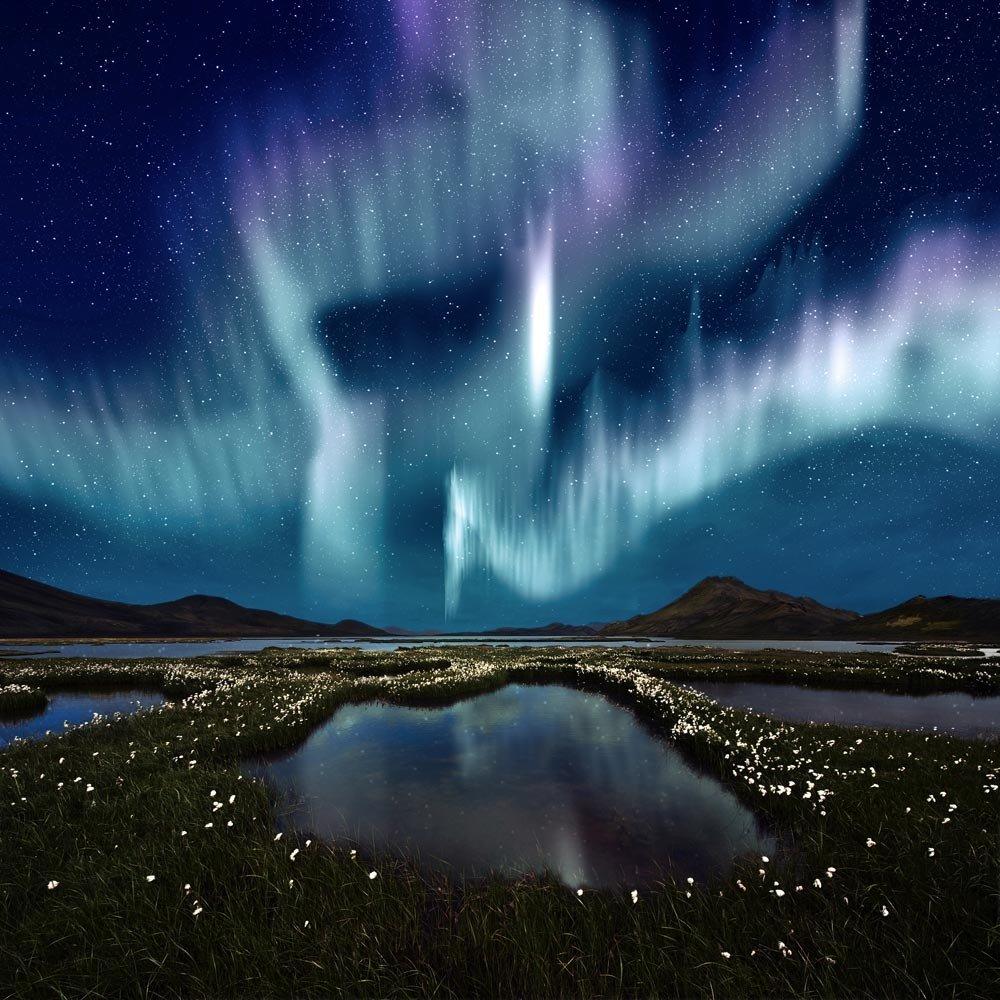 Reykjavík
You'll find vibrant nightlife and plenty of museums in Reykjavík, although in comparison to other European capital cities, it's fairly small scale with a population of just 120,000 people. The city is naturally divided by a lake – wander around this and take in the views of the glaciers and mountains that form the city's backdrop. You can easily access Geysir, the original geyser and take in the Gullfross waterfalls and the Blue Lagoon from here, and take in the Northern Lights.
Ísafjörður
You'll find Ísafjörður surrounded by dramatic mountains and lapped by the open waters of Ísafjarðardjúp. You can reach the Hornstrandir peninsula by boat from here and take in the sights of the fishermen working in the harbour. Avoid visiting during December and January though unless you don't mind the dark – the surrounding mountains block out all light during this time!
Malta
This small island certainly has a lot to offer – from the rich history to the breath-taking views. You'll never want to leave Malta!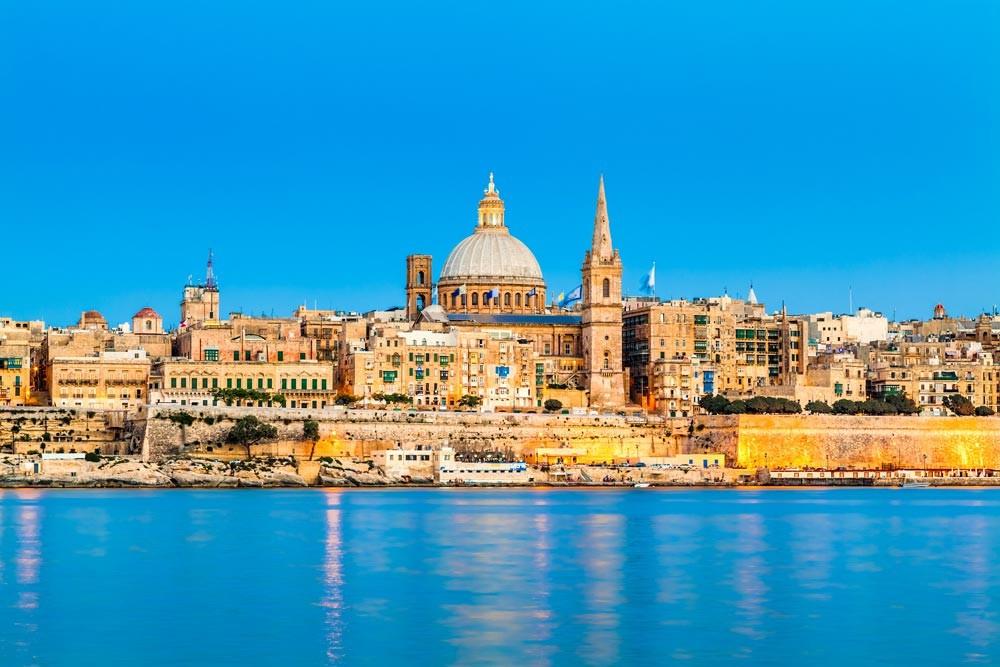 Gozo
Gozo is one of the islands that makes up the Maltese archipelago. It's surrounded by a dazzling blue sea, and offers excellent hiking paths, beautiful beaches to soak up the sun on, ruins to explore and scuba diving sites that are rich with marine life.
Valletta
The capital city of Malta, Valletta dates back to the 1500s. The walled city has lots of grand churches to explore, as well as insightful museums and gorgeous palaces. Don't miss St. John's Co-Cathedral, where people travel from far and wide to see Caravaggio's 'The Beheading of St. John'.
READ MORE: Amazing Things to Do on Your Maldives Honeymoon
Sweden
There's so much to see and do in Sweden, whether you want to get back to nature and travel between the gorgeous archipelagos, spend the night in a hotel made of ice or experience bustling city life.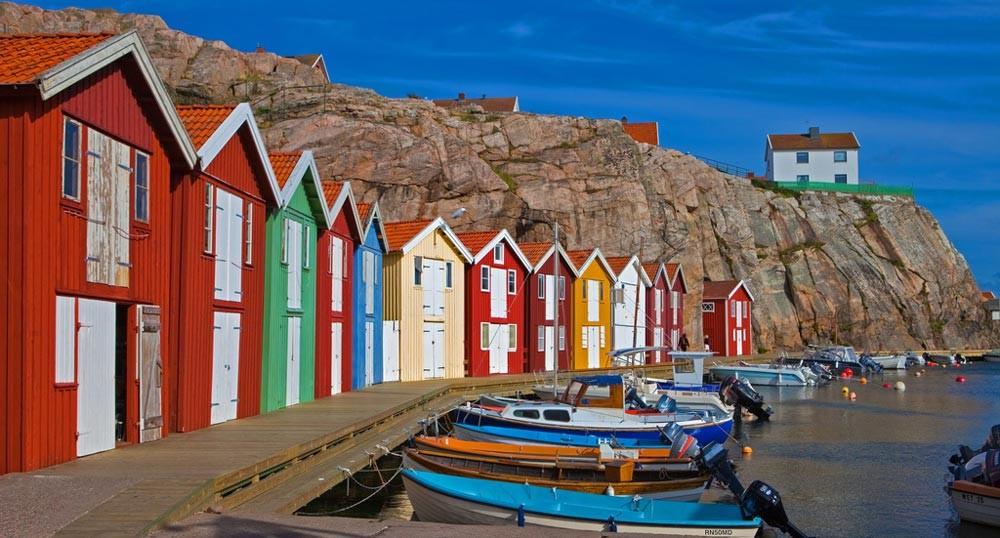 Stockholm
Sweden's capital city is made up of 14 islands linked together by over 50 bridges. There are pretty cobbled streets to explore in the old town, known as Gamla Staan, and a 13th century cathedral. You can also see the beautiful royal palace and take a boat between the islands. Visit at Christmas for pretty light displays and Christmas markets.
Gothenburg
Sweden's second city is known for its system of canals and leafy boulevards. The renowned cuisine has foodies from across the globe flocking there, and thrill seekers will love the Liseberg amusement park.
Bohuslän
Outdoorsy couples will fall in love with Bohuslän. It's well known for its sea-kayaking – you can explore the many archipelagos by boat and see tiny fishing villages made up of colourful wooden houses. Whether you choose to camp or stay in local guest houses on your trip, make sure you make the most of the region's incredible seafood.
Obviously the UK is also part of Europe, and if you think you'd rather have a stay-cation, check out our edit of the best places to mini-moon in the UK.