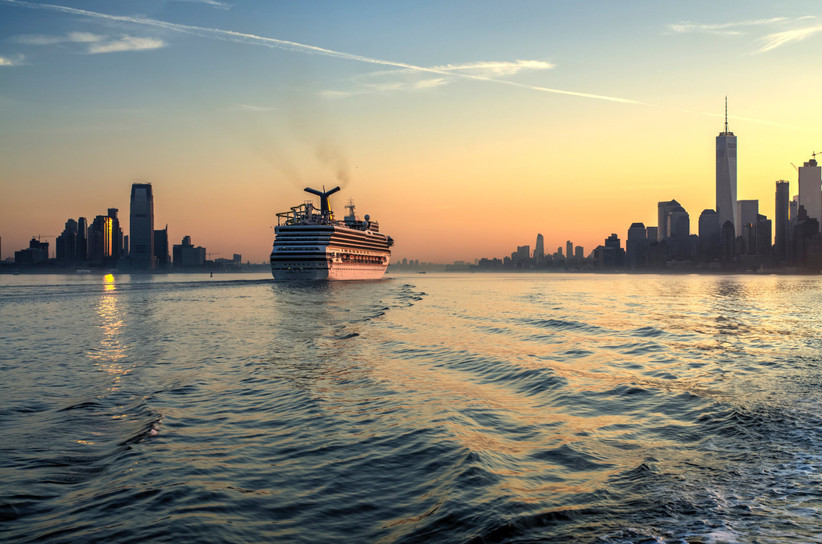 If you've booked an indulgent cruise for your honeymoon then you'll need to start thinking about what to take in advance. Besides packing your passports, this article should give you a rough guide as to what top ten items to take on your journey over-the-seas.
The luxury part about a cruise honeymoon is that you get to take as much luggage on board as you like. Upon arriving at the check in, your luggage will be whisked away to your room on board and you won't see it again until you're allowed to enter your cabin. However, if you're flying to your cruise port then you may need to stick to airline luggage rules.
Camera
It's your honeymoon and you'll want to remember as much as you can whilst on your cruise. Ensure you've got your camera to hand as much as possible; from departing the dock to arriving at every new destination en-route. There should be a photographer on board to capture important moments of your cruise such as stepping on board for the first time and dining in romantic restaurants; these images may come at an additional charge. Having your own camera will ensure you capture all of the memories you could want!
Sensible Footwear
Whether you're on board or walking around a port whilst on your cruise honeymoon you'll want to stay comfortable on your feet. Cruise ships are bigger than you think and you might need to walk up and down stairs from time to time. Ensure you pack flat footwear for the daytime and save your heels for later on in the evening.
Smart/Casual Wear
You'll find that most people on board your cruise will be wearing casual clothing during the day time (and at port) and slightly smarter attire in the evenings for dinner. If you choose to dine in the nicer restaurants then you may need to wear slightly smarter clothing; some restaurants may have a 'no jeans' policy, so make sure you've got alternative clothing options. The 24 hour restaurants will probably have a less formal clothing rule. Either way, casual clothing for walking around the cruise ship during the day time on your honeymoon should be just fine.
Swimming Attire
There will no doubt be a swimming pool or two on board your cruise ship, so to ensure you take advantage of swimming out at sea, in a pool, don't forget to take a few different swimming costumes. You may find a couple of beach towels in your cabin, otherwise there should be plenty on board near the pool areas for you to utilise.
Sunscreen
Even though you're on board a ship there may be quite a few open spaces. The social areas, swimming pools and bars may be open air, so to ensure you don't burn under the sun, be sure to pack plenty of sunscreen. If you forget then you should be able to pick some up in the shop on board, but this may be more expensive than if you were to buy it in your local pharmacy or supermarket before you travel.
Black Tie
Depending on the amount of nights on board, you may find that at least two or three evenings require you to wear black tie. For women this means a cocktail dress or a ballgown and for men this will require a suit and tie or a smart tuxedo. Some of the restaurants on board may refuse your entry if you aren't properly dressed on black tie evenings.
Foreign Currency
If your honeymoon cruise is scheduled to stop at various destinations around the globe then ensure you've got the right currency to spend in each port. There may be a foreign exchange on board, but just to be on the safe side, check with your cruise liner before you depart as to what currency you may need whilst on your journey.
A Good Book
Your honeymoon cruise may take you sailing around the world without a stop for several days at a time, so to keep yourself occupied, why not pack a good book or two. If you're reading off a Kindle, iPad or any other electronic device then you should be able to charge it up in your room overnight.
Medication
If you take medication then don't forget to pack this in your hand luggage or suitcase. If you're running low then be sure to stock up with your doctor before you leave as getting prescriptions whilst on your cruise honeymoon may be difficult. There should be a doctor on board if anything unfortunate were to happen. Consider packing motion-sickness medicine if you think this might affect you.
An Empty Suitcase
If you're spending a long time on your honeymoon cruise, stopping at wondrous destinations along the way then you might end up buying unique souvenirs to take home as a memory. If you arrive on board with a full suitcase then you won't have room to pack your new purchases. Consider leaving space in your suitcase or bringing an empty bag or case to fill throughout your journey.