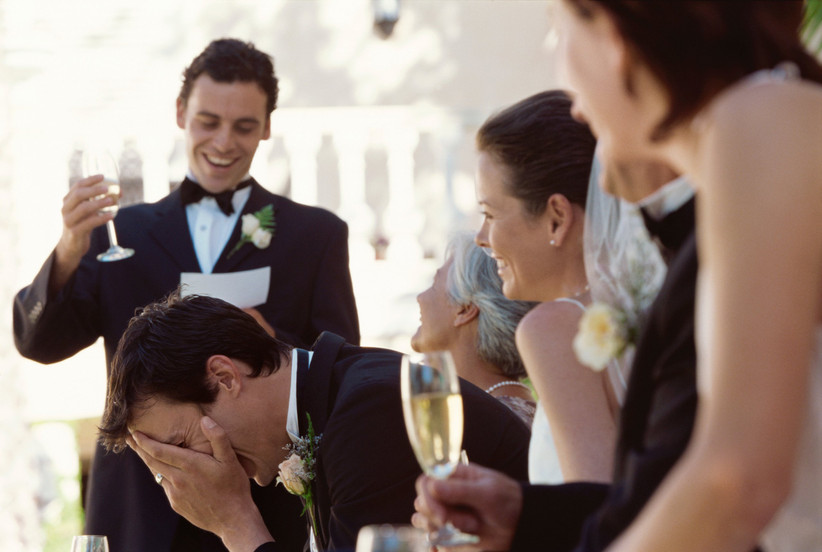 Wedding songs normally fall under beautiful classical music or tried-and-tested love songs. If you're a couple who loves a laugh, you might be looking for something a bit more tongue-in-cheek.
Perfect for including in a best man's speech or playing as a joke during the wedding reception, we've picked out the 50 most inappropriate wedding songs around.
Which do you think is the funniest wedding song? Is it Roxette's It Must Have Been Love or The Ting Tings' Shut Up and Let Me Go?
U2's I Still Haven't Found What I'm Looking For gets the number one slot – but does it deserve its pole position as the most inappropriate wedding song of all time?
Can Shania Twain's That Don't Impress Me Much compete with The Righteous Brothers' classic You've Lost That Lovin' Feeling?
Find out which other funny wedding songs make the cut in our list below – and we've put them all into a Spotify playlist so you can sample them all.
The 50 Most Inappropriate Wedding Songs
I Still Haven't Found What I'm Looking For – U2
Marry You – Bruno Mars
Let's Get It On – Marvin Gaye
Another One Bites the Dust – Queen
If You Leave Me Now – Chicago
D.I.V.O.R.C.E. – Tammy Wynette
That Don't Impress Me Much – Shania Twain
Please Release Me – Engelbert Humperdinck
Don't Marry Her – Beautiful South
Don't You Want Me – The Human League
I Don't Love You – My Chemical Romance
You've Lost That Lovin' Feeling – The Righteous Brothers
Bad Romance – Lady Gaga
One More Time – Daft Punk
Never Ever- All Saints
Nothing Lasts Forever – Echo & the Bunnymen
Every Breath You Take – The Police
Jar of Hearts – Christina Perri
Wannabe – Spice Girls
Don't Go Breaking My Heart – Elton John ft. Kiki Dee
Relight My Fire – Take That ft. Lulu
Gold Digger – Kanye West ft. Jamie Foxx
I Want to Know What Love Is – Foreigner
Love Is a Battlefield – Pat Benatar
No Woman No Cry – Bob Marley
Shut Up and Let Me Go – the Ting Tings
Grounds For Divorce – Elbow
Tainted Love – Soft Cell
Knockin' on Heaven's Door – Guns N' Roses
It's Not Right But It's Okay – Whitney Houston
Killing Me Softly With His Song – Fugees
Do You Really Want to Hurt Me – Culture Club
Don't Dream It's Over – Crowded House
The Break Up Song – Greg Kihn Band
Easy Lover – Phil Collins
I Can't Make You Love Me – George Michael
It's Now or Never – Elvis Presley
It Must Have Been Love – Roxette
Don't Cha – The Pussycat Dolls & Busta Rhymes
Run to the Hills – Iron Madien
Stay With Me – Sam Smith
Unfaithful – Rhianna
What's Love Got to Do With It? – Tina Turner
I'm Not the Only One – Sam Smith
Steal My Girl – One Direction
Dirty Love – Wilkinson
It Should Have Been Me – Kim Weston
Paradise By the Dashboard Light – Meat Loaf
My Cherie Amour – Stevie Wonder
Kiss From a Rose – Seal