Your Guide to Wedding Buttonholes (Plus 28 Unique Ideas)
If you don't know a single thing about wedding buttonholes, we're here to help. We've covered everything from how to wear them, what to use and 28 unique ideas to give you inspiration
We have included third party products to help you navigate and enjoy life's biggest moments. Purchases made through links on this page may earn us a commission.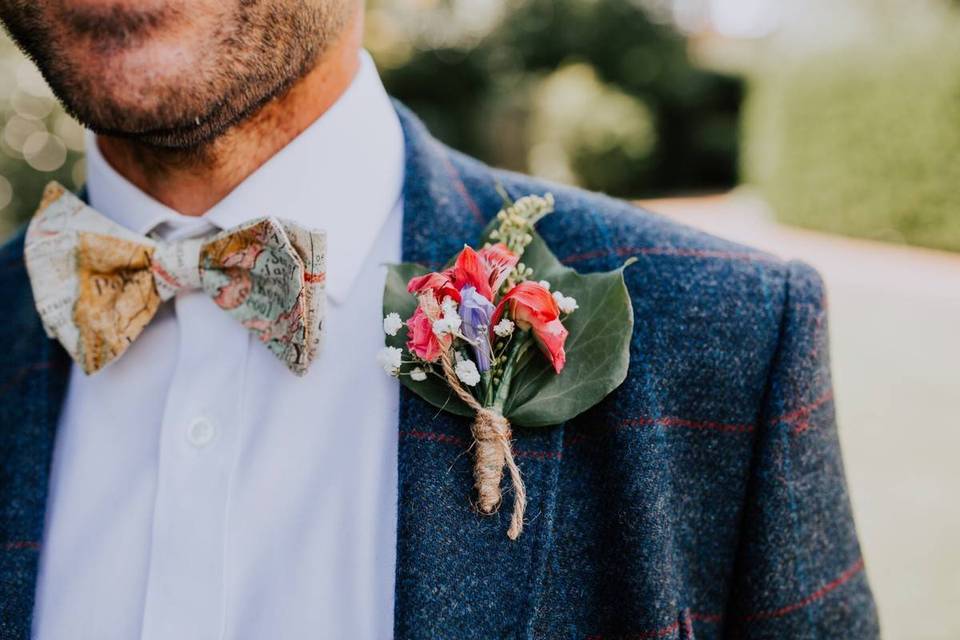 It's time to finish off your wedding ensemble with a dash of flower power! Yes, you probably know how to tie a tie like a pro and get suited and booted without any trouble, but there's a good chance you've never rocked a wedding buttonhole in your life. These itty bitty arrangements accessorise your wedding attire and make any ensemble a touch more wedding-worthy, so they're definitely worth considering.
There are endless options on how you can style your wedding buttonholes - from traditional floral arrangements to novelty ideas, (Lego fans, get excited!), so to make narrowing it down a little easier we've compiled 28 inspirational ideas.
But first, get your head around everything you'll need to know about wedding buttonholes with our handy guide below.
READ MORE
Everything You Need to Know About Wedding Buttonholes
What Is a Wedding Buttonhole?
A buttonhole, also known as a boutonniere, is basically a smaller version of a wedding bouquet. Don't worry, they're not as extravagant as the handheld arrangements - they're quite modest in size because they rest on the lapel of a jacket or blazer (they can be stuck through a buttonhole - hence the name - or pinned atop the lapel). Typically, they are composed of a single flower or a small collection of flowers and/or decorative accents.
Who Wears Buttonholes at a Wedding?
Usually, only the main people involved in the wedding such as the groom or bride get the honour of wearing buttonholes but sometimes the option is extended to VIP guests like the parents, groomsmen, bridesmaids and the officiant. Of course, more buttonholes means a bigger bill from your wedding florist, so keep that in mind when making the final decision on who will wear them.
Why Should I Order Buttonholes for my Wedding?
While you don't need buttonholes, they're a nice way of differentiating your close wedding party from the rest of your wedding guests. For example, if the groom and groomsmen plan on wearing plain black, grey or blue suits, these accessories will help make the outfits pop.
What Should my Wedding Buttonholes Look Like?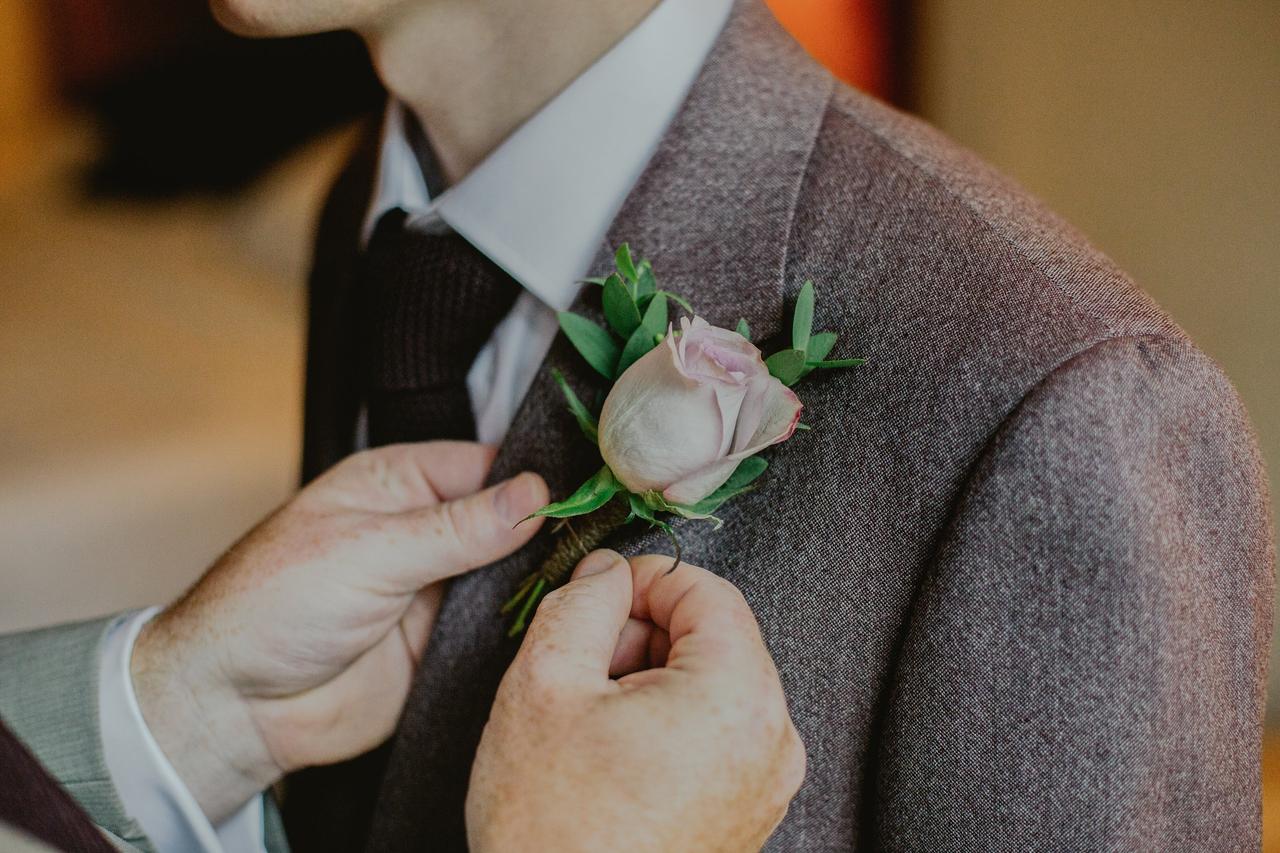 Naturally, they should match the style and colour scheme of your wedding and complement any other flowers you're having. Try choosing the boldest bloom in the bigger arrangements so that they play off of each other, or go with a neutral-toned flower if you're looking for something a bit more low-key.
How Do I Make Wedding Buttonholes More Personal?
If you want to add a dash of personality to your wedding buttonholes, try subtly incorporating one of your hobbies into them. In the past, people have used everything from fishing tackles to playing cards in their buttonholes, and you can do the same. Get creative, but make sure they don't steal the spotlight from you or your partner.
Do I Have to Use Flowers?
Absolutely not. Greenery, paper, acorns, pocket watches, Lego... just about anything can be used to make a wedding buttonhole. If you're not into flowers, don't be afraid to say no to the status quo and try something just as unique as you are.
28 Wedding Buttonhole Ideas
1. Rustic Dried Flower Buttonhole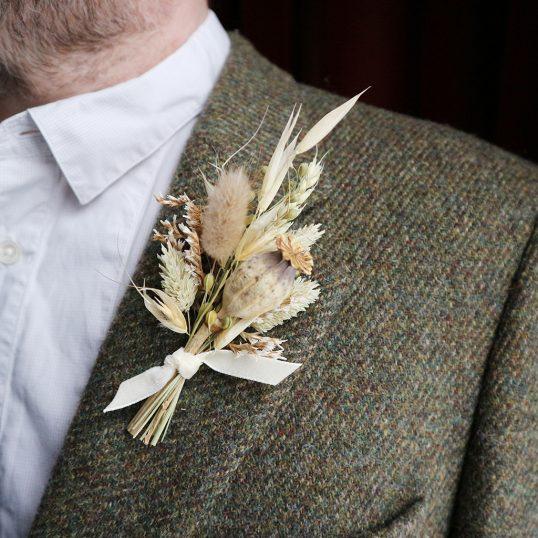 Swap out fresh florals for a contemporary dried sprig instead. Even better, opt for natural shades of cream and brown for a rustic yet chic feel.
2. Orchid Wedding Buttonhole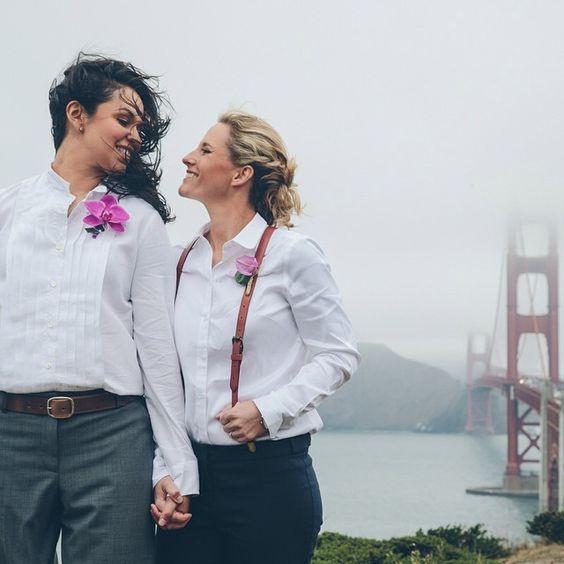 Love the idea of a floral wedding buttonhole but want something a little different? Orchids are an unusual pick that'll look gorgeous contrasted against a crisp white shirt.
3. Sentimental Wedding Buttonhole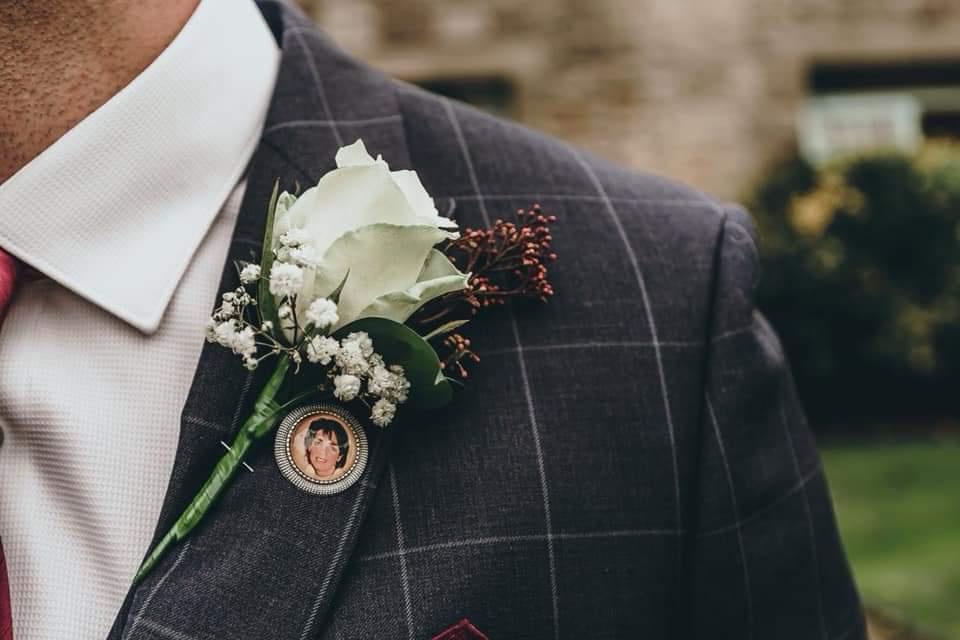 If there is a loved one who can no longer attend your wedding, pinning a photo emblem of them to your buttonhole will be a lovely touch as they'll be close to your heart throughout the day.
4. Sunflower Wedding Buttonhole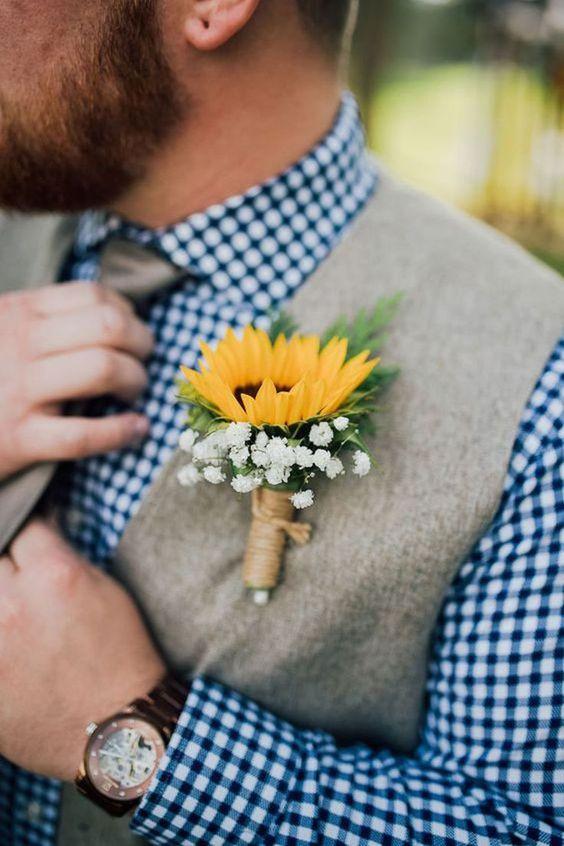 As mentioned above, you might want your wedding buttonhole to match your décor so if sunflowers are the blooms of choice, popping one next to some baby's-breath will look lovely.
READ MORE: 22 Stunning Sunflower Wedding Bouquet Ideas
5. Thistle Wedding Buttonhole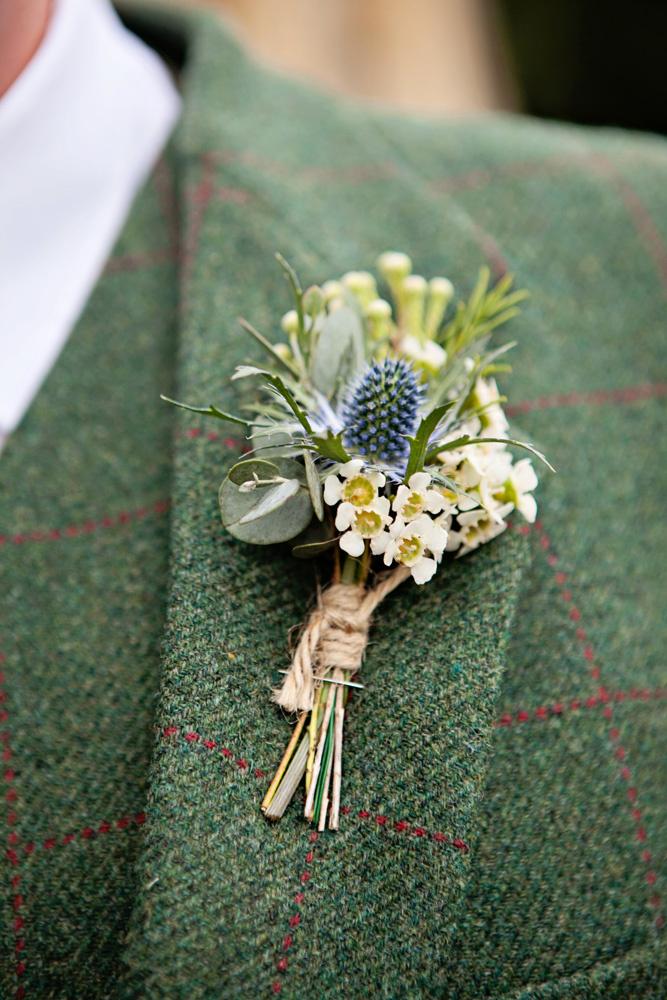 No Scottish wedding is complete without a kilt, a thistle and some tartan, and this groom had all three. The pop of lilac adds interest to the soft arrangement and of course is a brilliant nod to the national emblem.
6. Rustic Rose Wedding Buttonhole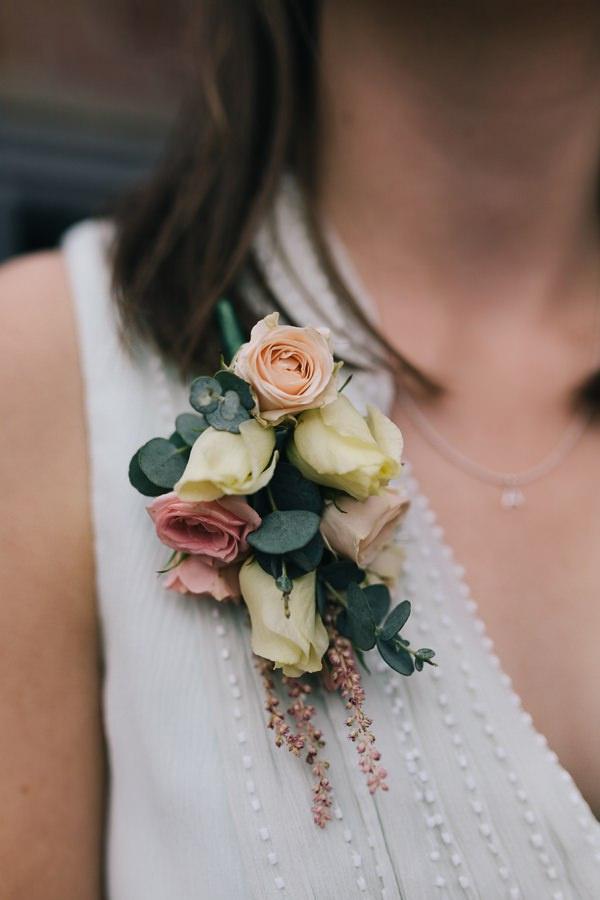 You don't have to be wearing a suit to rock a buttonhole - this bride's rustic rose arrangement complements her beaded gown beautifully and she even matched her bouquet too.
7. Eucalyptus Wedding Buttonhole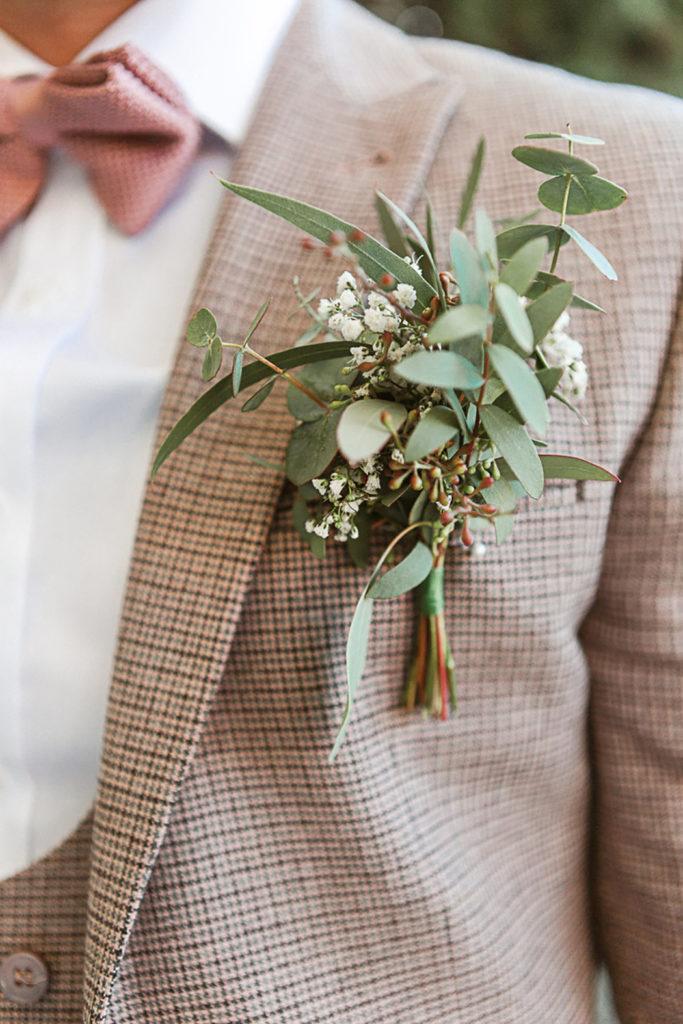 A Eucalyptus wedding buttonhole is guaranteed to look fresh and cool. More over, this pretty plant symbolises protection, giving it a meaningful touch to wear on your wedding day.
8. Succulent Wedding Buttonhole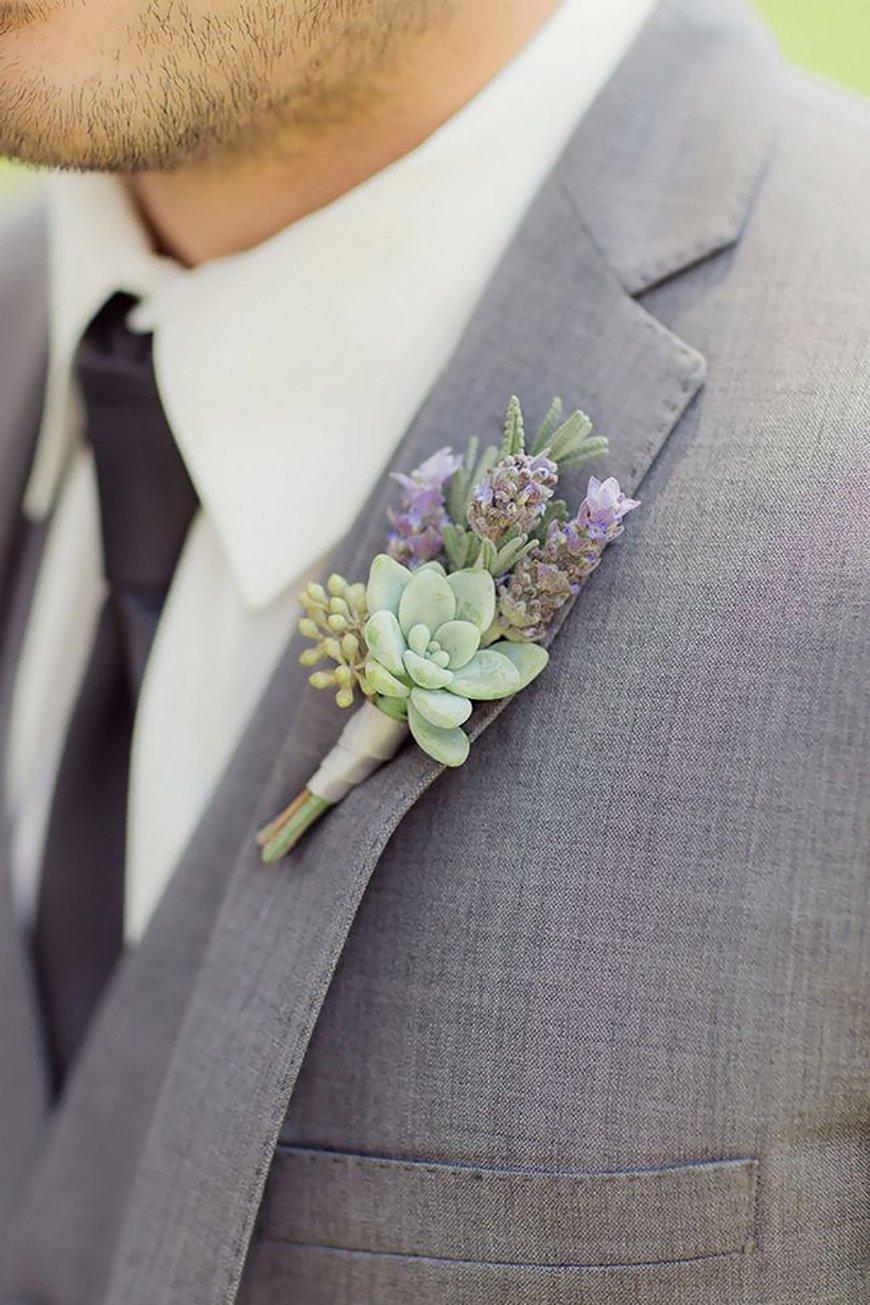 So, you might have a collection of succulents dotted around your home but have you ever considered having them in your wedding buttonhole? We reckon this groom's get-up will have you convinced!
8. Lavender Wedding Buttonhole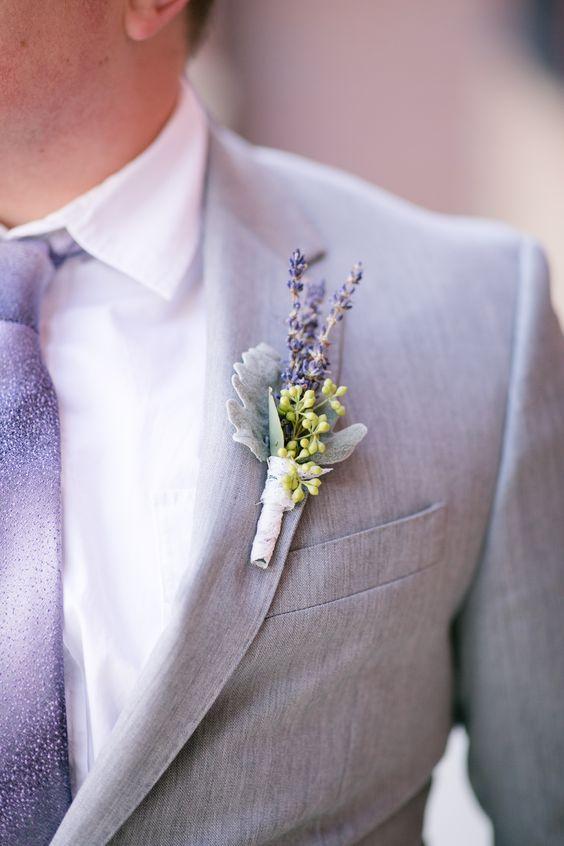 A lavender wedding buttonhole will not only look stunning, it'll waft a glorious sweet scent wherever you go on the day. We love how this groom has worn a soft purple tie too, to bring the whole look together.
9. Feather Wedding Buttonhole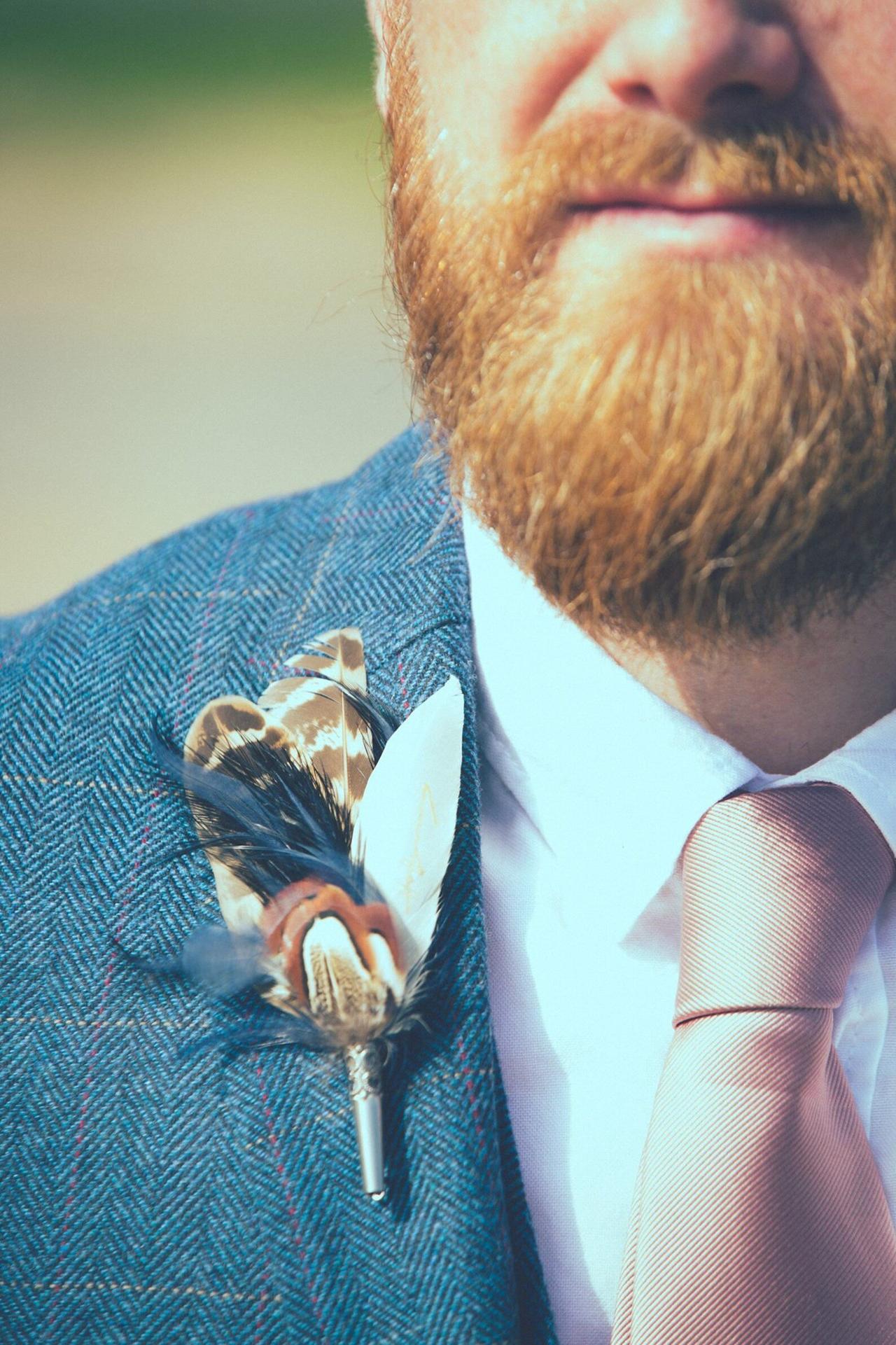 Florals aren't for everyone and if that's the case for you a decadent buttonhole adorned with feathers could be the perfect alternative.
10. Autumn Wedding Buttonhole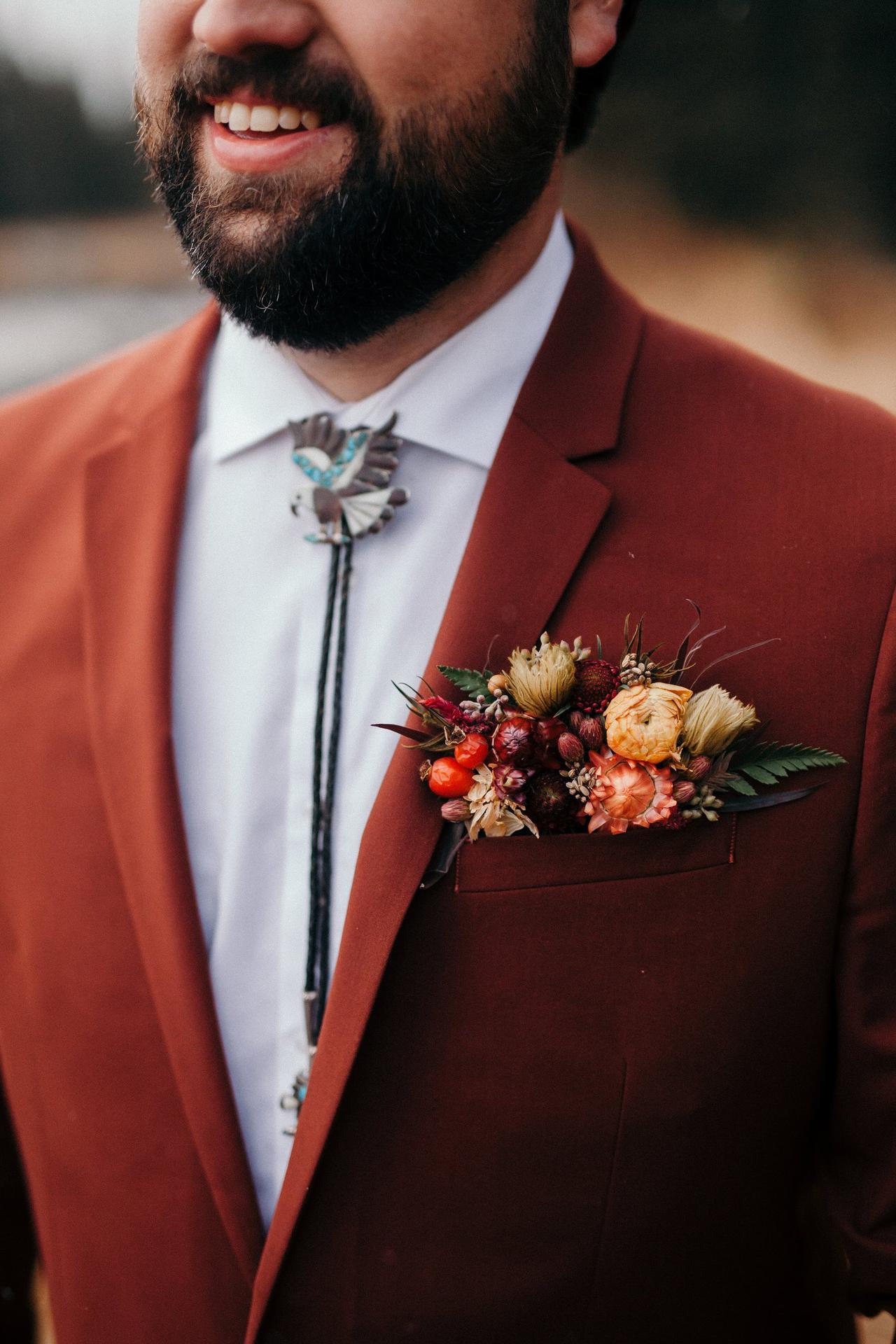 We don't like to have favourites but this autumn ensemble is definitely up there! More than just a simple buttonhole, this groom has a whole bunch of blooms poking out from his pocket and it looks spectacular.
READ MORE: 55 Gorgeous Autumn Wedding Ideas
11. White Poppy Wedding Buttonhole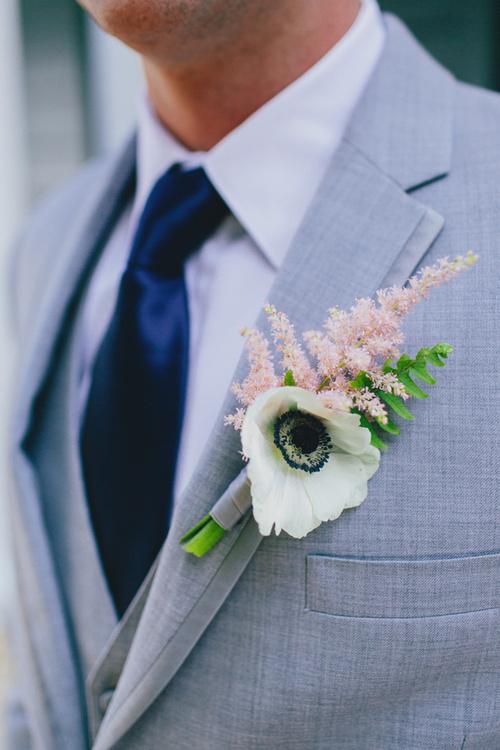 When you think of a poppy the colour red probably comes to mind, but the white variety is just as beautiful and creates a much softer look when worn on your wedding day.
12. Cornflower Wedding Buttonhole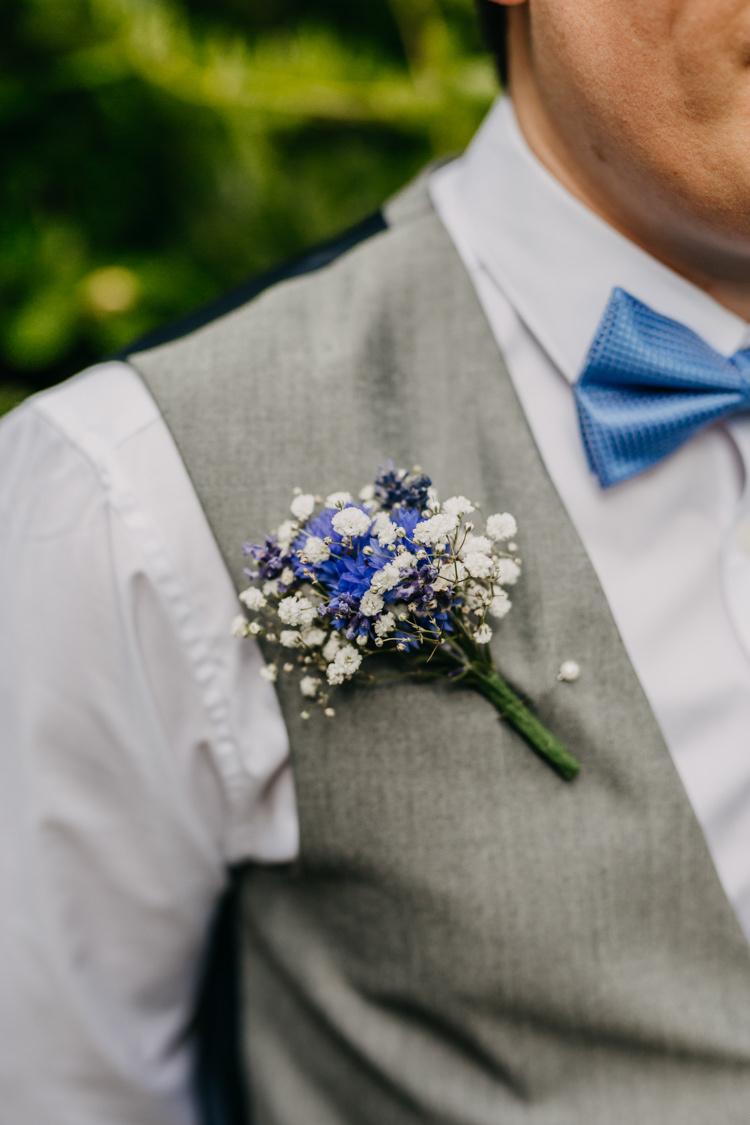 A unique way to wear your something blue is by incorporating it into your wedding buttonhole - cornflower is a beautiful option that'll add that pop of blue.
13. Matching Flower Crown Wedding Buttonhole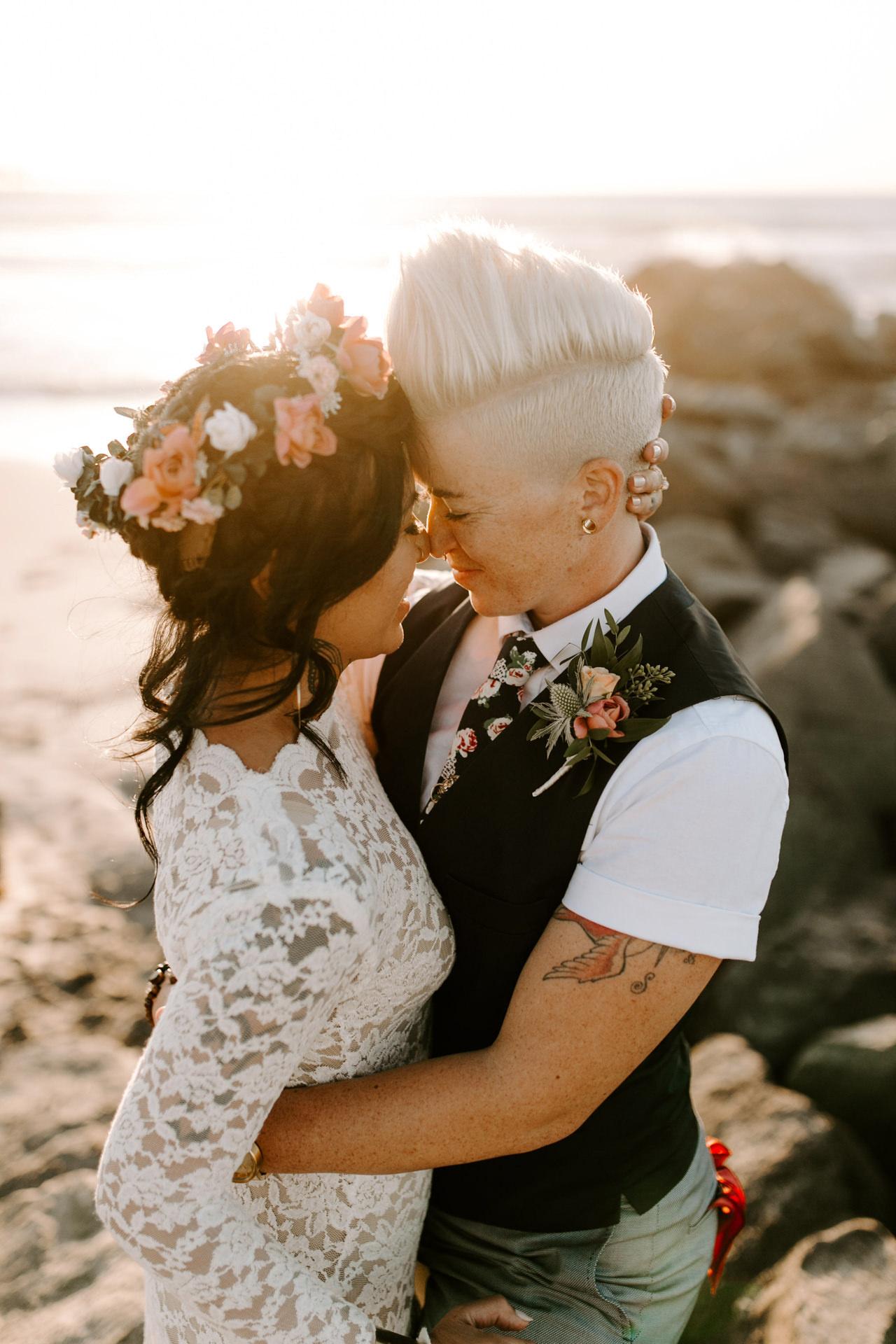 Creating a cohesive theme across your wedding day means making sure all the little details tie together. If you or your partner are wearing a flower crown and you want to match a buttonhole to it, sticking to a similar colour palette for both is a great way to achieve this.
14. Acorn Wedding Buttonhole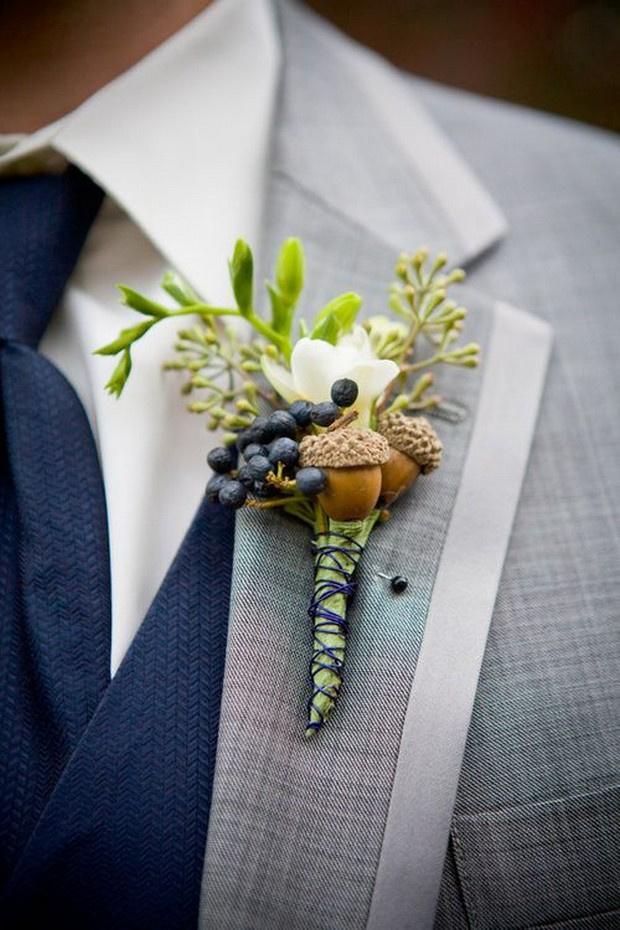 Acorns are an easy choice for an autumn wedding as they look seriously adorable tucked into your buttonhole. You could pair them with greenery and berries like this groom has done or oak and maple leaves will work wonderfully too.
15. Lego Wedding Buttonhole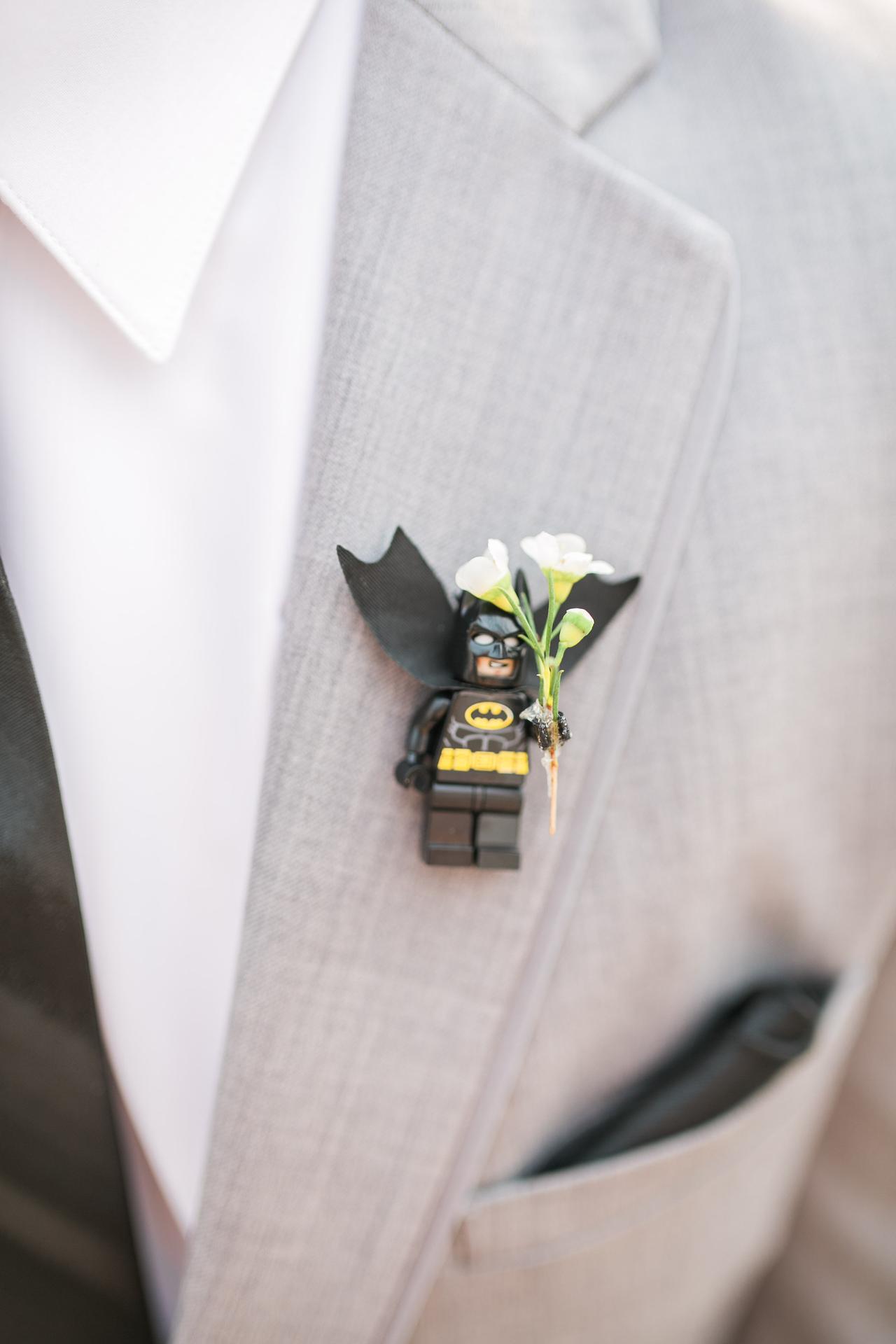 Add a touch of humour into your wedding attire with a playful Lego piece! We love how this groom has Lego Batman holding a bouquet but you can be as creative as you like.
16. Moody Hue Wedding Buttonhole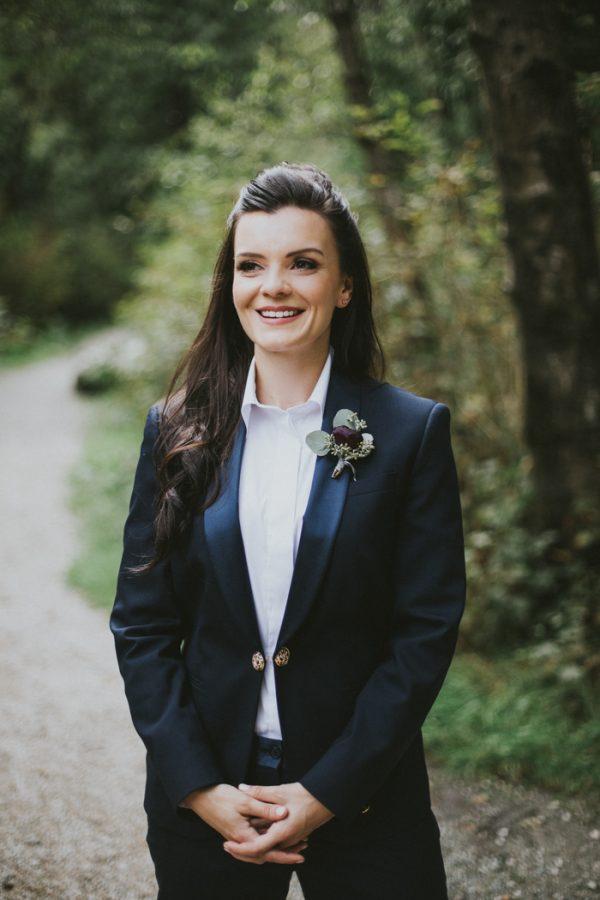 A moody hued wedding buttonhole will look particularly sophisticated when worn with a dark navy or black suit at an evening celebration.
17. Harry Potter Wedding Buttonhole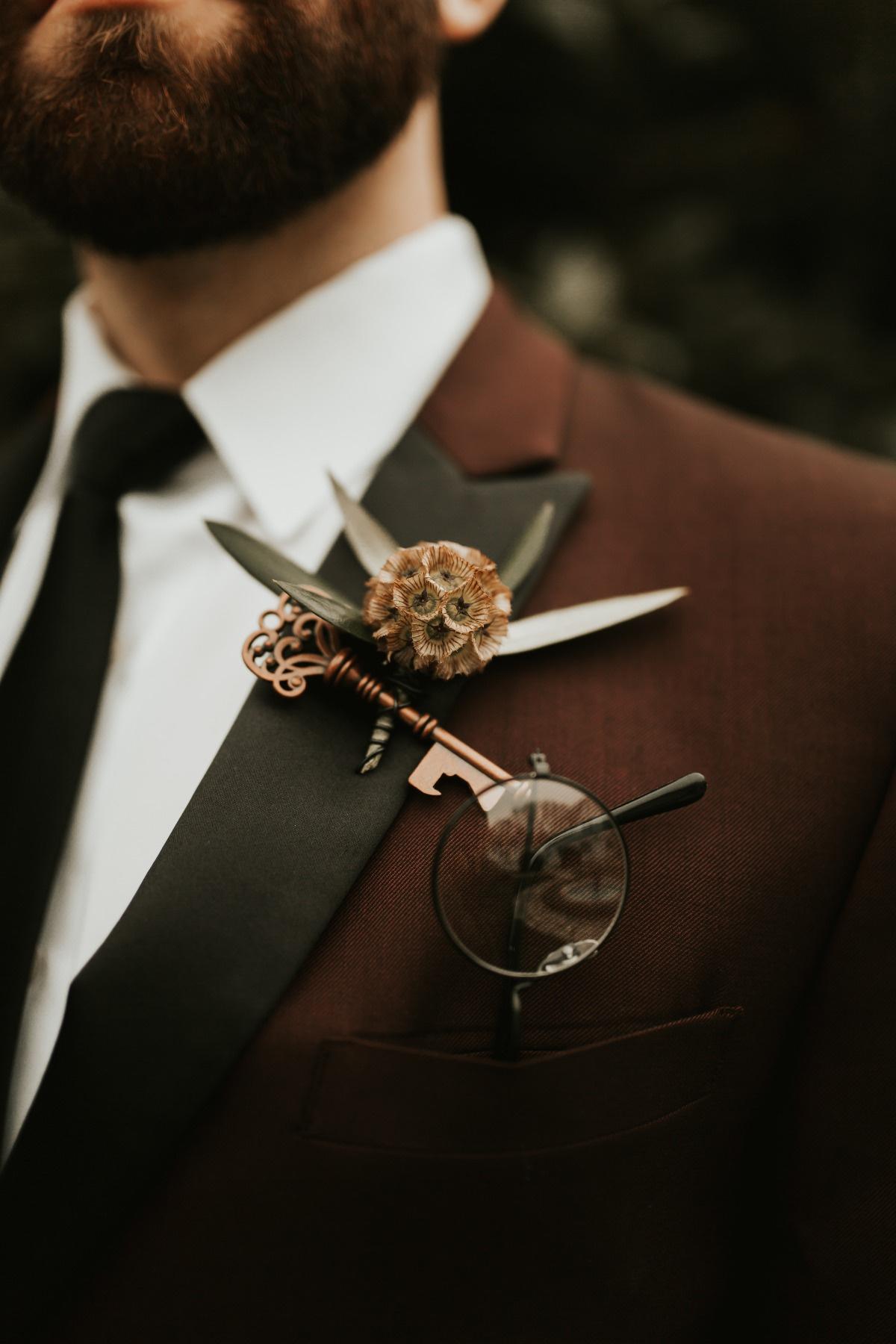 Harry Potter themed weddings are incredibly popular so if that's the route you're going down, or you just want to add a little magic to the big day, this key and glasses buttonhole fits the theme without looking novelty.
READ MORE: 19 Harry Potter Wedding Ideas
18. Pine Cone Wedding Buttonhole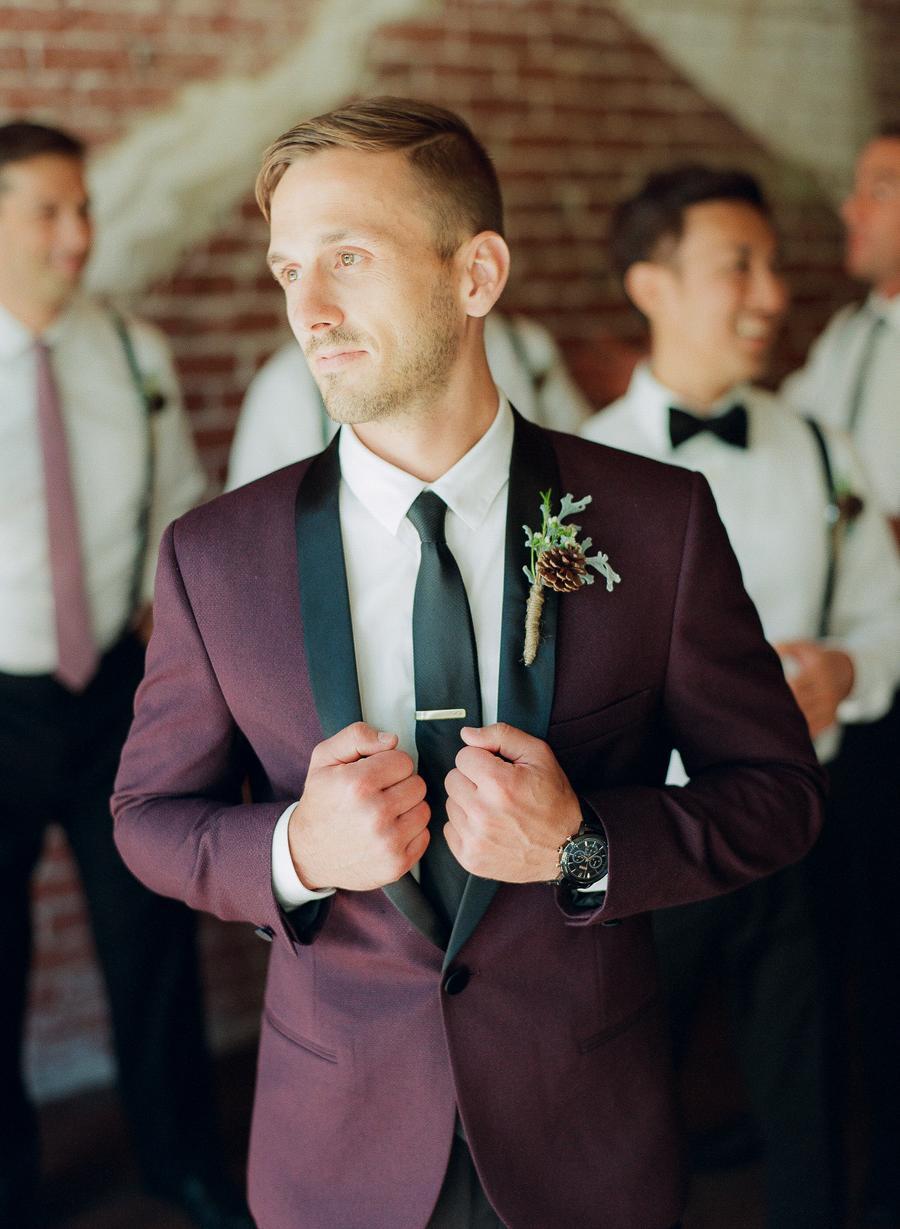 This pinecone wedding buttonhole looks like it came straight from the forest floor making it perfect for a whimsical woodland wedding. Paired with a plum and black lapel lined suit and you'll look seriously stylish.
19. Romantic Wedding Buttonhole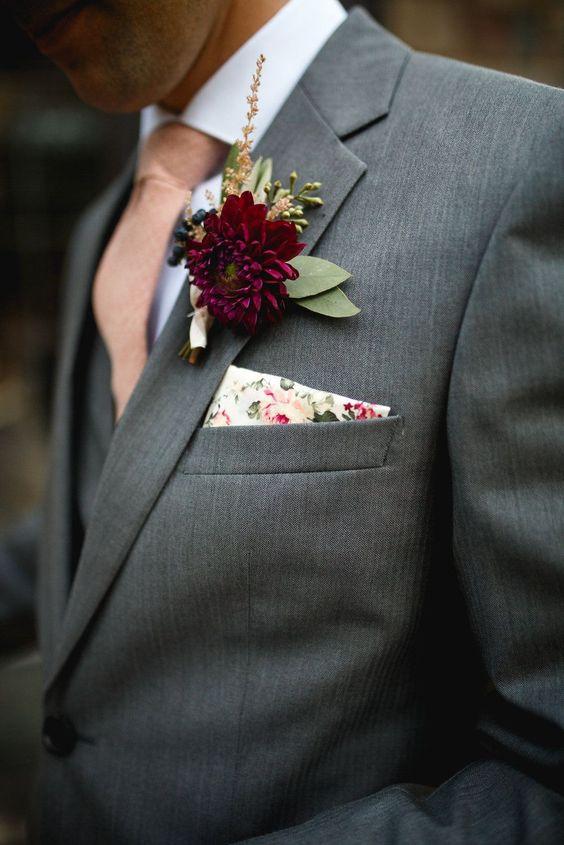 Deep red is the colour of romance making it totally appropriate to wear a wedding button with florals in this shade. You can soften the arrangement with greenery and pale buds, or keep things dark with berries and purple foliage.
20. Tropical Wedding Buttonhole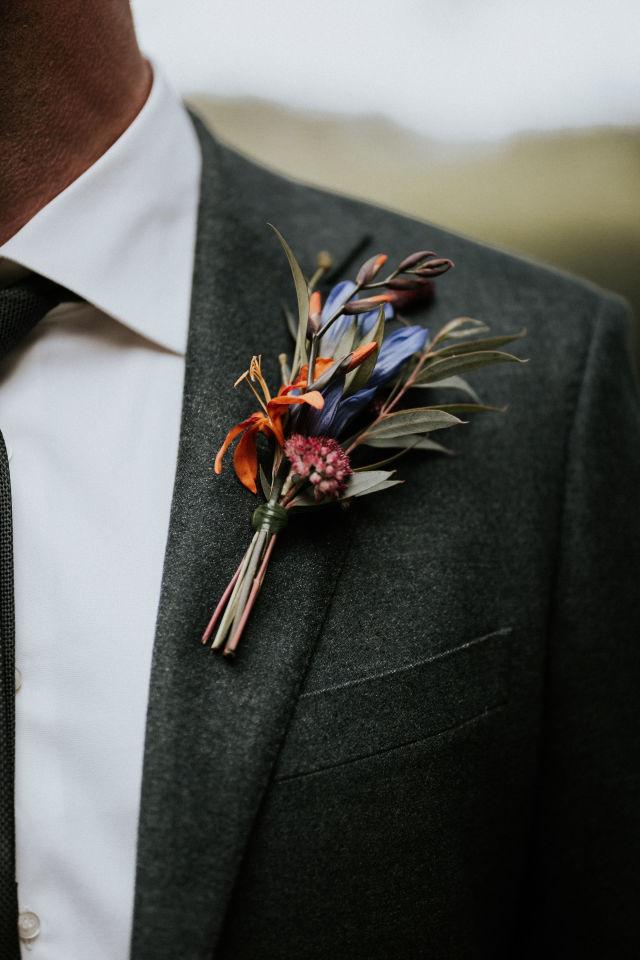 A tropical wedding buttonhole can be a tricky one to master as most tropical florals and leaves are pretty large! This groom has nailed the look with small orange and blue buds accompanied with sleek leaves.
21. Single Flower Wedding Buttonhole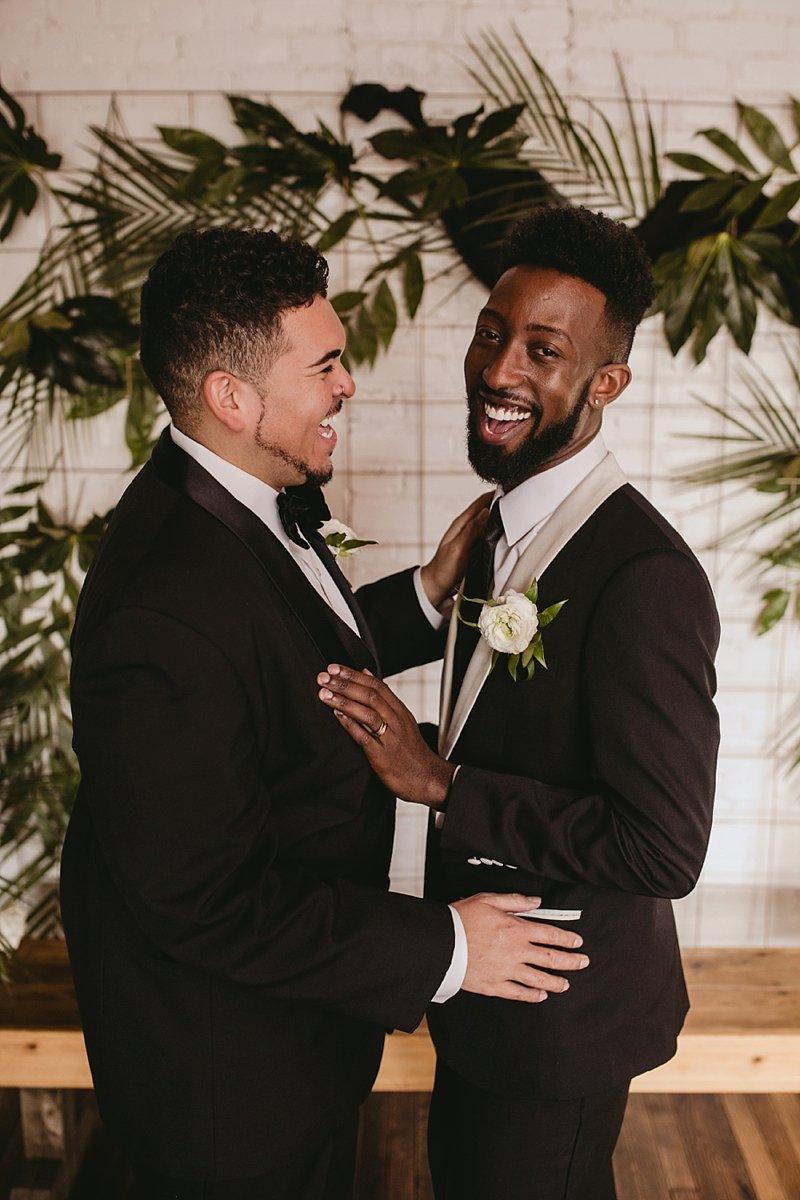 Keep it simple with a single flower in a colour that'll match your wedding theme. Not only will it look chic, it can save you money too as you can easily make these buttonholes yourself.
22. Orange Rose Wedding Buttonhole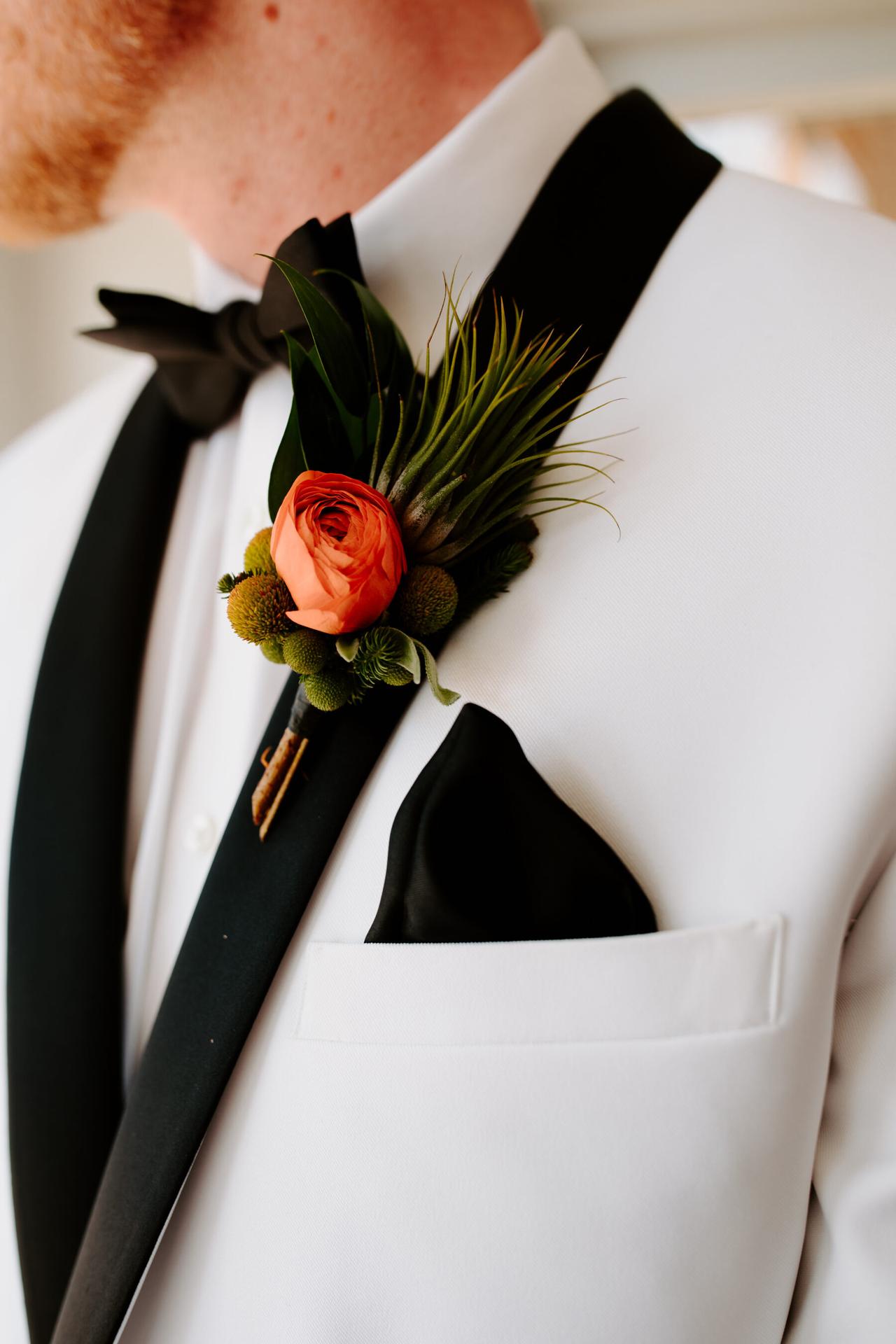 Flowers in sunset shades of orange and red are a match made in heaven for destination weddings. Just imagine this white tux and orange rose get-up while getting hitched in sunny climes...
READ MORE: 30 Beach Wedding Dresses for a Destination Wedding
23. Mustard Wedding Buttonhole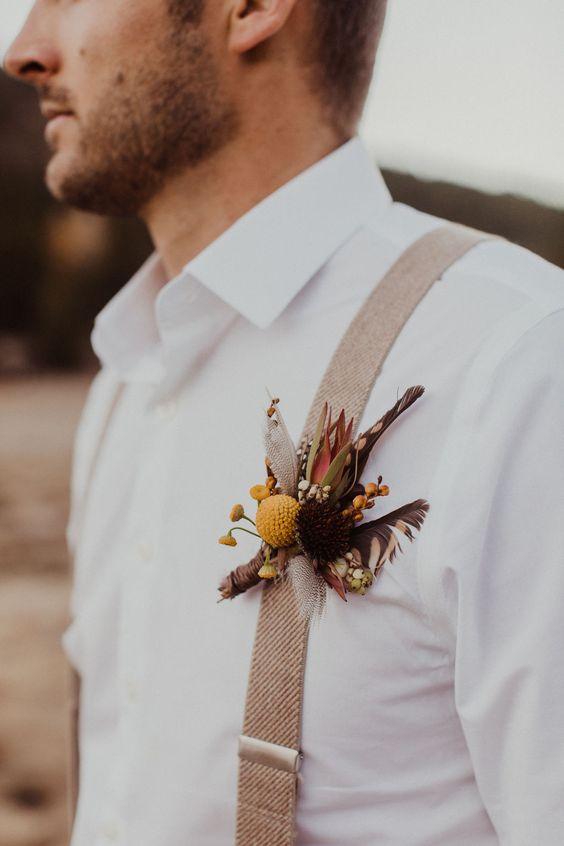 This warm, golden tone is the perfect addition to your wedding and if you aren't opting for a blazer you can pop the arrangement straight onto braces.
24. Bright Wedding Buttonhole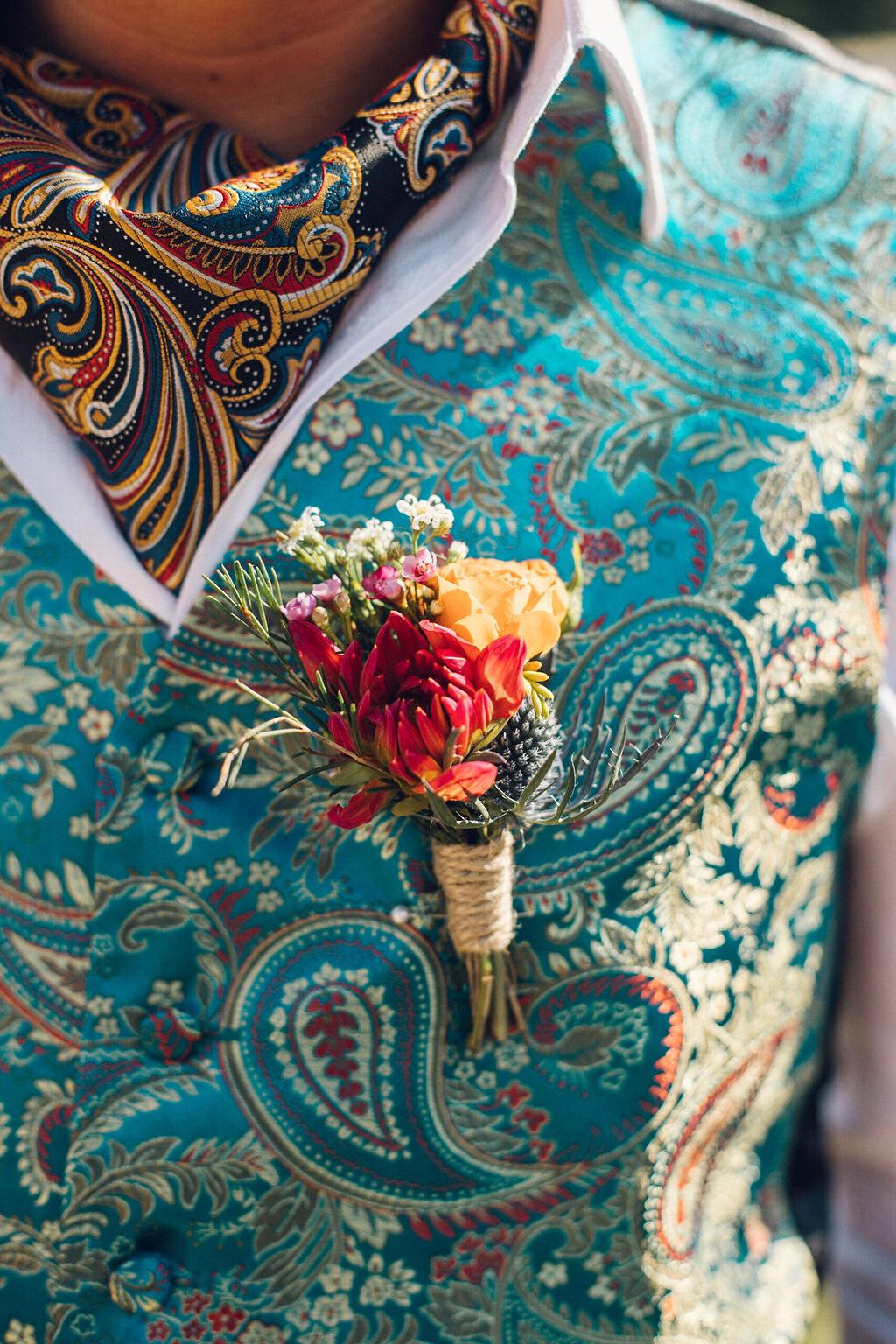 The sky's the limit when it comes to bright buttonholes, you can go as vibrant or subdued as you please. Don't be afraid to clash colours like pink and red or yellow and blue - it can make a beautiful statement piece.
25. Berry Wedding Buttonhole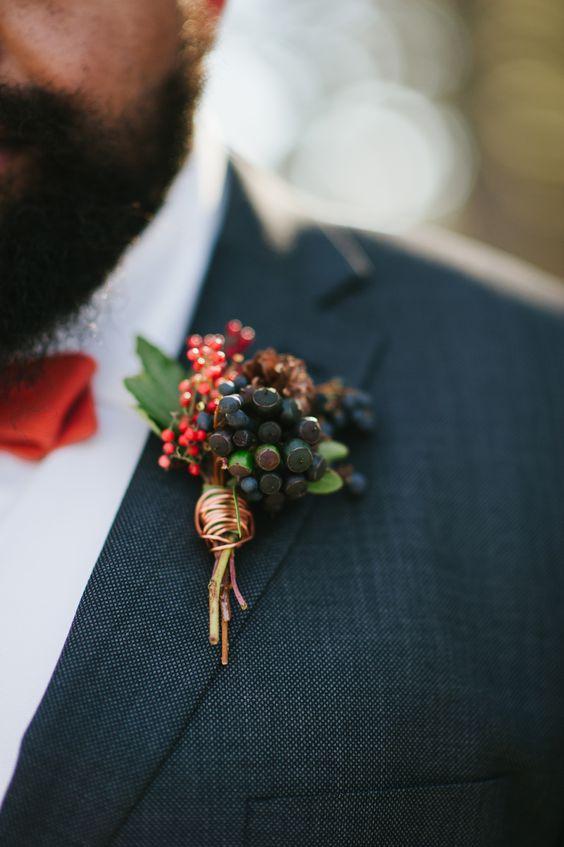 Using berries in place of a floral buttonhole is ideal for a country style wedding day or a more informal look. Pop a sprig of holly into the arrangement like this groom has done for a festive celebration.
26. Pretty Wedding Buttonhole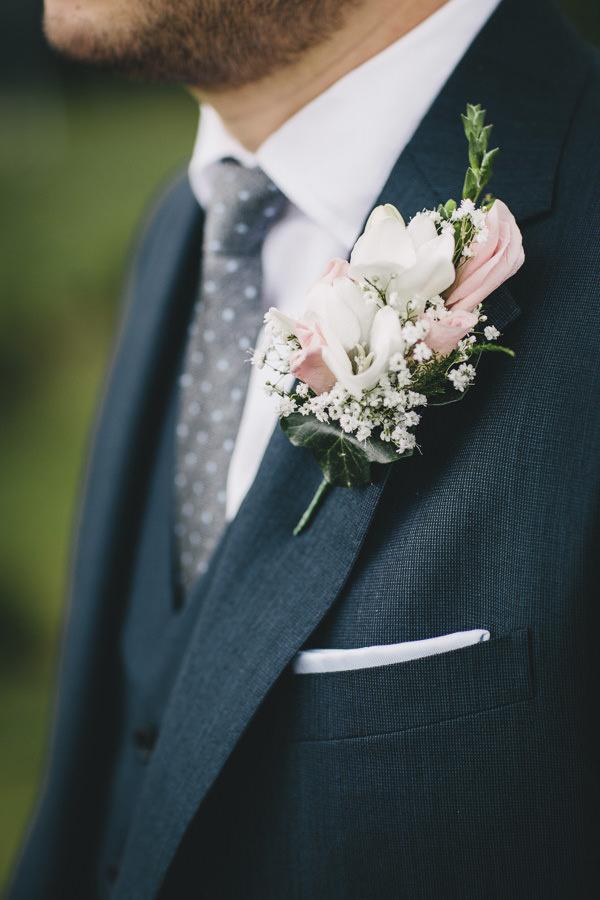 This pretty pink and white buttonhole is a classic choice that'll work just as well at a rustic barn wedding as it would at a sophisticated city celebration. The extra addition of ivy gives the buttonhole a gorgeous green base.
27. Vintage Wedding Buttonhole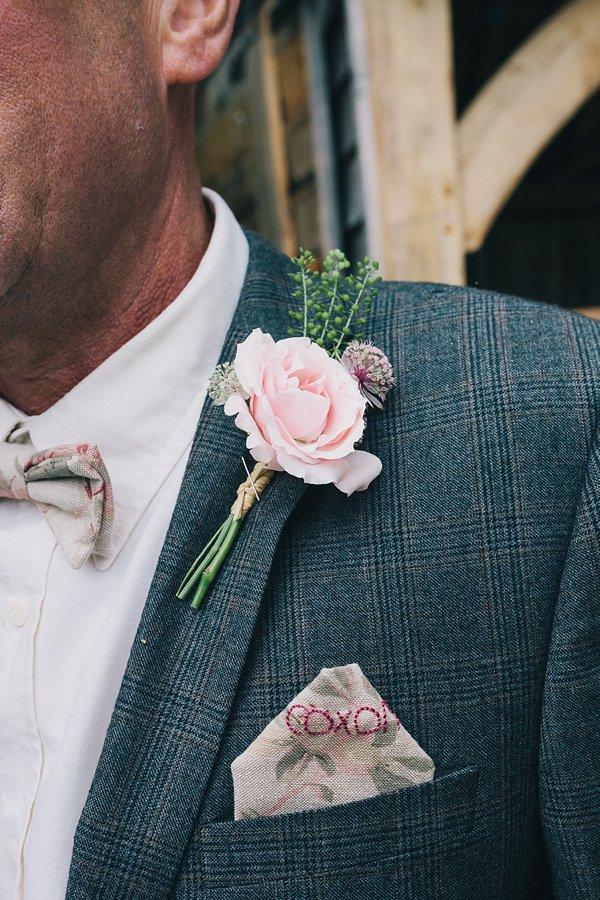 You can get wedding inspiration from all kinds of different places and this groom has matched his buttonhole to the vintage fabric used for his handkerchief and bow-tie.
28. Playful Wedding Buttonhole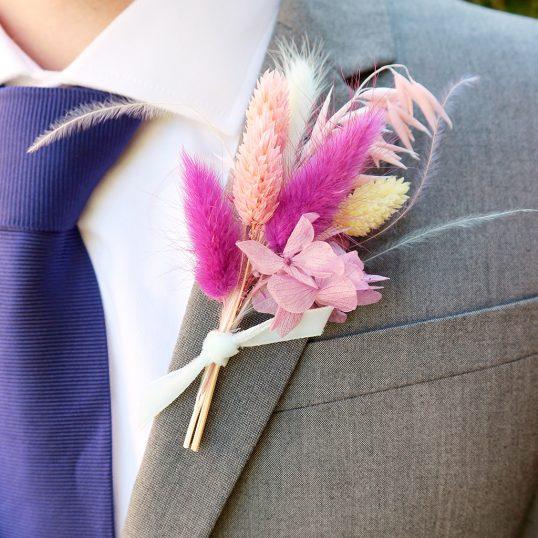 Not all dried blooms come in neutral shades, this playful piece has bright pink, yellow and peach tones running throughout. We love the ethereal, wispy feathers added that finish the look off.
Another big day detail you'll want to get right is your wedding cake topper. These 43 unique wedding cake topper ideas will be the cherry on top of your special sponge.