Poetry can be the best way to express your feelings when you have something difficult to say. That's why we've rounded up the loveliest poems that relate to weddings affected by COVID-19.
If you've had to postpone your wedding, we've found the best verses to include in your announcement to guests. Want to bring comfort to a couple who've had to put their plans on hold? We've found poems for that, too. And if you want to include wedding poems on the big day that reference your disrupted planning journey, we have some gorgeous lines you'll love.
The thing about Covid-related wedding poems is that they really don't have to be depressing. The poetry here is all about hope for the future, while acknowledging the tough times we've all experienced, as well as love and gratitude for all the people who are close to you.
From the funny to the romantic, here are the Covid wedding poems that will hopefully bring some light.
READ MORE
Covid Wedding Poems for the Couple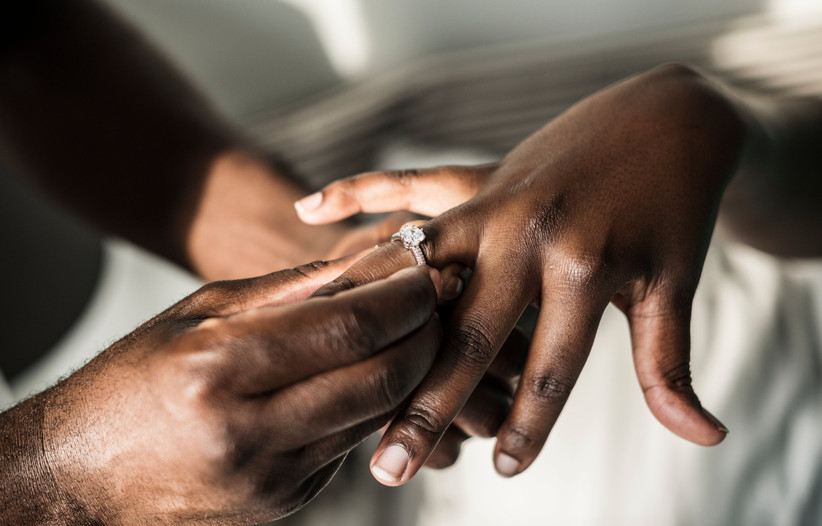 Love in the Time of Coronavirus – Nikita Gill
'Even in sickness, this world
is allowed to be beautiful.'
Send your friends and family some very of-the-moment hope when you tell them you're postponing your wedding.
Waiting – Emily Dickinson
'And tell each other how we sang
To keep the dark away.'
A poem about waiting for the one you love feels very apt.
Invictus – William Ernest Henley
'I thank whatever gods may be
For my unconquerable soul.'
This is one of the most famous inspirational poems of all time - for good reason. Show your guests you're not beaten.
'When care is pressing you down a bit,
Rest if you must—but don't you quit.'
The idea here is to keep pushing on even when times are difficult - sound familiar?
READ MORE: How to Adjust Your Wedding Invite Wording During COVID-19
The Way It Is – William Stafford
'Nothing you do can stop time's unfolding.
You don't ever let go of the thread.'
The directness of this poem about keeping going is what makes it so affecting.
'Serene, I fold my hands and wait,
Nor care for wind, nor tide, nor sea.'
This poem is about being able to wait with patience because you know your destiny will come one day, which feels very fitting.
New Every Morning – Susan Coolidge
'Take heart with the day and begin again.'
A short poem with a clear-eyed message of hope.
We'll Meet Again – Charles Hugh & Ross Parker Clarke (lyrics)
'But I know we'll meet again
Some sunny day.'
Yes, we know it's a song, not a poem, but there was no way we'd fail to include We'll Meet Again here; the hopeful lyrics are so poignant.
READ MORE: How to Cut Your Wedding Guest List Down: 8 Practical Tips from the Experts
Covid Wedding Poems for Guests
Hold on a While – Amos Russel Wells
'And - just - hold on a while.'
As the title suggests, this one's about waiting out hard times.
Your Catfish Friend – Richard Brautigan
'I'd love you and be your catfish friend.'
A quirky, charming poem about wanting to take your friend's pain away.
Song of Hope – Thomas Hardy
'Tomorrow shines soon
Shines soon!'
An uplifting poem that speaks of the good times to come.
A Time to Talk – Robert Frost
'No, not as there is time to talk.'
This poem celebrates making time to really talk to a friend - send it to someone who may want to vent about postponing their wedding.
READ MORE: 7 Things Not to Say to Someone Who Has Postponed Their Wedding
Thinking – Walter D. Wintle
'If you think you are beaten, you are'
This poem is about how attitude can make all the difference.
The Pleasures of Friendship – Stevie Smith
'The pleasures of friendship are exquisite.'
Want to suggest an in-person catch-up to talk about their postponed wedding? Use this short poem.
On Friendship – Kahlil Gibran
'In the sweetness of friendship, let there be laughter.'
A hymn to the power of friendship - let the couple know you'll be there for them.
READ MORE: How to Decline a Wedding Invitation during Coronavirus
Covid Wedding Poems for Readings, Speeches & Toasts
Heart to Heart – Rita Dove
'It's all yours, now—
but you'll have
to take me,
too.'
If you want to express your love without getting too sentimental - after all, we've collectively been on an emotional rollercoaster - this is one of the most wry yet beautiful love poems.
Before You Came – Faiz Ahmed Faiz
'Now everything is like my heart.'
This poem reflects on how love can make the ordinary extraordinary - a wonderful sentiment for a long-awaited wedding.
I Loved You first: But Afterwards Your Love – Christina Rosetti
'Rich love knows nought of "thine that is not mine."'
If you feel like lockdown brought you closer together, this love poem could work beautifully at your wedding.
A Red, Red Rose – Robert Burns
'And I will come again, my luve,
Though it were ten thousand mile.'
A poem about love that overcomes separation - ideal if you had to spend time apart due to the pandemic.
i carry your heart – e.e. cummings
'i fear
no fate (for you are my fate, my sweet) i want
no world (for beautiful you are my world, my true).'
If you've waited for a long time for your wedding and want to go all-out with the romance, choose this heartfelt poem.
READ MORE: How to Write a Coronavirus Wedding Speech
'Your love is the weather of my being.
What is an island without the sea?'
More major romance here - and why not, if your wedding has been a long time coming?
To Silvia, to Wed – Robert Herrick
'Let us, though late, at last, my Silvia, wed.'
A poem that expresses impatience to marry someone definitely feels right.
'Long years apart can make no
Breach a second cannot fill.
Bit of an obscure one, so you may need to explain it to guests, but essentially, it's a poem about love that endures.
READ MORE: 51 Covid Wedding Songs That Perfectly Sum up How You Feel
Touched by an Angel – Maya Angelou
'In the flush of love's light
we dare be brave.'
A gorgeous poem about how love changes us and helps us find courage - something we all needed in 2020.
Hope Is the Thing with Feathers – Emily Dickinson
'Hope is the thing with feathers
That perches in the soul.'
This beautiful poem celebrates our capacity for hope, which is the perfect sentiment after difficult times.
Are you getting married while there are restrictions in place? Our round-up of the best Covid-19 wedding ideas helps you keep guests safe while still having a magical day.