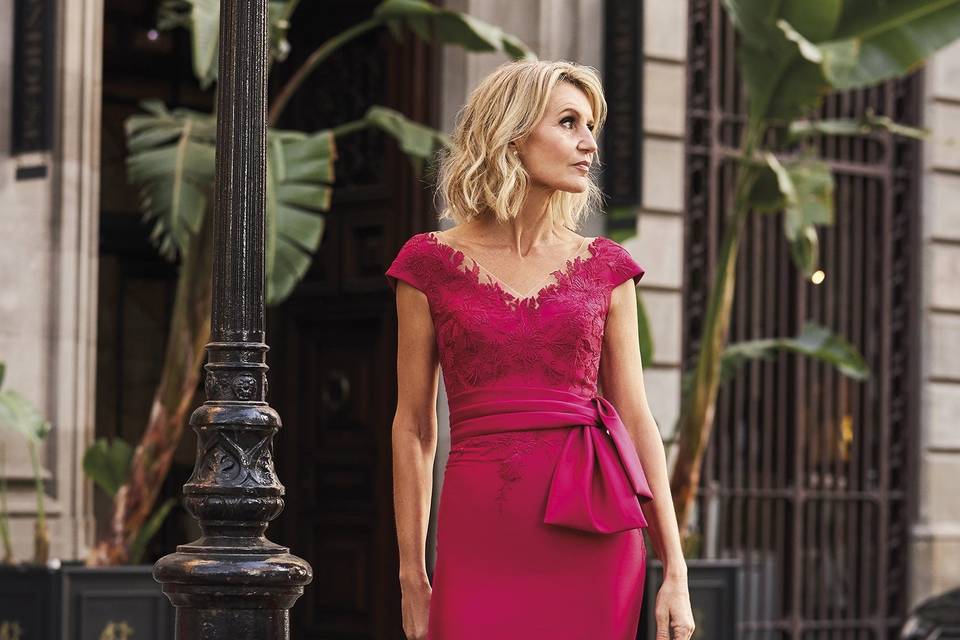 When it comes to mother of the bride dresses and outfits, there are no hard and fast rules anymore. The only thing you need to have in mind is finding an outfit that makes you feel good.
After all, this wedding is a special day for you, too!
For far too long, stereotypical mother of the bride outfits were - let's be honest - rather frumpy, and were designed to conceal rather than to flatter. That's no longer the case.
From elegant tea-length and long dresses to more unusual outfit ideas, we've found the mother of the bride outfits that are sure to have you feeling your confident best on the big day.
Our edit features beautiful mother of the bride dresses and outfits to suit an array of body shapes, styles and budgets. These looks reference current trends, for a fresh effect, but at the same time they're utterly timeless and very wearable. And let's be honest - they're perfect for the mother of the groom too, right?
What Does the Mother of the Bride Wear?
Think in terms of comfort as well as style. If it's a long celebration, you'll want something you'll feel comfortable in for many hours. For the same reason, avoid any fabrics that crease easily. You should also think about what you'll be doing on the wedding day - if you're due to help your son or daughter get ready, or do any last-minute décor set-up, you'll want a mother of the bride outfit you can move in with ease.
Consult your child! Ask then if there are any particular colours they'd like you to stick to (or any colours to steer clear of), and find out whether they'd like you to pick up any elements of the bridesmaids' outfits, for a cohesive wedding party look.
Chat to the other mother of the bride or groom about your outfit choice – you do not want to turn up in the same dress...
Take inspiration from the season and the venue. Summer garden wedding? Pastel shades will look pretty. Modern city winter wedding? Consider a bold colour or something monochromatic.
Invest in a good quality outfit. It'll last you a lifetime and give you a great silhouette.
Treat yourself! Have a pampering session and get your hair and makeup done professionally on the morning of the wedding – that way, it'll last perfectly even when you're running around after the bride.
Don't forget accessories. Whether you're buying new or using jewellery and shoes you already own, the finishing touches will really make a difference to your overall look.
Now you're ready to go shopping!
Short & Midi Mother of the Bride Dresses
1. Lizelle Chiffon Dress With Tie

- £250, Gina Bacconi

This simple tie dress that comes in multiple colours embraces an understated elegance that makes it perfect for a mother of the bride. The chiffon material and fluttering sleeves are fresh and inviting, and you'll get no end of compliments on your contemporary, youthful dress choice.
2. Brown Snake Print Tie Waist Midi Dress

- £50, River Island

This beautifully flattering gown is a bargain buy! It looks effortlessly more expensive than its price tag and you'll want to wear it again and again after the big day. We love the puff sleeve and tiered hem detail.
3. Bianna Moss Crepe Dress – £350, Gina Bacconi
This Gina Bacconi dress is wonderfully sophisticated for a mother of the bride look, and can easily be accessorised to make it your own. If your child isn't keen on the idea of you wearing ivory, it also comes in pink and navy.
4. Titania Navy Smock Dress – £125, Kitri
A chic option from fashion editors' favourite Kitri. The puffed sleeves and high neck of this Titania dress keep the silhouette contemporary, and the midi length makes it easy to wear.
5. Puff Sleeve Jersey Dress – £85, Boden
Boden's puff sleef jersey dress is an easy-wearing classic, with a flattering full skirt. The pared-back style will suit a minimalist mother of the bride.
6. Sidney Shift Dress - £100, L.K. Bennett
Tweed is having a serious moment; L.K. Bennett's Sidney shift dress is the perfect example. With its striped grosgrain ribbon embellishment, raw-edge trim and patch pockets, it's the epitome of laid-back cool with a high-fashion feel. Want to take it in a more formal direction? Add the matching jacket.
READ MORE: 32 Stunning Mother of the Bride Hairstyles
7. Style 991532 – £699, Veni Infantino
The dream dress for a garden party style wedding, style 992532 by Veni Infantino is a flattering tea length and features a lovely illusion neckline.
8. ATOL Style 112 £360, Pronovias
An effortlessly chic cocktail dress designed for stylish mothers of the bride, the details of ATOL Style 112 by Pronovias are perfectly judged, from the lace bodice to the sash belt.
9. Mila Shift Dress – £55, Hobbs
If you'd prefer a long sleeve in summer, go for sheer, to keep the look light (and so you don't over-heat!). This pink Mila dress from Hobbs is perfect, and comes in a beautifully romantic pale pink.
10. Curve Bardot Neck Embroidered Midi Dress – £135.20, Coast
This Bardot neck dress is pretty as a picture, with an eye-catching embroidered skirt and a figure-flattering silhouette.
READ MORE: Mother of the Bride Duties Explained
11. Knitted Frill Full Skirt Dress – £195, Ted Baker
You can't go wrong in a statement dress if you're playing the very important role of mother of the bride.
This full-skirt design features a monochrome deep purple colour as well as flattering belt detail and feminine A-line cut. Pair with silver accessories and you'll look so refined, or go for gold for to accentuate the warm tones.
12. Aldora Chiffon Lace Dress – £179, Phase Eight
Sticking with feminine dresses, the gorgeous Aldora Chiffon Lace Dress by Phase Eight is a statement take on classic lace and would look great at your child's wedding whatever the season. We're huge fans of the stunning pleat detail and balloon sleeves.
13. Ella Floral Print Dress – £130, Phase Eight
This floral dress is pure elegance, from the delicate print to the on-trend high neck with twist detailing. That waist tie is a lovely finishing touch. All in all, a designer-look piece at a high street price point.
14. Gold Sequin Midi Dress – £48, Dorothy Perkins
Pair this shimmering dress with chic barely-there heels or flats, and you have a contemporary, all-eyes-on-you ensemble that says you're ready to party. You can wear this dress with minimal jewellery as the dress doubles as a statement piece. It would also look striking as a gold bridesmaid dress, if the mother of the bride decided not to go for it...
READ MORE: What to Say in a Mother of the Bride Speech
15. Black Bardot Stripe Detail Midi Dress – £79, Sosandar
Sosandar is a great brand for stylish, easy-wearing pieces that won't break the bank - like this Bardot neck dress. You can dress it up or down depending on the style of the wedding, and the fine-knit fabric would be a pleasure over the course of a long day.
16. Fiona Cotton Blend Shift Dress – £79, Hobbs
A floral shift dress is always in style, and this Hobbs design is particularly elegant. The fuchsia flower print looks striking against the white fabric.
17. Draped Lurex Dress – £299, Maje
When in doubt, go French - Parisian label Maje has some beautiful pieces that would work for mothers of the bride who want something chic yet unusual. This lamé mini-pleat dress is divine, with a fitted waist against a flowing pink skirt.
18. Nightingales Navy Print Tiered Dress – £33.75, JD Williams
Tiered dresses are very on-trend, but it's a look that can easily become too fussy. Not so this JD Williams dress, which has just the right number of tiers, plus a navy background, to stay on the sophisticated side.
READ MORE: How to Choose a Flattering Mother of the Bride Hat
19. Lace Top Overlay Pleated Dress – From £60, Amazon
Who knew you could put together a polished outfit from Amazon? Well, we did, actually, and that's how we came across this elegant and understated gown.
It comes in several colours, but we reckon the navy is the most refined.
20. Rae Colourblock Dress – £119, Hobbs
You can always rely on Hobbs to make contemporary trends timeless, and this colourblock design is no exception.
The fit-and-flare silhouette is very flattering, with a wonderfully crisp navy and ivory colourway - ideal if you're looking for a modern mother of the bride outfit.
21. Multicoloured Wavy Sequin Dress – £79.90, Uterqüe
Who says the mother of the bride can't wear a showstopping halter dress? Just make sure to choose a sophisticated design, as befits your status, like
this Uterqüe dress
. The sequin pattern is exquisite, and you could always add a jacket for when temperatures fall in the evening.
22. Sparkle Jacquard Contrast Ruffle Dress – £159.19, KarenMillen
Stand out from the crowd in this divine forest green tailored dress from Karen Millen. The stunning frill is perfect for the chic mother of the bride who wants something classy and understated but with a hint of drama.
READ MORE: Gifts for Couples: 35 Unique Ideas
Long Mother of the Bride Dresses
23. Daryl Pleated Maxi Dress – £150, Phase Eight
It's all too easy for a bold pattern to look a bit relentless in a long dress. That's why this Phase Eight maxi is so clever: the pleated skirt breaks up the pattern, for an overall effect that's fresh, vibrant and full of movement.
24. Veni Infantino Style 991535 - £700
If glamour is the order of the day, this high-waisted skirt and glittery top combination from Veni Infantino is ideal - just make sure you keep accessories to a minimum for a sophisticated feel.
25. Needle and Thread Waltzing Floral-Print Tulle Gown – £360, Selfridges
This Needle and Thread dress is just beautiful, from the floral pattern to those short flute sleeves. It's the grown-up way to do Spring flower prints, so would be ideal if you want to stay sophisticated yet mood-appropriate at a barn or back garden-style wedding.
26. Melissa Odabash Paisley-Print Voile Maxi Dress – £336, Net-a-Porter
We love the print on this blush voile maxi dress. It would be a gorgeous look for a beach wedding, or you could dress it up even more through your accessories for a smarter summer celebration.
READ MORE: Why Asking My Mum to Walk Me Down the Aisle Was One of the Best Decisions I Made
27. Daiseey Twist Waist Long Sleeve Maxi Dress – £179, Ted Baker
With its sleek feminine design and blouson sleeves, this Ted Baker evening maxi is an absolute find. The vibrant teal blue colour showcased on an almost sculptural silhouette exudes refined sophistication that will look spectacular in photos and on the dance floor.
28. Floral Jacquard Maxi Dress – £28, Warehouse
Jacquard is a popular choice for mother of the bride dresses, and this icy blue option has put a contemporary twist on the look. What makes this Warehouse maxi feel so modern is the fact that the fabric features oversized flower shapes, with a very-now high neck and puff sleeves.
29. Sequin Angel Sleeve Maxi Dress – £79, Coast
Fancy a mother of the bride outfit with some sparkle? All over sequins may be a bit much, but this Coast dress combines a dazzling bodice with a floaty skirt to soften the effect.
30. Rasario Open-Backed Sequined Gown – £743.40, Net-a-Porter
This Rasario dress is a real showstopper! It's the sort of gown you'd expect to see on the red carpet, worn by a sophisticated actress - so it's certainly perfect for playing a starring role as mother of the bride.
READ MORE: The 28 Best Wedding Guest Hair Accessories
Mother of the Bride Dresses with Jackets
31. Condici Style 70977 - £835
Spring and even summer evenings can be chilly in the UK, so choose a style that comes with a jacket, like Condici style 70977. The dress features a floral top and delicate diamante at the waist.
32. Carly Floral Midi Dress & Eliza Jacket – £129 & £129, Hobbs
Of course, a jacket isn't just for keeping warm at a wedding - it can also help to make your overall look even smarter. Hobbs' Elize jacket, for example, adds a chic note of formality to the Carly midi dress.
33. Condici 70993 - £819
As a softer alternative to a jacket, why not try a cape? Style 70993 by Condici comes with a lightweight, waterfall version with slashed sleeves - perfect for a summer's evening.
34. Mariposa Floral Lace Bodice Dress & Mariposa Occasion Jacket – £130 & £160, Phase Eight
The Mariposa jacket looks so romantic with the matching dress, contrasting beautifully with that intricate lace bodice. The shade of pink is perfect - elegant rather than sugary.
35. Nightingales Ivory Lace Dress & Jacket – £52.50, JD Williams
We love the way this JD Williams design feels so coherent - the jacket picks up on the lace of the gown, and falls just so, to emphasise the beaded waistband.
READ MORE: The 31 Best Mother of the Bride Outfits for Every Budget
Mother of the Bride Trouser Suits
36. Collar Detail Cropped Jumpsuit – 840, Boden
Jumpsuits work beautifully for a contemporary-chic mother of the bride look. We love the figure-flattering shape of Boden's satin-style jumpsuit in the pattern Berry Bird - from the V-neck to the wide legs, this is such an elegant silhouette.
37. Twist Neck Jumpsuit – £35, Warehouse
This Warehouse jumpsuit is such a fresh take on the traditional summery jumpsuits out there, with chic wide-leg trousers and a twist detail at the neck. Pair with statement jewellery or keep the whole look pared-back and minimalist.
38. Audrey Blouson Sleeve Jumpsuit – £65, Phase Eight
This two-tone jumpsuit has a beautifully romantic feel, and we love those sheer sleeves for a spring mother of the bride look.
39. Casey Floral Bodice Tapered Jumpsuit – £90, Phase Eight
Phase Eight really are nailing it with their jumpsuits at the moment, and the stylish Casey is no exception. It's a great look if you prefer darker colours but don't want to look too sombre at the wedding!
READ MORE: The 60 Best Mother and Son Dance Songs
40. Leah Wide Leg Tailored Trousers – £138, Reiss
These sleek suit trousers are contemporary elegance at their best. Pair it with the Riley Silk Front Vest for a perfect summertime beachy look.
Monsoon Mother of the Bride
41. Carena Crane Devore Velvet Midi Dress Black – £120, Monsoon
There's so much to love about this Monsoon dress - where do we start? That figure-flattering silhouette; the intricate floral print; the black velvet V-neck bodice - it all adds up to a gorgeous mother of the bride look.
42. Susan Embellished Sequin Midi Dress - £98, Monsoon
The pops of colour on this all-black dress from Monsoon add some intrigue and sparkle to this simple, refined ensemble. Pair it with strappy sandals and silver jewellery for your son or daughter's Winter wedding.
43. Tilly Tiered Maxi dress - £110, Monsoon
Sparkle like the star you are in Monsoon's tulle Tilly dress. It has a gloriously royal feel to it, without being in any way costume-y.
44. Ivy Satin Lace Maxi Dress - £110, Monsoon
Well, this is just lovely. Monsoon's Ivy maxi has the perfect balance of contemporary touches and timeless appeal.
READ MORE: The 25 Best Wedding Films on Netflix, Amazong Prime and Now TV
45. Lolita Lace Midi Dress – £99, Monsoon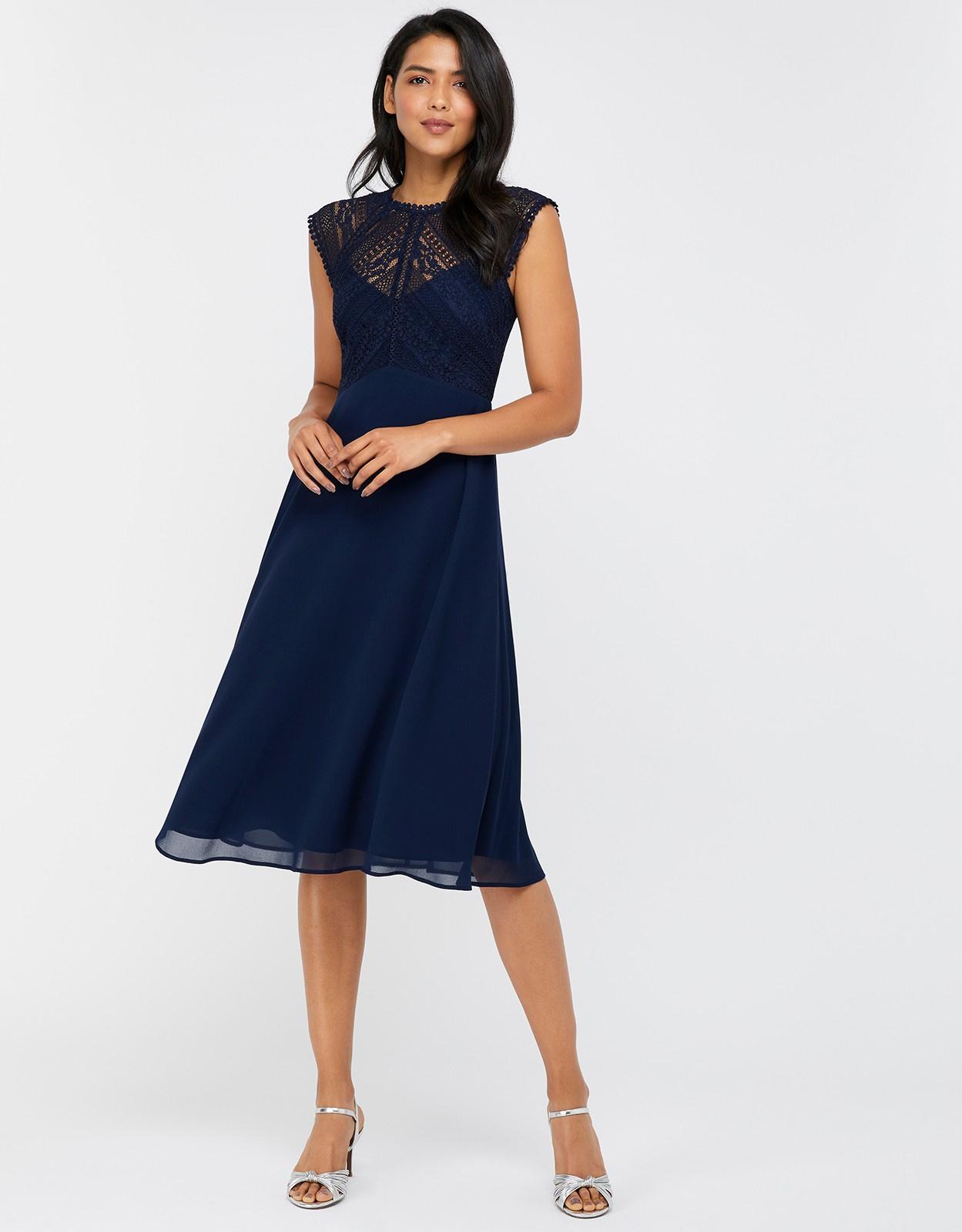 You'll exude classic elegance all day long in Monsoon's Lolita lace dress.
Designed in a sweeping midi-length and with a delicate lace bodice, the keyhole back adds a stylish finishing touch.
46. Rosalie Embellished Midi Dress – £150, Monsoon
Want a mother of the bride dress that's unashamedly pretty? Rosalie combines sequin prints, a heather grey, and layered mesh detail in a wrap style, all to a bewitching effect.
Plus Size Mother of the Bride Dresses
Note: most of the other dresses in our edit above are available in plus sizes, too. You can also browse even more plus size mother of the bride dresses here.
47. Joanna Hope Sequin Midi Dress – £85, Simply Be.
Simply Be. is one of our favourite destinations for plus-size style, with a range of designers as well as their in-house label. This sequin maxi is utterly enchanting, with a tulle skirt we can't get enough of.
48. Long Sleeve Shirt Dress – £56, Chi Chi London
Planning a glamorous mother of the bride look? This striking silky shirt dress must be a real contender, with its colourful pattern and tie-belt waist.
49. Black A-Line Dress – £390, The Hour
The Hour is the name to know for perfectly cut plus-size designs with an emphasis on quality fabrics - like this black a-line dress. It's lined with satin so it feels deliciously soft to wear, and the precision cut makes it a very refined proposition.
50. Studio 8 Rachel Wrap Dress – £65, John Lewis
You can't go far wrong with a wrap dress, and this mother of the bride dress by Studio 8 is guaranteed to turn heads.
From the gorgeous emerald colour to the ruffle detailing around the neckline and the luxurious fabric, there's so much to love about this piece.
Make sure you hurry – we predict a sell out!
51. Studio 8 Nola Jacquard Dress – £62, John Lewis
The magenta shade of this Studio 8 occasion dress is giving us real autumn vibes. Designed in a flattering wrap silhouette, the dress features romantic angel sleeves and an asymmetric frilled hem. Pair with metallic heels for a show-stopping look.
Now you've chosen your mother of the bride outfit, you'd better refresh your memory on your mother of the bride duties in time for the big day…