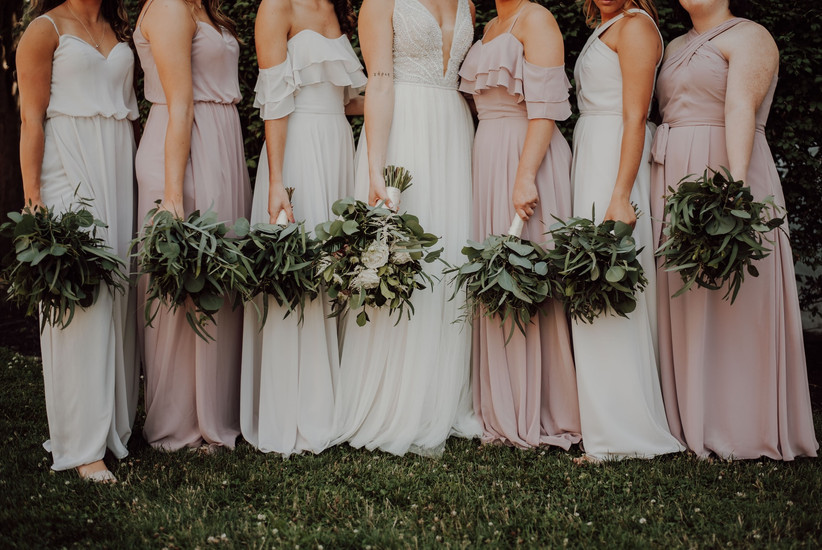 Long bridesmaid dresses are a wedding classic for good reason.
A longer gown means timeless elegance, whether you choose a floor-sweeping maxi or an ankle-grazing hem. But that's not to say that long bridesmaid dresses are boring - far from it.
You can find longer dresses to suit all different wedding styles, from boho prettiness through to sculptural, city-appropriate chic and red-carpet glamour.
One thing to consider is that unless you choose bridesmaids of exactly the same height (unlikely, but possible), you may need to have the hems taken up for a perfect fit for each person. This will also need to take into account whether they're wearing heels or flats.
Speaking of shoes: if any of your bridesmaids is planning on a heel, suggest they practise walking in the full outfit ahead of the big day, to avoid any heel-to-hem tripping incidents.
Of course, not all long bridesmaid dresses are created equal. That's why we've put together the definitive edit of the best you can buy in 2021.
We have included third party products to help you navigate and enjoy life's biggest moments. Purchases made through links on this page may earn us a commission.
1. Winslow Dress – £300, Reformation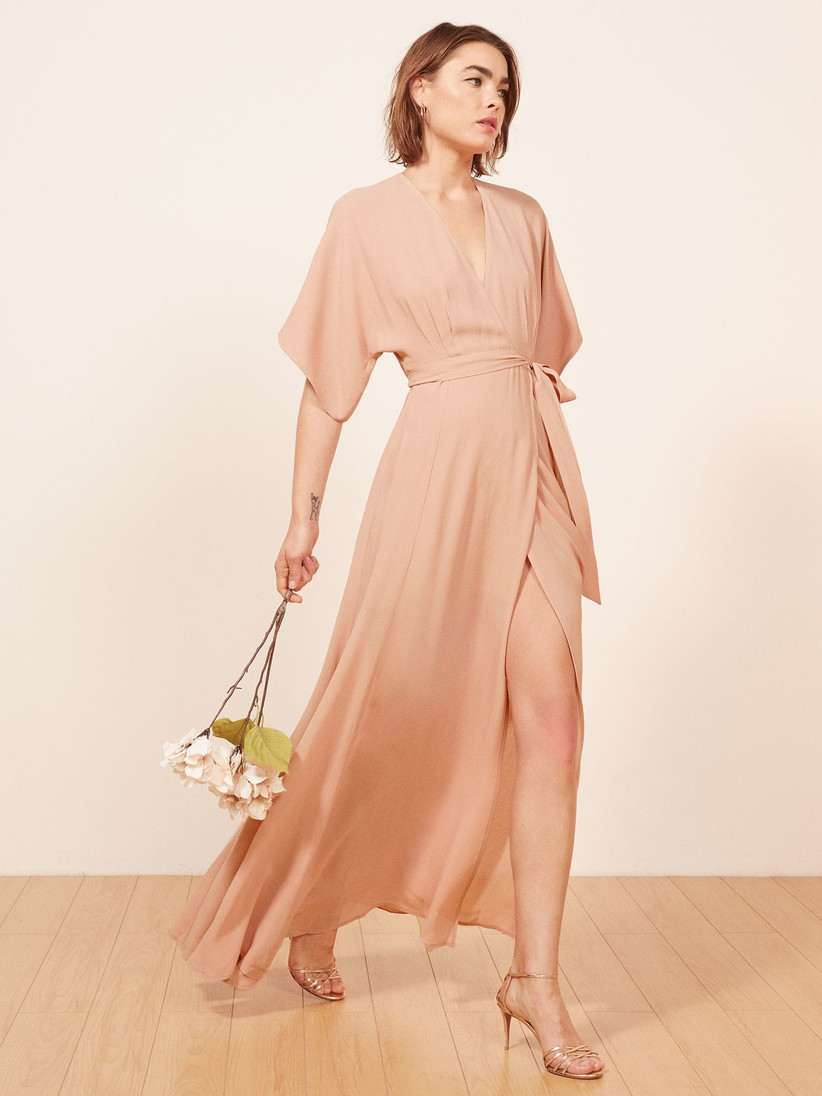 If there was ever any doubt, Reformation's Winslow dress proves long bridesmaid dresses can still be sexy. What's more, the wrap style is easy to wear and suits anyone.
2. Curve Embroidered Long Sleeve Maxi Dress – £139, Coast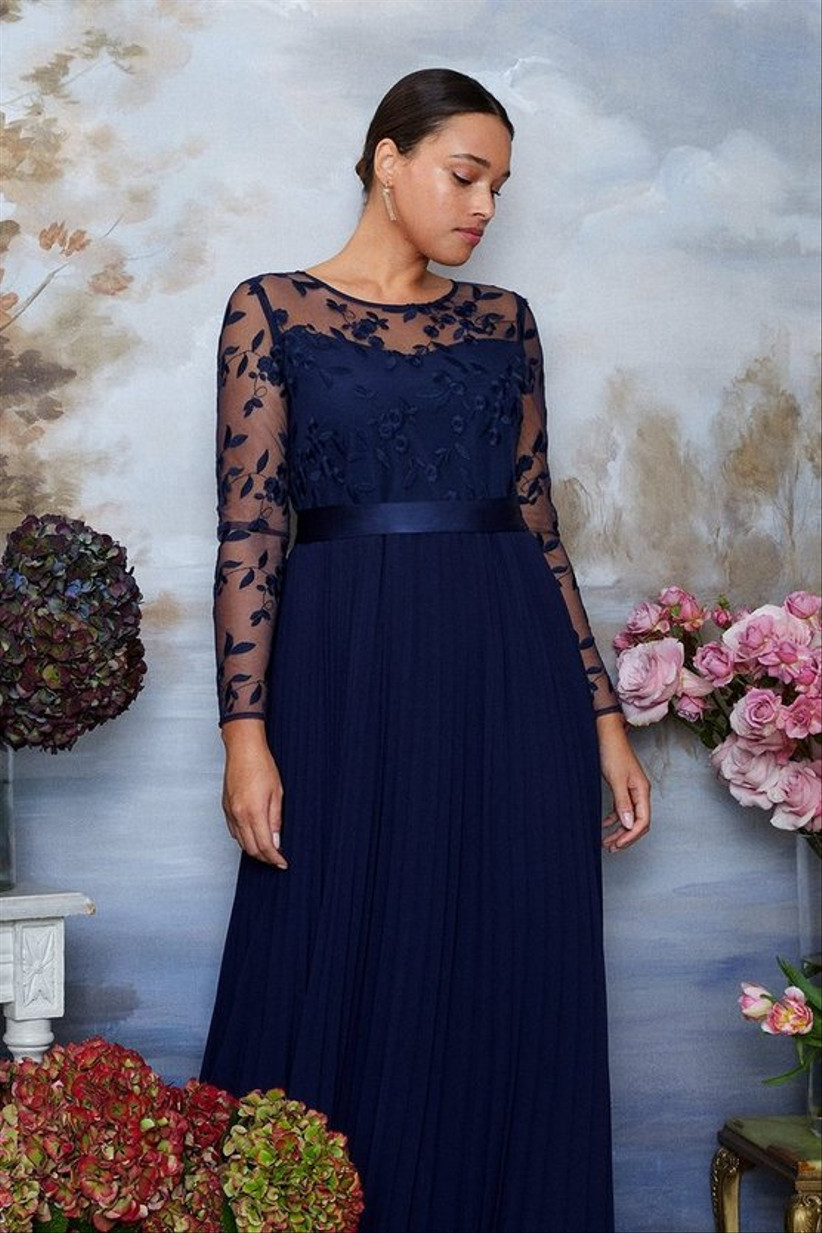 We love the sleeves on Coast's navy bridesmaid maxi - the fact that they're mesh keeps the overall look light and delicate.
3. Lace Bardot Maxi Dress – £62, Oasis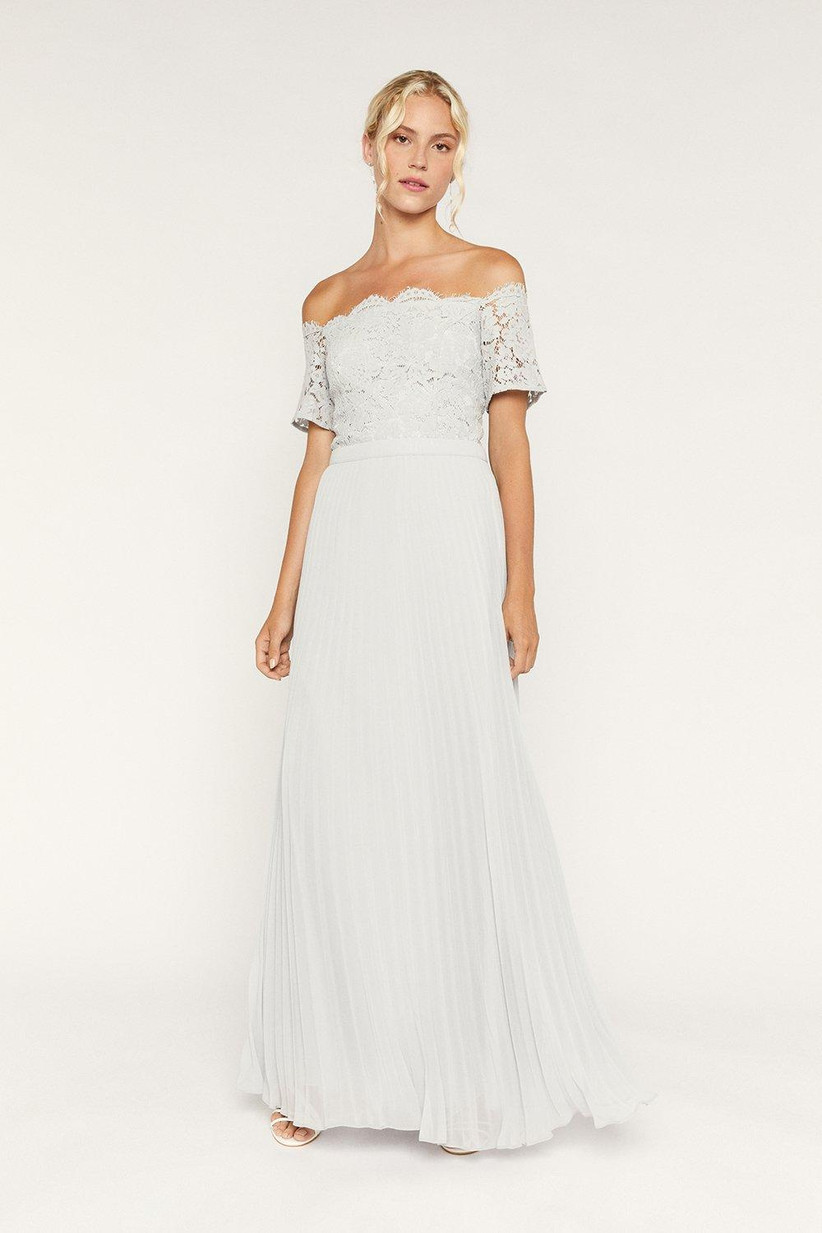 Pale grey is such a chic shade for a bridesmaid dress, and it'll go with most colour palettes. This long Oasis gown features a lace bodice that contrasts beautifully with the flowing, pleated skirt.
4. Jessica Slinky Jersey Maxi Dress – £99, Monsoon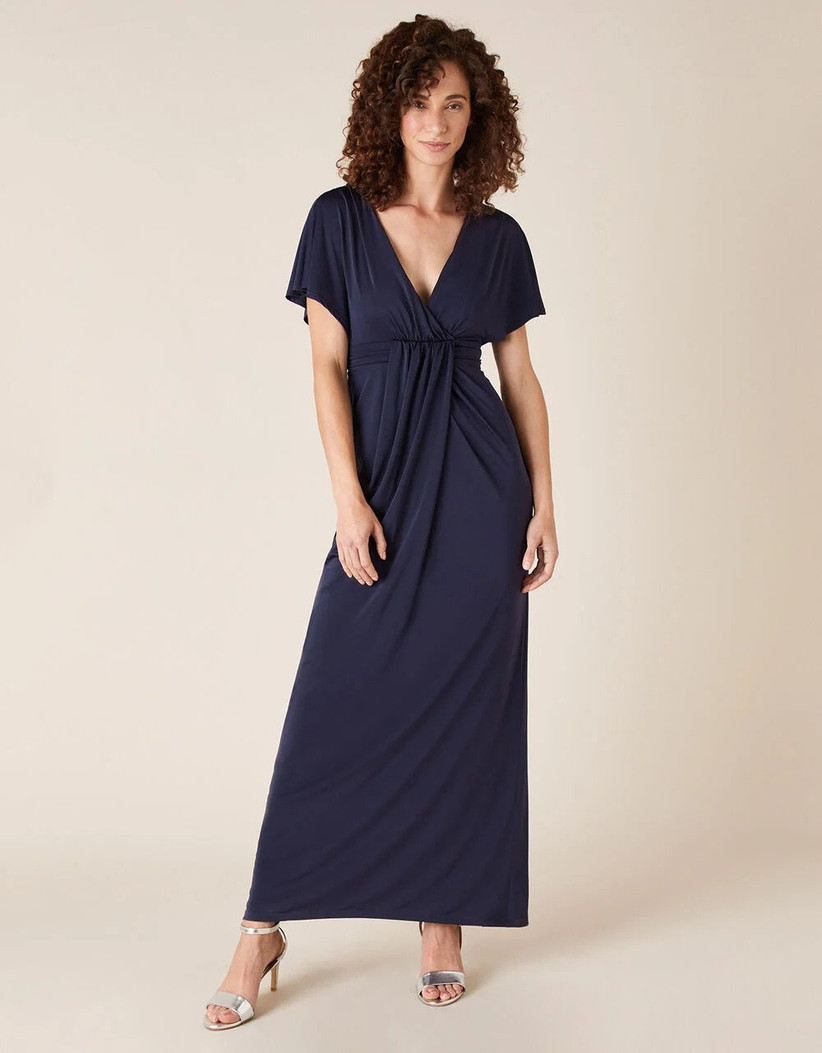 This slinky dress is ideal if your bridesmaids all have very different styles - it's pared-back enough that they can each make it their own through their accessories choices.
5. Berlin Dress – £140, Rewritten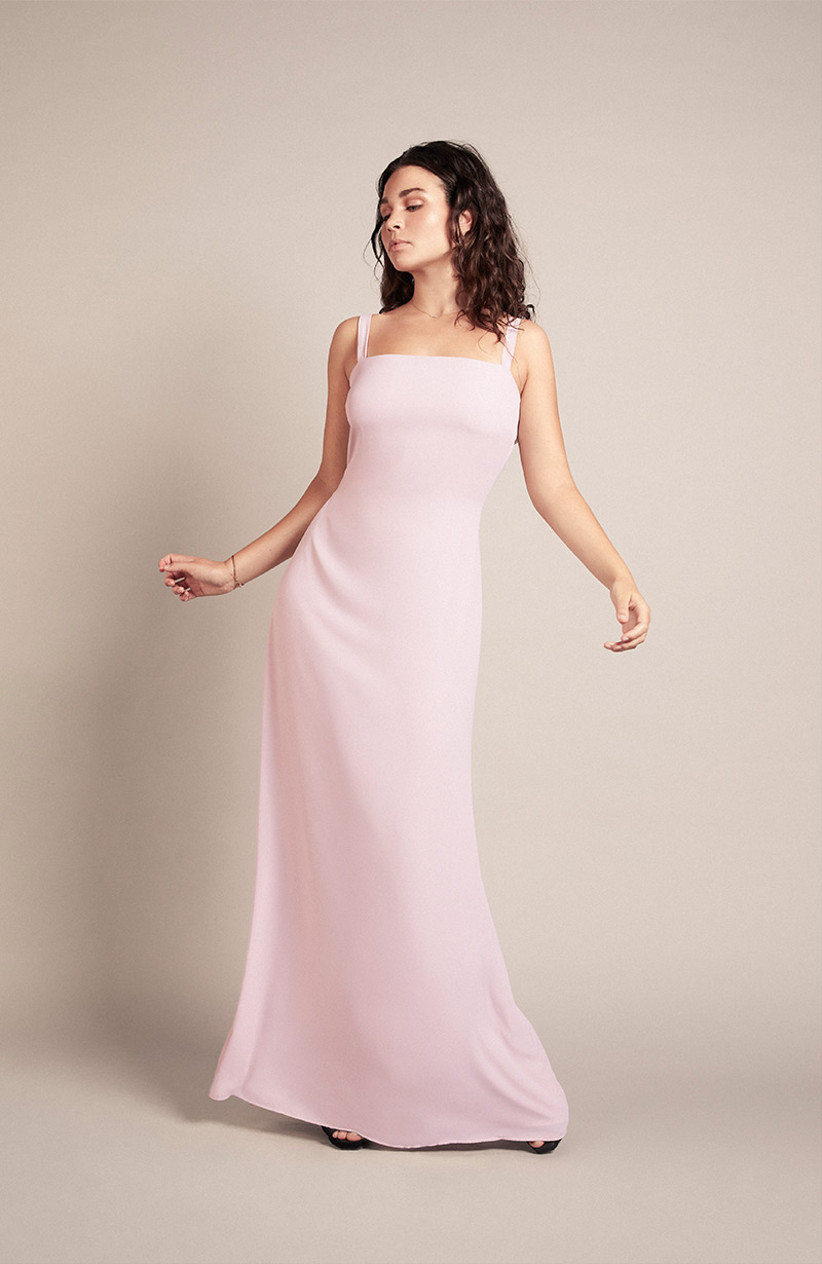 There's something very red carpet about Rewritten's Berlin dress - its glamour comes from its simplicity. It's available in 9 other colours.
READ MORE: 16 Best Places to Buy Bridesmaid Dresses Online
6. Ingrid Dress – £375, Reformation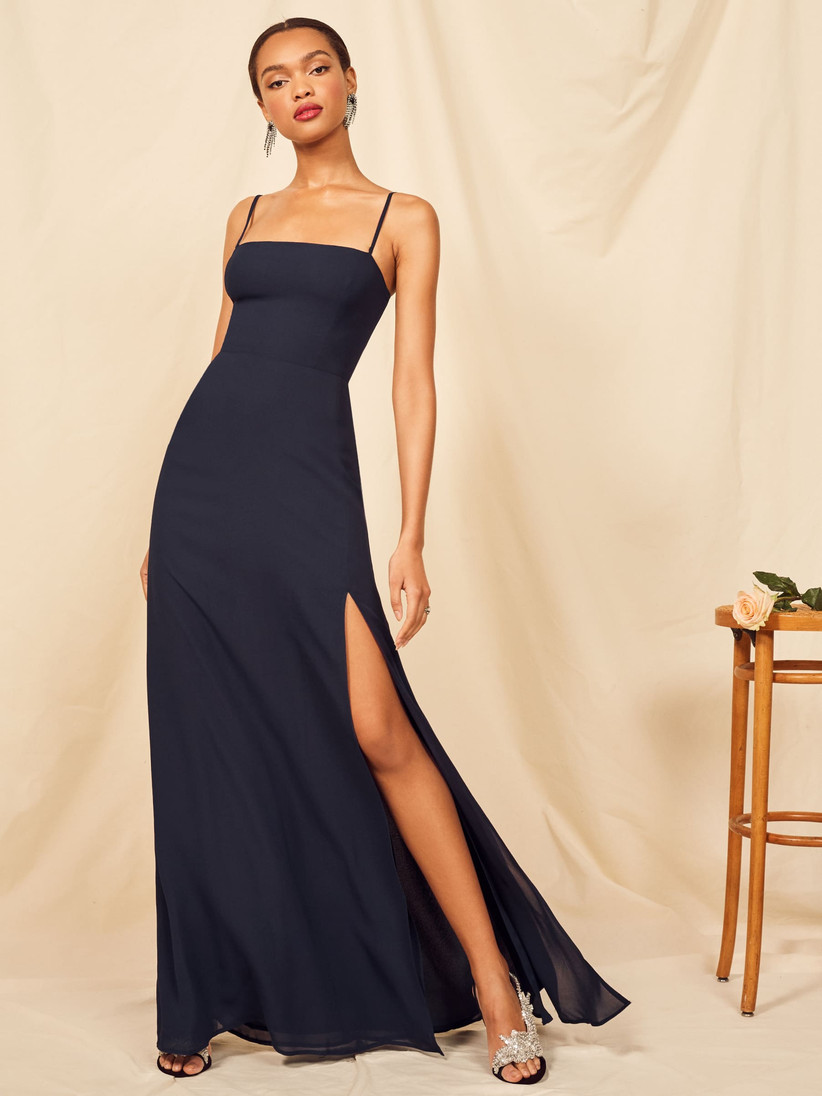 The flowing lines of Reformation's long Ingrid dress make it an elegant choice for bridesmaids. The best bit? They can switch up their styles as the straps are removable.
7. Tulle Tiered Midaxi Dress – £99, Warehouse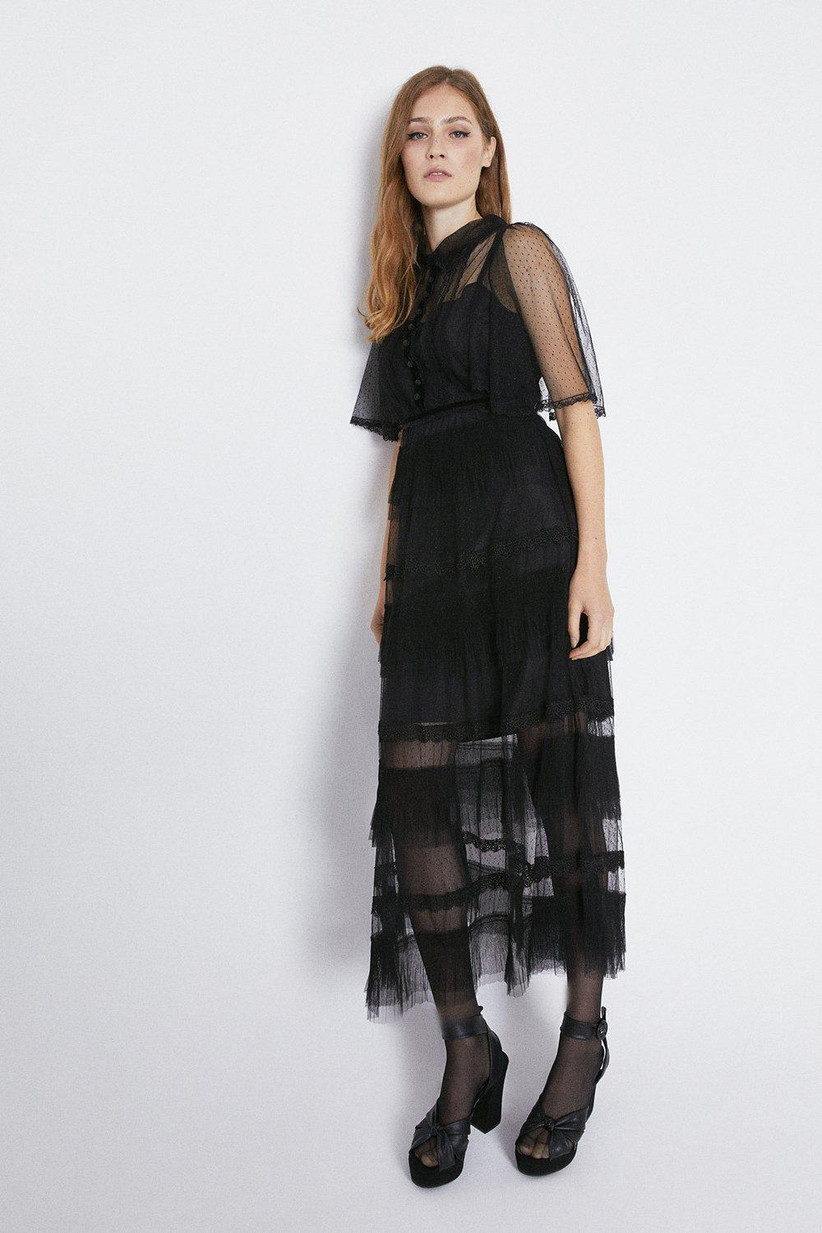 If you're dreaming of a Gothic-inflected look for your bridesmaids, check out Warehouse's tiered dress - black tulle feels both sophisticated and romantic.
8. Tempest Bodice Maxi Dress – £260, Needle & Thread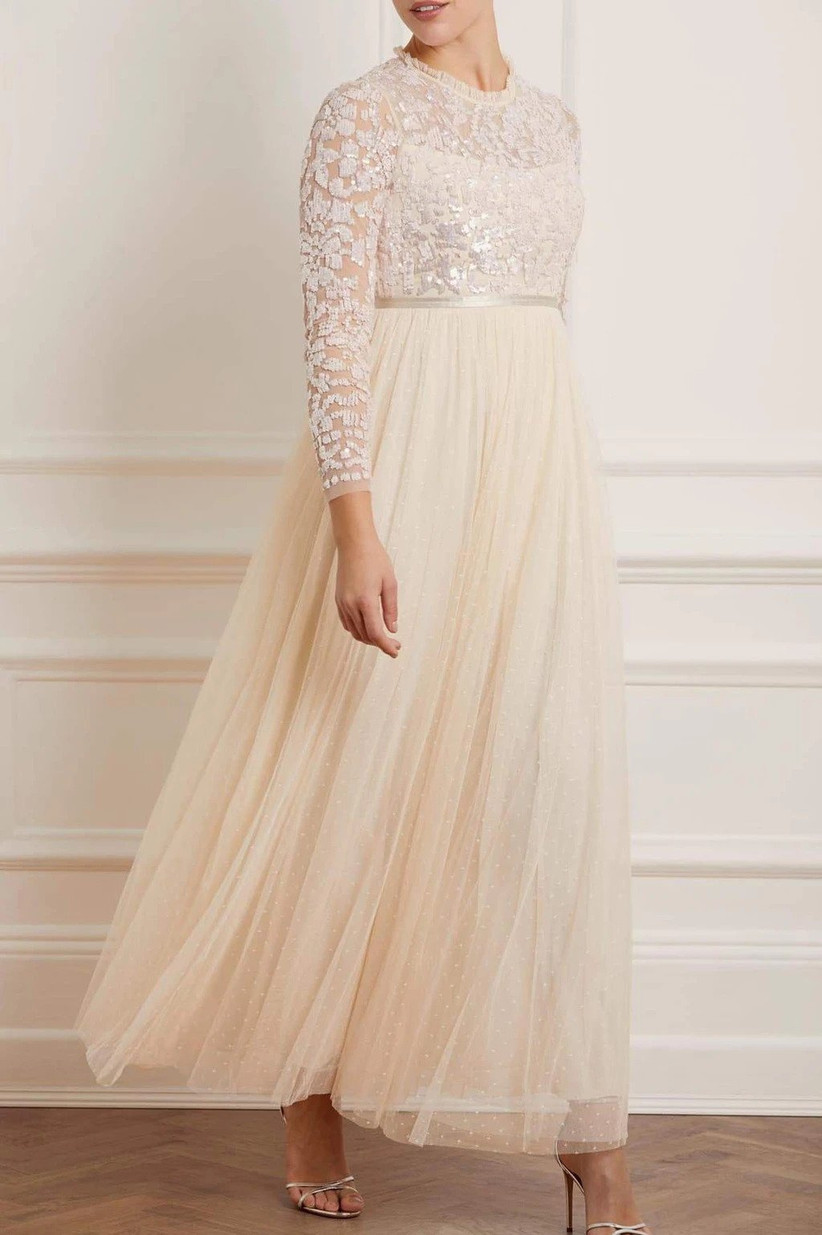 Needle & Thread is your go-to brand for exuberantly pretty bridesmaid dresses, like their Tempest maxi. The bodice is covered with sequins for subtle sparkle.
9. Maids to Measure Regent Dress – £225, John Lewis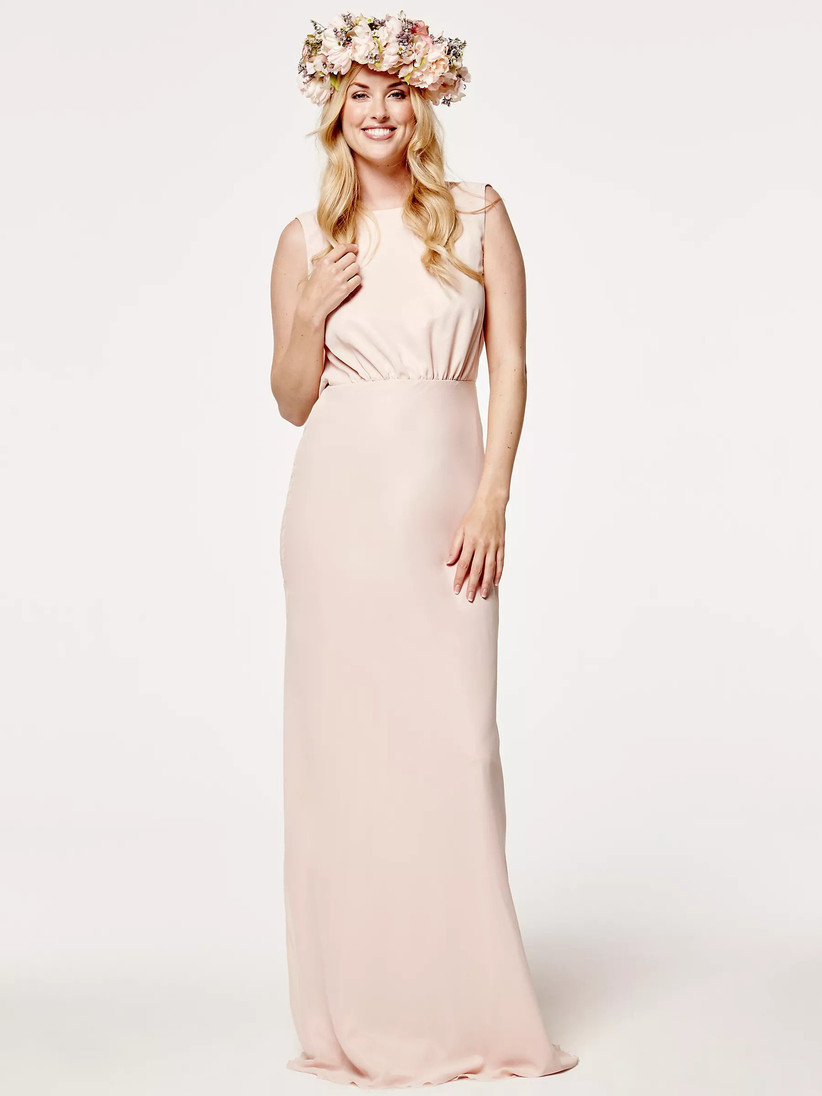 Maids to Measure's Regent dress makes for a classic, elegant bridesmaid look that'll suit all styles of wedding. It has a draped cowl back that'll look wonderful as your bridesmaids walk down the aisle.
10. Boutique Lace Plunge Maxi Bridesmaid Dress – £30, Boohoo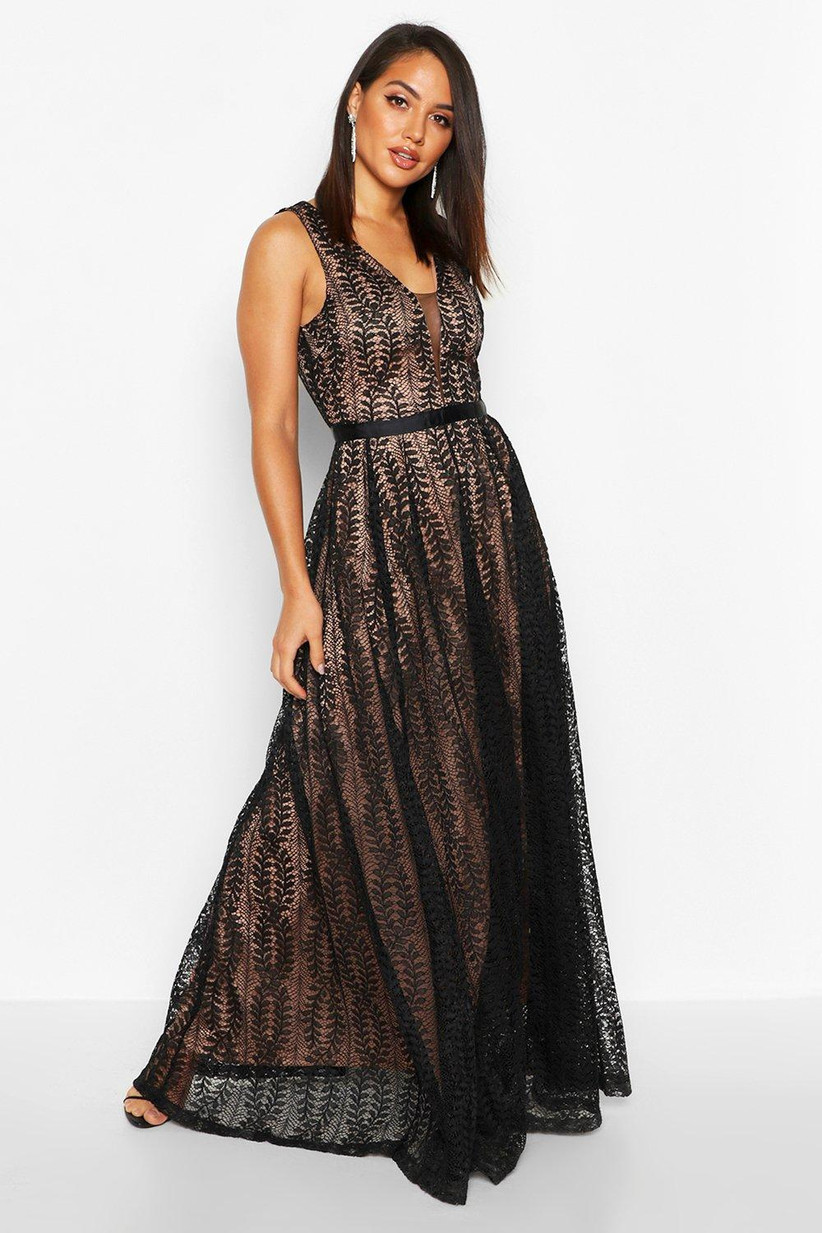 This Boohoo long bridesmaid dress is also available in pink, but we think the black is the chicer option.
READ MORE: The 35 Best High Street Bridesmaid Dresses
11. Extratropical Maxi Dress – £98, Free People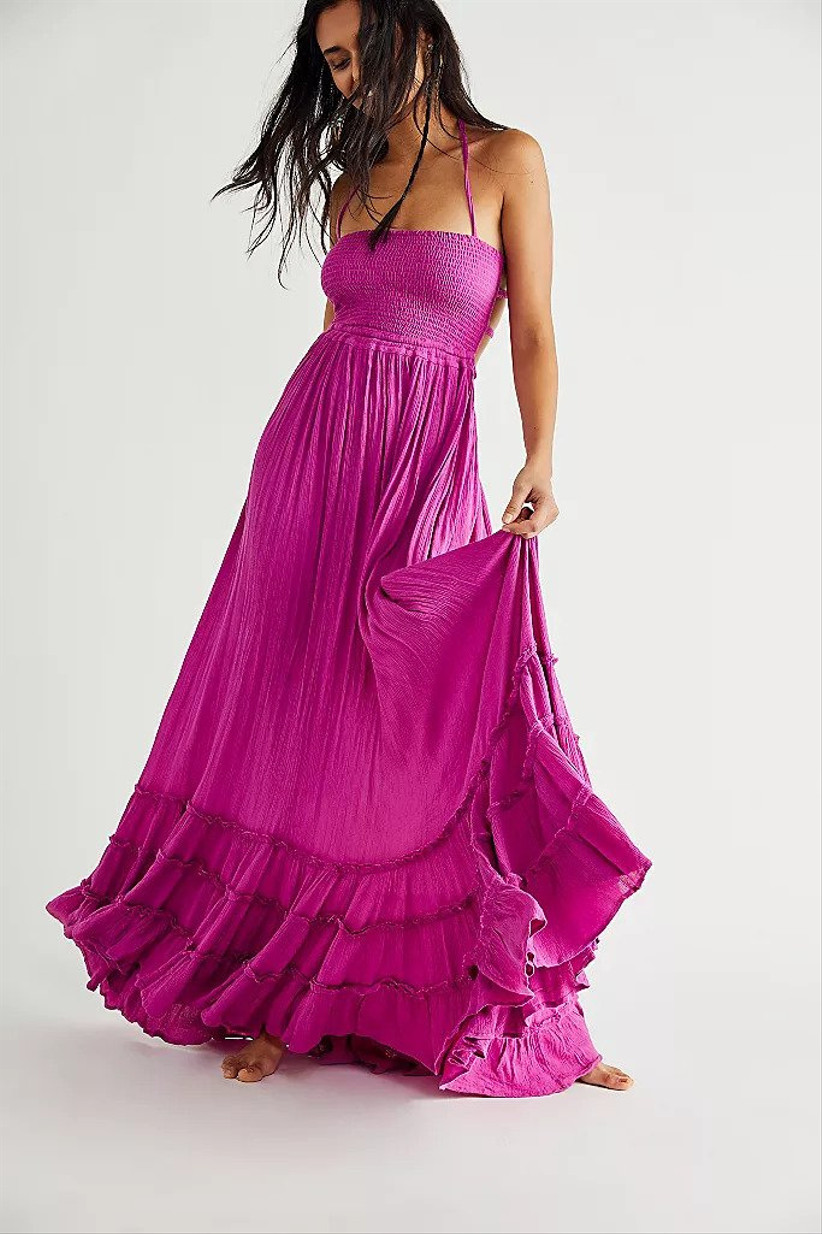 This carefree maxi would be just the thing for a laidback beach wedding. The crinkled fabric means it should survive well in your bridesmaids' suitcases!
12. Multiway Jersey Maxi Dress – £109, Coast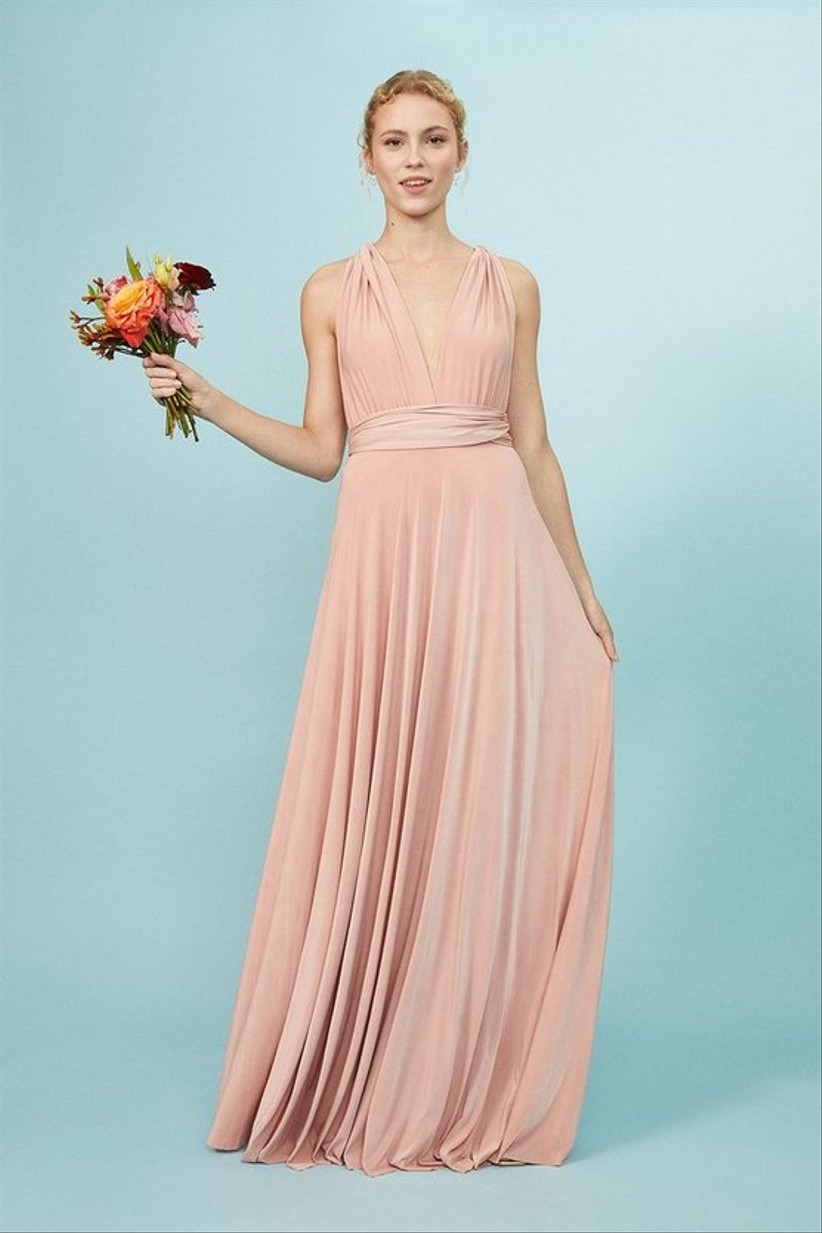 This multiway long bridesmaid dress is a great option for a look that's co-ordinated but not totally matchy-matchy - your girls can wear it in a variety of ways, from asymmetrical to bandeau.
13. Seville Dress – £195, Rewritten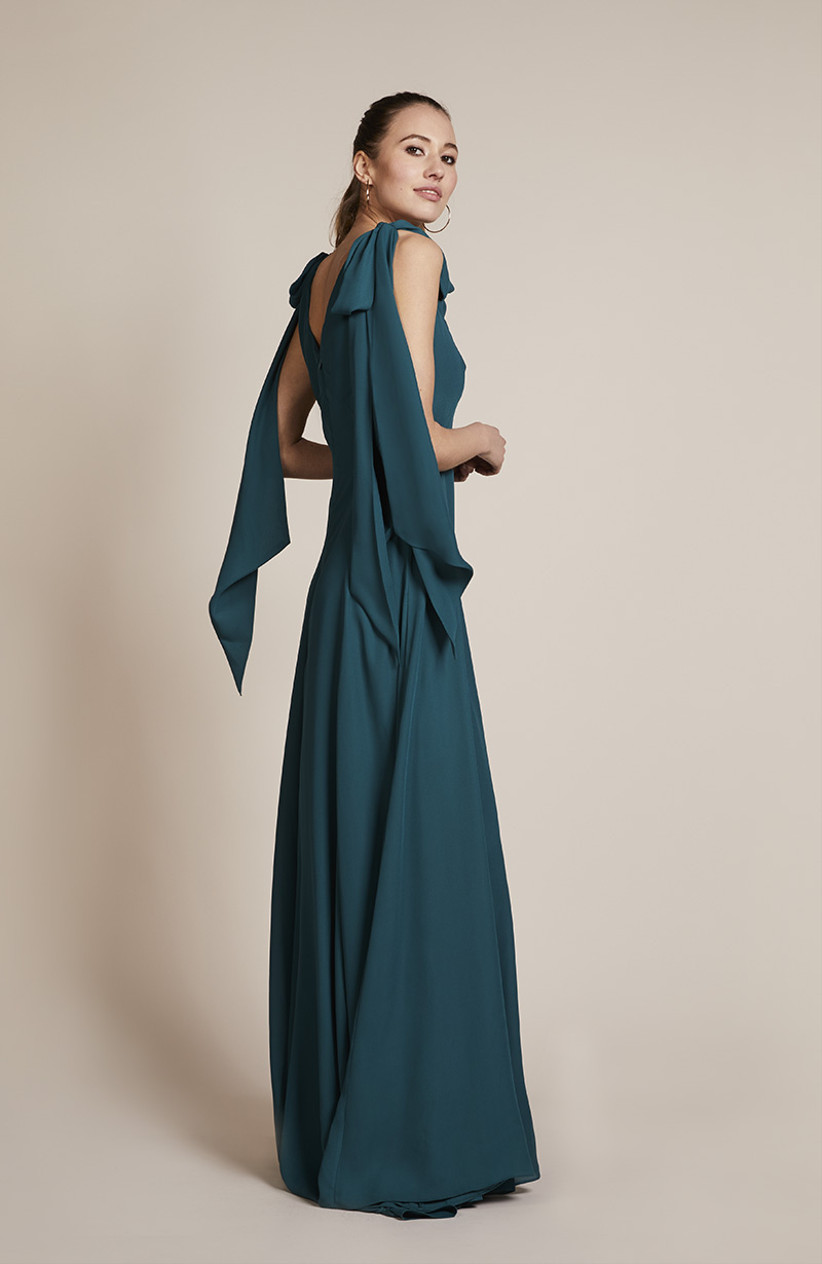 The shoulder ties add drama to Rewritten's Seville dress, looking very elegant against that fluid silhouette. It comes in 9 other colours, but we do love the intensity of the forest green.
14. Ghost Bella Dress – £122.50, John Lewis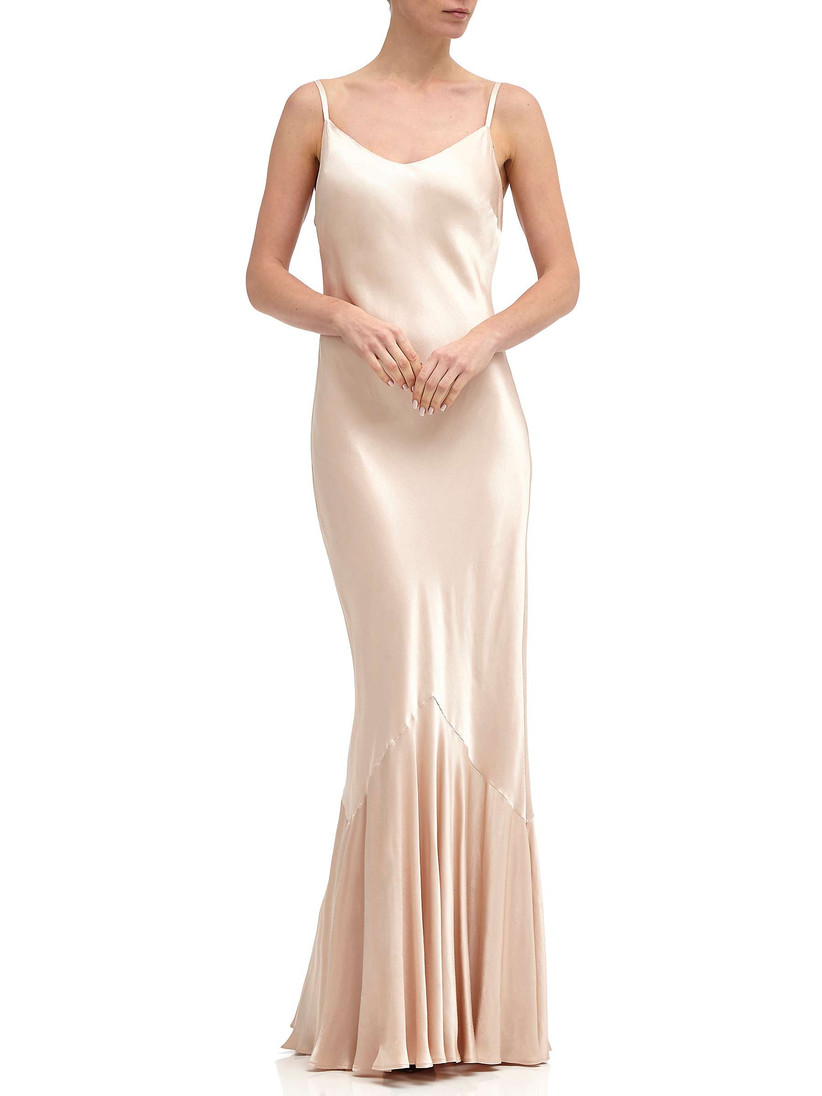 This Ghost dress is wonderfully slinky, with Old Hollywood starlet vibes. It would look glamorous at a wedding in any season - in winter, a faux fur wrap would go beautifully!
15. Lovers + Friends Ayla Maxi Dress – £154, Revolve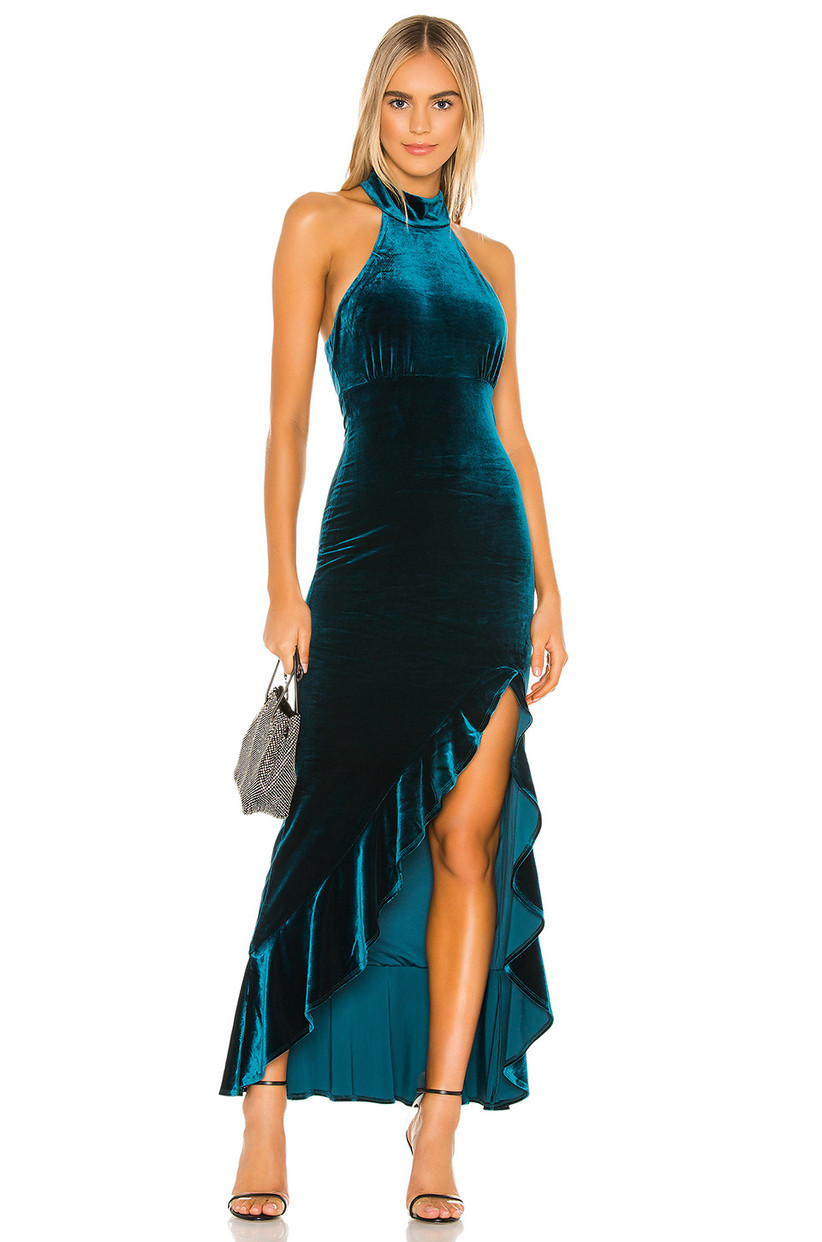 Looking for a party-perfect showstopper for your bridesmaids? Check out this stunning maxi. It has a timeless glamour mixed with on-trend details such as the halterneck and ruffled hem.
READ MORE: 42 Stylish Autumn & Winter Bridesmaid Dresses Your Girls Will Love
16. Katie May Bambina Dress – £274, Revolve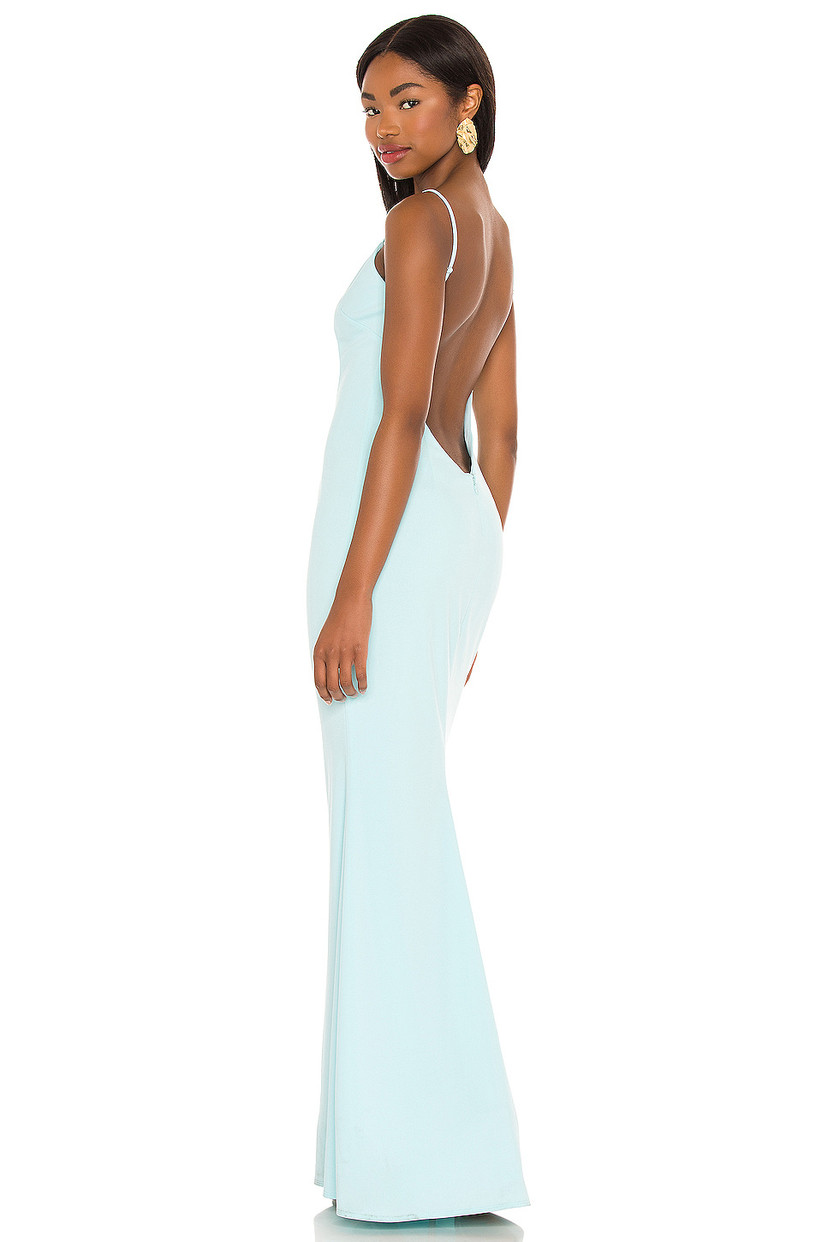 Is there a design detail that says 'sophisticated sexiness' more than an open back? If so, we've yet to see it - and this Katie May x Revolve dress is a perfect example of the look. The colour is heavenly, and the crepe fabric would feel deliciously cool in spring and early summer.
17. Meredith Embellished Leaf Dress – £325, Phase Eight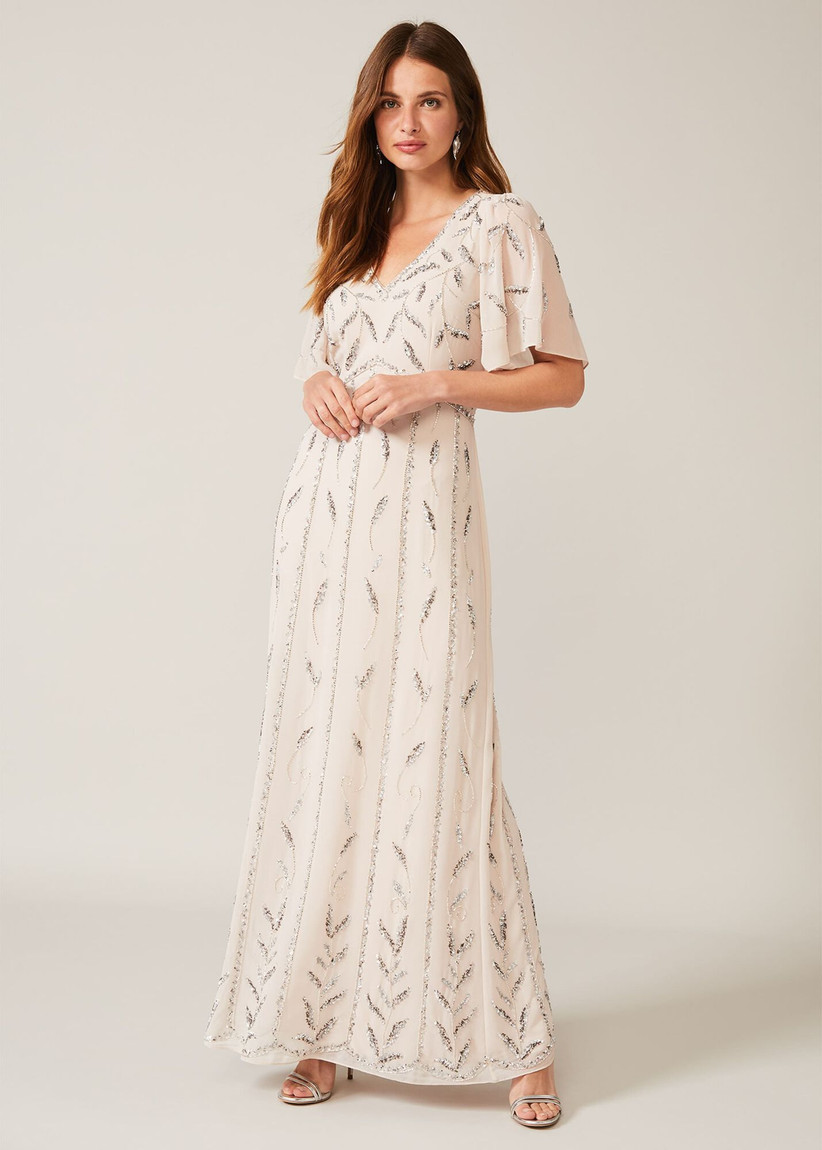 Want to get in on the ultra-chic bridesmaids-in-white look? The divine Meredith dress is the way to do it. That intricate leaf motif is just so pretty, and the whole look feels like a nod to the 1920s but with a very 2021 sensibility.
18. Bonnie Dress – £160, Sézane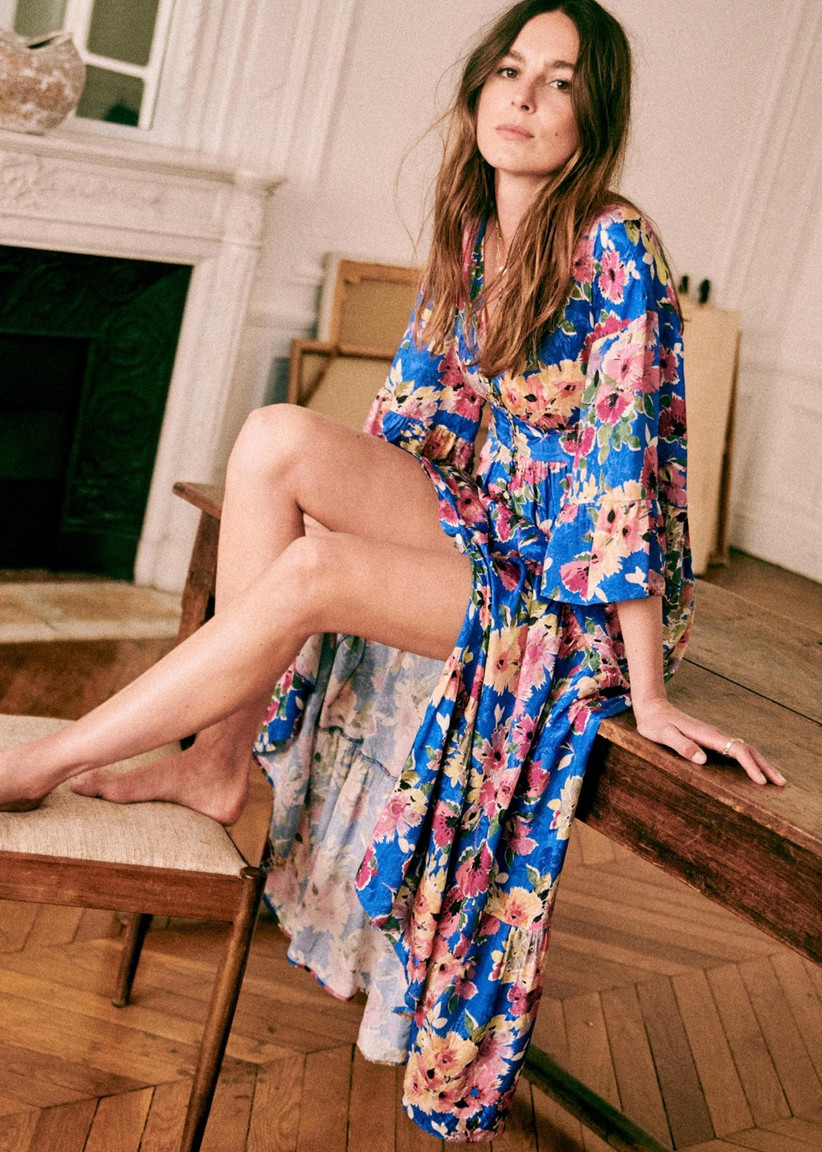 Want to get your bridesmaids a long dress they'll wear again? Check out French cool-girl brand Sézane - specifically, the Bonnie dress, which has a flattering silhouette and a bold yet romantic pattern.
19. Bardot Pleated Occasion Maxi Dress – £65, SilkFred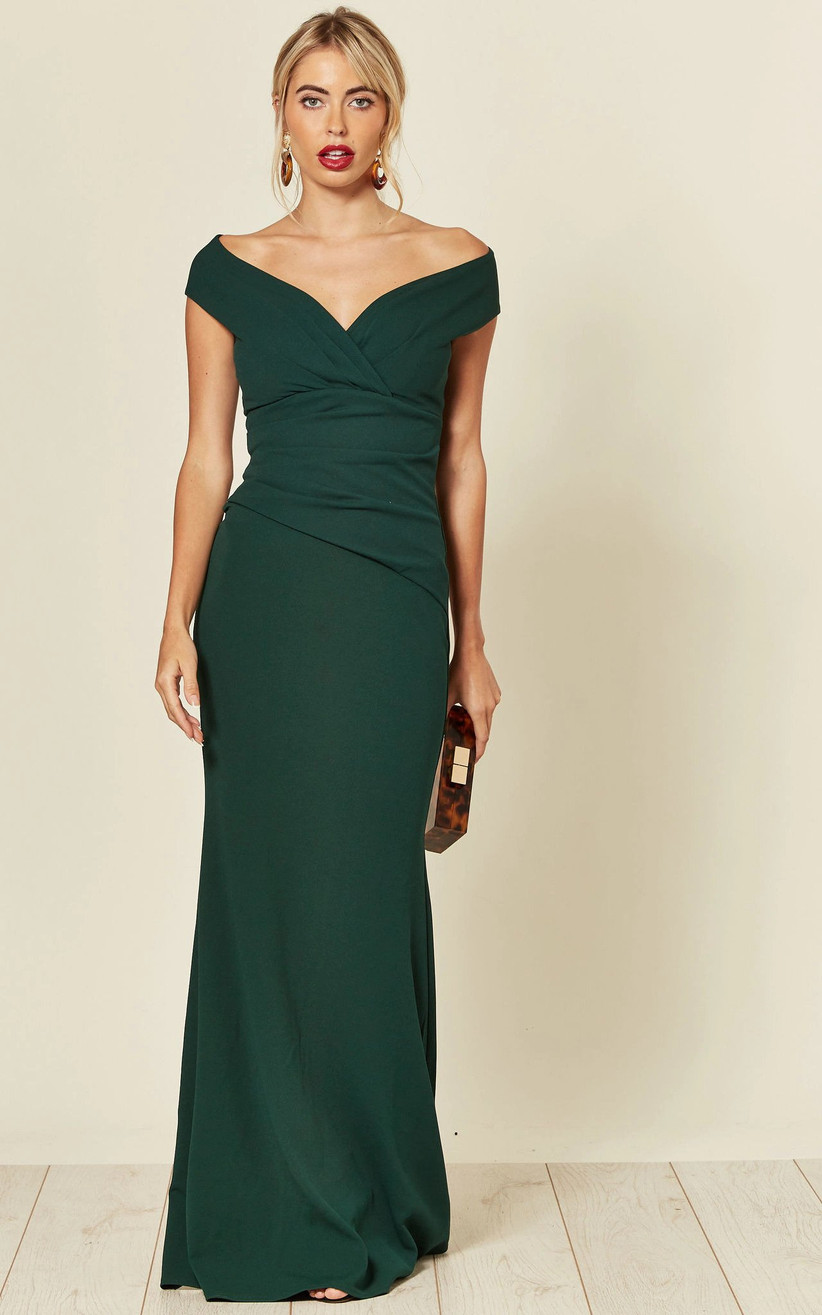 It's glamour all the way with this bodycon maxi, which looks considerably more expensive than the price tag. We reckon your bridesmaids will love you for choosing this one.
20. Fox Dress – £295, Halfpenny London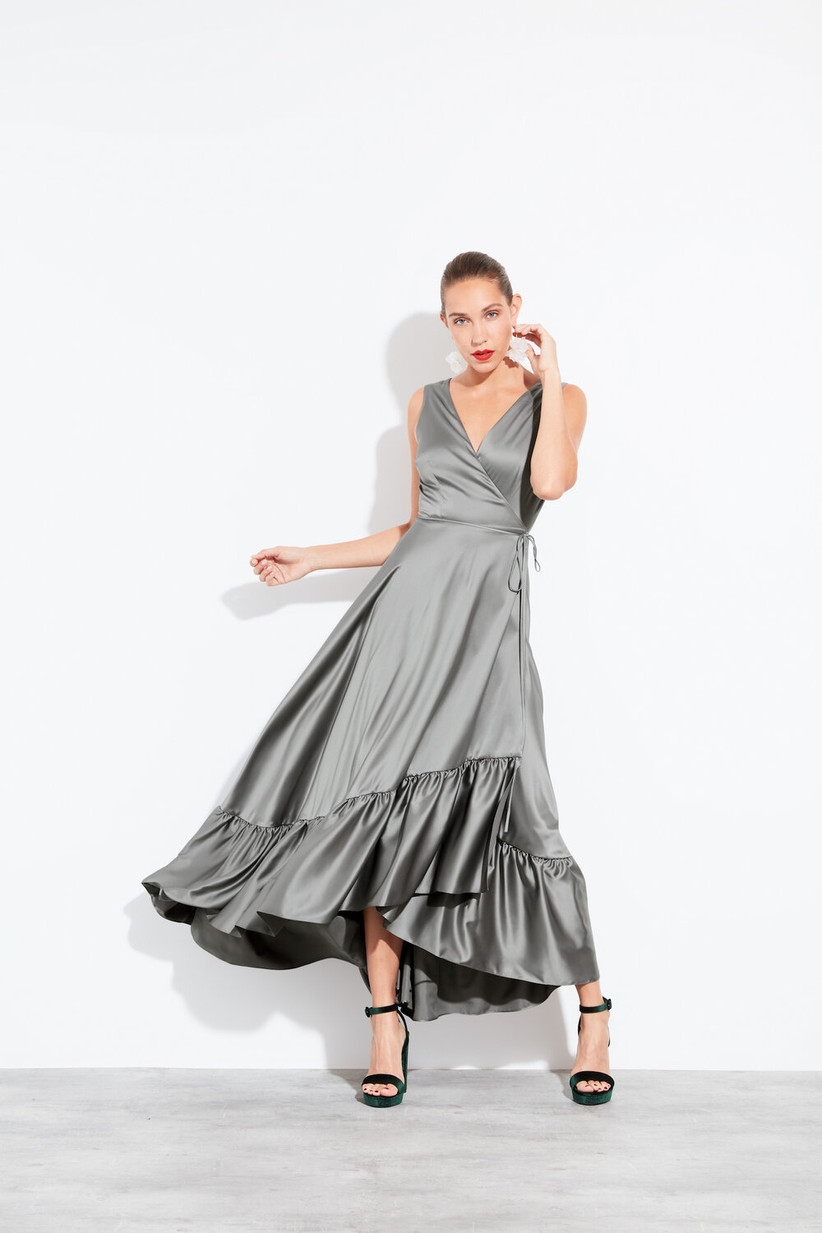 This sophisticated wrap dress is by acclaimed bridal designer Halfpenny London, so you know the quality is going to be excellent. That hemline flounce really elevates the look.
READ MORE: Bridesmaid Gifts: 30 Ideas to suit Every Budget
21. Draped Long Dress – £49.99, H&M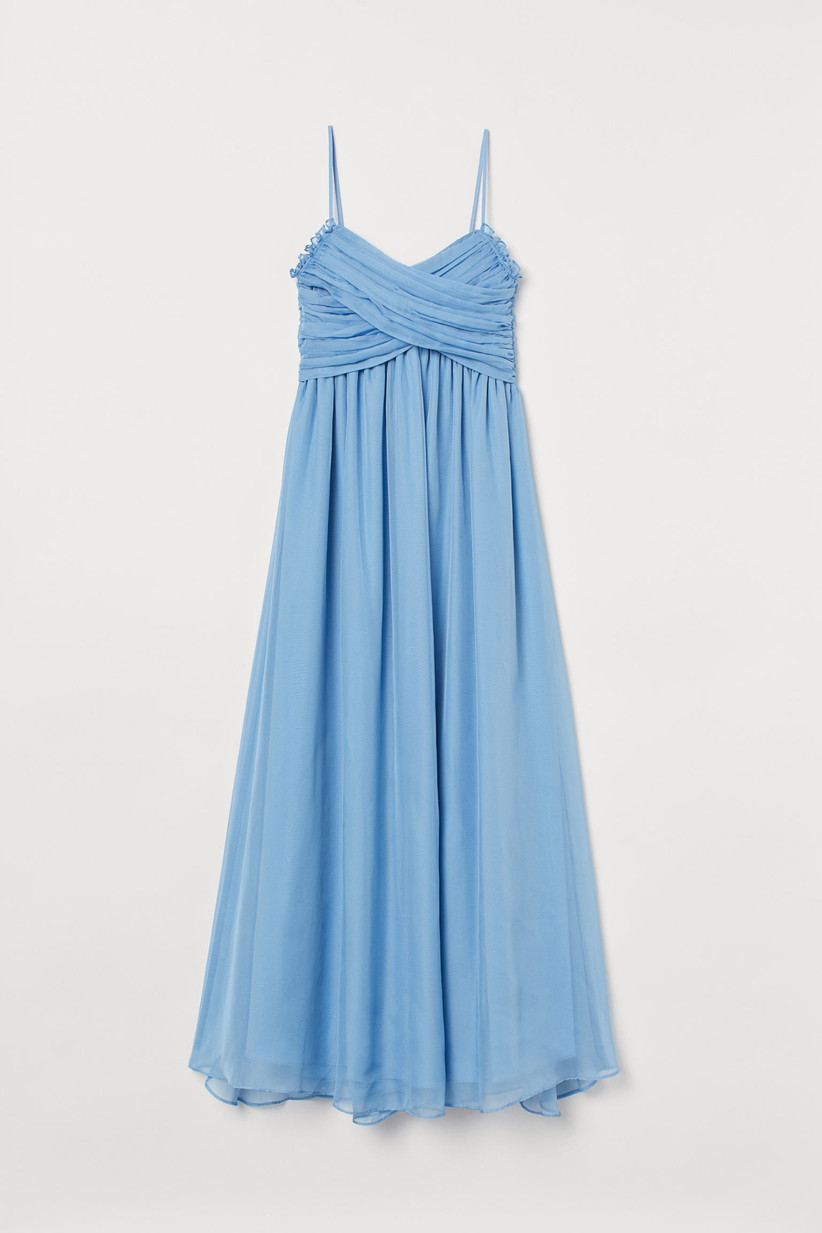 This H&M gown shows that elegant long bridesmaid dresses don't have to cost the earth. It's also available in a pretty pink.
22. Regency Garden Gown – £460, Needle & Thread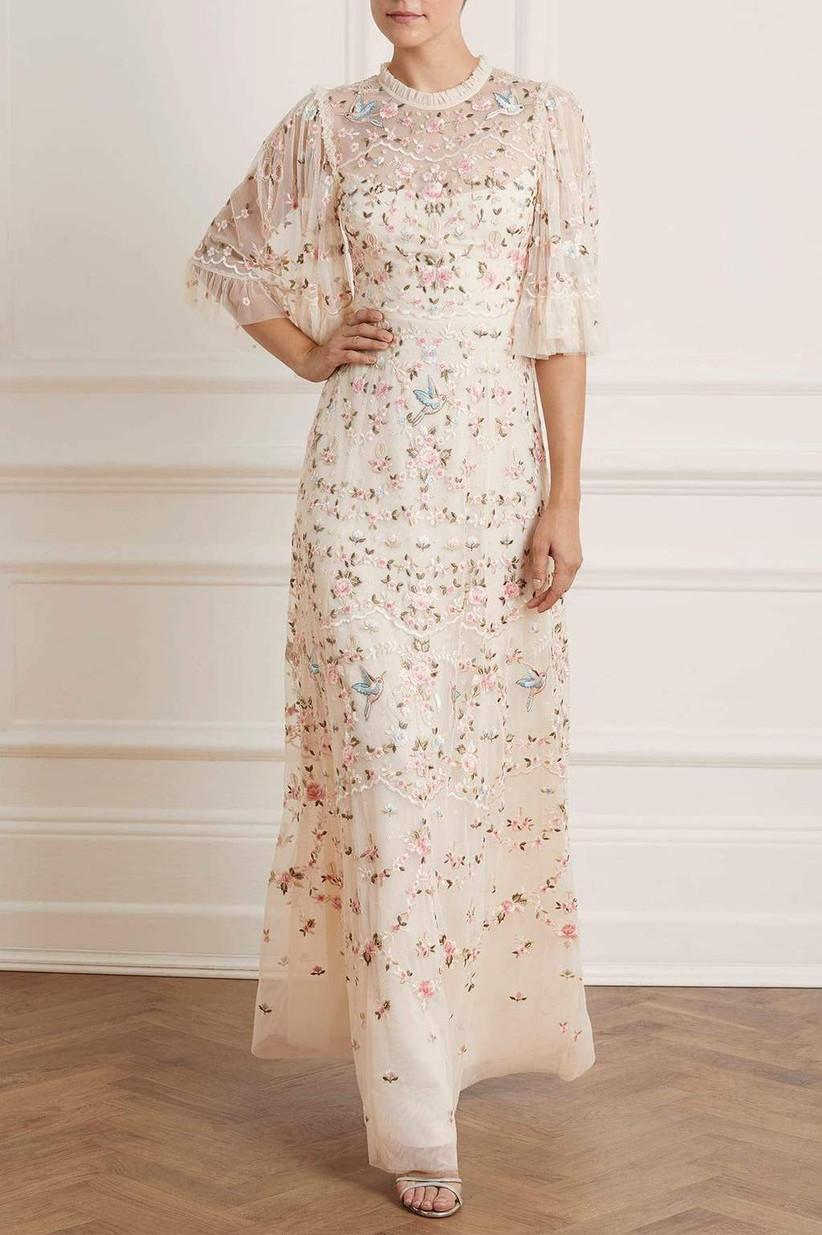 If you're looking for pure romance in a dress, you've found it in the Regency Garden gown. Covered with delicate flower and bird embroidery, and with frills and glass beads galore, it really is an enchanting design.
23. Angelina One Shoulder Maxi Dress – £89, SilkFred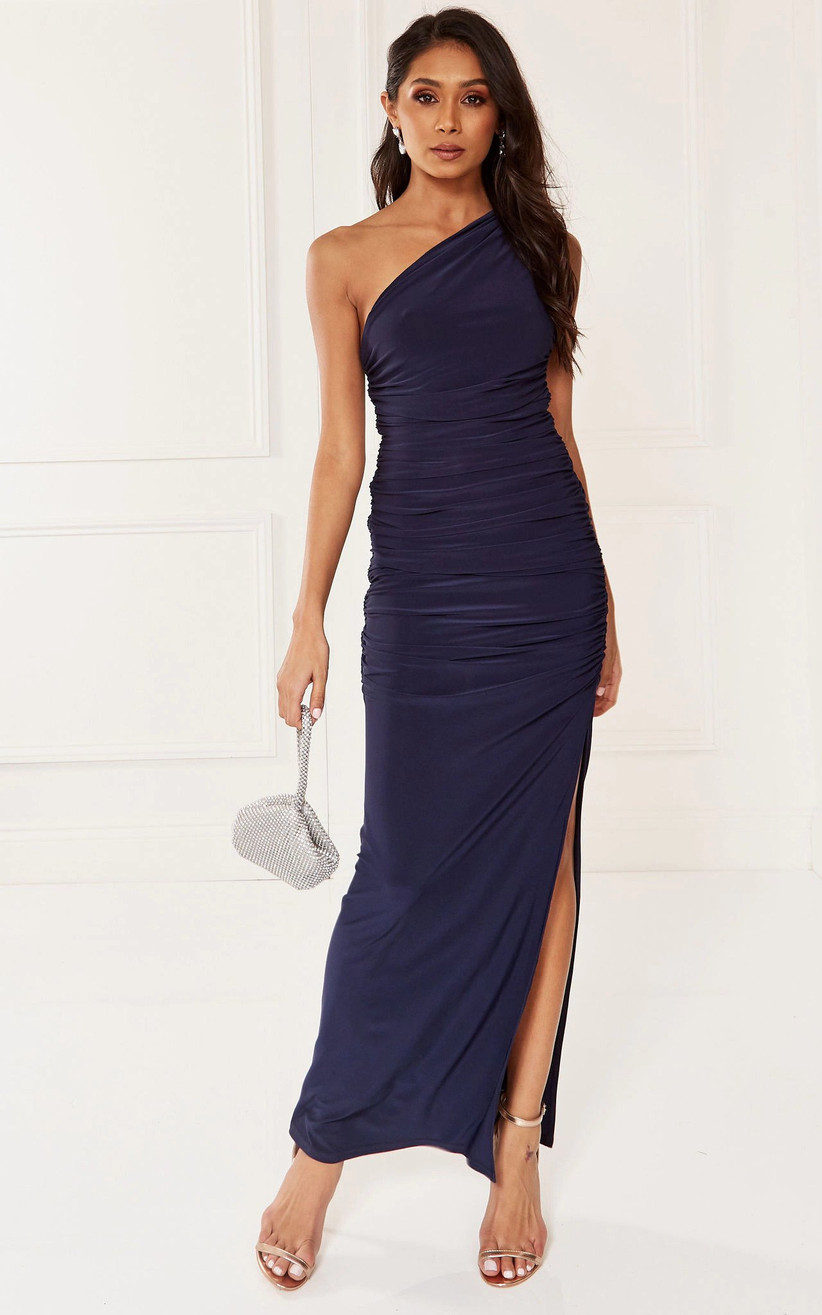 We love the simplicity of this navy maxi dress. It would work perfectly as the basis of a minimalist bridesmaid look, but it could also be dressed up with accessories for a shot of glamour.
24. Alecia Pleated Chiffon Maxi Dress – £189, Phase Eight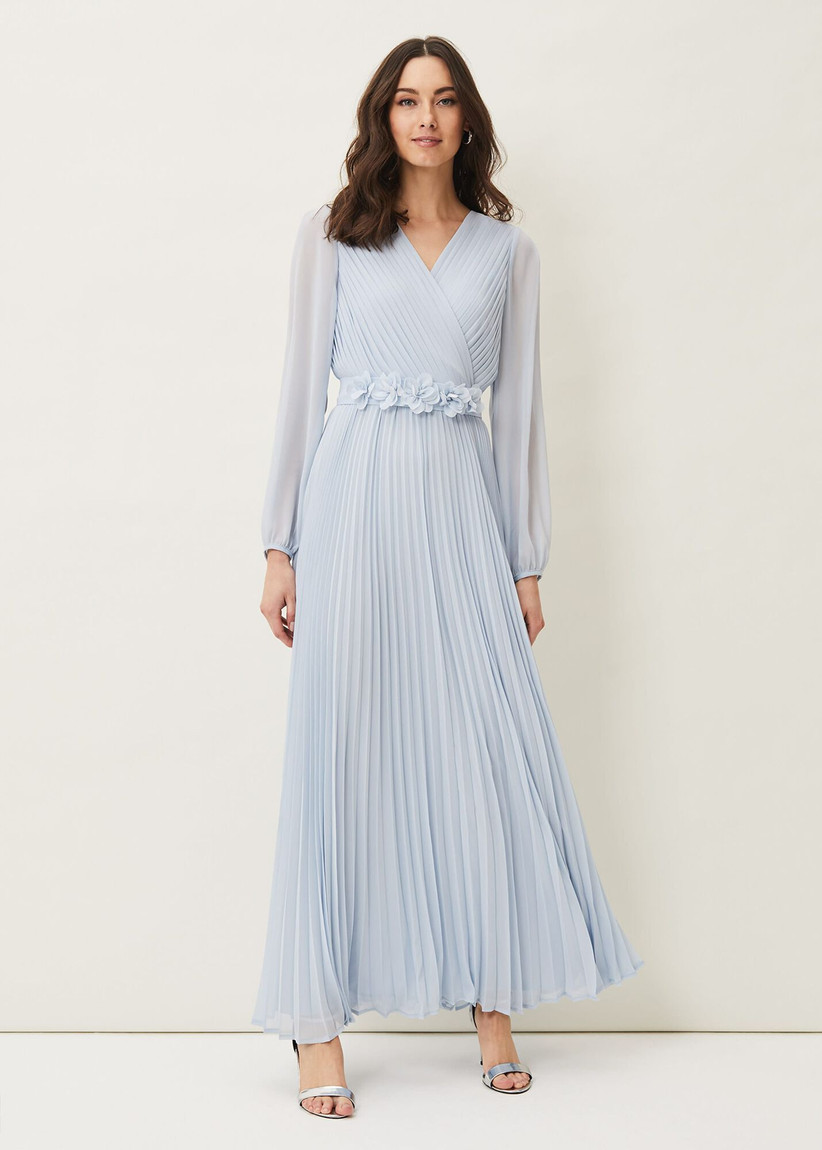 Maxis with sleeves can still look light and fresh, as this Phase Eight bridesmaid dress proves. The chiffon sleeves look very chic against the pleats.
25. A-Line Maxi Dress – £29.99, H&M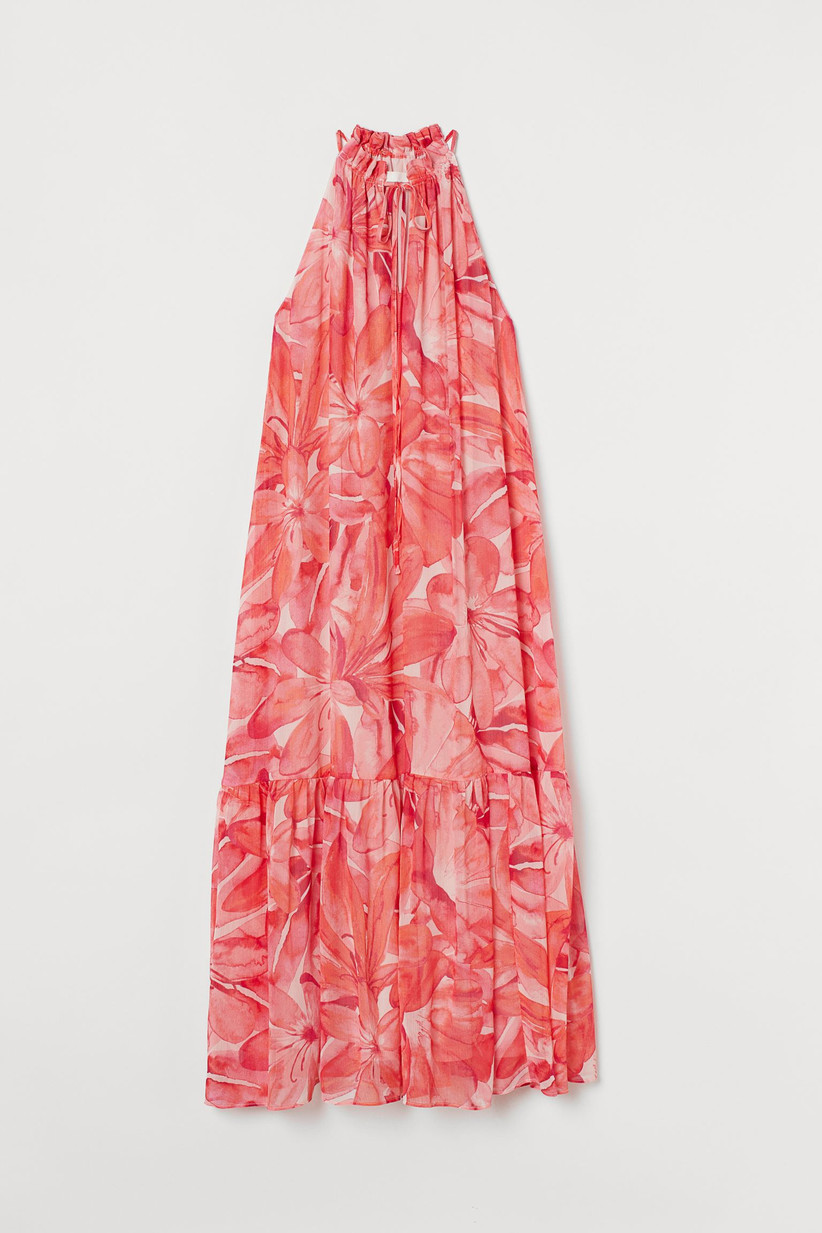 This floral maxi is just so versatile. It would work equally well as a bridesmaid dress at a country garden party reception as at a beach wedding.
READ MORE: 35 Unique Bridesmaid Dresses Your Girls Will Want to Wear
26. Free People Beatrice Maxi Dress – £232, Revolve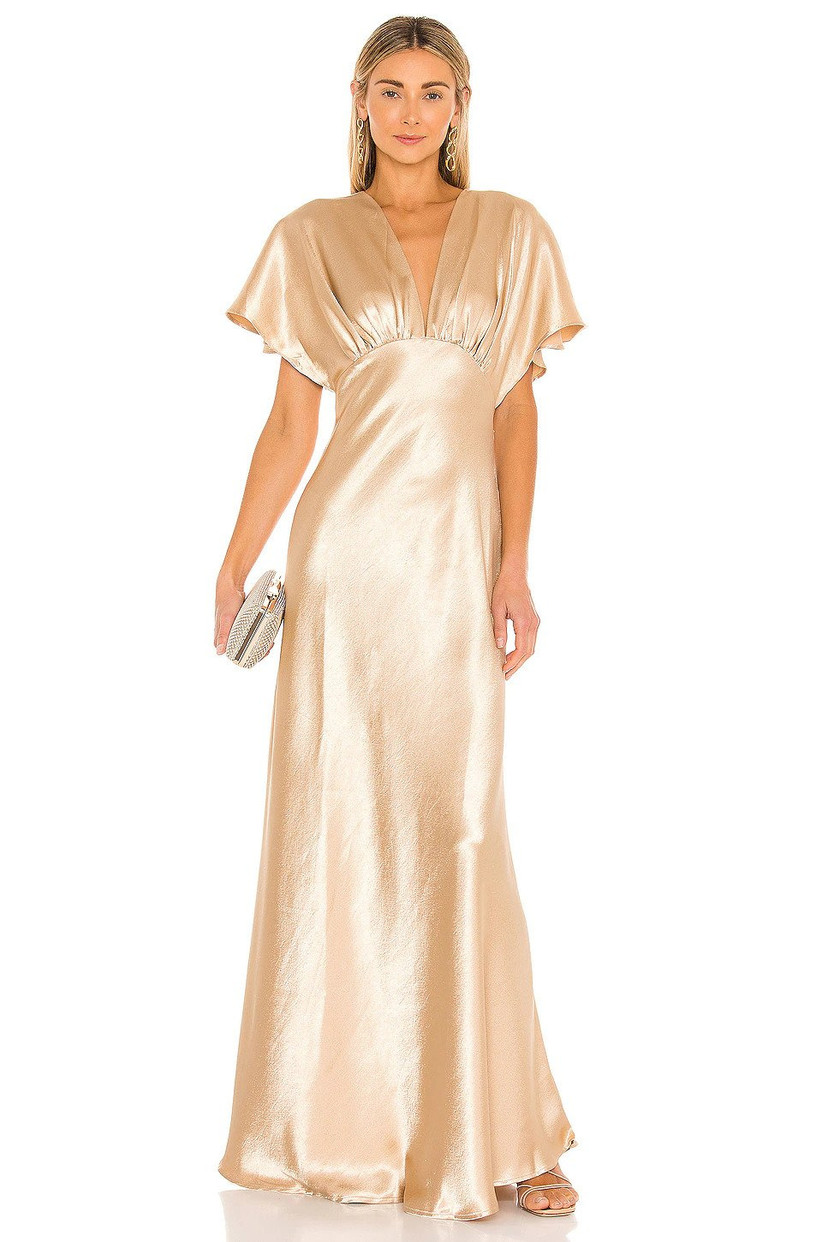 Want your bridesmaids to really make an entrance? This gorgeous shimmering maxi is the way to do it! The colour is ideal if you're picturing them in a pale hue but aren't totally on board with the bridesmaids-in-white trend.
27. Prague Burgundy Maxi Dress – £60, TFNC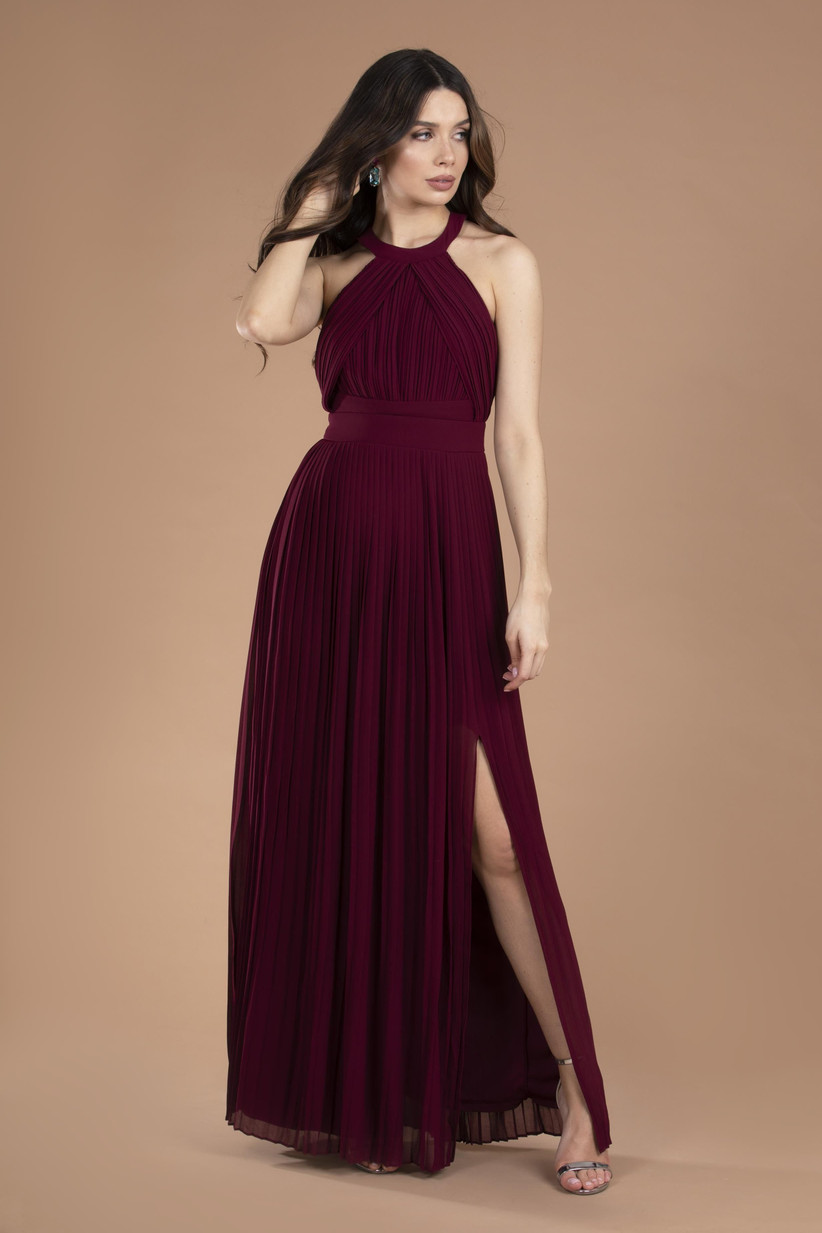 TFNC has a wide range of long bridesmaid dresses in different styles and colours, including this stunning burgundy halterneck. The front slit allows for ease of movement without being high enough to shock any older relatives.
28. Hedii Short Sleeve Wrap Maxi Dress – £269, Ted Baker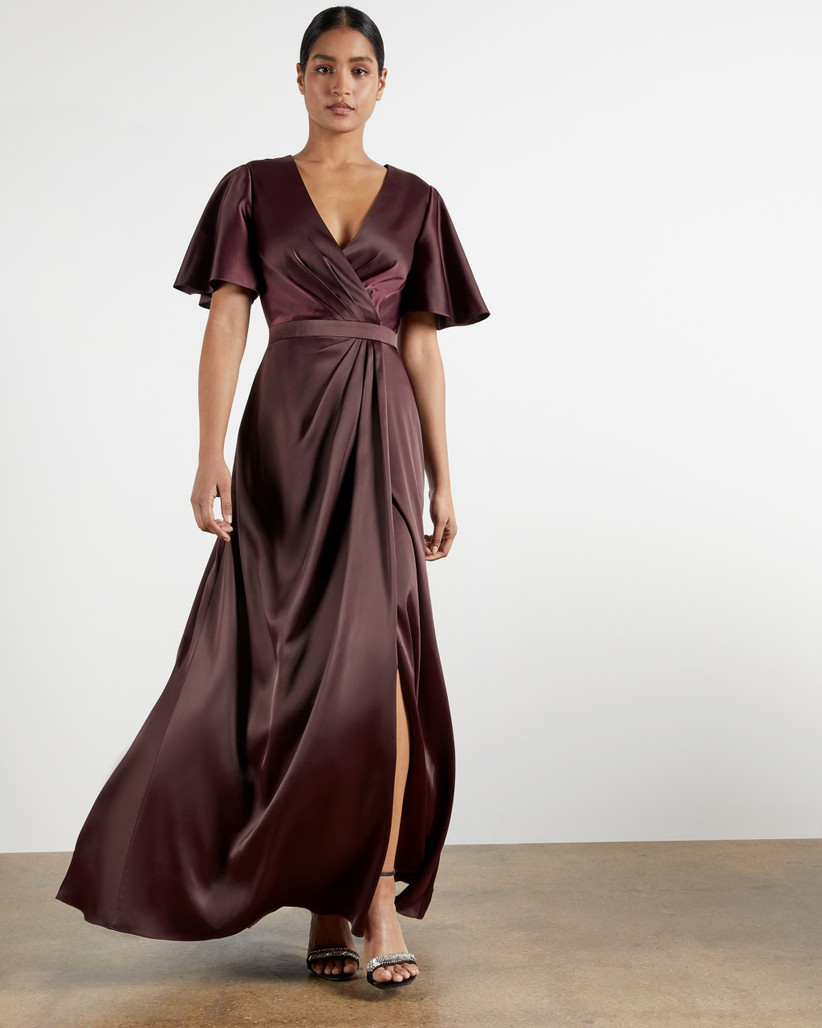 The gloriously rich hue of this Ted Baker maxi is universally flattering. It's a moodily glamorous shade that's also very sophisticated, and would look fabulous at a formal wedding.
29. Sequin Wrap Dress – £79, Whistles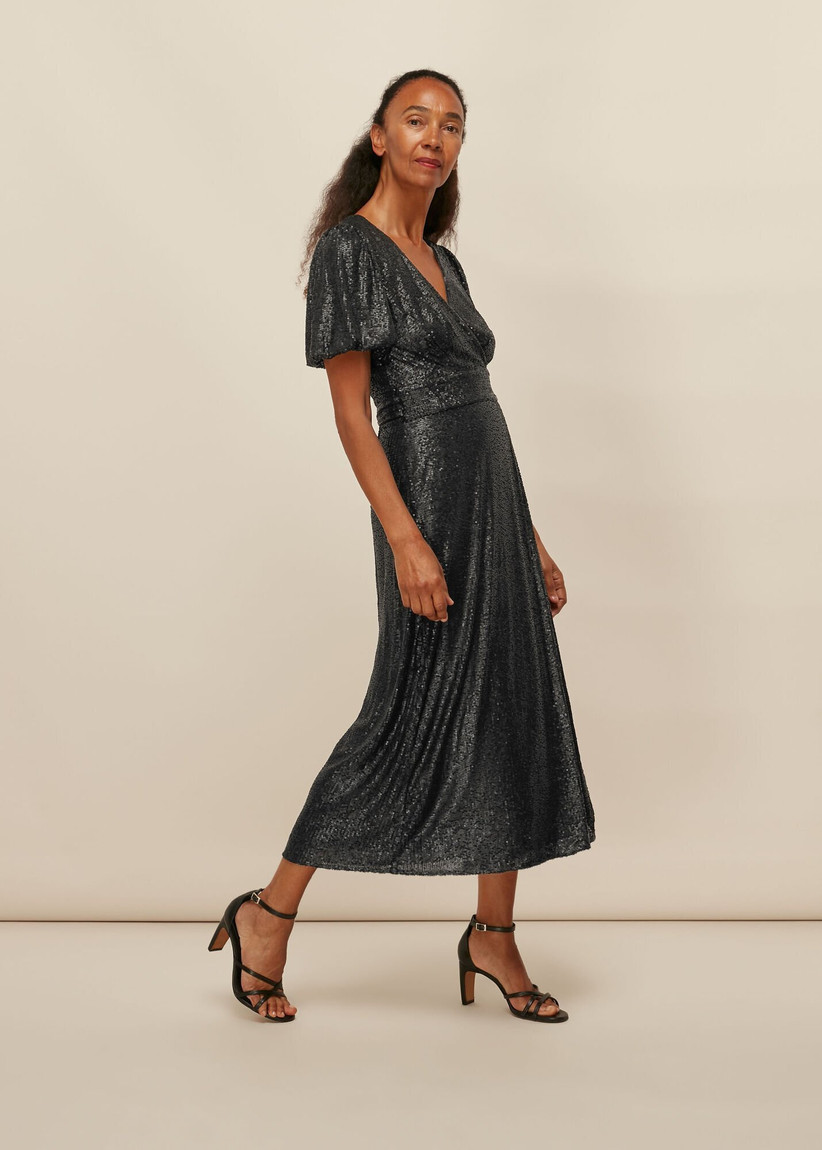 Sequins and long dresses aren't always a harmonious mix - all the fabric in the skirt can make for sparkle overload. Well done to Whistles for creating a long sequin dress that's utterly stylish, both because of the black colour and thanks to that classic wrap silhouette. This is the grown-up way to do sparkle.
30. Floral Print Maxi Dress – £95, & Other Stories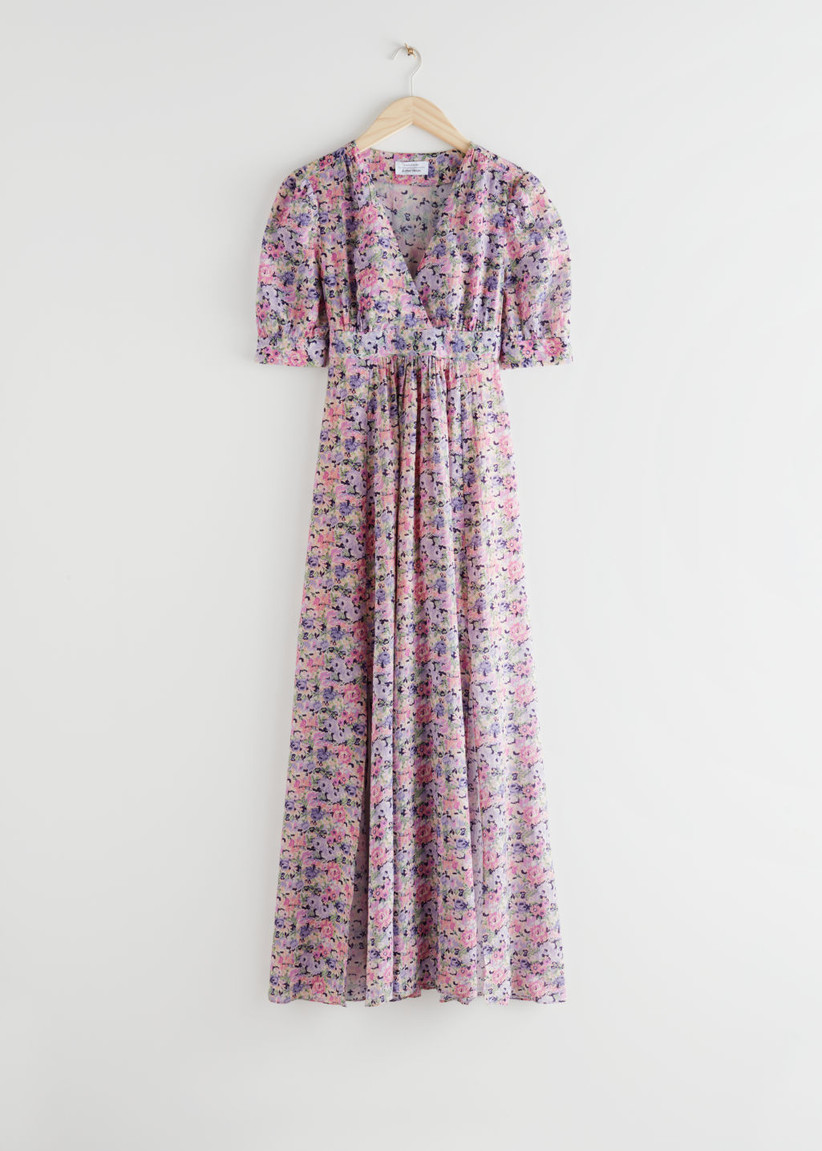 If you want your bridesmaids in floral, you need to send them a link to this maxi. It's a real wear-again piece, with a pattern and colourway that are pretty but not overly so - there's a real note of freshness here. It would look amazing with layered gold necklaces.
31. Cold Shoulder Ruffle Maxi Dress – £169, Coast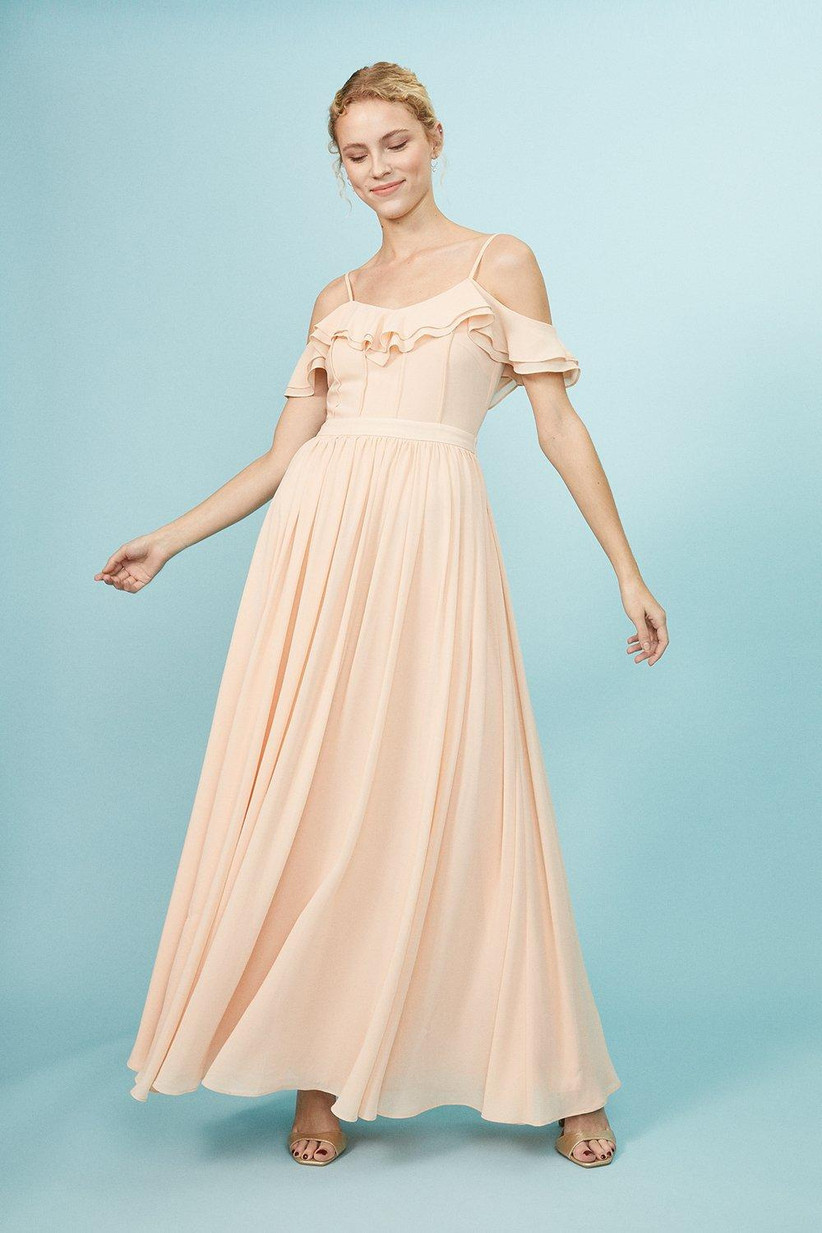 How do you put a contemporary twist on the classic bridesmaid maxi? Opt for a cold-shoulder style, like this beautiful Coast dress. The apricot hue is delicately pretty, but it's also available in navy, blush or silver if those are better suited to your colour palette.
Don't forget, the dress isn't the only element of your bridesmaids' look - check out these stunning bridesmaid hairstyles, from the 'power pony' to the chicest side bun.