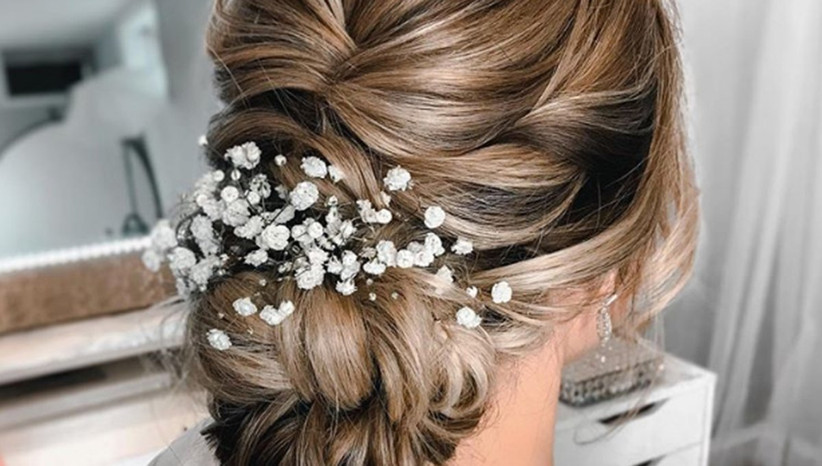 There are few moments more exciting than finding out your daughter is getting married! Once the Champagne has been popped and you've celebrated the news, you might start thinking about finding the right mother of the bride dress and the perfect mother of the bride hairstyle to match.
If you're used to wearing your hair in just one style and you're finding the prospect of a photo-worthy hairstyle (that's guaranteed to last a whole day) a little daunting, then we've got some mother of the bride hairstyle inspo to suit all hair types and lengths.
Whether you have straight or curly hair we've searched for the best looks, including updos, french twists and even messy buns, which will ensure you look and feel your absolute best on your daughter's special day.
If you're after a mother of the bride hairstyle that's a bit different, we've also found the best looks that incorporate braids and plaits, along with handy tips for how to accessorise them with on-trend clips and flowers.
Mother of the Bride Updos
1. Messy Bun
This messy bun is perfect if you have longer hair and want to have it up for the big day. Ask for a loose bun with wispy curls that fall around your face. Add in a pretty clip for extra detail or to match it to your dress.
2. The Chignon Knot
This classic look will complement any mother of the bride outfit. Pin your hair into a knot at the nape of your neck and wrap it round to create a chic bun. Plaits can be added to make the look more creative.
3. Twisted Updo
This curly style will give your hair some volume and show off your neckline. Ask your hair stylist to twist and pile your locks, pinning them on top of your head.
4. Beach Wave Bun
If you want a wavy beach look, this is a perfect style. Run your fingers through your hair after curling it, using some styling spray to keep the waves in place. Then start to pin it loosely at the back, allowing some strands of hair to fall down over your neckline.
5. Neat Braid
Braids at a wedding are always on trend and this look will complement any mother of the bride look. Add in seasonal flowers dotted around the back of the braids and at the side of the hair.
6. Side Bun
The side bun is great for those with longer hair searching for a unique look. Either keep the hair straight and have it pinned to one side, or curl it with loose waves and pin to your favourite side.
7. Loose Side Braid
A braid that starts at the side of your hair and wraps round to the back complements any style of dress. Ask for large braids, which can be roughly pulled out and pinned for a boho, on-trend look.
8. Loose French Twist
This classic style is perfect if you don't want a fussy updo. It's also a hairstyle guaranteed to look great in the wedding photos, especially if you add your own pretty clip or slide.
Short Mother of the Bride Hairstyles
9. Sleek Top Knot
If you're bored of wearing your hair down, but it's not quite long enough for an updo, go for an in-between look. Scoop the top sections of the hair back and tie it in a knot. Place clips next to the knot to give it a quirky look.
10. The Short Bun
Short hair doesn't mean you can't try a bun. This style, which uses strands of hair to messily wrap around the main centrepiece, looks great with a pretty side clip.
11. Simple Stars
Sometimes keeping it simple with some well-placed clips can create the most chic look of all. The celestial theme isn't going anywhere for 2020, and we adore this style from hair accessory genius Tilly Thomas.
12. Twirled Updo
If you're after a super elegant look, then this is a great mother of the bride hairstyle for shorter hair. Curl the hair first, then twist it back over your head and from the side, pinning it loosely and leaving some strands free.
13. Slide Heaven
Thinking about wearing your hair down but want to jazz it up? Clips and slides have become massively popular in the last year, and the more glitzy the better. Choose from diamanté to multi-coloured clips and go crazy pinning that hair back.
14. Half-up Braids and Twists
Don't be scared of experimenting with multiple hairstyles. The above style has braids, curls and some twisting action, pinned together at the back, to create a funky half-up hairstyle.
15. Flower Crowns
The flower crown is the perfect addition to a summer wedding look – and this tonged style is perfect if your daughter is getting married from April onwards. Ask for waves, and pin your flower crown so it sits on your head.
16. Gem Detail
Adding pretty coloured gem clips to short hairstyles, worn down or half-up, create a glamorous look. To add some volume, blow-dry the ends so they flick out and spritz some hairspray on it to keep it in place.
17. Pinned Curls
If you love romantic details then this style is perfect for you. Tightly curl your hair and pin a textured plait, adding in a few of the wedding flowers to give it a springtime look.
Mid-Length Mother of the Bride Hairstyles
18. Braids & Plaits
Braids look great, whether you have mid-length or long hair. Pair them with a side plait, which sweeps along the back, then braid one side of the hair and pin them together for a neat and quirky look.
19. Decorated Top Knot
If you have detail on the back of your dress this chic hairstyle is perfect. Use styling spray to gather your hair into a tight top knot and add decorative clips and statement earrings to finish off your look.
20. French Twist Chic
This easy updo is perfect if you're short on time and want a classic style. Twist the hair and pin it loosely from the inside of the twist. Add a pretty brooch like this one if you want to jazz the style up.
21. Braids & Beach Waves
We adore this hairstyle, perfect for a spring or summer wedding. Use a tong to loosely curl your hair and weave through a loose braid to give it an extra boho feel.
22. Low Knot
This look screams elegance. Ask your stylist for a low bun with strands of hair wrapped around it, to give it that simple but styled look.
23. Dutch Fishtail Braid
Why have one style when you can have two? This style incorporates a dutch fishtail braid with a low bun and looks stunning with the front parts of the hair left loose.
Long Mother of the Bride Hairstyles
24. Beach Waves
When you have long hair the possibilities are endless, but this look is simple and stylish. Use a tong or straighteners to curl your hair, then pin a section of the top at the back. Allow the front strands to hang loosely for a relaxed vibe.
25. Textured Ponytail
This is a twist on the classic ponytail look and is great if you want some volume. Ask for the front strands of hair to be twisted and then gathered into a low ponytail.
26. Flower Power
Match the bride's bouquet with your hair for this sleek half-up half-down look. Curl the hair first and twist portions of it, clipping it in the middle. Use flowers to decorate your hair, attaching them to the length of it.
27. Plaited Ponytail
This gorgeous look is perfect if you want to sweep your hair from your face but still have a photo-worthy look. Ask for a messy plait, right from the crown of your head, then add in your own accessories. Dried berries and cones look perfect for autumn weddings.
28. Pearl Power
Any simple style looks great with a pretty clip. Choose a pearl or diamante clip and twist the front parts of your hair back, clipping it back off your face for this on-trend style.
29. The Undone Ponytail
A french braid doesn't have to mean having your hair loose. Gather the ends of the braid into a chic ponytail, then curl or keep the ends straight and let it hang down your back for an effortless look.
30. Braid & Bun
If your hair is on the longer side then you can give something like this a try – we love how this style has a bit of height but still looks super modern. The addition of the Gypsophila is such a pretty touch!
31. Centre Braid
If a ponytail isn't quite right for you this unique style could be right up your street. Gather and pin the ends into a bun at the bottom or leave it loose. Side clips can be added for extra decoration.
32. Wrapped Ponytail
This style is quick and easy to do, and looks great if your hair is that little bit longer. Sweep your curls back into a low ponytail and wrap some extra strands around the band to give it a tousled look.
Now that you've found your perfect mother of the bride hairstyle, have a read of our mother of the bride speech ideas!