First Home Gifts: 51 Unique Housewarming Gift Ideas for Couples
Struggling to think of a unique first home gift for a couple you know? We've hunted high and low and found 51 unusual first home gift ideas to suit all couples and budgets, from food subscription boxes to chic homeware buys.
We have included third party products to help you navigate and enjoy life's biggest moments. Purchases made through links on this page may earn us a commission.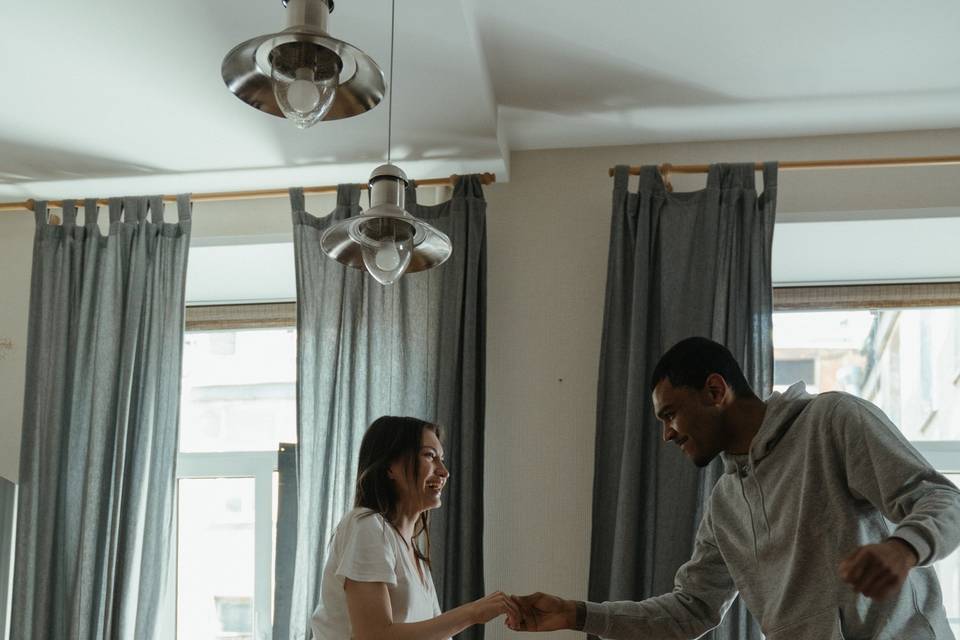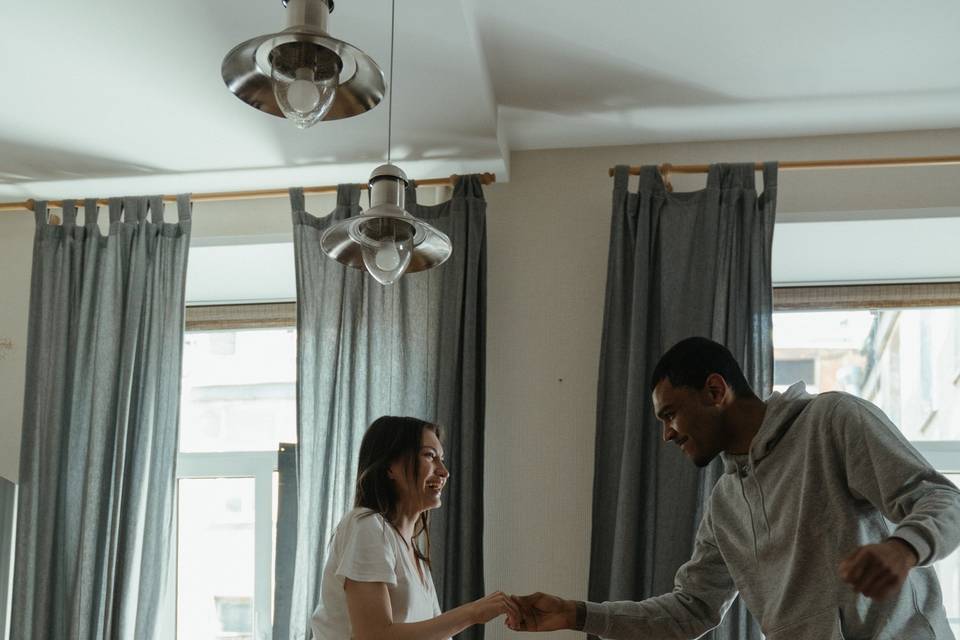 News flash - gift buying is hard. Harder still is buying a gift for a couple who've just moved into their first home together. What do they already have? What sort of things do they like? And how do you make sure you're getting something they'll actually find useful?
To help you navigate the minefield that is buying a couple a first home gift, we've rounded up 51 unusual and creative housewarming gift ideas they'll love.
From foodie subscriptions and chic glassware, to statement homeware and boozy treats, we've found the best first home gifts for every kind of couple and every kind of budget.
Now all you need to do is pick one, and try very hard not to buy anything for yourself...
Best First Home Gifts Under £25
1. Personalised First House Door Mat - £24.47, Not On The High Street
What better way to welcome guests to your new home than with a personalised first house door mat! Made from hard wearing coir, this door mat can be adapted to include two lines of text plus a lovely sketched house to match their own.
2. Talking Tables 500-Piece Gin Jigsaw Puzzle & Poster - £15.95, Amazon
On a rainy weekend, there's really nothing better than curling up with a cup of tea and a good puzzle. Except we'd highly recommend gifting the couple with a bottle of gin to accompany this particular jigsaw, so they can sip a g&t while they puzzle away.
3. Personalised Couple Print - £17.99, Etsy
Treat a couple you know to this very special personalised print. Simply send a photo to artist Rebecca and she'll get to work creating a beautiful A4 print for them to hang pride of place in their first home together.
4. Pezzetti Italexpress Aluminium Moka Pot - £18.30, Coffee Box
If the couple you're buying for are into their coffee they'll love this chic moka pot that's perfect for traditional Italian espresso. You could even throw in a bag of ground coffee to go with it!
5. Stoneware Salt & Pepper Set - £9.99, H&M
Is it just us, or is a nice salt and pepper set something you always intend to buy but never quite get around to? We love the minimal design of this pair - the perfect finishing touch to a beautiful table arrangement.
6. Hay Cap Bottle Opener - £12, Liberty
In the mayhem of moving, the one thing you absolutely need but are also very likely to lose is a bottle opener. Hay's elegant bottle opener wouldn't look out of place left out on display (and at least it'll be in reaching distance for bottle opening emergencies).
7. Dishoom From Bombay with Love - £17.16, Amazon
Cookbooks are a great first home gift, and they don't get much better than Dishoom's From Bombay with Love. Couples will enjoy working their way through over 100 recipes from the much-loved restaurants (let's just hope they invite you over for dinner!).
8. Hanging Plant Pot - £11.73, Not On The High Street
Green-fingered couples will be keen to fill their first home with plants aplenty, so gift them this sweet hanging plant pot to display them in. Made from jute and seagrass, it'd look fab in a bathroom or kitchen.
9. Couples Carved Heart Personalised Marble Coasters - £16, Not On The High Street
Anyone else as marble obsessed as us? We love these simple, personalised coasters from Not On The High Street, which would make the perfect addition to a couple's first home together.
10. Set of Two Deco Cocktail Glasses - £15.20, Not On The High Street
Not only is this set of art deco-inspired cocktail glasses super chic, but they're an absolute bargain to boot! If you know a couple who've bought their first home and you have an inkling that they're going to love entertaining, you can't go wrong with these.
11. A4 Custom Foil Round Map Print - £15.40, Etsy
This foil map print is such a sweet idea for a first home gift. Simply choose the location of the couple's home and opt for copper, gold, silver or rose gold foil. You can even have their names and the date they moved in added!
Best First Home Gifts £25 - £50
12. x2 Linen Blend Aprons - £25.98, H&M
If the couple you're buying for are dab hands in the kitchen, then why not gift them matching aprons? You can't beat H&M for affordable homeware, and these scandi-inspired linen aprons are an absolute steal at £17.99 each.
13. Traditional & Truffle Honey Stilton Jar Duo - £26, Fortnum & Mason
Cheese lovers will thank you for this super fancy stilton jar duo from Fortnum & Mason. Even when the cheese is gone (sob) the couple can reuse the ceramic jars for storage - win win!
14. Large Natural Pampas Bouquet - £35, Etsy
We're still not over the pampas grass trend, and if a couple you know are just as hooked then they'll love this pretty bouquet. If you're feeling extra generous you could even buy them a vase to go with it!
15. Ceramic 70s Mugs - £34.95, Folk Interiors
These coffee cups are giving us serious 70s vibes, so if you're buying a first home gift for a retro-loving couple, they're bound to enjoy them. Each mug is unique thanks to the homemade finish, and they're dishwasher safe too.
16. Nedis DAB/DAB+ Retro Design Digital Radio - £34.99, Better Pricing
Sticking with the retro theme, every first home needs a radio and we've fallen head over heels for this unique version! With DAB technology, this nifty radio allows you to store up to 10 channels so there'll be no arguments about which station to listen to next...
17. Boy Smells Ash-Scented Candle - £36, Space NK
When it comes to gift giving, our motto is 'if in doubt, buy a fancy candle'. And they don't get much fancier than Boy Smells. It can be tricky landing on a scent that everyone will enjoy, but you'd be hard pressed to find someone who wouldn't love the smell of 'dry hay, black coal and palo santo' that the Ash candle promises.
18. Personalised Photo Wooden Hexagon Wall Art Set - £30, Not On The High Street
Photos turn a house into a home, so this wall art is a really thoughtful idea if you're buying a first home gift. Upload the images you'd like to include in five of the hexagonal wooden shapes, plus for £4 you can add a text hexagon for an extra special touch.
19. Plant Subscription Box - £35 per Month, Leaf Envy
If the couple you know are plant-obsessed, they'll love receiving this plant subscription box. Carefully curated by Leaf Envy's plant styling team, they select the trendiest seasonal plants and highest quality pots to be delivered straight to their door.
20. Personalised Risograph Couples Map Print - £45, Not On The High Street
How much fun is this map print! With eight colour combinations to choose from, including fluorescent orange and pink, simply combine the location of their new home and their names to create this eye-catching wall art that they'll treasure for years to come.
21. Handmade Candle Lantern - £39.99, H&M
Add a harmonious and cosy feel to their first home with this gorgeous handmade candle lantern. This would look perfect displaying in a bathroom or living room, just don't forget to buy a candle to go with it!
22. Chicken Curry Box - £40, Kolamba
Not going to lie, we're incredibly tempted to buy this for ourselves. Give the gift of bloody good grub with this chicken curry box for two from Kolamba. Perfect if you can time it for their first night in their new home - after all, who wants to think about cooking after all that unpacking?
Best First Home Gifts £50 - £75
23. Aesop Resurrection Purifying Hand Duet - £55, Liberty
Allow us to introduce you to yet another 'gift I'd love but never be able to justify buying myself'. With dreamy herbaceous aromas and super cool packaging, this Aesop set is bound to be a hit with couples moving into their first home.
24. Monstera Deliciosa & Helena Rose Pot - £56, Soho Home
As lovely as receiving a plant is, it's always so much better when it comes with a beautiful pot to live in. Monstera Deliciosa are really easy to look after, making this beautiful gift from Soho Home the perfect choice for couples who aren't quite as green fingered as they'd like to be.
25. Wooden Bath Tidy - £30, The White Company
This wooden bath tidy is recommended as a place to hold soap and sponges, but we're pretty sure a glass of wine would feel right at home. Just make sure to check that the couple have a bath!
26. Terrazzo Wine Cooler - £65, Not On The High Street
If you're buying a first home gift for a couple who love to entertain, then you can't go wrong with this trendy wine cooler. Made using eco resin and crushed recycled mussel shells, we love the hexagon design (and you can get it personalised too!).
27. Personalised Wine Carafe & Oak Cheese Board Set - £74, Not On The High Street
Sticking with the wine theme here but adding in a very important element… cheese. This wine carafe and oak cheese board set can be engraved with your choice of words, adding a special touch to this first home gift.
28. Round Copper Mirror On a Rope - £69.60, Not On The High Street
It's all about the details when you're decorating a new home, so little additions like this copper mirror can really make a difference. We guarantee the couple you're buying for will love this!
29. Cowshed Signature Hand & Body Set - £65, Soho Home
Help the couple you know create a hotel-level experience in their own bathroom with this fancy set from Cowshed. It includes four items from their Relax range - shower gel, body lotion, hand wash and hand lotion - and, as the name suggests, would be ideal for some post-move relaxation.
30. Linnea Andersson Blanket - £69, Arket
Woven from lambswool and with fringed edge detailing, this pretty blanket is thick and warm yet soft and lightweight, making it a great addition to a first home. Now all you need to do is choose from beige, green, yellow or bright blue...
31. Capri Dolce Vita Assouline Book - £70, Zara
This beautifully bright book is packed full of images of must-see spots on the Italian island of Capri. If the couple are travel lovers - and especially if they've been to Capri! - then they will love displaying this on their coffee table.
Best First Home Gifts £75 - £100
32. The Personalised Champagne & Chocolates Box - £76.50, Fortnum & Mason
Does it get much better than Champagne and chocolates? (Hint: no it does not.) If you're really struggling to decide on a first home gift then you can't go wrong with this gift box from Fortnum & Mason, which can be personalised for an extra special touch.
33. Steel Fire Pit - £95, Not On The High Street
If they're lucky enough to have a garden in their first home, then why not treat them to their very own fire pit? Crafted in a heavy raw steel which will age to a natural rusty finish over time, this will certainly add some wow factor to their outdoor space.
34. Hammock with Tassel Fringe - £79, Not On The High Street
Sticking with the outdoor theme, how much fun is this fabulous fringed hammock? It has wooden spreader bars to make it easier to get in and out of, plus loops for hooking onto tree branches. Now to just sort out a bit of sunshine…
35. Coffee Lovers Three Month Subscription - £90, Not On The High Street
If the couple love coffee, they'll love you for gifting them this caffeine-packed first home gift. Every month they'll receive two 70g packs of ground coffee beans, as well as chocolate and shortbread to make the perfect coffee experience.
36. Round Tray Table - £79.99, H&M
The perfect spot to display candles, flowers, or even just the TV remote, this braided rattan tray table is a great addition to a first home (or any home for that matter!).
37. Hello Sunshine Neon Sign Wall Light - £79.99, Not On The High Street
Who wouldn't instantly feel happier if they saw this fun neon sign every morning? Crafted from neon flex, it will stay cool to the touch so it's still safe if there are little ones around.
38. Lumie Bodyclock Spark 100 Light-Up Alarm Clock - £79, Urban Outfitters
Couples who struggle to get up in the morning will thank you for this light-up alarm clock from Lumie, which helps you to fall asleep more easily and feel brighter the next day.
39. x2 Jacquard-Weave Dressing Gowns - £79.98, H&M
There's nothing cuter than snuggling up in matching robes, making these soft organic cotton gowns from H&M a fabulous first home gift idea. Choose from white, black or light greige.
40. Light & Fresh Cocktail Subscription - £87 for 3 Months, Not On The High Street
Do you know what's better than cocktails? Cocktails delivered to your door, of course! This is such a fun first home gift that so many couples would enjoy. Each month they'll receive four seasonal cocktails mixed by award-winning barman Neil Donachie, including garnishes, recipe cards and their "story behind the serve".
41. Couples at Home Massage - from £90, Urban
Why not treat the couple you're buying for to a massage from the comfort of their own, first home? Urban allows you to choose exactly when and where you have your couples massage, and booking a therapist via their site couldn't be easier. Robes at the ready!
42. Cast Iron Casserole Pot - £79, ProCook
Ok so we'll admit that a casserole pot isn't exactly the most exciting first home gift, but hear us out. Not only is this an absolute kitchen staple, but it'll last for years and - in matte black - looks pretty snazzy too.
Best First Home Gifts Over £100
43. Kaden Serving Cart - £169.99, Wayfair
If the couple love entertaining then they simply won't feel complete until they have their very own bar cart. We love this gold, art deco-inspired design, which will look fab with some fancy glasses and bottles on top!
44. Barwell Cut Crystal Rocks Glass - £152 for 4, Soho Home
Speaking of which, if you're after some classic cocktail glasses then look no further than Soho Home's Barwell collection. Perfect for short drinks like Old Fashioneds and caipirinhas, each piece is hand finished and would make a very special first home gift.
45. Brushed Brass Hansen Candleholders - £135, Soho Home
For a special first home gift that the couple will keep and pass down, we love these brushed brass candleholders. Crafted by artisans in India, they're made from high-polished, brushed brass, which creates a natural patina over time.
46. Jalousie-Door Bedside Table - £119.99, H&M
If the couple you're buying for are after some furniture for their first home, this bedside table - with a lacquered ash veneer and jalousie doors in pine - is totally on-trend.
47. Ellen Williams "Tulip 2" Crayon Drawing - £120, Affordable Art Fair
Although art can be an incredibly personal choice, we couldn't not include this joyful drawing by textile designer and artist Ellen Williams. One in a series of botanical line drawings depicting the seasonal flowers of English gardens and the countryside, it's the perfect addition to a first home.
48. Ninja AF160UK Max Air Fryer - £129.99, John Lewis
Jump on the air fryer trend in style with this Ninja Max number. Using little to no oil, air frying circulates hot air around food to remove excess moisture and create a delicious crispy finish. Foodies will love this first home gift!
49. Audio-Technica LP60X-BT Bluetooth Record Player - £199, Urban Outfitters
This Bluetooth-enabled belt-driven turntable from Audio-Technica is a great first home gift for music fans. We love the sleek design, which means it's guaranteed to fit in regardless of their style or where it's positioned.
50. A Year of Fresh Pasta - £204, Not On The High Street
If you asked us what heaven looks like, it would probably include a year's worth of pasta. Give the gift of glorious carbs with this 12-month pasta subscription, which includes a box of pre-portioned pasta, sauce and garnishes to create two restaurant-quality dishes every month.
51. Introduction to Sourdough - £90pp, Bread Ahead Bakery
What first home gift could be better than the scent of fresh bread? Well, learning how to make it of course! Legendary Borough Market bakery Bread Ahead offer various cookery courses, including a half day intro to sourdough where you can learn the fundamentals of sourdough bread making.
Attending a wedding this year? Allow us to introduce you to the best personalised wedding gifts to buy now.