There's no denying that when it comes to luxury hotels, London has a lot to offer.
If you're looking to book a romantic break with your other half, searching for the perfect UK mini-moon spot or even on the hunt for a London wedding venue, Rosewood London could be just what the doctor ordered…
Location
Slap bang in the centre of London, just off High Holborn, sits Rosewood London – perfectly situated for mini-mooners looking to explore the city or wedding couples saying 'I do' in the hotel and the city's nearby venues. However, its noisy, bustling location couldn't be further from what awaits you inside.
The entrance, via an ornate archway, opens up to reveal a cobblestone courtyard surrounded by the most impressive of Edwardian buildings. It leaves you you feeling as though you've stumbled into another (completely magnificent) world altogether.
The tube is just a short walk away, while Covent Garden – along with its shops, theatres, restaurants and bars – is walkable in 15 minutes, although we have a feeling you won't be leaving the hotel any time soon…
Style and Vibe
Opulent touches meet modern elegance at Rosewood London. The hotel's renovation in 1914 was overseen by English Heritage, meaning many of the building's significant historical features were preserved – including the impressive marble staircase that rises through the hotels floors under an elliptical dome.
READ MORE: The Best Mini-Moon Destinations in the UK – Revealed!
These – combined with some flamboyant additions (we fell in love with the bulldog in the lobby, not to mention the wall-to-ceiling glass cabinets full of curiosities) – give the hotel class, character and bags of style.
There's an impressive 262 rooms and 44 suites, although you wouldn't know it from the tranquil setting of the black and white tiled lobby, full of squashy sofas we would have been perfectly happy sleeping on for the duration of our stay. Each of the hotel's rooms – even in the lower price bracket – are impressive in size alone.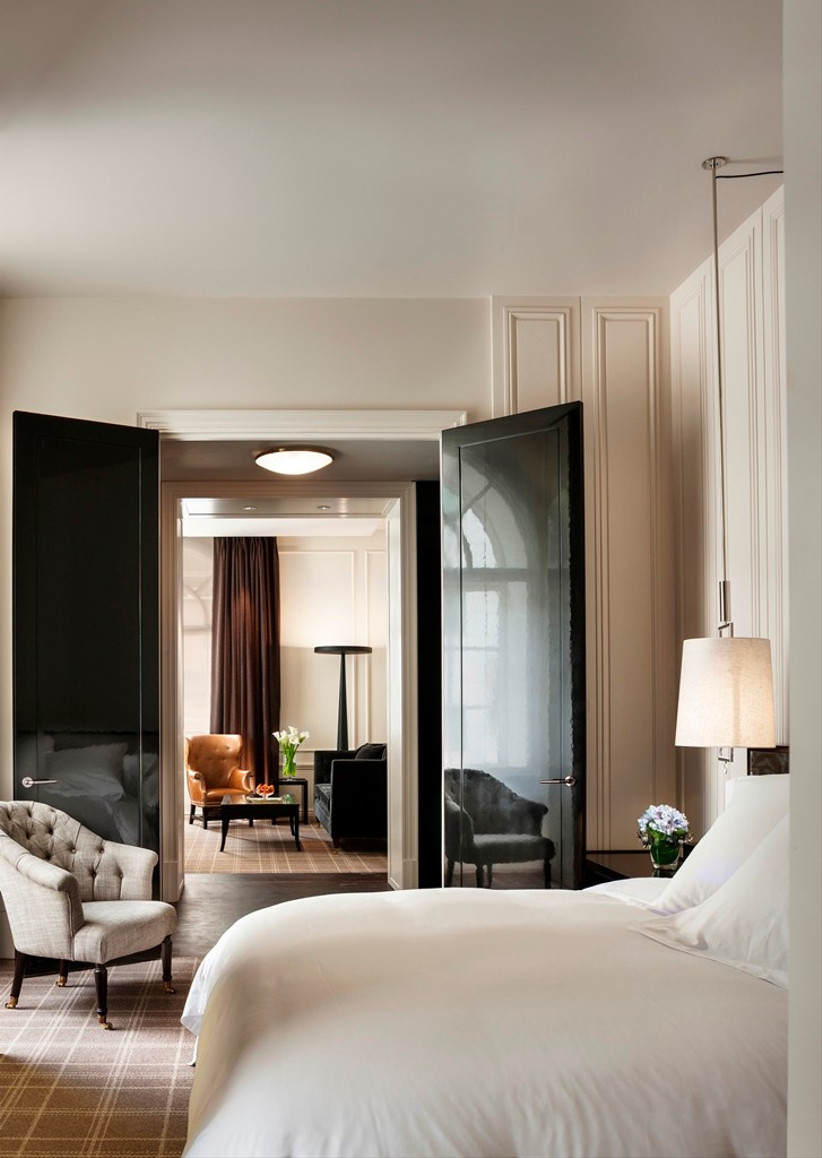 Rooms are categorised by Executive, Grand Executive, Premier and Grand Premier, plus a range of suites, and all come with comfy double beds, iPod/iPhone docking stations and Nespresso machines. The décor is kept calm and neutral, making it the perfect space to relax and unwind after a busy day in town.
READ MORE: Our 17 Favourite Wedding Venues in London
Our Premier Suite is palatial and airy, with a sitting room, a bedroom complete with the comfiest (Italian linen-covered) bed we've ever slept on, and leading on to our super-luxe bathroom.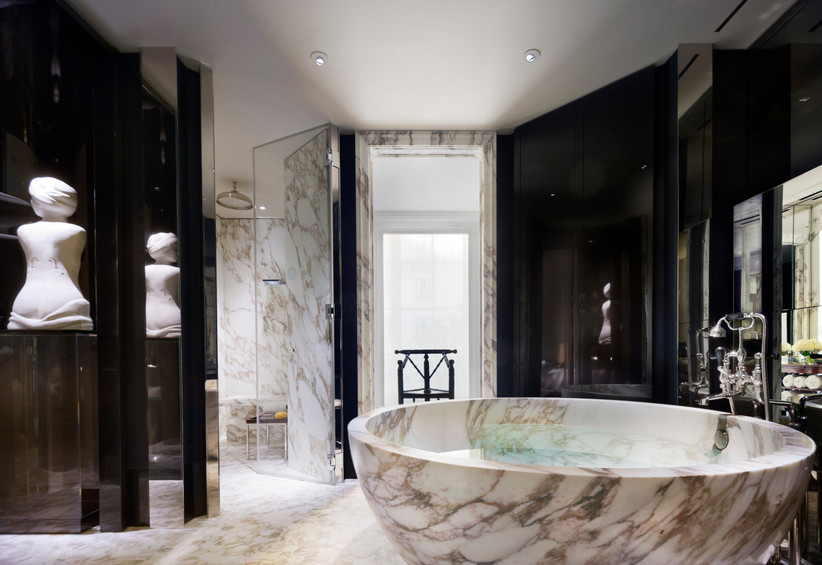 It's an Instagrammer's dream (more on that later…), full of marble and mirrored surfaces, not to mention Czech & Speake toiletries and the fluffiest of robes. Our rainfall shower leads through to a hidden bath, which is drawn before bed and filled with rose petals.
Food and Drink
Scarfes is the hotel's house bar – a sophisticated setting full of velvet armchairs and antique books where guests can sip cocktails from the extensive menu. If you're as lucky as us, you can catch some live music too. We can recommend the Prince-inspired Purple Tears – a refreshing mix of Tanqueray and Moscato with hints of jasmine and patchouli.
If it's dinner you're after, the adjoining Holborn Dining Room doesn't disappoint. We loved the vibe of this relaxed yet classy brassiere – a grand room complete with red leather seating and floral displays.
READ MORE: These UK Spas Are Total Instagram Goals
All of the dishes we tried on the British-inspired menu were excellent, but it's really Executive Chef Calum Franklin's pies people come for. So much so, that they've opened The Pie Room, 'a one-stop destination dedicated to one of Britain's most iconic dishes' where guests can dine in or takeaway.
What to Do
On the lower ground floor you'll find the Sense Spa – a soothing hideaway with soft lighting where you can choose from an array of treatments. The spa has a relaxation room, sauna and steam facilities, plus a gym if you're feeling a little guilty about those pies…
What to Instagram
Breakfast at Rosewood London is located in the hotel's Mirror Room – an impressive space with lounge seating, more huge flower arrangements and decorative mirrors. Go early to get a great snap of the setting, especially on a bright day when the room is flooded with sunshine.
We couldn't help taking several (ok, more than several) snaps of the seven-storey, Italian Pavonazzo marble staircase either. In fact, it's hard to imagine a more perfect spot for a wedding day snap.
READ MORE: 15 of the Most Romantic City Breaks in Europe
Best For…
Mini-mooners looking for a post-wedding city break will love just how special this hotel feels, as well as the convenience of being so close to London's main attractions. Wedding planning couples might like to know that the hotel has its own dedicated weddings team who can help organise anything from an intimate gathering to a grand affair.
Essential Info
London City airport is just nine miles from the hotel, followed by Heathrow Airport. It's easily accessible via all of the biggest central London train stations, with Kings Cross / St Pancras, Euston and Waterloo all just over a mile away. The nearest underground stop is Holborn, just a short walk along High Holborn.
Rooms at Rosewood London start at £415, with Suites starting at around £1,600. Visit Rosewood London's website for more info or click here to book a room now.