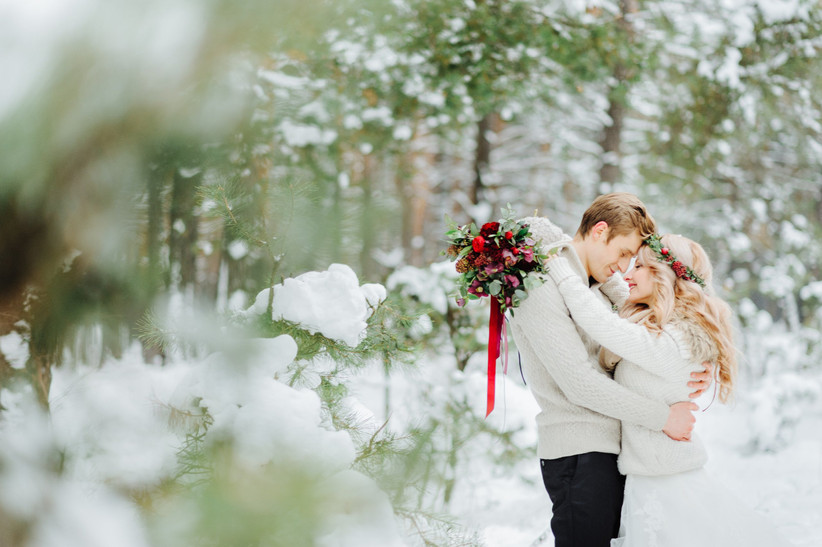 You've got a seating plan to sort out, 20 Christmas presents still to buy, 100 wedding favours to put together, a tree to decorate and a packed schedule of friends' and office parties. How on earth are you going to juggle wedding planning and Christmas during the next few months?
READ MORE: 16 Questions You're Sick of Hearing While Planning a Winter Wedding
If you're hosting a winter or early spring wedding then Christmas will come dead in the middle of your busiest planning time. Since November and December are expensive months due to all the extra buying, entertaining and festive cheer, you might find your time and budget stretched to the limit.
As Mariah should have sung, "All I want for Christmas… is wedding planning to be over."
READ MORE: The Most Magical Winter Wedding Venues
But don't fret! There's plenty of ways you can throw an amazing Christmas and wedding day, plus keep your sanity AND your budget in check. Read on for our 11 best tips for juggling the two big days.
1. Set a Budget and Stick to It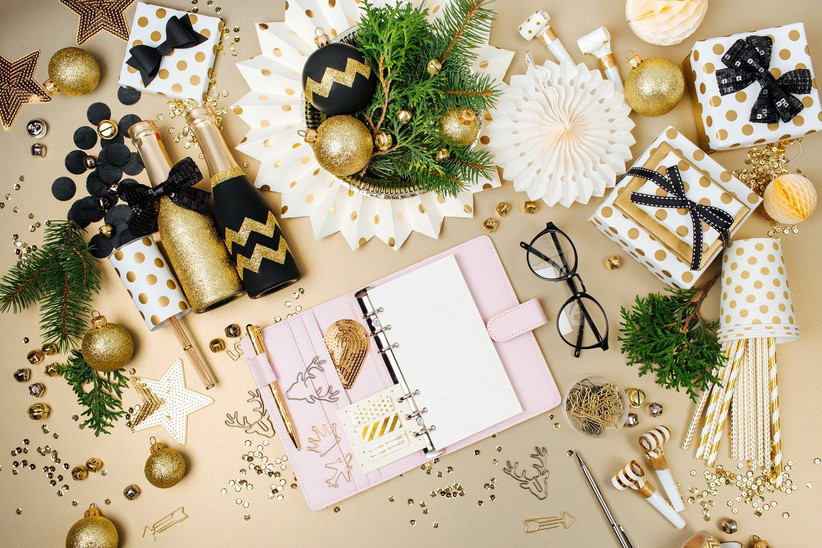 The key to making sure your bank balance doesn't end up as red as Rudolph's nose is budgeting. Oh, no, it isn't! Oh, yes, it really is.
Work out how much you need to put aside for the rest of your wedding (including what's left to pay suppliers, and all the little bits like décor, favours, thank you gifts etc). Then work out what that leaves you for Christmas. You'll have to be incredibly strict with yourself. A spreadsheet is your new BFF. Put in literally everything you buy.
2. Sales = Bargain Hunter Heaven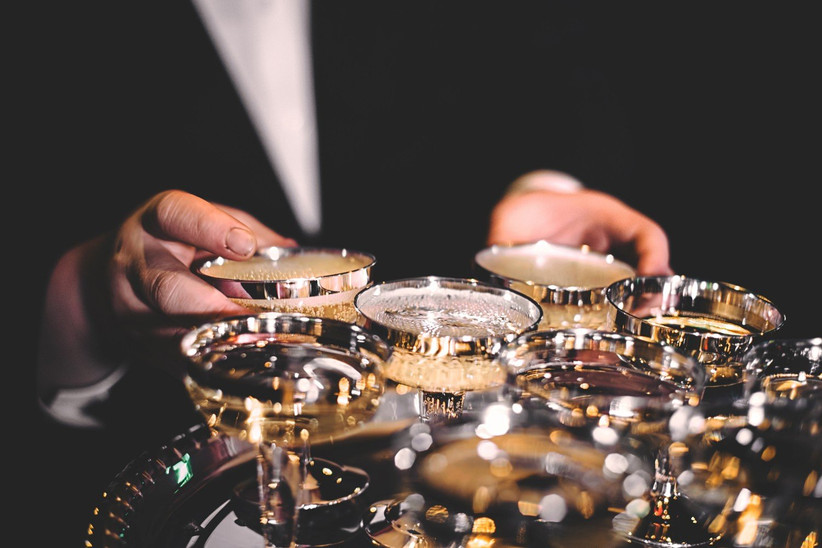 The best way to stick to your budget is to seek out bargains and make sure you're not buying lots of unnecessary things.
There are usually a lot of sales and discounts in the shops leading up to the New Year and, of course, Black Friday in November. If it's possible, make a rule not to buy anything if it isn't on sale; even if you stick to this 80% of the time, you'll save a bomb on your bridesmaid dresses/thank you gifts/groomsmen suits.
The key to bargain hunting is to have both your wedding and Christmas in your mind at the same time. Whenever you pass by some sparkly tree decorations, ask 'Could I use these as a centrepiece too?' Seen a 25% off 6 bottles of Prosecco deal? Get some for Christmas day and your wedding toast. Win-win!
READ MORE: 50 Christmas Wedding Ideas to Transform Your Day
3. Be Prepared for Family Fallouts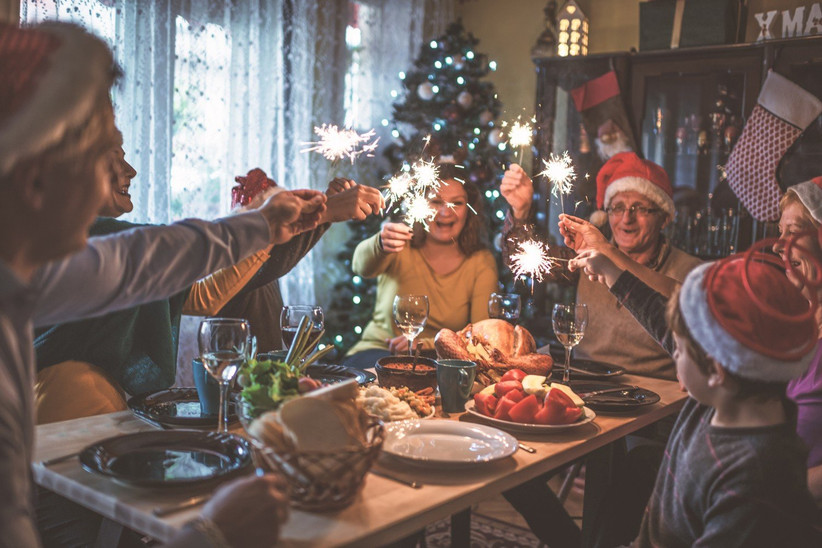 Even without Monopoly, Christmas Day can be fraught with family tension. Throw in wedding planning and the potential for arguments and drama is ramped up to nuclear levels. If you know you're a people-pleaser, have your partner step in and explain that you can't host Christmas this year/organise all the family presents/commit to the 200-mile round trip to pick up Grandad. Honestly, someone else can pick up the slack this year. Give yourself a break.
If you can afford it, try to stay at a hotel when you visit family, then there's somewhere to retreat to when the interrogation about the wedding all gets too much.
Should you not be able to afford the same kind of Christmas presents you normally get for family, explain early on and ask if you can all get each other smaller gifts this year. If your family are able to help, it could be worth asking for a contribution to your dress or similar as your gift this year.
4. Have a Winter Wonderland Theme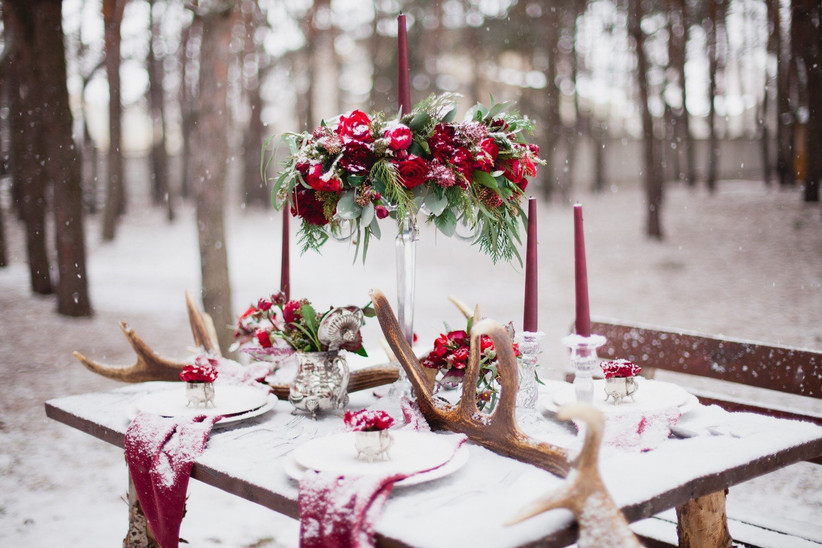 It's Christmas – or, at the latest, February – cold and possibly snowy. Embrace the cheap snowflake, icicle or frosted decorations and go full on winter wonderland. If you're going for an early March wedding and snow-themed doesn't feel quite right, there's still lots of metallics or rich reds and purples which could feed into your theme. Buy these decorations just after Christmas in the Boxing Day sales and your winter wonderland will be a right bargain!
This goes for your bridesmaid dresses too. Your girls undoubtedly have a sparkly party dress that could double as their bridesmaid outfit; or they might be willing to split the cost if they can wear it again during the holiday season.
READ MORE: The Most Romantic Christmas Present Ideas For Your Fiancé or Fiancée
5. Divide and Conquer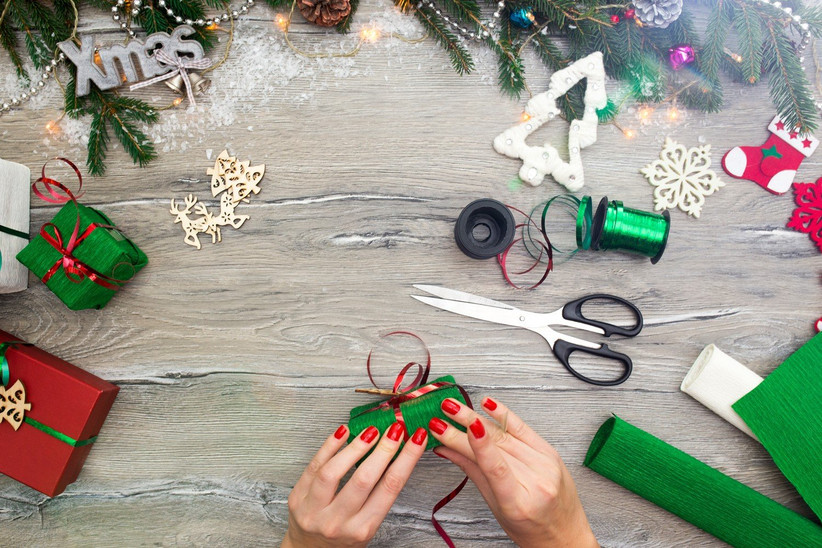 You have a partner and bridal party – use them! Rushed off your feet and don't have time to tie 150 favour boxes? Get your bridesmaids to do it! Haven't got time to get your soon-to-be in-laws a gift? Send out your partner!
It's actually a great way to spend time with your loved ones during a busy time. Make sure you involve your partner in decisions and ideas as much as possible. Late night shopping together after work, thinking of gift ideas, putting together your wedding favours and sorting out that seating plan are all things that can be done as a couple during the winter months.
6. Combine Your Christmas Cards and Invites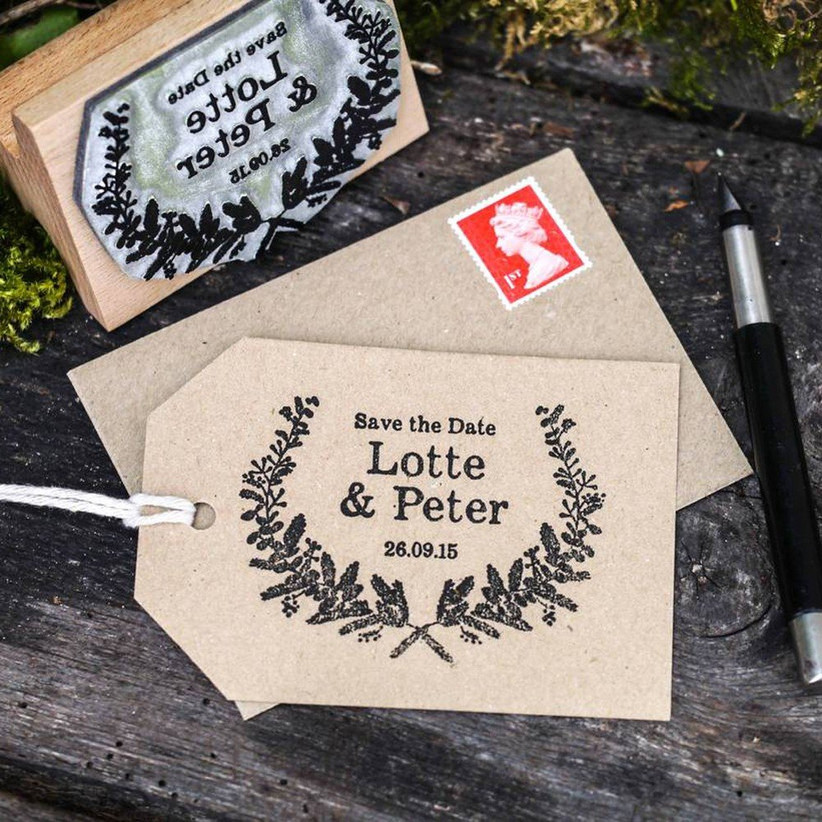 Image: English Stamp Company
If you are still at the early stages of your wedding planning and still have your guest list to figure out then why not start collating names when you are writing your Christmas cards?
Or, to save on postage, send your 'save the date' or wedding invitations in the same envelopes as your Christmas cards to give your guests plenty of time to plan ahead.
READ MORE: 13 Things That Will Happen On Your First Christmas as a Married Couple
7. Save on Your Shipping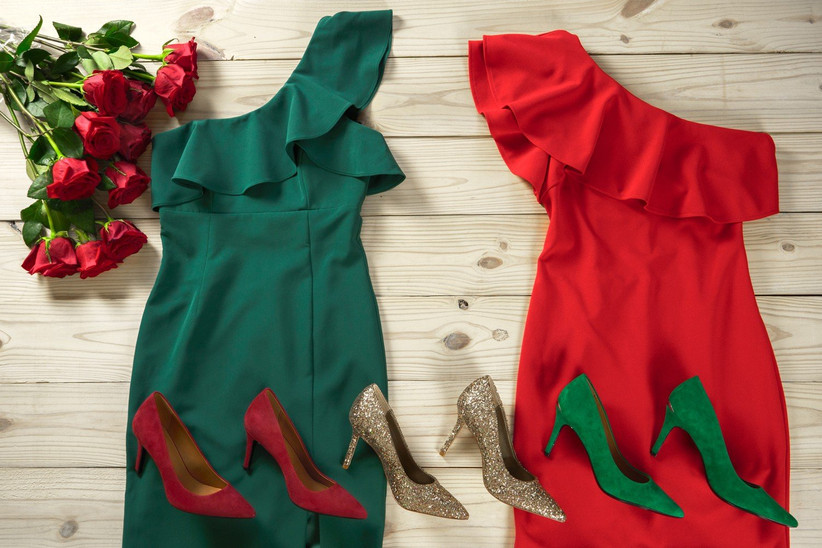 A simple one, but when you shop online, try to get everything into a single delivery so you don't have to keep shelling out.
Ordering from a department store is a great way to do this. They'll often have concessions for different make-up and clothing brands so you can order your bridesmaid dresses together even if you're mixing-and-matching while getting your sister her Christmas gift.
Amazon is a fantastic place to order cheap décor or favours, plus tick lots of your pressie list. If it's all shipped together, you'll save £££s. Don't forget you can get a free 30 day trial of Amazon Prime – just remember to cancel it afterwards!
8. Be Sensible at Your Dress Fittings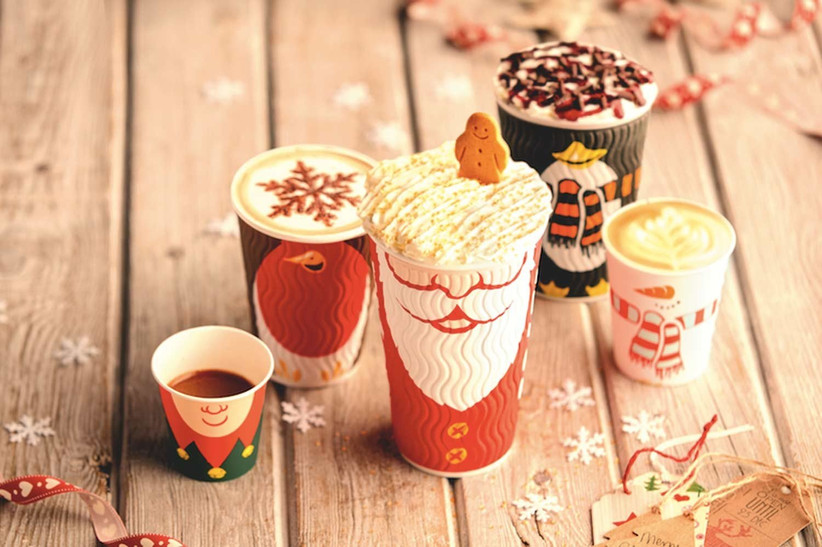 Image: Costa
You absolutely deserve to enjoy Christmas and all the mince pies, mulled wine and festivities that go with it. You'll start having dress fittings around six to eight weeks before your wedding. Don't give yourself that extra pressure at this point to have to tone up to fit your dress. Instead you might even want to ask the seamstress to give you a little extra breathing room to enjoy and treat yourself over the Christmas period.
You won't ever regret having that hot chocolate when you meet up with your friend, but you will regret trying to starve yourself into a dress and missing out on the Christmas roasties. If you do need to let the dress out a little, rush alterations could cost you even more money too!
If you want tips for sensible swaps that still let you enjoy yourself, we spoke to a dietitian for loads of advice.
READ MORE: 20 Ways to Keep Your Guests Warm at a Winter Wedding
9. Check What's Already Done For You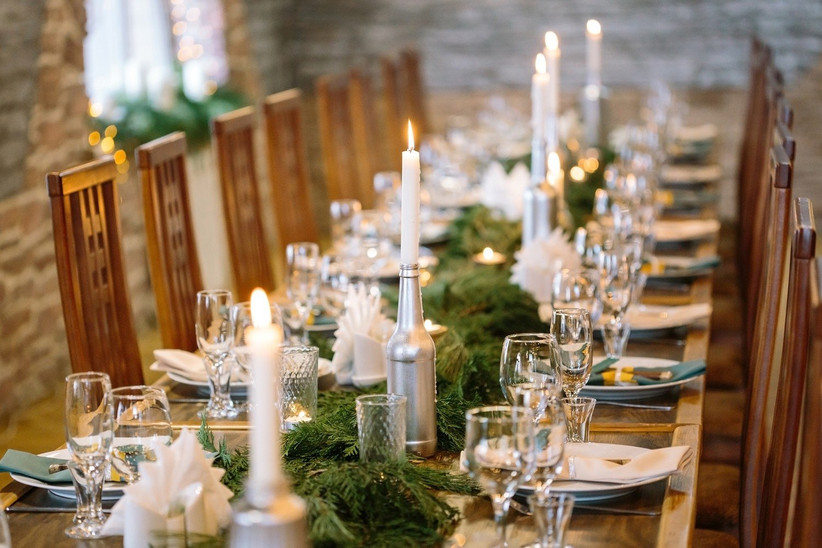 Before you even think about décor, contact your venue and find out what winter decorations they'll have up. A hotel, for example, will likely have an impressive Christmas tree, foliage arrangements you can use or fairy lights they're happy to keep up outside for you. It's always worth asking if they have anything you can use e.g. leftover baubles you can put into vases for centrepieces.
10. Re-Use Your Christmas Décor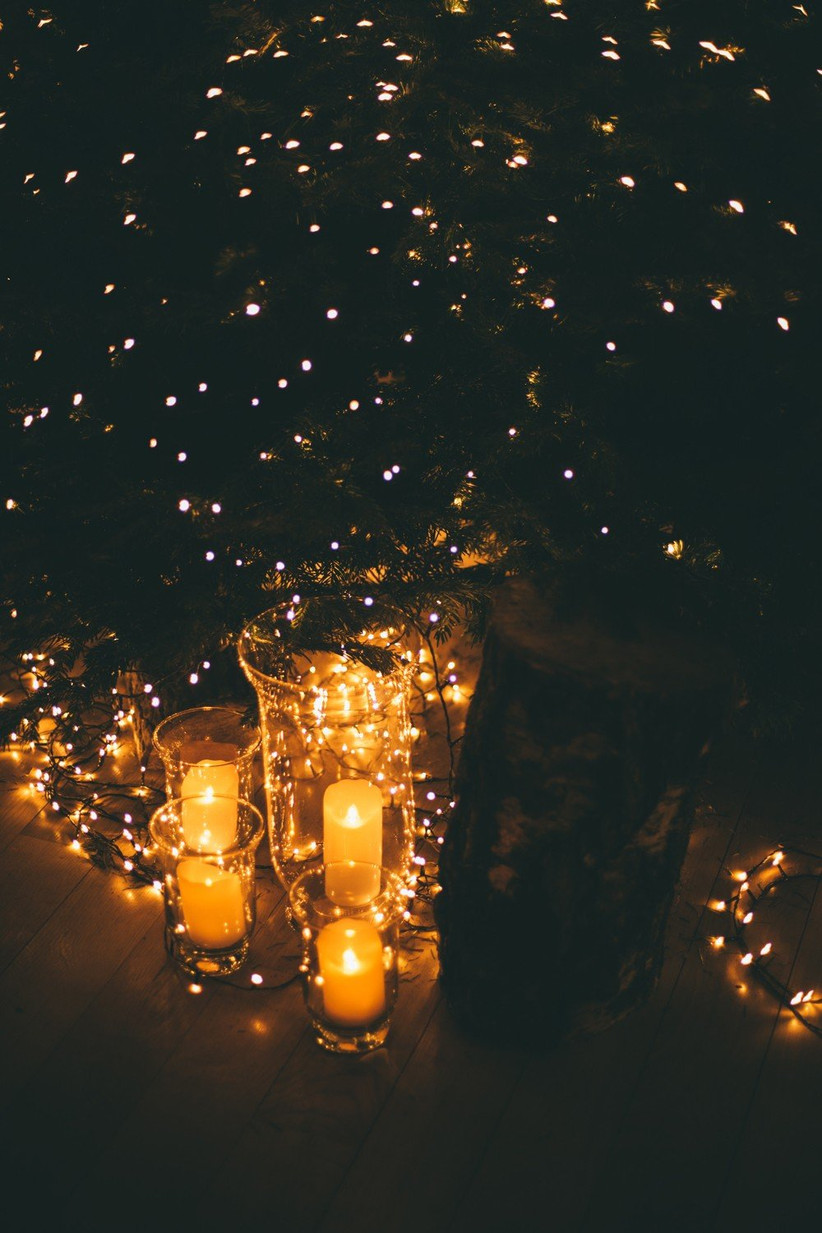 Instead of having to buy decorations for your home and tree, plus wedding décor, can you combine both – saving you money and a trip to the shops? Candles, baubles, sequin materials, greenery: all of this can be re-used if you follow the same colour theme.
READ MORE: 38 Magical Winter Wedding Ideas
11. DIY Your Winter Wedding Favours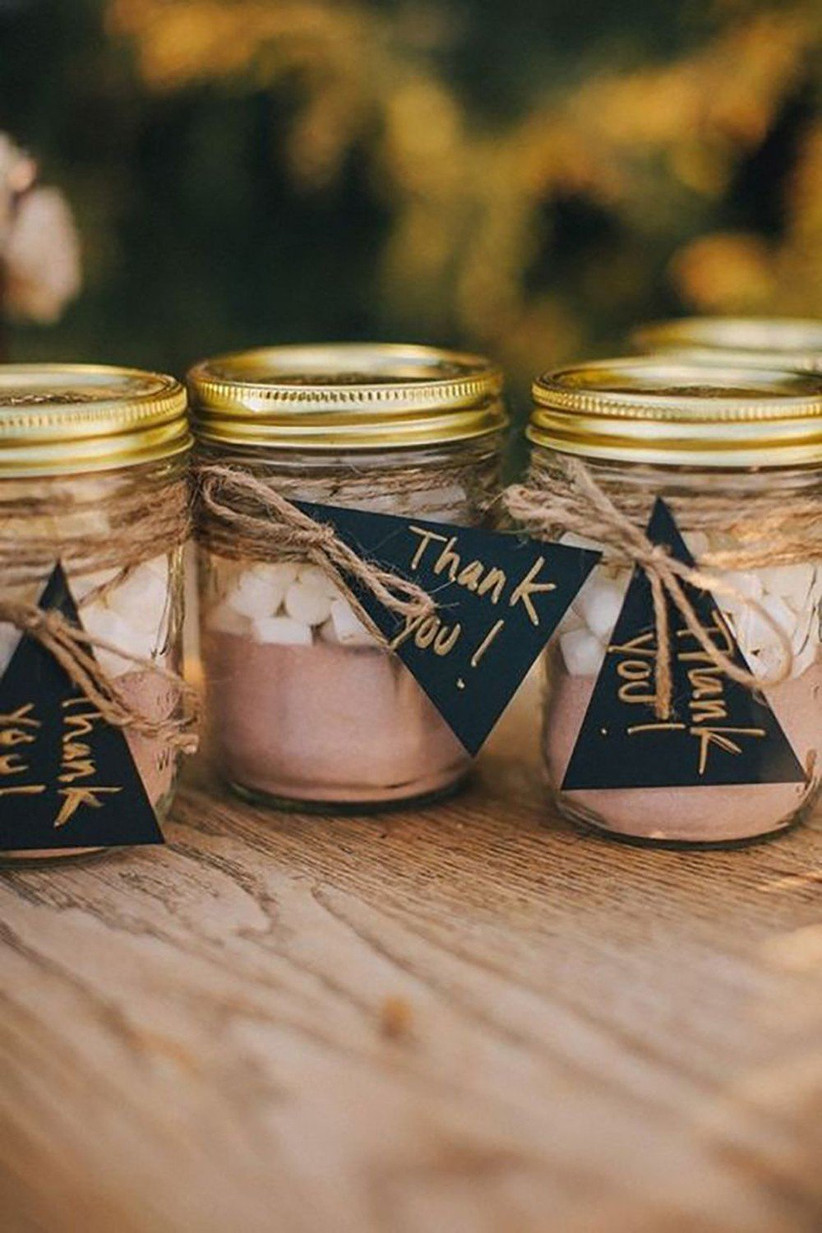 Image: Pinterest
Lots of winter treats really lend themselves to DIY which could save you money – but will cost you time. If you have a few evenings to spare, then knock up some spiced gingerbread biscuits, s'mores kits or hot chocolate mix. The mixes will keep well for weeks if stored correctly. A cracker or sparkler is a nice touch instead of a favour and can cost pennies.
We've got three DIY wedding favour ideas here that genuinely cost pennies each:
The most important thing is that you don't get so wrapped up in the stress of both occasions that you can't enjoy either. Christmas and your wedding day are both exciting (to different degrees, of course!) – embrace the festive spirit and have fun!
There's so many more ways you can incorporate a winter wonderland theme into your wedding, including winter wedding dresses, amazing frosty winter wedding cakes and festive winter wedding flowers.