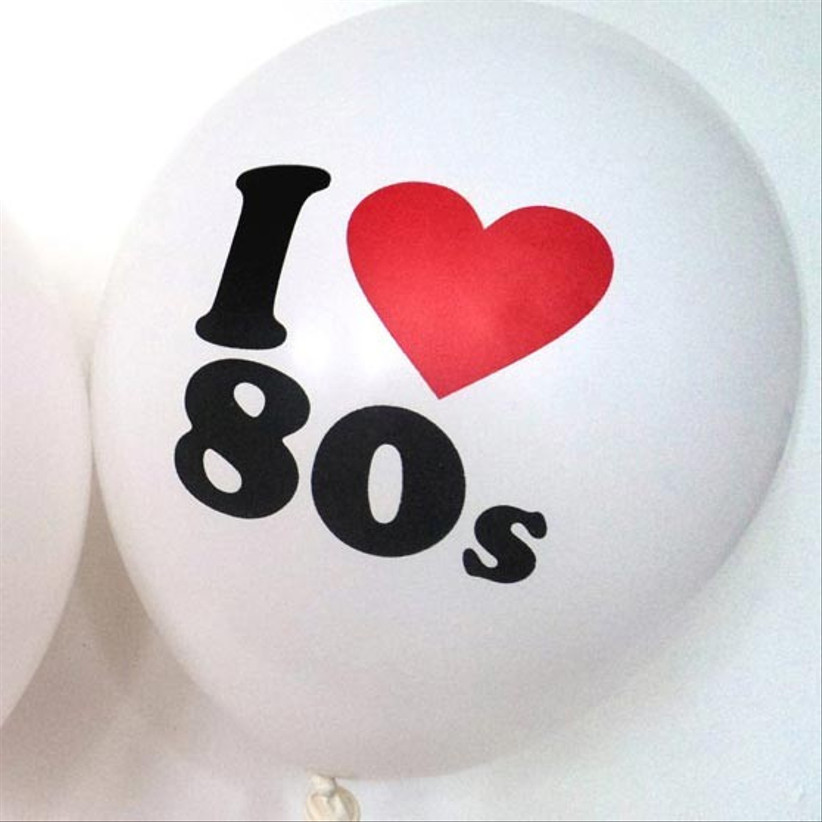 The 80s is a popular choice when it comes to choosing a hen party theme – it's fun and colourful and on the right side of cheesy! If you're planning an 80s themed hen party, we've got plenty of ideas to help you – from the perfect playlist to a selection of fancy dress ideas.
If your hen is interested in a different kind of retro, don't miss our round up of vintage hen party ideas.
80s Hen Party Décor
There are so many fun options when it comes to décor for an 80s themed hen party – you can really go all out with the décor. Go for classic 80s style with Rubik's cubes, cassette tapes and garish balloons, or embrace the club Tropicana vibe with neon brights and fun tropical accessories.
We love this neon yellow bunting from Paper Street Dolls – it reads 'I like to party', making it the perfect choice for getting everyone in the party mood.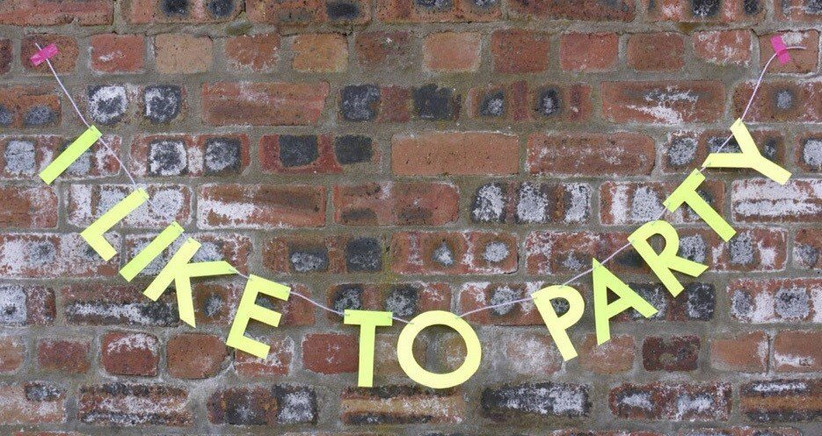 You can't have a party without balloons. We love these from 80s Material Girl – they'll leave no doubt as to what the party theme is and will look great in the background of all your pictures!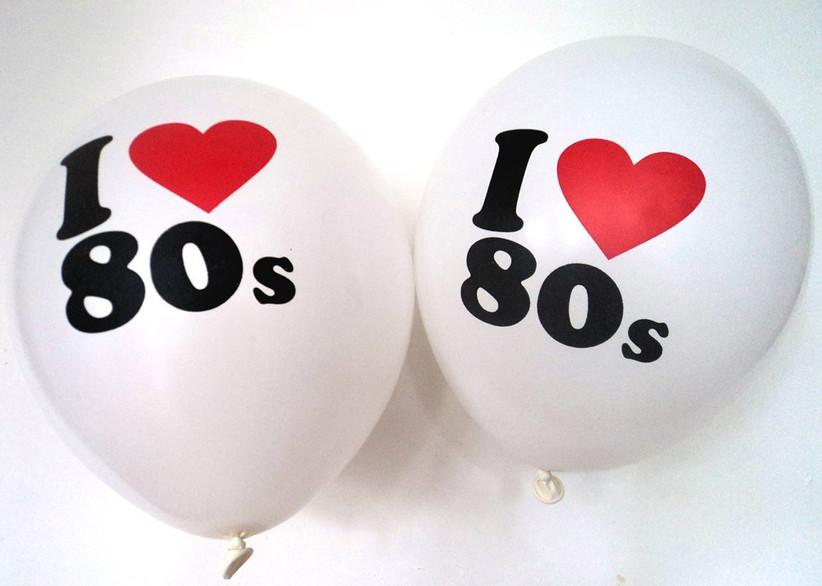 Who was without their Walkman in the 80s? No one! That's why we love this quirky cassette bunting too – it instantly adds an old school feel to your celebrations. We're obsessed with the Rubik's cube bunting too, also from 80s Material Girl. It definitely adds a retro vibe to your party décor. Spread out the amazing Rubik's cube beanbags from Cuckooland around the room for people to flop down on once they need a break from dancing, and use actual Rubik's cubes in your table decor or give them out as party gifts.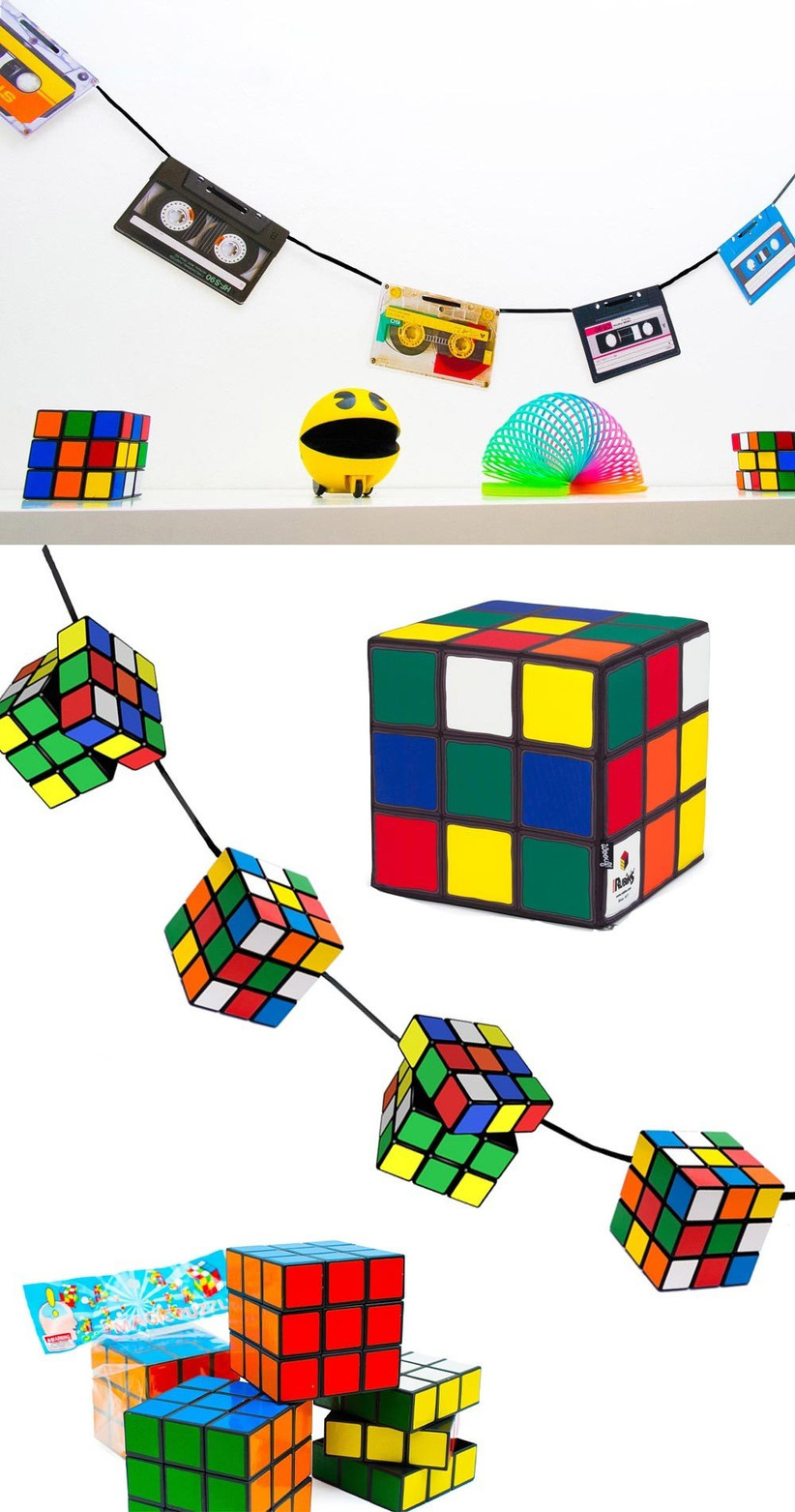 Treat the other hens to 80s themed party favours too, such as retro sweets. These Fizz Wiz popping candy packets would go down a storm in your hen party gift bags.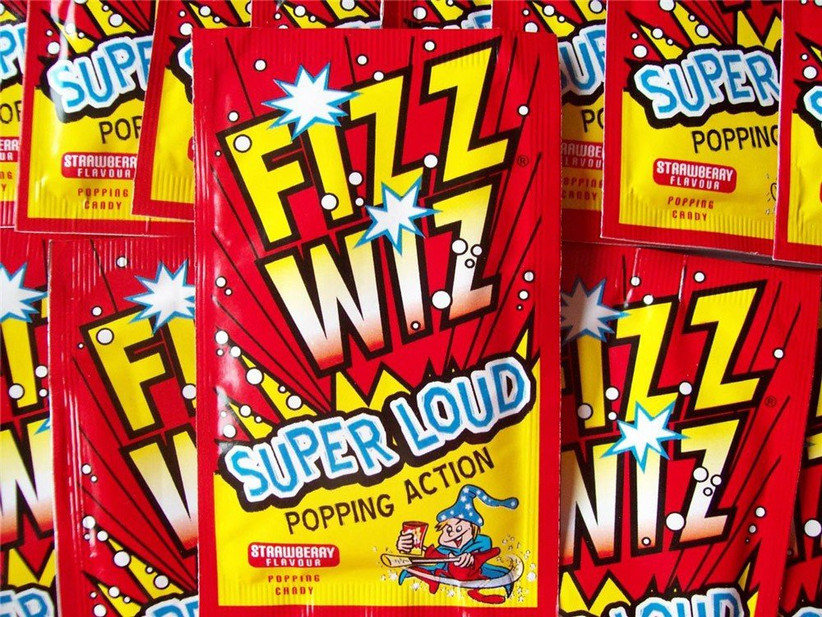 Image credits: 80s Material Girl
If you want to go more summery, what about a Wham!-inspired Club Tropicana theme? Add to the Club Tropicana vibe with this cool tropical bunting from Sainsbury's – we love the summery palm trees. You could serve up cocktails in cheap and cheerful cocktail glasses from Tiger. The shape is perfect for adding to the retro feel. Choose a suitably 80s drink such as a Sea Breeze or a Tequila Sunrise!
The light up flamingo from Primark would look amazing on a treat table, and the flamingo fairy lights from Tiger can be used around the edges of it. This pop up pineapple from New Look is suitably retro – the honeycomb style is old school by itself and it's ideal for dressing up a Club Tropicana party.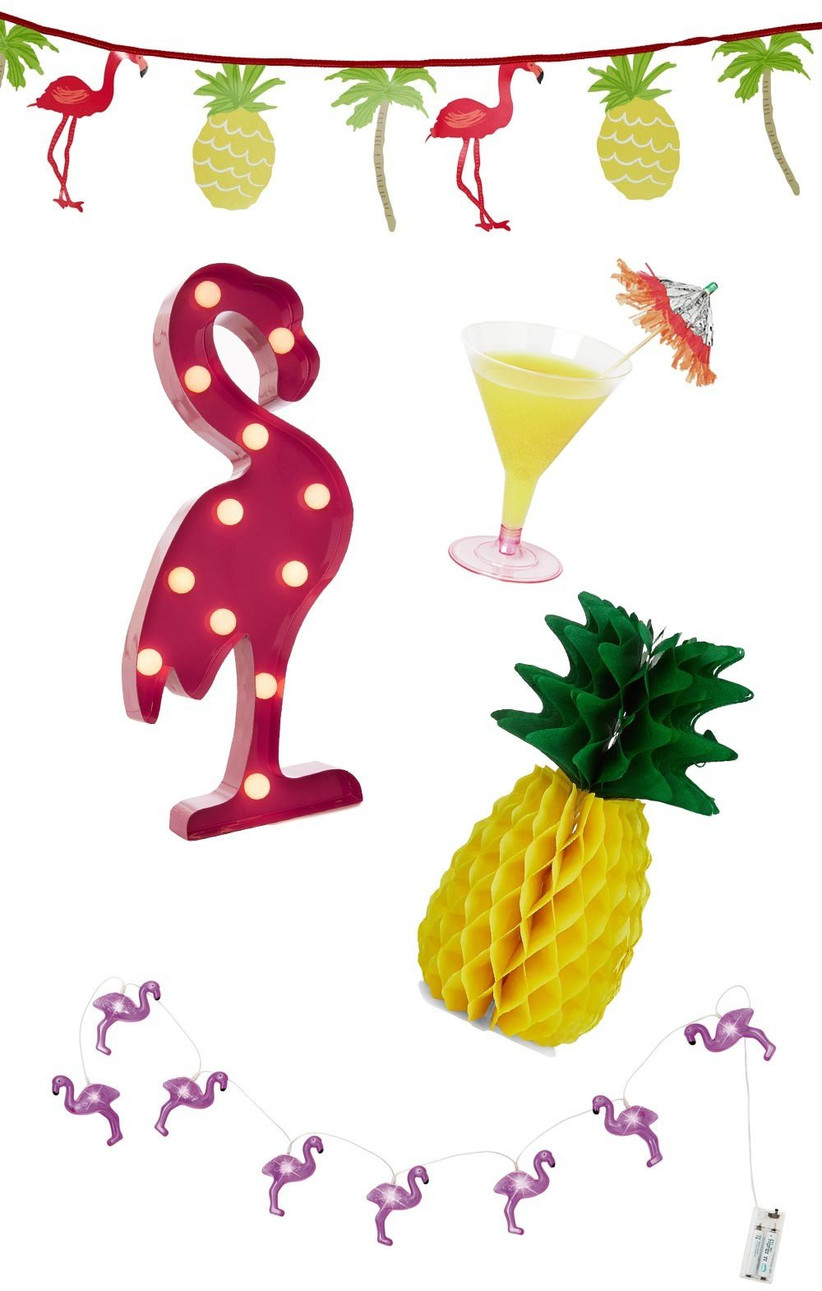 80s Makeup
Make sure you're party ready with the right 80s inspired makeup look. Makeup was seriously distinctive in the 80s, so we asked makeup artist and beautician Kelli Waldock for a step by step guide to nailing the look.
First, cleanse, tone and moisturise the skin, then apply a primer to the face and neck. A primer is a great base for your foundation, as it gives it more staying power.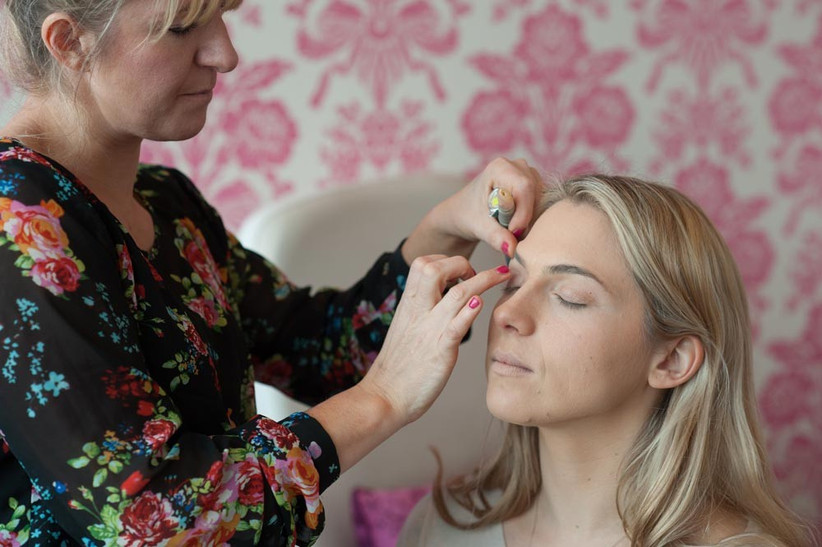 Use a foundation that suits your skin tone and type. For a night out with the girls, opt for a medium to full coverage – but you can apply a light layer if you have good skin and prefer a natural look. The model has 'Airbase Airbrushing' foundation on, for a flawless base.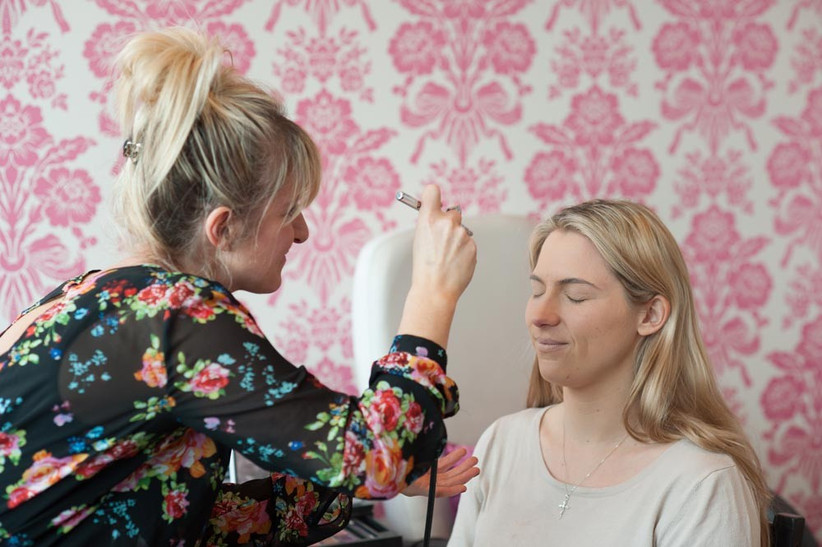 In the 80s the focus of the look was on the eyes, so apply a bright eyeshadow. Start with a lighter pink in the inner corner of the eye, and finish with a darker hot pink in the crease and outer corner. Intensify the look by smudging pink eyeshadow underneath the eye and applying mascara and false lashes to give the eye more definition.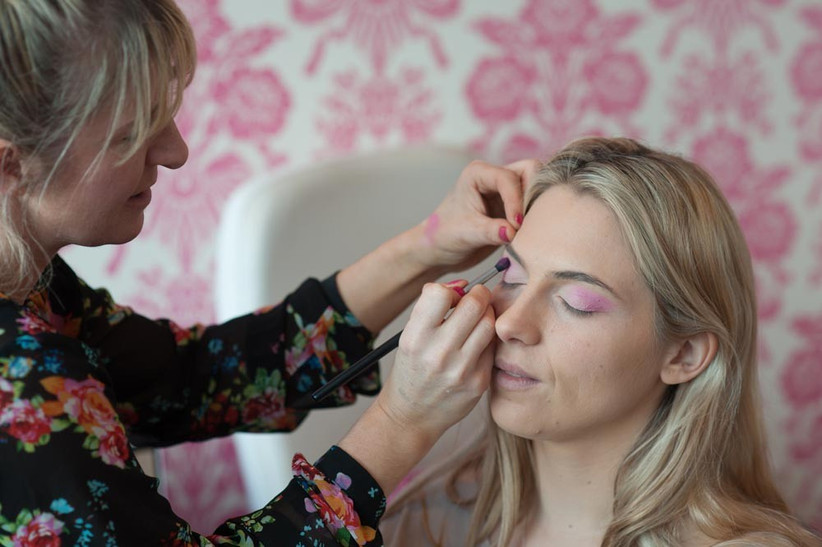 Blusher was a big part of the look in the 80s, so today's subtle rules don't apply. It's the heavier the better when it comes to blusher! Apply the blusher to the hollows of your cheeks as this will help to contour your face and bring out your cheek bones; an iconic style of the 80s. Use a vibrant pink to work with the eyeshadow – it's perfect for a little 80s revival.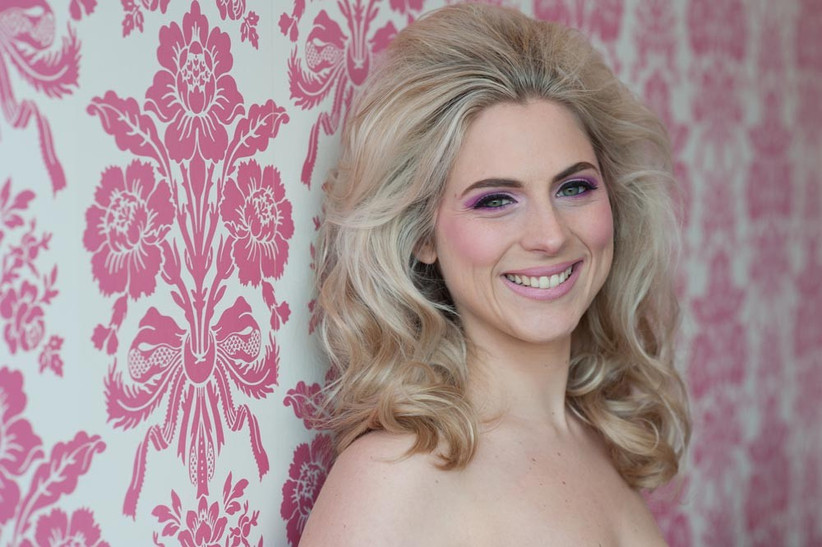 Keep the eyebrows defined by using a brow powder to give the brows colour and to create more depth and thickness. Bushy brows were popular in the 80s – check out retro Vogue covers to see lots of strong-browed models for inspiration.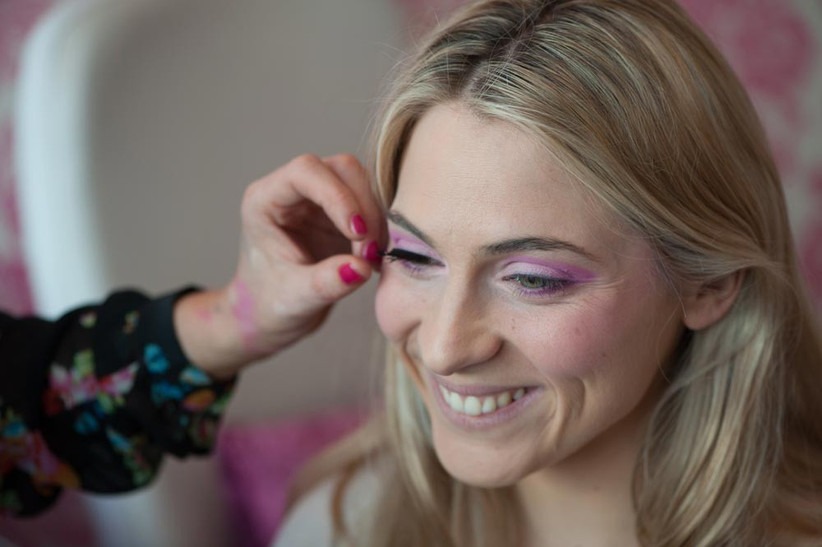 Finally, apply a pink-coloured lipstick. Choose one that complements the eyeshadow colour. Frosted lipstick will make your lips appear fuller, and was of course a very popular choice in the 80s.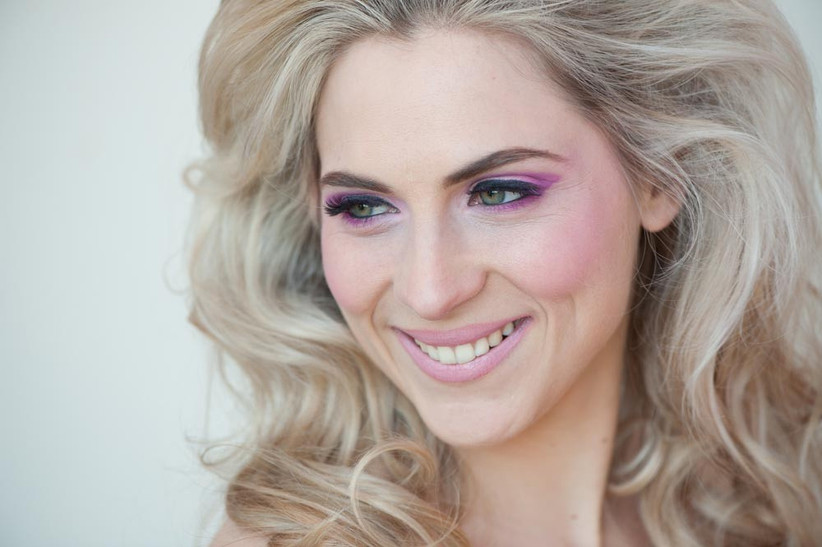 Image credits: Samantha Jones Photography, hair by Amy at V-Team
Costume
The most obvious 80s hen party costume idea is to go full on neon or to try and recreate some iconic 80s fashions. We love the 80s looks below –  mix and match the different pieces depending on the theme of your party.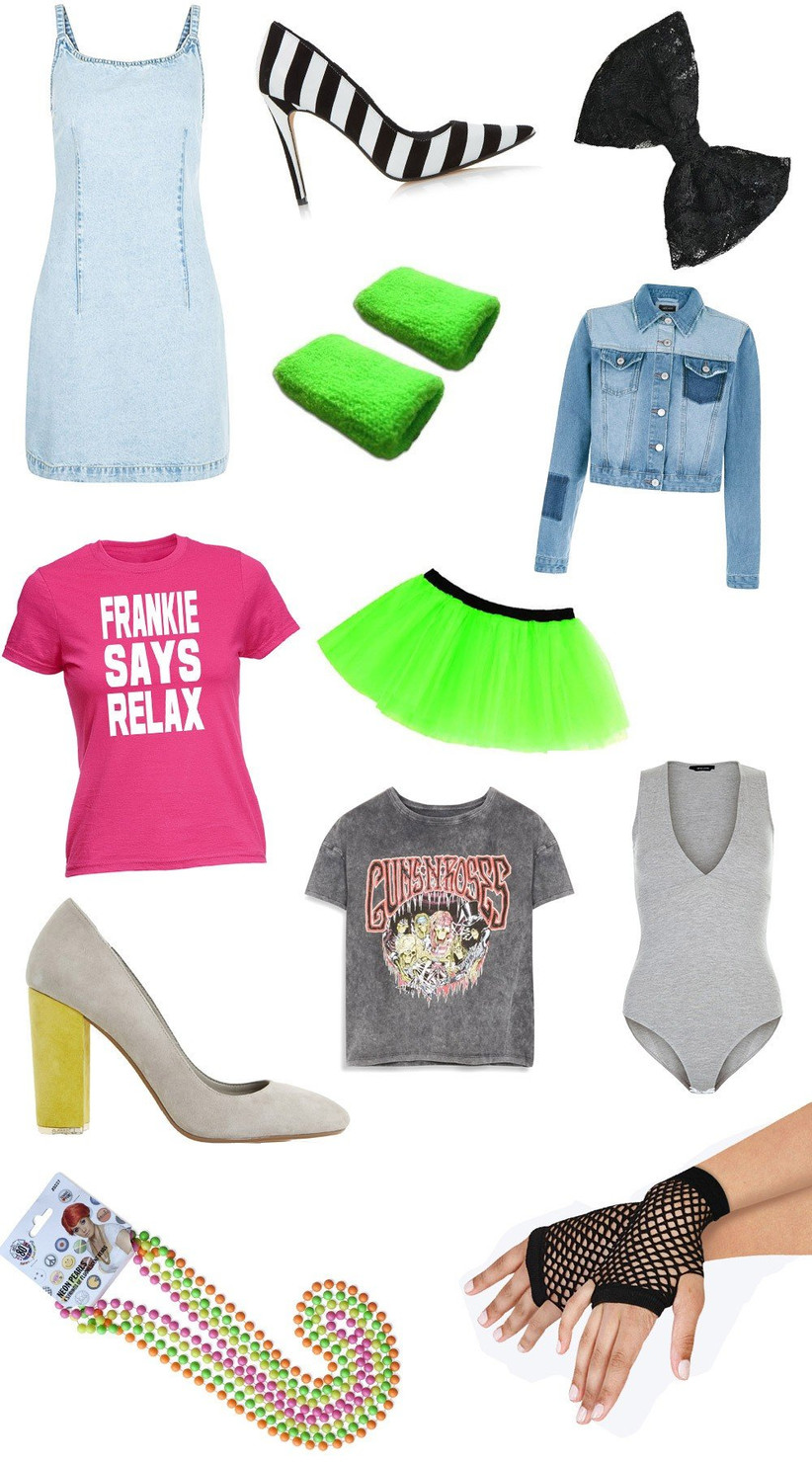 Acid-wash bodycon dress: New Look Monochrome striped shoe: Dune Black lace bow: Mona Love Boutique on Etsy Neon sweat bands: 80s Neon Fancy Dress Denim jacket: New Look Neon tutu: Red Star Fancy Dress Grey bodysuit: New Look Guns'n'Roses T-shirt: Primark Fishnet gloves: 80s Material Girl Plastic beads: 80s Material Girl Block heeled shoes: Dune Frankie Says Relax T-shirt: One Two Three T on Etsy
If you want to add even more to the look above, what about this amazing neon veil for the bride-to-be, from Julsera on Etsy?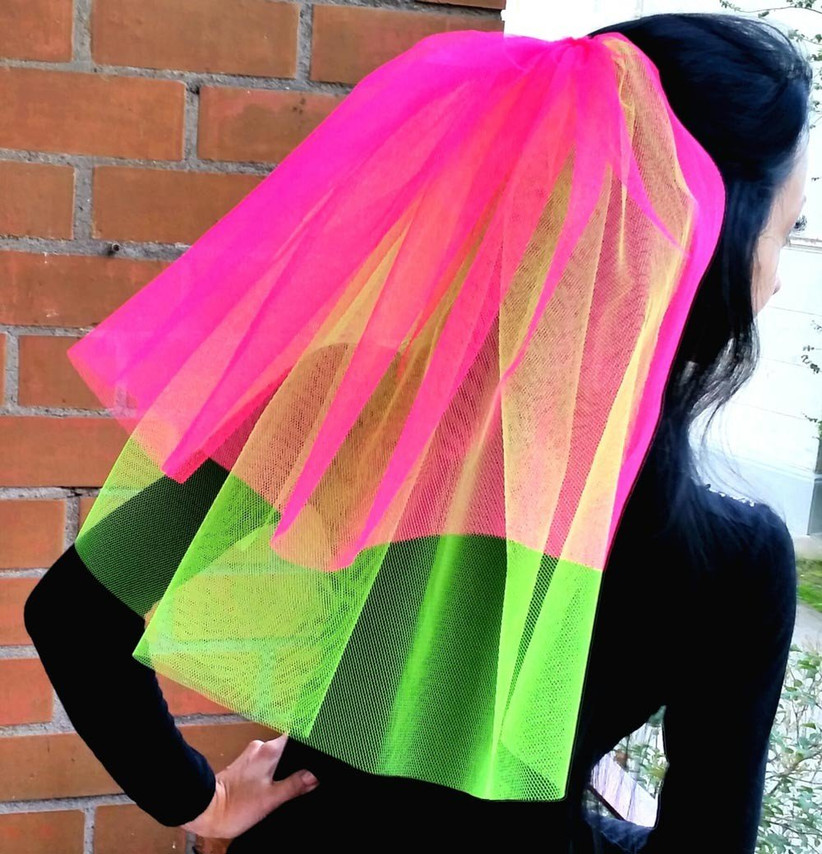 We also love this glitter bow from MiaRosePetals' Etsy shop – it comes in a variety of colours so all the hens could have matching ones.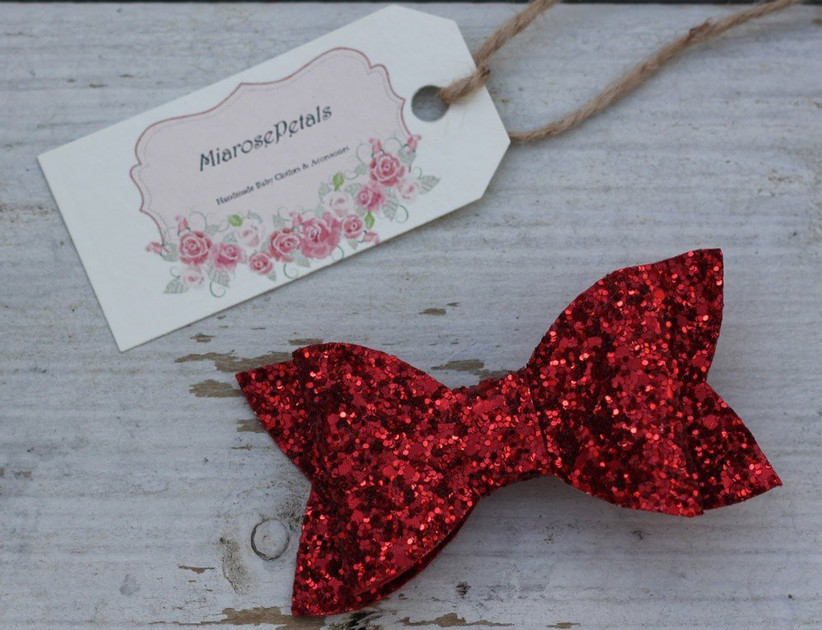 It's not really a bridal party outfit without a fun garter! Ooh La La Boudoir do a range of quirky garters but we love this Cookie Monster themed one, just for the 80s nostalgia.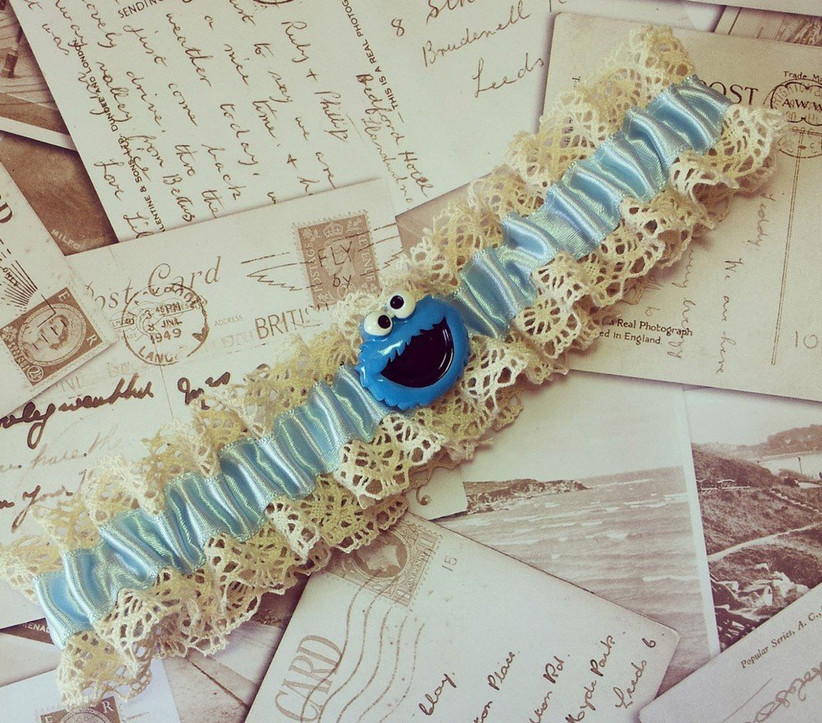 If you want a more specific theme for your 80s fancy dress, here are a few more ideas inspired by iconic 80s shows and stars…
Madonna – go for lots of black lace, cycling shorts and big hair to nail this look. If you want to go really bold, why not try the conical corset from her Blonde Ambition tour?
Super Mario Bros – Mario and Luigi was a classic 80s game and it's a fun and easy fancy dress idea too! You just need red or green t-shirts, dungarees and a hat.
Baywatch – This probably works best at a hen party taking place at a hot destination… It first hit screens in 1989 so the red bathing costumes are just within the timeframe.
Where's Wally – Where's Wally was first published in 1987 – yes, it's taken nearly 20 years and we still haven't found him. It's a very distinguishable fancy dress choice, as everyone will stand out in there red and white outfits.
The Flintstones – The Flintstones was first aired during the 70s, but as it was on screen throughout the 80s too, we'll take it. Besides, the female characters look pretty amazing.
Ghostbusters – A Ghostbusters fancy dress theme is pretty topical, considering the all-female reboot is out this year!
Beetlejuice – If you have a quirky bride-to-be, consider going for a creepy Beetlejuice theme.
80s Themed Hen Party Activities
Why not give your hen party the ultimate 80s feel with an 80s themed dance class? Don those fluorescent leggings and sweat bands and prepare to get physical. Reflex Dance Studios is the one and only 80s events company in London, and their main focus is 80s dance.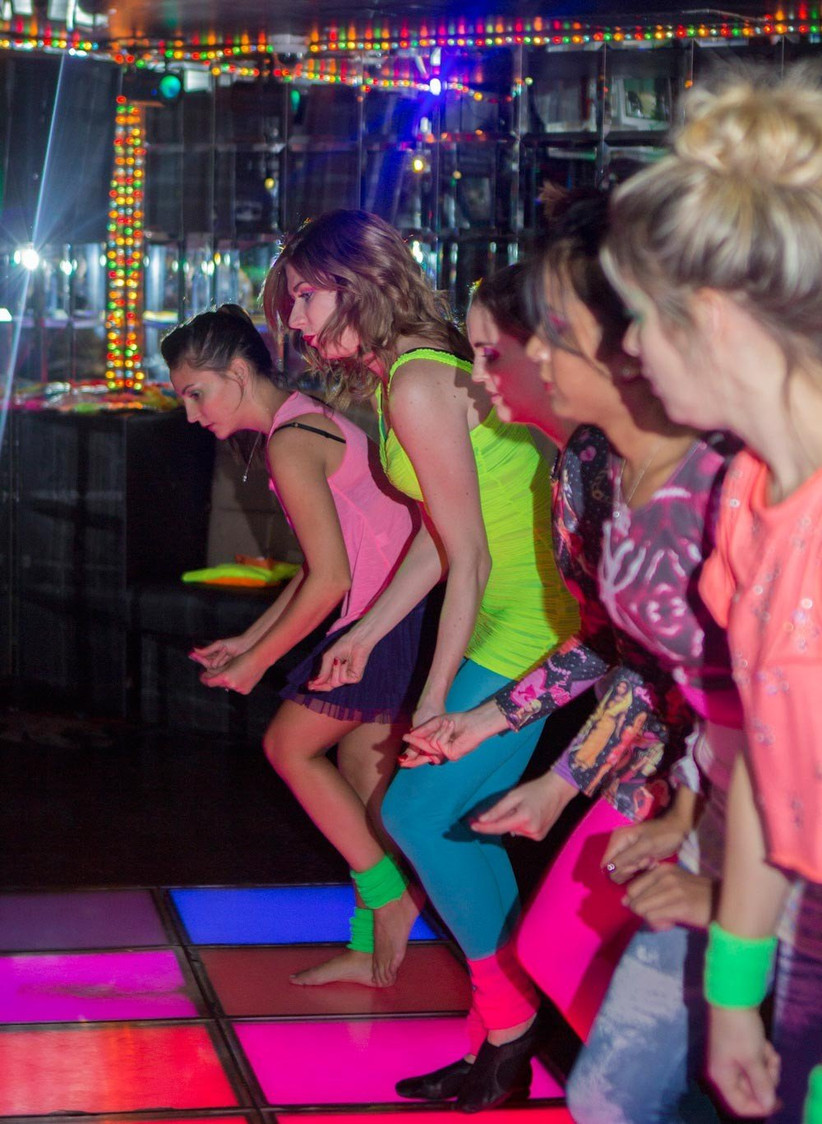 You can enjoy your own private party where you can sing, dance and become an 80s popstar for the day. Choose from karaoke, 80s dance classes, makeovers, photo shoots and more. Pick your favourite 80s dance tune and the choreographers will prepare a special routine for you all to learn – it's up to you whether you decide to recreate it at the wedding party…
If you're looking for hen party games, what about an 80s themed charades session? Split everyone into teams and get them to act out classic 80s films and music videos.
The Ultimate 80s Party Playlist
You need the perfect party playlist to really add to the atmosphere at your 80s themed hen party. We asked an expert for his top tips to get the party started – DJ Richard Dannaher of DiscoLogic shares his top 10 80s classics…
1. I Wanna Dance With Somebody – Whitney Houston
2. We Don't Have to Take Our Clothes off – Jermaine Stewart
3. Let's Hear It for the Boy – Deniece Williams
4. Billie Jean – Michael Jackson
5. Girls Just Wanna Have Fun – Cyndi Lauper
6. Push It – Salt'n'Pepa
7. I Think We're Alone Now – Tiffany
8. Club Tropicana – Wham!
9. Take On Me – A-Ha
10. Somebody Else's Guy – Jocelyn Brown
So now you have all your 80s hen party essentials ready, why not pull together some hen party games? We have the best Mr and Mrs Quiz that you can download for free, or a list of hen party dares if you're feeling competitive!