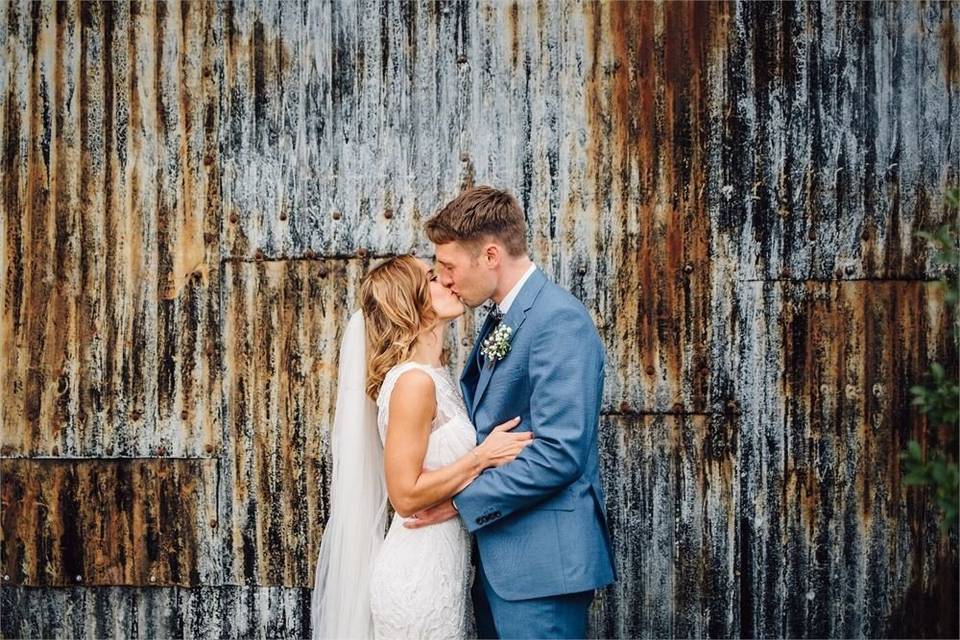 Depending on your budget, wedding videography is one aspect of your day which is definitely worth investing in. Your wedding goes by in a flash, so you'll want to relive the big day for years to come. A wedding video brings your day back to life in a way photographs simply can't.
Picking the right videographer is such an important decision, because you want their work to fit with your personal style and that of your wedding day. But with so many videographers out there, it can be difficult to know how much a wedding videographer should cost.
This guide is an excellent place to start, along with our round-up of questions to ask your videographer before you book, of course.
From the average cost of wedding videography to the factors which can affect your quote (and some inside scoops from professional videographers themselves), here is our breakdown of wedding videography prices.
How Much Does a Wedding Videographer Cost?
Image: Leslie Choucard Photography & Videography
First thing's first: how much does a wedding videographer *actually* cost? Well, who better to ask than the professionals?
Adam, founder of ALS Videography said that £1,500 is around the average price. For that, he said, you'd get "eight hours of filming and a 40-minute edit of the day presented on a USB stick."
Professional videographer Leslie Choucard added: "My starting from price is £1,550 and that includes a full day of coverage, from getting ready until 30 minutes after the first dance. You also get a five minute creative highlights film of the day captured by your videographer."
She continued: "Our highest videography collection is £2,600 and that includes everything stated above, as well as the film of the ceremony in full, the film of the speeches in full and two videographers working on your wedding day."
Leslie recommends that you should set aside 5%-10% of your total budget for your wedding videography. "The only thing you have left after the wedding day is your photography and videography. Photos are obviously very important but videography, in my opinion, is the icing on the cake.
"It brings everything to life, and will truly take you back and usually make you shed a little happy tear!"
With the average cost of a UK wedding now sitting at £31,974, setting aside 5-10% for videography would work out at around £1,500 to £3,000.
READ MORE: 22 Confetti Photos We Absolutely Love
What Factors Affect Your Wedding Videography Price?
Image: Moment Weddings
There are lots of things that might affect the wedding videography quote you receive, including location and the experience of your videographer. Here, we break each contributing factor down…
1. Location
Lots of videographers will cover weddings nationally, but if you want your videographer to travel a long way to reach you, you've got to expect to pay more.
Adam said: "If your wedding location is three hours away from where I live, I would need to increase my price to cover fuel and accommodation costs. If the drive is two to two and a half hours, I'd just need my fuel covering, and anything under two hours would not affect my quote."
Base quotes may also vary depending on where the photographer is based. In short, a central London-based videographer is likely to cost more than one who lives on the outskirts of Leeds.
If your wedding budget is tight, try to look for a wedding videographer who lives near to your wedding venue.
2. Your Wedding Date
If you marry off-season, i.e. in the winter, your wedding videographer may be willing to do a special deal for you.
In addition, the day of the week you marry on may also have an effect.
Fridays and Saturdays are the most popular days to marry on, and everything from your catering to wedding venue hire is likely to be more expensive if you get married then.
If you're open to getting married mid-week, there may be some wiggle room with your videography package.
Many couples book their videographer up to a year in advance and some videographers offer a discount if you pay in full up-front, so there's no harm in asking.
3. The Experience of Your Videographer
Image: Roo Films
Unsurprisingly, you'll pay more for your wedding videography if your videographer is more experienced. Videographers who have reached a certain level of expertise will charge what is appropriate for their skillset and the standard of work they're providing.
It's all about getting that balance between affordability and quality, so make sure you shop around!
4. Time Spent Filming
Most videographers will have a set day length, and if you want to add extra hours, they'll come at an added cost.
Adam said: "The longer I film for means the higher the quote. If I film for 12 hours on your wedding day, it'll take me approximately 80 hours to edit and create a full feature and highlights film." It's no wonder he has to charge for it!
If you don't have a huge budget for videography, you can often hire a videographer to cover just a small part of your day. This will dramatically reduce the cost.
Perhaps you'd be happy with just hiring a videographer for during the ceremony and reception drinks. Or how about asking the videographer to come along and shoot the speeches and the party?
5. Number of Videographers
Image: Roo Films
It'll come as no surprise that you'll pay more if you want more than one camera operator working on your wedding day.
Lots of couples favour this option, because it gives videos a whole new depth if the vows and speeches have been shot from a variety of different angles.
That said, it's not totally necessary, and most experienced videographers will be able to manage more than one camera at a time anyway.
6. Combining Your Videography and Photography Packages
If you want to cut costs, it's often cheaper to find a videographer who can also offer photography, because they're likely to be able to offer a discounted package price.
Leslie is a professional photographer as well as being a videographer. She said: "We offer a £450 discount for our couples who book photography and videography together.
"If you are looking for both, I highly recommend you choose a company that provides both for the best result possible. Having photographers and videographers working side by side on the wedding day (trying to get the same very important shots) that haven't worked together before can get tricky."
READ MORE: How to Plan an Awesome Wedding for £3,000
What You Can Expect For Each Price
Image: Moment Weddings
Less Than £1,000
Both the wedding photography and videography industries are those where you get what you pay for, so you should think very carefully before scrimping on your video.
Leslie said: "If you ask couples who have already gotten married what one of their biggest regret is you will usually hear 'that we didn't hire a videographer'. " You'll have even more regrets if you hire one who doesn't do a very good job!
With some videographers, you might not get anything at all for less than £1,000, but others will offer their most basic packages for lower prices.
Adam said: "For around £500, we'd offer three hours of filming shot by one camera operator and a five-ten minute highlights film."
You might have a close friend who's an amateur videographer looking to build their portfolio who would do it for this price, too. That said, choosing someone who's inexperienced is not a risk that's worth taking, and if you want a beautiful wedding video, you should invest in someone with experience. Take a look at a range of portfolios to make sure you like their style. If it seems too good to be true, it probably is.
READ MORE: 17 Wedding Budget Hacks to Help You Save
£1,000-£1,500
Image: Roo Films
Most comprehensive packages with experienced videographers start at around the £1,500 mark, but they may be willing to do a deal for closer to the £1,000 mark.
What you get for upwards of £1,000 suits most couples pretty well, and it's only if you have a larger budget that you'll want to think about adding another camera operator or hiring your videographer for the entirety of the day.
For around £1,000, you can expect eight hours of filming, a full video and a highlight video. You'll probably get this back on a single USB stick.
For less than £1,000, your videographer might be relatively new to the industry or less experienced, so establish why they charge so little before going ahead with the booking.
A price less than £1,000 doesn't mean they aren't good, but it might mean they'll struggle to capture everything you're after on your busy wedding day. From the getting ready to the vows and the cutting of the cake, there's lots to think about and lots to capture! Ask how many weddings they've shot before and check out their portfolio before booking.
£1,500-£2,000
The main difference between this price point and the £1,000-£1,500 price is the amount of time spent filming. If you pay less than £1,500, you're likely to get no more than eight hours coverage.
Once you hit that £1,500 mark, it's acceptable to expect up to 12 hours' coverage.
Alternatively, some videographers will stick to the eight hours' worth of filming but will offer you a separate film of the ceremony and speeches in full instead.
It's also likely that you'll receive your video in a larger array of formats when it comes to getting it back if you pay more than £1,500. Under most circumstances, you won't be confined to a USB only, but DVDs or Blu-Ray disks too – perfect for sharing with all the family!
Adam said: "For between £1,500 and £2,000, a couple would get 12 hours of filming for one 90 minute video and one highlights video. There would be one camera operator on-hand all day, and they'd get their video on two Blu-Ray disks, two DVDs, and a USB stick."
£2,000+
Image: Roo Films
If you spend more than £2,000, you should expect a totally comprehensive wedding videography package.
For this price bracket, you'll have footage shot across more than one camera, more than one camera operator, and some videographers will introduce extra equipment like drones.
Adam said: "For over £2,000, I'd offer 12 hours of filming for a 90 minute video and a highlight video. They'd get footage shot across three cameras, a drone for aerial footage, and everything would be received in high-definition on two Blu-Ray disks, two DVDs and a USB stick.
Leslie said she would offer a second wedding videographer if a couple was paying over £2,000.
READ MORE: Everything You Need to Know About Drone Wedding Photography
Now you've decided how much you want to spend, check out our round-up of all the questions you should ask your wedding videographer before booking. It's better to be safe than sorry.