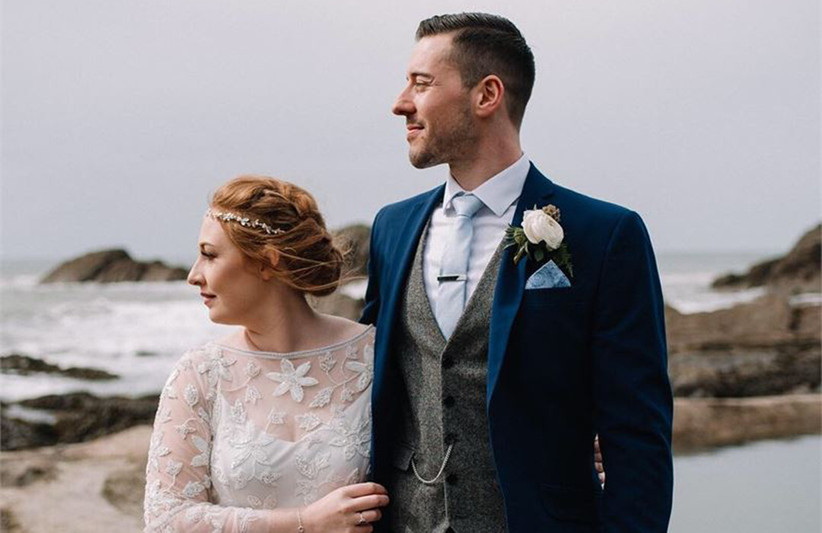 If your wedding is taking place in 2020, particularly in the next few months, you're probably wondering how Coronavirus is going to affect your wedding day. As the threat of COVID-19 remains and the government steps up its efforts to protect the public, planning a wedding can seem impossible right now.
If you're struggling with what to do next or feeling confused about the questions you should be asking your wedding venue and suppliers, we're here to help you out. We've teamed up with a range of venues and suppliers to discuss the questions couples should be taking to their wedding A-team and why.
From how to go about postponing your wedding to the new wedding cake hygiene rules, we've got the lowdown on the discussions you should be having with your venue and suppliers.
Questions to Ask Your Venue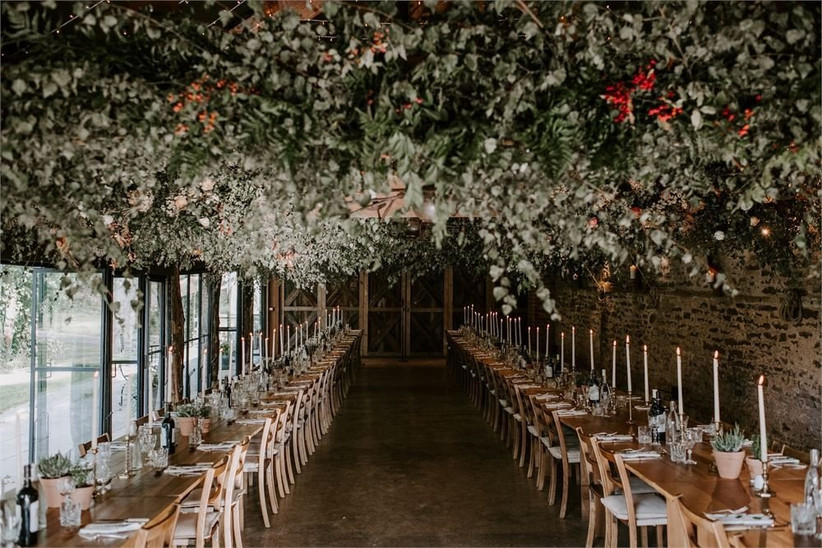 Image: Dewsall Court
How are you coping with the current Coronavirus situation? Charlotte Ricard-Quesada, founder of La Fête, recommends first reaching out to venues in an empathetic way: "Remember that, although this time may be excessively stressful for you, you are not the only ones in this difficult situation and your venue is probably dealing with a lot right now. They are likely being pulled left, right and centre by all of their couples and other clients to get answers. If you start your questions showing compassion to their situation, they will be much more likely to be compassionate towards you too, and actually answer you sooner. Being kind applies to everyone."
What is your position in regards to our current wedding date? If your wedding is due to take place in late summer, Charlotte recommends being as patient as you can and simply asking when the venue will make a decision on summer dates, rather than demanding an answer right away: "Every day the information is different, and advice changes constantly. So first of all, check where your venue stands in regards to your current wedding date. Some venues aren't even looking at summer dates being postponed yet, as they are still dealing with March, April and May date changes. So instead of being pushy and imposing your new date, check what their position is, and what their strategy is in order to get back to you." Remember, your venue hasn't forgotten about you, but they do have a lot of couples to get back to and when your time comes, they'll put in just as much effort with making your date work as they have with spring couples.
If we do decide/have to postpone, can our deposit be carried over to our new date? "This is obviously a key question and you have to be matter of fact about it. Most venues are saying yes, but whatever you do, get it in writing!"
If we do decide/have to postpone, what is our time limit for our new date? Some venues may require couples to marry within a year of their original date, so it's worth double checking if there's an end date for postponements. "For couples looking ahead to summer and early autumn, you might be concerned that your plans will be disrupted. Ask your venue what plans they have in place should this continue into summer/autumn and when they will review your wedding date for postponement."
What is your insurance policy if this situation goes on for much longer? "This is obviously not a comfortable question to ask, but you need to ask it. What happens if this situation keeps going until the end of the year, will the venue still be operational for your new date? Make sure to get in writing all decisions agreed on. You can always refer back to proof in writing, not on a call or Whatsapp" advises Charlotte.
Questions to Ask Your Wedding Planner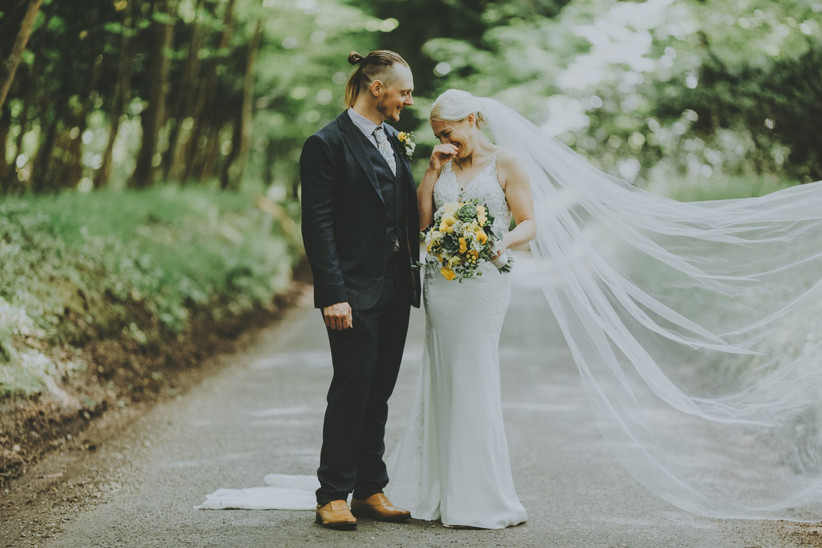 Image: Ap-Art Photography
What is your contingency plan if you are unable to attend the wedding? Head of the UK Alliance of Wedding Planners, Bernadette Chapman, recommends making sure that there's a plan b in place, just in case: "Members of the UKAWP have a freelance agreement, so if a member cannot make a wedding due to an emergency there will be an insured, vetted planner that can assist." Make sure you ask your planner if they're able to organise a substitute.
Will you speak to our suppliers about our decision to postpone? It's important to find out if your wedding planner is willing to take this task on or whether you will need to contact individual suppliers to let them know of your plans to postpone yourself. It's also worth checking the terms of your agreement and seeing if this service is included in the package or if there will be additional fees.
Can you confirm you have insurance as a business? "You want to clarify they are operating as a professional business with both public liability and indemnity insurance" advises Bernadette. If you haven't already, now would be a good time to check out your wedding planner's insurance policy
What are your postponement policies? "It is important to know if you needed to postpone your wedding due to Coronavirus or something else unexpected if they offer a free postponement or if charges apply." Even if your wedding is taking place later in the year, it's a good idea to check postponement policies as the current situation remains unpredictable.
READ MORE: Meet the Brides Postponing Their Weddings
Questions to Ask Your Bridal Boutique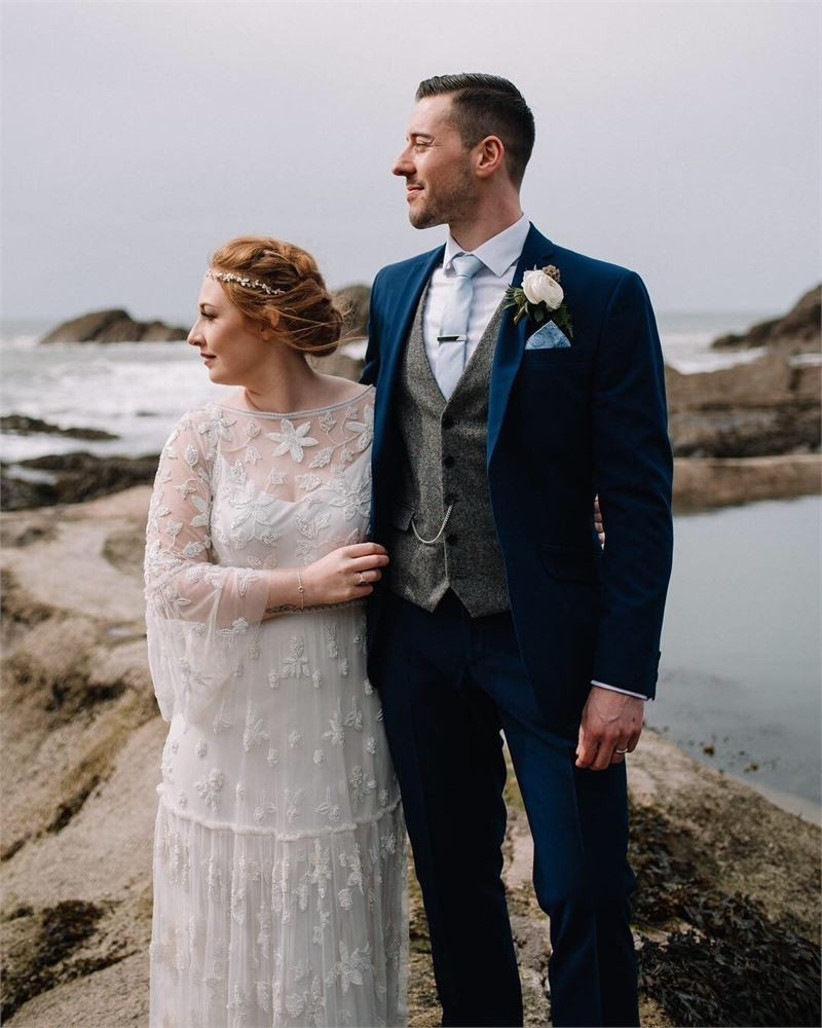 Image: Morgan Davies Bridal
Can I postpone the delivery of my dress if my wedding has been postponed? Many brides will be expecting their gowns to arrive over the next few months and with boutiques closed it can be tricky to know what to do for the best. Samantha Weston, Co-Director at Morgan Davies Bridal, has taken her customer service to a whole new level to deal with the issue: "We will contact the designer and ask them if they can delay the delivery of your gown. If they agree, we will wait until we are open to receive the dress. If it is not possible to delay the delivery, we have been accepting deliveries at my house!" Make sure you ask your boutique owner how they will be handling deliveries over the coming months.
Can I still put a deposit on a dress I've already tried on? Most stores will be happy for you to order a gown for your late 2020 or 2021 wedding now, especially if you have tried it on and are confident that it's the one. "We can still accept a deposit by BACS and order gowns. If we are not sure of the size needed, we can send a measurement sheet and confirm everything over the phone and email" explains Samantha.
Can I order a dress that I have seen on your website that I haven't tried on? While it's possible to order a gown you've seen on a boutique's website, Samantha warns brides to be cautious before taking the plunge: "Some brides have asked if they can just order without trying the dress on. This can be done but you must be sure you love the dress as deposits are not refundable once the order is placed."
I have ordered my dress for a summer wedding and now it is in December. How can I accessorise it to give it a winter feel? "Wedding dresses are not always seasonal. If you really feel the weather will have an impact on your look, we can accessorise with a jacket, cape or have something made to cover your shoulders. Sleeves can be made to go on your gown (although, this will depend on the style of dress) and they could be detachable. A sparkling headpiece or pearl and crystal comb could replace a floral crown or fresh flowers." Get in touch with your boutique about swapping accessories or adding pieces to give your look a more seasonal feel.
Will the seamstress be able to alter my dress in time for my wedding? Like many bridal boutiques, the team at Morgan Davies are anticipating a rush on dress alterations post-lockdown and are prepared to help as many brides as possible: "Seamstresses know that they will be very much in demand when we are back to normal. No bride will be let down!" Double check that your bridal boutique has a plan in place for your alterations.
I was due to come back and be measured for my dress, which is on order with you. What do I do about the sizing now? Video calls can come in handy when it comes to working out sizes and discussing the final details: "We can email a measurement sheet to our brides and talk them through how to be measured via phone or FaceTime. These will then be compared to the designer's size charts to determine the size. We then order the best standard size for her. Measurements for a made to measure dresses will be emailed to the designer."
Questions to Ask Your Florist
Image: March Hare Floral Design
What are the cancellation terms if you can't make the new date? Postponement is always the preferred option but if you can't make the dates match up with your venue and all of your suppliers, cancellation may be your only option. You'll need to find out if there is a financial penalty before cancelling your florist so you can factor this into your new wedding flower budget.
When are you planning on ordering flowers and other sundries? Generally speaking, you'll need to cancel or postpone before anything is ordered for your big day says Rachel Flowers of March Hare Floral Design. "This is an important question as significant costs may already have been incurred which is a more difficult situation to resolve if you have to postpone or cancel. This will also give you an indication of when you need to make a decision by if you are considering postponing."
If we postpone will this increase the price? "This will depend on your florist's terms and conditions and how long you are postponing your wedding for. With the unknown impact of the COVID-19 pandemic on the flower growing market in general, plus the uncertainty next year that Brexit will have on flower costs, it may be a difficult question for your florist to give you a specific answer to" says Rachel.
How might my flower selection be affected by the change of season if postponing? "Although certain flowers are available all year round, some varieties are only available in specific seasons, so if you had your heart set on certain flowers you may need to be more flexible with flower choices. Your florist is the expert, so when the time is right let them guide you with advice on seasonal flowers that will suit your vision for your wedding day."
Questions to Ask Your Cake Maker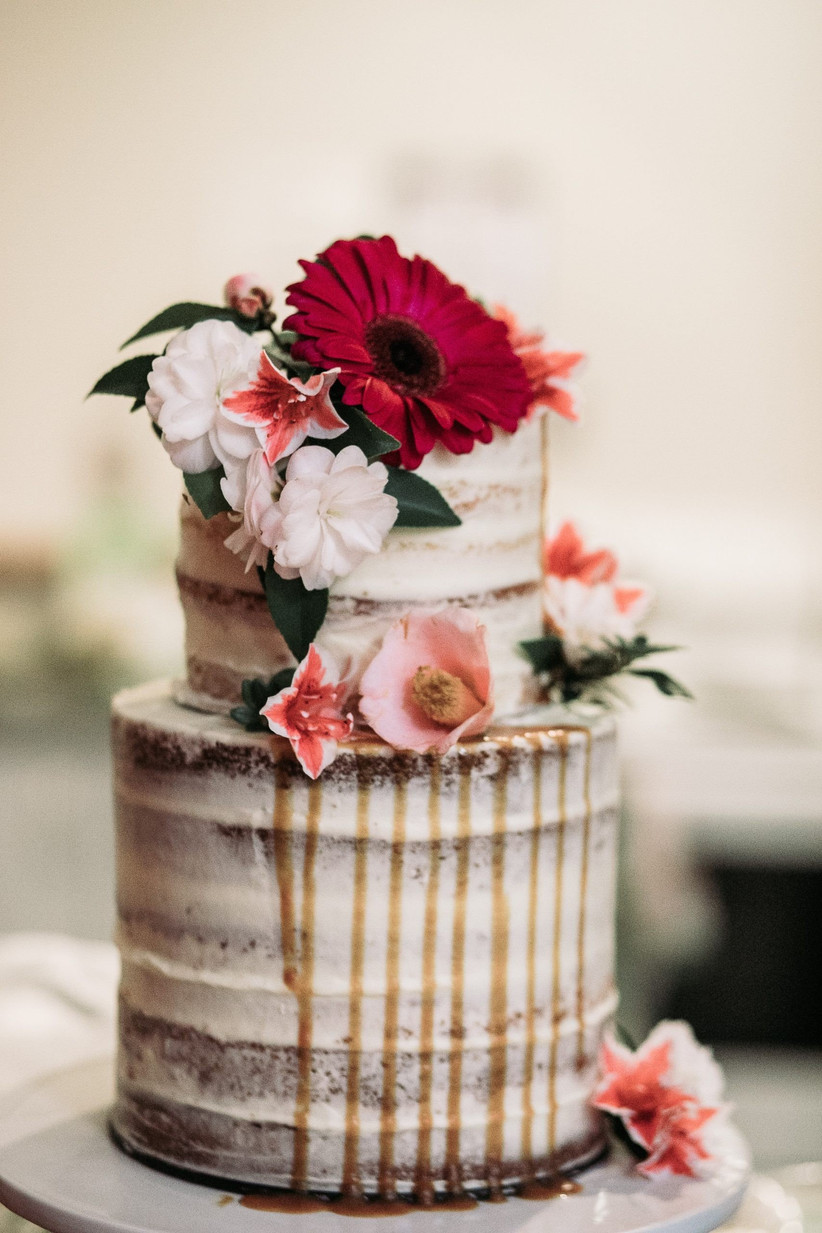 In the case of a postponement, how far in advance would you need to be notified? It's best to find out when your cake maker will begin to prepare your cake so you know when you can safely postpone without incurring charges: "I bake everything fresh to order so the absolute cut-off would be seven days before the wedding date. Any sugar decorations or flowers can be kept for a later date" says Debbie Gillespie, of Debbie Gillespie Cake Design.
Will there be any charge for postponing to a new date? "If you are postponing within one year, your existing deposit and quote can be transferred with no additional charges. However, if you are postponing for more than one year, there may be an increase in the original quotation due to an increase in price structure and inflationary food price increases" Debbie warns.
What if you are unavailable for our new wedding date? While we totally get that you probably want to tie the knot ASAP, especially if you had planned a spring 2020 wedding, Debbie suggests postponing your wedding for a full year may give you more choices when it comes to suppliers: "If possible, please try and keep in contact with your suppliers during the rearrangement process. Also, consider moving your date forward a full year rather than moving a spring wedding into a peak summer date which is more likely to already be fully booked."
What are your health and safety procedures and qualifications? "Information from the World Health Organisation and the NHS advises that COVID-19 cannot be transmitted via food. Regardless of this pandemic situation, food safety is always our number one priority and our stringent personal and food hygiene standards will continue to be observed. As a matter of course, couples should always ask their food suppliers for evidence of registration with their local Environmental Health Office and food safety training."
Can my cake still be displayed and will your delivery procedures change? While the virus cannot be transmitted through food, Debbie recommends checking with your cake maker that the following precautions are taken: "There has been some suggestion that the virus may live on cardboard, e.g. food-safe transport boxes. All boxes used for deliveries should be immediately removed from the venue and sterile gloves should be used (as always) if any food handling needs to be done on site. Delivery timings can be altered to ensure that the cake is displayed for the minimal amount of time prior to the event."
READ MORE: Coronavirus & Weddings: Your Top 17 Questions Answered
Questions to Ask Your Caterer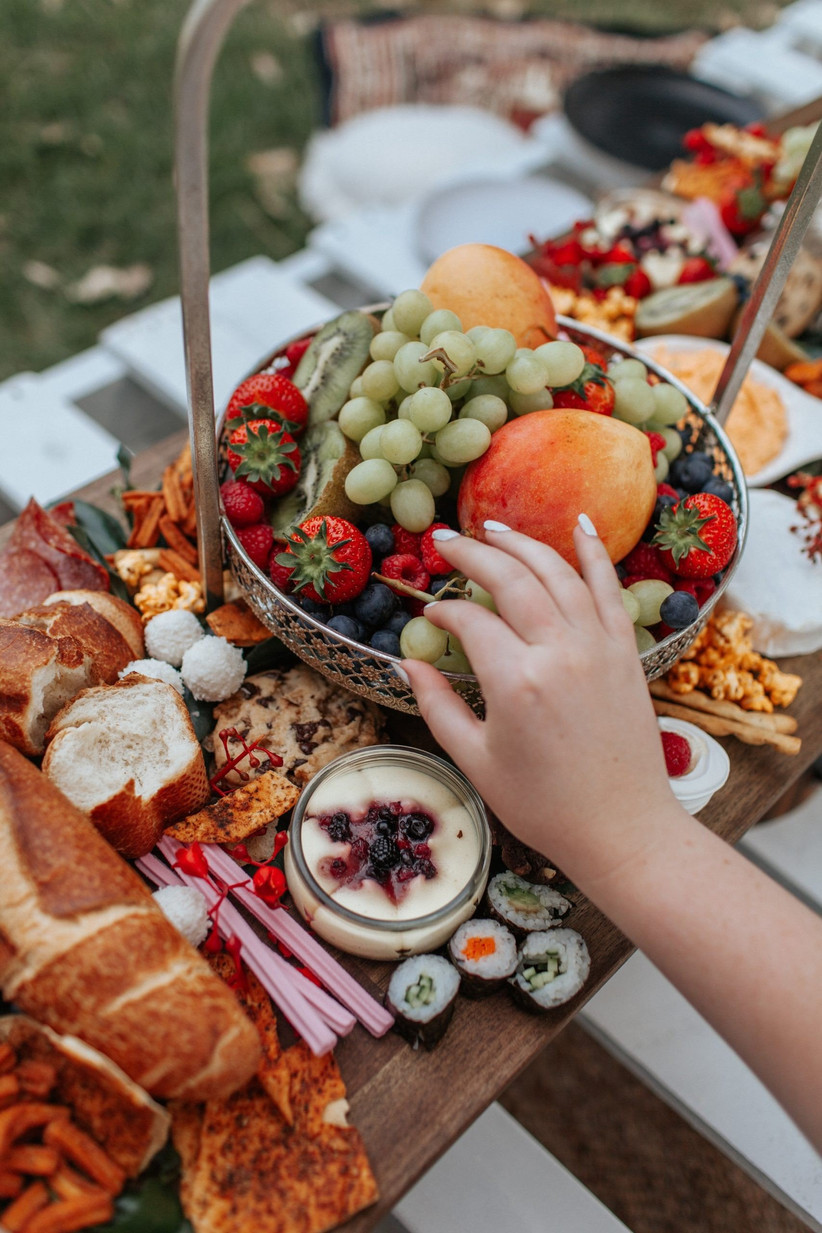 If we would like to postpone our wedding until next year, will you have dates available? This is the first question you need to be asking as without an available date you won't be able to take your booking any further and will need to discuss cancellation terms. Many suppliers get booked up in advance but there may be room for flexibility, especially if you're willing to consider low season dates.
Are you happy to take our deposit and initial payments forward to a postponed date? Emma Benson of Mrs B's Kitchen recommends checking exactly how deposits will work with a change of date as many caterers rely on other suppliers: "Most caterers will be very happy to take prepayments forward – especially in a situation like this – however, where they have had to make bookings/pay deposits on your behalf, some may have to check with their suppliers first."
Will the prices stated on our menu/proposal be held for the postponed date? "Considering everything is up in the air at the moment, it would be very difficult for most caterers to guarantee the same package, as they may well not know the prices they will be working with – especially things like food – also with potential difficulties in getting ingredients that come from abroad, who knows what will be available/affordable."
Can we still book our tasting soon/ this autumn even though we are postponing? "Couples who are disappointed about having to postpone the thing that has been foremost in their minds may well want some of the 'excitement' now, so they can carry on dreaming – I would advise against this, as again, who knows what we may or may not be able to obtain and their menu may have to change." While a menu tasting may sound like a fun (and tasty) distraction right now, it's also worth noting that social distancing rules will still apply and it will be difficult to meet with your caterer and sample food without putting yourself and them at risk.
We don't want to postpone but realise we may be forced to. What is the latest we can postpone? "We would always do our best to move a date – especially for something outside of everyone's control – however, the later you make your decision to postpone, the more time and effort your caterer will have put into planning your wedding" Emma explains, adding that, "booking staff, hire equipment, crockery, glasses, linen, staff, ice, chiller trailer etc often require deposits and a late cancellation will increase the chances of some of the money being retained by third parties and therefore impacting the amount it will cost you to change dates."
Questions to Ask Your Photographer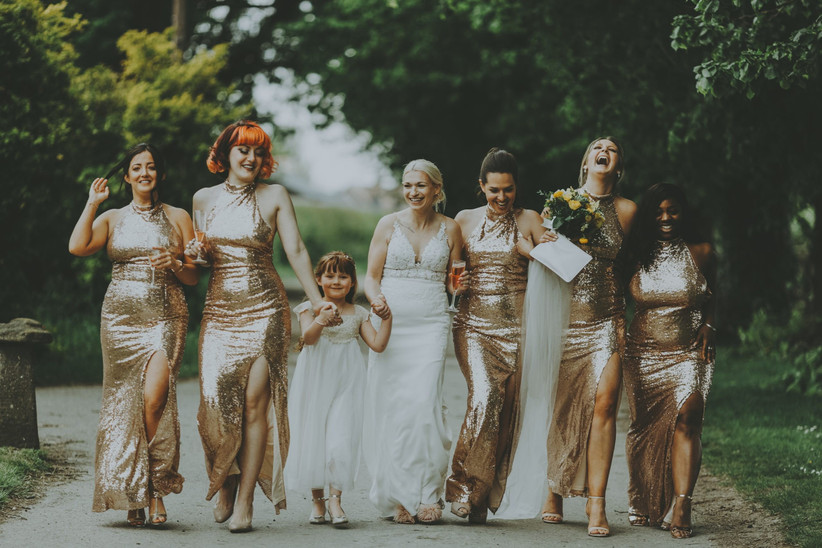 Image: Ap-Art Photography
What is your postponement policy? "It's vital to know what the photographer's stance in this situation is. Either re-book for a new date or, if booked already, return the deposit" says Pete Niedzielski of Ap-Art Photography.
Have you ever had a wedding postponed/cancelled? Pete recommends finding out how your photographer has dealt with similar situations in the past to get an idea of how they might handle your date change: "Get a feeling of the photographer's vibe in certain circumstances. Are they nervous or confident?"
Have you or any of your family members/friends been infected? It's important to ask your photographer if they have been in contact with anyone who has been infected by the virus and how long ago it was as they will be in contact with many different people on the day. Pete reckons your photographer should also be asking you the same question: "Although we might be over the apex of cases, the virus might stay in circulation for some time and we would need to know if you're positive or negative and the possibility of vulnerable people at the wedding."
What happens if you're unable to attend the event due to sickness of any type? "The couple should be able to get all the money back if it's the photographer's fault and ideally, have an alternative option of another photographer in place."
Do you have public liability insurance? Put your mind at rest and ask your photographer about the type of insurance they have: "In these uncertain times, we should go through every possible scenario."
Keep your wedding planning going from home with these 17 Tasks to Tick Off Your To-Do List During Lockdown.