If Netflix and chill is getting a little old and just the thought of another lap around the park makes you repeatedly bash the snooze button, we hear you. Love in lockdown has its challenges, not least coming up with an original answer to "what shall we do today?".
Thankfully, we're here to haul you out of that lockdown downtime rut by way of some fun lockdown date ideas. Whether it's a classic night in with a twist, a chance to try a legendary cocktail from a fancy bar you've always wanted to visit or a film or gig under the stars, we've got lockdown date ideas aplenty that'll not only give you something to look forward to but provide you with fresh conversational fodder too (boy do we need that).
Pen at least one of the following in the diary and prepare to bid farewell to lockdown monotony.
We have included third party products to help you navigate and enjoy life's biggest moments. Purchases made through links on this page may earn us a commission.
The Best Lockdown Date Ideas
1. Create a Hotel-Style Breakfast Spread
Put the Coco Pops away and go full breakfast buffet, or perhaps hang a menu option card on the door so that your partner can select what they fancy and deliver breakfast in bed (silverware and uniform optional). According to The Future 100 trend report compiled by The Intelligence Group, elevating your first meal of the day is a key food and drink trend for 2021:
"With people spending more time at home and COVID-19 restrictions leading many to socialise earlier in the day, breakfast is enjoying a renewed appreciation. The meal is transforming from a rushed necessity to a ritual that people are increasingly investing in."
Either whip up an impressive spread yourself or upgrade your breakfast by ordering a luxurious breakfast-at-home box from a top restaurant or supplier.
London's legendary breakfast spot The Wolsley can deliver its much-loved Severn & Wye Smoked Salmon with Horseradish Cream and Rye Bread, £8.75, straight to your door with zero prep on your part or splash out on Rick Stein At-Home's Luxury Breakfast Box, £72.50, which includes sausages, bacon, smoked salmon, sourdough, six eggs, preserves, apple juice, coffee and a bottle of champagne, all direct from Cornwall. For a plant-based breakfast option, Dishoom's Vegan Sausage Naan Roll Kit, £16, will get your day off to a seriously delicious start and each order includes a generous serving of the restaurant's famous chai tea and a donation to the Magic Breakfast charity.
2. Book a Tennis Lesson with Serena Williams
Haven't heard of Masterclass yet? It's lockdown date nirvana. Enjoy two memberships for the price of one and take a 'masterclass' in almost everything you could imagine, from cooking lessons with Ottolenghi, songwriting with Alicia Keys, tennis with Serena Williams and everything from gardening to dog training to 'the art of conversation' with world renowned experts in their field.
3. Go to an Online Exhibition
The Tate Modern, V&A, Royal Academy and The British Museum all have packed online show calendars as well as digitally adapted showings of permanent collections, or why not use lockdown to take a tour of New York's MoMA or Guggenheim? The world is your oyster. Sign up to Art Fund to get the latest online gallery and museum news straight to your inbox so that you can plan your cultural calendar. Your dinner party convo will sparkle after this.
4. Make Pots
Or bowls, planters, mugs, vases, candleholders, trinket dishes... whatever inspires you when you start shaping some clay from Sculpd's Pottery Kit, £39. A little bit Ghost and a lot of fun, each kit is designed for two and comes complete with detailed instructions for beginners and all of the tools and creative vision you need to start your own lockdown pottery studio.
5. Upgrade Your Banana Bread
Knead (sorry) more baking ideas? Learn from the master and creator of the Cronut Dominique Ansel by signing up to lessons in everything from making the perfect buttery brioche to creating a pie to die for.
6. Live Stream a Comedy Night
Watch live comedy from your favourite joker without the risk of being roasted in the front row. Some of the world's top comedians are keeping the entertainment coming with fresh content, concepts and collaborations. Rachel Parris and Marcus Brigstocke's Tuesday Night Club has become a weekly must-see and many big name comedians have taken planned global tours online, charging a fraction of the price of a regular ticket or 'pay what you can' schemes to ensure lols for all. Check Chortle to see what's on and book tickets.
7. Go to a Virtual Gig
You may not be jostling in a stadium but you can still see artists perform live – check Ents24 for upcoming live gigs that cater for every taste, from classical to 90s indie. Keep an eye on what bands and musicians you love are up to on Instagram and Youtube too as many are staging impromptu performances during lockdown. Warm pint and sticky floor optional.
8. Take a Dance Class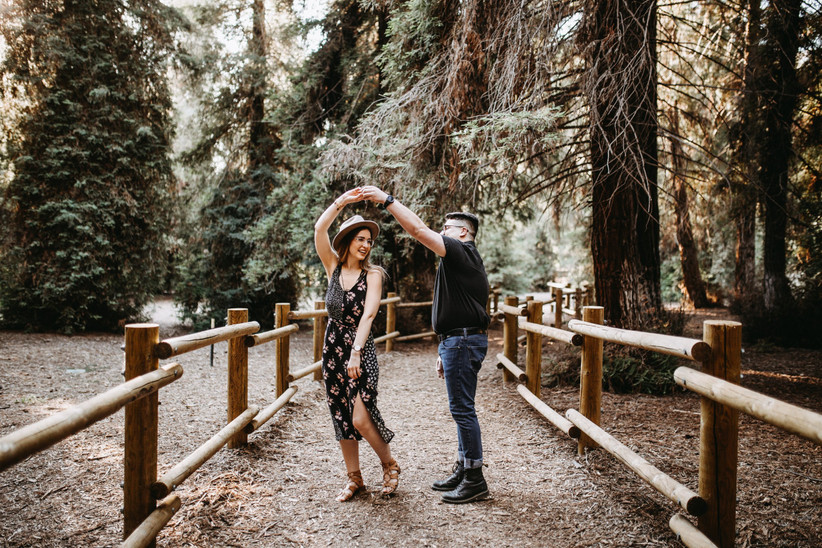 Prepping for your first dance? Book a one-to-one Zoom lesson with the pros at Start The Dance to tailor moves to your style, ability and music choice. For something less bespoke, Covent Garden's famous Pineapple Studios has an eclectic online schedule ranging from street dance to afrobeats to Latin and contemporary ballet to keep you on your toes while Danceworks hosts online masterclasses in classical ballet, contemporary and stretching to ensure that neither of you pulls a hammy in the process.
READ MORE: The 150 Best First Dance Songs of All Time
9. Workout Outside the Box
Whether you've been religiously sweating it out with Joe Wicks, downloaded the Couch to 5k app, limbered up with Yoga with Adriene or, quite frankly, done none of the above, trying a new or unfamiliar workout class together can spice things up and get the endorphins whirring.
Online fitness options are better than ever with live and recorded classes aplenty. Try FLY LDN for a 'dynamic quickie', Zenia yoga for beginners with real-time AI powered postural alignment to keep you both on the straight and narrow or get yourself some mini trampolines and sign up for Frame's Rave & Rebound class. You'll be bouncing off the walls in a good way.
10. Solve Your Way Out of a Virtual Escape Room
If you're yet to sign up for some virtual escapism, you're in for an adrenalin-fuelled treat. The Panic Room offers up multiple online escape room experiences, whether you fancy taking on the roles of paranormal investigators or CSI detectives. Trapped In The Web is the ideal virtual escape room portal for beginners and advanced level players alike – Cabin Fever will see you fleeing from a cruise ship while the extremely intense Space Race will challenge you to evacuate yourselves from a space station before the oxygen runs out. If that's not a bonding exercise, we're not sure what is.
11. Sign up for Jury Duty
Not the official kind (although that's important), but the award-winning online game that'll have you taking on the role of a remote jurors in a mysterious trial that'll throw more than a few unexpected surprises your way. Team up with friends to make your own Zoom jury or play with strangers to decipher evidence, interview the accused and come to your own conclusion against the clock.
12. Create an At-Home Cinema
Not a huge detour from crashing out in front of Netflix, but turning your evening viewing into an event will make watching a film far less formulaic as lockdown date options go. Make admission tickets, buy a projector online, get the popcorn on, whip up a pick n mix bar, make the movie a surprise or go the whole hog with a themed film festival. Celestial Cinema presents drive-in film screenings while its home edition packages up everything you could need for your very own magical movie night. You could even watch a film under the stars if you're lucky enough to have outdoor space and the weather warms up.
READ MORE: 28 TV & Film Wedding Venues You'll Probably Recognise
13. Learn to Cook a New Cuisine
Cook up a storm and give back to those that need it most by signing up for an online cookery class with a refugee chef. Migrateful presents Zoom lessons hosted by refugees, asylum seekers and migrants from all around the world, allowing you to hone new skills and discover incredible international cuisines and cultures while helping your teachers to perfect their English and gain access to employment. From learning the fundamentals of Cuban cuisine to making a Sri Lankan feast or getting to grips with Chinese classics, there's a class to suit every taste and ability level and you'll be learning from the pros.
14. Live the Dram
Partial to a Scotch? Whether you're a whisky connoisseur or a newbie, a virtual whisky masterclass is a cosy way to wile away an evening. Join Forbes whisky writer, tastings host and World Whisky Awards judge Felipe Schrieber for a Zoom tasting – six whiskies will be delivered to you beforehand so that you can charge your glasses. From insider tasting tips to niche facts and lots of lols, you're guaranteed a good time and you can even opt for whisky cheese pairings to up the ante. Speaking of cheesy dates…
15. Savour Cheese + Champagne
Toast the two of you chez vous with a cheese and fizz box, £56, from the aptly named Champagne + Fromage. Alternatively if you like things hot, a fondue or raclette set from Provisions Wine + Cheese will make you go gooey and is the next best thing to a trip to the alps.
16. Go Wine Tasting
Humble Grape can take you on a wine tour of the world via your letterbox. Small wine tasting kits come in at £40 and can give you a Tour de France or Giro d'Italia or opt for a full case plus masterclass for a deep dive into the best wine regions on the planet.
Vagabond Wines meanwhile spotlights wine producers that especially deserve to be celebrated and supported, from tasting boxes and sessions focusing on female winemakers to a wine safari around South Africa to aid exports from a country that's been particularly devastated by the pandemic.
17. Plan a Theme Night
Whether it's recreating a favourite holiday, previous date night or even seeking inspiration from a location you've always wanted to visit, planning a theme night can make staying home feel almost exotic. Draw up a themed menu, find a Spotify playlist to suit, dress the part and decorate the table to reflect the place or time you're evoking. Better yet, make the theme a surprise and supply your partner with a cryptic invite beforehand.
18. Try 'Tablescaping'
Speaking of table décor, tablescaping is a pandemic trend that's really taken off according to The Future 100 report authors:
"Designers are turning their attention to the table in an effort to elevate the distanced dining experience. They're focusing on the details of dining, innovating how it looks to serve and share food for sophisticated and nuanced physically distanced dining."
Dressing for dinner has taken on fresh significance as we try to delineate each meal/ day/ week from the next, and jazzing up both how you plate food and present your table settings to reflect the fact that it's Saturday can provide an instant mood boost, even if you're just dishing up fish fingers. From rainbow hued candles (try Fairholme) to colourful tablecloths (see Mrs Alice for inspo) and #tablescaping influencers popping up all over the timelines, see tablescaping as a practice run for designing your wedding tables and have fun with it.
READ MORE: 31 DIY Wedding Decoration Ideas You Can Easily Master
19. Lay on a Picnic
Whether indoors or outdoors, there's something about sitting on the ground in front of an array of tasty goods that feels childlike and joyful. Bake a cake, make tiny sandwiches, turn it into afternoon tea or pop the bubbles at sunset to really relish a meal that's not gobbled down at your desk or wolfed down from your lap on a weeknight.
20. Do a City Bike Tour
A structured bike ride isn't just for tourists – map a route around key sights or simply whizz through an eerily quiet city centre near you. You can guarantee that it'll be less heaving than your local park and you're unlikely to witness such odd yet serene city centre scenes once lockdown lifts.
21. Visit the Zoo (from Your Sofa)
A virtual trip to the zoo will be a weekend highlight – try Edinburgh Zoo's Panda Cam, an elephant pool party at Chester Zoo or peer over the pond at San Diego Zoo's live cam.
22. Go Wild Swimming
It's up there with tie dying and sourdough baking as lockdown crazes go, but there's something to be said for the invigorating rush of wild swimming, whether it's in the sea or a safe swimming space near you. Just read the signs before you dive on in – there's nothing romantic about a stomach bug.
23. Tune in for a Sound Bath
Both need to chill? Book an online gong or sound bath for an immersive experience that's sure to melt away lockdown stress. About Gong offers both live and pre-recorded sound bath sessions that promise R&R without the concentration required for meditation. Create a cosy cocoon, grab your eye masks and let it all hang out.
READ MORE: 7 Things to Do Now to Avoid Wedding Planning Burnout
24. Belt out Some Karaoke
Less soothing but equally stress-busting, a lockdown karaoke date for two will also almost certainly provide some laughs. Invest in a Lucky Voice Home Karaoke Kit, £60, and you'll be the stars of your at-home show. Just be sure to warn the neighbours.
25. Go to the Pub
Well, the Living Room Arms at least by way of Signature Brew's Pub in a Box, complete with eight beers, salty snacks, beer mats, a pub playlist and a music quiz to recreate the feel of a night down at your local.
26. Book a Distillery Tour
Enjoy a private 'day out' at East London Liquor Co with a behind the scenes distillery tour alongside a gin or whisky tasting (depending on your tipple of choice). Sipsmith also hosts virtual gin distillery tours with three tastings per ticket which makes for a very refreshing lockdown date if you're both partial to a weekend G&T.
27. Order in Cocktails
If you don't fancy working up a sweat with a shaker, order fancy cocktails from a bar you've always wanted to visit. London's The Proofing Room ships chilled mixes all over the UK, Cocktail Market drops fresh cocktails from the UK's best bars straight to your door while NIO stands for 'needs ice only' and delivers on every front – build a box according to what you both love.
28. Join a Chocolate 'Inventing Room'
If you're both bonafide chocoholics, signing up to Hotel Chocolat's Inventing Room is the lockdown date idea that will keep on giving. A subscription means that you'll be the first to try new recipes, before they've been named or even been given the once over by marketing. You'll also be treated to fresh chocolate inventions each month ranging from brownies to truffles to drinks and other innovations, plus members only tasting events and chocolatier meet and greets will allow you to indulge your sweet tooth even further.
29. Stream a Theatre Performance
Pull up a pew at a sensational show – National Theatre At Home has a stellar lineup or check Time Out for updated listings.
30. Schedule a Spa Day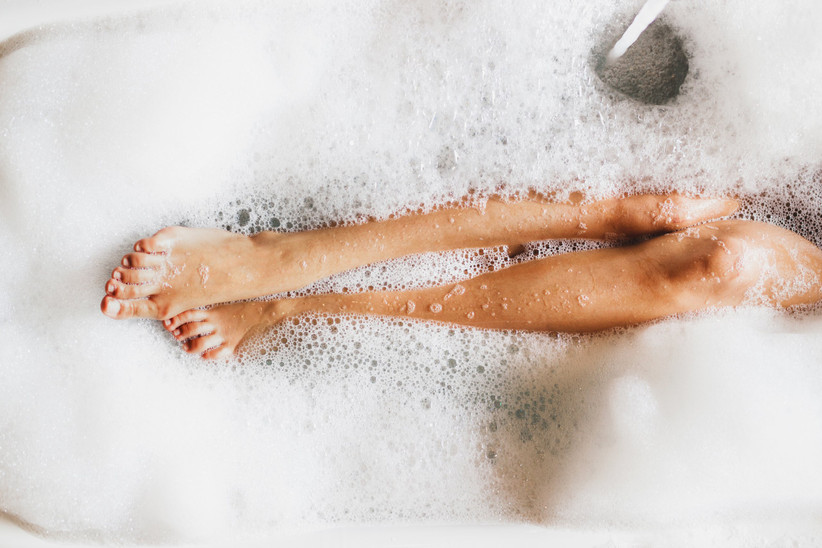 Aaaand breathe. Grab your slippers and robes and dedicate a day to spa-esque relaxation. Learn how to give your partner an Indian head massage with Fable + Mane, get your mitts on Templespa's lockdown hit Drift Away Bath & Body Massage Oil, £25, and polish up your act with UpCircle Coffee Body Scrub with Lemongrass, £14.99.
31. Plan a Holiday or Honeymoon
Let's face it, we all need one, and creating a vision board for the trip of a lifetime will give you both a lift. Compile pictures, quotes, a list of must-see sights, your ideal holiday wardrobe and anything else that sparks a whole lot of joy and make a board together to display in an everyday spot to create a sense of excitement whenever you walk past it.
Need some holiday planning inspo? Check out the best honeymoon destinations around the world for 2021 and get dreaming.