Alcohol-Free Weddings: Meet the Growing Sober Curious Wedding Trend
Dry weddings are growing in popularity, with couples choosing to serve alcohol alternatives to their guests. We look at why alcohol-free weddings will be a big trend for 2022 and what guests really think...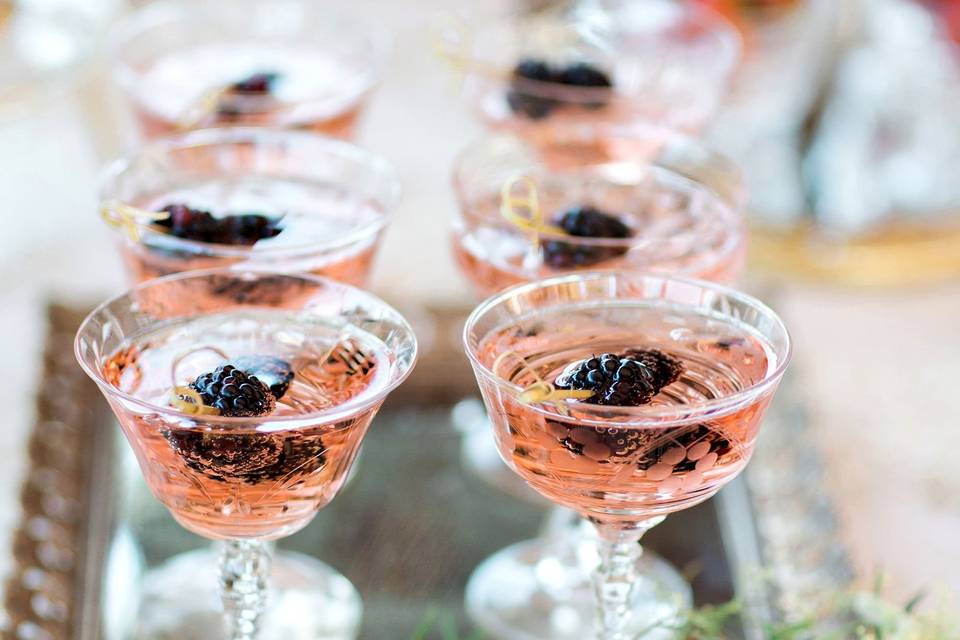 Weddings and alcohol go hand-in-hand, right? We have reception drinks, wine with dinner, Champagne toasts for the happy couple, Dutch courage for the speech-givers, an open bar (if you're lucky) and that's not including what's drunk by the wedding party while they're getting ready. If you can escape a wedding with a mild hangover, you've done well.
In fact, a whopping half of Hitched users said they wouldn't be happy to attend a wedding without any alcohol - just imagine 50% of your guests RSVPing 'no' because you wouldn't serve booze! And yet, that's exactly what's happening at weddings up and down the country.
The last couple of years has seen a huge rise in the sober-curious movement: people abstaining from drinking for reasons other than health and addiction. A 2020 report found that 23% of 18-24 years old are now teetotal, and another study that 56% of millennials see themselves as 'mindful drinkers'. The last 18 months of lockdown have really brought this to a head, with 6.5 million people signing up to Dry January in 2021 - the biggest number ever for this alcohol-free challenge.
This shift in attitude to drinking has led to a new trend in alcohol-free weddings, where couples ban booze and serve a carefully curated list of mocktails and soft drinks instead. Of course, dry weddings are not a new concept, there is traditionally no alcohol at Muslim and Hindu weddings. But the fact that alcohol is being eschewed in a growing number of Western weddings shows it's time for a shake-up in how we approach drinking. Could a sober wedding be the right thing for you?
READ MORE
How Many People Are Having Alcohol-Free Weddings?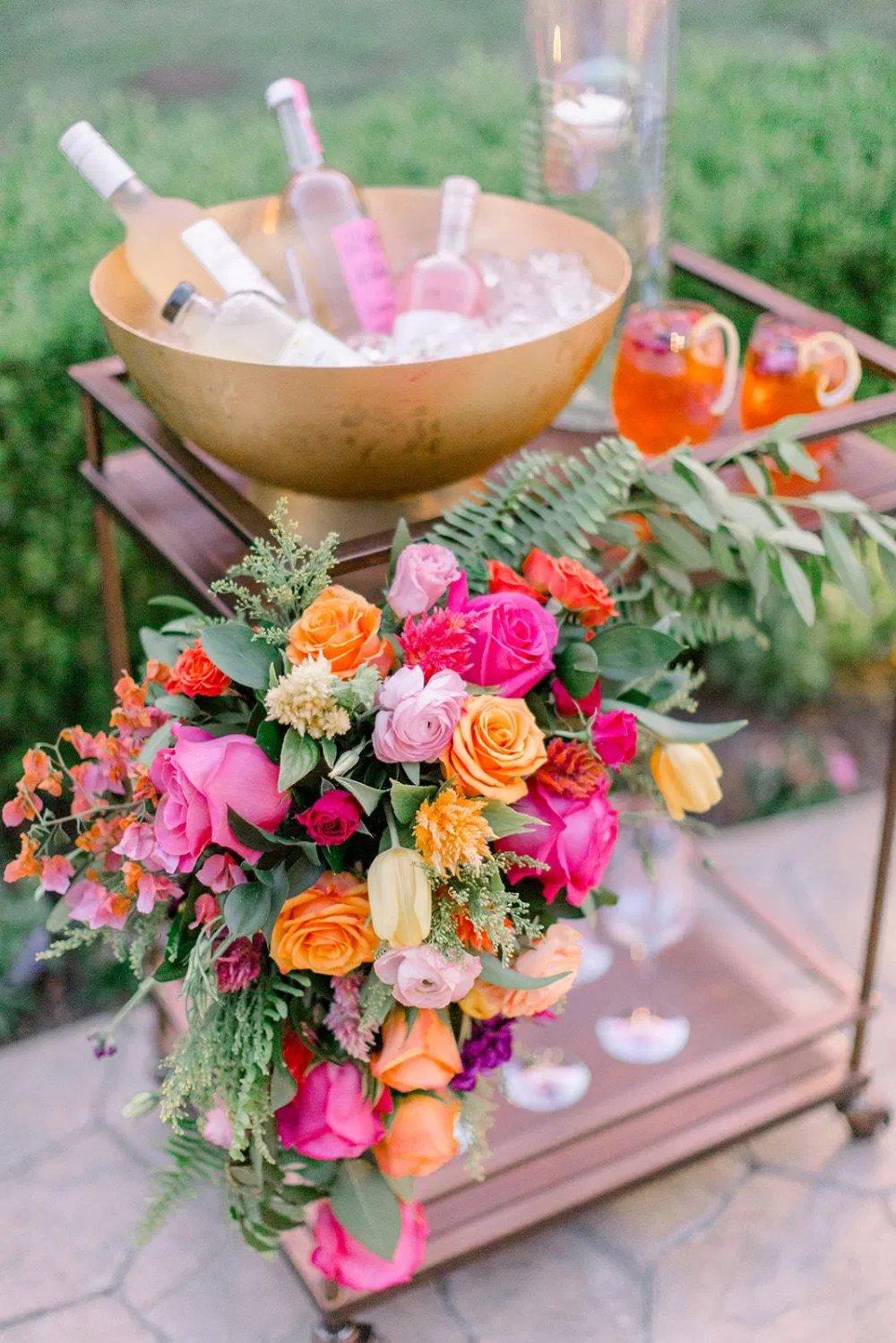 A study by Hitched found that 11% of our couples are having or considering having a dry wedding. Aside from religious reasons, some couples were making the choice out of respect for sober family members, while others don't drink and simply didn't want to pay for others to get tipsy on their day.
What's interesting is the number of couples that told us they'd like to have an alcohol-free wedding, but they feared the reaction of their guests. "I would have one, but some of my family would be very unhappy about it," said bride Victoria. Rowan agreed, saying, "I really wanted one but caved to family pressure not to." The actual number of couples who would have a sober wedding if they didn't have to compromise with their families is potentially much higher than we know.
Interestingly, 23% of those surveyed said that they or their partner consider themselves sober or sober-curious, meaning many couples are choosing to put the desires of their guests above their own feelings about drinking.
Wedding venues are already seeing 'temperance bars' - bars that don't serve alcoholic drinks - rising in popularity. Dan Clarke, Executive Chef at Southend Barns in West Sussex, said: "Offering guests a more exciting non-alcoholic drinks menu is definitely something that is going to take off [in 2022]. We've already seen this become more popular over the last year and brands have picked up on the trend, with the launch of delicious and indulgent drinks that are free from alcohol."
If dry weddings aren't on your radar yet, we predict they will be within the next year. This trend is only set to increase as more people join the sober curious movement and prioritise other entertainment over an open or cash bar.
Why Are People Having Dry Weddings?
The reasons are diverse for not serving alcohol at a wedding, however, the two biggest reasons are: 1) you belong to a religion that doesn't allow alcohol, or 2) you, your partner or those close to you don't drink and you want to respect that choice.
Bride Keri explained that at her small wedding they didn't want non-drinkers to feel left out. "We are not sober," she said, "but two of our 15 guests are for medical reasons and we wanted to be inclusive."
Another bride said that it simply wasn't a huge deal for her guests: "We don't drink, our family don't drink, most of our friends don't drink." In this case, going alcohol-free makes sense, especially financially.
Bride Ashley put it succinctly: "I don't drink and my partner barely does, so why should we pay for others to at OUR event?"
Aside from the positive effect on your wedding budget, there are lots of benefits to having a sober wedding. Important for many couples will be avoiding the fallout from drunk guests. Emotions are heightened already at weddings and when alcohol is thrown into the mix, it can spell disaster. From guests vomiting to starting fights, alcohol has the potential to put a serious dampener on the enjoyment of the wedding reception or end it early.
For those who have travelled to your wedding, they will be sober to drive, either home or to a hotel. Being able to go home can save guests money and be a relief for parents who need to get back for childcare. Instead of hangovers, it also means everyone feels good the next morning for you to organise something like a fun brunch.
One big thing that has emerged from lockdown is the rise in pregnant brides. Some couples are choosing to have shorter events with smaller guest lists to save the energy of heavily-pregnant brides, and in solidarity with her, are keeping the event alcohol-free.
There is no right or wrong reason to have a dry wedding, it just needs to be the right choice for you as a couple.
Is It OK to Have an Alcohol-Free Wedding?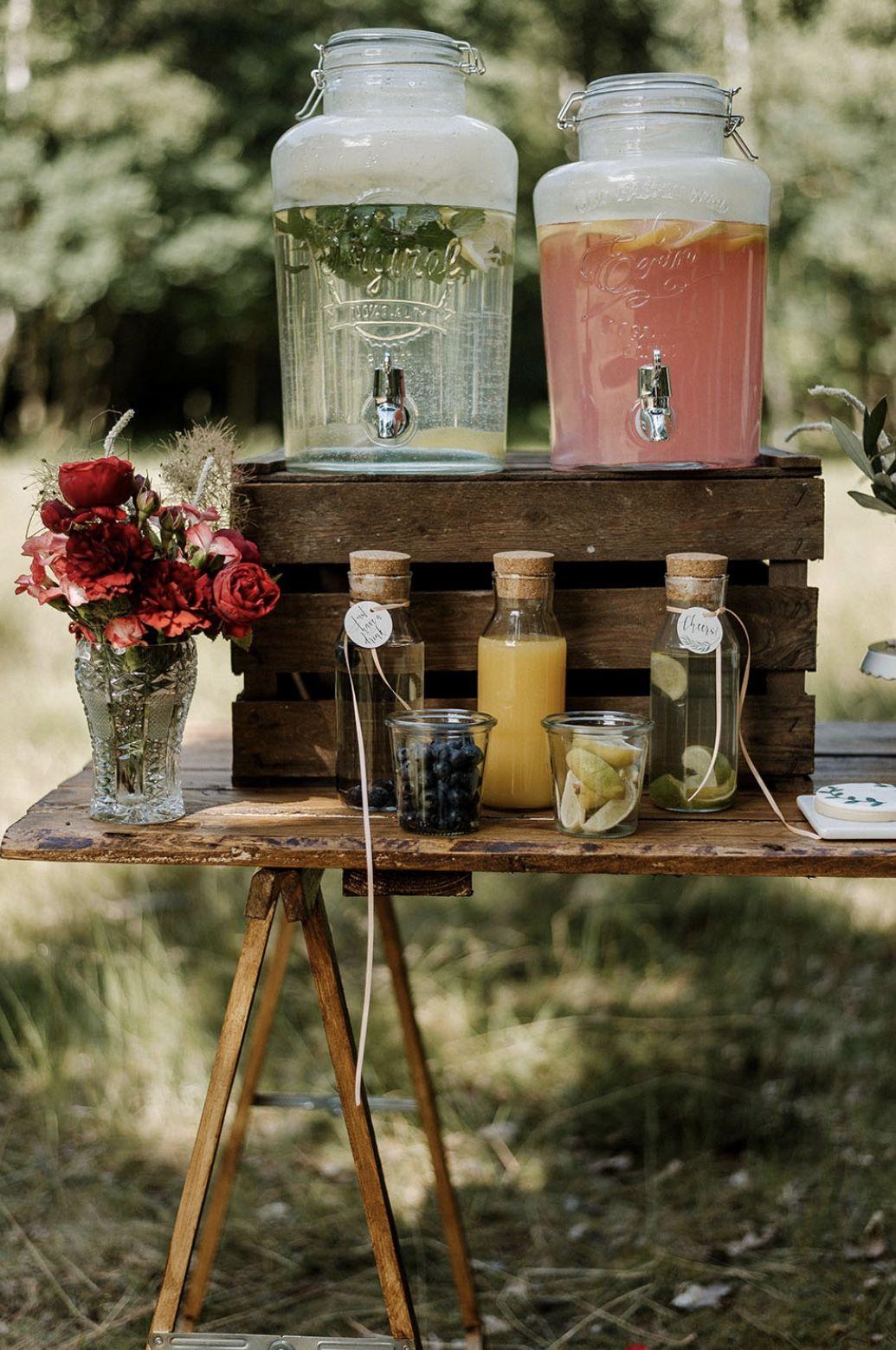 Absolutely! While 50% of Brits might not be happy about a wedding with no alcohol, your loved ones want to be there to celebrate the day with you, Champagne or no Champagne. It is completely your decision whether to serve alcohol on the day and you certainly won't be the first couple at your venue to have an alcohol-free wedding.
However, because drinking is such a big part of British culture and an expectation at weddings, you will need to tell your guests in advance. It's a hurtful thing to acknowledge, but some guests will say no to attending because of a lack of alcohol. You shouldn't have to change how you want your day to go, but we understand that external pressures like this can mean you have to compromise.
We'd suggest you first look at mixing up the format of the day before caving to adding alcohol that you don't want there. Guests might not be up for a night of dancing without wine, but you could have a really lovely afternoon tea reception instead with mocktails in vintage teapots. The budget you don't spend on drinks can go towards other fun entertainment, like a live band, garden games, photo booth or doughnut wall.
If you don't feel like you can't serve any alcohol - which is very common as couples feel pressure from their family and friends - you could consider promoting mindful drinking at your wedding. This is where guests are more intentional and aware when they choose to drink alcohol and ultimately will drink less.
How to Introduce Mindful Drinking to Your Wedding
Mindful drinking is the practice of being aware of why and how much alcohol you drink. Encouraging your guests to drink mindfully can be a middle ground between drunk guests and serving no alcohol at all.
Bride Kosi is having her wedding near Cognac in France and has decided that alcohol will only be served from the wedding breakfast onwards. "We don't want drinking to start too early and everyone end up too drunk by the night to enjoy it or remember it.
"Culturally, drinking with a meal is more the norm in France. We just want everyone to be fully present for the day and not think about getting drunk. That, and since we're marrying in the French heat, it's not a good combo!"
It can work out really well to wait until your guests are eating to serve alcohol so their stomachs are lined before the evening reception begins. Starting the drinking in this way - with a couple of bottles of nice wine on the table for guests to share - will make them savour their drinks and slow down how much is consumed over the day.
Here are some other ways to help your guests drink more mindfully:
Ask your bar or venue to stock up on alcohol alternatives, craft sodas and low-alcohol beers. Guests won't be able to order them if they're not there! If you're bringing your own drinks, make a deal with your venue not to pay a corkage charge for all the alcohol-free options and you'll save yourself money too.
Serve fancy mocktails at your reception drinks or alcohol alternatives, such as G&Ts made from 'clean' gin. The more delicious and special the drink feels, the less your guests will care that is doesn't contain alcohol. In all honesty, you don't have to even tell them there isn't alcohol in your cocktails. Sometimes you'll find guests will feel the buzz of the 'alcohol' without there actually being any!
When there are lots of options at a bar, your mind will just go for the easiest thing - maybe a beer or a wine. Why not have non-alcoholic options on full display at the bar, such as prominent signs with your signature mocktail list or naming the selection of alcohol-free beers and spirits on offer? The sign will put the idea into your guests' minds and they may choose to have a non-alcoholic option to stagger drinking.
Have a dedicated 'temperance bar' which just serves non-alcoholic options. Even guests who are drinkers will probably want to try the new alcohol alternatives on the market to see how they compare. Once they realise how good they are, you might find your temperance bar is the one getting mobbed by guests!
If there is a guest you know is trying to drink less, introduce them to other guests who aren't drinking, such as a pregnant or Muslim guest. It's much easier to avoid peer pressure if you feel part of another crowd.
Have a water or lemonade station at your wedding with some fancy twists like fresh strawberries in there. Making water easily available in a place other than the bar will encourage guests to keep hydrated and alternate their drinks. It will also make it much easier for sober guests who want to avoid the temptation of alcohol at the bar.
What Are the Best Alcohol-Free Alternatives for Weddings?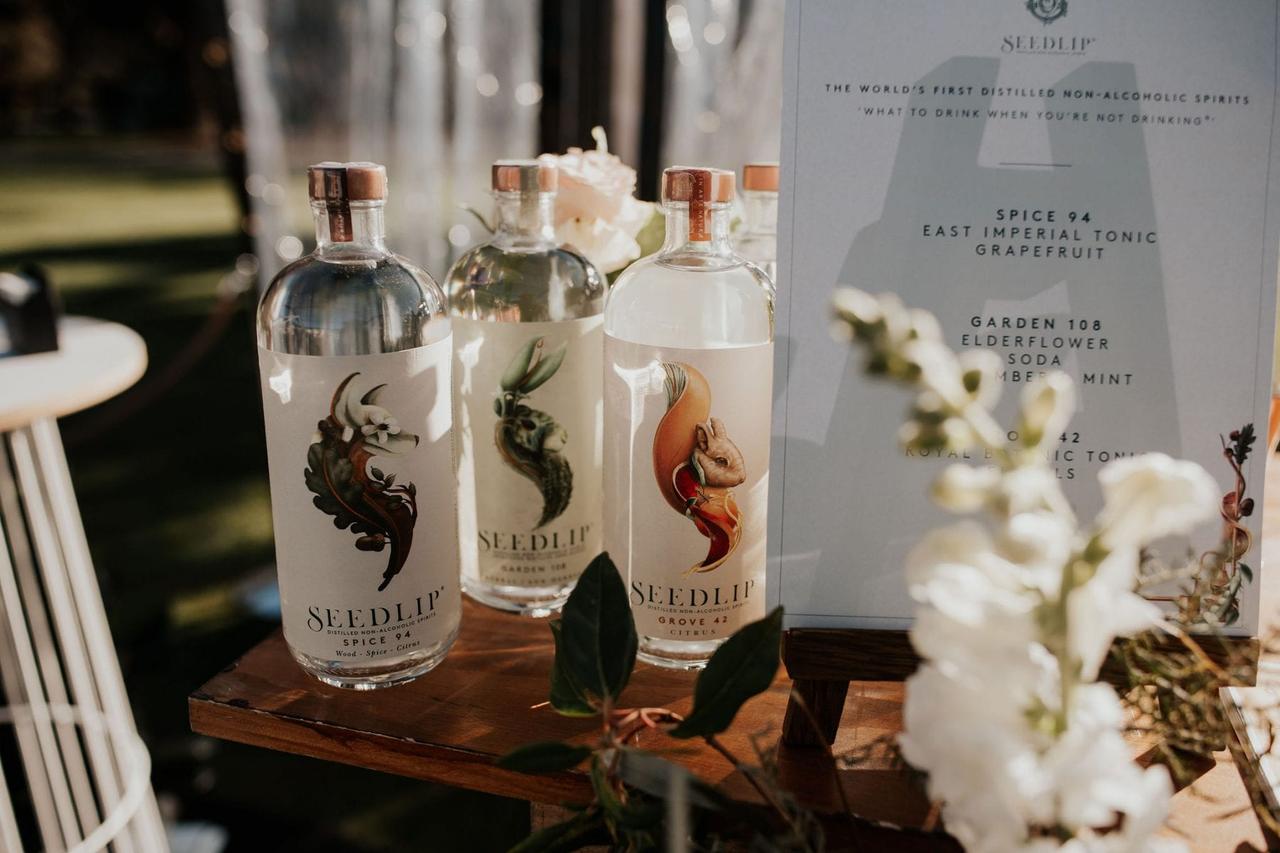 Did you know 9 in 10 couples have someone at their wedding who isn't drinking? That could be pregnancy, health issues or personal choice, but it's a pretty darn high number of guests who'll be on the soft drinks all night. Really there's no excuse not to think through your non-alcoholic options, whether you serve them exclusively or additionally to alcoholic drinks.
We've got a fab guide to alcohol alternatives you should check out for your wedding and we'd recommend you try some of these drinks yourself before putting them on your cocktail menu. A good local pub will have some of the more popular low and no alcohol beers and spirits in stock and they're seriously great!
Seedlip is one of the leading brands of substitute spirits and the punchy flavours (there are three) pair really well with tonic in the place of gin. Lyre's do a fab Aperol-inspired Italian Spritz but we especially love their Dark Cane Spirit which recreates the flavour of a Moscow Mule when paired with fiery ginger beer and lime.
Dan says, "At Southend Barns, we've created a bespoke menu of mocktails and non-alcoholic drinks such as a classic G&T using a spirit from Pentire in Cornwall, which is made using traditional gin methods but with no alcohol. We also offer Three Spirit which has an eclectic mix of herbal and fruity flavours."
Ask the mixologist at your bar to make you a signature mocktail for your wedding, which includes your favourite flavours. We'll let you search this one yourself, but there's a popular non-alcoholic Pimm's recipe online that combines tonic water and balsamic vinegar...
*In a survey on Hitched's Instagram, 11% of 1,352 users responded yes to the question 'Will you have/would you consider having a sober wedding?'. 50% of 1,667 users responded no, thanks to the question 'How would you feel about going as a wedding guest to a wedding with no alcohol?'. 23% of 1,524 users responded yes to the question 'Do you or your partner consider yourself sober or sober-curious?'.