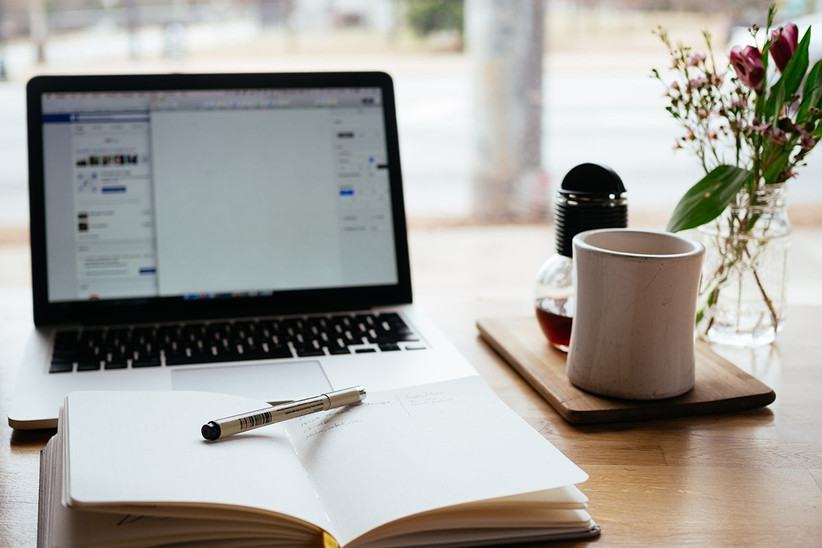 As the UK Government ramps up its efforts to protect the population from COVID-19, social distancing and self-isolation are becoming increasingly important. This has raised many questions about how this will impact the wedding industry.
Like you, we are navigating this unprecedented situation on a day-to-day basis and will be making every effort to support all of our venues and suppliers at this difficult time.
We've come up with 10 things you can do right now to help your wedding business, from how to utilise your network to why it's so important to keep communicating with your clients.
The current Government advice is that weddings are banned for three weeks at least, and disruption may last until the end of June. This has left many couples choosing to postpone their weddings or delay planning them.
1. Keep Calm and Know the Facts
Take the time to educate yourself using reputable sources like the Gov.uk Coronavirus page, the dedicated NHS Coronavirus page and the World Health Organisation (WHO).
Leah Weinberg of Color Pop Events reckons keeping in the know is key right now: "I think the big thing is that we need to understand the facts of what's happening so that we can explain things to our clients and help them stay realistic about things."
2. Utilise Your Network
Remember, you're not alone in these times of uncertainty and we're best equipped to deal with whatever comes our way when we support each other. Don't be afraid to reach out to fellow businesses and suppliers in the industry and ask for help.
"In times of crisis our community comes together as it always has, and I simply encourage pros in every field to talk to their counterparts, share information, and work together as much as you can" says Andrea Eppolito of Andrea Eppolito Events.
Not sure where to look? Turn to local connections such as bridal fair organisers, county wedding groups and nearby venues. We'll be sharing lots of information and advice on our LinkedIn page, plus Facebook and Instagram are also packed with supportive online communities that will happily welcome new members.
Team up with local wedding professionals and help each other out where possible. For example, "if you're a bridal boutique and are unable to get a certain size, reach out to other boutiques in the area to see if they have it. You can also consider selling a sample size or something off the rack as needed" suggests Beth Chapman of The White Dress by the Shore.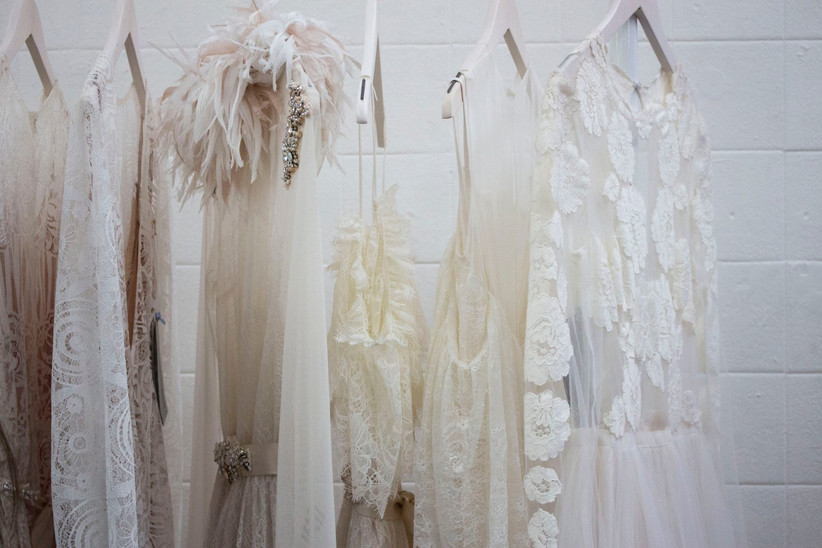 3. Adjust Timelines and Think Ahead
Take a look at your normal ordering timelines and update them if you need to so that you can advise your clients. While there aren't delays for all products, it's always best to play it safe.
"Normal manufacturing lead times from international dress designers is 12–16 weeks, but now we are seeing those timelines grow to 16–25 weeks, which isn't affecting current couples, but will impact brides shopping for their autumn and spring weddings" says Beth.
4. Make Sure Your Contract and Insurance Is in Order
Take time to speak with a lawyer who specialises in contract law to make sure your contract is up to date and covers the appropriate cancellation and unforeseeable circumstance clauses. You can work with them to discuss options for how to enforce and handle the situation in the event the contract is breached.
While you do need to protect your interests, International Wedding Venue Consultant and Wedding Sales Trainer, Kelly Mortimer, advises venues and suppliers alike to be flexible where possible during these trying times: "Consider offering temporary flexibility in your contracts and be vocal about it. For example, any booking made in the next six months would be eligible for one change of date within 12 months. This gives new bookings the safety net they need to continue with their bookings.
"These are very strange times, which most of us have not experienced before. Where we can be flexible whether with dates or indeed minimum numbers, please do your best to accommodate these changes."
The Association of British Insurers encourages all business to check the extent of their cover, in the case of a pandemic, with their policy providers: "Only a very small minority of businesses choose to buy any form of cover that includes local closure due to an infectious disease. An even smaller number will have cover enabling them to potentially claim on their insurance for the presence or impact of the Coronavirus pandemic.
"The Government's clarification will help some of these policyholders claim if the other terms and conditions of the policy are met. We strongly recommend that every business should check with their insurer or broker if they wish to confirm the type of cover that they have purchased."
5. Be Aware of Your Financial Situation
There is no doubt that weddings will be disrupted over the next few months. It's just a matter of how soon and how much. Make sure you're up to speed on your cancellation and deposit policies so that you can answer client questions clearly and efficiently.
Your projected cash flows may change, so make sure you put a financial emergency fund in place, should you need it. "This is the time to be smart with expenditures and trim the fat on expenses not needed. Even saving a little bit each month will be helpful. And, if you can work with clients to postpone events (versus cancellations) this is an ideal financial situation for controlling the cash flow" recommends Michelle Loretta of Sage Wedding Pros.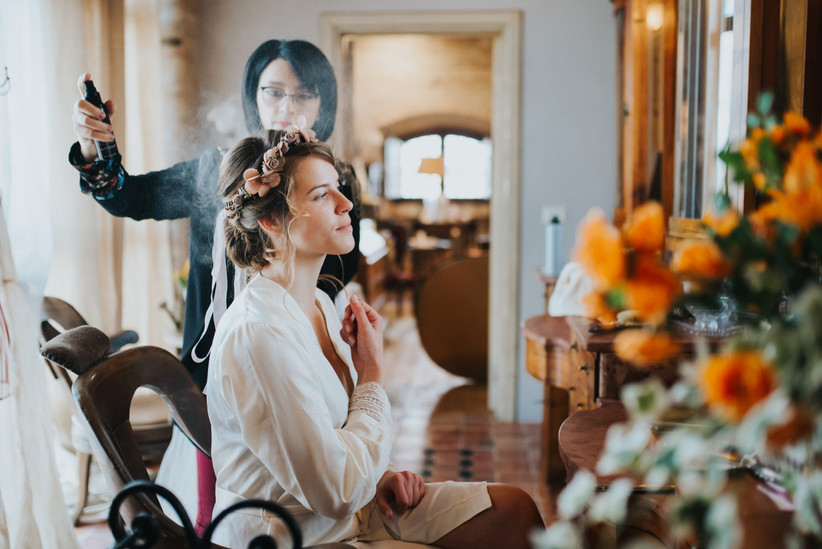 6. Be Patient and Stay Positive
Appointments will need to be rescheduled or changed to video calls, and new questions and situations are likely to keep arising. Do your best to assist your clients in a calm and empathetic way. At the end of the day, everyone is in uncharted territory but we're in it together.
Let your clients know you're there for them and available to chat through their concerns, recommends Kelly: "Our couples are panicking, and this is one of those times when we need to be the safe place for them to go. Lots of my venue clients have said to me 'we don't know what to say' or 'we don't have the answers'. None of us do. However, that doesn't mean we can't support our couples through this and come out even stronger on the other side."
7. Over-Communicate
Your clients already view you as an expert in all things wedding planning, so expect them to rely on you even more right now. "I recently recommended in my Wedding Venue Facebook Group that all venues should be proactively in touch with their couples" explains Kelly.
"Because they felt they didn't 'have the answers' they were scared to take action. This is the worst thing we can do. Our couples need to hear from us. Reach out to all your couples (do a group email and blind copy everyone) and explain what's the situation today. We don't know past that. Tell them you're following guidelines, you're keeping on top of the new advice as it comes, give them that reassurance that you aren't burying your head in the sand."
There is no hard-and-fast rule on how to process the uncertainty, but you have the power to help them make the best choice for them. "Be proactive with your couples and offer suggestions to make their lives and the planning process easier for them" advises Bethel Nathan of Elevate by Bethel.
8. Limit Shared Surfaces
Opening a toilet door with a paper towel or washing your hands after pressing the button for the lift are common sense actions during flu season, but it's easy to forget that shared surfaces like iPads, photo booths or serving utensils also create opportunities for germs and viruses to spread too.
At an event, consider dedicating someone from your team to be 'master of the photo booth' for a touch-free experience or have a manned food station to limit the number of people touching the same surface. "As a venue, we've added multiple hand-washing and hand-sanitising stations throughout the event space. Additionally, consider single-use products to eliminate cross-contamination" suggests Kinsey Roberts, Vista View Events and She Creates Business Podcast.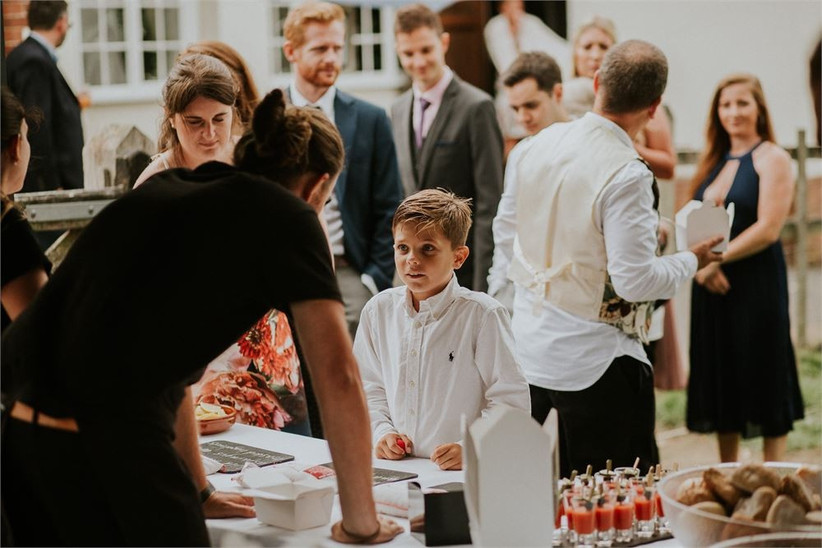 Image: Vamos Paella
9. Use Technology to Bring People Together
If you have a wedding booked in the coming weeks, there is a good chance you will be dealing with cancellations, postponements and other situations where a significant number of guests are unable to attend. Get creative and work to find ways for your couples to still celebrate with ill or vulnerable loved ones. "If you can, provide a virtual experience for clients if their guests can't make it. For a DJ, maybe create a playlist or live stream mix. Think outside the box for solutions" says DJ Brian B.
Andrea took it one step further when grandparents were unable to attend: "To keep them close and to ensure that they get to share in the experience, I invested in 360° virtual cameras (or an iPhone works just fine!) that will allow me to livestream the wedding ceremony, toasts, dances, etc."
10. Seek Government Aid for Small Businesses if You Need it
There's no doubt that businesses of all kinds across the country are experiencing a downturn in profits due to Coronavirus and small businesses are often the worst hit in times of financial crisis. The government has responded to this and stepped up its business loan, grant and tax-relief offering, helping to take the pressure off business owners. Here's what's available:
Coronavirus Business Interruption Loan Scheme – this scheme has been set up to assist small and medium-sized businesses with an annual turnover of up to £45 million. Businesses can access loans, overdrafts, invoice finance and asset finance of up to £5 million for up to 6 years.
Coronavirus (COVID19) Self-Employment Income Support Scheme – this scheme is for any sole traders or partnership members who would benefit from a taxable grant worth 80% of their trading profits up to a maximum of £2,500 per month for three months.
Small Business Grants Fund and Retail, Hospitality and Leisure Grant Fund – these schemes allow certain businesses access to grants of between £10,000 and £25,000. The schemes are delivered by Local Authorities and your Local Authority will be in touch if you are eligible.
Business Rates Relief – businesses in the retail, hospitality and leisure sectors, including restaurants, live music venues, pubs and hotels, will not have to pay business rates for the 2020 to 2021 tax year. The discount will automatically be applied by your local council.
Deferral of VAT Payments Due to COVID(19) – you can defer your VAT payment due between 20 March 2020 and 30 June 2020 if you need to.
Deferral of Self-Assessment Payments Due to COVID (19) – the deadline for payment on account is usually 31st July, however the government is allowing the self-employed to defer until 31st January 2021.
Coronavirus Job Retention Scheme – if you have employees who are now unable to work due to the coronavirus restrictions you can claim for their wages while they're on temporary leave (furlough). This covers up to £2,500 per employee, per month for three months.
Coronavirus Statutory Sick Pay Rebate Scheme – if your employees are off sick with Coronavirus or are self-isolating, you can claim a repayment of their statutory sick pay for up to two weeks. You will not need a Drs note to do this.
11. Take Care of Yourself
During this time of stress and uncertainty you're likely doing all you can to help and assist your clients but don't neglect your own health and wellbeing in the process. You need to set aside time for self-care, away from negative news stories and your overflowing inbox. Whether it's leaving the office for an hour for a walk, indulging in a bath or reading a book, make sure you take time out to recharge.
As always, we will be here to support and assist you in any way we can, so keep in touch and keep giving your clients the amazing service they deserve.