Meet the Couple Who Won £25,000 to Plan Their Dream Wedding
Read on to find out just how life-changing this prize is for Cambridgeshire-based couple Kayleigh and Ryan, and what they have planned for their dream wedding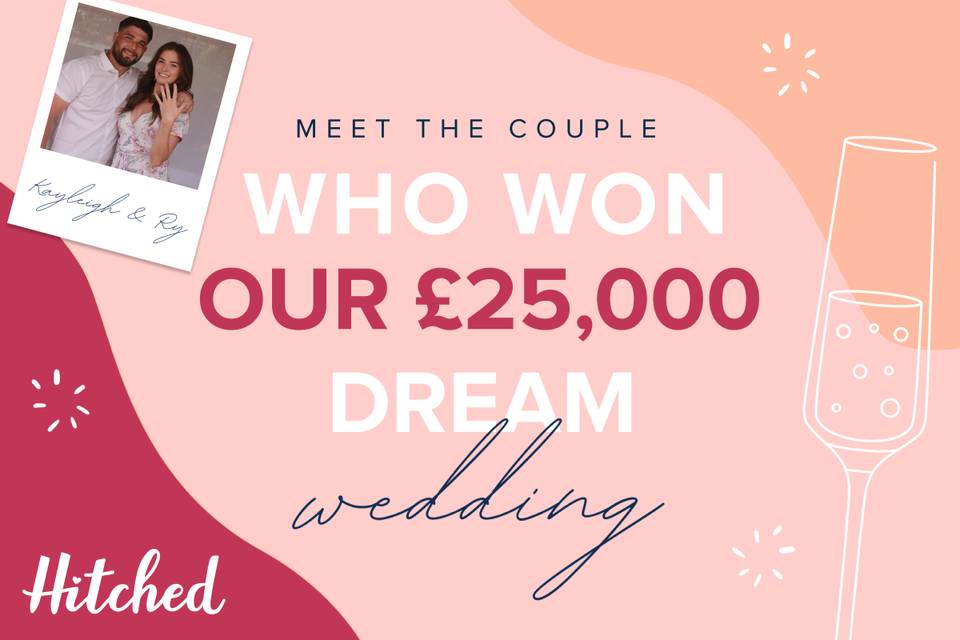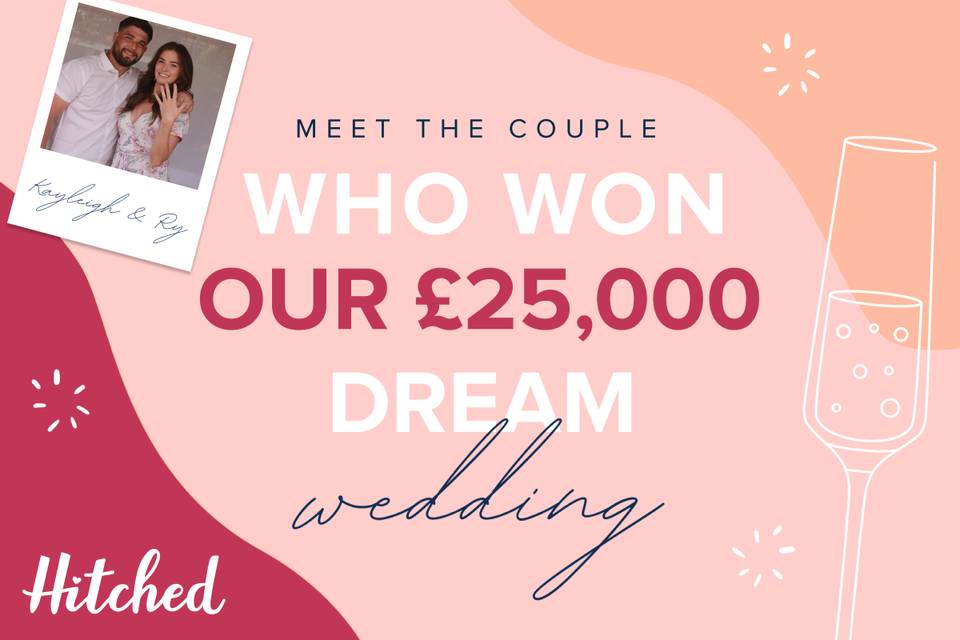 Anyone who's anyone will know that in January and February this year, we ran the biggest wedding competition around. Offering a life-changing prize, the team at Hitched announced we were giving away a staggering £25,000 wedding budget to one lucky couple to help them plan their dream wedding.
The cost of living crisis has had us all feeling a little tighter, and that's not how anyone should feel when planning a wedding. We get it - it's tough saving, especially when the average cost of a wedding now stands at £18,400 - so we knew we had to do something.
Wedding planning should be fun, exciting and for the most part, stress-free - and we wanted to ensure that would be the case for one lucky couple. The competition closed in February, and we're delighted to announce who the winners are...
Meet the Couple Who Won £25,000 to Spend on Their Dream Wedding
The winners of our 'Win a Dream Wedding' competition are 27 year-old Kayleigh and her partner Ryan, 29. The couple live together in Cambridgeshire and were enjoying their first holiday together when they found out the good news.
The couple have been together since 2019 and got engaged last summer when Ryan surprised Kayleigh with a very public proposal-turned-engagement-party. Due to budget restrictions, the couple were planning to tie the knot in 2025 - but thanks to their recent win, their dream summer wedding is now set to take place this year!
Hitched will be following Kayleigh and Ryan's journey as they begin to spend their incredible £25,000 prize money, making their dream wedding a reality, but before the wedding planning tasks begin, we thought we'd get to know them a little better.
Here's everything you need to know about our competition winners, Kayleigh and Ryan.
Kayleigh & Ryan's Story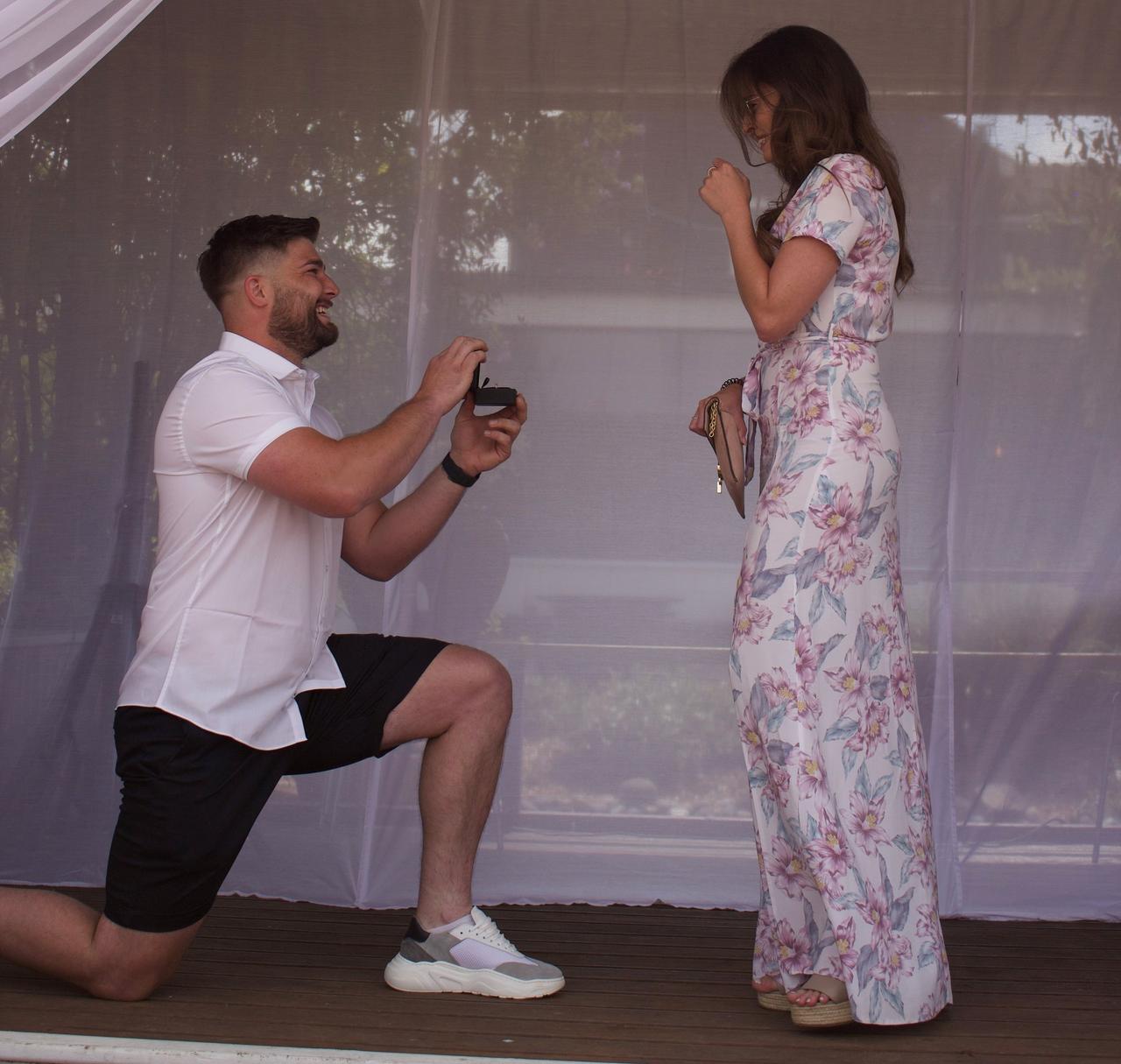 Kayleigh and her partner Ryan have been together for three years now, but it wasn't an immediate connection for Kayleigh.
"Ryan had been persistently messaging me, but it wasn't until almost a year later that I actually agreed to go out with him," Kayleigh explains.
But it seems Ryan's persistence paid off, as it wasn't long before Kayleigh realised the relationship's potential: "Once we got to know each other, we realised that our families actually knew each other as well. They all used to live in the same cul-de-sac as one another and my auntie is godmother to Ryan's little sister. I don't know how, but our paths had just never crossed."
Clearly meant to be, Kayleigh and Ryan dated for a further two and a half years before Ryan decided to pop the question in July 2022 - and he got the whole family involved in the plans.
Explaining how it all went down, Kayleigh told us "Ryan held a surprise engagement party with all our family and friends there. My auntie and cousin were over from Australia and it was their last day here, so we'd all planned to go out for a Sunday lunch - little did I know it would turn out to be a much bigger occasion than that.
"When I arrived, I was surprised by everyone and could see Ryan standing underneath the pergola. He'd always said he wanted to propose in front of everyone, but I said he wouldn't have the guts to do it. I was completely proven wrong."
There was no need for an engagement announcement - everyone who was closest to them was there to celebrate with the couple immediately. Whilst it was a complete surprise for Kayleigh, everyone else was in on Ryan's secret plans.
Kayleigh explains: "Ryan told all our family and friends months before the engagement so that he could plan the perfect surprise for me. All of my family were over the moon and loved that Ryan wanted to make it so special for me. He knows that my family mean everything to me so I loved it!"
Winning the Hitched Competition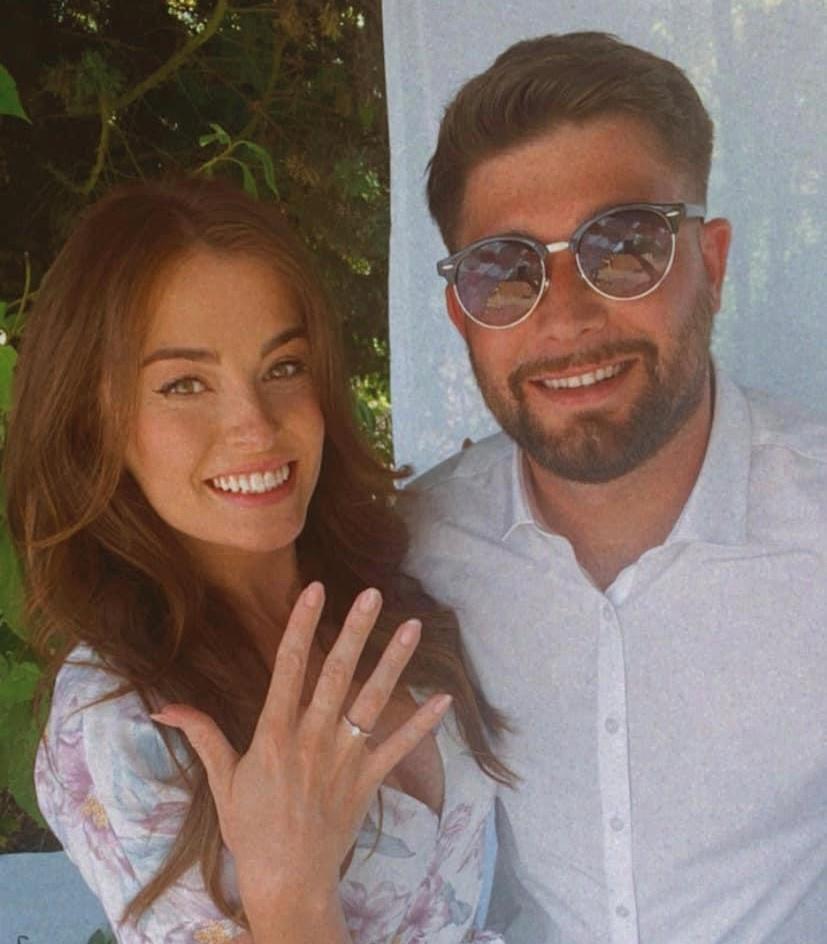 Kayleigh and Ryan were on their first holiday together in Australia when they found out the exciting news that they'd won the Win a Dream Wedding competition. Talking about the process of entering and winning, Kayleigh said, "I was scrolling through TikTok and saw the competition so I thought, I'll give it a go. I entered but never thought I'd win.
"We were on holiday in Australia when we found it. I'd just woken up and saw I had loads of missed calls and messages from the marketing manager at Hitched. She'd messaged to say that she had some good news and that we'd won the competition. I was in complete shock. I just stared at my phone until Ryan woke up and then told him the exciting news."
Like many couples, Ryan and Kayleigh needed to save up quite a hefty sum of money to plan their dream wedding. Before winning the competition, the couple wanted to save £20,000 for their wedding - but this meant pushing the wedding date back to 2025 to ensure they could afford the wedding they wanted.
Winning the competition means that Kayleigh and Ryan don't have to wait another two years to get married, nor do they have to save that £20,000 wedding fund. And it's not just the wedding date that's been impacted by winning the prize. Family is so important to Kayleigh and Ryan, and winning the prize money means more of their loved ones can attend the wedding.
Kayleigh explains, "Winning the competition means we are now able to invite more guests to our special day and we can now have a videographer. I was also planning on doing the wedding invitations and wedding flowers myself to try and keep costs down, so it's such a relief that I now don't need to worry about trying to do things myself to save money on the wedding.
"This isn't just bringing the wedding date forward. I feel like winning this money will have a massive impact on our lives outside of a wedding as we really want to save for a house and this means we can start putting our money towards that instead of paying for the wedding."
The Couple's Wedding Plans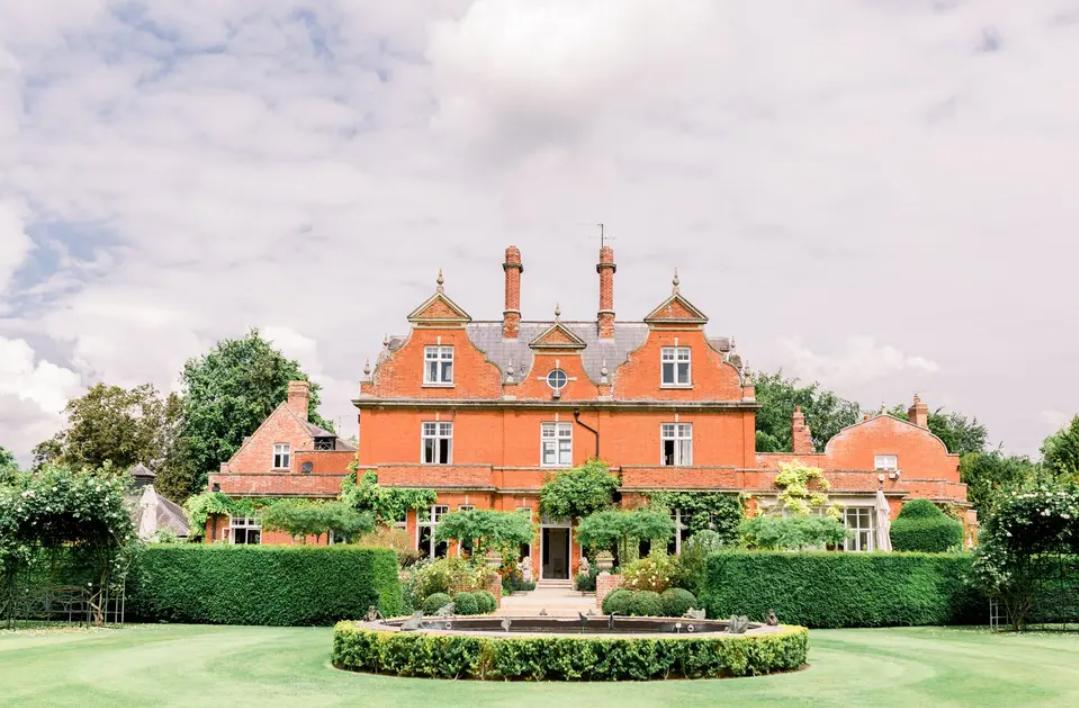 When it comes to planning their dream wedding, Kayleigh and Ryan have a pretty good idea of what they want. Making it a family affair is high up on the priority list, along with a few other must-haves.
Looking forward to spending their £25,000 prize money, Kayleigh says, "It's really important we have both of our families there, as well as all of our friends. We are also really keen to have live music for our ceremony and would love an outdoor wedding venue.
"Our dream wedding venue is Chippenham Park who are listed with Hitched and can be used as part of our prize - we can't wait to get married there. We're hoping for a very elegant and intimate wedding that really showcases our love for each other.
"If I could describe our dream wedding day, it would be an outdoor wedding ceremony at Chippenham Park, acoustic music playing in the background and having all of our family around us, including the ones who live in Australia. We want to be surrounded by all the blossoming flowers and (hopefully!) a bright, shining sun.
"After the ceremony, we want a big celebration in a garden marquee with food, drinks, wedding speeches and an evening of fun and lots of dancing. Seeing everyone happy and celebrating will be such a high for us on the day. Family is so important to us and we can't wait to share this with them."
Kayleigh and Ryan can't wait to tie the knot, marriage means a great deal to them both, so being able to move their wedding forward by two years and allowing them to start their journey together as a married couple sooner rather than later, is something we're very excited to do for them here at Hitched.
"I can't wait to have that long-term commitment with Ryan. I've always wanted someone to grow better with, I can't wait to be married to someone who I love, be with them everyday and take his last name," Kayleigh gushed.
Kayleigh and Ryan never thought they'd win this competition, not in a million years. But it goes to show it can be you! Advising other couples, they said, "Enter every competition you can because you never know what could happen. Hitched have been brilliant and so helpful already, helping us plan our wedding and getting us our dream wedding venue. I would recommend them to everyone!"
So, you heard it here first, Kayleigh and Ryan from Cambridgeshire are the lucky couple who have scooped our prize of £25,000. Ready to help them plan their dream wedding, we'll be keeping you in the loop and letting you know how they get on.
In the meantime, you can also continue to plan your dream wedding here on the Hitched website, with more than 3,000 wedding venues and over 16,000 wedding suppliers, get searching today!