Bridgerton Star Charithra Chandran on Authentic Representation & That Pre-Wedding Ceremony
Bridgerton's breakout star Charithra Chandran sat down with The Knot Worldwide to explain why the show's representation, including that Haldi ceremony scene, means to much to her - and the fans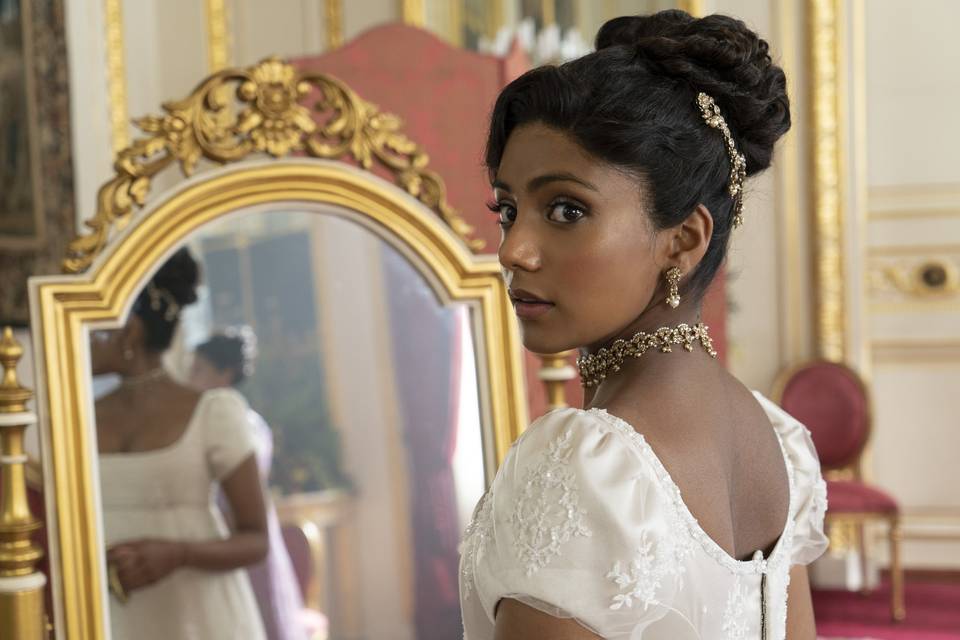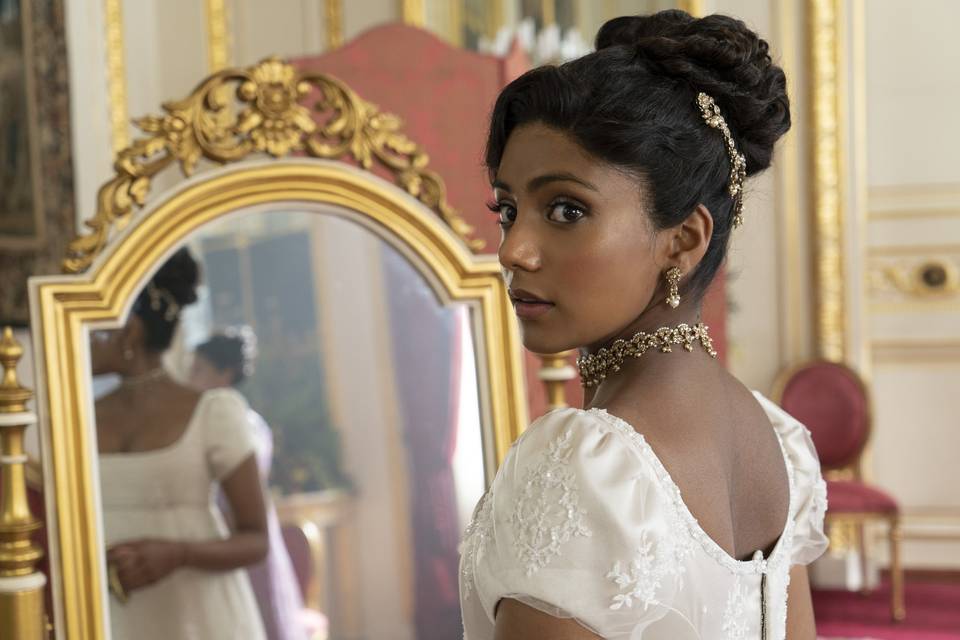 First imagined from the pages of Julia Quinn's Regency romance novels, Netflix sensation Bridgerton returned to our screens for a second season that once again embraced diversity with a new family taking the spotlight. Introducing the Sharmas.
Having moved from India to London, the season follows Mary Sharma and her eldest daughter Kate as they look to find a husband for younger sister Edwina. When Edwina is declared the diamond of the season and eligible bachelor Anthony Bridgerton sets his sights on marrying her, in true Bridgerton style, the storyline takes a scandalous turn.
Protective of her younger sister, Kate is determined to stop the betrothal and pushes Edwina towards other suitors. Despite an obvious connection between Anthony and Kate, the wedding plans for Edwina and Anthony progress and in turn homage is paid to a number of Indian wedding traditions.
In an exclusive interview with The Knot, sister brand of Hitched, Charithra Chandran, who plays Edwina and hails from an Indian family herself, shared the importance of including South Asian representation in the hit show and the cultural significance of this inclusion on and off screen.
READ MORE: The Best Regency Style Wedding Dresses for Bridgerton Brides
Challenging Conventions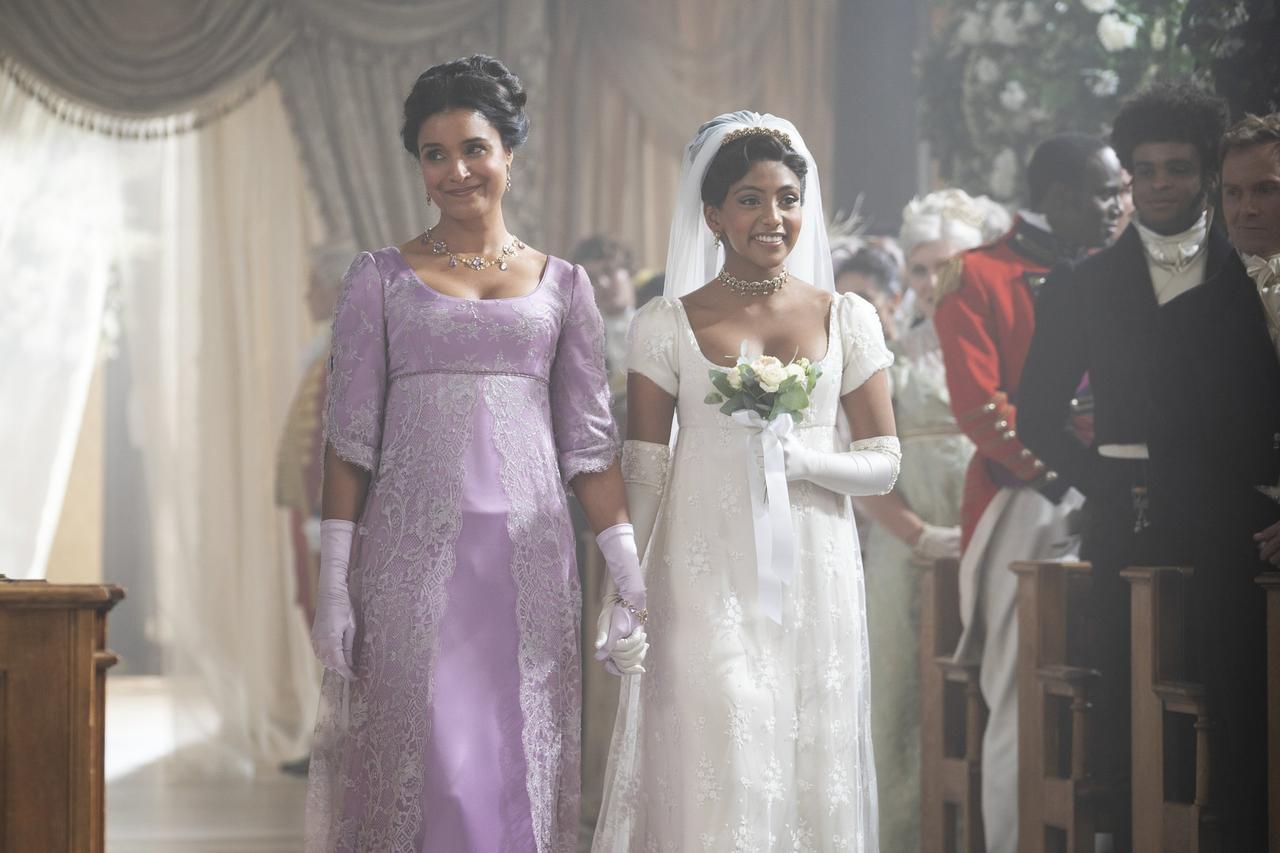 Bridgerton has never been a conventional Regency-era show, having incorporated a degree of diversity since season one that is unfortunately not often associated with Western period pieces. Typically, even when cultural aspects are introduced, they are toned down or modified for audiences but Bridgerton offers a refreshing portrayal.
"More than anything, it's important to normalise this representation. I think what Bridgerton is trying to do is to normalise experiences that are different from a lot of peoples," says Charithra. "As people get more accustomed to different cultures, it'll be less of a novelty. It'll just show another way of doing things."
As a genre that is often dominated by white faces, a more authentic representation showcasing two darker-skinned women taking on main roles is helping to lead change and dismantle colourism within the entertainment industry.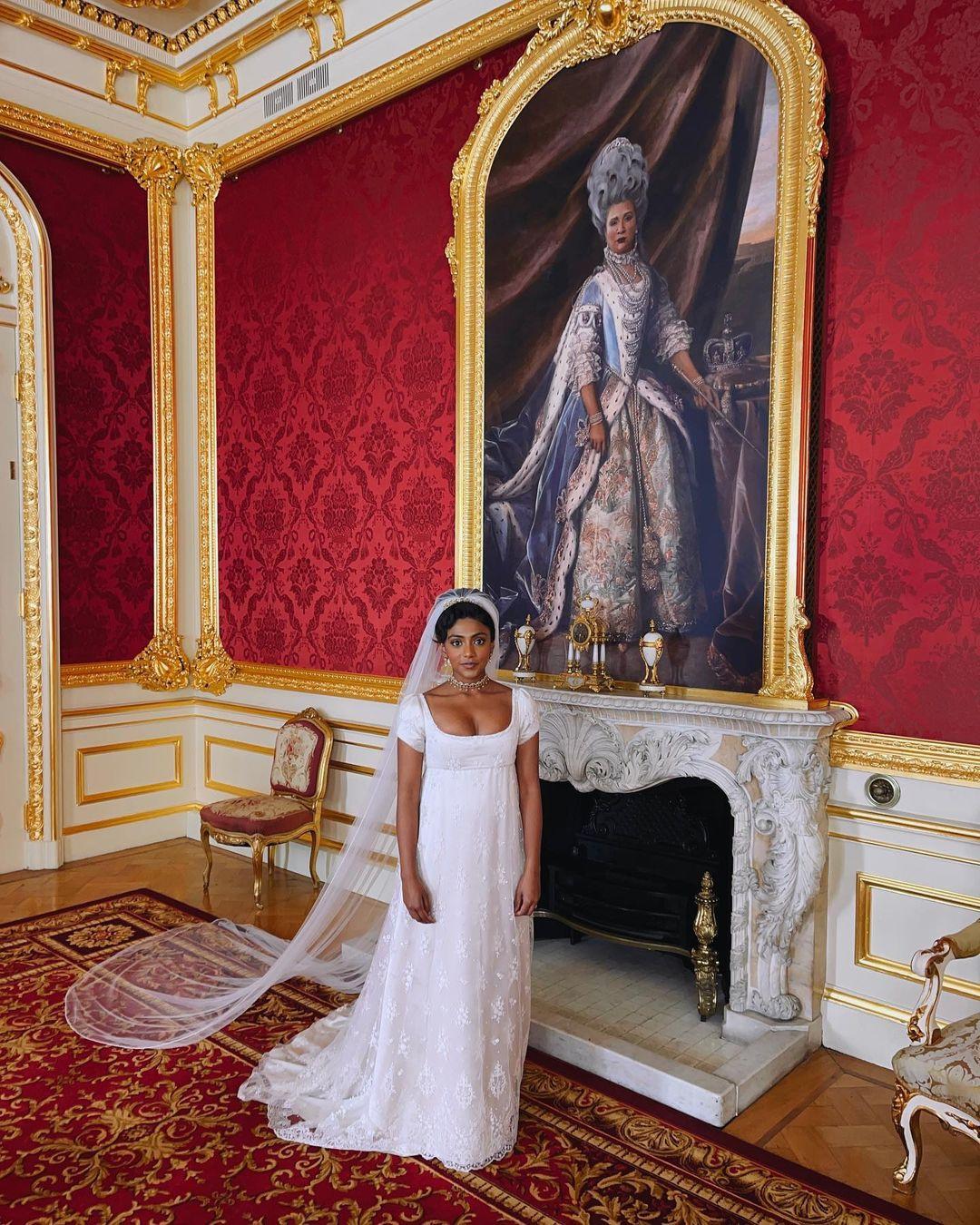 "Growing up, dark-skinned women across the world are often told that they're not allowed to go into the sun or there's something wrong with us - colour is seen as a hindrance. So, the fact that the diamond and the leading lady of the season are both dark skinned and it's not mentioned or made into a thing is so powerful," Charithra told us.
This hasn't gone unnoticed by fans, with Charithra revealing that she has received tons of praise from fans who have resonated with this: "I've received so many wonderful messages from young girls and women everywhere saying how emotional it made them, which is exactly what we wanted. It means the world."
Bridgerton's executive producer, Shonda Rhimes, made it clear that representation was an essential part of the show, telling Netflix: "The idea that we don't create worlds that look like the world that we live in, and that we create false societies where everybody looks a certain kind of way or is a certain kind of colour or whatever, feels disingenuous to me. It also feels like erasure. We're just not interested in erasing anybody from the story, ever."
This representation didn't just stop with what you see on screen, as Shonda explained that ensuring the team behind the show are multicultural too, and why it's key when it comes to authentic storytelling: "There's nothing wrong with a white male point of view, but there are certainly many things right about the point of view of women of colour, directors of colour, artists of colour, writers of colour. That feels important to us to include in our world."
Representation of Indian Wedding Traditions
From popular Bollywood music choices to that iconic pre-wedding ritual, one of the most powerful portrayals of Indian culture in Bridgerton comes when viewers see the wedding of Edwina and Anthony. In fact, there is a clear alignment between the importance of family in the Regency era and within Indian weddings.
READ MORE: The Best Asian Wedding Venues in the UK
"There's a role for every family member in an Indian wedding. There's official and unofficial roles. It's just such an inclusive experience and practice. What Hindus and Indians really emphasise is that it's a coming together of families. When you get married in India, it's so much more than just the couple. This comes with added pressures, but it's one of the most beautiful aspects," Charithra explained.
These details haven't been lost on viewers, with Aneela Ashraf, 31, who is of South Asian descent and married her husband in 2021 telling us: "Weddings are a huge part of South Asian culture; we go big, loud and colourful, so seeing a Bridgerton - Indian wedding play out was exciting."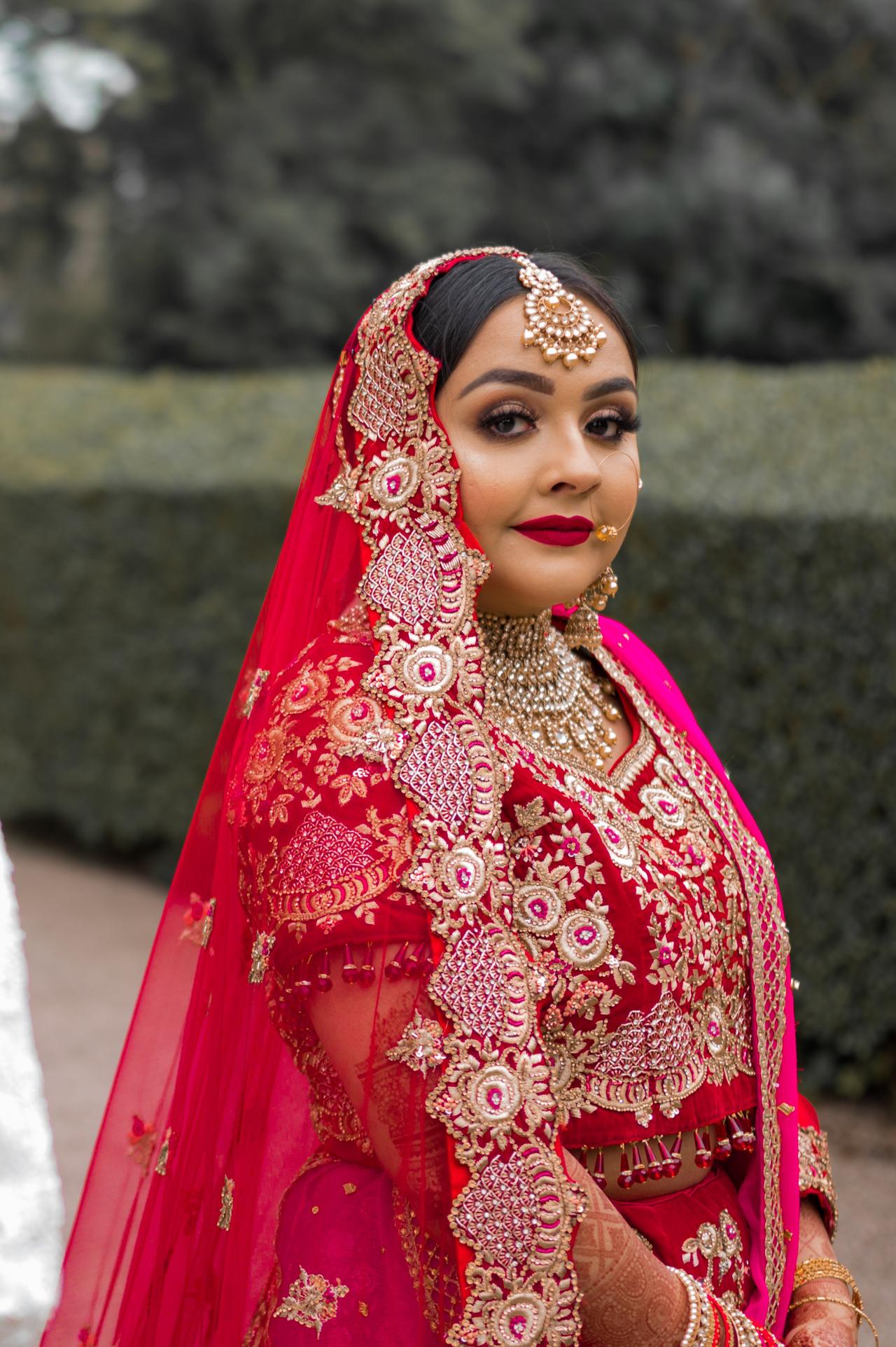 When asked about the choice to include a South Asian family in the second season, Shonda told Netflix the decision was an easy one: "Making the Sharmas of South Asian descent was actually a very simple choice. I wanted to feel like the world we were living in was as three-dimensional as possible, and I wanted to feel like the representation was as three-dimensional as possible, too.
"Finding South Asian women with darker skin and making sure that they were represented on screen authentically and truthfully feels like something that we haven't seen nearly enough of. I felt like it was time for us to make sure that we were seeing as much as possible."
The Haldi Ceremony in Bridgerton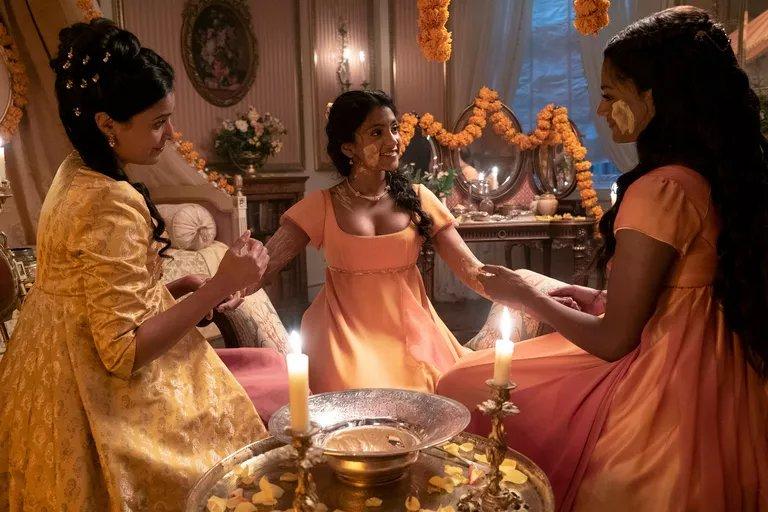 The night before Edwina and Anthony's wedding, the Sharma family gather for a pre-wedding ritual called a Haldi ceremony. Haldi comes from the Hindi meaning for turmeric and this scene shows the couple being covered in turmeric, oil and water in an effort to bestow blessings and good luck upon the marriage.
Paying tribute to Edwina's roots is an impactful moment as "immigrants tend to lean on their culture and their customs in moments of pure joy and deep sadness. We seek comfort and celebration in our culture," says Charithra.
LaToya Patel, Co-Founder of SW Events and The Asian Wedding Club, agreed that it was hugely significant that the show included cultural traditions: "The pre-wedding events carry a lot of significance for any Indian wedding and it was really refreshing to see the Haldi Ceremony portrayed. This isn't one that you'd regularly see portrayed and it shows a cultural aspect that many people wouldn't be familiar with.
"It would have been wonderful to see more Indian wedding elements included, but we must acknowledge the tasteful way in which Bridgerton has introduced these cultural nods within the episode."
"The Haldi Ceremony was probably the scene that captures the most honest moments for an Indian wedding," says Aneela. "I do feel like we could have seen a little more colour, a little more vibrancy, however there are little hints of South Asian heritage in the jewellery.
"Ultimately having this representation is a huge milestone for our community, and I hope it brings with it more opportunity to showcase our culture in Western media, and provides more understanding of the culture beyond fancy saris and opulent headpieces."
READ MORE: What I Learned Planning a South Asian Wedding for 800 People
Bollywood Music in Bridgerton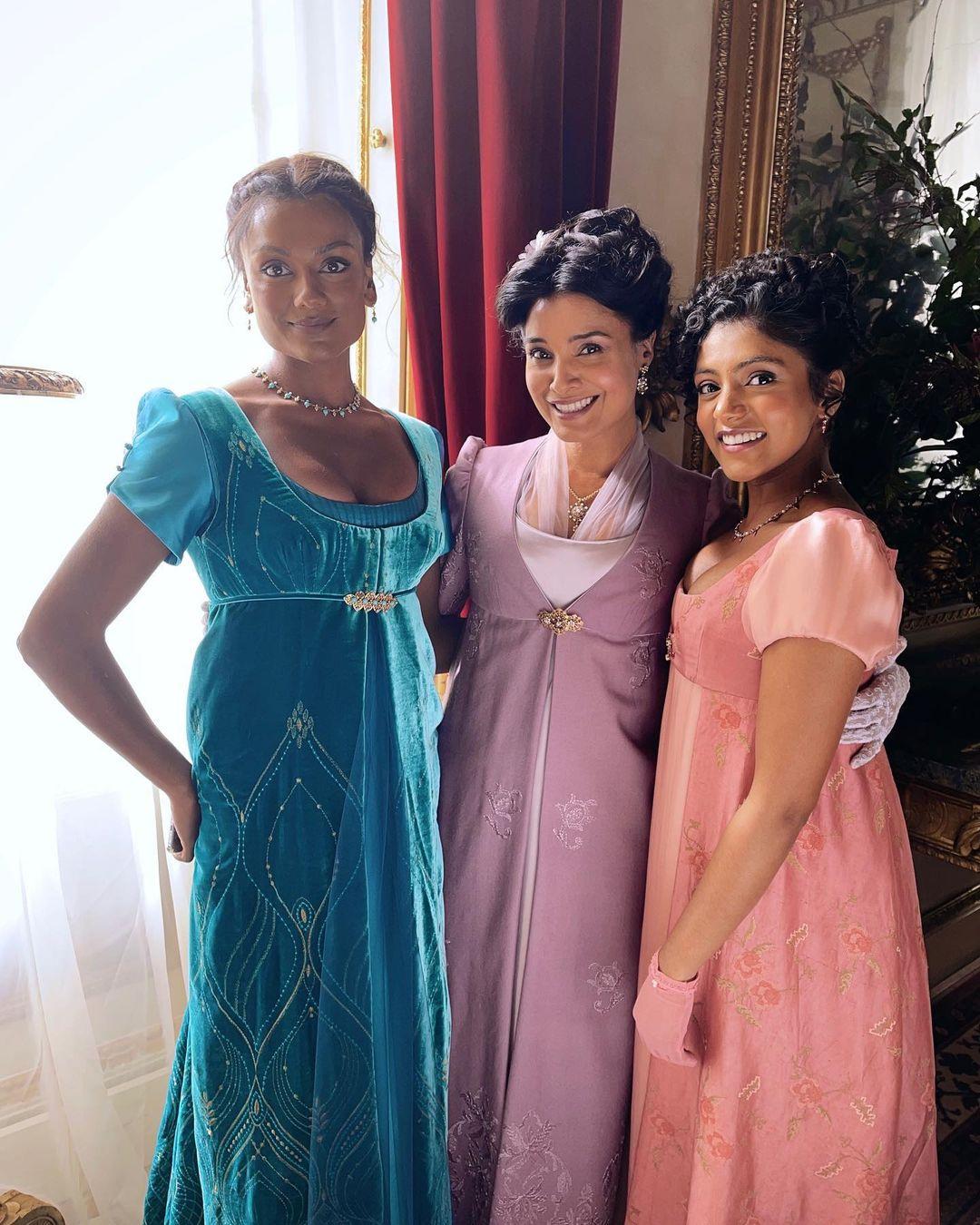 The Haldi ceremony is also set to the song Kabhi Khushi Kabhie Gham, originally from the soundtrack of a 2001 Bollywood film of the same name.
Previous episodes have seen classical interpretations of Ariana Grande, Maroon 5 and Rhianna songs played so the inclusion of traditional Bollywood music is incredibly pertinent.
Kabhi Khushi Kabhie Gham translates to 'sometimes happy, sometimes sad' making it "a beautiful song that really works for that scene. Even melodically, the song is the perfect choice," explains Charithra. "I also think that the song choice in itself is such proof that we weren't doing this just for a wide audience.
"Those kinds of Easter eggs would only be known by Indian viewers or Bollywood lovers. It is a nod to the culture we're representing and the people that are being represented."
The Significance of Yellow Clothing
Everyone is pictured wearing Regency-era clothing at the Haldi event, but in a rich yellow shade, which is a favourable hue in Indian culture. "I love the colours that we used for costuming in the Haldi ceremony. That was really truthful to the turmeric hues that would be used during a Haldi ceremony," says Charithra.
As the series maintains its notable and specific Georgian aesthetic, with nods to Indian culture, Charithra suggests it is these subtle acknowledgments to Indian culture that will have the greatest impact long term. "Sometimes when things are too on-the-nose they can be alienating, so I really think the way the show did it, through colours, fabric cuts and draping, but still keeping it very Regency, makes a really comfortable yet strong nod to Indian culture."
READ MORE: Indian Wedding Traditions Explained
Powerful Progress & Its Impact
In the larger outlook of the series, the Haldi ceremony is just one scene yet the cultural impact of it is huge with Charithra's portrayal of Edwina setting an amazing example for Indian women that resonated immediately.
"Bridgerton has been amazing for diversity, especially with the second season including South Asian representation. As a British South Asian woman I don't often see representation of women who look like me or who have the same similar cultural markers as me on TV," says Aneela. "Even though we are the largest minority group in the UK, it often feels like we are still waiting for our cultural moment in TV and Film. So seeing this play out on a huge Netflix show is definitely a win."
"I really love seeing on social media Indian girls really owning their culture. When I was younger, I remember I was embarrassed by wearing cultural clothing when my mum would drag me to weddings with her friends," Charithra reveals. "The fact that people feel comfortable and proud to own it - in fact, it makes them stand out for the best possible reasons - I think that's what is really exciting to me. In part, this does have to do with increased representation in the media, including Bridgerton."
Interview/additional reporting by Sarah Hanlon
If you want even more Bridgerton, make sure you read our round of the best Bridgerton wedding ideas.