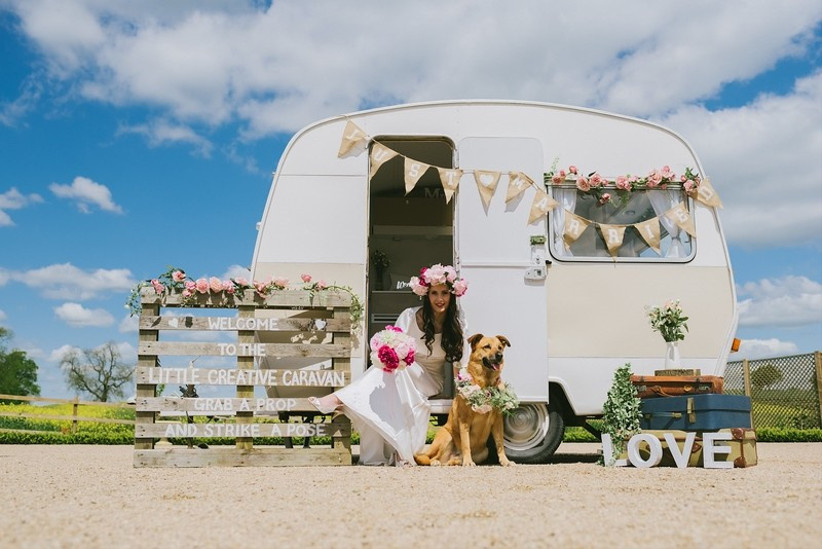 Animals play a huge part in a lot of people's lives and a recent survey reported that 40% of UK pet owners said they would include their pet in their wedding, cute right?
Within that group, 22% of people said they'd have their pet as a ring bearer on the big day, whilst 11% admitted to wanting their beloved animals to be bridesmaids – and if that wasn't cute enough, a further 5% said they'd consider appointing their furry friend as a best man or groomsman!
READ MORE: Best Man Roles Explained
With so many UK pet owners keen to include animals in their special day, it was only right that we rounded up our favourite images of pets and animals at weddings to share some inspiration!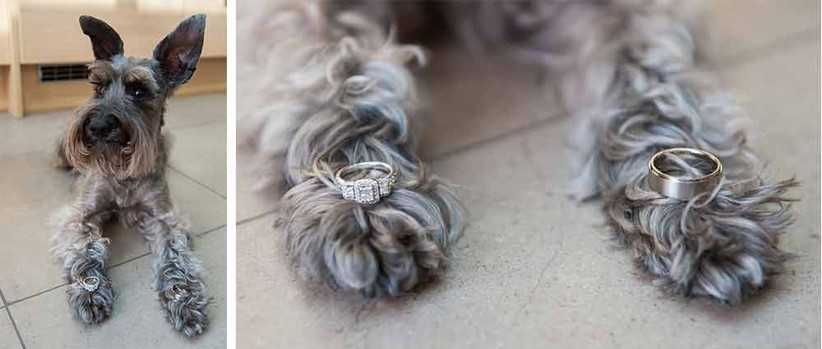 Image Credit: Kat Forsyth
Who needs a ring bearer in human form when you could have this handsome fella do the job? He is totally gorgeous and to be quite honest, we think he suits a diamond or two.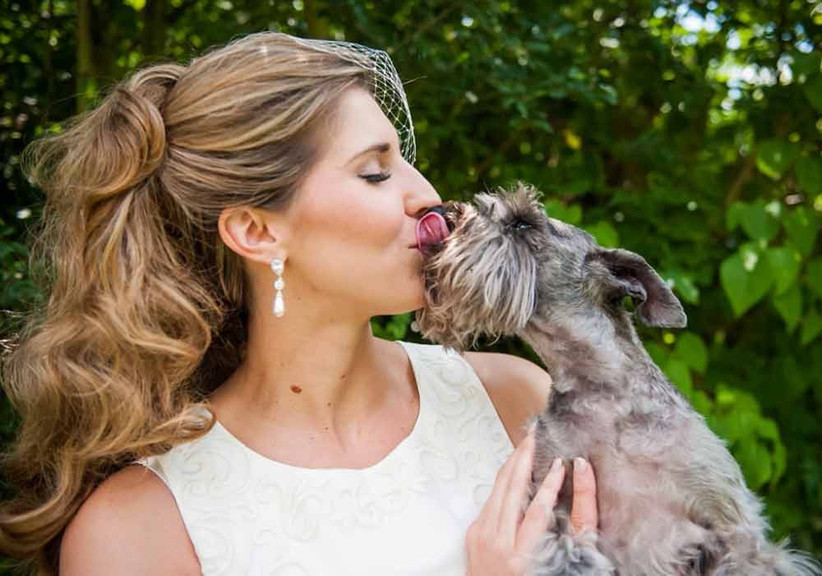 Image Credit: Kat Forsyth
You may now kiss the… dog! The pup managed to get himself another moment in the lime light and this time he was giving the bride a big smooch on the lips. That really is true love.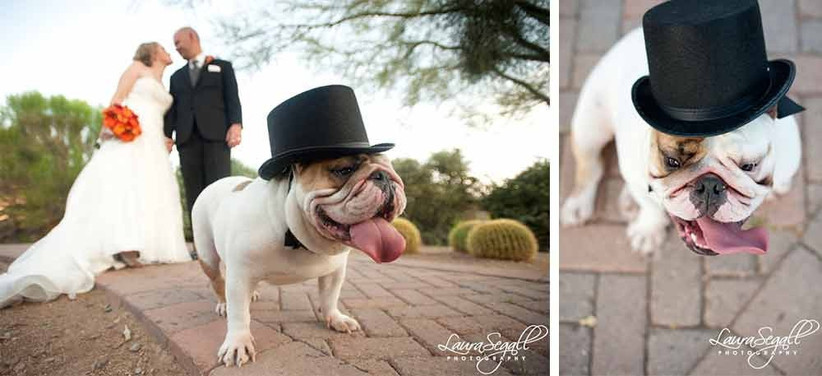 Image Credit: Laura Segall
This handsome chap couldn't wait to get his hat and bow-tie on for the big day. He looks so dapper and boy does he know it. What a poser!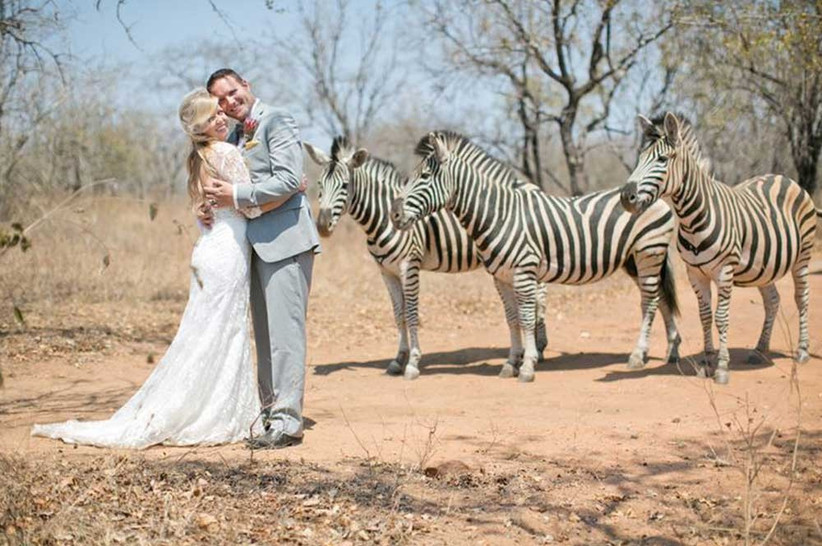 Of all the animals you image might attend a wedding, Zebras are probably pretty near the bottom of your list. This lucky couple had three stunning gate crashers at Grand Kruger Lodge in South Africa on their big day but it doesn't look like their complaining – and what a beautiful picture it's become.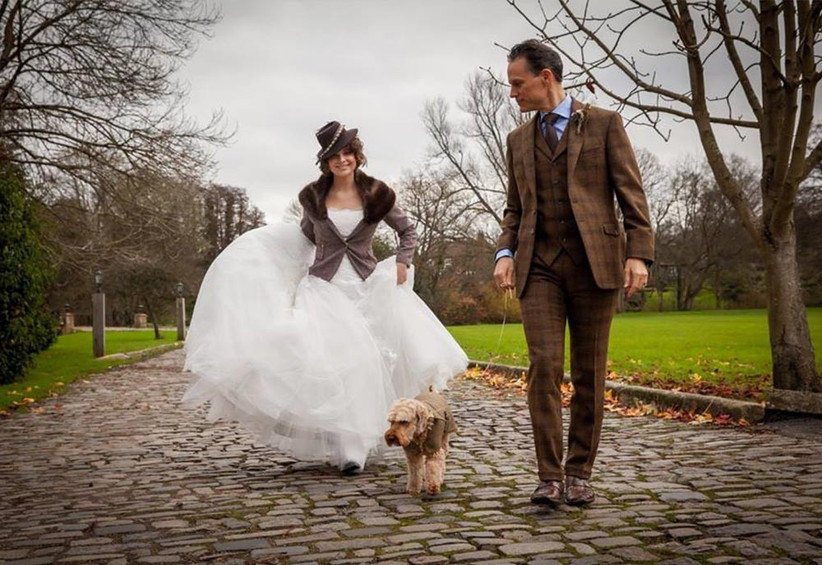 This vintage wedding wouldn't have been complete without the couple's little pup. Marrying in the gorgeous grounds at The Mill in Elstead, the scenery, outfits, and presence of their dog made this the perfect wedding picture.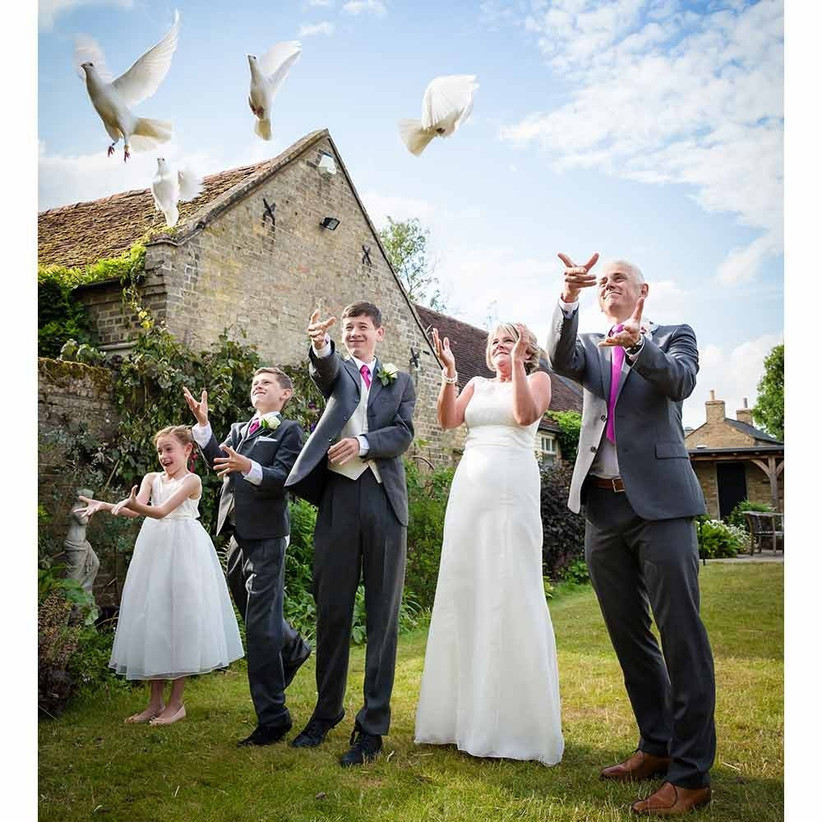 Doves are a wedding-related animal and this picture taken at Shortmead in Bedfordshire shows why. They are an elegant animal and now we understand why so many people want them at their wedding.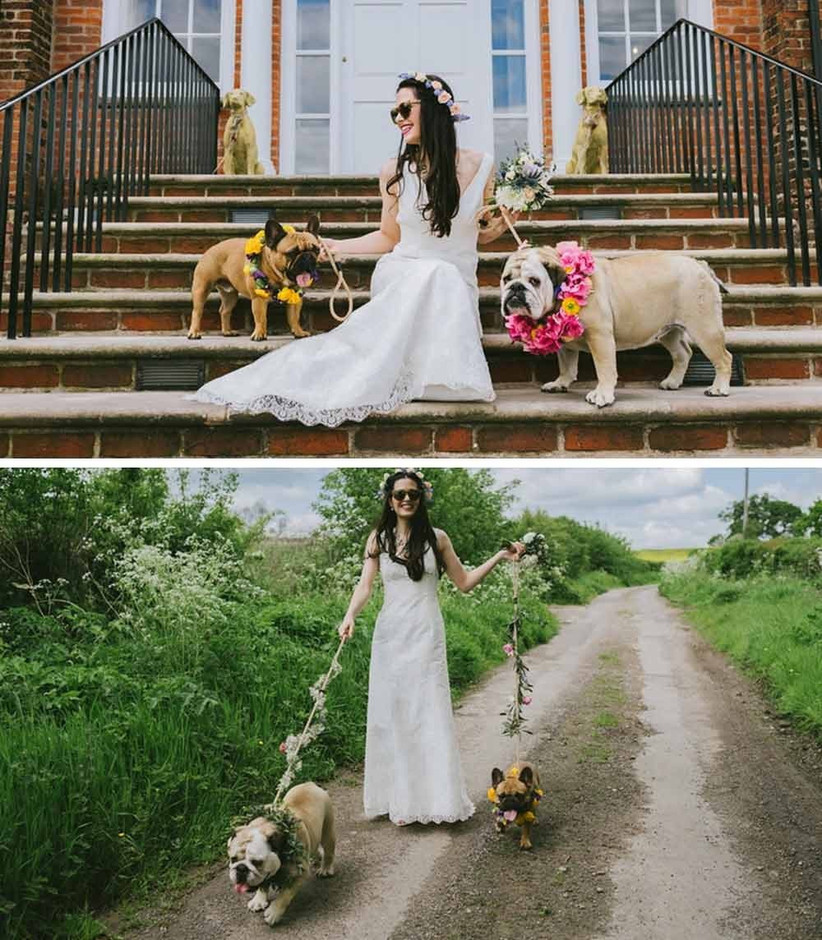 The Kedleston Country House was home to this bride and her two very stylish pups. We all know that bright coloured flower crowns are totally in this season, but these seriously fashionable dogs obviously got the memo too.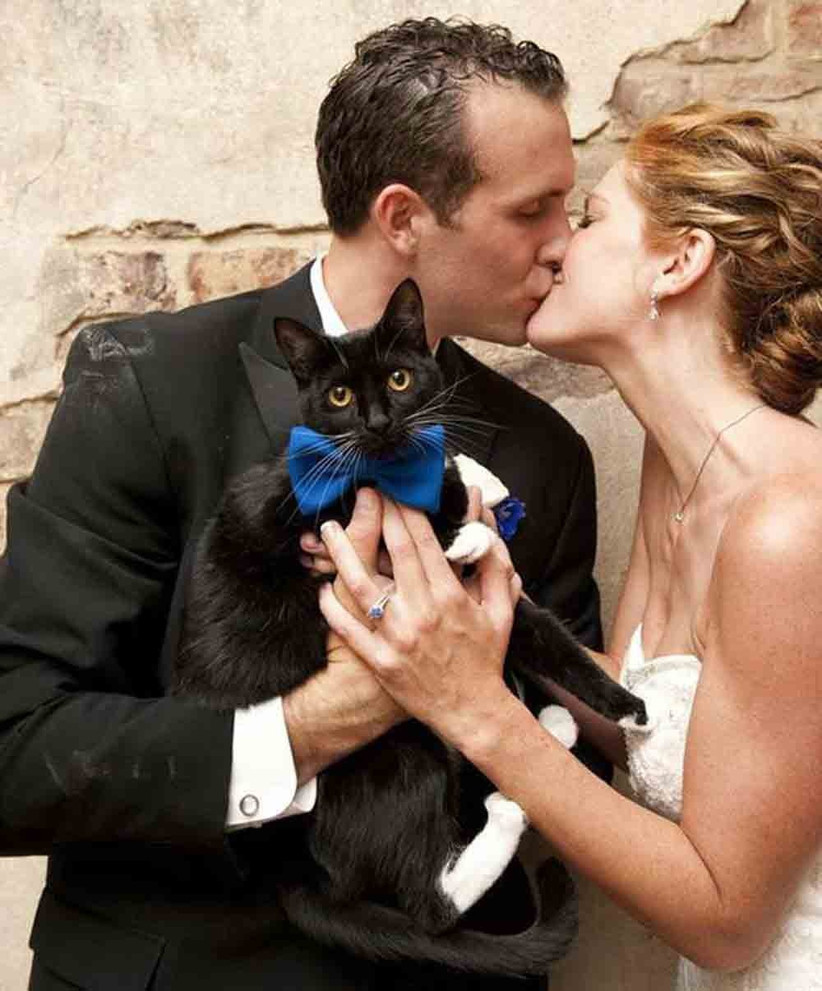 Image Credit: Reese Moore Photography
We love how cute this kitty looks in its dashing royal blue bowtie. Out of all the accessories that couple are sporting, we definitely think their feline friend is the best one. Can we borrow her please?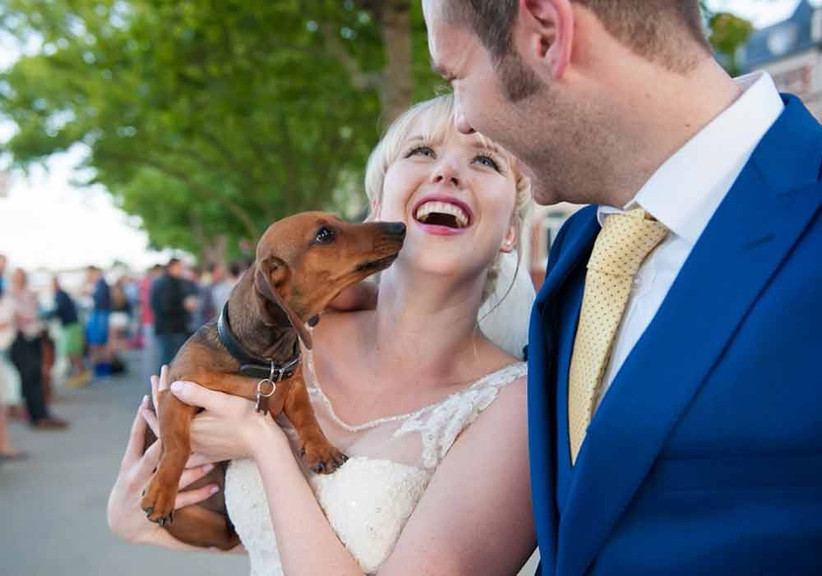 Image Credit: Kat Forsyth
This couple have let their dog crash their wedding pictures and boy are we glad that they did. We don't know what's cuter, the way the bride and groom are looking at each other, or the way the dog is looking at them. Can you decide?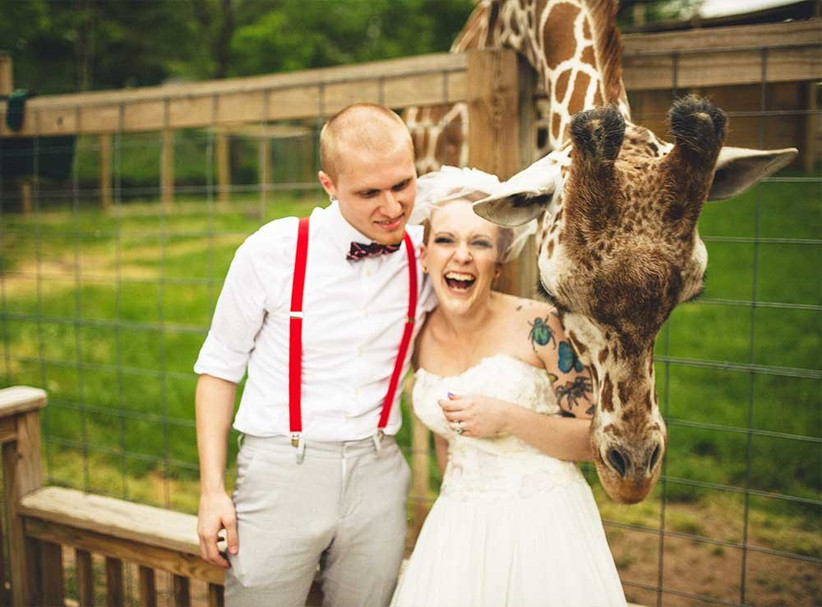 Image Credit: Tattooed Bride Photographer Allebach Photography
This has to be one of our favourite wedding photographs of all time. The gorgeous tattooed bride and her new husband are accompanied by a glorious animal – the giraffe. If we could recreate any wedding picture in this gallery, it would definitely be this one.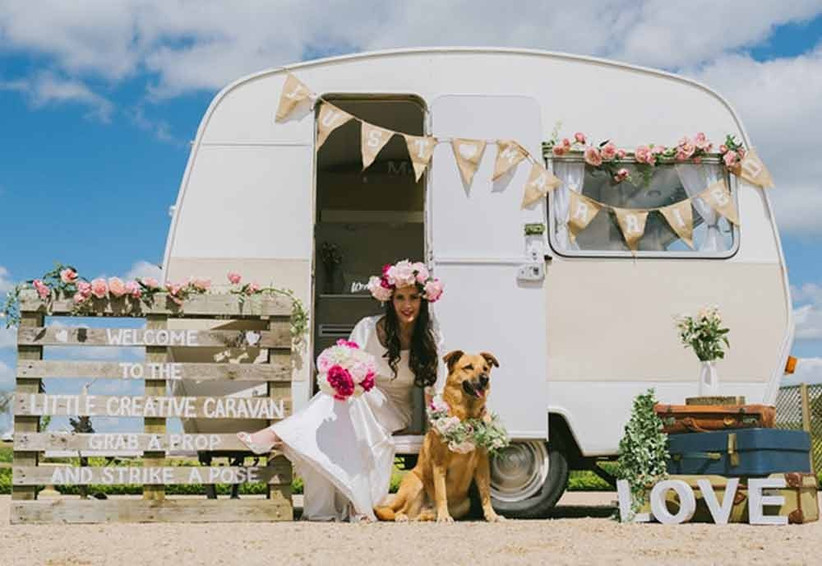 This vintage wedding set up at The Kedleston Country House is what most brides dream about… Flowers, bunting, a vintage caravan, and a dog wearing a floral necklace. We just can't see this getting any better, unless you added a bottle of Prosecco and some glitter?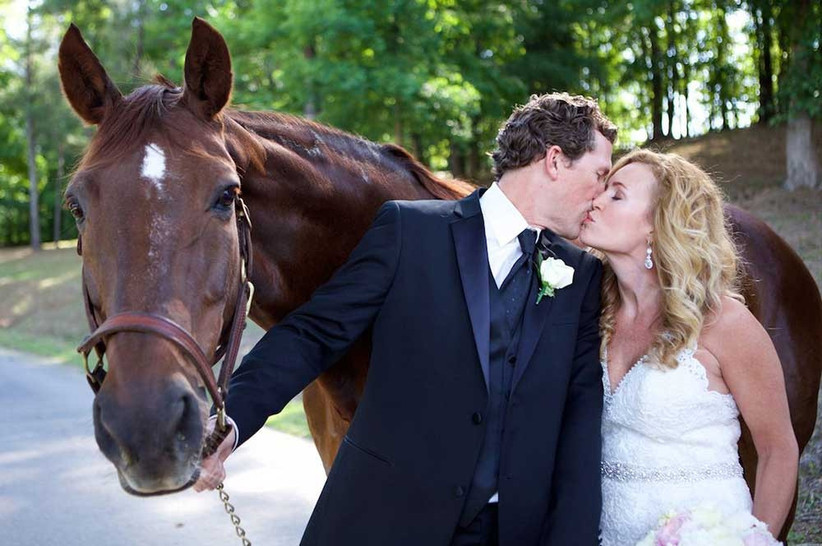 Image Credit: Arden Photography at Windwood Weddings
This gorgeous couple got to share the limelight with a magnificent creature. Horses are seen at some weddings in relation to wedding transport, but this pair got to get really up close and personal with the animal and the picture of it is just stunning.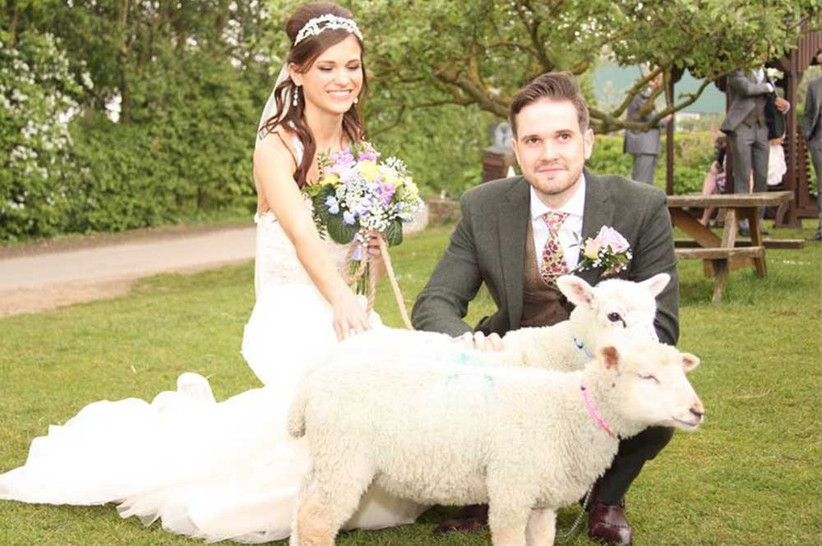 Mary had a little lamb, and it seems that so do this couple. They decided to be photographed with a pair of lambs on their wedding day and we can't deny it, they are actually quite cute. Would you let a lamb photo bomb you on your wedding?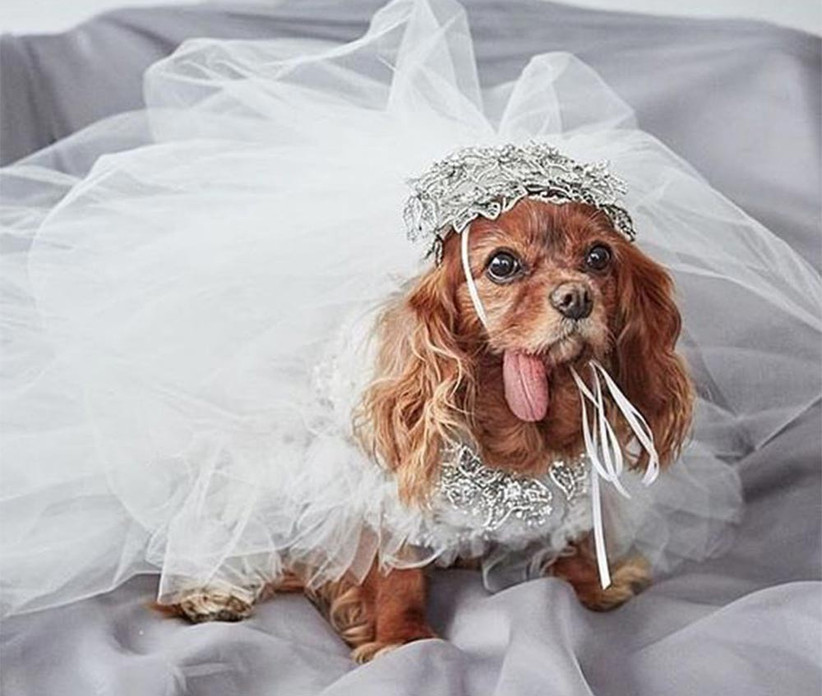 Image Credit: Toast Meets World
We've seen beautiful brides, but we never thought we'd see such a beautiful barking bride. Toast is a gorgeous toothless dog that puts us to shame in the beauty category. Is it weird that we are jealous of a dog's good looks?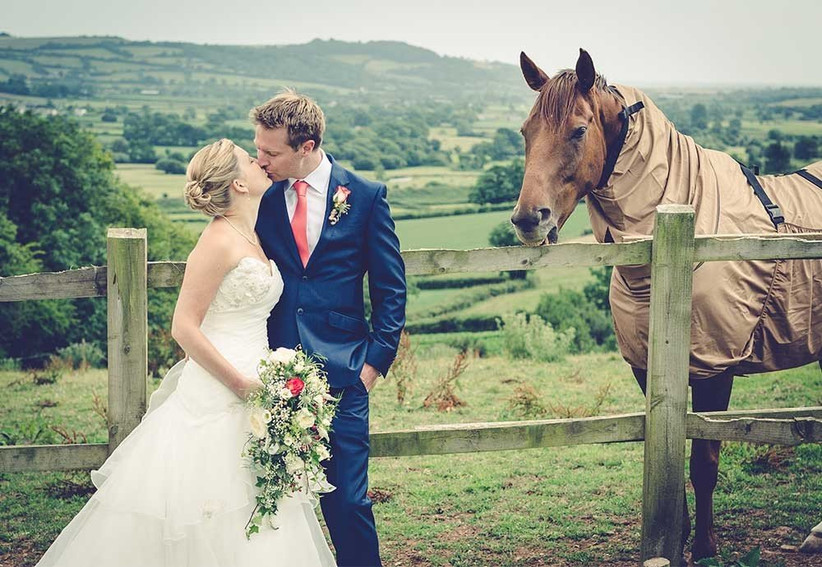 Not only does this wedding photograph from Cranberries Luxury Hideaway have the most scenic views as their background, but it also has a stunning country horse looking over the newly married couple. This is a perfect shot from what was obviously a perfect country garden wedding.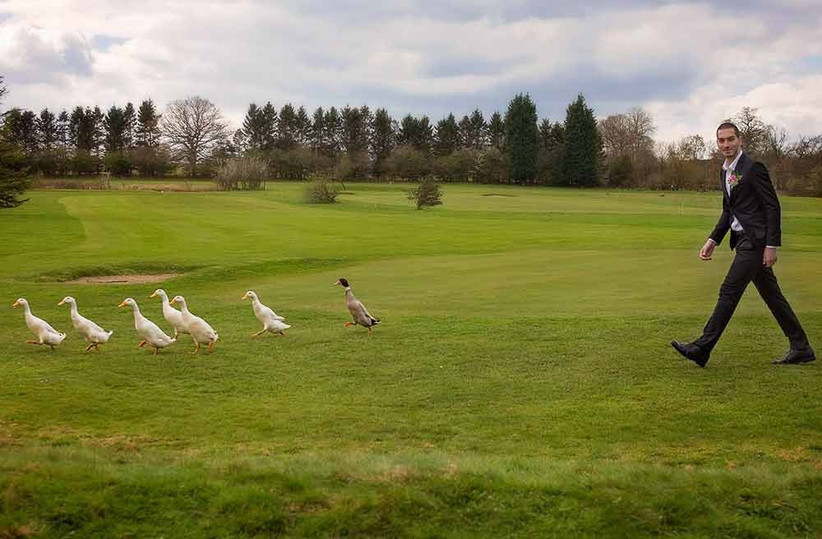 This groom at Brookfield Barn herded his groomsmen… We mean, ducks, across their beautiful grounds, and he looks rather happy with himself. It is an interesting and unexpected animal to see at a wedding but we actually like it.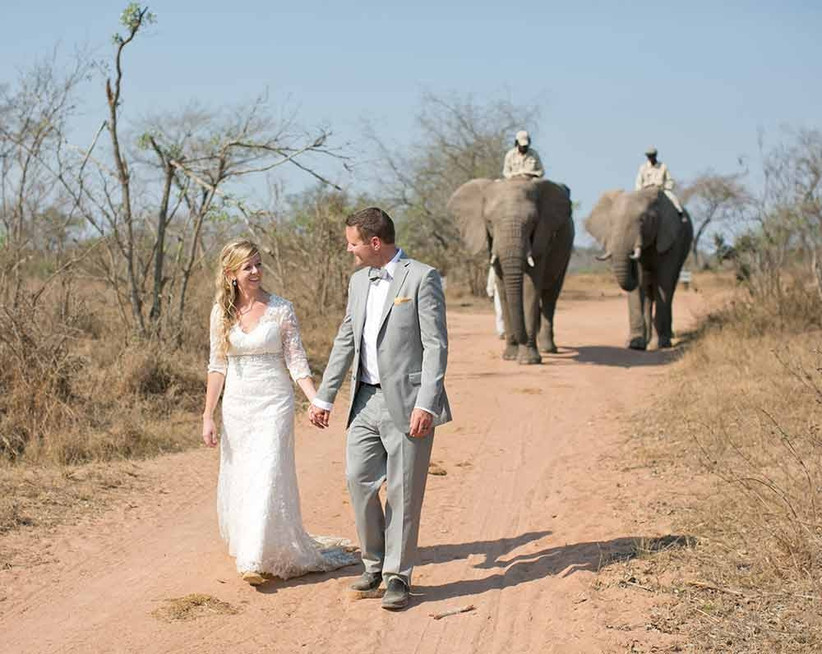 This picture had us totally gobsmacked. How incredible for this couple to get so close to such a ginormous, but gorgeous animal. Taken at Grand Kruger Lodge in South Africa, it really is one that the couple can look back on and still be amazed in years to come.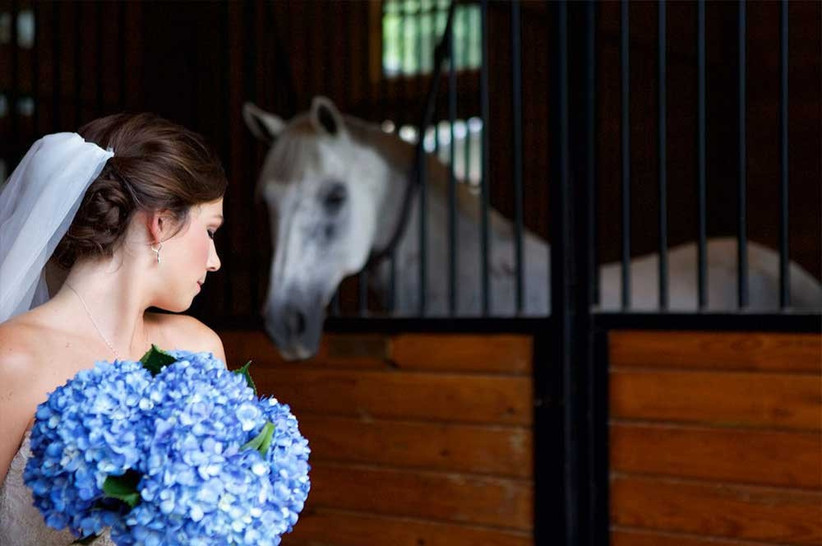 Image Credit: Arden Photography at Windwood Weddings
We love the fact that this bride used stables as the home for her wedding day photography and doing so, has led to a stunning image with a beautiful horse in the background. The grey colour of the animal is the perfect background to her white and blue arrangement.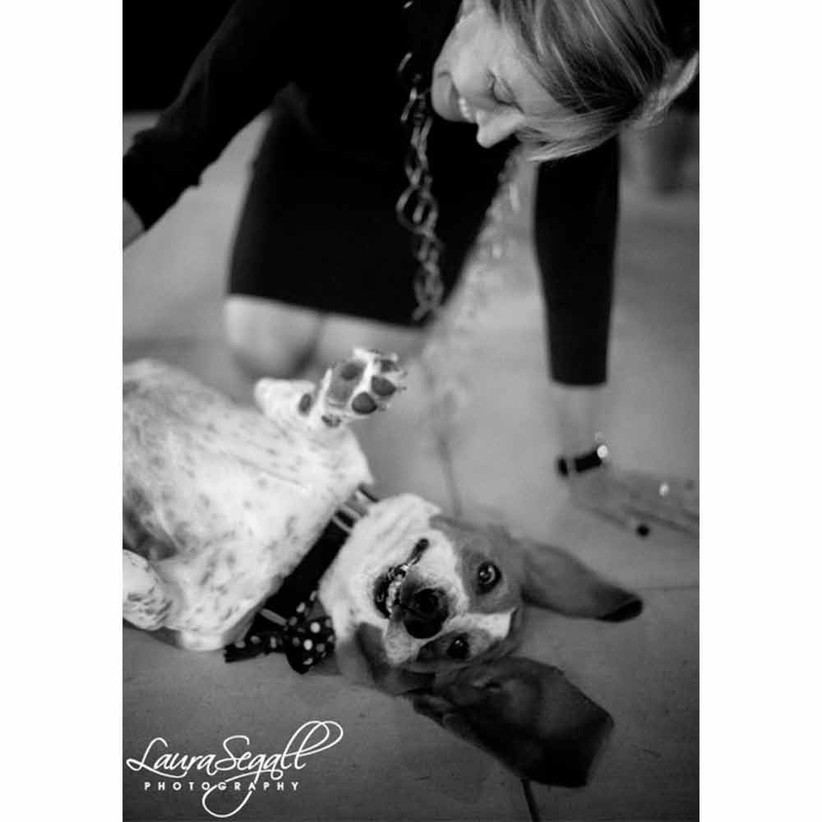 Image Credit: Laura Segall
The bride and groom are the happiest people in the room on their wedding day, right? Wrong. It's this cutie. This dog has been captured absolutely in its element. We hope we're that happy at the next wedding we attend.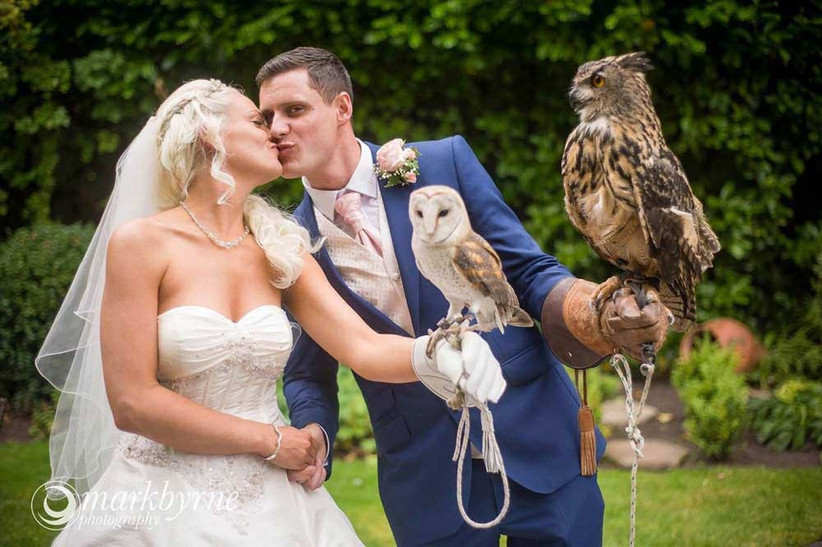 Image Credit: Mark Bryne Photography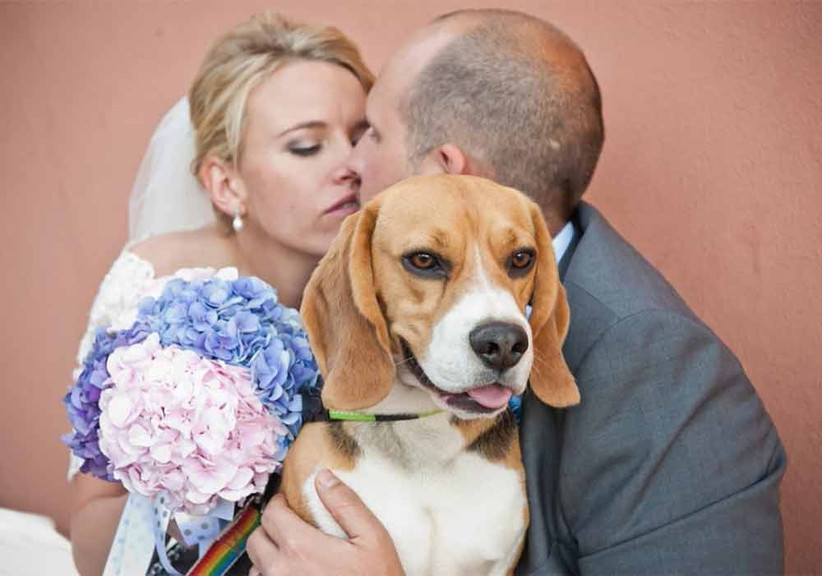 Image Credit: Kat Forsyth
We admire this couple for their wacky choice of animal at their wedding. Owls are an interesting breed and they really do spice up this picture. They make really good body guards for weddings too because the clever things can see every angle!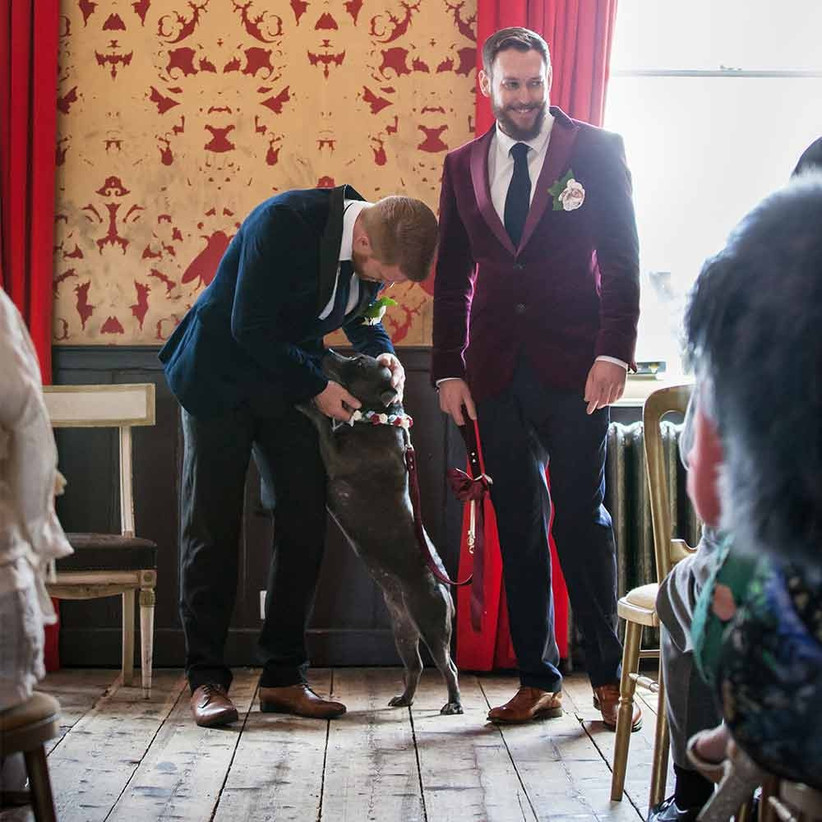 Man's best man and man's best friend joined this groom at the altar at The Bell Inn. The love this dog has for its owner is so clear and it is such a heart-warming shot to have. This is definite potential for Facebook profile picture!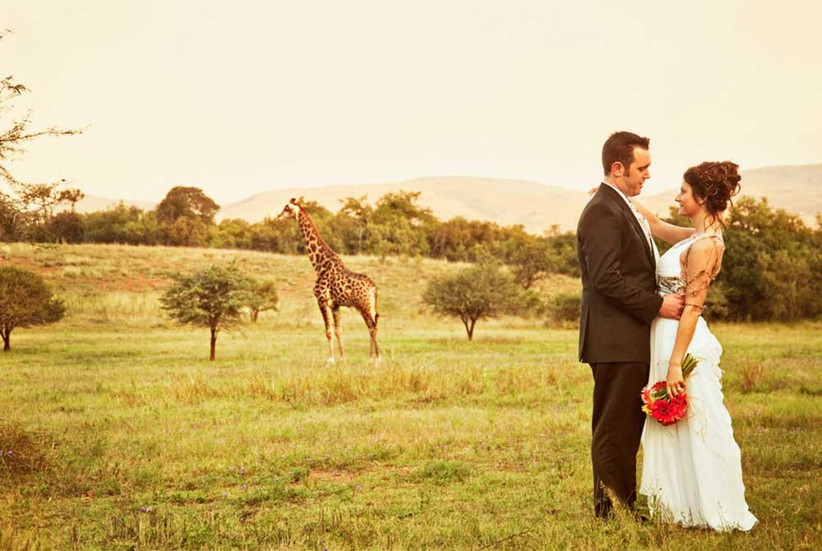 Image Credit: Kat Forsyth
We love the scenery in this image, and even better, the fact that the couple are within the company of a giraffe. This has to be on so many people's bucket lists, and we can totally understand why. It truly is a magical picture.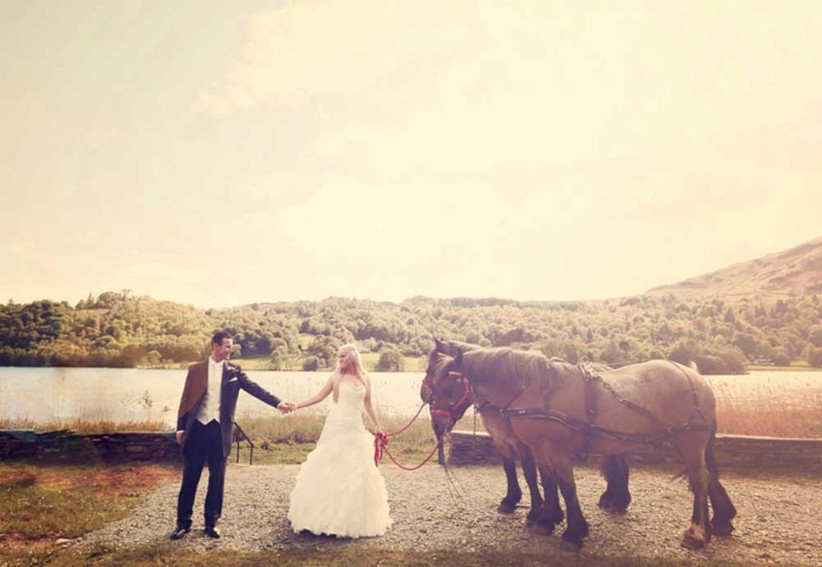 What a magnificent photograph at The Daffodil Hotel & Spa. The lucky couple pictured here got the chance to share their wedding shot with two heavy horses that are just breath-taking to look at. The surroundings are beautiful and so is the image.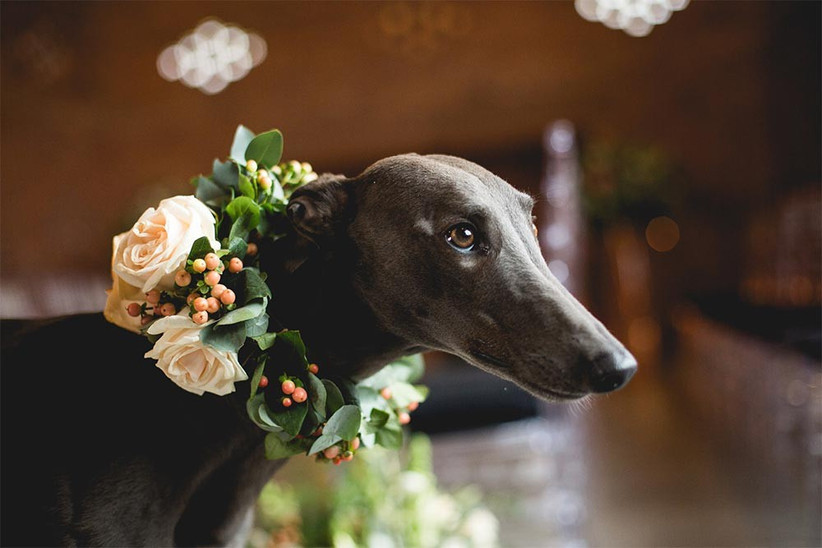 This dog at The Holford was definitely in the mood for some nuptials. We love it's super stylish fashion sense – flower crowns are the new doggy accessory of 2016, we've decided.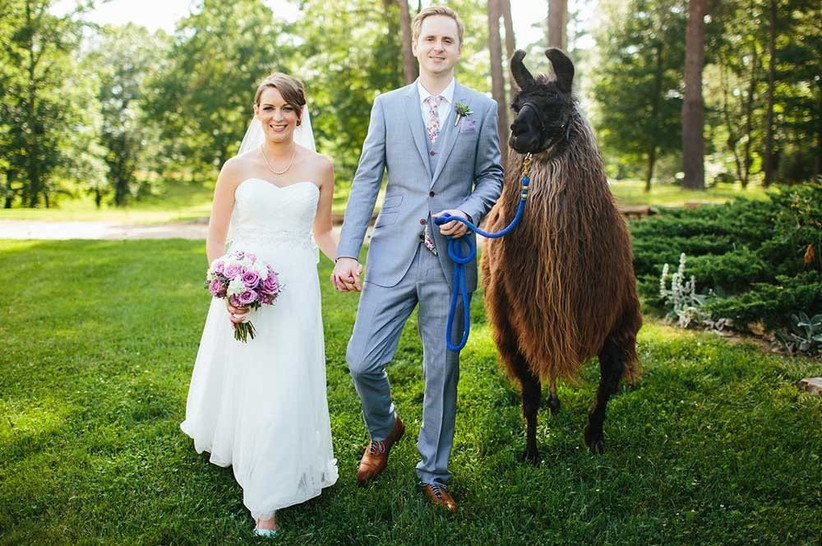 Image Credit: Alex Bee Photo
A really unexpected companion for a bride and groom is a lama, but actually, it works. It is super unusual which makes it unique and we would be seriously impressed if we turned up to a wedding and found that lamas were on the guest list.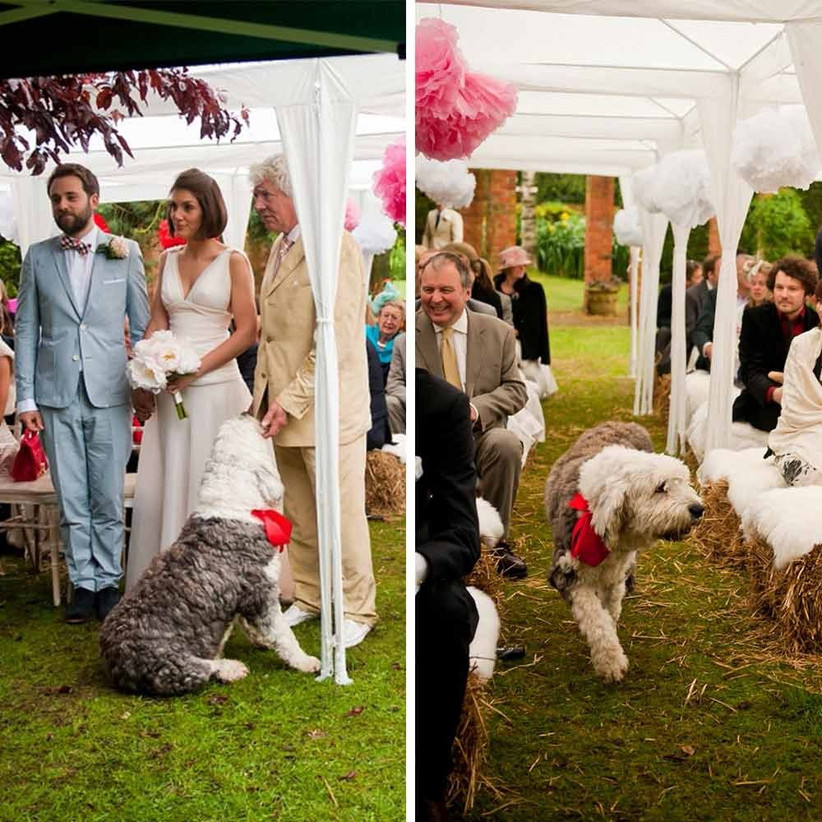 Image Credit: Kat Forsyth
This one couldn't wait to get down that aisle and sit with his owners while the serious stuff was going underway. The dog is wearing a statement red bow and is clearly stealing the show – what a cutie.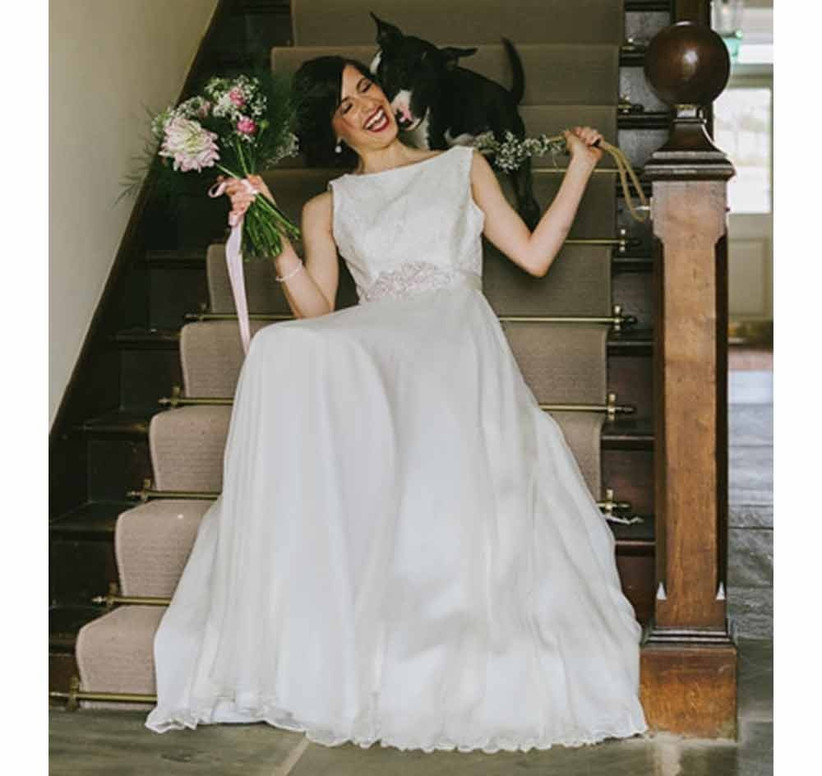 Man's best friend? This picture is all about woman's best friend and these two couldn't be a cuter pair if they tried. The look on the bride's face says it all and the obvious bond here at The Kedlestone Country House just melts our hearts.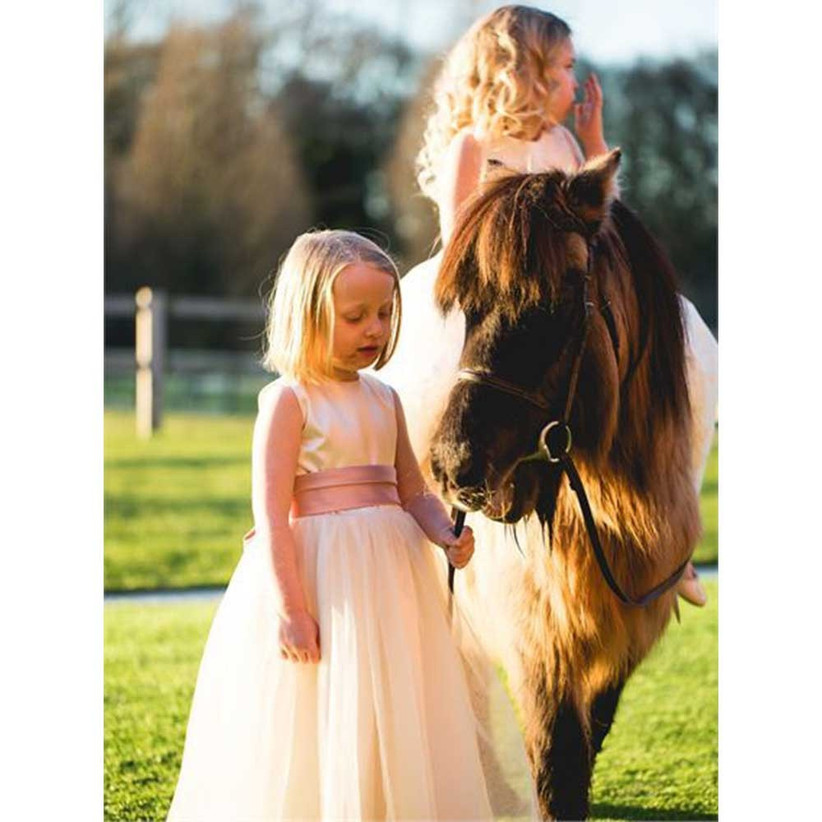 We can't even imagine how much these flower girls were in their element at The Holford Estate with this pony. The image could seriously melt hearts because there is nothing cuter than adorable children petting an adorable pony.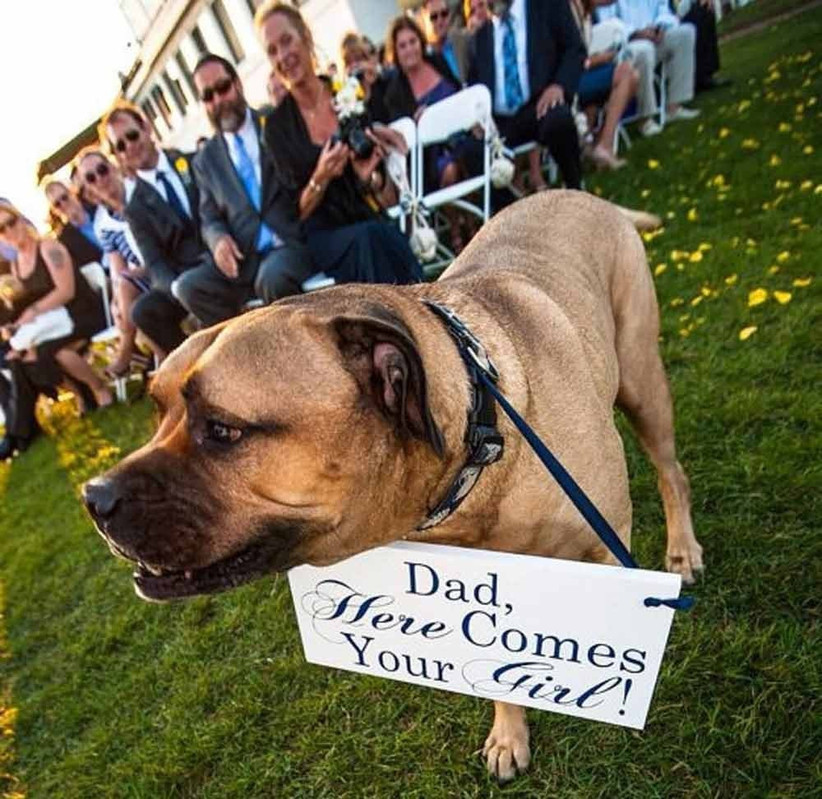 Image Credit: Shelly Rabe
We couldn't get over how adorable this pup was holding a sign saying "Dad, here comes your girl!" – If we attended this wedding, we think there would have been a lot of happy tears shed on our behalf.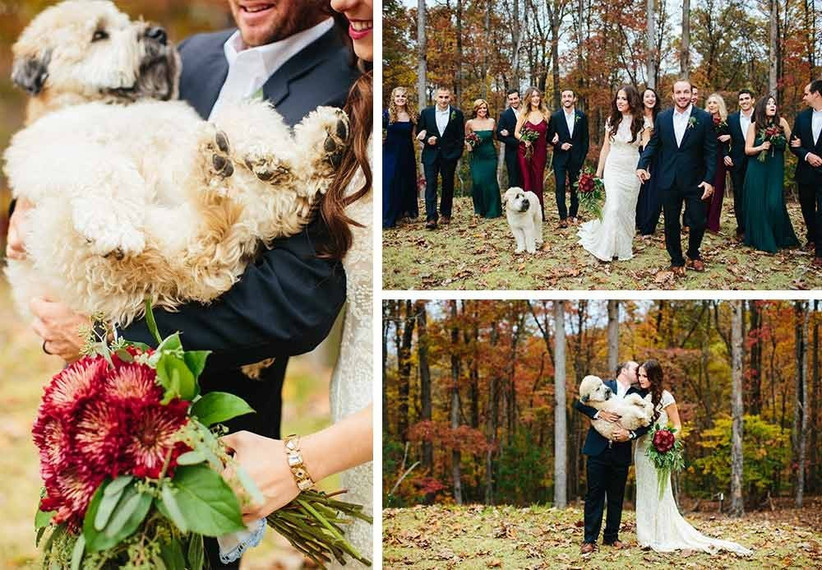 Image Credit: Alex Bee Photography
It is seriously obvious how much this couple love their dog – he is the star of the show, and a huge cutie. We love the way he is lapping up all of the attention, anyone would think it was him getting married!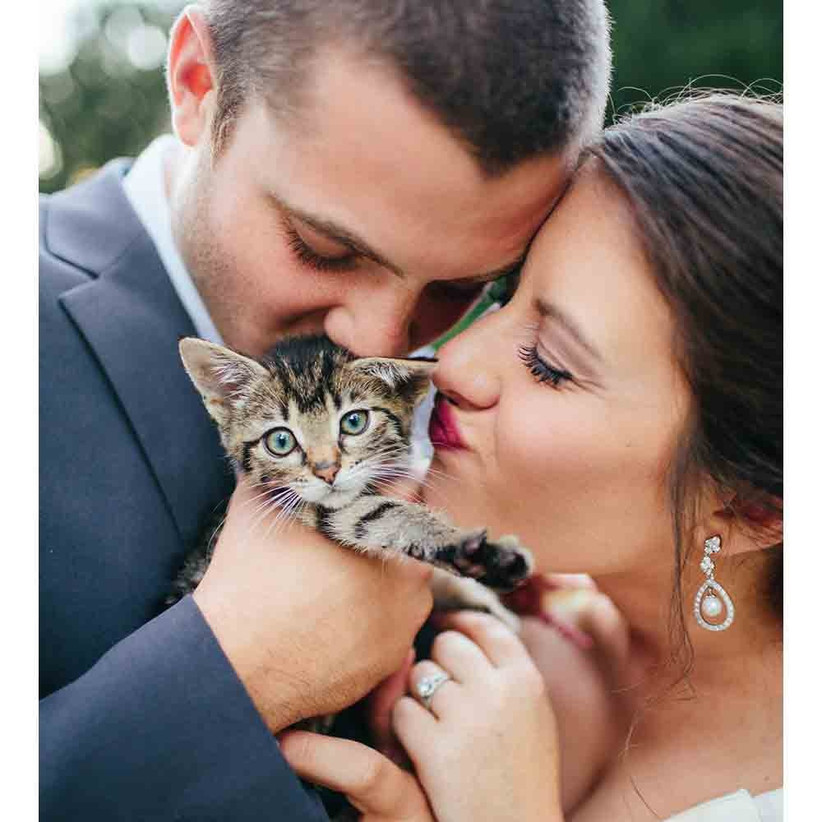 Image Credit: Alex Bee Photography
Is this the cutest kitty in the world? We can't stop looking at that face and 'aww-ing'. We can imagine how pur-fect this couple's day was, having their feline friend helping them tie the knot. We want one, please?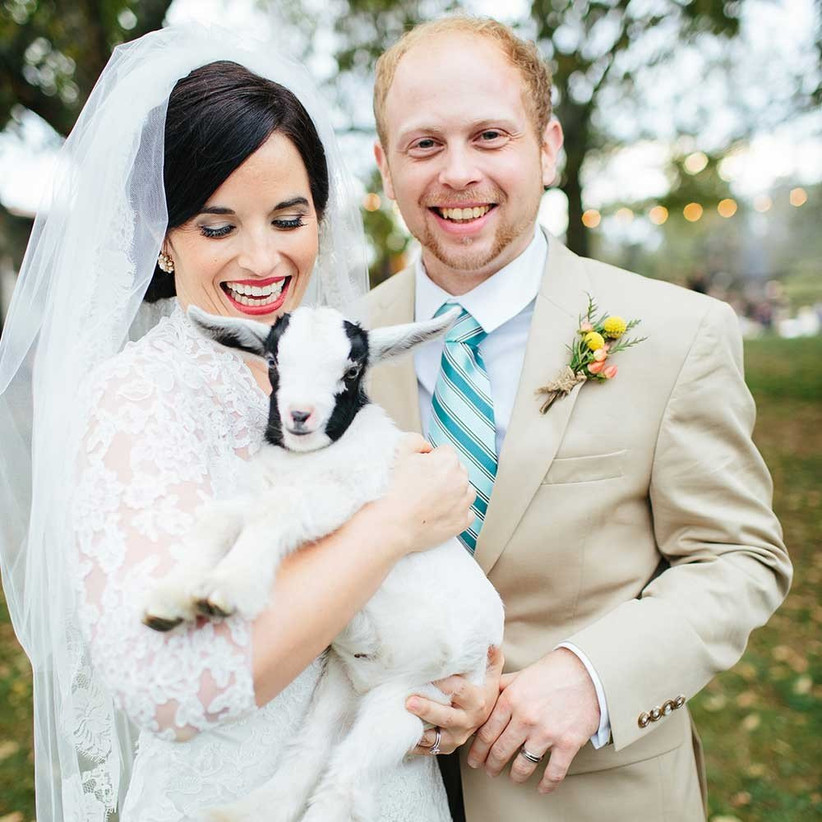 Image Credit: Alex Bee Photography
We had to end with a high, with the cutest, coolest animal ever. So here it is, the worlds most loved goat! This little fella even matched the bride's dress, clever thing. We have put having a goat at our wedding on our bucket list after seeing this picture, and we think you seriously need to do the same. This is just too adorable.
If this article has made you feel like you need mans best friend at your wedding, check out our feature on dogs who made their owners weddings awesome!