Hired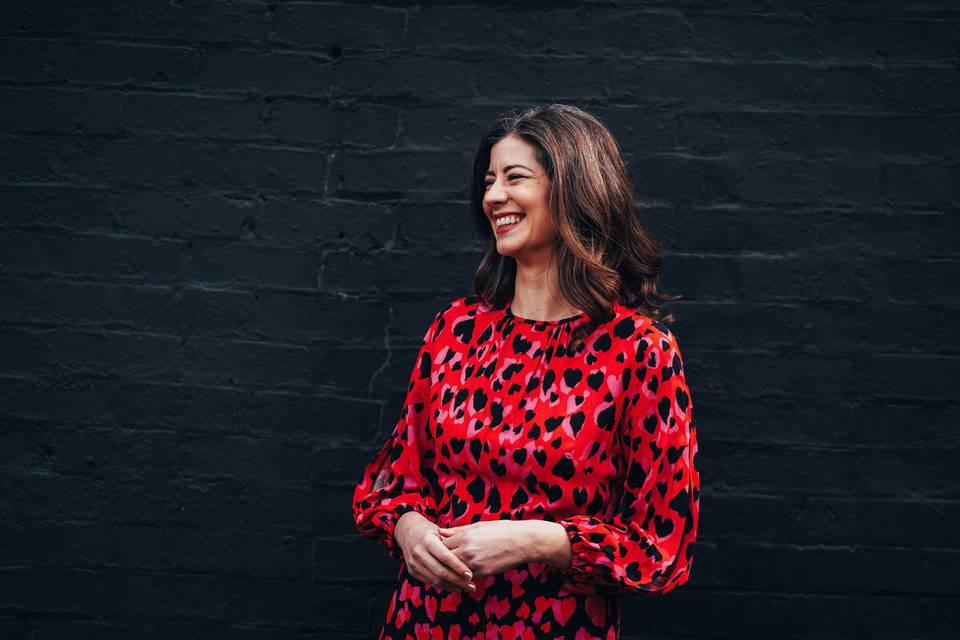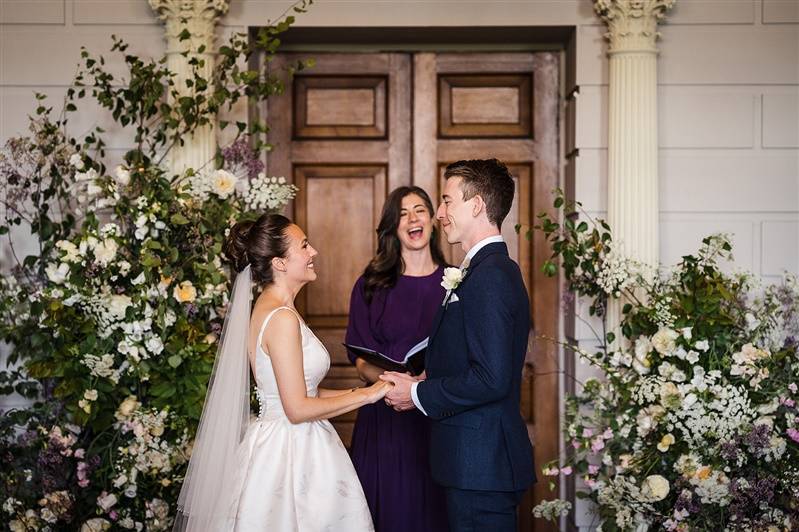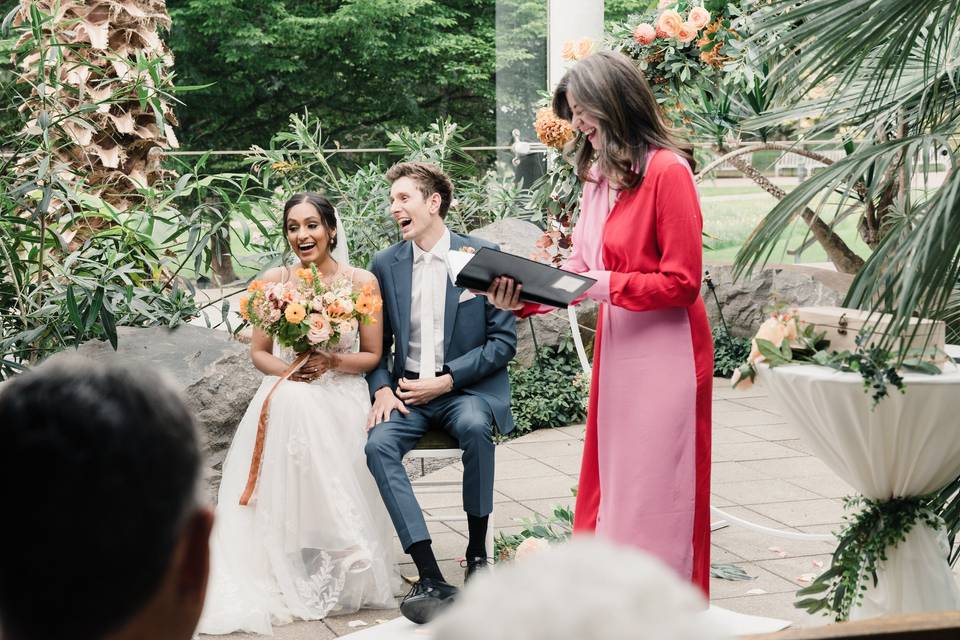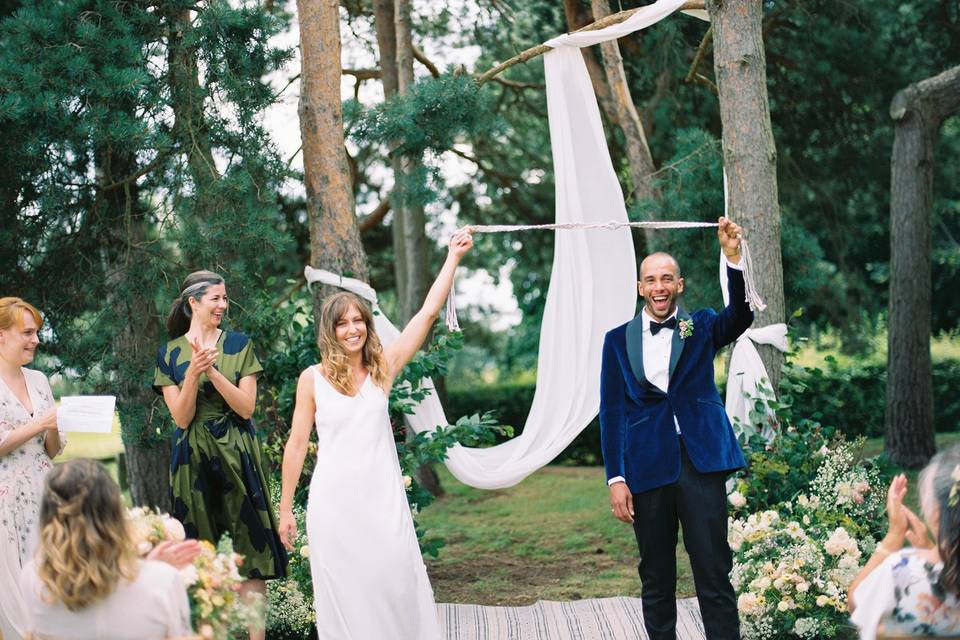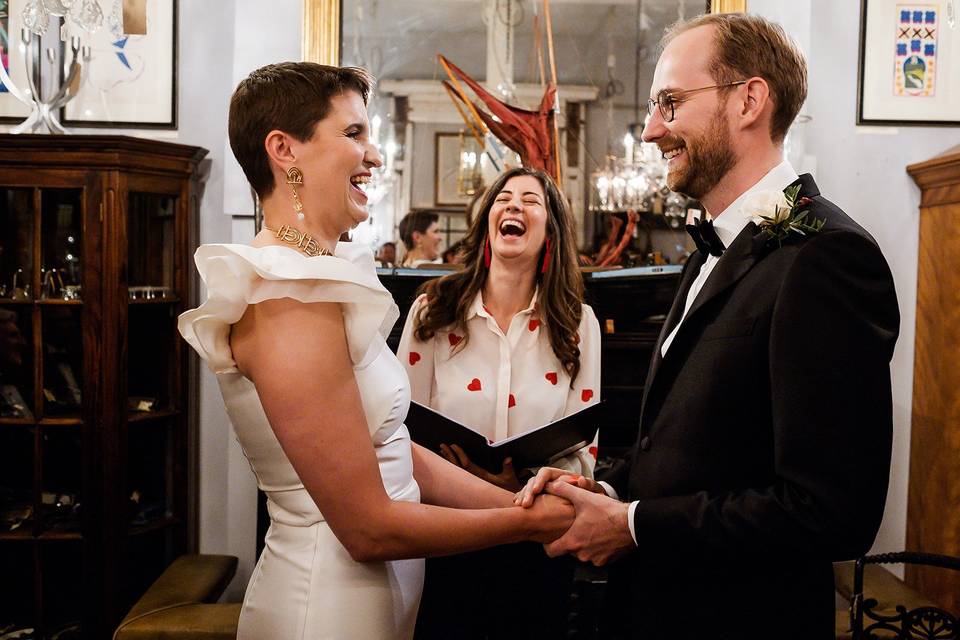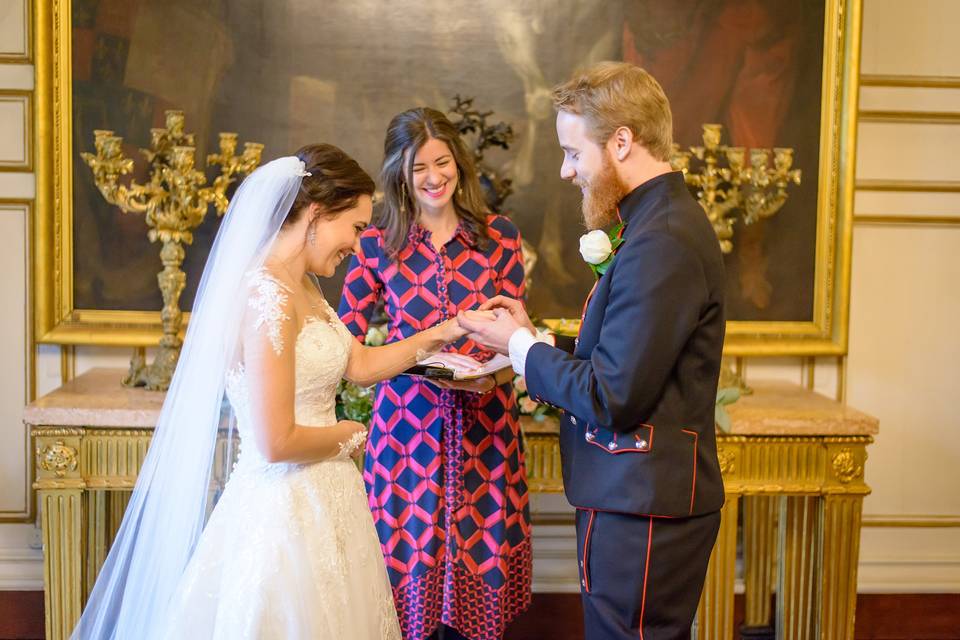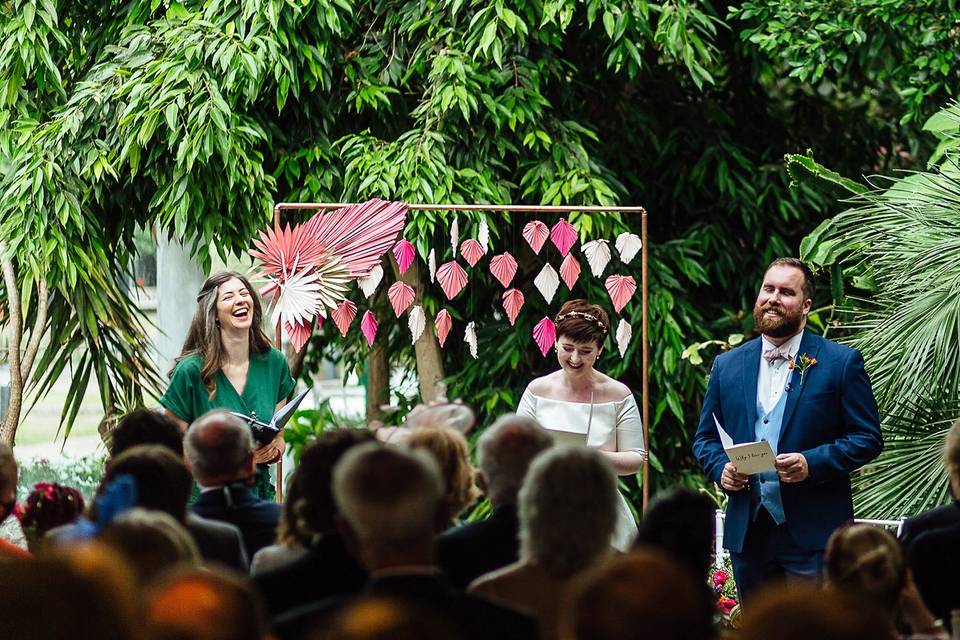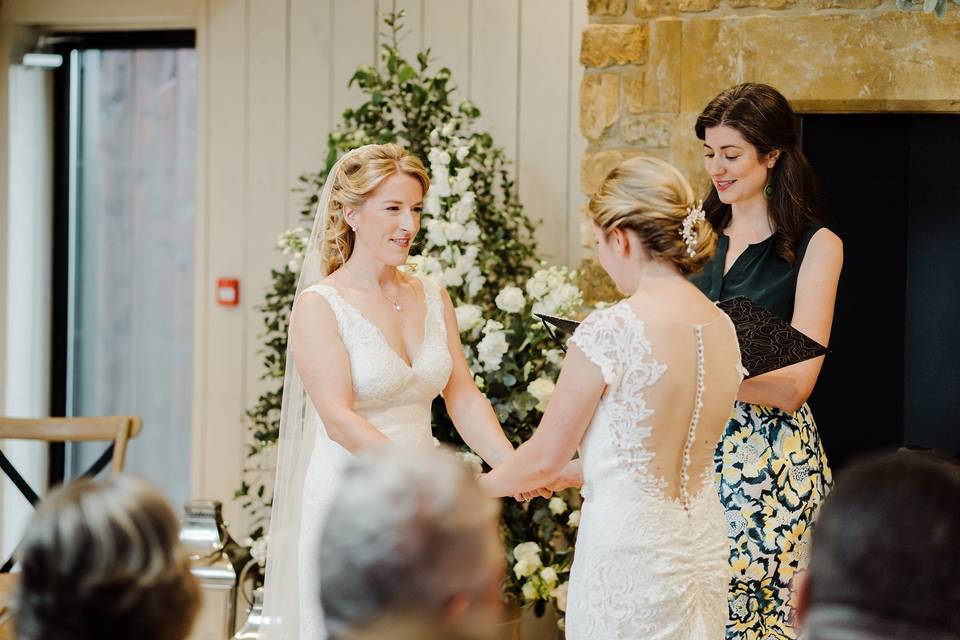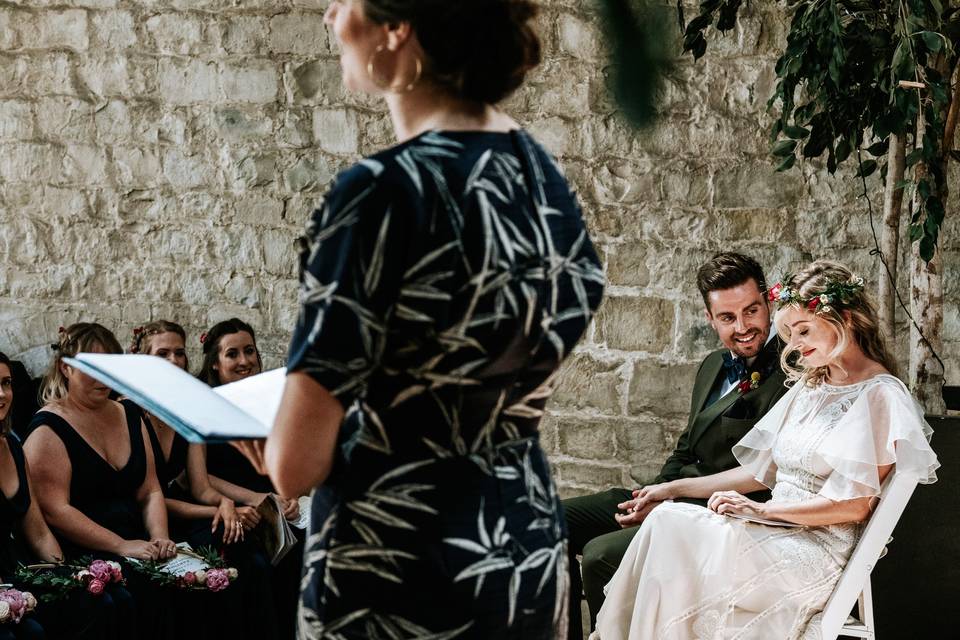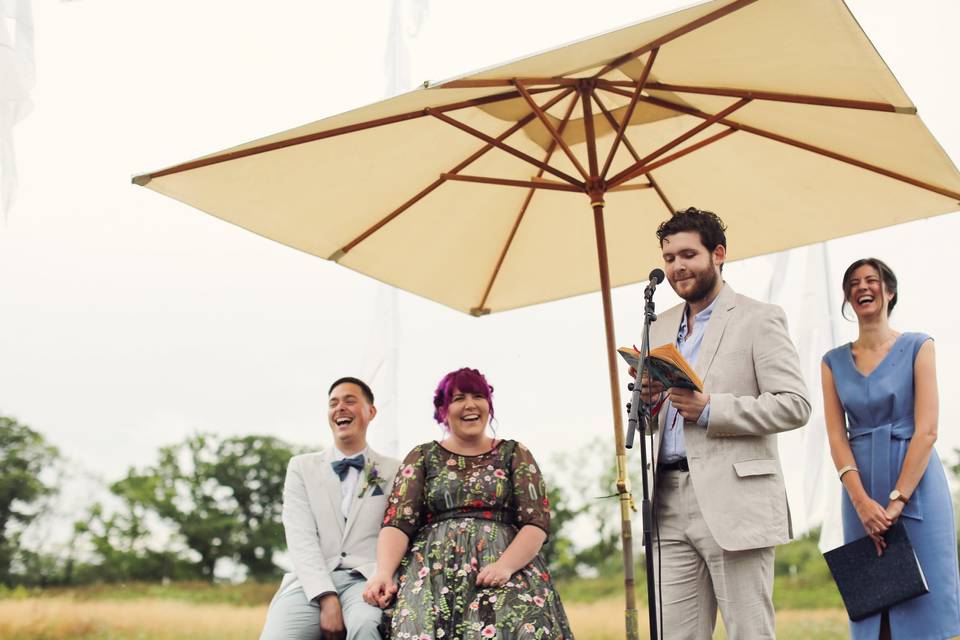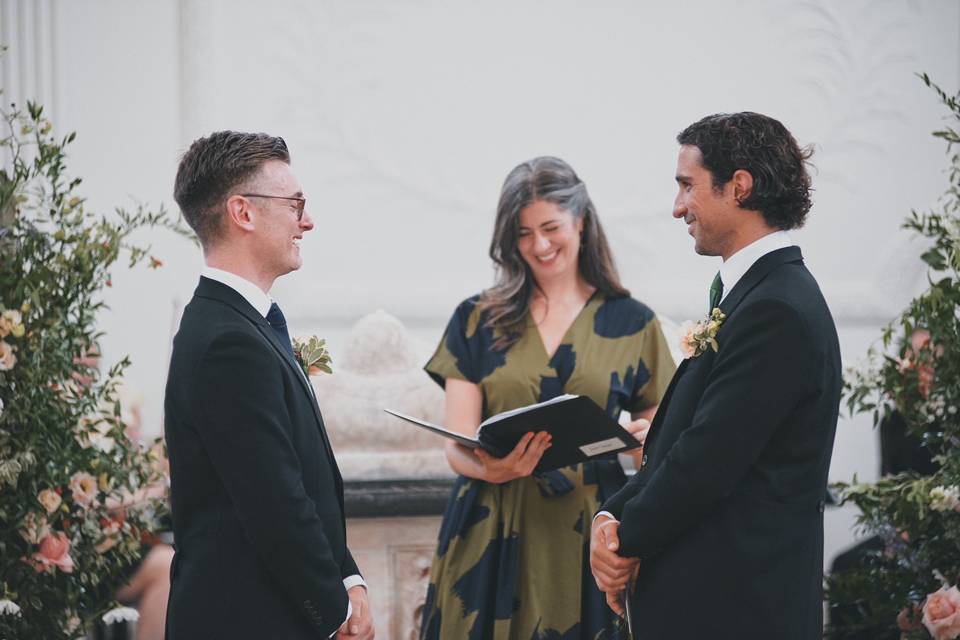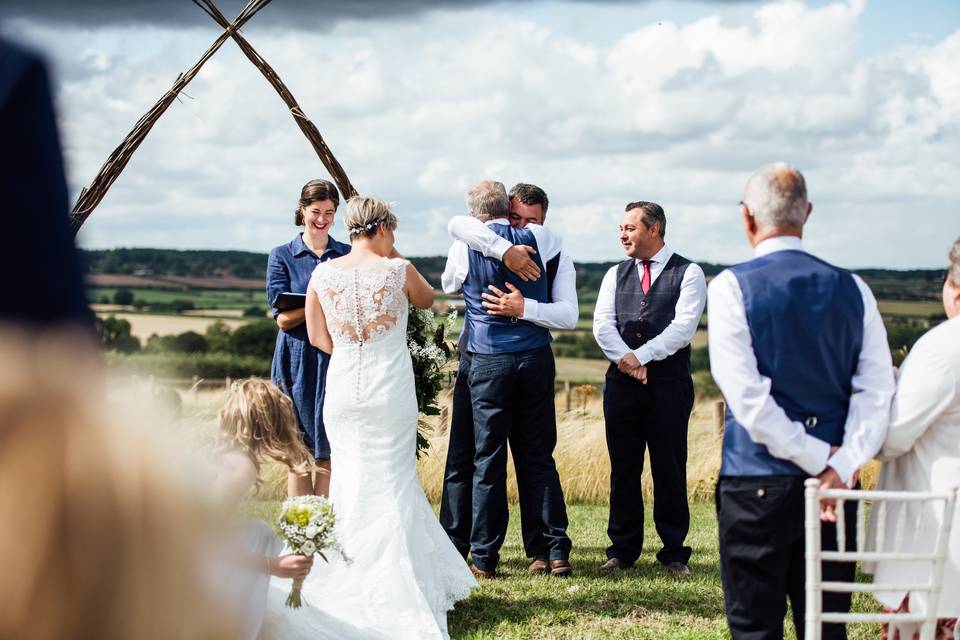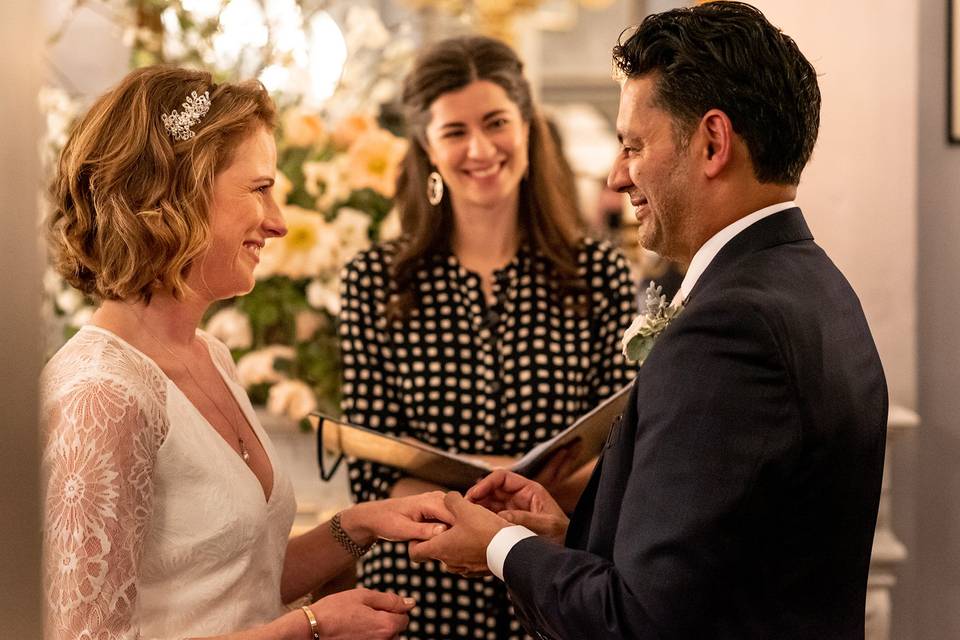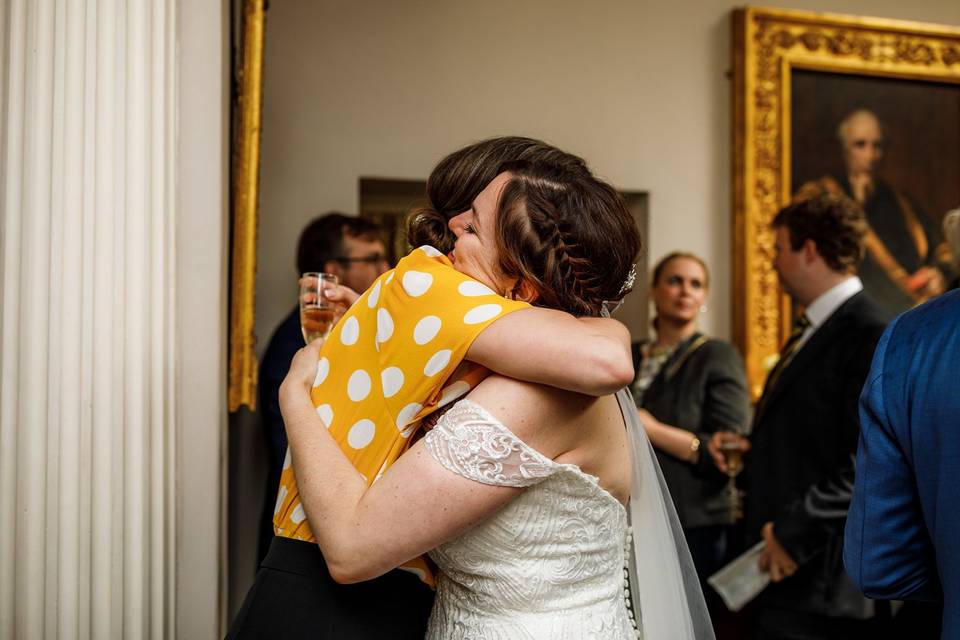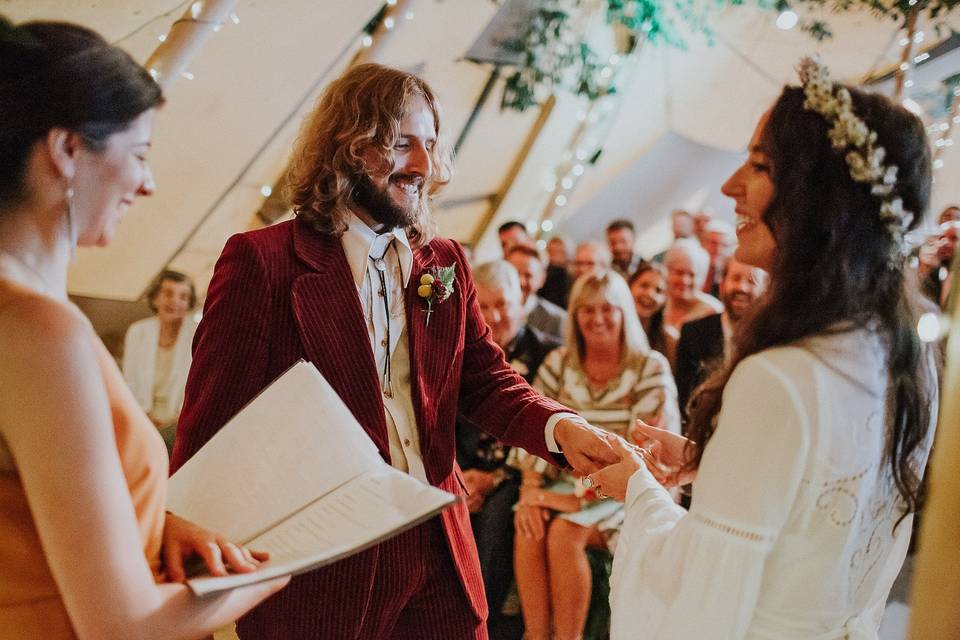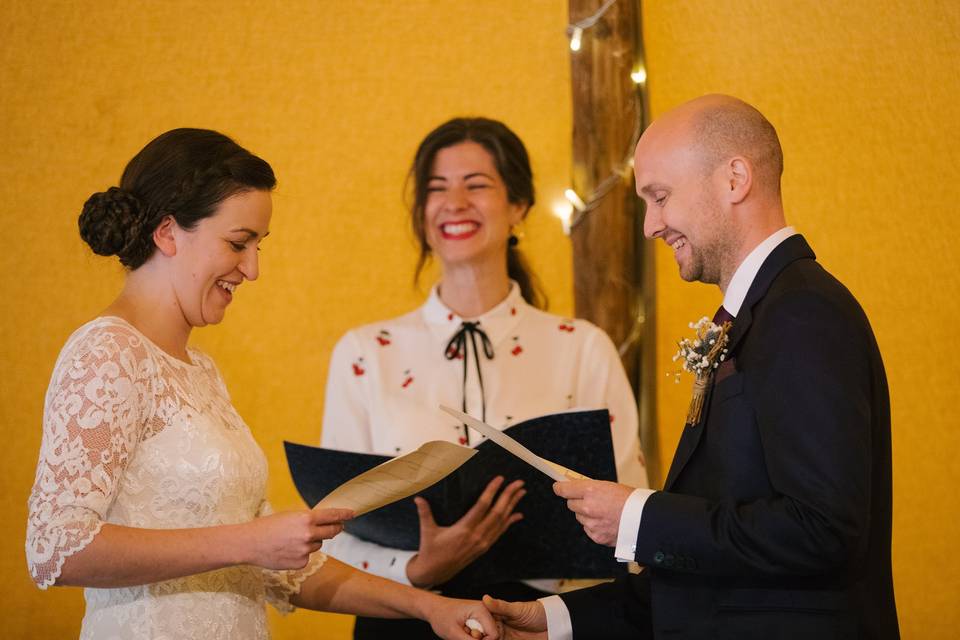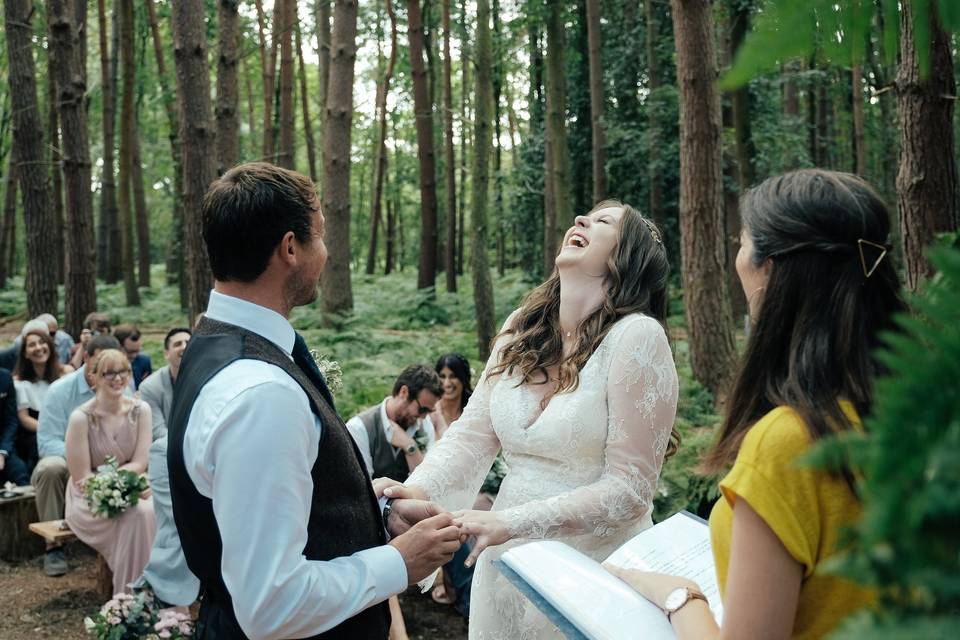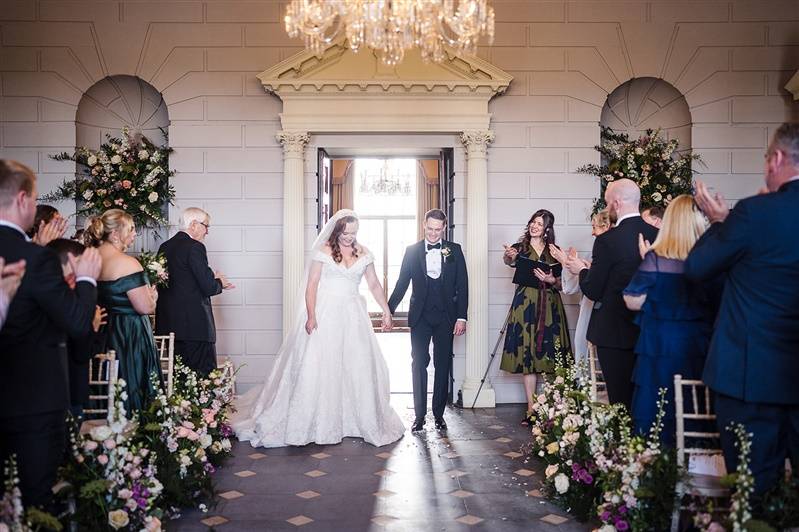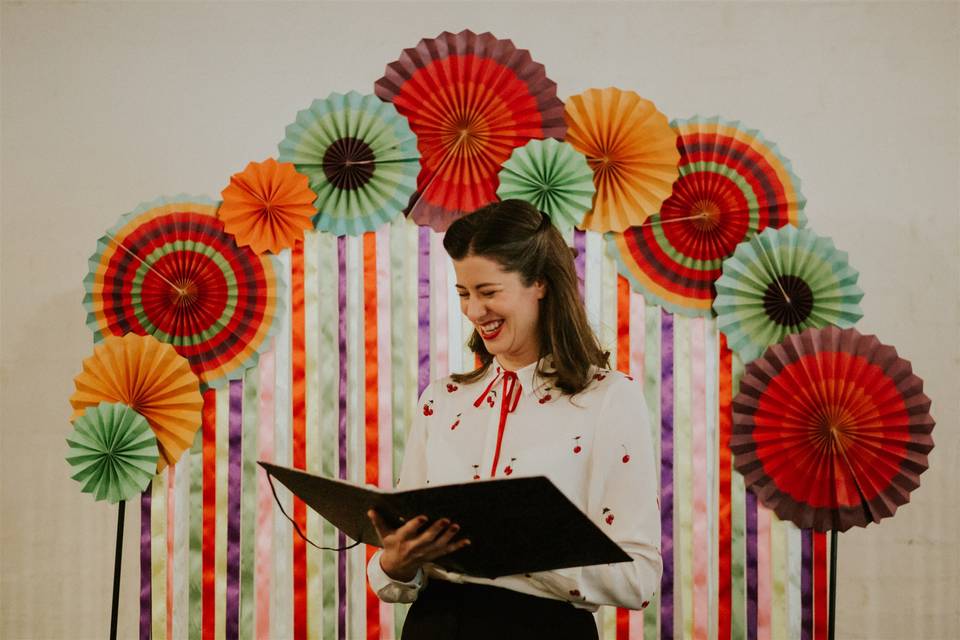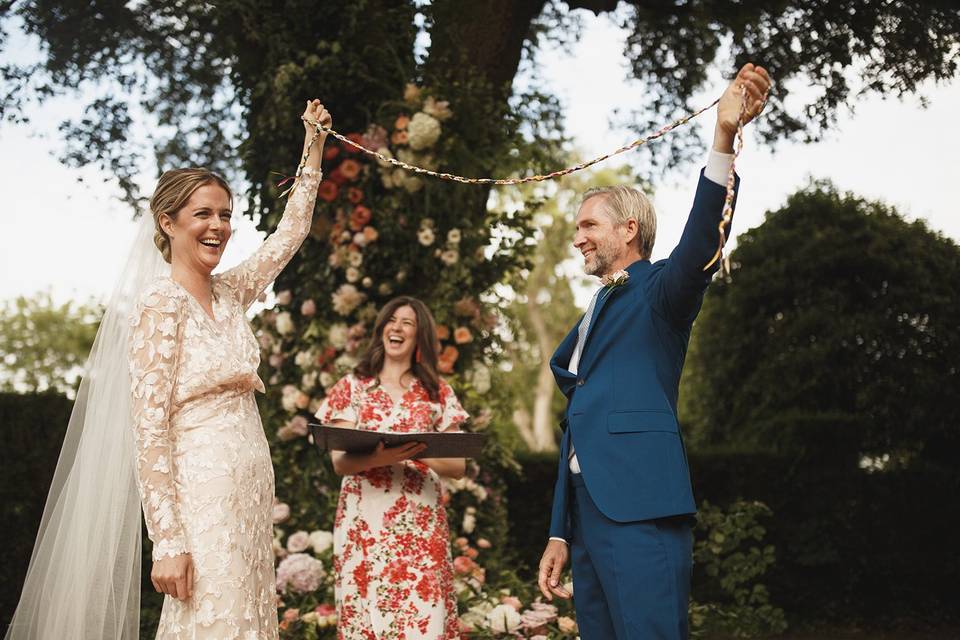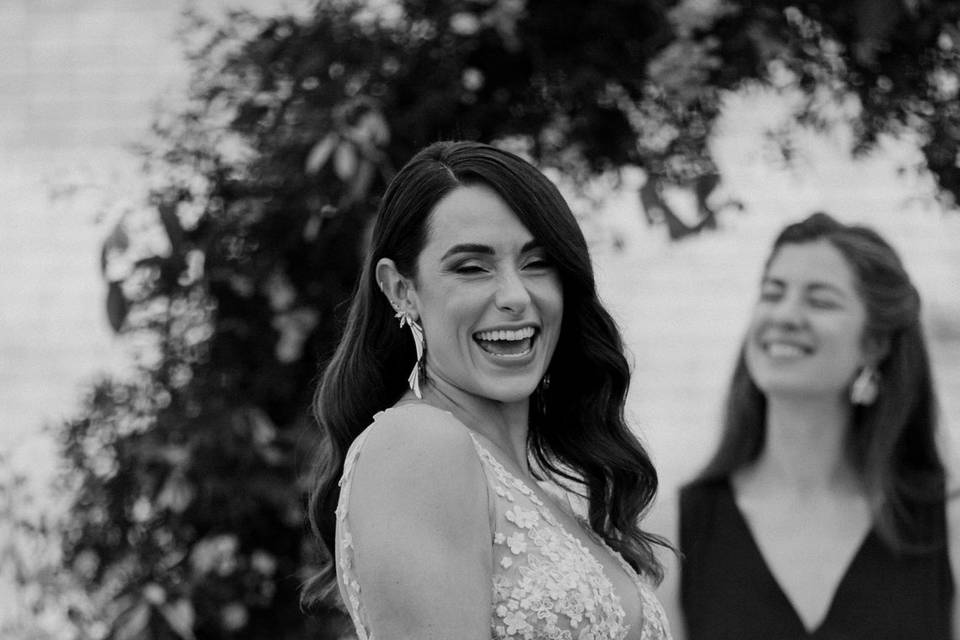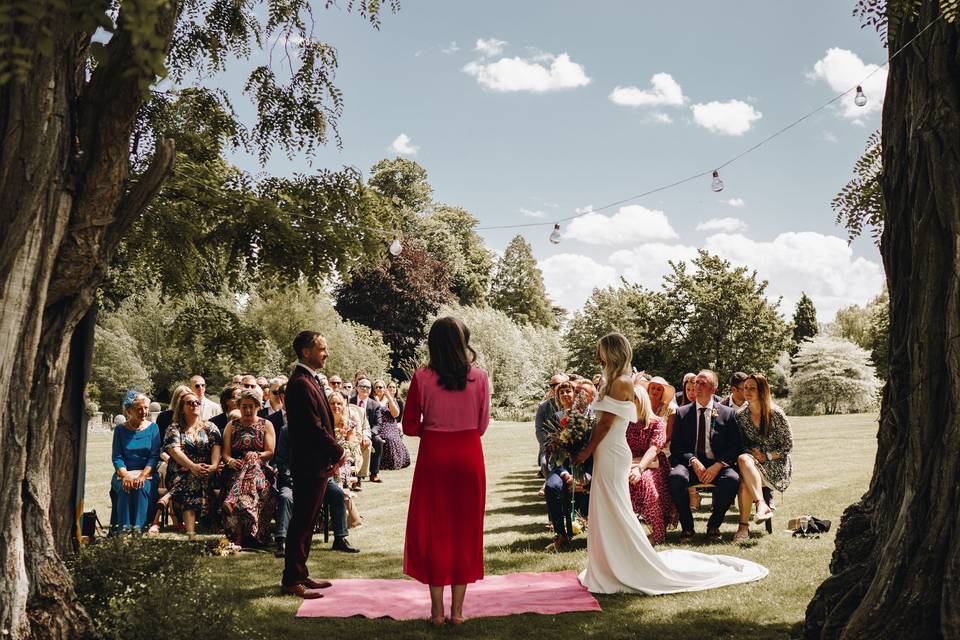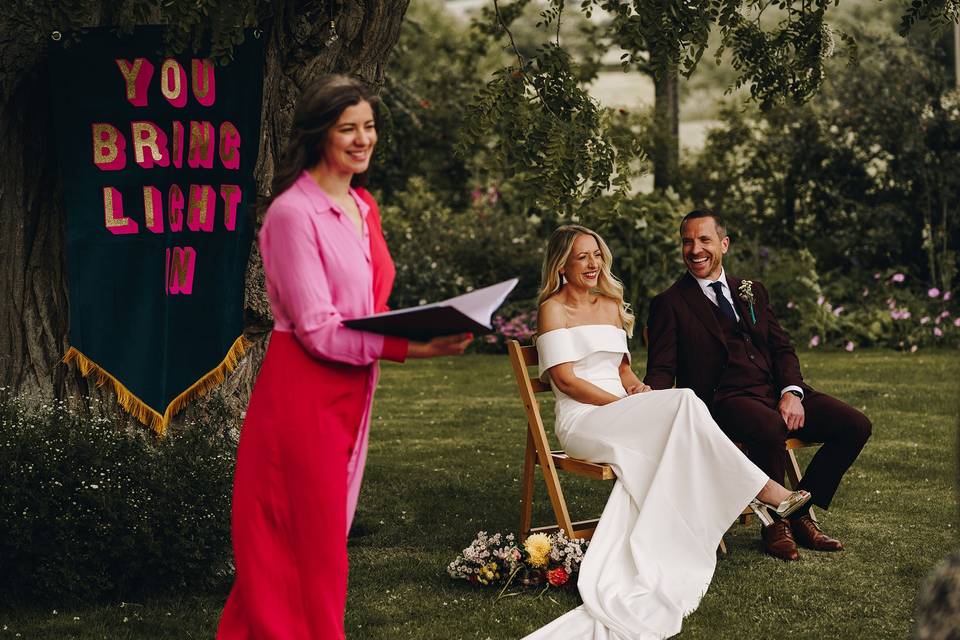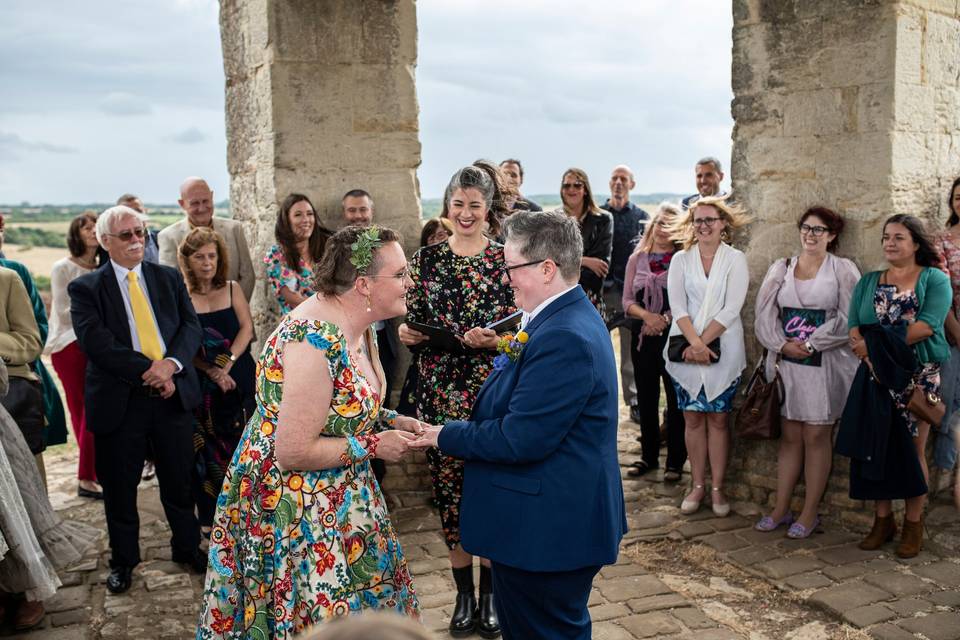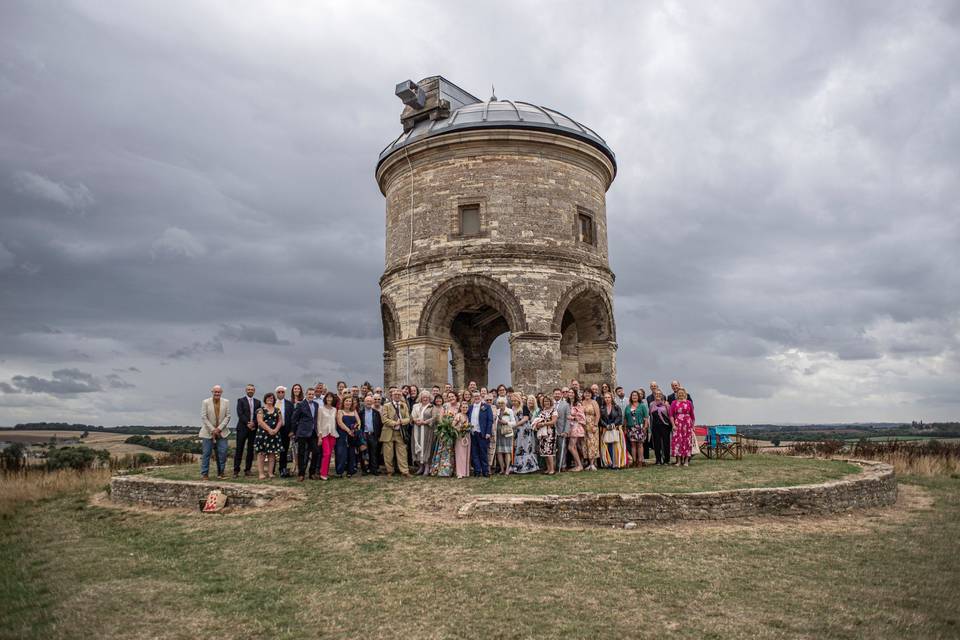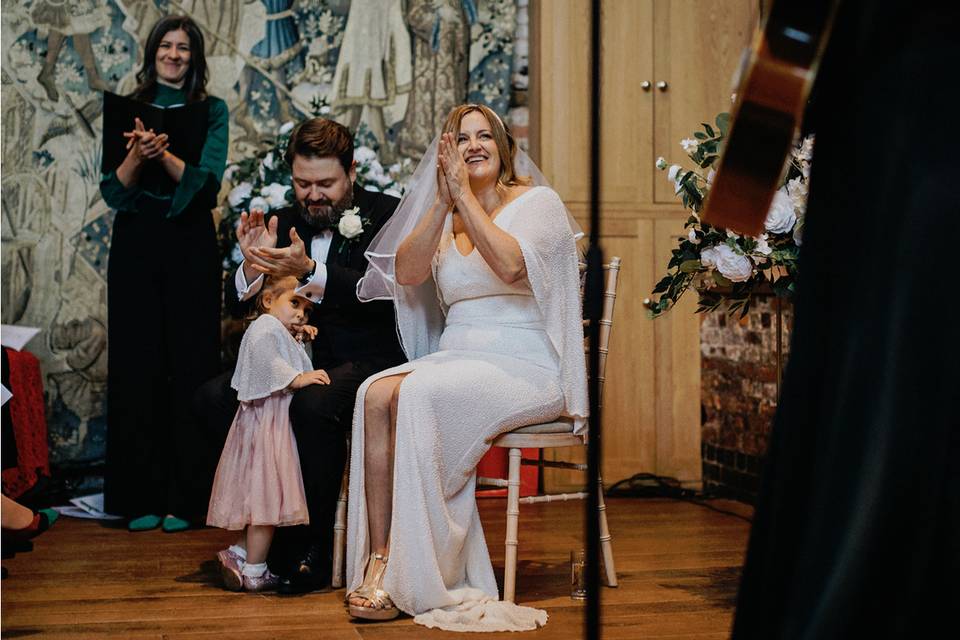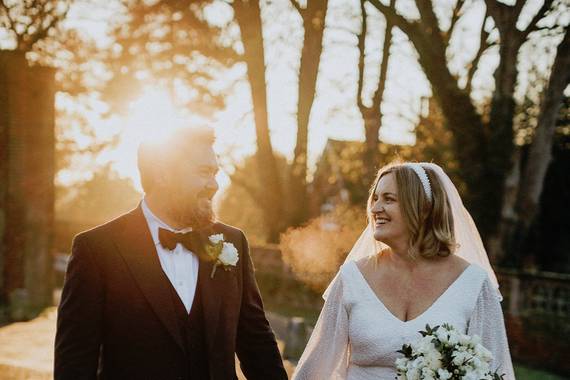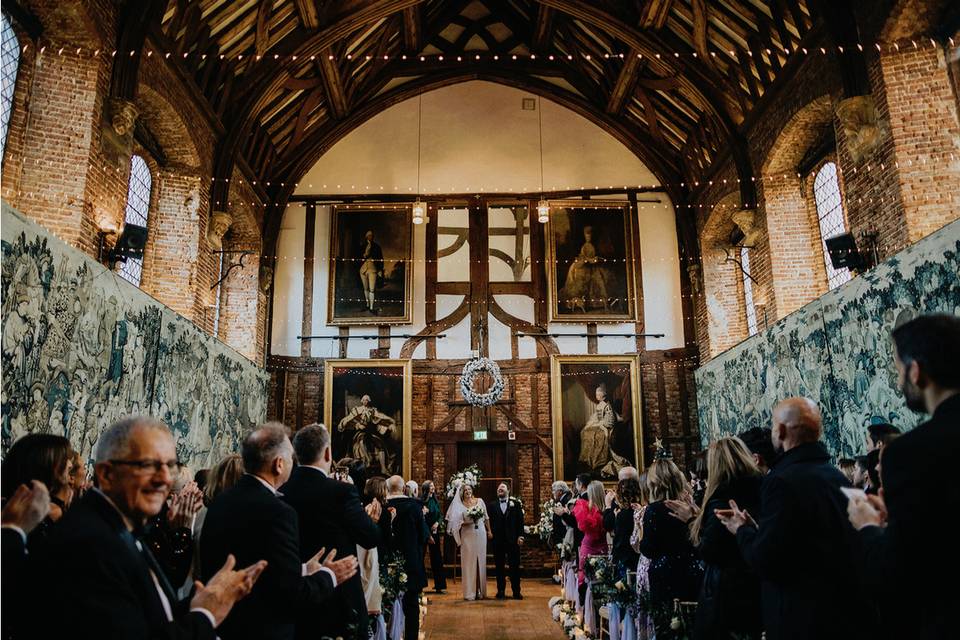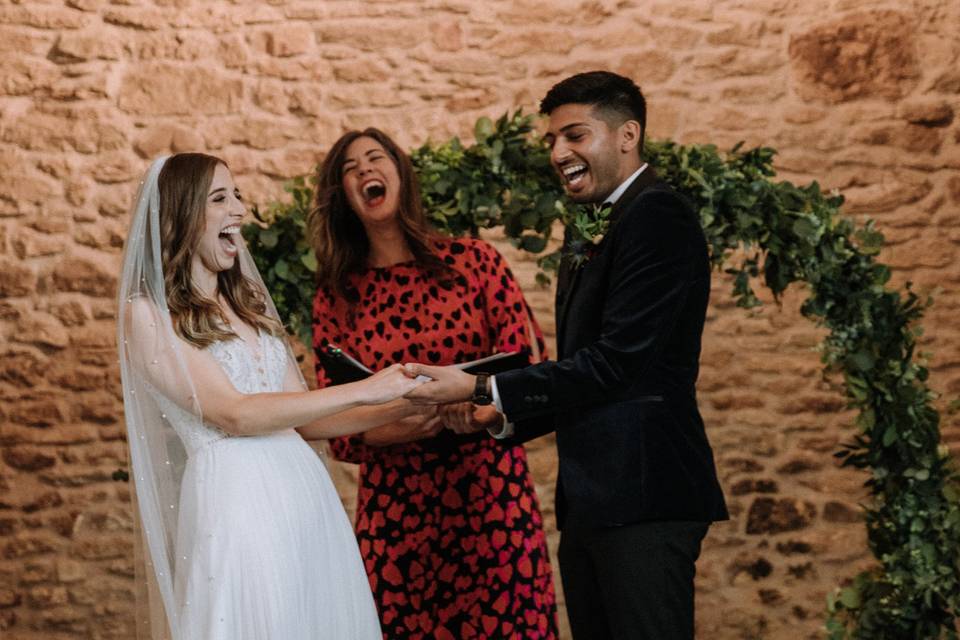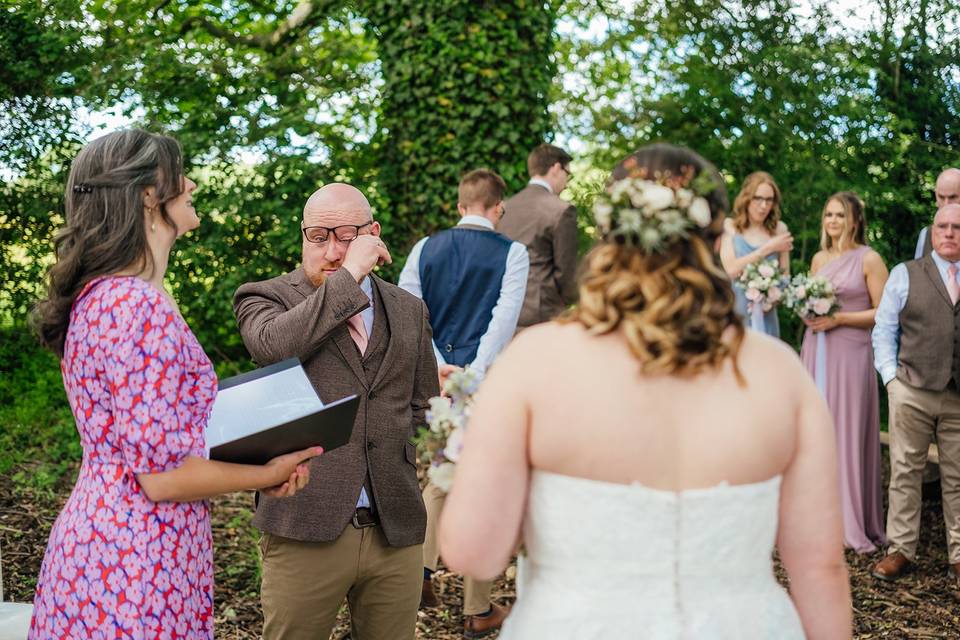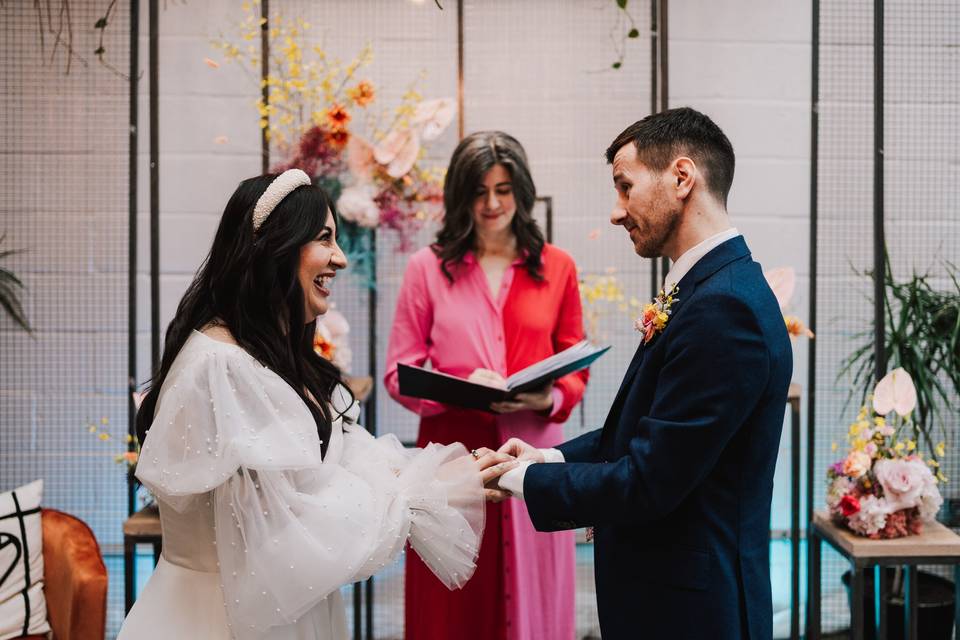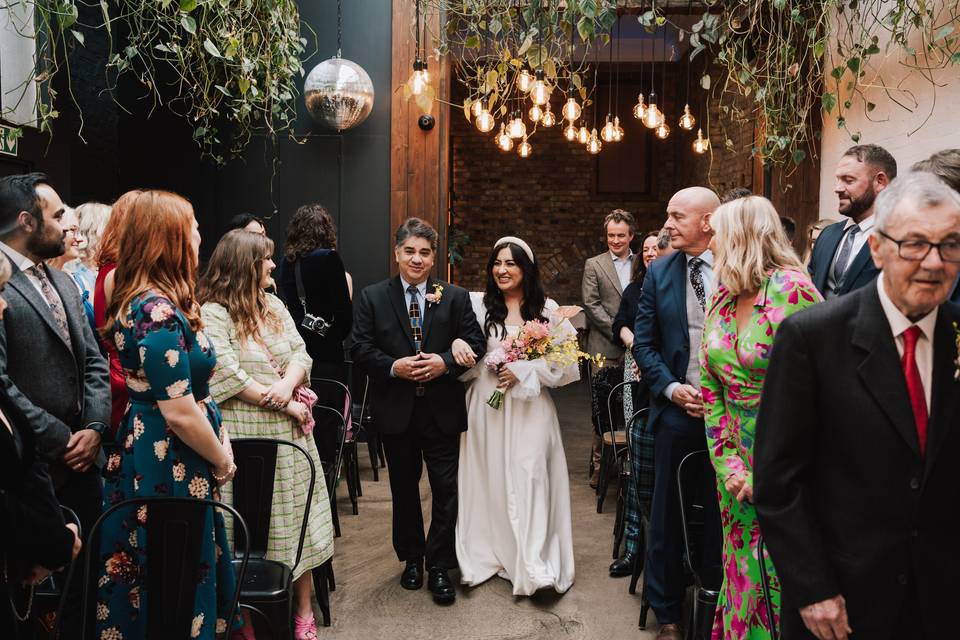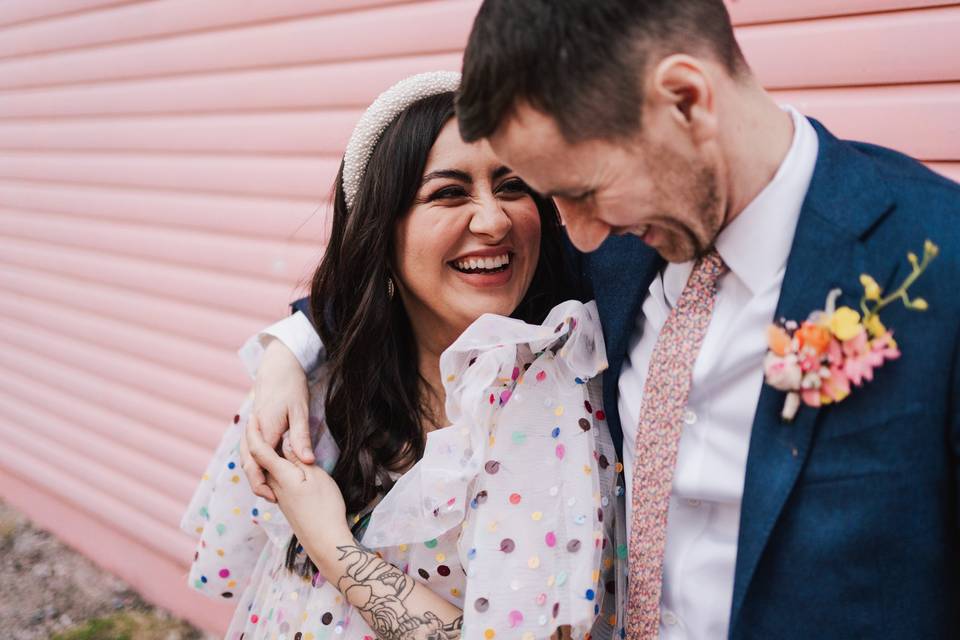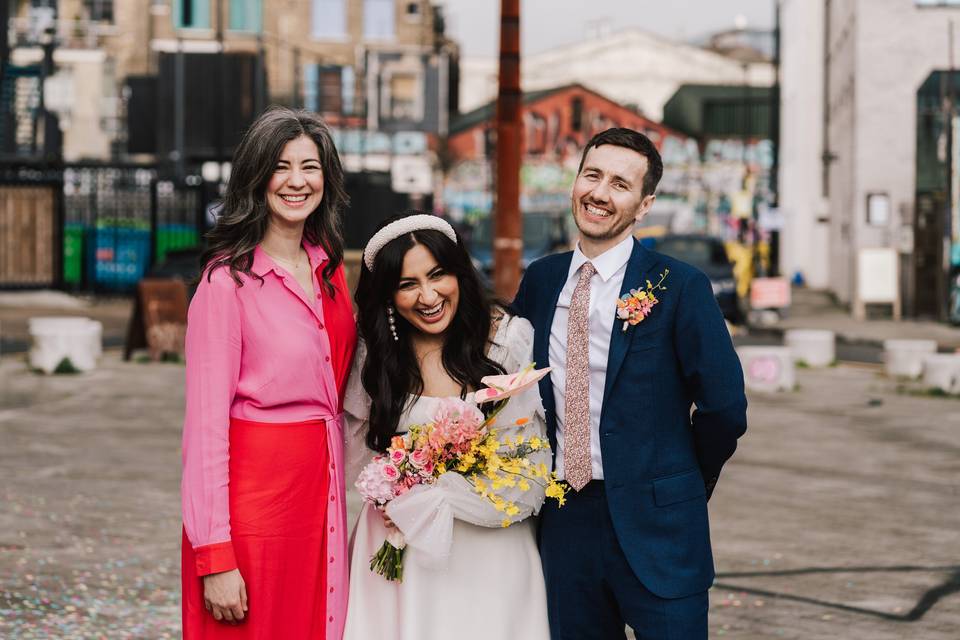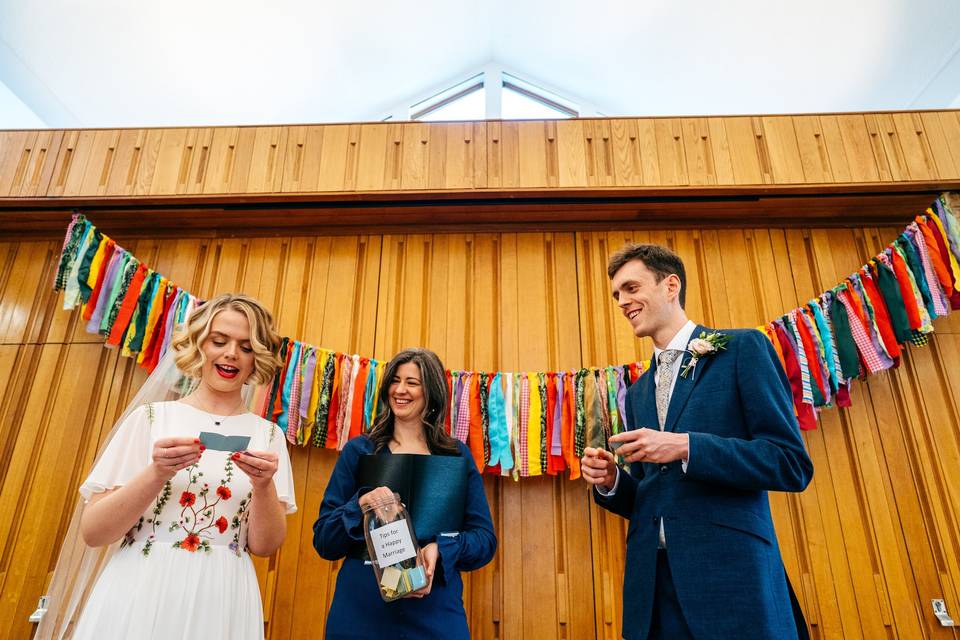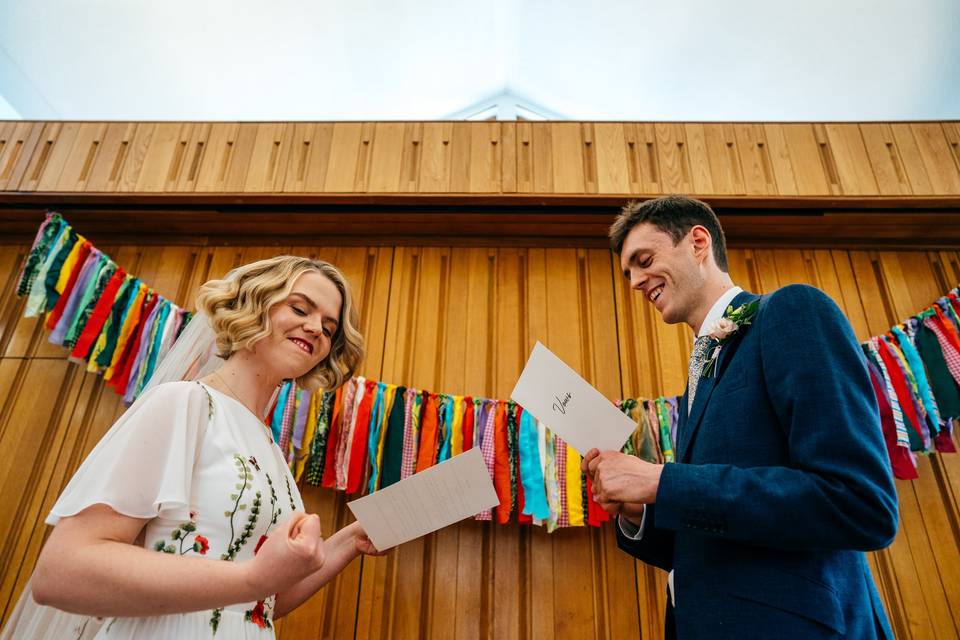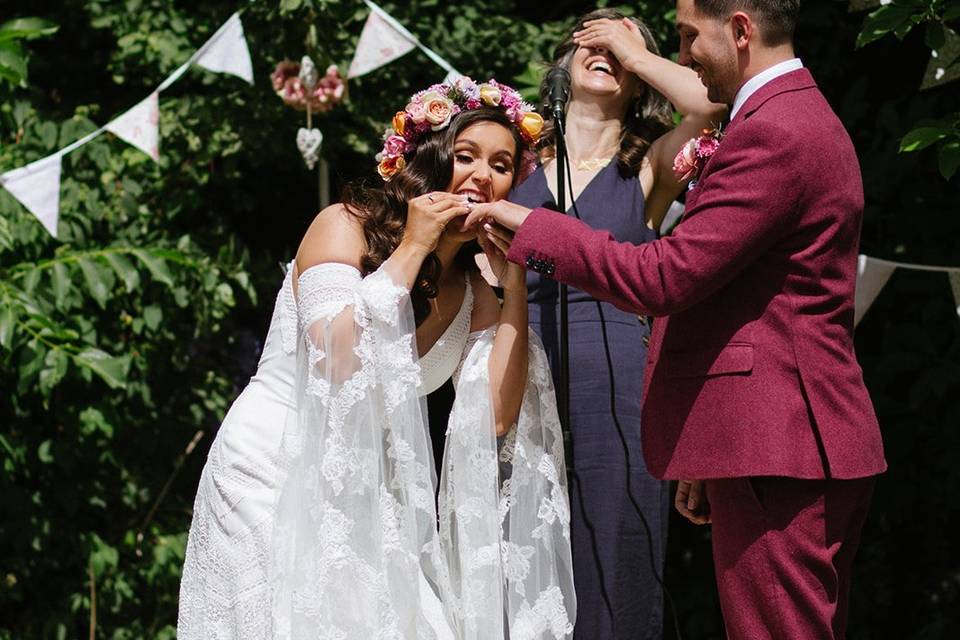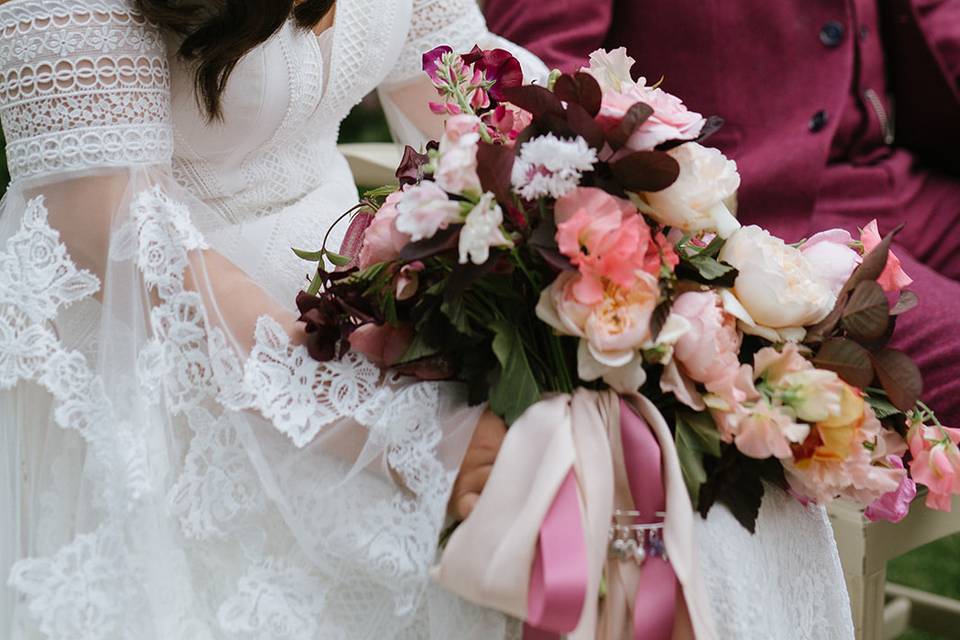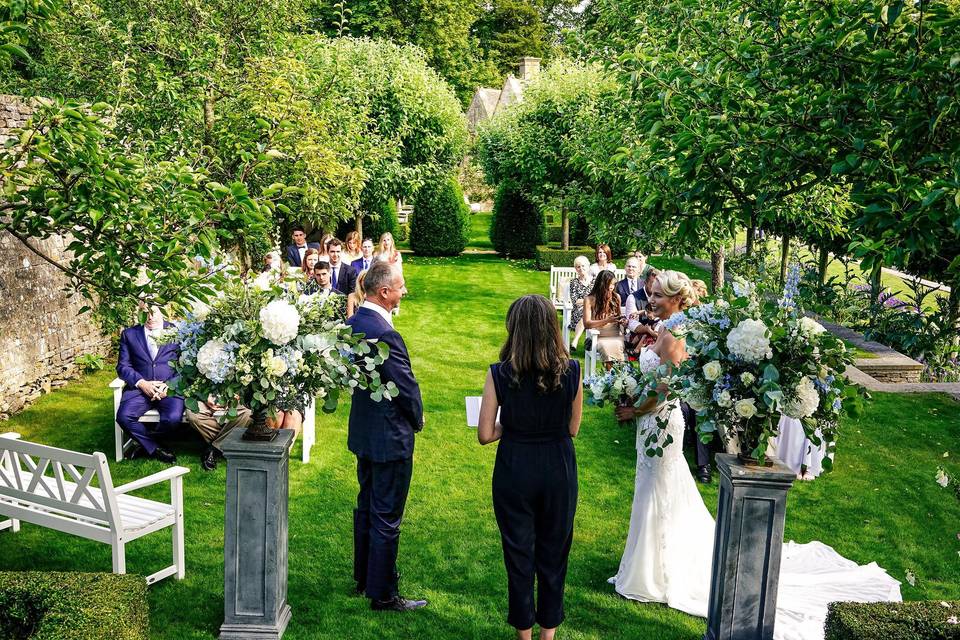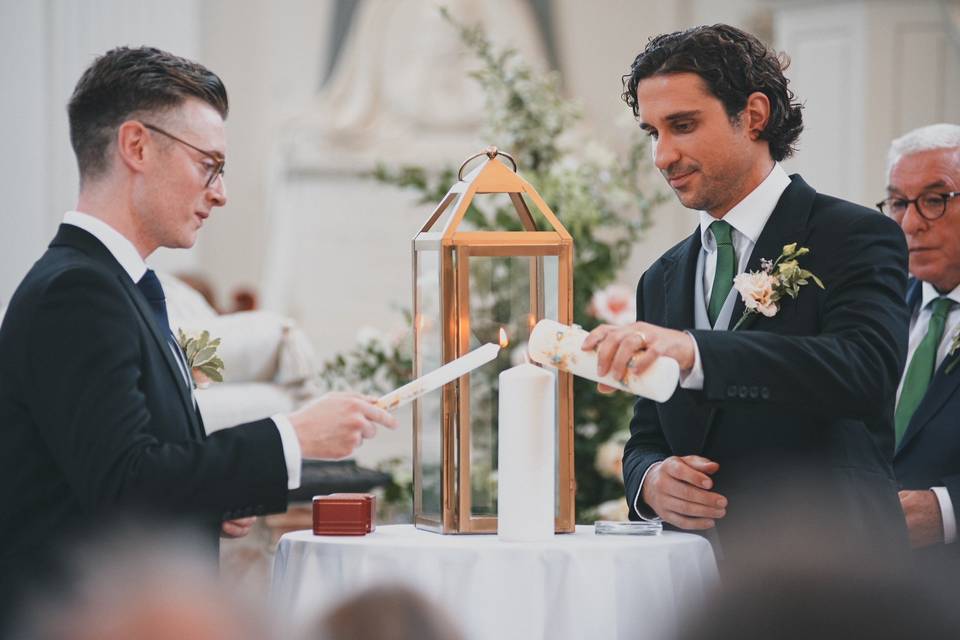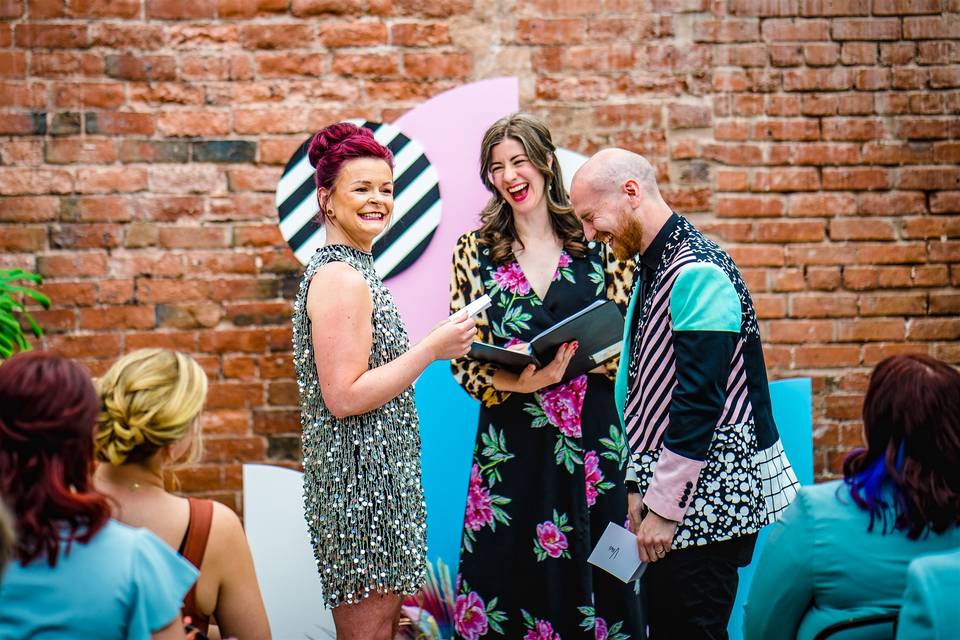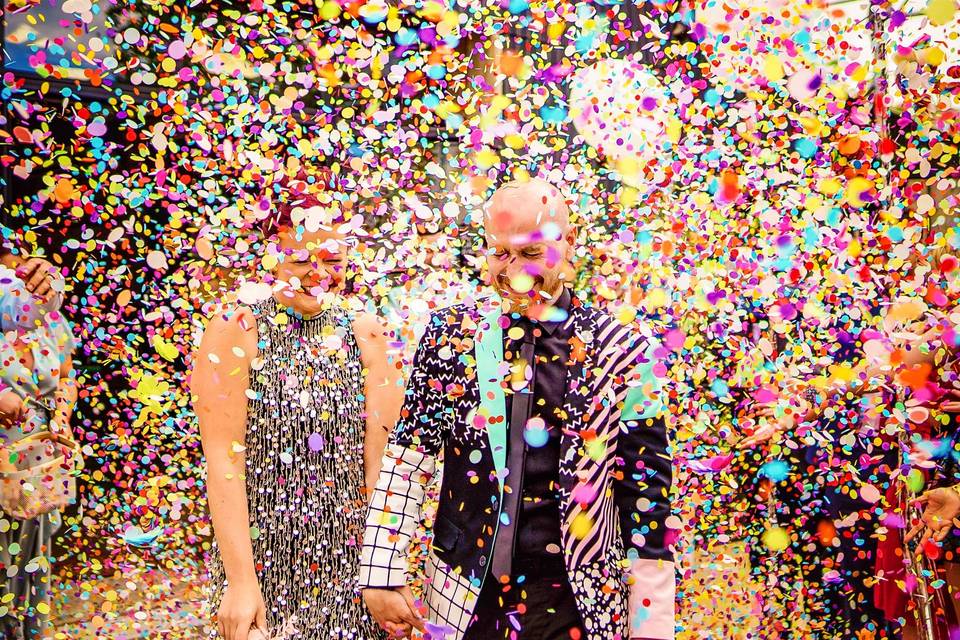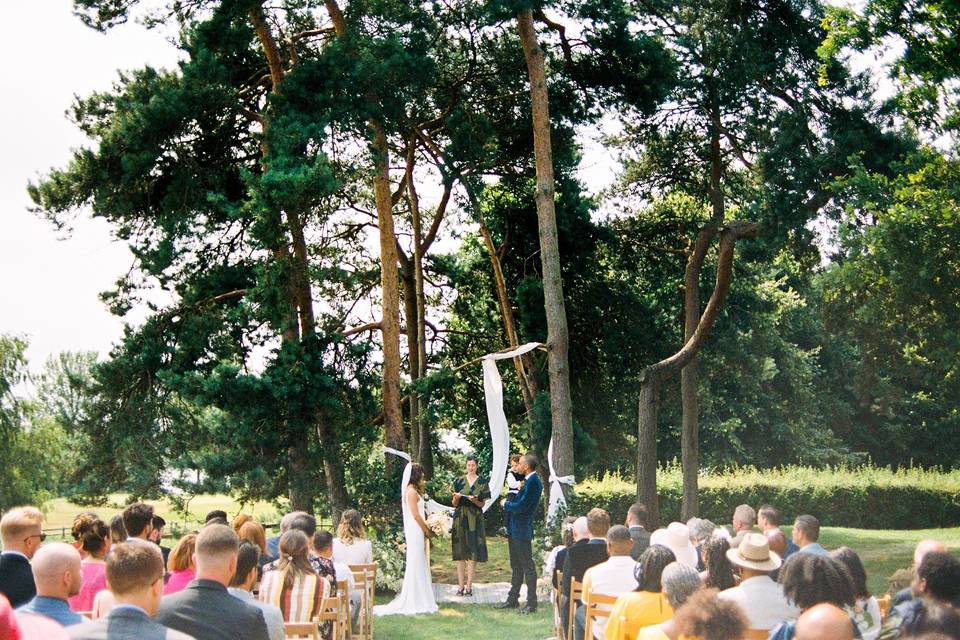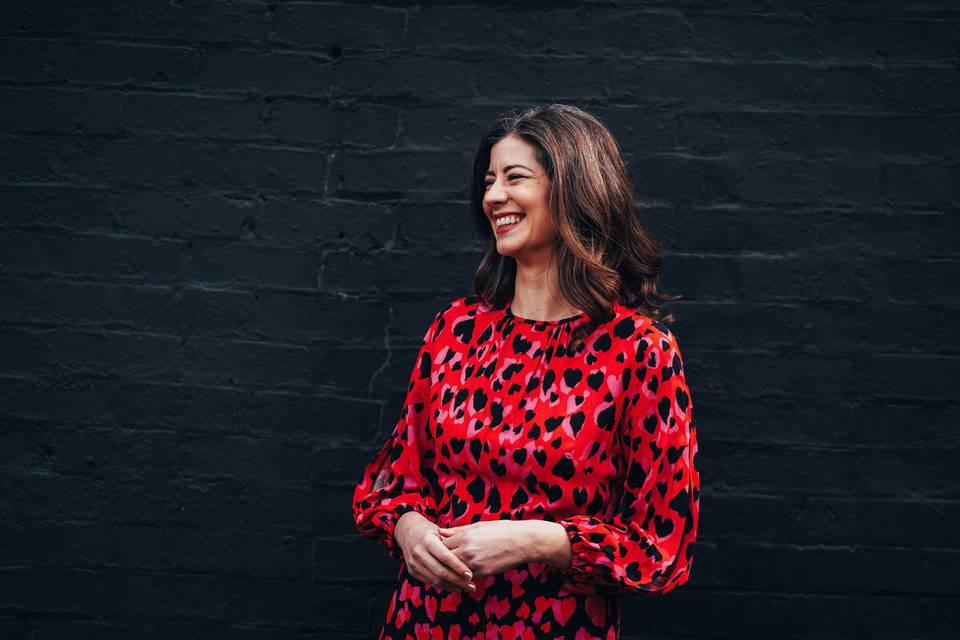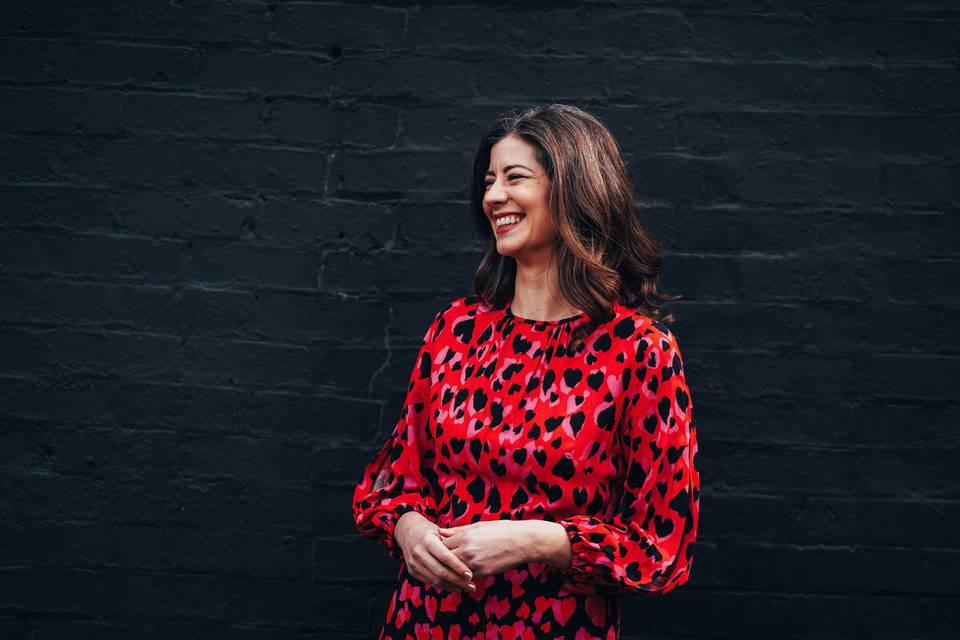 About
On Hitched.co.uk since 2020
Last update: November 2023
HEART-WARMING CEREMONIES FOR HAPPY DAYS!

Laura Gimson Ceremonies
Hello! I'm Laura; celebrant extraordinaire, serial wedding obsessive and first ever winner of 'BEST CELEBRANT' at the UK Wedding Awards! Thanks so much for stopping by. More importantly, congratulations on your engagement!
So...how does it feel? Are you relishing the opportunity to plan every last detail of your big celebration? Or are you up to your eyeballs in wed-min and ready to run for the hills?! Either way, you're in safe hands here.
Since training with Humanists UK in 2016, I've been writing and conducting weddings which celebrate the little details that make each and every couple so gloriously unique. I'm on a mission to disprove the myth that ceremonies have to be dull, dry and devoid of personality. What a wasted opportunity! A truly brilliant ceremony will have people laughing one minute, crying the next and leaving on an absolute high.
Every wedding is a collaboration, so we'll work together to create a ceremony which feels totally honest and authentic. That's not to say you need all the answers. My job is to be your expert guide - to unpick your story and tease out a plan which feels like the perfect fit.
Your wedding is written to reflect you and your relationship – no templates, no gold, silver or bronze package options, just your own little love story.
Areas Covered
I'm based in Leamington Spa, Warwickshire and cover ceremonies anywhere up to an hour away. Plus, having spent 10 happy years in London, I'm always excited to pop back for a wedding in the big city.
Frequently asked questions
Served in
Oxfordshire, South West London and Warwickshire
Do you have any questions?
Request pricing
5.0 out of 5 rating
Quality of the service

5 out of 5 rating

Response time

5 out of 5 rating

Professionalism

5 out of 5 rating

Value for money

5 out of 5 rating

Flexibility

5 out of 5 rating
100%
Recommended by couples
16 User photos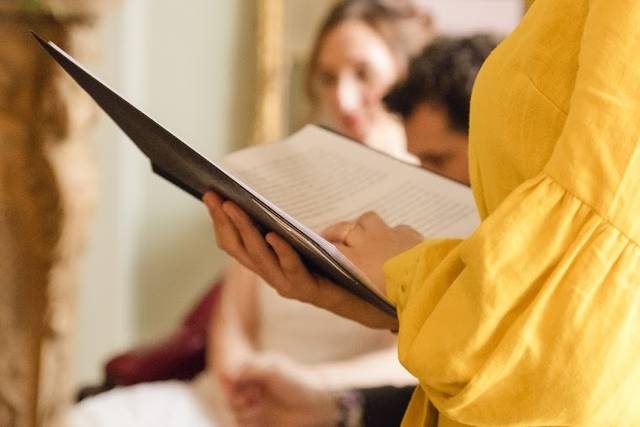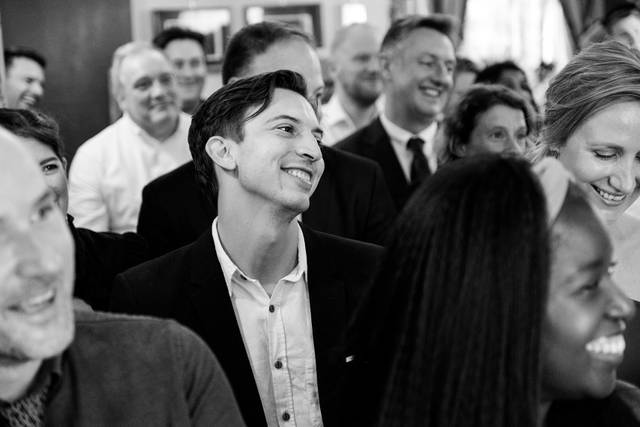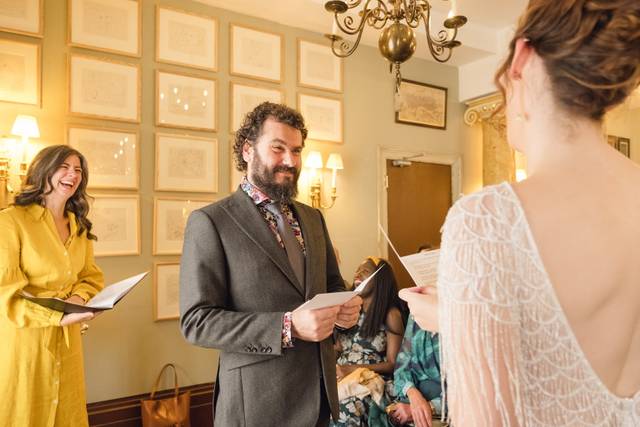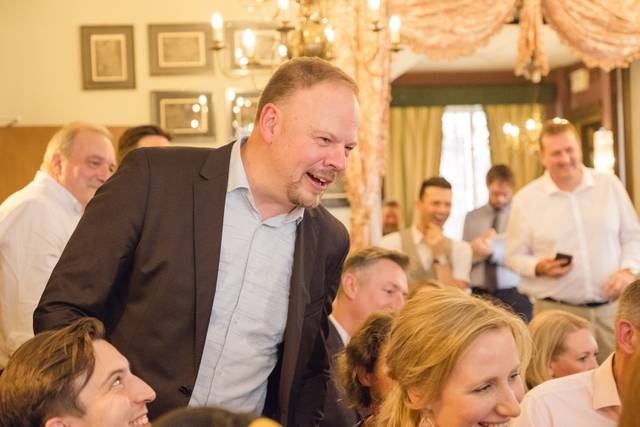 + 12

Photos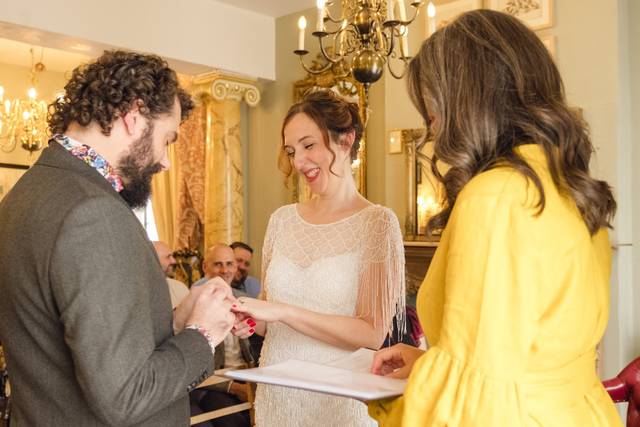 16 reviews
Jonathan G.
Married on 18/03/2023
Best wedding decision we made
Guests at weddings often compliment things like the food, venue, flowers or dad dancing, but at our wedding the highest praise was reserved for our celebrant. Laura set the tone and energy not just for the ceremony itself, but for the entire day, creating an atmosphere that was full of fun, positivity and meaning. So good that she inspired one guest to train as a celebrant herself!

In the preparations, Laura was genuinely invested in the story of our relationship, and the time she spent with us was translated into a personal, tailored ceremony that fully reflected our character. While she was conscious of when we were nervous or unsure, she always encouraged us to be bold, suggesting a few touches that truly made the occasion.

In summary, Laura's a professional, a lovely person and a creator of gentle wedding magic!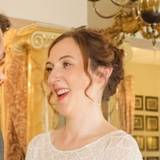 Emma R.
Married on 16/09/2023
We feel so lucky to have found Laura
Our ceremony was amazing - we couldn't have imagined it being such a highlight of the day when we first started looking into the idea of having a celebrant. Our guests loved it, and thought Laura was great.

We had no idea what we wanted when we first spoke to Laura, and it was the aspect of planning the day I was most nervous about. Right from the start of us working together Laura made the process enjoyable and fun, and I felt less stressed as soon as we spoke. The first draft of the ceremony was almost perfect and we only made a few tiny changes - we were so impressed that she'd taken in a huge amount of information from us and managed to capture our story and our thoughts so well.

On the day Laura was warm and funny, and made everyone feel at ease and part of the ceremony. I can barely remember most wedding ceremonies I've been to, but guest are still talking about ours. Everyone, even people we don't know as well (partners of friends etc) enjoyed it, which is what we really wanted.

Considering how much it costs to book a registrar to come to a venue, Laura is great value. I'd say it was the best investment we made and made our wedding really special and unique.
+ 4

Photos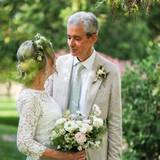 Penny G.
Married on 09/09/2023
Just perfect
Laura is such a natural, gifted celebrant I think she must have been doing it in her past lives. The tone was exactly right, with so much care and thought put into every person and every element that it took away all the anxiety and helped make the whole ceremony experience a joy and a pleasure. We had several 'best wedding ever' comments, and all together a fantastic weekend. It was everything we could have wished for and more.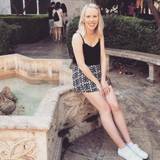 Becky
Married on 29/07/2023
The ceremony of our dreams
Laura created and delivered the most magical wedding ceremony for us in July at Homme House. We met in a lovely pub in Leamington and Laura really got to know us as we discussed our views on marriage, our relationship and each other. When we had the first draft of our ceremony through - we were blown away - we absolutely LOVED it!!! It even brought a tear to Aaron's eye and that is incredibly rare - Becky has only every seen him cry twice!
Itwas perfect, better than we ever could have imagined, and when Laura conducted it on our wedding day it was even more special. She made us feel calm on the wedding morning and engaged each one of our guests with the ceremony. We had so many comments about how real, honest and joyful our ceremony was - all down to Laura. We were so so pleased we decided to have Laura conduct our ceremony and we wouldn't change a thing. Thank you Laura!!!

Clio C.
Married on 15/07/2023
We felt so lucky we found Laura!!
We felt in such safe hands working with Laura, whose experience shines through everything she does, and whose commitment to making our day feel special and authentic was apparent the whole way through – not just in her ceremony, but in the advice and wisdom she shared about what extra details or planning would help the day go smoothly and feel like 'us'. It is a cliché, but we – and our friends and family – genuinely laughed, cried and cheered the whole way through the service. Laura, you are magnificent and a true legend – thank you for your empathy, your ingenuity, and your incredible good humour. We hadn't originally planned for a humanist ceremony, but we can't now imagine our wedding any other way, and we'll never forget it.
Vicky R.
Married on 06/05/2022
That best part of our day!
Laura was so great and easy to work with. From the initial meetings to the day itself, she captured our story and the vibe of the day perfectly. We were able to have the personalised ceremony we wanted and everyone loved it, with many commenting that it was the best ceremony they've ever been too! Can't recommend Laura, and a celebrant led ceremony for that matter, enough!
Jordan J.
Married on 06/08/2023
Incredible
We are so pleased we asked Laura to be the celebrant at our wedding. From the moment we started the process, Laura was incredibly accommodative and professional. We had a unique ceremony, and Laura was very open to working alongside family members who all played an important role in our ceremony as well. Laura is a really lovely person, and she put a lot of effort into making sure our ceremony was unique and special for us. Not only was Laura great at creating the structure and script for the ceremony, but she also sounded amazing and executed perfectly! We have received so many compliments regarding how enjoyable and beautiful the ceremony was, and we can't thank Laura enough for making it happen!
Emma B.
Married on 07/10/2022
Our dream celebrant!
Laura is an incredible celebrant and we can't recommend her more highly!

Our top priority was to fill our wedding day with fun, and we knew from our first conversation that she was the perfect choice for our ceremony.

After our first call, we met Laura at a local pub for a very enjoyable planning session and it felt like she got to know us so well. When she sent us the first draft of the ceremony just a few weeks later, we were absolutely blown away! She had captured everything we discussed so perfectly and also came up with so many creative and hilarious ways to make our ceremony unique to us!

So we then went into our ceremony with very high expectations and Laura absolutely surpassed them all! It was a joy to have her there and her ceremony set the tone for the whole day. In fact, our guests were talking about the ceremony (and Laura!) all day and even now, weeks later.

Booking Laura was one of the best and easiest decisions we made. Not only did she help make our day so special, but we also have her ceremony script, which tells our story so beautifully, to treasure forever. We really can't thank Laura enough!
Edward E.
Married on 02/07/2022
Thank you so much, Laura!
Laura absolutely made our wedding day! Since we found and booked Laura we knew we had chosen the most talented and amazing celebrant. Laura kept us calm and reassured across two covid postponements, for which we can't thank her enough. When the time came to meet Laura she so kindly travelled over an hour to meet us halfway to make it easier on us with our 9 month old daughter. Our meeting was so lovely and a really fun time during which we chatted to Laura about our relationship, why we love each other and wanted to spend the rest of our lives together, and also about the structure of our ceremony. Laura took our mad ramblings and turned them into the most incredible ceremony. I'm not sure my words here can do justice to just how amazing our ceremony was; our guests (and us) were laughing, crying and feeling more love than we thought could be possible. We love that our ceremony was entirely unique and that it was so unbelievably 'us'. None of our guests had expected that instead of 'the usual boring official bit' our ceremony gave them a glimpse into our relationship, why we loved each other and our own personalized vowes, written with Laura's guidance. Our guests were so taken aback by originality, honesty and amazing delivery of our ceremony that the love overflowed across the whole day and night. When we had to postpone our wedding we told Laura that we would work our new date exclusively around her availability and that was the very best decision. We are in no doubt whatsoever that out of every amazing supplier we worked with, Laura was the most integral to the love we felt on the day and to our having the wedding of our dreams. For that we will be forever grateful, thank you Laura. Kelsey and Edward
Sally B.
Married on 16/10/2021
The most special part of our day
My partner and I always knew we didn't want a stuffy, formal ceremony. We had been together for 14 years and wanted the chance to really express how we felt about each other and our relationship, and have some laughs and tears with our family and friends while doing it. When we came across Laura and watched some of the videos of her previous ceremonies we knew she would be completely perfect. She absolutely was! Walking to our first meeting I was worried we would have no interesting stories to tell but she was so warm and welcoming she easily prised enough out of us to write an amazing ceremony. Laura was always on the end of an email if we needed her and she really helped Steve, who struggled getting his vows down on paper. On the day she was such a calming presence, making sure we were both ok and feeling prepared before hand. The ceremony itself was just wonderful, everything we could have hoped for. My face hurt by the end of it because I was smiling so much. She captured our story perfectly and everyone present, even the most hardened souls, said how much they enjoyed it, how welcome and included they all felt and how emotional it was. We honestly could not recommend Laura enough and we are just so thankful to her for making our ceremony so special and something that we will cherish forever.
Emily B.
Married on 12/12/2020
The best part of our wedding!
HUGE THANKS to Laura for conducting the wedding ceremony of our absolute dreams. We had so many comments about her - how well she understood us and our relationship, how it was like she'd known us for years, how 'normally the ceremony is the boring bit but it was the best bit!'. And the biggest testament, both Holt and I said our vows were our favourite bit of the whole day.

We cannot recommend Laura more highly.
Alison
Married on 20/04/2019
A wonderful ceremony!
We decided to have a humanist ceremony as my husband is not religious and I wanted a more meaningful ceremony than a civil service. I looked at the Humanism.org website to find a celebrant, and Laura's profile stood out to me as she seemed to offer exactly what we wanted. After making initial contact, we both spoke with Laura over the telephone where she explained the process of preparing for the ceremony. After this opportunity of getting to know each other, we met a few months before the ceremony to discuss our relationship and what we loved about one another. We were both fairly apprehensive about this as neither of us are that comfortable talking about our feelings, but Laura put us at ease immediately with her friendly manner and made the process enjoyable. After that meeting, Laura produced the first draft of our ceremony script, and she had completely captured us a couple and it reflected our story in a light-hearted yet meaningful way. We finalised the script with very few amendments and were then ready for the big day.
On our wedding day, Laura put everyone at ease with her relaxed and confident manner and delivered the ceremony with an appropriate mix of seriousness and humour. My parents had been rather doubtful of us having a humanist wedding, having never been to one before, but following the ceremony my mother said it was the loveliest wedding ceremony she'd attended as it was so personal and reflective of our relationship. We were delighted with our ceremony and it is the part of our wedding day that we will remember the most. We feel that Laura was a great choice and no one could have done it better.
Our Perfect Wedding
We've always known we wanted something more "us" for our wedding. We're not religious, and the standard registry ceremony didn't really suit us.

Our friend, and photographer, Greg Milner told us about Laura and having a Humanist wedding. It was one of the best decisions we've ever made.

Throughout, Laura was exactly what we were looking for. From our first conversations we were all on exactly the same page and planning our ceremony was a joy.

Laura was really clear with options and how we could shape the day to be ours as much as possible. She was really accommodating when we asked for elements that weren't a listed option, such as ring warming.

Doing the sand blending as part of the ceremony was something a lot of our guests commented on and enjoyed. It was the first time Laura had done it too, so we were truly all in it together! We love the outcome and it's something we'll see daily to remind us of the best day of our lives.

We thoroughly enjoyed meeting Laura pre-wedding and having an excuse to talk about our relationship for over three hours! It really did feel like we were old friends catching up in a lovely local pub.

So many of our guests commented on how much they enjoyed the ceremony, even the more traditional ones! So many of them have told us if they could do it again, they'd have a Humanist ceremony.

Many people asked afterwards how long we'd known Laura, as we all got on so well they thought we were long-time friends and it truly felt like that in the end.

Thank you again to Laura for really making our dream wedding "ours". It was absolutely perfect. Rhea and Ed x
Lovely ceremony, great advice
We asked Laura a while back to conduct our ceremony. After an initial video call to make sure there was some chemistry between us the planning began.
For us the ceremony was the most important part of our wedding, on par with the venue. We knew what we didn't want from our ceremony, under no circumstances did we want to feel, stiff, forced, uncomfortable or too formal.
What we did want was relaxed, fun, loving with a good sprinkle of fun. And this is what we got. Laura gave advise, hints and tips and wrote a ceremony that reflected us and made us feel comfortable.
Our guests enjoyed the ceremony and one of our guests said she had never been to a wedding like ours and enjoyed the relaxed atmosphere so much more than other weddings she went to. We received plenty of comments on how nice it was and especially the hand fastening was unusual and guests loved it.
The day before we had a trial run and Laura was there with invaluable advice and practical knowledge, from seating arrangements, where to stand, when to hand over flowers and so on, which really calmed our nerves.
Laura was fantastic in conducting the ceremony, making everyone feel at ease and ensuring everything ran smoothly even when little things went wrong. We would wholly recommend her for couples looking to put together a bespoke ceremony where you can truly celebrate what makes you work as a couple rather than having to abide by convention or religious precedent.
Beyond what we could have dreamed! ??
We can not recommend Laura enough. We weren't even sure what sort of ceremony we wanted (or could have) - if you're just starting out the planning process please SPEAK TO THIS WOMAN FIRST! She laid out all our options, explained fully what a humanist ceremony could be (or what it didn't have to be), and sent us some ideas of what it could look like before we 'formally' booked it.

Laura was wonderfully helpful, friendly and informal throughout the planning process. At no point did we feel out of our depth, she helped reassure us and check that we were happy with everything. As a control freak, I could not have been happier with how she sends the full ceremony ahead of time so we could read through everything first! ??

Laura is also incredibly understanding of any situation you may have with families, friends, politics, pre wedding stresses etc. She was fantastic with understanding only half of the guests were religious and had wonderful ideas to include and respect their wishes whilst staying in tone with the ceremony we wanted. I never thought we'd have a ceremony everyone loved, yet she managed to do it!

I am not over exaggerating when I say that of all the messages we've received since the wedding, all of them reference Laura's wonderful ceremony. Friends that have been to over 50+ weddings have said how it's the best ceremony they've ever been part of, and my engaged friends are now seriously reconsidering their options. That's how wonderful, personal and meaningful Laura makes her ceremonies and I will never be able to thank her enough.
Did the reviews win you over?
Send a message
Badges
Deals
Gift
10% Off for winter
Expires on 31/12/2023
Map
Open map
4 Clapham Terrace CV31 1HY Leamington Spa&nbsp(Warwickshire)