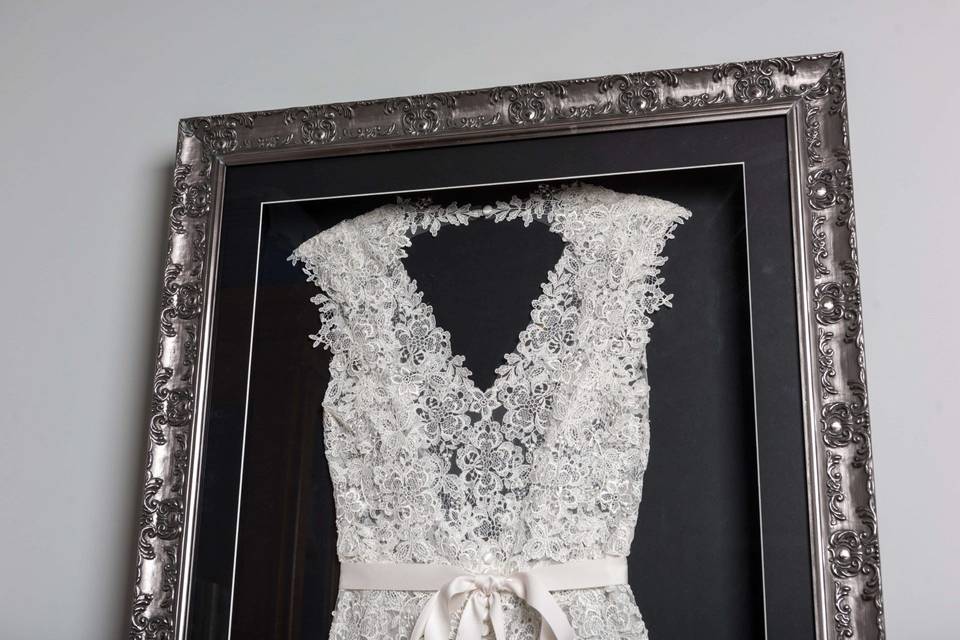 Have you ever thought of what you're going to do with your wedding dress after the big day?
Some brides will want to sell their wedding dress and others may even choose to partake in a 'trash the dress' shoot. Lots of brides just place it in an acid-free box and leave it in the back of wardrobe.
But for the brides who want to keep their wedding gown and the memories it holds, framing it could be the perfect option for you.
READ MORE: 7 Ways To Reuse Your Wedding Dress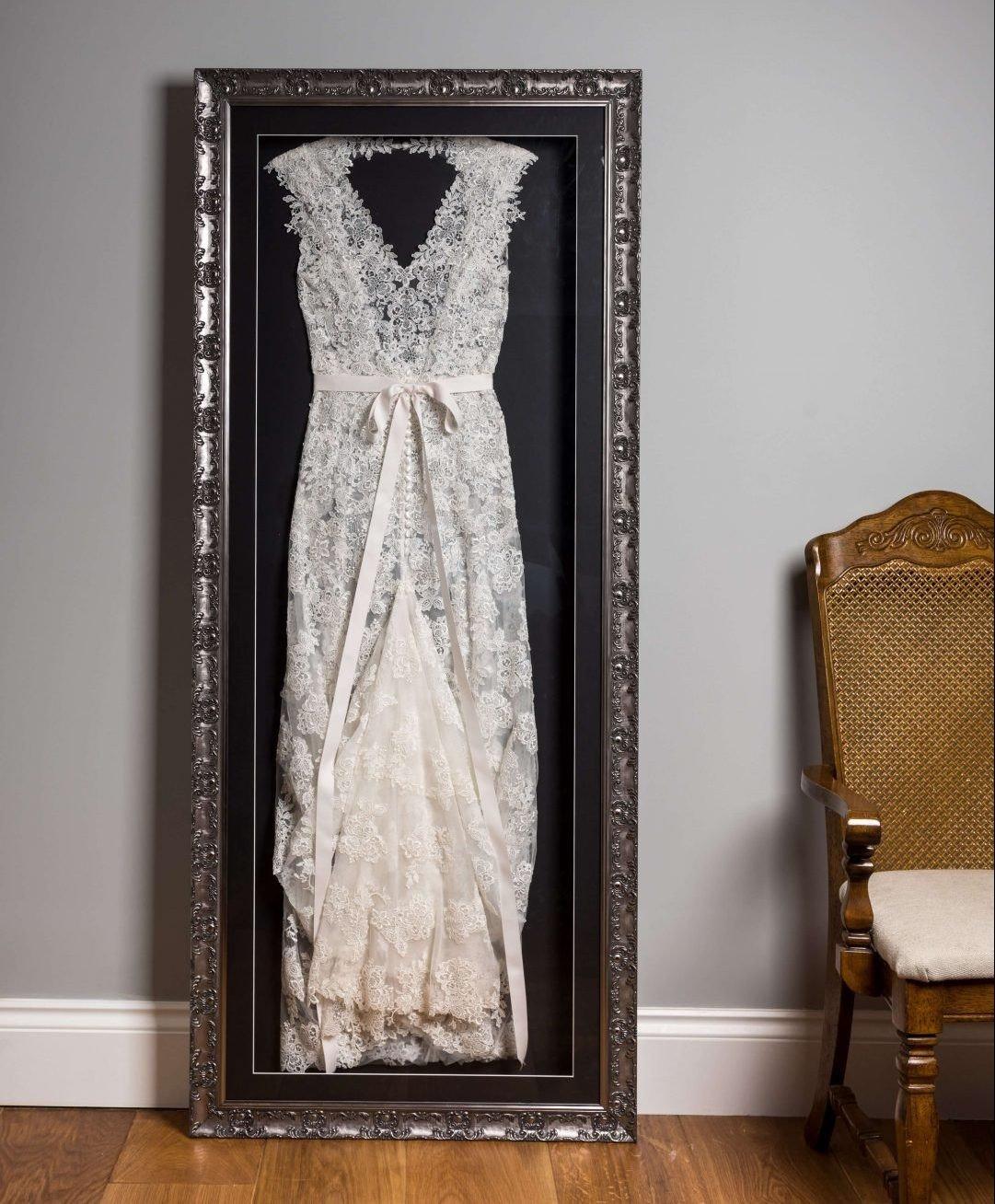 Image: The Beautiful Frame Company
Why Should I Frame My Wedding Dress?
For most brides, they'll be choosing to preserve their dress anyway. That means getting it dry-cleaned and then keeping it safe in an acid-free box. Framing takes this one step further and turns your preserved dress into a keepsake or piece of decor that you can proudly display in your home.
If you've got a wall in your bedroom you need filling or a large landing area you're not sure what to do with, displaying your dress there (or your wedding shoes or accessories) is a lovely thing to do.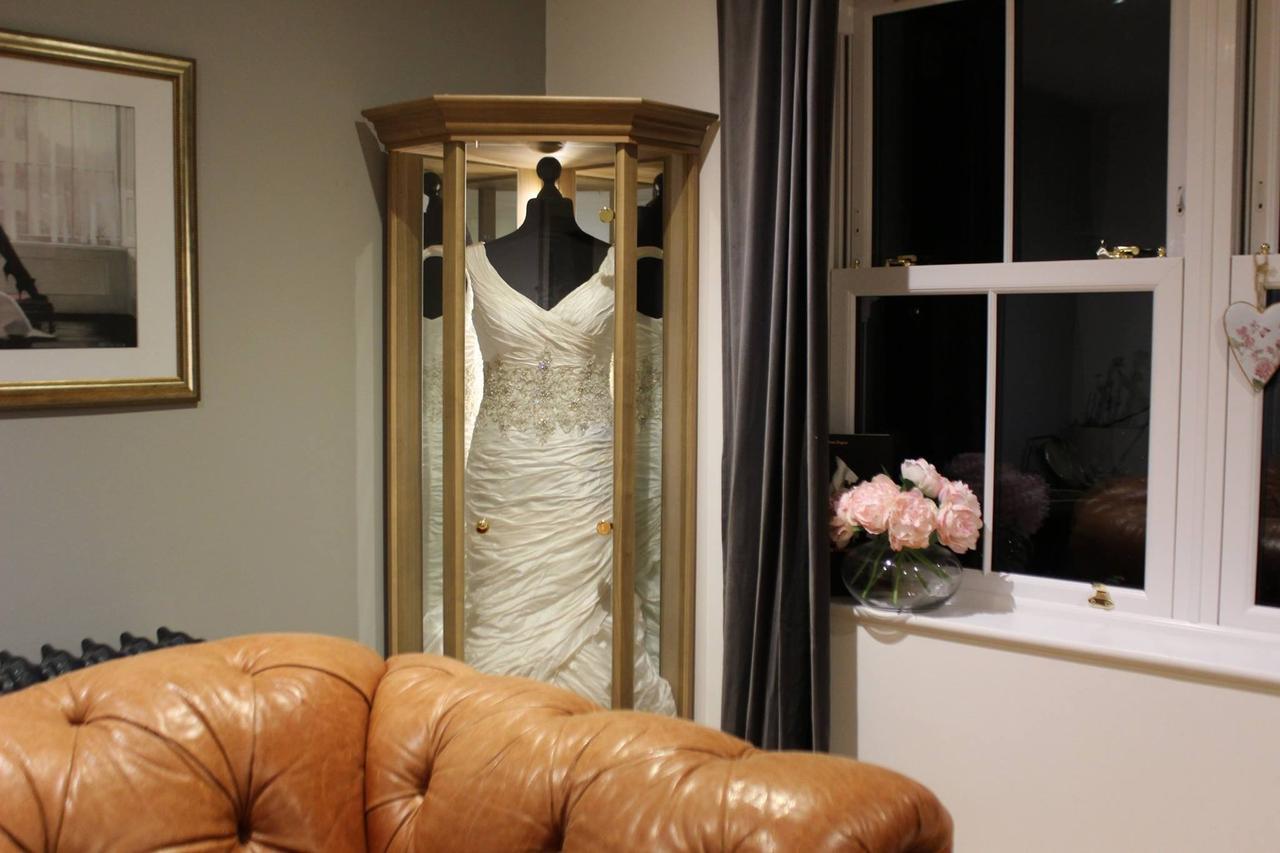 Image: The Beautiful Frame Company
How Much Does Wedding Dress Framing Cost?
Considering it can become a prominent piece of artwork in your house, the cost might not be as much as you expect. The Beautiful Frame Company start their dress framing services from £900. The price will be less, depending on the company, if you choose to display just your accessories or have a half-size frame (where the bodice is the main focus and the skirt is folded up behind) rather than a full-size frame. You can also decide whether you want your dress displayed on a mannequin or just on mountboard in the frame.
How Does the Framing Process Work?
The best way to frame your wedding dress is getting it done by a professional. They can guarantee that dress won't be damaged, the material fade or the colour due to pollutants or UV light.
You can expect to work closely with the company to decide exactly the type, size and depth of frame you want and to find the perfect angle for your dress. You'll normally bring your dress to the shop (or send it via special delivery) and work on a mock-up of how the dress will look. You'll be quoted the price and you can expect your finished frame to be ready within 4-6 weeks.
READ MORE: Your Post-Wedding To Do List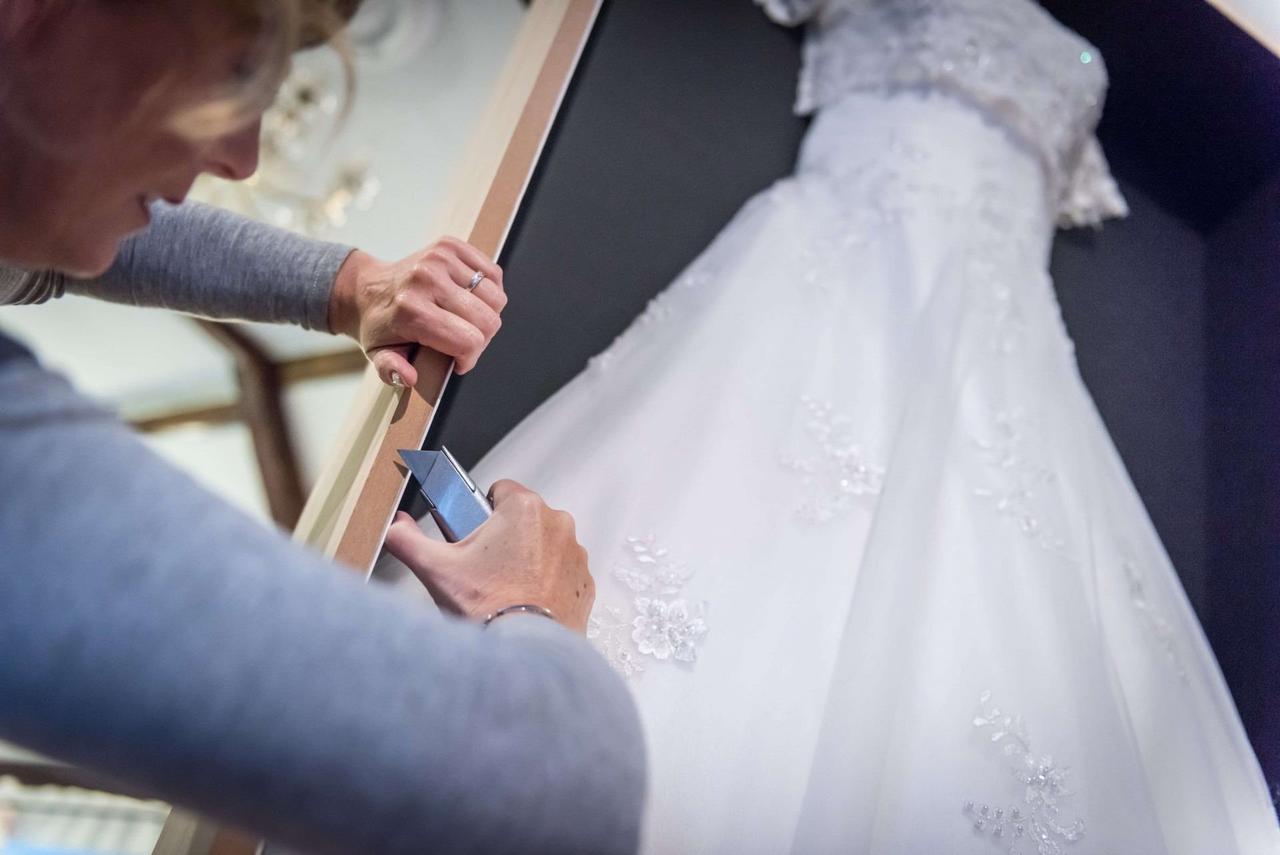 Image: The Beautiful Frame Company
It's becoming a more popular option for brides, but there still aren't that many companies offering a full preservation and framing service.
The Best Wedding Dress Framing Companies
The Beautiful Frame Company, West Sussex
The Beautiful Frame Company is made up of mother and daughter duo Sam and Charlotte, who set it up after Charlotte struggled to find a company to help after her wedding.
"I wanted to have my dress on display where I could continue to enjoy it. I had the idea of having it 3D mounted and framed but couldn't find anywhere in the UK that offered this service so I thought I'd just do it myself!" she said.
Now they offer a wedding dress and accessories framing service, which is bespoke to each bride. Each frame is hand-crafted and tailored to the style of the dress, the couple's home and their personal taste. Their process starts with a modelling so they can see exactly how you wore the dress on your big day.
READ MORE: How to Preserve Your Wedding Dress
The dresses are also carefully preserved to make sure they last as long as possible. This includes maintaining the pH balance, using materials like museum-grade UV protective glass to conserve the gown, and stitching through seams to keep the dress in place.
Sam and Charlotte have plenty of experience – having helped over 120 happy customers – and are able to guide you through all the options, so don't worry if you're not exactly sure what you want.
Visit The Beautiful Frame Company for more information.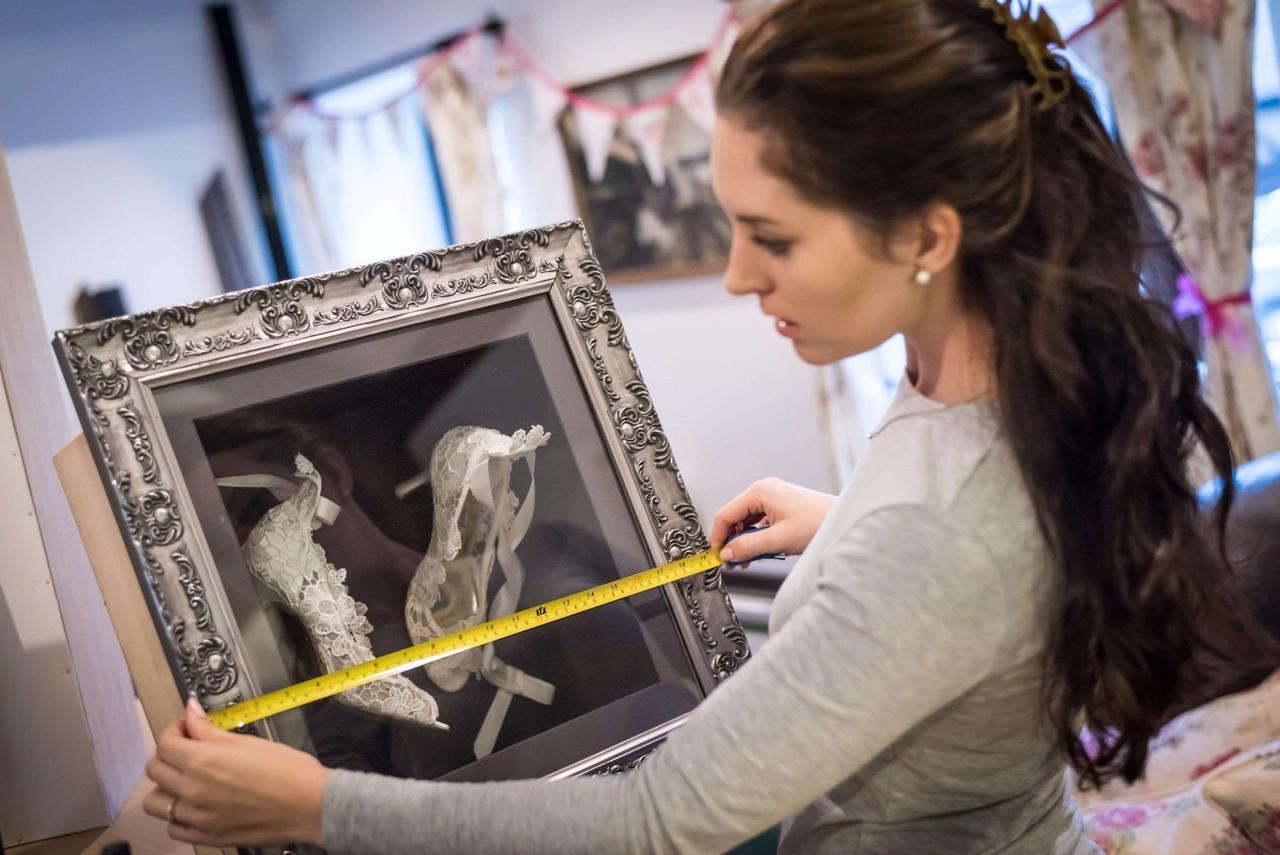 Image: The Beautiful Frame Company
Ironbridge Fine Arts & Framing, Shropshire
Based in the Shropshire town of Ironbridge, this family-run business specialise in preserving dresses from air pollutants, UV lighting and other damage.
Their Fine Art Trade Guild-commended framers can work with dresses of any shape in size.
READ MORE: A Guide to Changing Your Name After the Wedding
To ensure the perfect display, they follow a four step process: a consultation to show you all the frame possibilities; a visualisation where your dress is lain on the mount board and the perfect angle chosen; a mock-up made so you can see how the finished product will look; and a guided talk through the glazing options and where you want to display your dress to ensure your dress remains as fresh as the day you wore it.
As well as dresses, they can add veils, buttonholes, jewellery and more so your whole outfit can be displayed.
Visit Ironbridge Fine Arts & Framing for more information.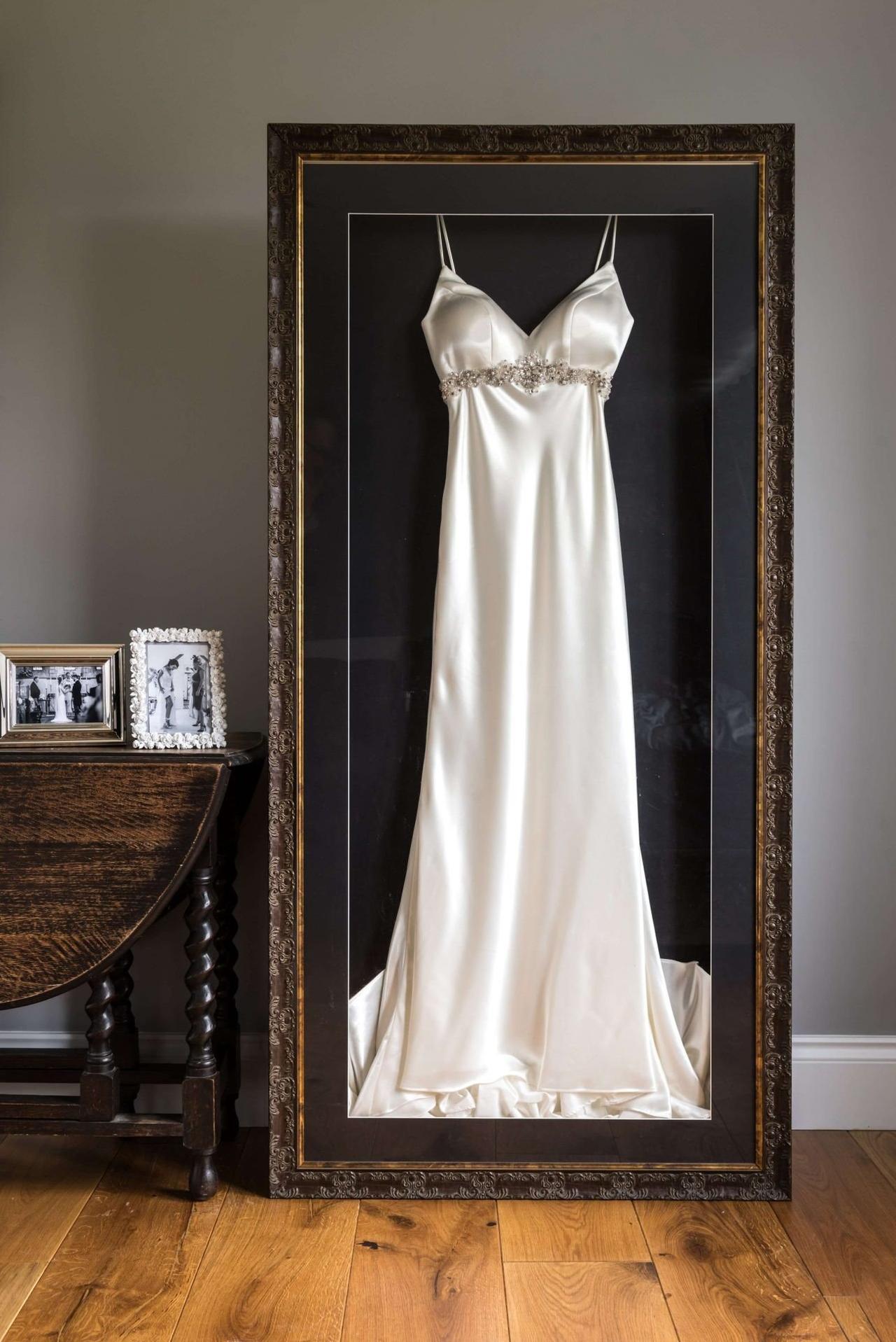 Image: The Beautiful Frame Company
Russell Collins Art, Buckinghamshire
Artist Russell Collins offers a wedding dress framing service in Milton Keynes, but can also provide you with all the materials to mount your dress yourself.
If you'd prefer a DIY approach to displaying your dress or can't bear to part with your dress for a few weeks while the frame is made, this could be the ideal option for you. He also has an Etsy shop which sells smaller box frames you can use to frame accessories. It is perfectly possible to mount your dress yourself if you have some knowledge in this area and you're happy with the level of preservation you can achieve.
READ MORE: How to Handle Any Post-Wedding Blues
A range of box sizes and price points is also available for the complete framing service; you can choose a standard frame from £495 to the upgraded frame with UV-filtering glass from £930.
One of his most popular frame sizes is half-sized and it's an excellent option if you don't have a huge amount of space to display your dress. Here, the skirt will be used as a background to the bodice, and the top of your dress becomes the focal point.
Visit Russell Collins Art for more information.
Re-using your dress as a piece of decor is a great way to make your wedding more environmentally-friendly. Here's our top tips for an eco-friendly wedding.