Mike & Phil's Fabulously Floral Outdoor Wedding in Ireland
Planning an outdoor wedding? Let Mike and Phil's gorgeous garden nuptials inspire you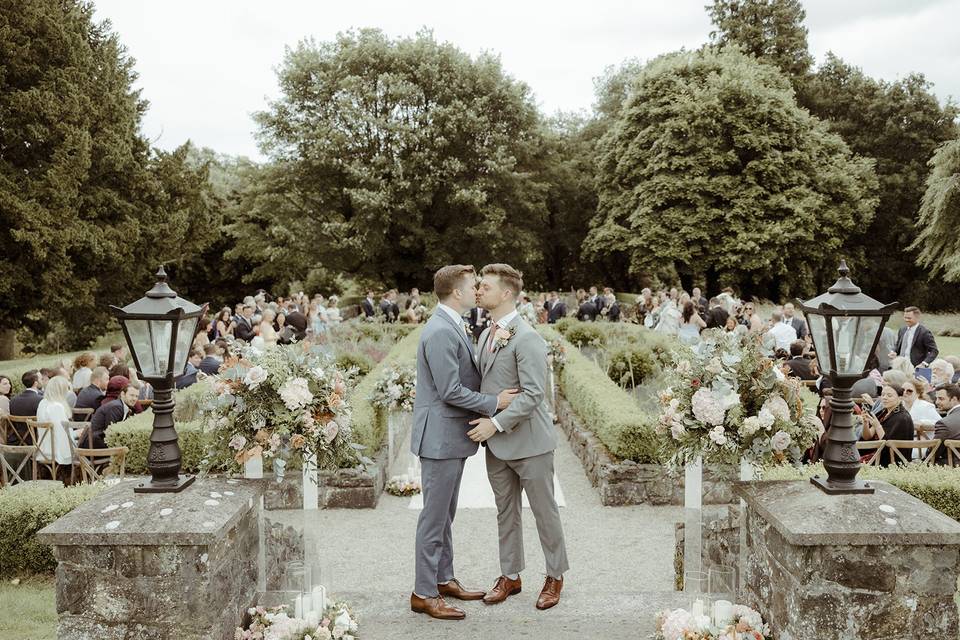 Hitched Featured Supplier: Virginia Park Lodge
After two years of lockdowns and restrictions, we're sure you'll agree that 2022 weddings have been extra-special. Large gatherings have made a joyful return, with long-separated friends and family reuniting - sometimes from halfway across the globe.
Mike and Phil's big day not only brought loved ones together again, but it also marked a homecoming long in the making.
"Both my mother and father were born in Ireland," Explained Mike, "They moved to NYC in the 1970s and due to immigration issues, my mother had not returned home in 50 years. Our wedding coordinated with her receiving her green card so our wedding marked the first time she was home in Ireland in 50 years. All of her family still live in Ireland and they were all in attendance at our wedding! It was a really special experience."
21 months before their breathtakingly beautiful nuptials on the emerald isle, Phil planned the perfect proposal at home in the USA.
"Phil is a HUGE tennis fan and his obsession quickly rubbed off on me. Phil planned our engagement on the main court of Arthur Ashe stadium, home of the US Open. I was told we were going to a tennis event and walked into the main court to our favourite song and saw my soon-to-be fiance waiting for me at centre court."
Phil presented Mike with a silver engagement ring, which would later be joined by a replica of a family treasure.
READ MORE: The Best Engagement Rings for Men
"Phil was gifted his grandfather's ring who passed the year before we met. They had an incredibly close relationship and Phil's mother knew her father would want Phil to have it. Phil's mother was kind enough to have this ring replicated for me as well. We exchanged these rings on our wedding day."
The wedding took place on 27th June 2022 at Virginia Park Lodge, County Cavan.
The Wedding Fashion
The grooms wore complementary suits from Indochino paired with brown shoes and personal touches.
"Phil and I both wore suits. I chose a grey suit and Phil a blue suit. We both included our favourite quote from a musical we love, Hadestown: 'The wind will never change on us.'"
As the couple got ready for the day together, they wrote their vows.
"We both waited to write our vows (intentionally) as we were getting ready. We wanted to be sitting in the emotion of the day and the vows ended up being really special."
The Wedding Party
Mike and Phil had a wedding party of 21, including three best men and two best women. The adult members of the party were joined by two nieces and a nephew, making for some adorable snaps!
The suits were purchased from Indochino and the dresses from US brand Birdy Grey. The soft pinks of the florals coordinated beautifully with the peachy hues of the gowns and ties.
The Ceremony
The couple made the most of the stunning surroundings at Virginia Park Lodge and said their vows within the manicured gardens.
"We asked two of our closest friends to officiate our wedding. We did not incorporate anything religious. We found three wedding readings that spoke to us (poems and excerpts from literature) which were read by four close friends. The co-officiants created and organized the ceremony and they did amazingly. They also looked incredibly beautiful; they both wore white suits."
Music also played a key part in the ceremony with music from Lord of the Rings and a version of I Can't Help Falling in Love hitting the right notes as the wedding party walked down the aisle.
"Phil and I then walked down the aisle to Old Pine by Ben Howard. Phillip walked down with his mother and I walked down with my mother."
The Wedding Reception
The post-ceremony celebrations continued at Virginia Park Lodge - a venue Mike and Phil had only seen via virtual tour before the big day.
"We did virtual tours of various venues around Ireland and fell in love with VPL. The venue was gorgeous and the food was claimed to be remarkable, which it was!
"Aside from any dietary restrictions, guests were served the following: Crab cake appetiser, tomato salad, free range chicken, spinach puree, and asparagus. Decadent chocolate cake for dessert."
The Cake, Flowers and Special Touches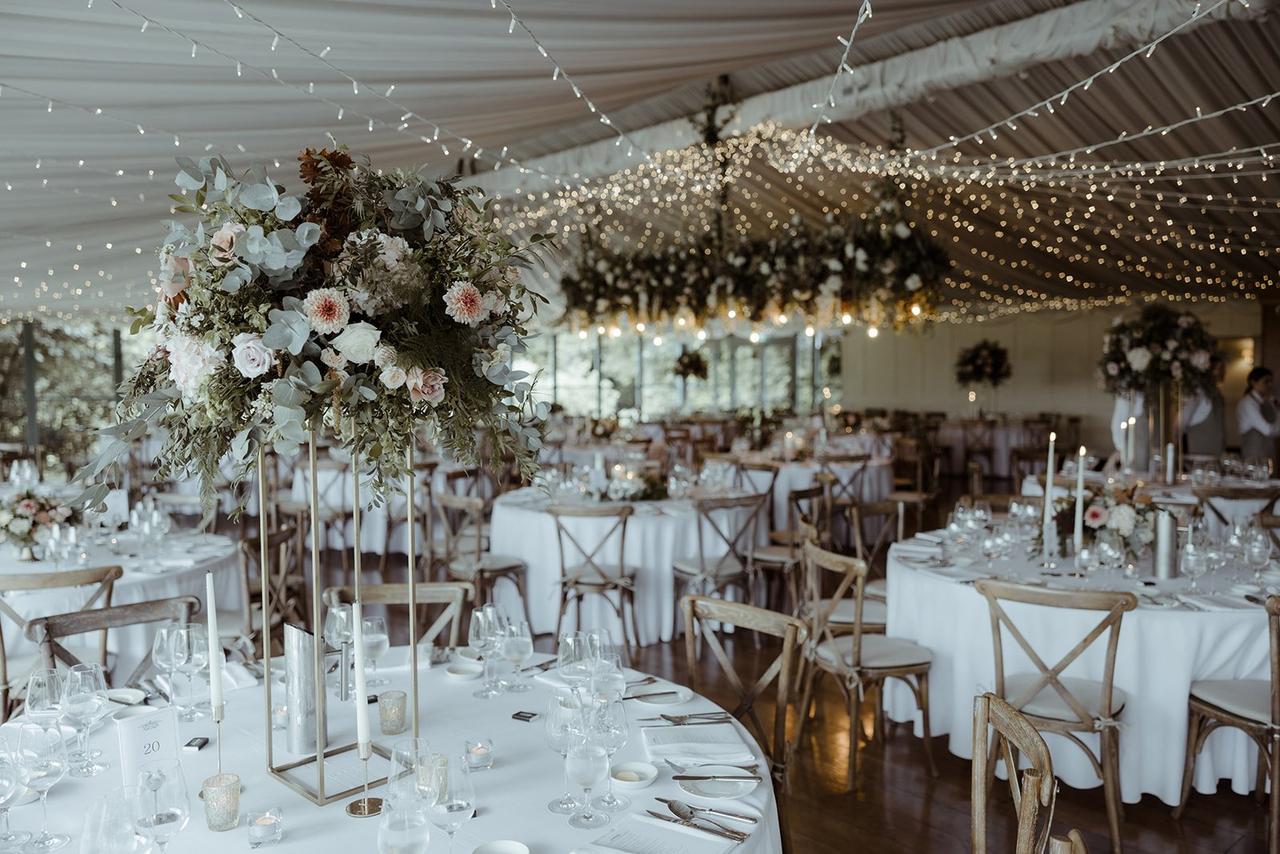 Belfast-based florist, Fleuriste, created the stunning moon gate at the top of the aisle as well as the personal flowers, hanging arrangement and table centrepieces.
A three-tiered pale green wedding cake was also dressed in flowers. The cake had one vanilla tier and two chocolate tiers - including one with a touch of Guinness!
The invitations and orders of service were from Hitched's US-based sister brand The Knot. Check out Hitched's stationery selection for similar designs!
The Entertainment
After a recommendation from Deidre at Virginia Park Lodge, the couple chose the Connor McKeon band for their evening reception.
Mike and Phil's first dance was to If I Didn't Love You by Ben Abraham. The couple also danced with both mothers and Phil's two grandmothers.
The Honeymoon
Following their wedding, Mike and Phil headed to Italy for their honeymoon.
"Positano to Rome to Lake Como. We both decided we wanted to honeymoon in Italy. We had each been before and though it would be a romantic location! Lake Como was our favourite. We stayed in amazing hotels along the way."
Sounds like the perfect start to married life to us!
The Suppliers
Feeling inspired by Mike and Phil's beautiful wedding? Check out these articles for more inspiration: