A Chic, Contemporary Wedding at Spring Studios with a Jewish Ceremony
Foliage and festoon lights were all this contemporary space needed to transform into a chic and stylish backdrop for Misa and Phoebe's special day

Featured Hitched Supplier: Marta Ilardo Photography
Software engineers Misa and Phoebe, met at a coding boot camp back in 2016. After four years together, they set their wedding date for 2020.
"We had planned our wedding to happen a year earlier, but the pandemic stopped us. We then had to postpone three(!) times. Fortunately, Marta was very flexible and with us throughout this journey."
After much rescheduling, the date was finally set for 17th October 2021 and 80 guests joined the couple for their Jewish ceremony at Spring Studios, Kentish Town.
The Wedding Morning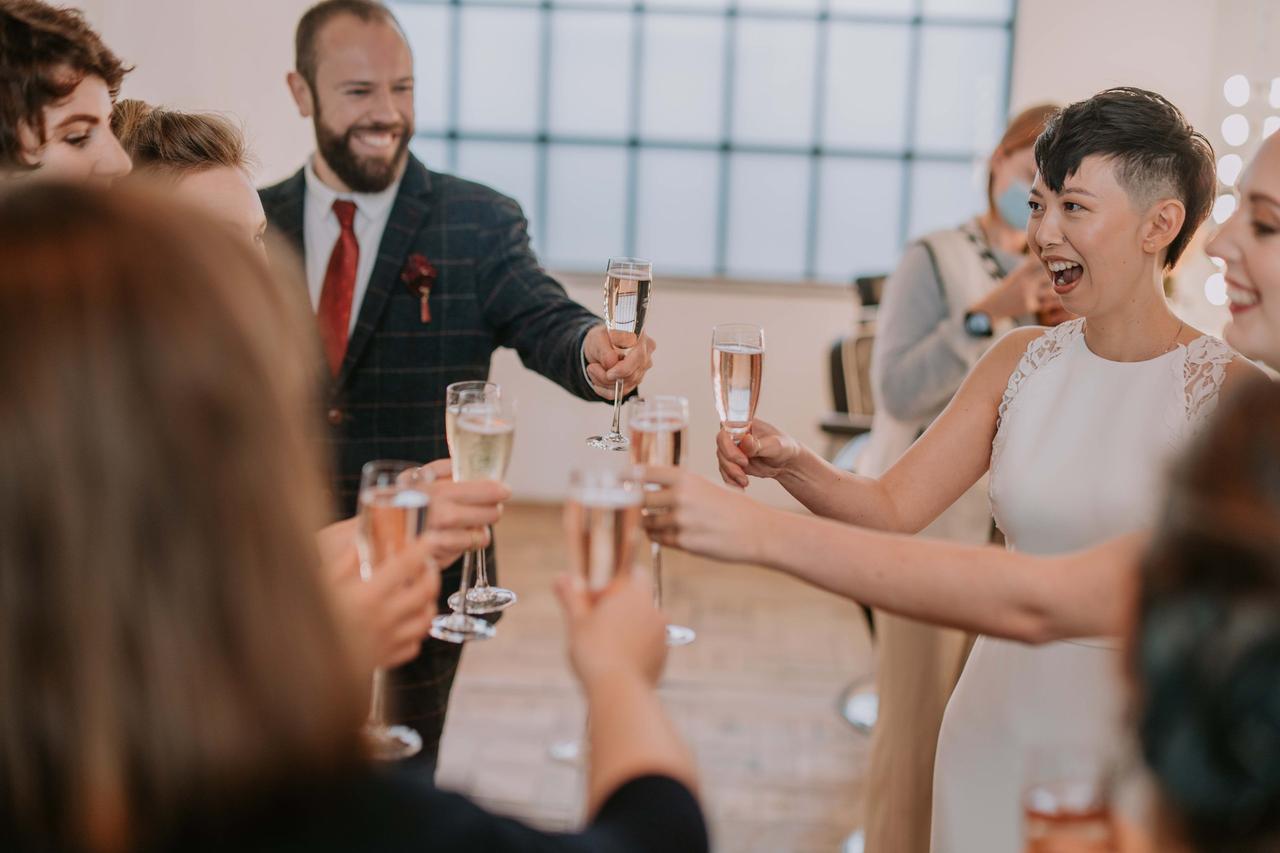 Surrounded by friends, Misa and Phoebe, got ready for their big day together. With bubbles flowing and wedding looks complete, the brides were given a major surprise from Phoebe's sister.
"Phoebe's sister lives in Tel Aviv and was nearly eight months pregnant at the time so sadly was not able to join," explained Misa.
"On the wedding day we spoke to her, reminding her to send her speech that she had recorded to one of the bride's folks. At the venue our friend ran around trying to set up the recording to check if it would play. With only one hour left until the guests started to arrive, we had opened a bottle of bubbles (or two!) and were chilling with our friends, when who walks through the door? Phoebe's sister and her husband!
"As a (mad) wonderful surprise, the day before our wedding she had wrapped herself in scarves (to hide the pregnancy!) and boarded the flight to London. Although totally crazy, it was so wonderful to have her at our wedding. We still can't believe that she managed to surprise us all and that our mum managed to keep it a secret!"
READ MORE: The Best Wedding Day Gifts for the Bride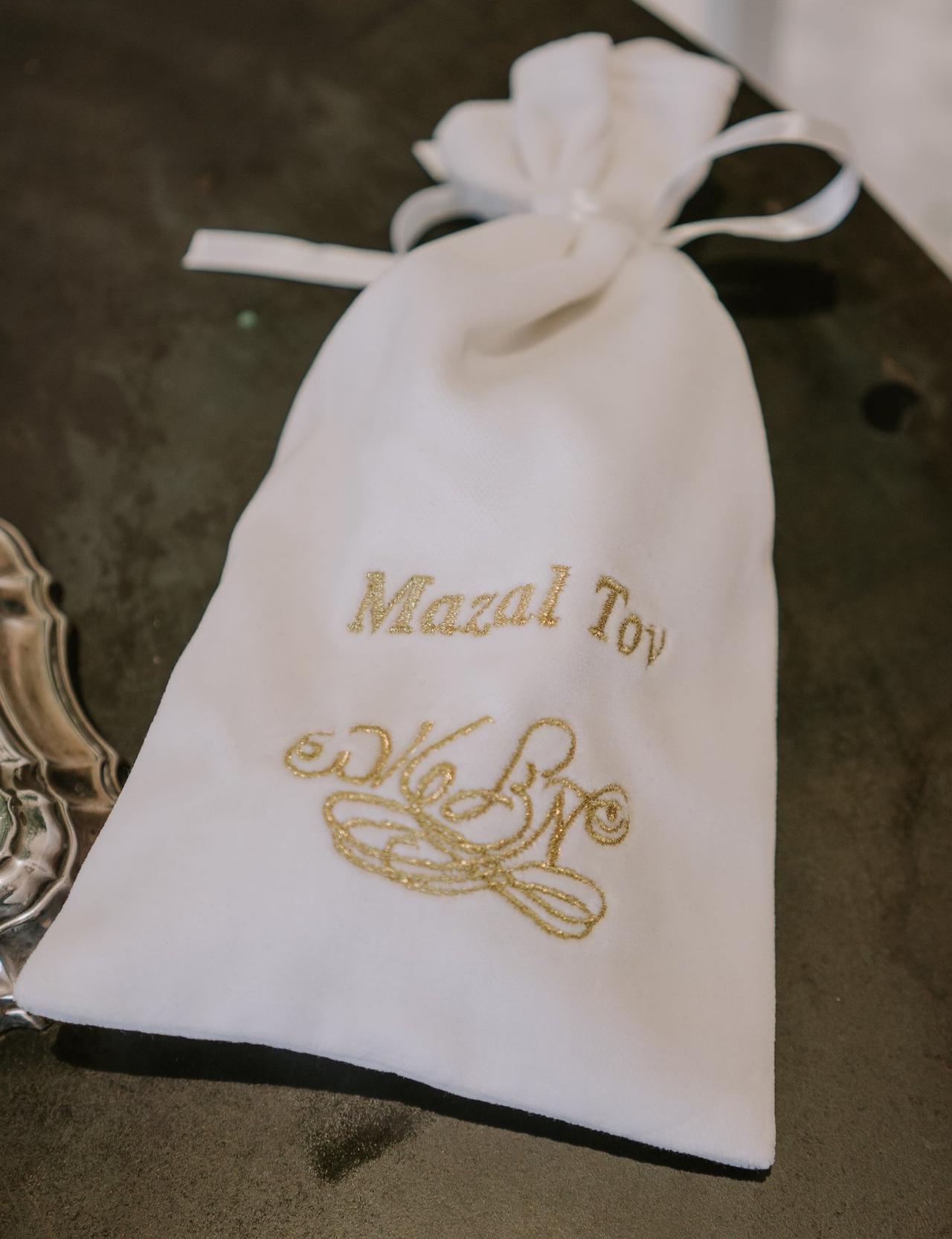 The Wedding Dresses
Phoebe's stunningly simple gown was bought in nearby Shoreditch, while Misa travelled to Pimlico to track down her dream dress - with a little help from Phoebe!
"I bought my dress from the gorgeous Heart Aflutter Bridal Shop in Shoreditch. The dress is from the designer Aesling and I absolutely loved it!" Explained Phoebe.
"Originally, I was looking for a delicate, high neck, lacy dress," Said Misa, "From my searches I saw that London Bride Couture in Pimlico had a couple of dresses that I liked. While browsing on their website, Phoebe showed me a dress that although backless and high neck, was simpler, with the minimal lace. It was way more minimal that I hoped for - and I told her so!
"However, Phoebe didn't forget it and while in the shop, with only one more choice of a dress left, she casually suggested I try this one. I actually didn't remember it from the website and tried it on. As soon as I walked out from behind the curtain, the lovely shop assistant and Phoebe gasped, and looking at myself, I knew that was the one for me! It was a Mikaella dress."
READ MORE: The Best Bridal Shops in London
To complete their looks, both brides opted for minimal makeup from North London based MUA, Ivana Kostova.
"We both don't wear much (or any!) make up, so we wanted to find someone who had experience doing more natural looks and could make us feel comfortable and fabulous on the day. We were delighted with our make-up artist."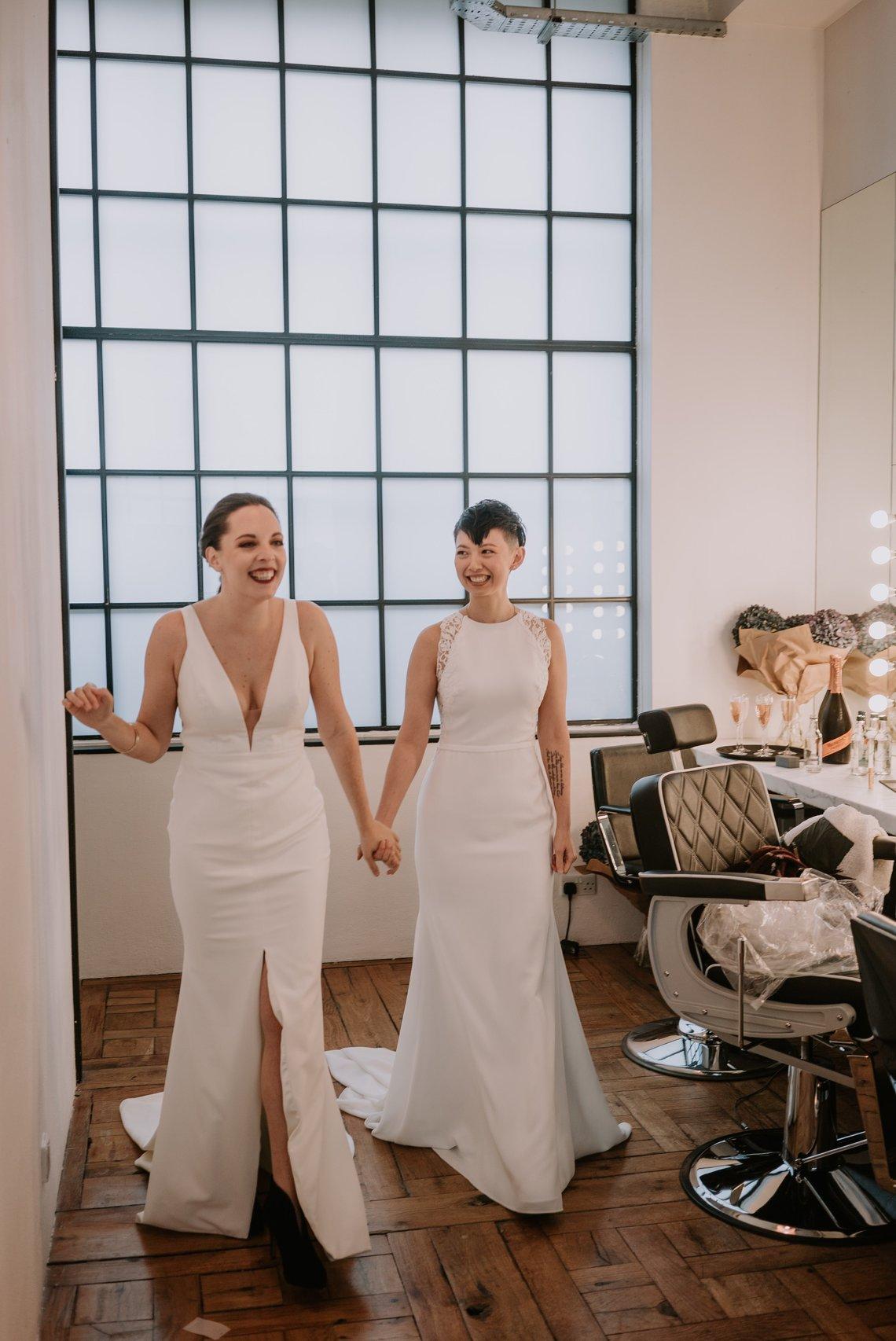 The Wedding Ceremony
The brides accented the simple white walls and vaulted ceiling of their venue with a foliage and white flower arch and strings of festoon lights. This provided a picture-perfect backdrop for their ceremony.
"We had a Jewish ceremony, with Phoebe's childhood Rabbi leading it. The service was a mixture of Hebrew and English, from Dodi Li, to asking seven of our friends to each write on the Sheva B'rachot, to breaking of the glasses - we had one each" said Misa.
"Another very special thing was that our mothers walked us down the aisle, with Misa going first," added Phoebe.
READ MORE: What Happens at a Jewish Wedding Ceremony?
The Wedding Reception
Phoebe and Misa were keen to incorporate both their cultures when it came to their wedding food, and they found the perfect caterer for the job.
"Sinead Bailey from The Flavour Kitchen did all of our wonderful catering from the canapé reception to the Middle Eastern feast to the late-night food.
"We wanted to find somebody that cooks delicious Middle Eastern treats, as well as Chinese and Japanese cuisine - it was important to us to have elements of both our cultures on the tables!"
After the food, guests were treated to a slice of rainbow cake made by a close friend of the couple followed by dancing – the perfect way to end the big day, if you ask us!
The Suppliers
Feeling inspired by Phoebe and Misa's beautiful wedding? Check out these articles for more inspiration: