45 of the Best Relaxed Wedding Breakfast Songs
Background music is essential to create an atmosphere during the wedding breakfast. Here's some ideal wedding breakfast song choices.
We have included third party products to help you navigate and enjoy life's biggest moments. Purchases made through links on this page may earn us a commission.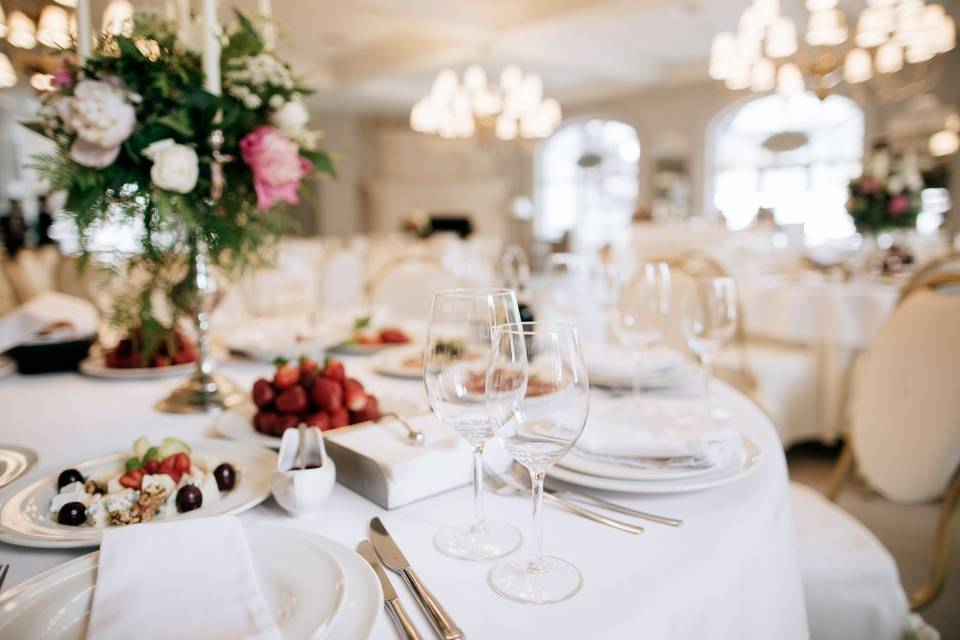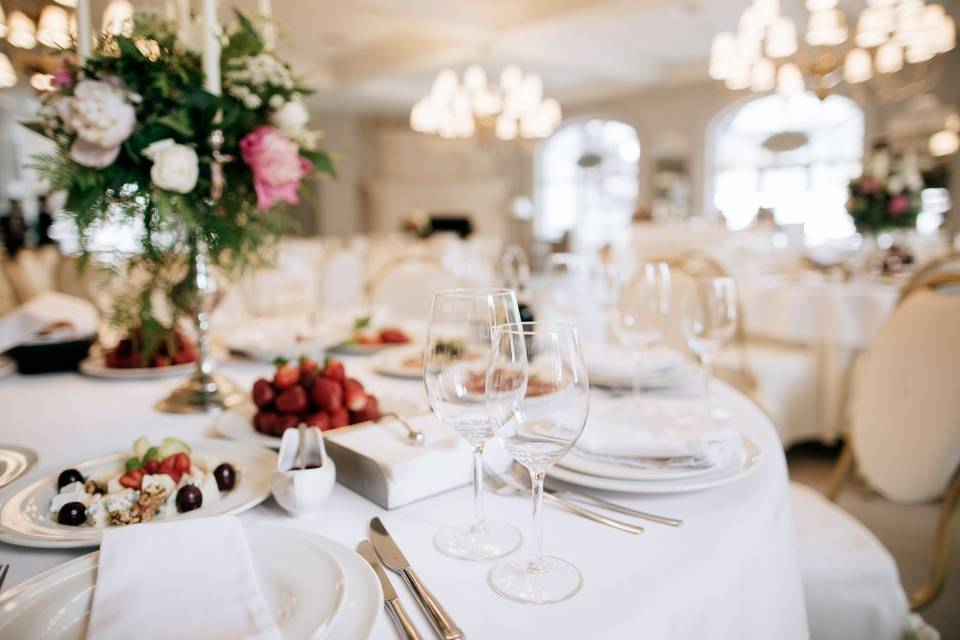 Background music is the finishing touch to your wedding breakfast. You'll have spent ages picking out the menu, deciding on your centrepieces, finding favours for the table, and arranging the ideal seating plan.
Chilled out, low-key music is what brings that whole atmosphere together: getting your guests in the mood to chat, drink and laugh, and giving them a breather before the real party starts. Choose some from our best wedding songs of all time list, our favourite acoustic covers and, of course, this wedding breakfast playlist for the ultimate background music.
How to Create Your Wedding Breakfast Playlist
The basic rules of wedding breakfast music are keep it slow and keep it low. It's simply there to enhance the atmosphere so find a mellow pace and turn the volume down to a level where guests can easily hear each other. If you're having a live singer, acoustic covers are the way too go with a single guitar or simple backing tracks.
Save your personal favourite songs for the evening reception and create a broad playlist that'll appeal to all your guests and fit with the theme of your day.
Having a vintage '50s and '60s theme? Go for jazz and lounge covers of Elvis, Motown and the Rat Pack. A country garden wedding would suit classical music by a solo harpist. A folk band covering Mumford and Sons and Ed Sheeran is perfect for a festival or rustic wedding. You'd struggle to go wrong with a female singer covering the likes of Adele and Amy Winehouse. Even if you're not having live music, a DJ can easily make a playlist of acoustic versions
The Best Wedding Breakfast Music
Below you'll find a Spotify playlist of the top wedding breakfast music. We've made it so easy, you could literally just link us to a speaker and press play. Scroll down for all the song details.
I'm Yours – Jason Mraz
Kiss Me – Sixpence None the Richer
You've Got the Love – Florence + the Machine
Brown Eyed Girl – Van Morrison
Baby Love – Nicole Scherzinger
Orinoco Flow – Enya
Hey There Delilah – Plain White T's
Cannonball – Damien Rice
Heartbeats – José González
She's Always A Woman – Billy Joel
The Scientist – Coldplay
You to Me Are Everything – The Real Thing
My Guy – Mary Wells
Autumn – Paolo Nutini
Do You Remember – Jack Johnson
Songbird – Oasis
"Ode to Joy" from Symphony No. 9 in D minor, Op. 125: Choral) – Beethoven
Beating Hearts – King Charles
Big Yellow Taxi – Counting Crows & Vanessa Carlton
Eyes Wide Open – Gotye
First Day of My Life – Bright Eyes
If I Fall to Your Heart – Derwent Hannon
Mr. Bojangles – Jr. Sammy Davis
Supposed to Be – Jack Johnson
Upside Down – Jack Johnson
Valerie – Amy Winehouse
(Sittin' On) the Dock of the Bay – Otis Redding
Angel – Jack Johnson
Banana Pancakes – Jack Johnson
Be Young, Be Foolish, Be Happy – The Tams
California Dreamin' – The Mamas & The Papas
Cats and Dogs – The Head and the Heart
Coco Chitty – King Charles
Fast Car – Tracy Chapman
Good Riddance – Green Day
Lights Out, Words Gone – Bombay Bicycle Club
Big Parade – The Lumineers
How Can You Swallow So Much Sleep – Bombay Bicycle Club
If It's the Beaches – The Avett Brothers
Souls Like the Wheels – The Avett Brothers
The Blower's Daughter – Damien Rice
White Winter Hymnal – Fleet Foxes
Last Night On Earth – Green Day
Unbroken – Tim McGraw
Will You Still Love Me Tomorrow – Amy Winehouse