50 Best Modern Wedding Songs for Contemporary Couples
We've rounded up the best modern wedding songs for couples - you'll find the perfect romantic love song among these chart hits.
We have included third party products to help you navigate and enjoy life's biggest moments. Purchases made through links on this page may earn us a commission.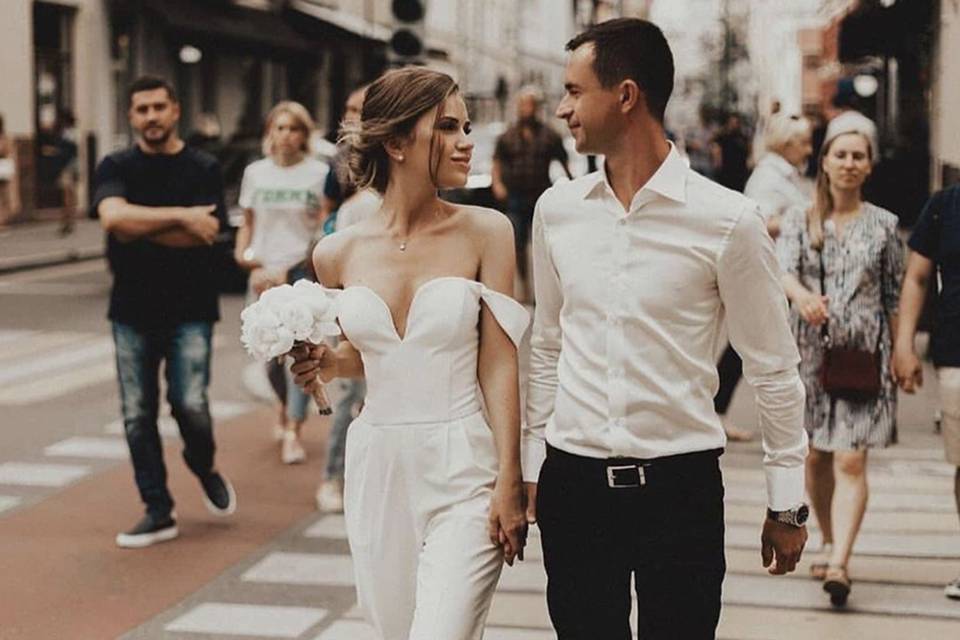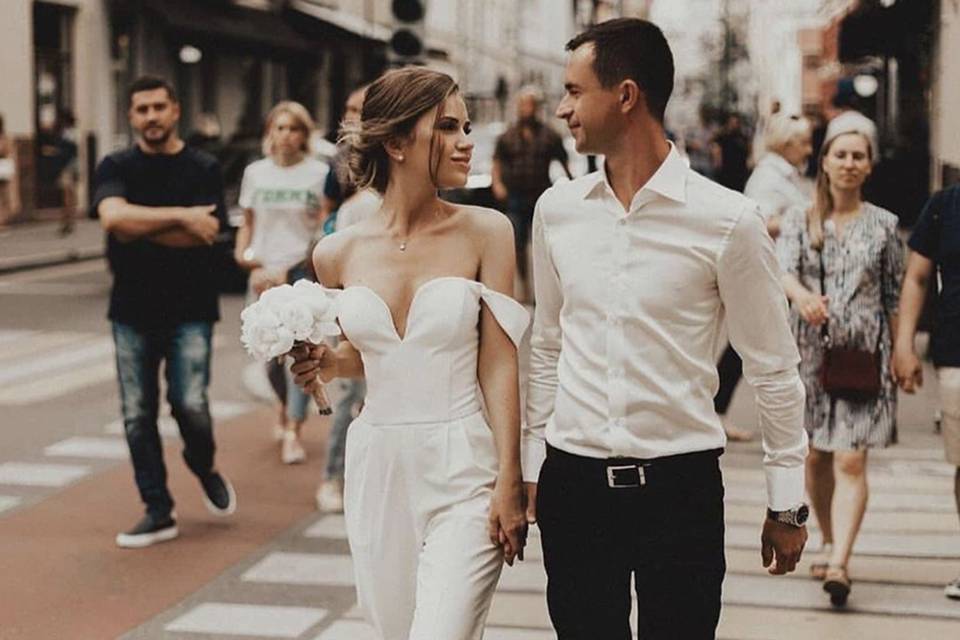 We love a good old-fashioned classic wedding song, but sometimes things become a classic because a lot of people choose it.
Naturally you need some favourites from our list of the best wedding songs of all time, but if you're looking for something a bit different, what about some modern wedding songs?
We've rounded up the best wedding songs from recent years – make sure you check out our Spotify playlist below! This playlist is full of bangers that'll have every guest dancing and singing along at your reception.
Also don't forget to check out our list of the best wedding songs of 2021 for the current chart hit ideas for your first dance and reception.
The 50 Best Modern Wedding Songs
1. Shallow – Lady Gaga & Bradley Cooper
Favourite Lyrics: I'm off the deep end, watch as I dive in/ I'll never meet the ground/ Crash through the surface, where they can't hurt us/ We're far from the shallow now
2. Sucker – Jonas Brothers
Favourite Lyrics: I'm a sucker for you/ You say the word and I'll go anywhere blindly/ I'm a sucker for you, yeah/ Any road you take, you know that you'll find me
3. Love Story – Taylor Swift
Favourite Lyrics: This love is difficult, but it's real/ Don't be afraid, we'll make it out of this mess/ It's a love story, baby just say yes
4. I Like Me Better – Lauv
Favourite Lyrics: I knew from the first time, I'd stay for a long time 'cause/ I like me better when/ I like me better when I'm with you
5. Something 'Bout You – Sir Rosevelt
Favourite Lyrics: Girl, I can't explain it/ No matter how hard I try to put my finger on it/ There's just something 'bout you
6. Despacito – Luis Fonsi, Daddy Yankee, Justin Bieber
Favourite Lyrics (translated): You, you're the magnet and I'm the metal/ I'm getting closer and making a plan/ Simply thinking about it makes my heart race
7. Symphony – Clean Bandit ft Zara Larsson
Favourite Lyrics: I just wanna be part of your symphony/ Will you hold me tight and not let go?
8. Perfect – Ed Sheeran
Favourite Lyrics: Now I know I have met an angel in person/ And she looks perfect/ I don't deserve this/ You look perfect tonight
9. Your Song – Rita Ora
Favourite Lyrics: Don't want to sing mad songs anymore/ Only want to sing your song/ 'Cause your song's got me feeling like I'm/ I'm in love, I'm in love, I'm in love (I'm in love)
10. Born to Be Yours – Imagine Dragons and Kygo
Favourite Lyrics: I never knew anybody 'til I knew you/ And I know when it rains, oh, it pours/ And I know I was born to be yours
11. You Are The Reason – Calum Scott
Favourite Lyrics: I'd climb every mountain/ And swim every ocean/ Just to be with you
12. All Of Me – John Legend
Favourite Lyrics: 'Cause all of me/ Loves all of you/ Love your curves and all your edges/ All your perfect imperfections
13. Can I Be Him – James Arthur
Favourite Lyrics: You walked into the room and now my heart has been stolen/ You took me back in time to when I was unbroken/ Now you're all I want
14. Shape of You – Ed Sheeran
Favourite Lyrics: I'm in love with the shape of you/ We push and pull like a magnet do/ Although my heart is falling too/ I'm in love with your body
15. Boom Clap – Charli XCX
Favourite Lyrics: First kiss just like a drug/ Under your influence/ You take me over, you're the magic in my veins/ This must be love
16. Girls Like You – Maroon 5 ft. Cardi B
Favourite Lyrics: 'Cause girls like you/ Run around with guys like me/ 'Til sundown, when I come through/ I need a girl like you, yeah yeah
17. Like I'm Gonna Lose You – Jasmine Thompson
Favourite Lyrics: Wherever we're standing/ I won't take you for granted/ 'Cause we'll never know when/ When we'll run out of time
18. Can't Help Falling in Love – Kina Grannis
Favourite Lyrics: So take my hand/ Take my whole life, too/ For I can't help falling in love with you
19. I Won't Give Up – Jason Mraz
Favourite Lyrics: I won't give up on us/ Even if the skies get rough/ I'm giving you all my love/ I'm still looking up
20. Meant To Be – Bebe Rexha ft. Florida Georgia Line
Favourite Lyrics: Who knows where this road is supposed to lead/ We got nothing but time/ As long as you're right here next to me, everything's gonna be alright
21. Speechless – Dan + Shay
Favourite Lyrics: And I'm speechless/ Staring at you, standing there in that dress/ What it's doing to me, ain't a secret/ 'Cause watching you is all that I can do
22. Say You Won't Let Go – James Arthur
Favourite Lyrics: We've come so far my dear/ Look how we've grown/ And I wanna stay with you until we're grey and old
23. Love Someone – Lukas Graham
Favourite Lyrics: 'Cause you still look perfect as days go by/ Even the worst ones, you make me smile/ I'd stop the world if it gave us time
24. I Would Die For You – Miley Cyrus
Favourite Lyrics: I am yours, and you are mine/ I have your heart, I don't even need a ring/ I'd give up all I have, in exchange for who I love more than anything
25. All My Love – George Ezra
Favourite Lyrics: All my love is yours/ All my time is ours/ All my reckless dreams/ All my restless hours
26. Love On Top – Beyoncé
Favourite Lyrics: Baby, it's you/ You're the one I love/ You're the one I need/ You're the only one I see
27. Boo'd Up – Ella Mai
Favourite Lyrics: Feeling, like I'm touching the ceiling/ When I'm with you I can't breathe/ Boy, you do something to me
28. Same Love – Macklemore ft. Mary Lambert
Favourite Lyrics: And I can't change/ Even if I tried/ Even if I wanted to
29. Die A Happy Man – Thomas Rhett
Favourite Lyrics: You're a saint, you're a goddess, the cutest, the hottest, a masterpiece/ It's too good to be true, nothing better than you/In my wildest dreams
30. Riptide – Vance Joy
Favourite Lyrics: Oh, all my friends are turning green/ You're the magician's assistant in their dreams
31. Make Me Feel – Janelle Monae
Favourite Lyrics: Baby, don't make me spell it out for you/ All of the feelings that I've got for you/ Can't be explained, but I can try for you
32. Something Just Like This – The Chainsmokers & Coldplay
Favourite Lyrics: I'm not looking for somebody/ With some superhuman gifts/ Some superhero/ Some fairytale bliss/ Just something I can turn to/ Somebody I can kiss
33. Fast Car – Jonas Blue, Dakota
Favourite Lyrics: And your arm felt nice wrapped 'round my shoulder/ And I had a feeling that I belonged/ I had a feeling that I could be someone
34. One Call Away – Charlie Puth
Favourite Lyrics: And when you're weak I'll be strong/ I'm gonna keep holding on/ Now don't you worry, it won't be long, Darling/ And when you feel like hope is gone/ Just run into my arms
35. Can't Feel My Face – The Weeknd
Favourite Lyrics: I can't feel my face when I'm with you/ But I love it, but I love it, oh
36. How Deep Is Your Love – Calvin Harris ft. Disciples
Favourite Lyrics: I want you to breathe me/ Let me be your air/ Let me roam your body freely/ No inhibition, no fear
37. Still Falling For You – Ellie Goulding
Favourite Lyrics: And just like that/ All I breathe/ All I feel/ You are all for me/ I'm in
38. Here With Me – Marshmello ft. CHVRCHES
Favourite Lyrics: Can I tell you something just between you and me?/ When I hear your voice, I know I'm finally free
39. The Bones – Maren Morris
Favourite Lyrics: Baby, I know any storm we're facing/ Will blow right over while we stay put/ The house don't fall when the bones are good
40. One Kiss – Calvin Harris ft Dua Lipa
Favourite Lyrics: Something in you lit up heaven in me/ The feeling won't let me sleep/ 'Cause I'm lost in the way you move, the way you feel
41. Woman Like Me – Little Mix ft. Nicki Minaj
Favourite Lyrics: Every time we touch, boy, you make me feel weak/ I can tell you're shy and I think you're so sweet/ Spending every night under covers and/ Still I wonder, could you fall for a woman like me
42. Wild Love – James Bay
Favourite Lyrics: I wanna go where the lights burn low and you're only mine/ I wanna give you wild love
43. Ho Hey – The Lumineers
Favourite Lyrics: I belong with you, you belong with me, you're my sweetheart
44. Thinking Out Loud – Ed Sheeran
Favourite Lyrics: When my hair's all but gone and my memory fades/ And the crowds don't remember my name/ When my hands don't play the strings the same way, mm/ I know you will still love me the same
45. You've Got The Love – Florence + The Machine
Favourite Lyrics: Now and then it seems that life is just too much/ But you've got the love I need/ To see me through
46. Cheerleader – OMI (Felix Jaehn Remix)
Favourite Lyrics: Oh, I think that I found myself a cheerleader/ She is always right there when I need her
47. No One – Alicia Keys
Favourite Lyrics: You and me together/ Through the days and nights/ I don't worry 'cause/ Everything's going to be alright
48. Better – Khalid
Favourite Lyrics: 'Cause I live down the street, so we meet when you need it, it's yours/All I hear is/Nothin' feels better than this
49. Make You Feel My Love – Adele
Favourite Lyrics: I could make you happy, make your dreams come true/ There's nothing that I wouldn't do/ Go to the ends of this Earth for you/ To make you feel my love
50. We Found Love – Rihanna ft. Calvin Harris
Favourite Lyrics: We found love in a hopeless place
Why not browse our selection of the best songs to end your wedding with if you're in the mood to sort out your wedding music right now?