The 40 Best Signing the Wedding Register Songs
During the quiet moment when you and your witnesses are signing the register, choose one or more of these interlude songs to keep guests entertained.
We have included third party products to help you navigate and enjoy life's biggest moments. Purchases made through links on this page may earn us a commission.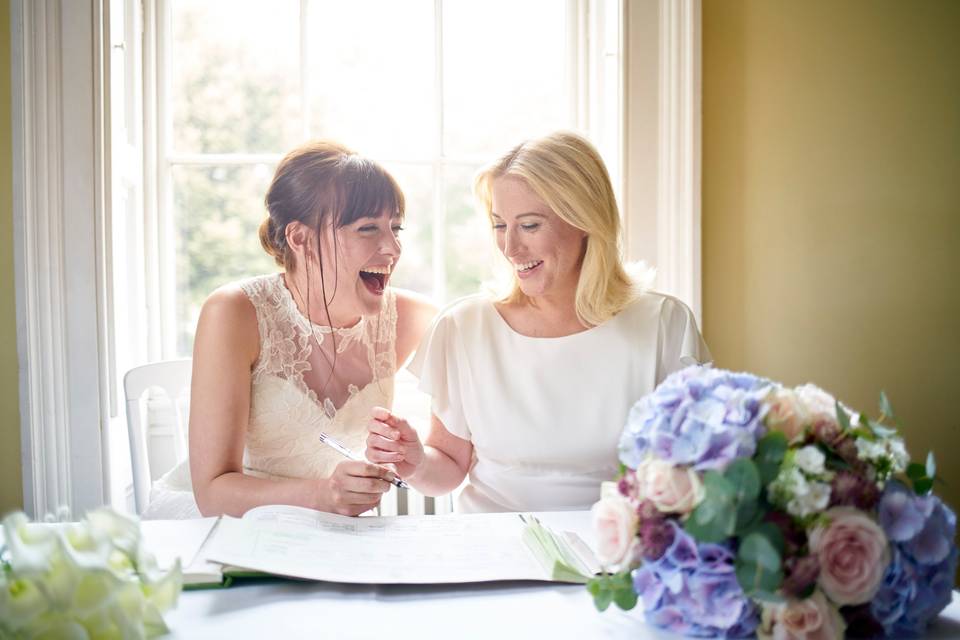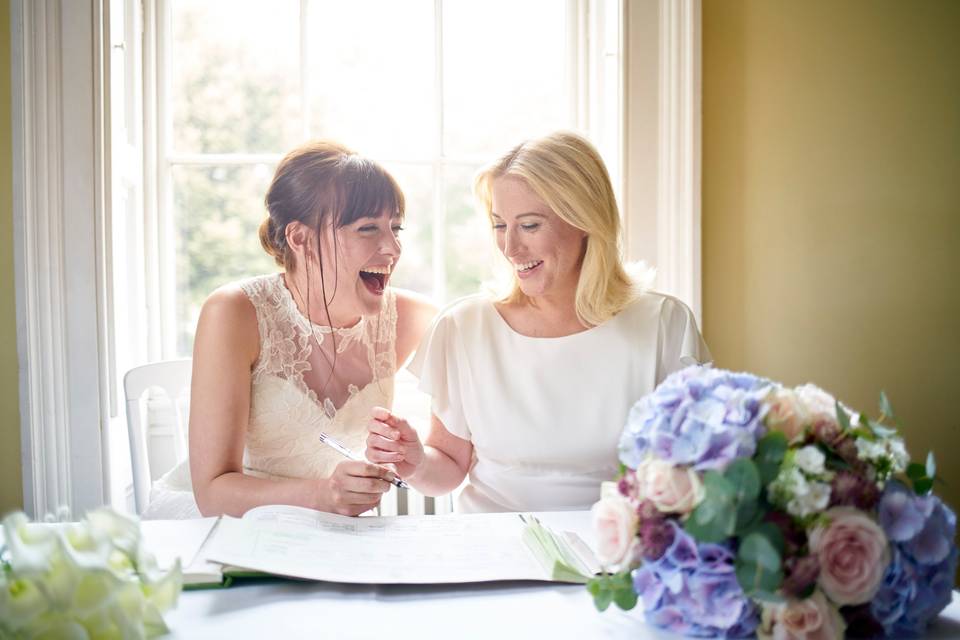 Signing the wedding register is the bit that actually makes your marriage official. You and your witnesses will either stay at the front or go into a separate room to sign the register and have your photos taken. During this time, it's important to have some music going on so your guests aren't sitting in silence.
It's a joyous, celebratory moment that often calls for a rousing ballad or romantic acoustic love song. Embrace it as a great chance to add personality to your ceremony and choose something with a lot of meaning to you both.
While you might stick with something classical for your walk down and back up the aisle, there are no rules about what's right and wrong for songs for signing the wedding register. Slow, fast, heavy metal, gospel, modern, classic? Go wild!
The interlude can be easily forgotten among all the more "important" parts of the ceremony. Trust us, your guests will appreciate it though. It could be an interesting moment to get them joining in with your ceremony by singing a hymn or song. If not, a singer or even a song from Spotify is a great choice.
The 40 Best Wedding Interlude Songs
Below is our list of the best songs for signing the wedding register, featuring everything from Guns N' Roses and Oasis to Ed Sheeran and Enya.
From This Moment On – Shania Twain & Bryan White
Nothing Else Matters – Metallica
Teardrop – Newton Faulkner
A Moment Like This – Kelly Clarkson
Four Seasons – Summer III Presto – Antonio Vivaldi
On This Day – David Pomeranz
Amazing Grace – Kristene Mueller
The Best of Me – Cliff Richard
Gorecki – Lamb
We've Only Just Begun – Carpenters
Cherish – The Association
The Luckiest – Ben Folds
The Prayer – Andrea Bocelli & Céline Dion
A Thousand Years – Christina Perri
Eidelweiss – The New London Orchestra
I Believe In You and Me – The Four Tops
If I Fall to Your Heart – Derwent Hannon
A Groovy Kind of Love – Phil Collins
Claire De Lune – Claude Debussy
Concerto Grosso, Hornpipe – Handel
It's My Life – Bon Jovi
Prelude from Te Deum – The Raglan Baroque Players & Nicholas Kraemer
Ribbon in the Sky – Stevie Wonder
She Is Love – Oasis
Talk Of The Town – Jack Johnson
Thinking Out Loud – Ed Sheeran
Breathe – Faith Hill
Salut D'amour – Elgar
Grow Old With Me – Mary Chapin Carpenter
Like Teenage Gravity – Counting Crows
November Rain – Guns N' Roses
The Battle Hymn of Love – Kathy Mattea
The Fairy Queen – Clannad
1,000 Miles – Mark Schultz
Brighter Than Sunshine – Aqualung
Here I Am – Leona Lewis
I Do – Paul Brandt
Only Time – Enya
The Best Day – George Strait
Your Song – Elton John