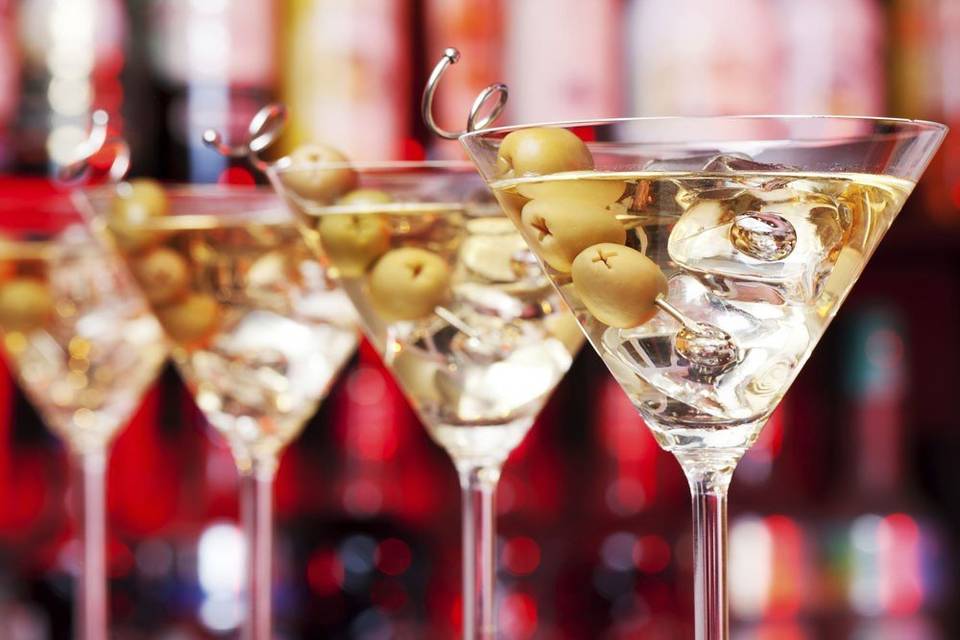 Hen parties are a rite of passage when it comes to the wedding planning process and every bride does it differently. When we think of hen dos we instantly get images of willy straws, L plates and hot pink feather boas in our heads. These hen parties look like a great laugh, but they're not for everyone. It's really hard to know how to be an organised bride, but we've put together some high-end themes to inspire you. Why not check out our hen party cocktail games for more elegant ideas?
A Royal Affair
As the Queen has celebrated her 90th birthday this year, it would only be right to hold a royally themed hen party – and let's be honest, being a bride is just like being royalty.
These amazing invitations from Papier are a great way to tell your girls exactly how they will be celebrating your up and coming marriage.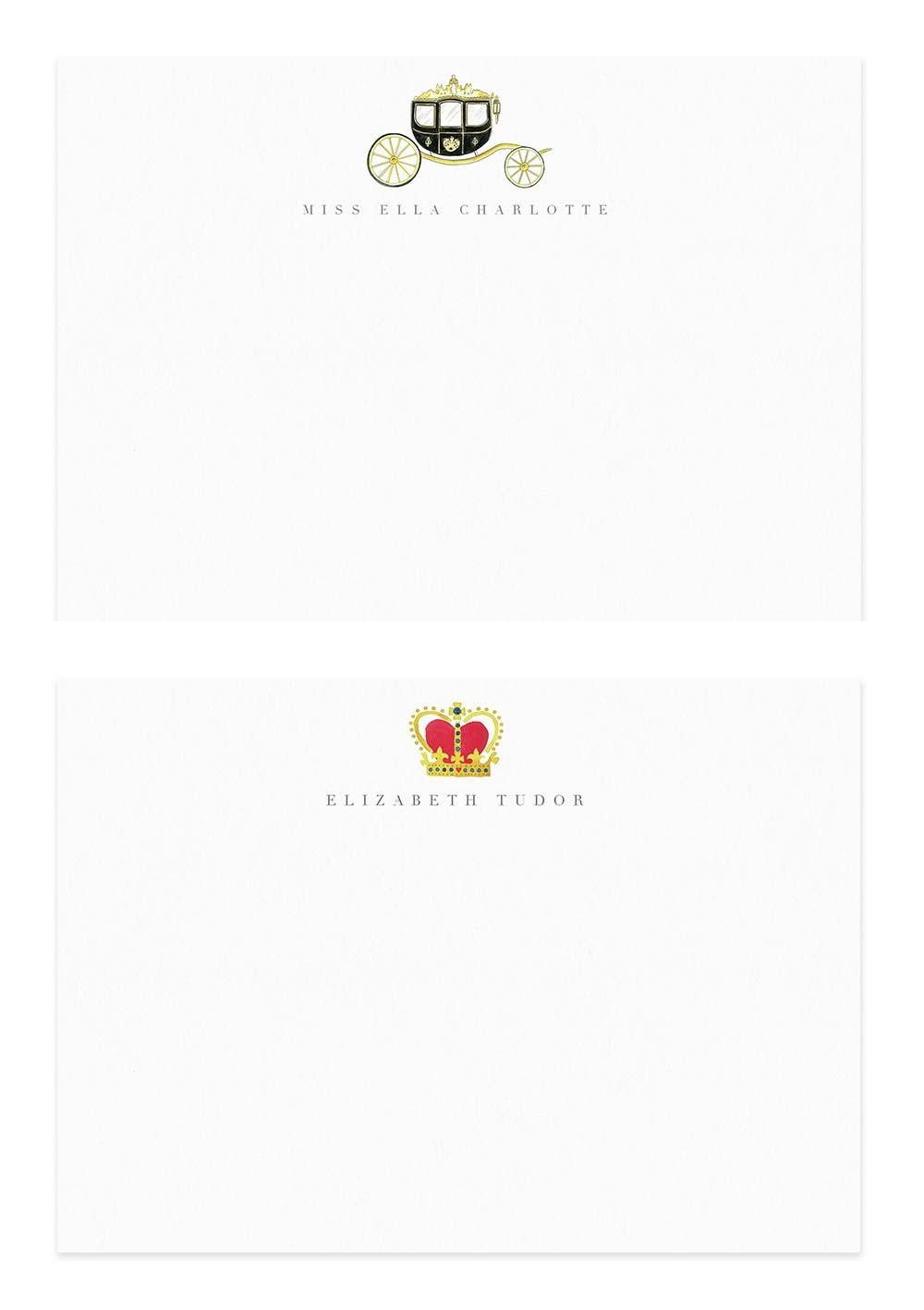 Your royal hen party should include lots of gold and sparkles to compliment the theme and having regal tea-cup and plate sets from Wilkinsons will definitely add to the image.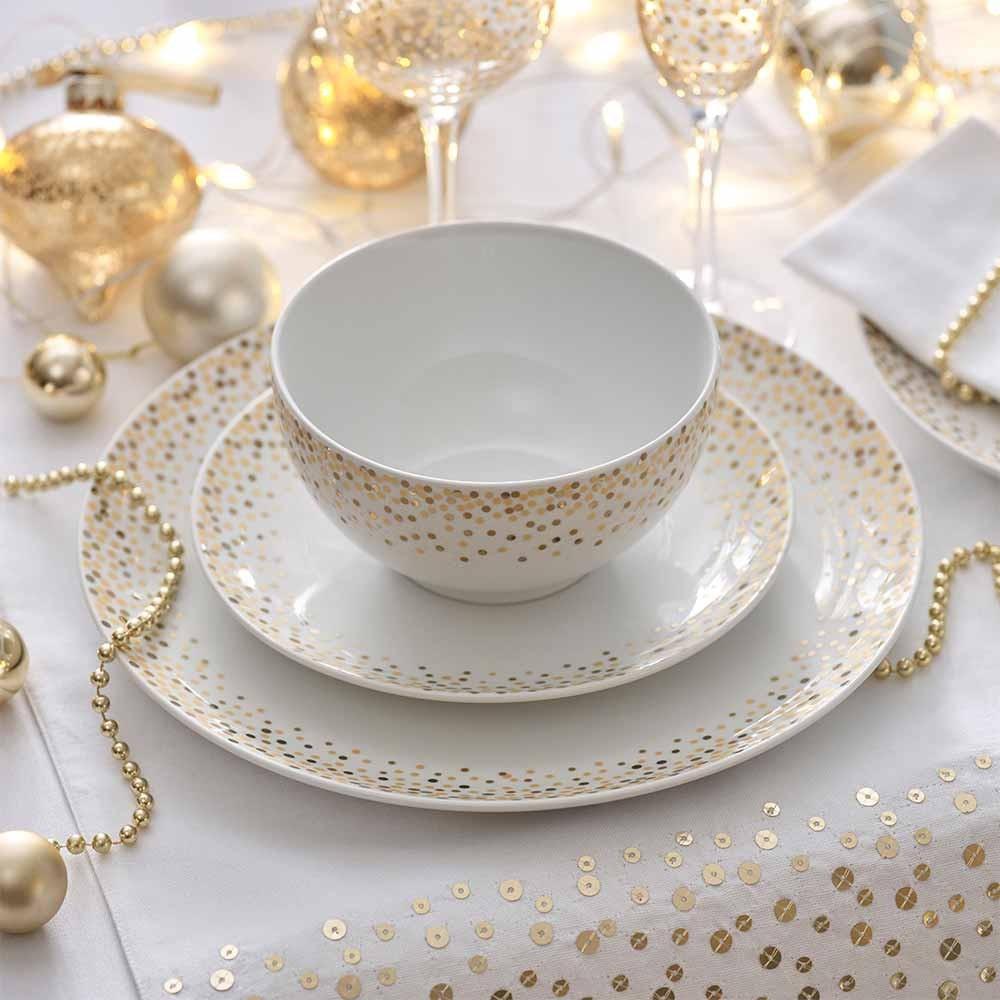 Biscuiteer Baking do a great set of royal cookies which will look amazing on your food table with the tea set. Accompany the table layout with a cute gold tablecloth to add drama.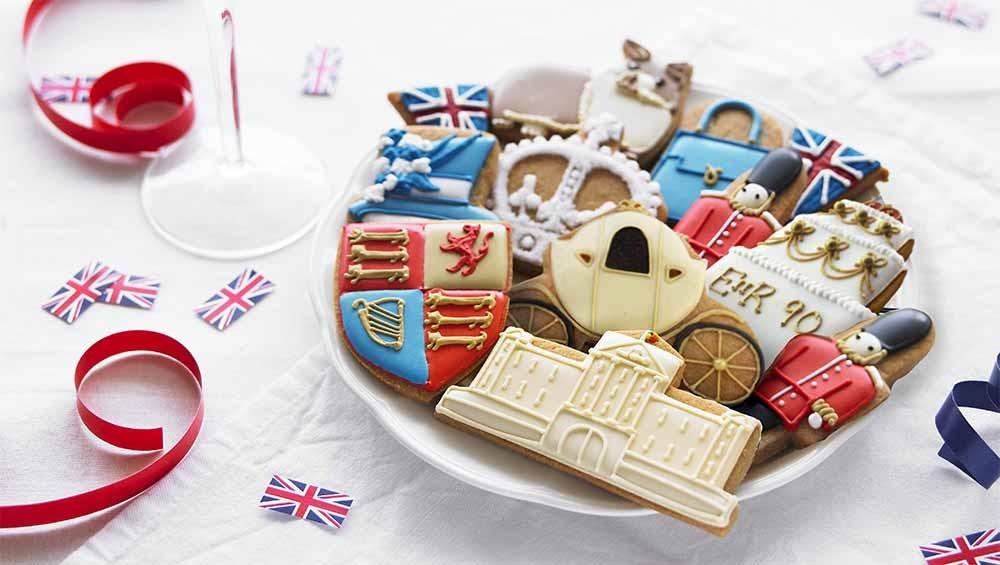 No hen-do would be complete without a drop dead gorgeous bride's outfit and they don't get much more royal than this glitzy Jenny Packham dress from Debenhams, gorgeous heels from Merle and Morris and River Island's sparkly crown. With this set-up, you may as well move into Buckingham Palace now.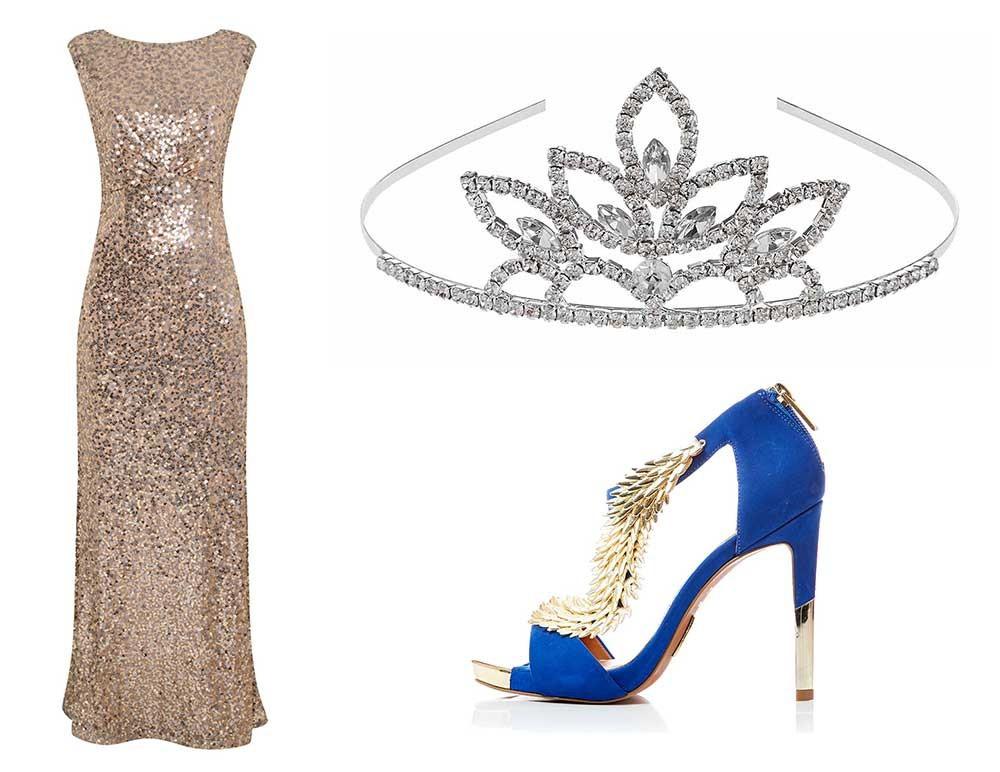 Make sure there is lots of bubbly circulating and even treat your guests to a royal speech worthy of the title Bride!
Festival Fun
Whatever the weather, be it rain or shine, we love a festival here in the UK, so it makes sense to have a festival hen party. What better way to party on with your hens than being in the outdoors in boho outfits and floral accessories?
To start the planning off, you need a great location. This type of hen do could be held in your back garden because it's all about how you style it. House of Hud has this look down to a T with bunting, bright colours and soft top marquees.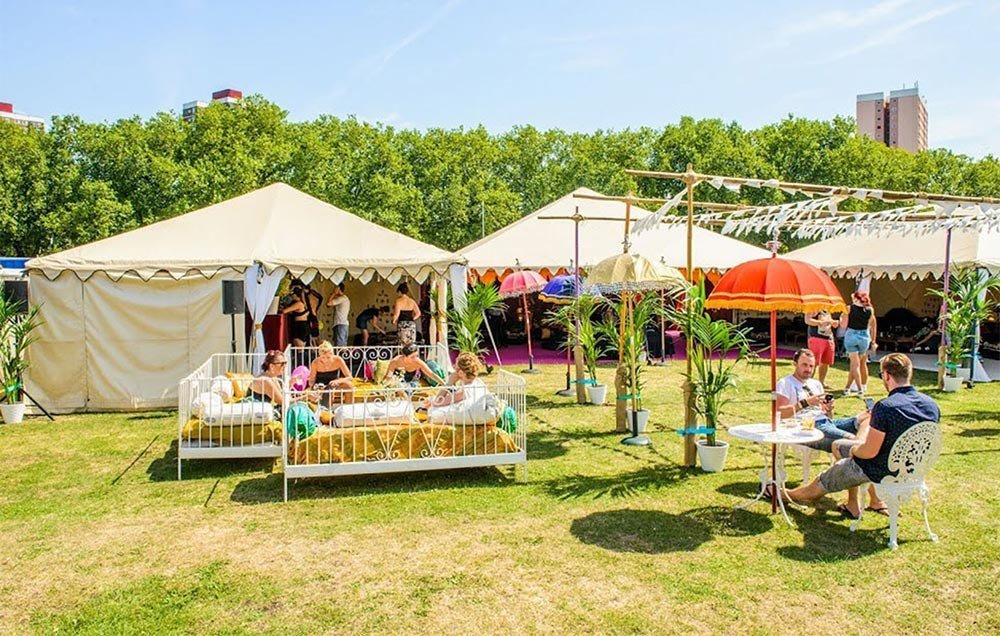 Festivals are all about summer colours, hippy vibes and most importantly… flowers. This Accessorize bag, New Look arm cuff and Paperchase floral headband will all group together to have each member of the bridal party looking fit for a festival.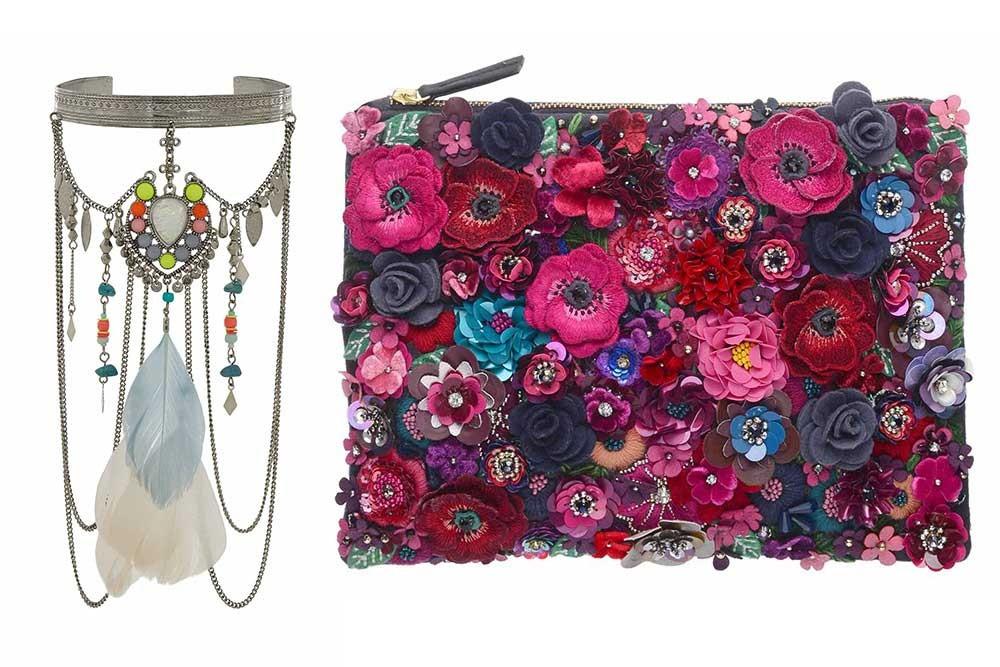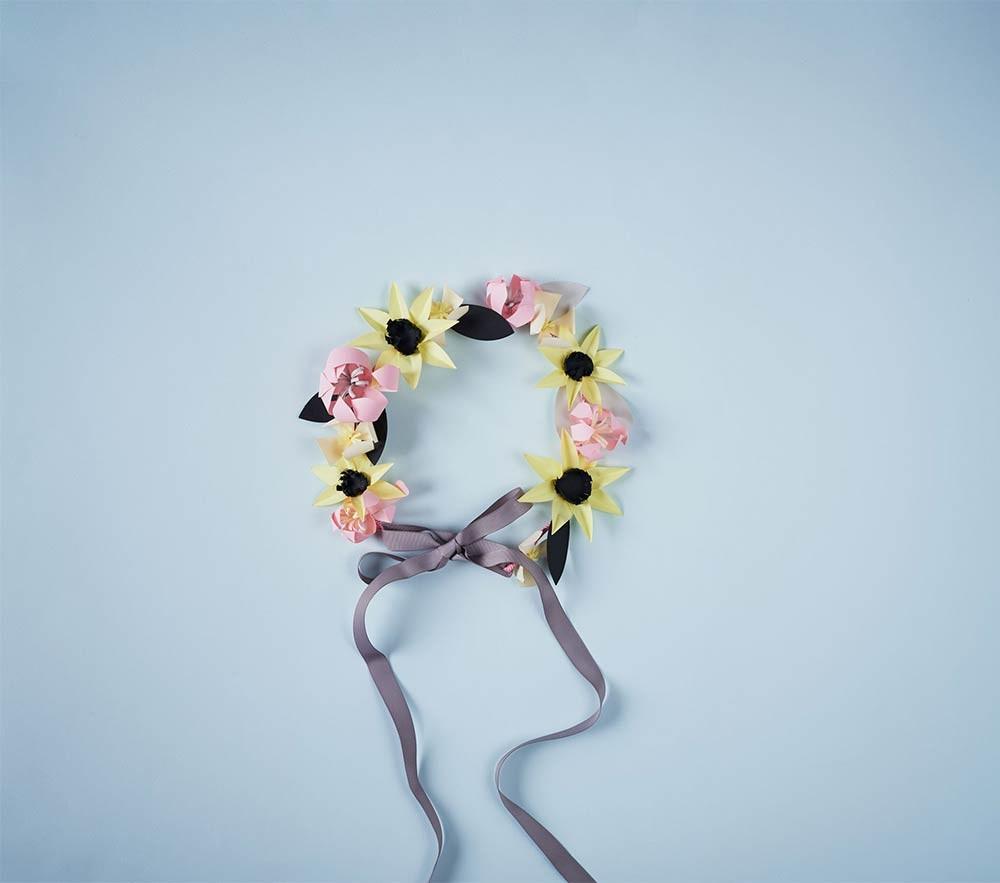 Having an outdoor hen in the summer means drinks and food can be chosen entirely by you and there are completely no limitations.
To finish the night off, grab yourself some of these personalised party bags from Red Berry Apple to thank everyone for coming. The contemporary brown paper fits the theme perfectly and you can add a personal message to be sure that everyone remembers your hen do for what it was.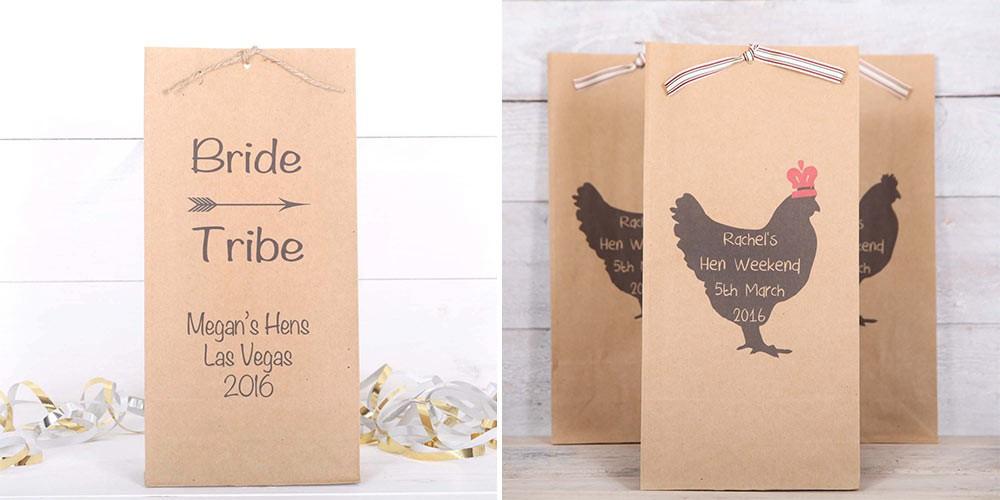 Fetsival themes are great for summer and don't forget to fill the bags with fun party bag fillers.
Afternoon Tea
How very classy you say! Afternoon tea is a classic and timeless activity and will make your hen-do more than suitable for Mum, Nan, Mother-in-law, and anyone else you may have on that long list of yours.
For this theme, décor is so important and we have the perfect inspo for you. Dotcomgiftshop have the cutest selection of tea accessories to make your hen do the best dressed layout there's ever been! The cute floral cups are to die for and matching plates and straws complete the look so nicely.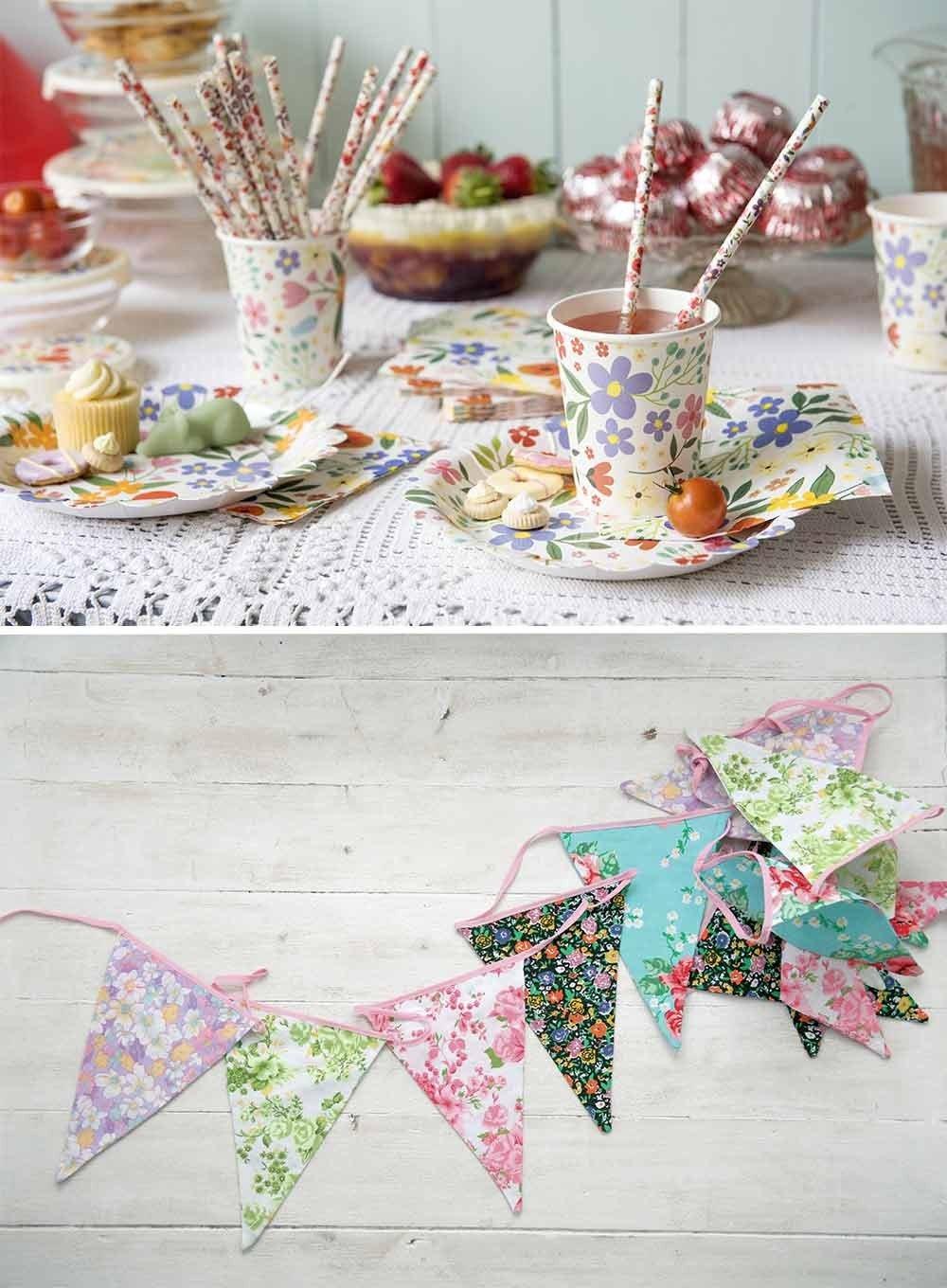 Bunting is always pretty and suits many themes, and this floral design has that shabby-chic look that really goes well with this style of event. You can even make your own DIY bunting at home. Their cute crackers are a lovely finishing touch to the table accessories and are really unique too.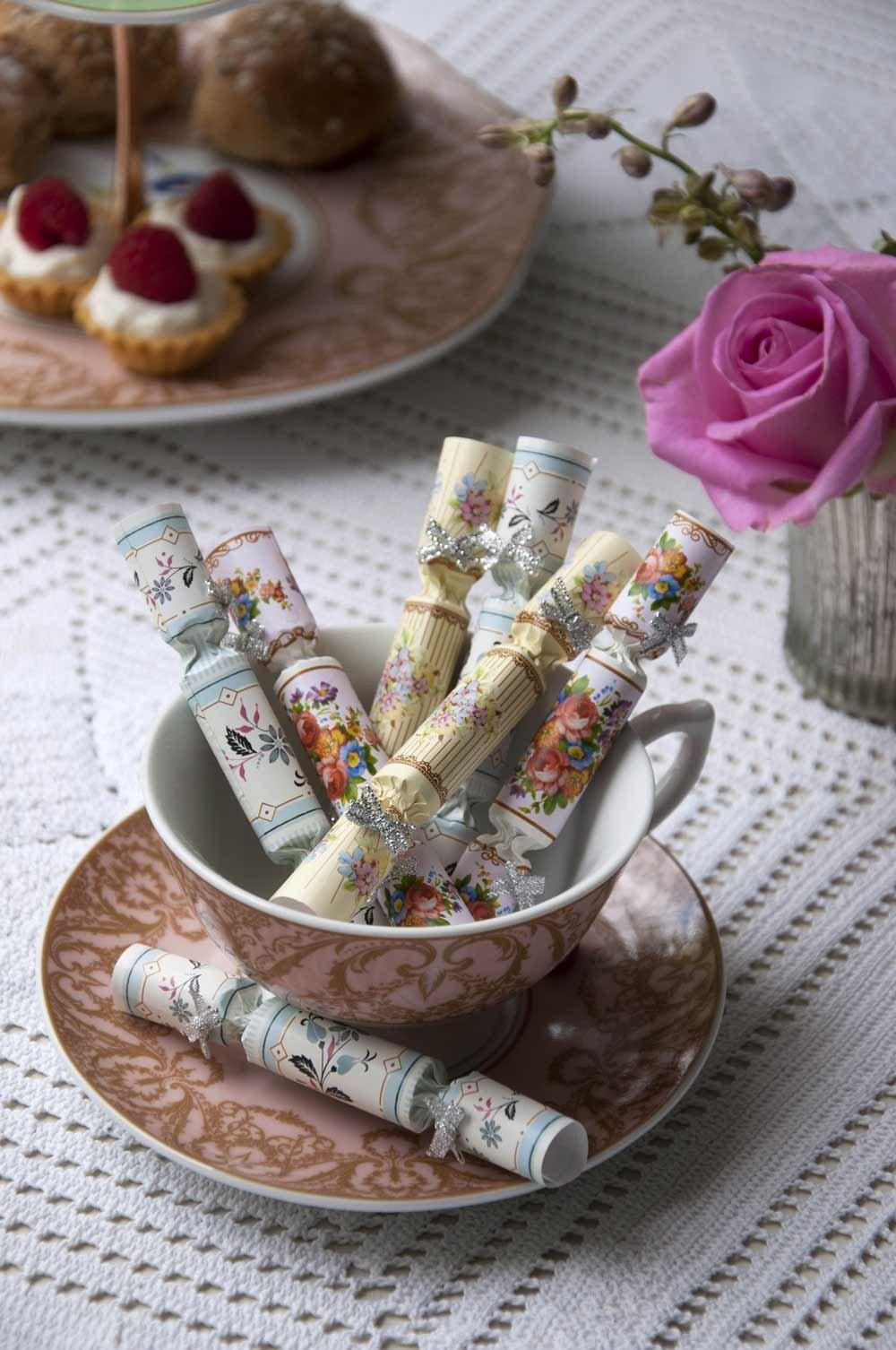 Afternoon tea wouldn't be complete without some cakes, and Debenhams have the prettiest cake stand around. This little beauty will make the centre of the table look amazing and your hens will feel like they are in a real country garden tea party.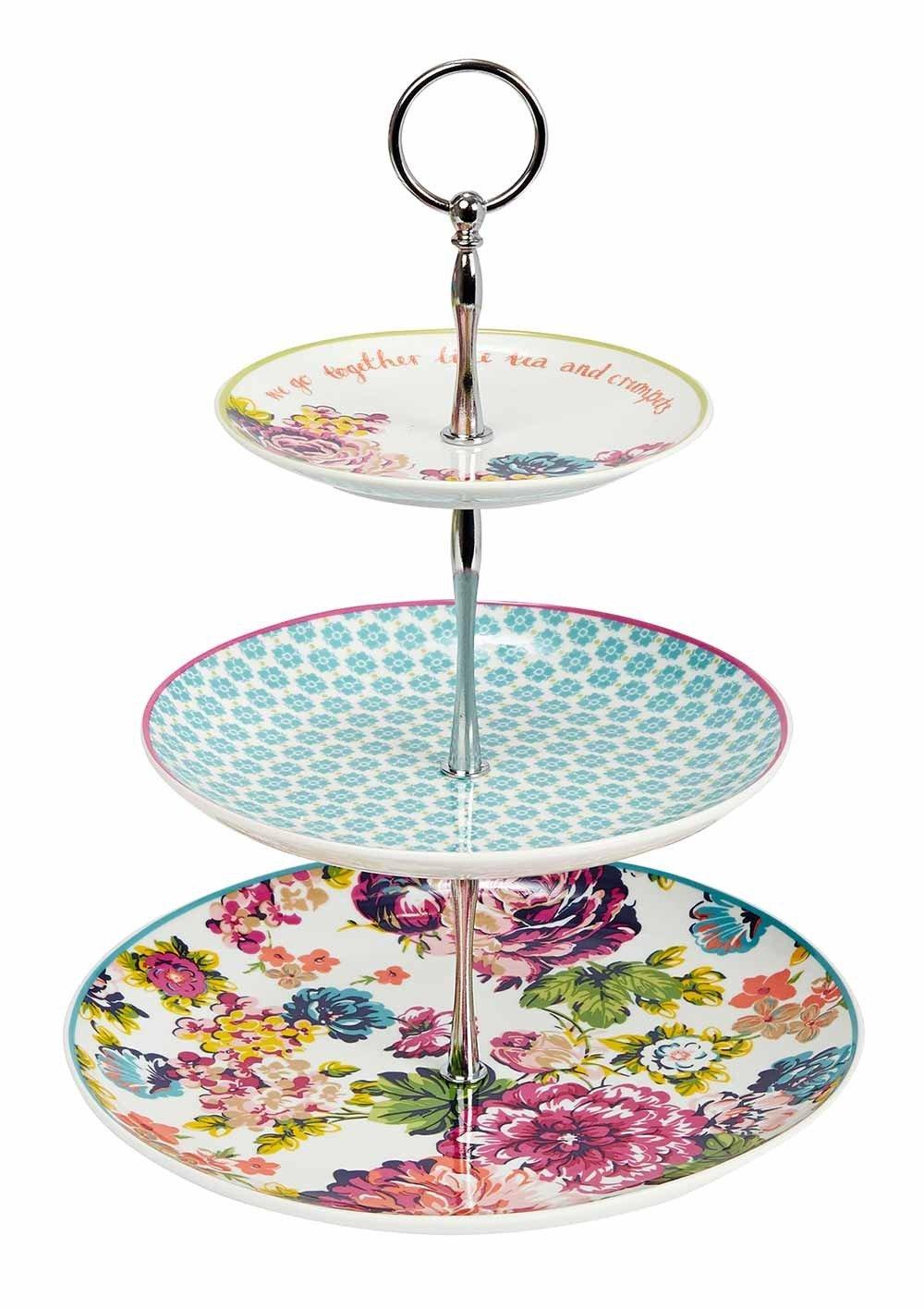 An afternoon tea theme is perfect for our vintage brides and there are many more vintage hen party ideas which you will love.
Last but not least, Oh Squirrel have a fine selection of bridal party badges which can be customised. There is a huge selection of patterns to choose from and will look super cute when you partake in all your hen party day activities.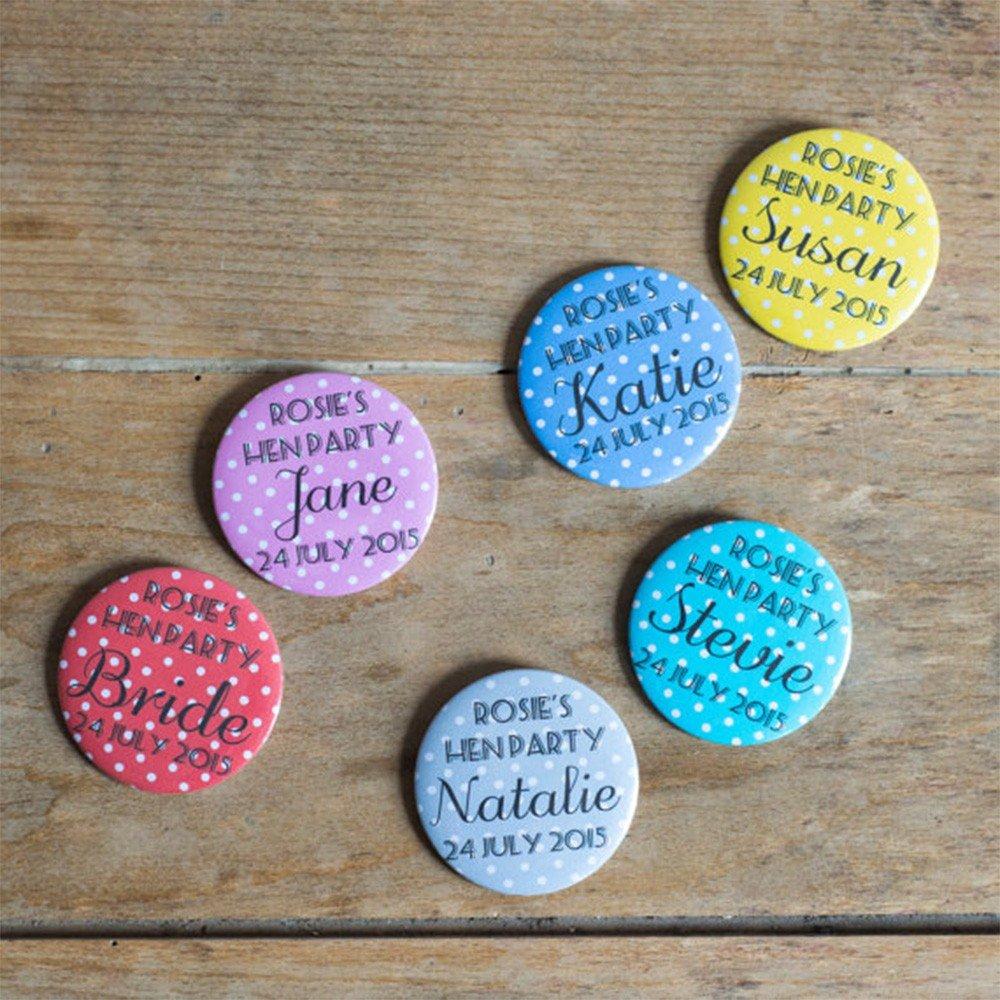 Old Hollywood Glamour
Think Great Gatsby… Hollywood glamour doesn't just belong in Hollywood, we can most definitely pull off a 1950's A-list bash here in the UK and what better occasion to do it than a hen party?
This theme is all about the look, and the best way to start that off is with a killer vintage dress and Pretty Eccentric has hit the nail on the head with this design.
Pair the beaded beauty with an equally stunning Debenhams bag and sparkly Office heels.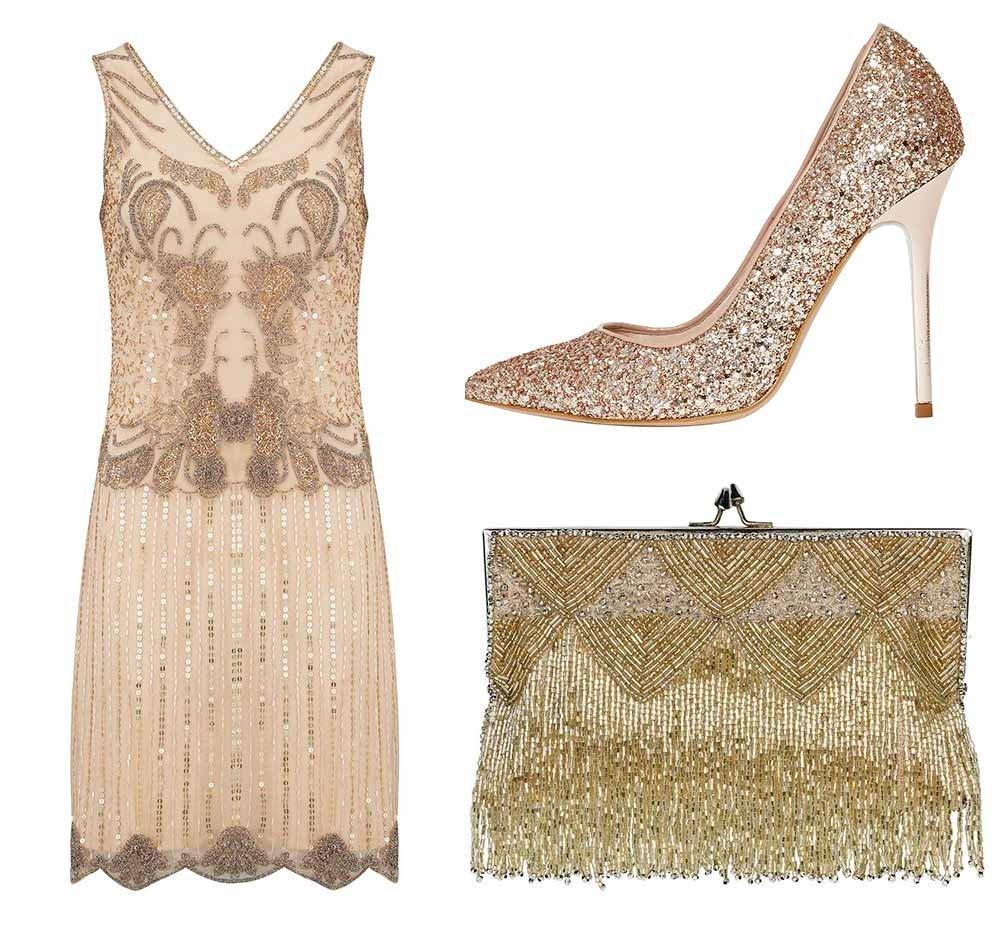 The glamour can't stop with your outfit, so opt for Wilkinsons gold decorated Champagne glasses for all of your hens to drink out of. You can use these gorgeous flutes to play lots of fun hen party cocktail games too.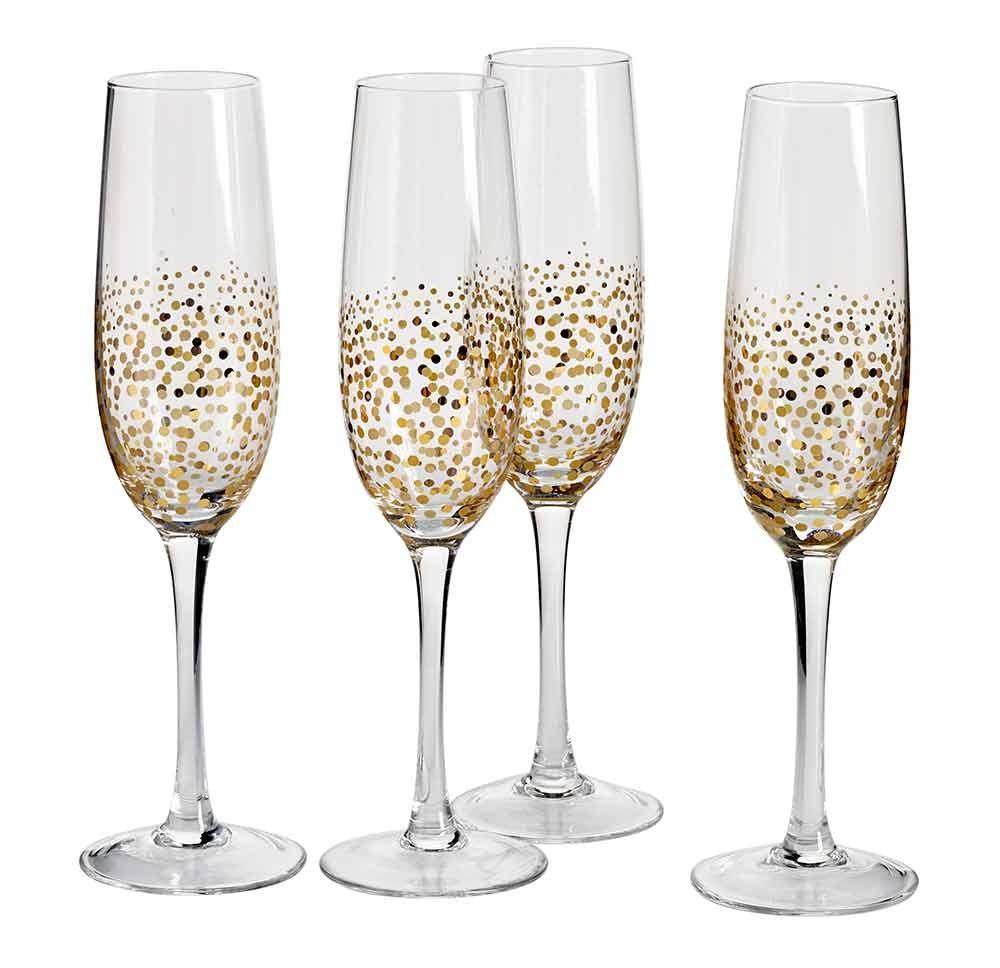 To spice up your drink-ware even more, get yourself this amazing edible glitter from Peach Blossom, wet the top of the glasses and dip them in. This is super glam and will look amazing in the pictures.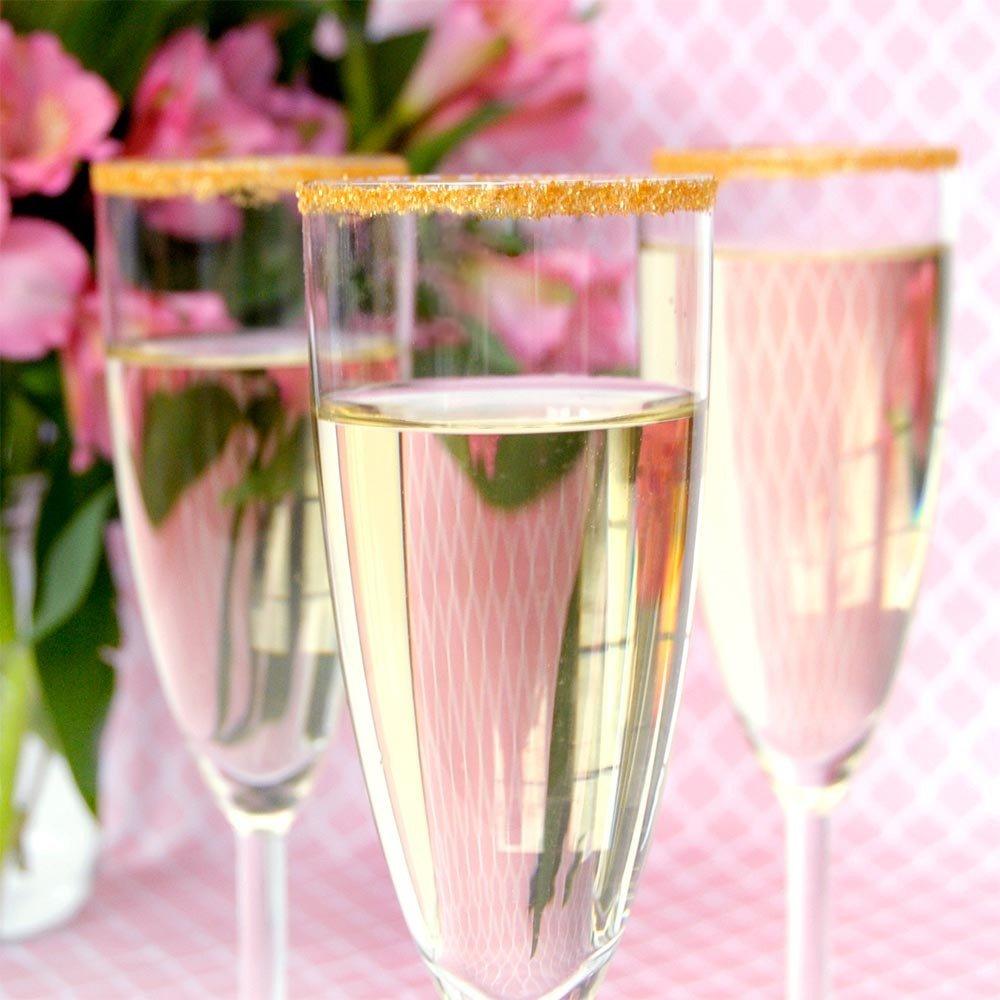 This type of party needs to be decorated with lots of sparkles, plenty of feathers, and a lot of class! Oh and don't forget to dress all of your hens in some fabulous fur wraps and pearl earrings – that look is unbeatable.
Slumber Party
However old you are, it is never too late for a sleepover and it's a really great idea for a hen party. Rent a house between you and your girls and take down all the drinks, treats and snacks you could possibly desire.
Decorating a house is so fun, but if you like the initial décor there's no need to change anything. Typical to hen-dos, sometimes themed outfits are required and these ASDA George dressing gown and slippers combo would look SO cute on your entire bridal party.
Pair their outfits with this super pretty white silk set from BHS. The colours scream bridal shower and your hens won't ever want to take them off.
Now for you… Boux Avenue has shared this fabulous shorts and vest set with dainty BRIDE lettering. This set, along with your hen's outfits, will look super cute and have you all feeling excited for the evening.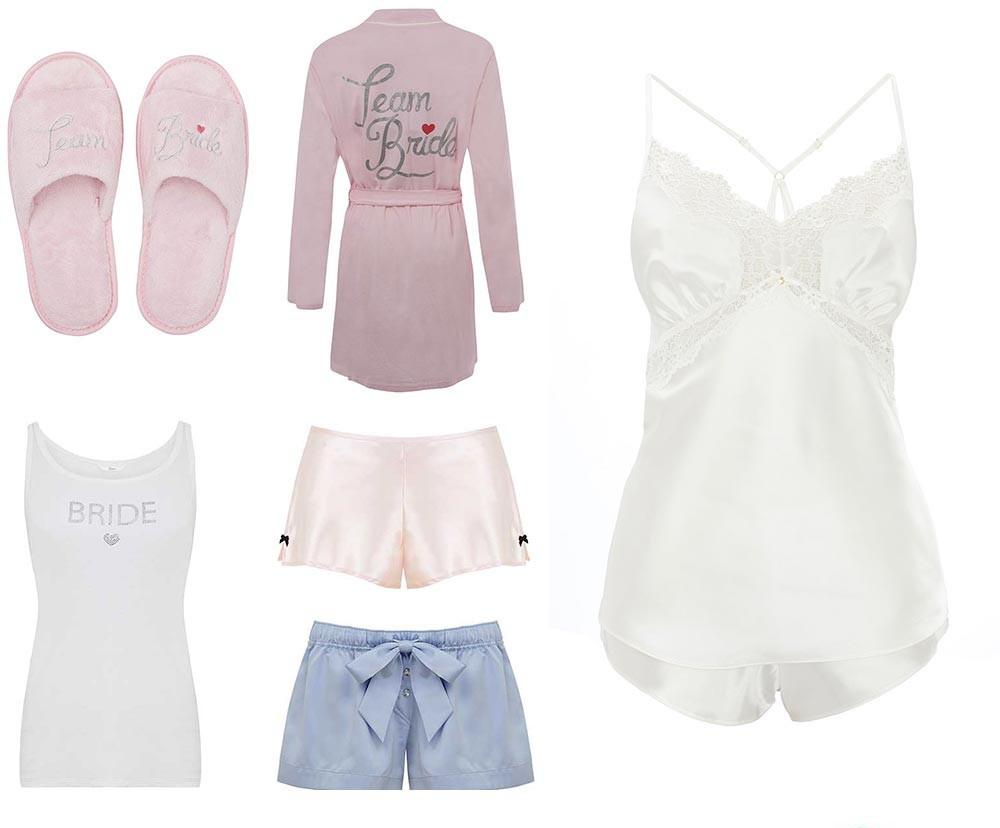 To treat yourselves the morning after, Getting Personal offer an amazingly cute breakfast hamper with everything you need to freshen up and continue the celebrations. The best thing about this type of hen is that it lasts longer than most.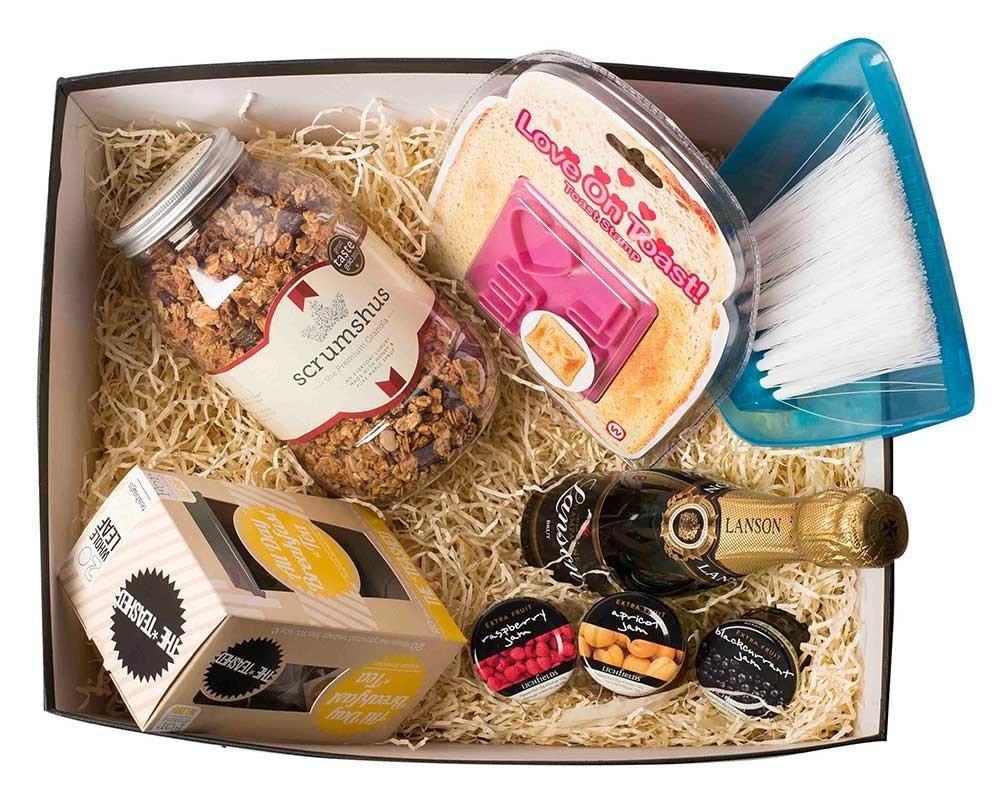 A hen-night-in wouldn't be complete without some original bridal shower games which will keep you entertained all night long.
Every hen party will be different, but make sure it suits you and your guests and you will no doubt have an amazing night. For a classy hen do you need a classy attitude to match so make sure your hen party ettiquette is at its best.