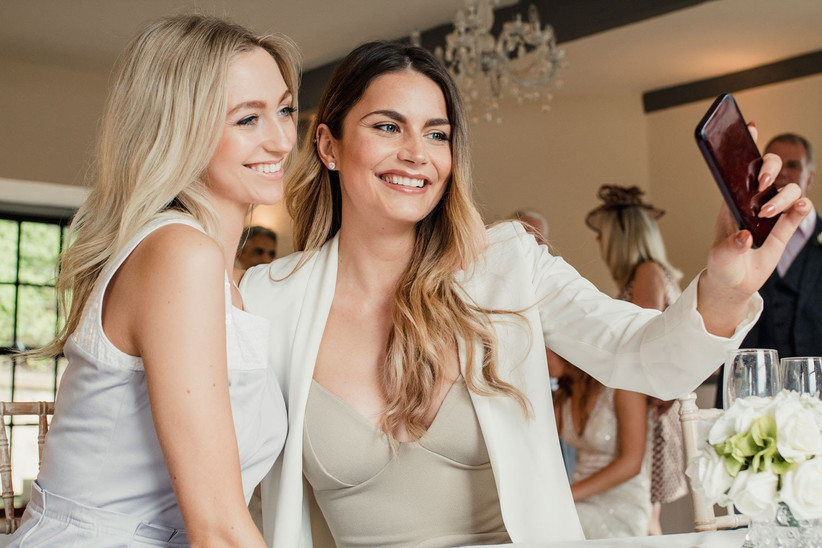 Everyone who's been to a wedding has witnessed this (whether it's one guest or the majority): you're in the ceremony room. Everyone falls quiet and the music starts. The doors slowly open and there's a rustle as everyone turns to face the back of the room to see the bride's entrance…and another rustle as everyone delves into their bag to fish out their camera phones.
It's pretty much an accepted fact now – unless the couple have laid out their wishes for an 'unplugged wedding' (which is a totally acceptable rule for wedding guests), you will have 100 photographers at a wedding instead of just one. But if you're conscious of making sure your guests don't overstep the mark and take great photos of your wedding you can actually use, why not share this article with them? It might be wise to share your wedding photo checklist too if you have a list of must-have shots.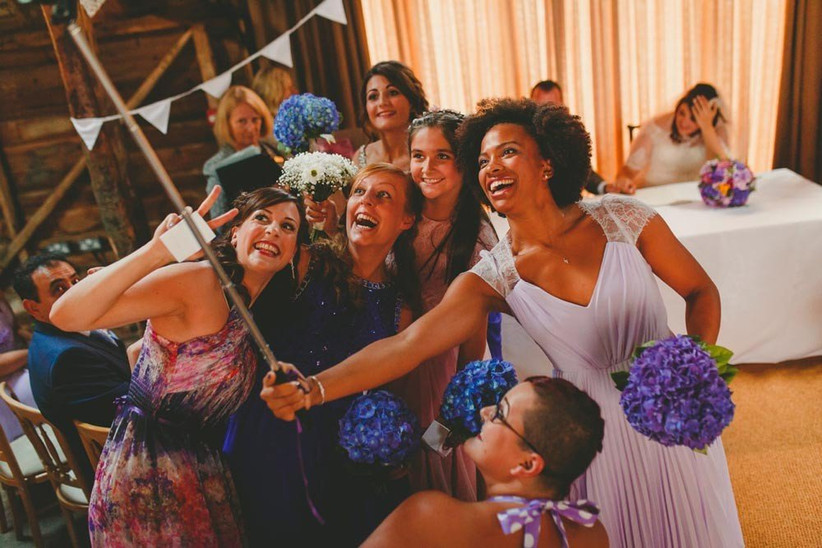 We asked Berkshire wedding photographer Benjamin Wheeler, of Benjamin Stuart Photography, for his top photography tips for wedding guests.
When Should Guests Avoid Getting Snap Happy?
Guests taking photos isn't often an issue. It becomes an issue when they get in the way of the photographer or are distracting the couple from looking at the photographer's camera.
I would say that the key moments of the day when this could be a problem (and affect the professional photographs) are when the bridal party walks down and back up the aisle (sometimes people can lean into the aisle therefore obstructing the photographer) and during group photos when the photographer wants everyone looking at their camera and not someone else's!
Also, I've had the experience of a few keen family photographers follow me and the newlyweds when we go off on our own straight after the ceremony for couple photos. This can be highly frustrating as it's a chance for the couple to enjoy the moment alone, together, for the first time as a married couple without the distractions of family and friends, and also it means that I can be as efficient as possible so that I don't keep the couple away from their wedding party for too long. If we have tag-alongs, the process is often doubled in time and can easily annoy the newlyweds.
When is a Good Time for Guests to Take Pictures?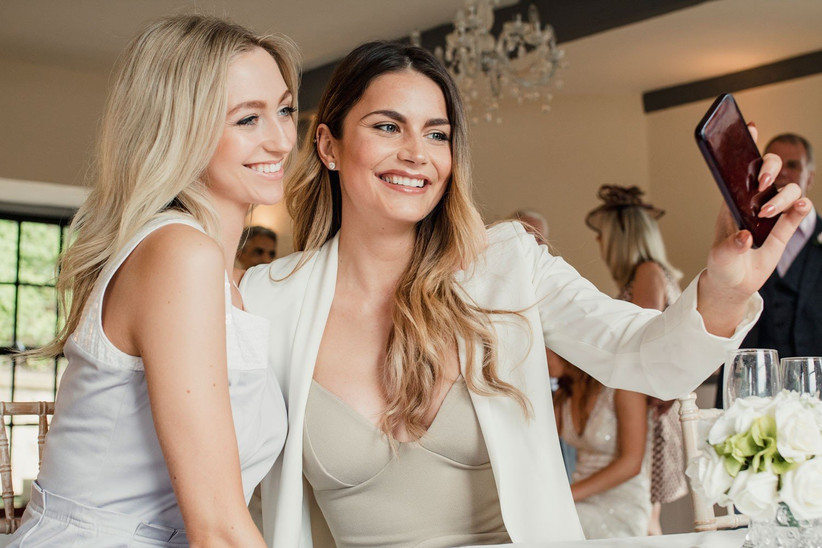 I think anytime is fine as long as it doesn't disrupt the order of the day or the professional photographs. Some registrars and priests will allow photos during the ceremony, some don't but will often allow guests to get up and take photos once the register has been signed.
Probably the best time is once the newlyweds have returned from their couple photos and before or after group photos have taken place – this is when I would usually be in the background, capturing laughter, smiles, hugs and the general celebratory mood of the day. This is when guests can have their own photos with the couple whilst everyone is happily chatting away and not needing to 'do' anything.
Things like cake cutting, speeches and the first dance are also perfect opportunities for guests to be snap happy and the get some great smiles and laughs from a mix of angles.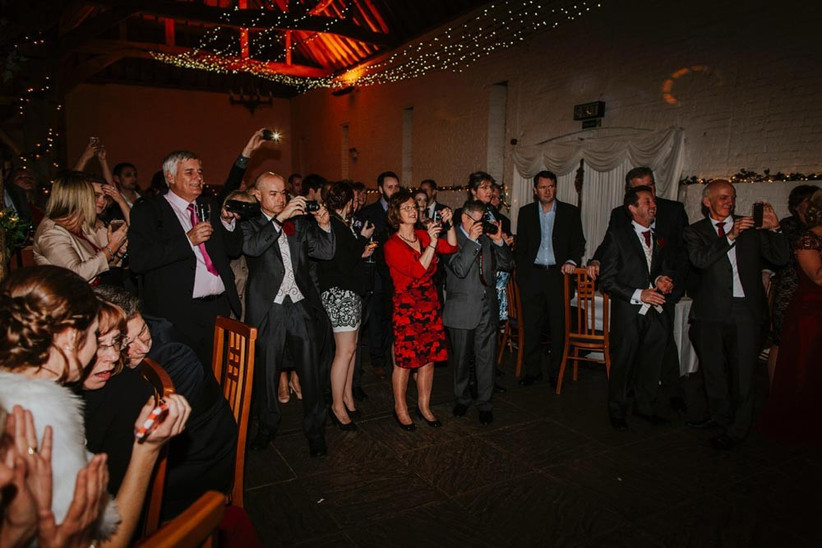 If it's fine as far as the happy couple are concerned for the guests to be taking pictures, then they need to make sure they're taking the best pictures possible. Benjamin has some top tips for taking photos, whether you're using a smartphone or the latest digital SLR camera…
How to Take Good Photographs on a Smartphone
Instead of zooming in on your screen, move closer to the object or person you are photographing. Zooming in makes the image blurry (as it pixelates it) and reduces the quality. Tap the part of the screen that you want in focus before taking the photo and try and keep your hands steady. If you're outside during daylight hours, turn the flash off.
I love playing around with filters and editing apps before I post photos on social media so if you like doing that sort of thing, have a look on your app store for some photography apps that might help you in the editing process. One of my favourites is 'VSCO Cam' and 'camera+' which lets you take photos in the app while controlling exposure and focus, and then has several tools for editing and posting straight to social media.
Browse our smartphone wedding photography tips for even more ideas.
How to Take Good Photographs with a Digital Camera
Learn about and understand your camera…Try not to zoom in on your camera; this pixelates the images and makes is blurry as the camera's sensor is small, and zooming in just makes that sensor smaller. Instead, move closer to the object or person you are photographing. If it is light enough, turn off the flash and try to use as much natural light as possible, especially outside.
To focus an image, half hold down the photo button before you fully press it. You may have a square or circle on your display/through the viewfinder that shows you where your point of focus is. If you're taking a photo of a person, focus on their eyes and re-frame the picture before fully pressing the button – you'll be able to get a full length shot with their eyes in focus if you're successful!
How to Take Good Photographs with a Digital SLR
The secret to good photography isn't the price or the size of the camera; it's the subject. I have seen awful and awkward wedding photos taken on cameras that cost £6,000. Posed, fake and so not natural. I have also seen amazing, emotional, story-telling photos from an iPhone.
I would say with any camera, and with every photo try and tell a story. What does that photo say? Does it make you feel an emotion?  Fake and posed photos are generally not emotional, but photos caught in the moment are…
My top 3 tips when buying and owning Digital SLR camera are:
1. Learn the camera inside out, learn and understand the settings and read the manual. You will have better control over your photos if you know how to change the camera settings.
2. Buy the best lenses that you can afford. There was a recent study that showed it was better to have a £5,000 lens on a £150 body rather than a £150 lens on a £5,000 body. At the end of the day it's the glass in the lens that produces the beautiful image.
3. Learn to tell a story, understand why you're taking a photo and how you want people to feel when they see it; it's all about emotional connections.
Here are two photographs that show emotional connections – try to recreate that feel with your own.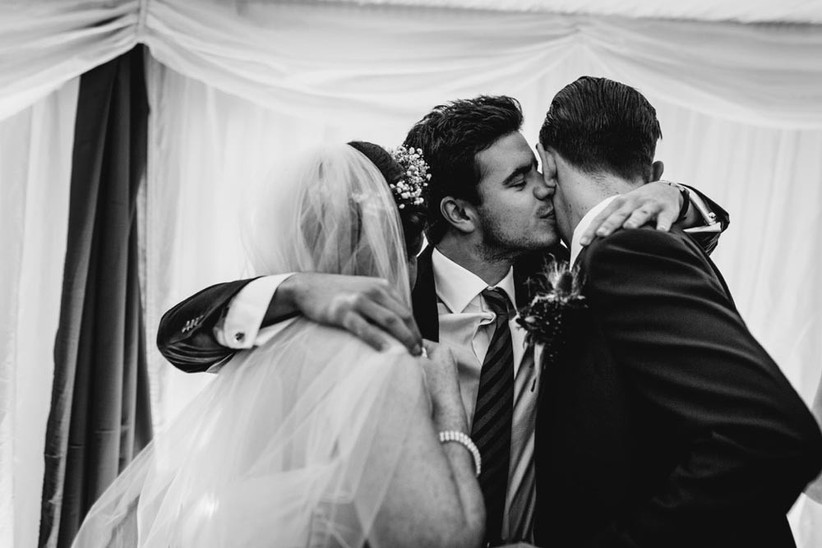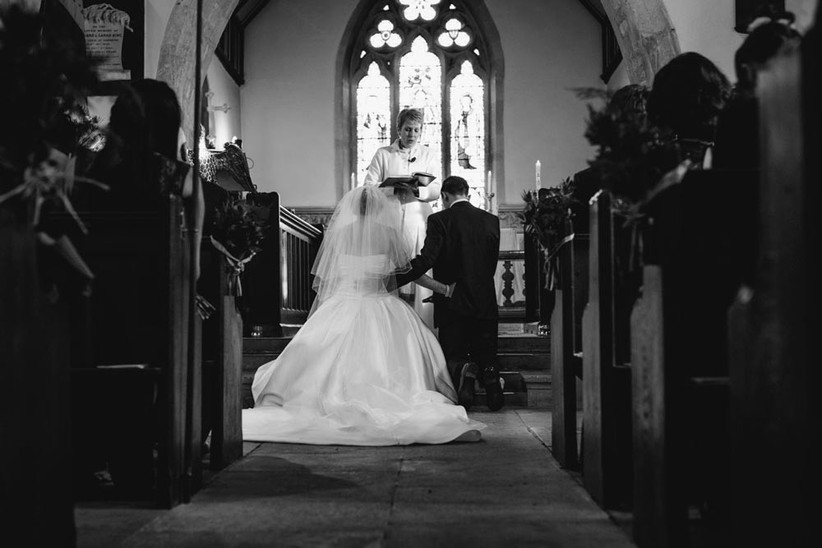 If you want even more emotional examples of wedding photography, be sure to read our round up of the best first look wedding photographs.