DIY Wedding Post Box Ideas: 22 Ways to Collect Your Cards in Style
Get ready to fall in love with these unique wedding post box and card box ideas - they would make amazing centrepieces at any wedding gift table
We have included third party products to help you navigate and enjoy life's biggest moments. Purchases made through links on this page may earn us a commission.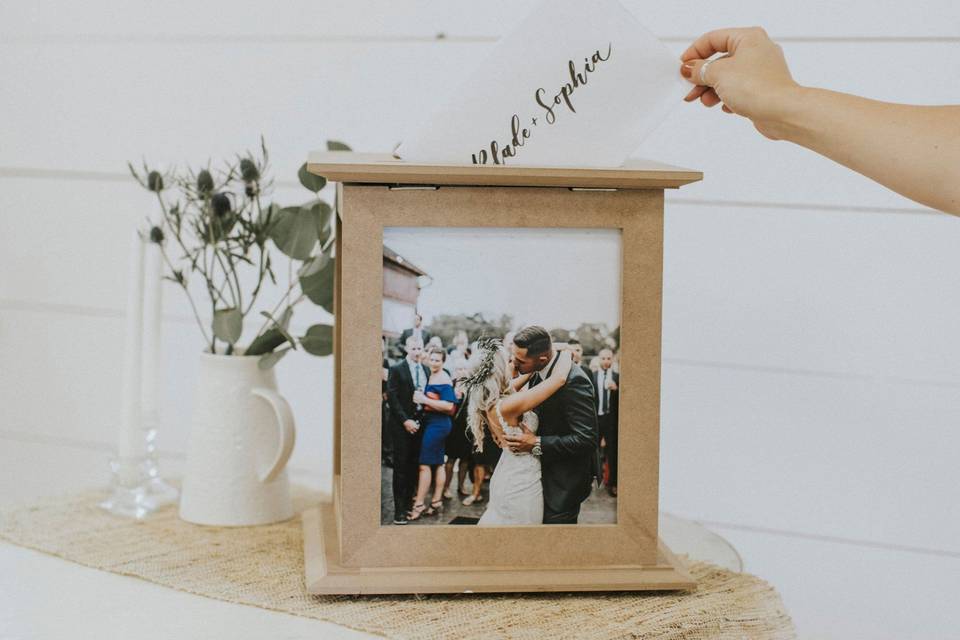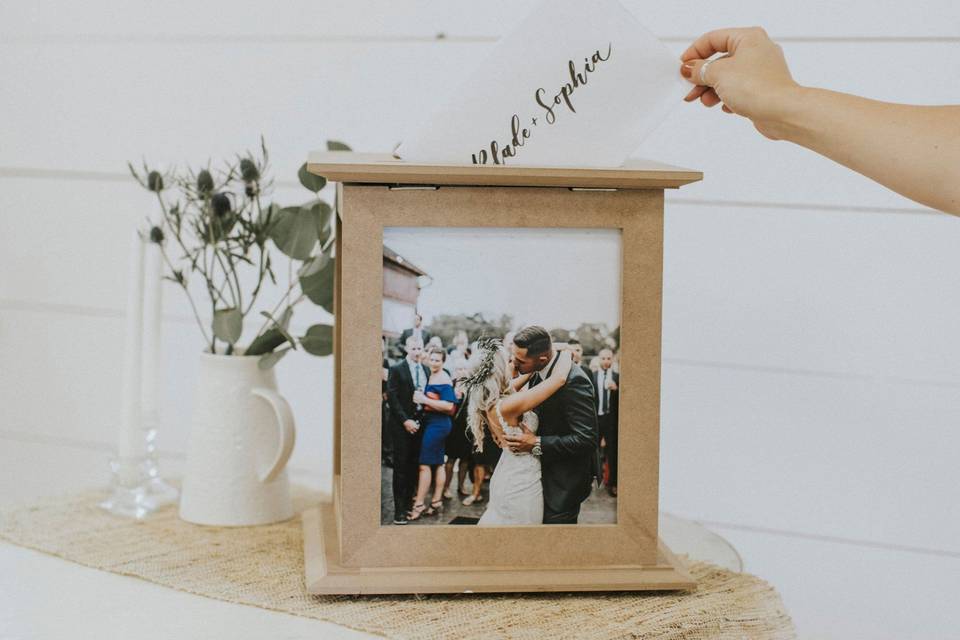 There a fewer things more special than reading all the heartfelt messages left by your friends and family at your wedding reception, so don't forget to provide a place for your guests to leave their well wishes.
A post box or card box are ideal for this and can take centre stage on a table where you can also display your guest book and personalise leave a Polaroid camera for guests to capture some funny shots for you too.
Image: Pinterest
You can hire some absolutely amazing life size and minature Royal Mail-style post boxes (we're talking everything from red glittery ones to white and gold). If you want a romantic way to personalise your big day, DIY wedding post boxes or card boxes are really easy to make! Not only will they look good, but it's easier to fit them to your theme, like a vintage suitcase or a globe for a travel-inspired wedding.
We've rounded up 22 awesome DIY wedding card boxes and post boxes which your guests will love.
1. Wicker Hamper Card Box
Image: Pinterest
A wicker picnic hamper is perfect for collecting your cards and gives a wonderful rustic feel. It's great for spring and summer weddings, especially when you're embracing outdoor elements like drinks on the lawn or even picnic-inspired nibbles or afternoon tea. All you need is an old hamper – ask friends and family or check out charity shops – and decorate with bunting and flower garlands.
2. Vintage Mailbox
Image: Pinterest
How cute is this American-style vintage mail box! Again, Etsy and eBay are you friends here and then you can jazz it up with a lick of paint or leave it natural and shabby-chic. If one or both or you are from abroad, it can be a lovely touch to recreate your country's iconic post box for your day.
3. Classic Post Box
Image: Pinterest
While you can hire post boxes, you can also buy pre-made carboard ones or build a carboard one yourself. Here's two we love from Hobbycraft – a tall cylinder post box and a square post box – that are crying out for you to paint them, wrap in fabric, add glitter, stamps or stickers. We love the charm added to the front of this one and the trailing silk flowers.
4. Candle Lantern Card Box
Image: Pinterest
A large candle lantern makes an excellent post box. Look for one with a latch so it can be opened easily and has glass sides so others guests don't get confused by that it's there for. Even better if you use paint pens or apply pretty decals to the glass to show off your gorgeous boho post box.
5. Barrel Post Box
Image: Pinterest
An old barrel makes such an interesting centrepiece for your table. At the Scottish inspired wedding above, they used a small, old whiskey barrel; you can find these or mini vintage wine barrels on the likes of Etsy and eBay for pretty cheap. It might need a polish or a slap of varnish depending on what state you get it, but then all you need to do is cut a slot in the top and paint 'Cards' on the side.
6. Mini Greenhouse Card Box
Image: Pinterest
Search for greenhouse lanterns or decorative indoor greenhouses and you'll find so many beautiful designs, from modern geometric ones to rustic wood. Want an amazing value one? IKEA sell their Socker greenhouse for just £12 and all it needs is a decal on the front to make it perfect – you can find out more about it among our 19 IKEA wedding décor hacks.
7. Minimalist Basket Card Box
Image: Pinterest
If you wedding is full of industrial chic design, clean lines and minimalist décor, all you really need is a modern wire basket to collect cards. A plain basket on a white table will look uncluttered and cool.
8. Vintage Suitcase Card Box
Image: Pinterest
Whether you've got a wanderlust or vintage theme, a well-travelled suitcase is a charming way to collect your cards. We love this one filled with secon-hand books and a posy of flowers, but you could string up paper planes, line it with an old-fashioned map or have luggage tags by the side that guests can write extra notes on.
9. Photo Frame Card Box
Image: Pinterest
The one you see in this picture comes from The Perfect Card Box company, but you could DIY something similar if you're a crafty type. Someone handy with a saw could cut one together or you could buy four wooden photo frames, attach them together and add a lid and base.
10. Acrylic Card Box
Image: Pinterest
Cheap, plain acrylic boxes are easy to come by. Then you can let your imagination loose on the lettering or design. This one has been kept cimple and contemporary, but the look is up to you.
11. Wooden Crate Card Box
Image: Pinterest
The simplest way to collect your cards is in a crate like this. For a rustic look, let the grain show through; for a themed look, paint the wood the colour of your wedding. Even the self-confessed worst crafter can cope with this one!
12. Cardboard Box Post Box
Image: Pinterest
The wire basket was simple, but perhaps a square cardboard box is even simpler? The kraft paper look adds a rustic vibes to your box, and then all it needs on the front is a simple sign telling people what to put in there. Couldn't be easier. Hobbycraft has so many different box designs to pick from in all different shapes, with lids and without.
13. Birdcage Card Box
Image: Pinterest
Birdcages are popular at vintage weddings as centrepieces, but how about using one as a card holder too? They're elegant and bursting with retro-chic.
14. Modern Orb Card Box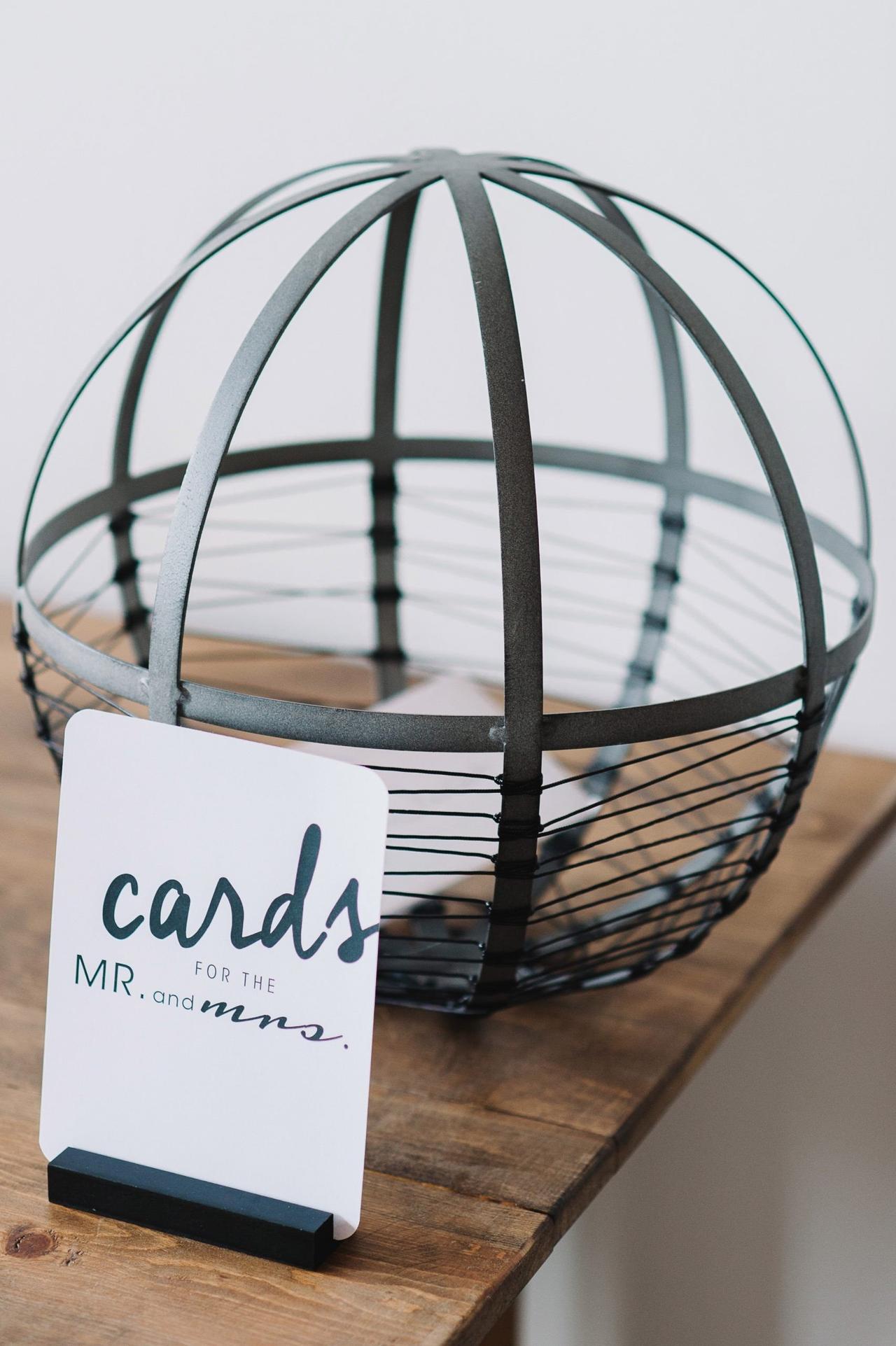 If you want a striking, modern look for your card box, how about choosing a dramatic shaped geometric vase, like this black orb? After you've used it at your wedding, it'll make an admired talking point as part of your home décor.
Unusual Wedding Post Boxes
If you're looking for something a bit more unique, try one of these ideas! These work really well if you'd like to fit your post box in with your theme.
16. Globe Post Box
Image: Pinterest
A travel-themed or destination wedding is crying out for a globe card box. Buy a cardboard globe online and go wild with how you decorate it. If you get one with a map printed on it, you can use pins to mark all the places you've been on holiday together; if you get a plain one, you can paint it or even paper mache pictures of the two of you on it.
17. Beach Hut Post Box
Image: Pinterest
Seaside weddings are some of our favourite. The UK coastline is like no other. If you want to extend that theme to your post box, what about this beach box? You can buy this one (in lots of different colours) from Not On The High Street, but you could paint one yourself too and match it your day.
18. Pumpkin Post Box
Image: Pinterest
The obsession with pumpkins and pumpkin-flavoured things isn't just big in America: pumpkin fever is here too! If you're having an autumn wedding, particularly one in October between the harvest festival and Halloween, a pumpkin post box is a necessity.
19. Milk Churn Post Box
Image: Pinterest
What better for a farm or barn wedding than a vintage milk churn.  It's beautifully rustic and they actually look really good too if you paint them in red like a post box or white.
20. Doll's House Post Box
Image: Pinterest
If you're moving into your own home, or asking people for cash contributions towards your future in their cards, then a house-shaped post box like this is perfect. It's quite easy to make your own if you have a bit of woodwork skill, or you can dolls house kits that just need to be adapted for your theme.
21. Wishing Well Post Box
Image: Pinterest
A fairytale wedding needs some hints of whimsy and a wishing well post box is just the ticket. Add a flouncy bow, garlands of flowers and a even a little bucket to lower in cards, if you like!
22. VW Campervan Post Box
Image: Pinterest
How adorable is this VW campervan post box! For a boho, festival wedding, a DIY version of this post box – make from either a cardboard box with a front added on or a full-wooden version of the van – will guests want a selfie immediately.
Once you've collected all your wedding gifts and cards, don't forget to thank your guests afterwards for their well wishes – check out our guide to writing wedding thank you cards if you're stuck for words.