What to Expect at a Hindu Wedding: Traditions & Etiquette Explained
Colourful, celebratory, large and full of meaning – a Hindu wedding is a seriously memorable occasion. Here's everything you need to know about Hindu wedding traditions if you're a lucky guest.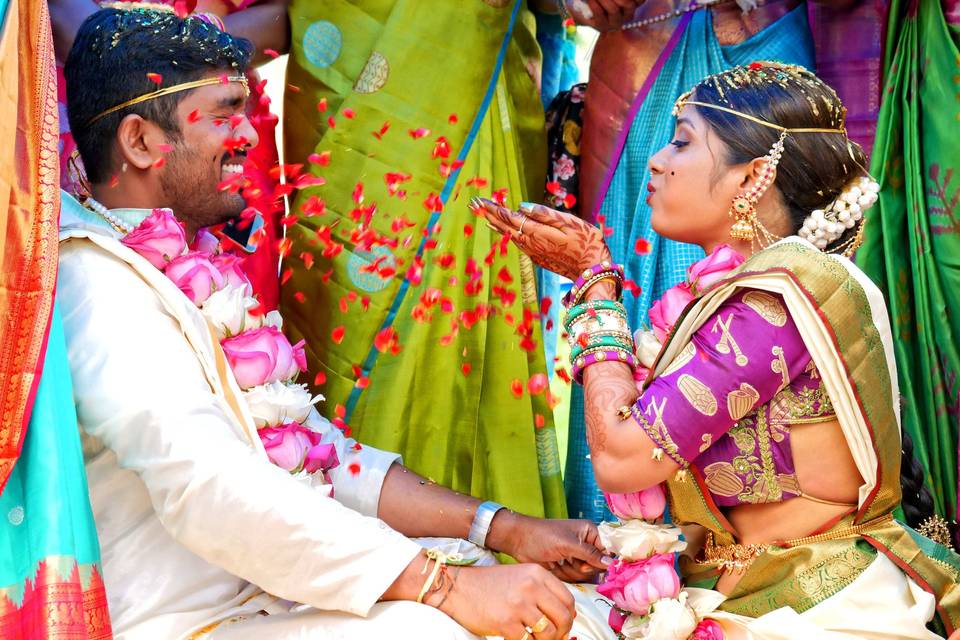 If an invite to a Hindu wedding has dropped onto your doormat, you may be wondering why your invitation appears to span over more than one date. Karishma Manwani, Director and Lead Planner of Karishma Manwani Destination Events, explains the timetable. "Hindu weddings involve lots of different rituals and traditions for both the bride and groom and their families and friends", she says. "This is why Hindu wedding celebrations tend to last for an entire week – there are so many traditions to follow that it's simply impossible to honour them all in one day!".
In short, no matter how many of the week's events you'll be participating in, prepare to party. Read on for your ultimate guide to Hindu wedding traditions and customs, from the build-up to the wedding reception to waving the couple off into married life. We've got wardrobe tips and 'need to know' info for the ceremony itself too.
READ MORE:
What Happens Before a Hindu Wedding?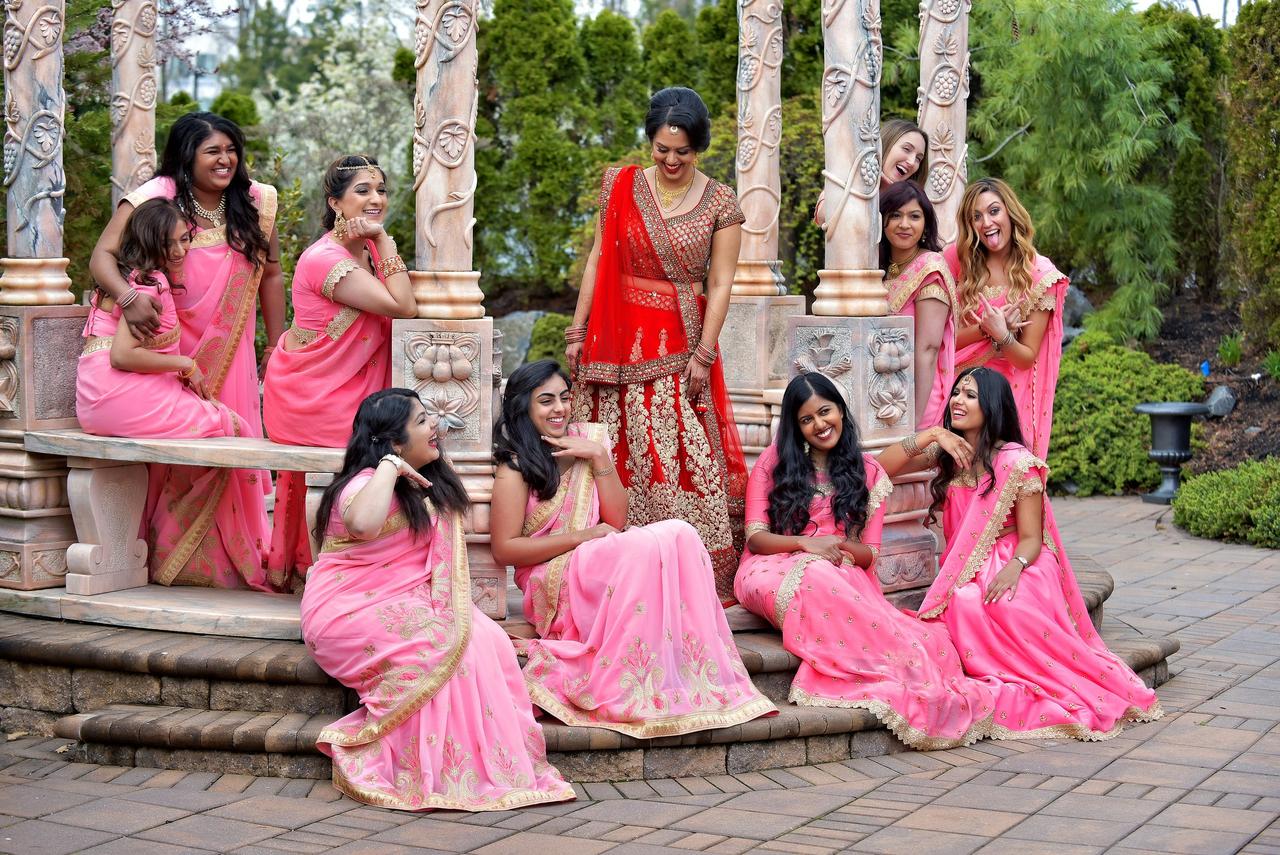 First thing's first, "astrology can often determine the best date for the wedding to take place" according to Rohita Pabla, founder of Rohita Pabla Planners. Once timing is determined, planning of both the wedding day and the rituals that take place in the lead-up begins. The wedding events can begin anytime from a week to three days before the ceremony itself and involve both of the partners' families and friends.
Roka
Essentially an engagement party, the roka celebrates not just the union of the couple but of two families. Family members exchange gifts, the couple are fed sweets and there's plenty of vibrant outfits and dancing on the cards.
Haldi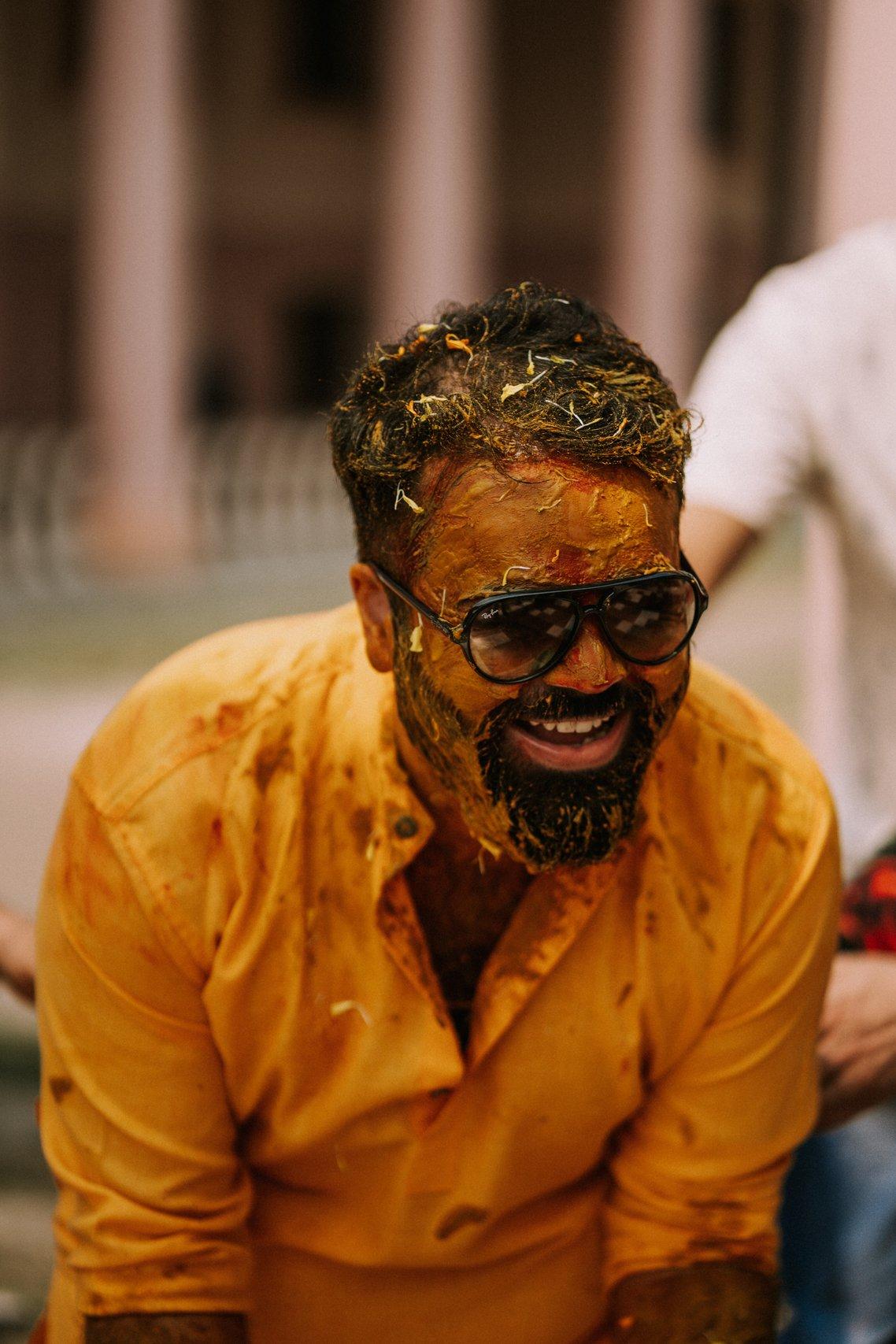 Traditionally held on the morning of the wedding, many couples now choose to participate in a haldi ceremony (if they have one) ahead of time so as to protect the henna body art (mehndi) worn by the bride. A haldi ceremony involves the bride and groom being painted and massaged by loved ones and their respective wedding parties using a turmeric based paste for good luck, purification and to give skin a glow before the wedding ceremony. The haldi ceremony is usually held at home with guests invited to join the fun and the bride and groom wearing orange and yellow. The ritual is followed by a fragrant ceremonial bath to cleanse the skin.
Mehndi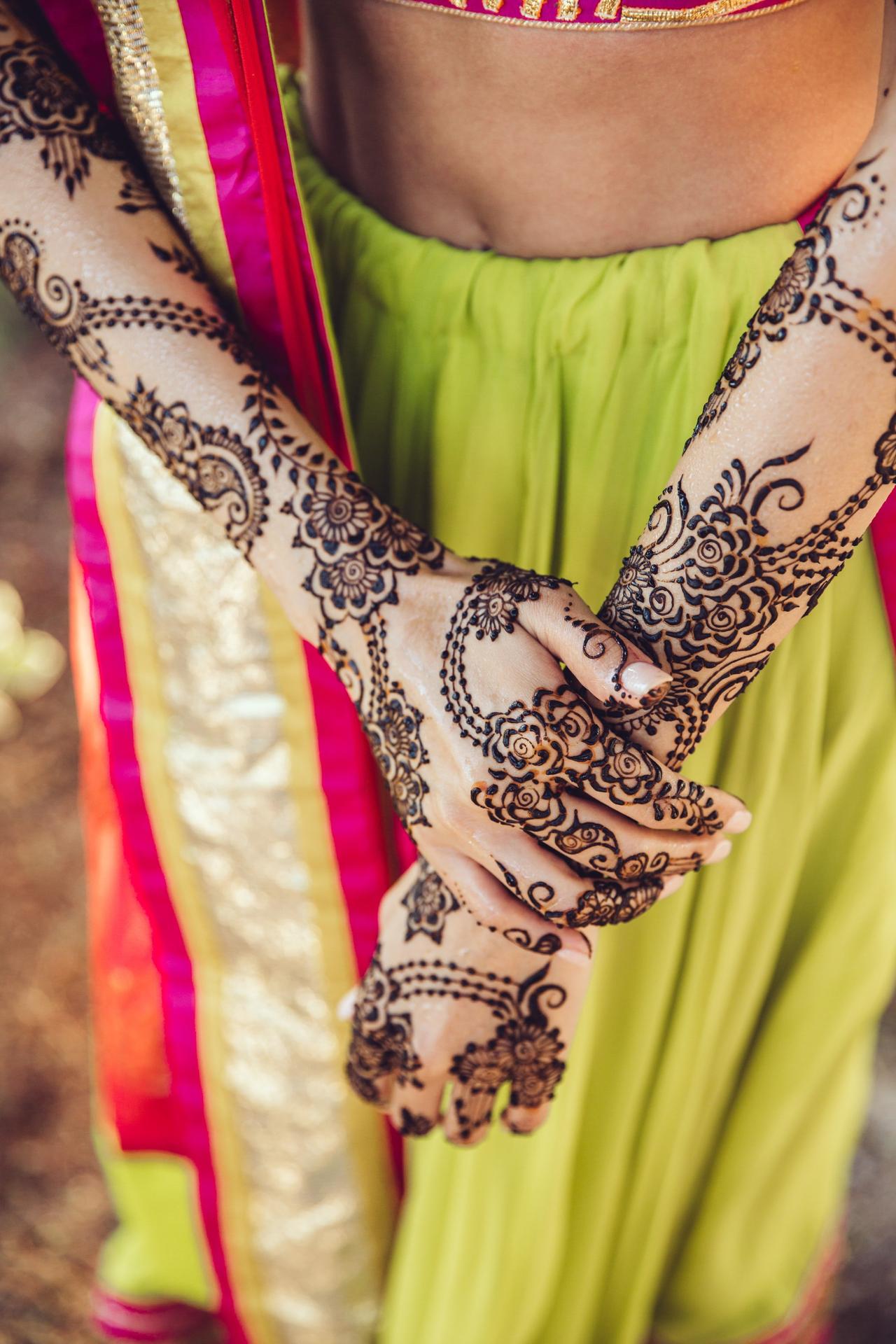 The mehndi ceremony is a pre-wedding celebration for the bride, her friends and family when her hands, arms, feet and lower legs are painted with intricate natural henna designs as both a blessing and a beautification ritual. The process can take hours depending on the nature of the designs – floral motifs are traditional while contemporary mehndi designs are often personalised to the couple or reflective of the wedding day to come. It's said that the darker the henna ink, the stronger the marriage will be (and the more well liked she'll be by her future mother-in-law).
The Mehndi also incorporates plenty of food, dancing, music, colourful décor and bright outfits. You'll be sensing a theme here – Hindu wedding celebrations are anything but low key.
READ MORE: A Simple Guide to Bridal Mehndi
Sangeet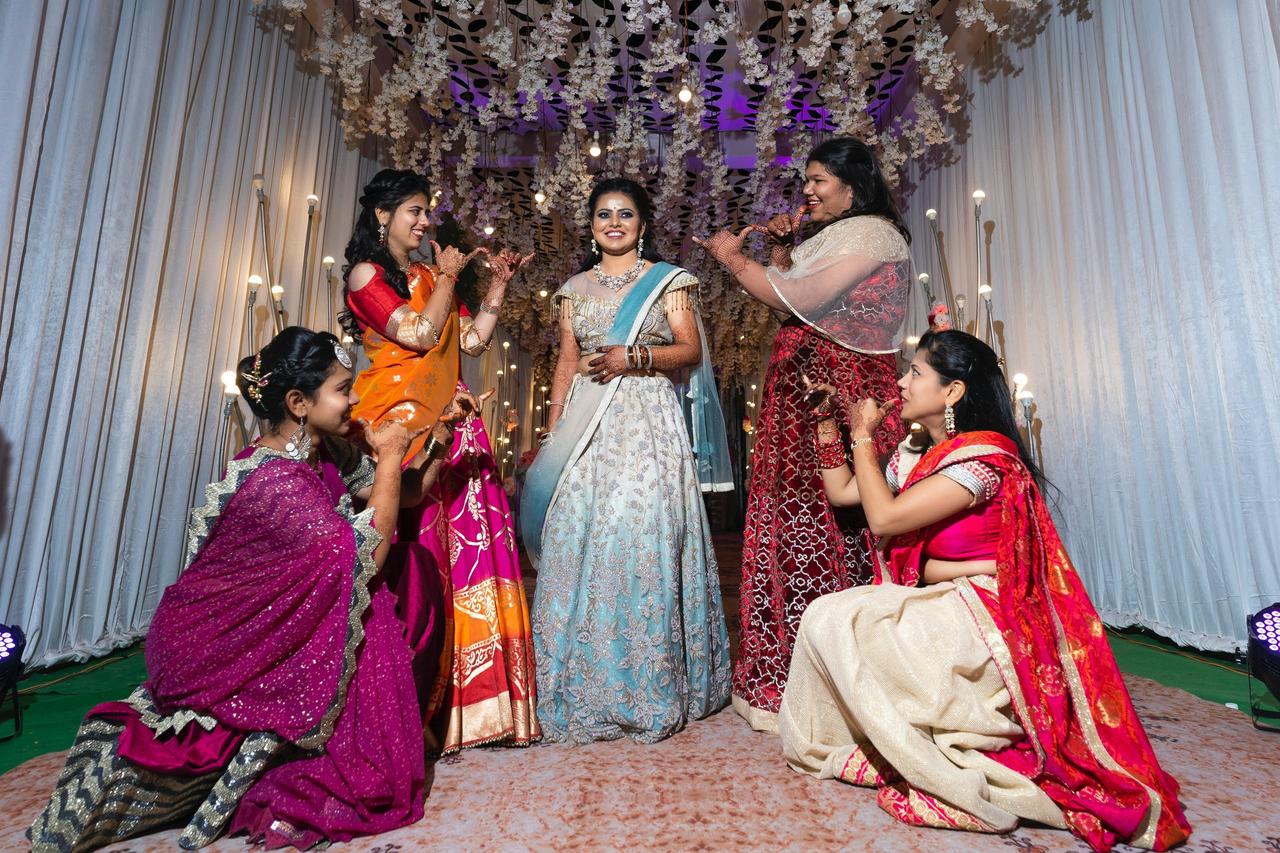 The sangeet, which translates as 'sung together', is a pre-wedding party for the couple's family and friends prior to the ceremony when traditional wedding songs are sung, family and guests dance together to blow off steam and excitement for the big day builds. Expect live music, perhaps a DJ, choreographed dances and a rainbow of opulent outfits.
What Time Do Hindu Weddings Start?
The big day is here – just be sure to double check the invite for timings. Just as couples often look to astrology to decide on their ideal wedding date, so a Hindu priest might divine the most auspicious times for a wedding ceremony to begin. This can be early, especially as Hindu wedding ceremonies can last for several hours, but the large number of guests and processions that take place before the marriage itself mean that not everyone is bang on time.
READ MORE: 6 Top Tips for Planning a Stress-Free Asian Wedding
What Should I Wear to a Hindu Wedding?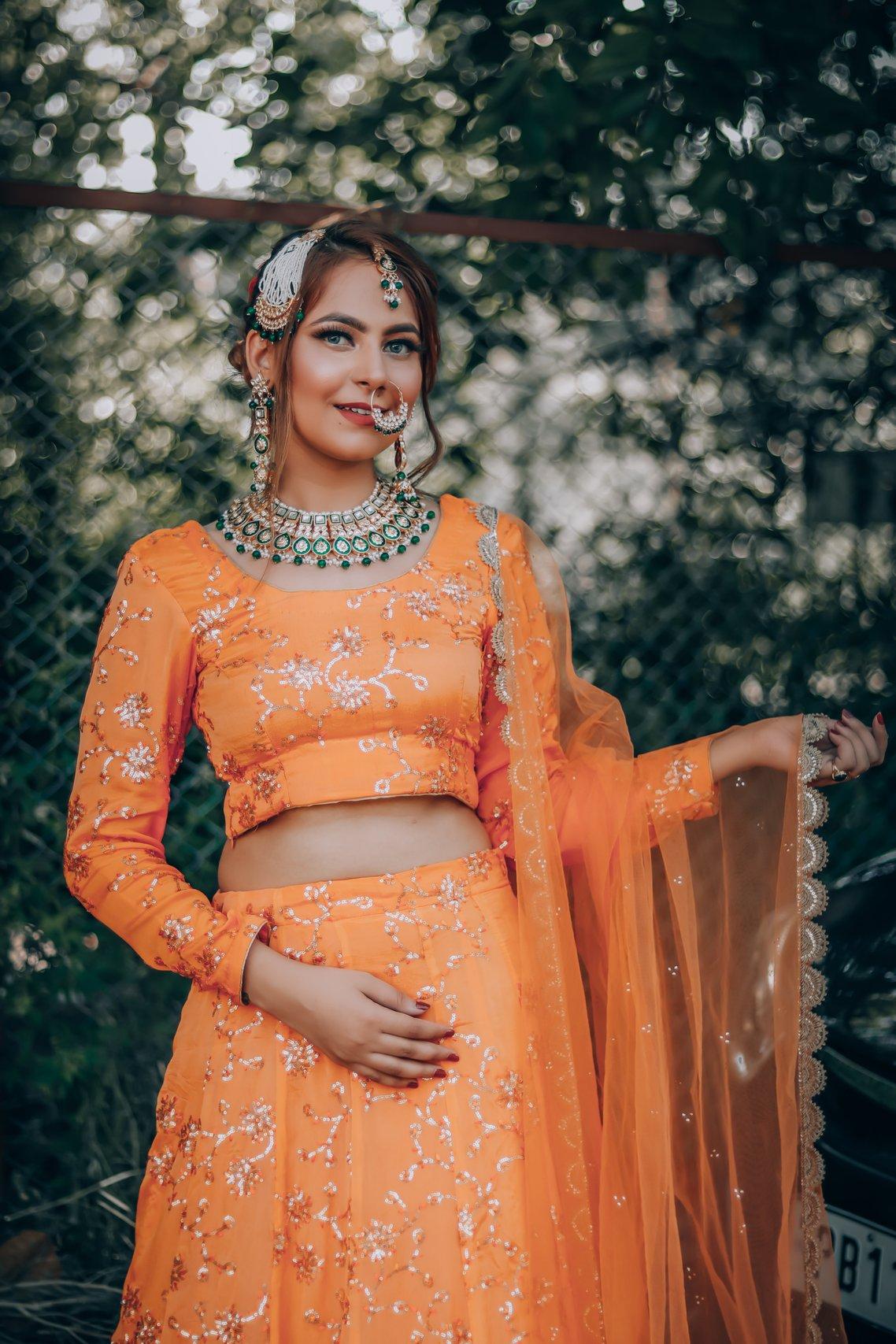 Rohita recommends wearing "traditional Indian attire, meaning a saree or two-piece lehenga for women and an Indian trouser suit for men". There's ample room for sartorial expression too according to Karishma.
"The Indian wedding wardrobe is so extensive. You can wear a saree, with 9m of fabric wrapped around you, a lehenga, which is a long skirt worn with a top, or a salwar suit, which is a long top worn with trousers, to name just a few wardrobe options". As for fashion-related faux pas, "avoid wearing black or white to a Hindu wedding ceremony", says Karishma. This is because white is associated with death and black is unlucky. It's also best to steer clear of wearing head to toe red, as Hindu brides wear luxurious, embellished red and gold lehengas and dupattas (a long head shawl) to symbolise love, prosperity, fertility and fresh beginnings.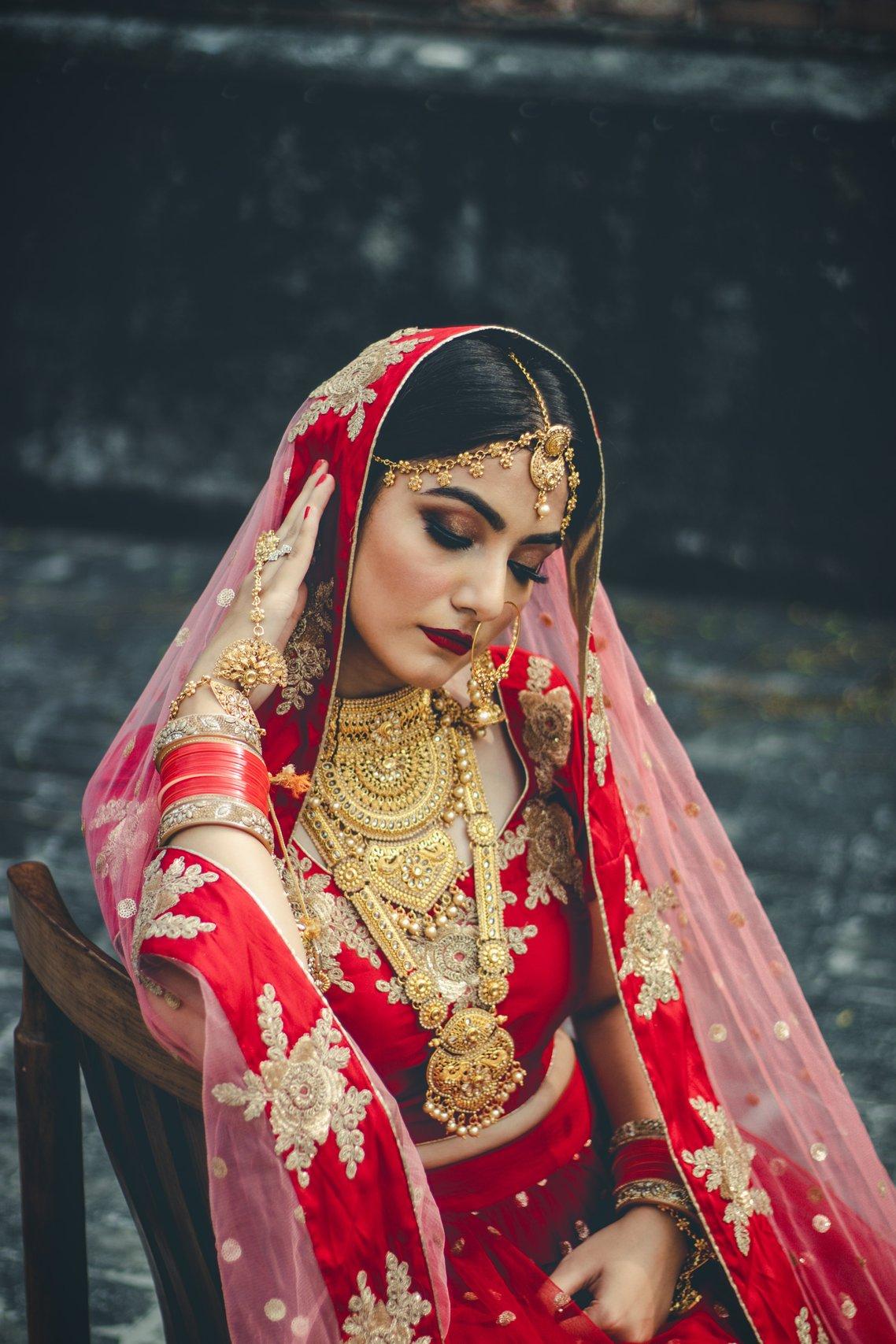 Karishma's ultimate outfit tip? "Be creative and mix and match bright colours and patterns. Think pinks, purples and greens – the more vibrant the colour palette, the better. For men, I would recommend light coloured chinos with a brightly coloured shirt." If you're invited to multiple events during the wedding week, save your fanciest outfit for the wedding day itself. It's important to dress modestly for the ceremony too – ensure that shoulders and legs are covered; women often cover their heads with a shawl or dupatta.
What Happens on the Day of a Hindu Wedding?
Karishma outlines the order of the day.
Ganesh Puja: The First Prayer
Before the ceremony, the priest leads a prayer (puja) to Ganesha, the Hindu god of beginnings. "The priest begins the puja with invocations and offerings to Lord Ganesh, remover of all obstacles. He asks for Lord Ganesh's blessings to provide a peaceful atmosphere before commencing the ceremony."
Baraat: The Groom's Procession
"The groom arrives accompanied by family, friends, music and dancing. They are welcomed at the entrance of the ceremony by the bride's parents." Sometimes the bride's family will toss rice over the groom when he arrives and apply a tilak (a mark with a paste made of ash, clay, sandalwood, turmeric, charcoal or red lead) to his forehand. The tilak represents devotion to God and incites positive thoughts and energy.
Kanya Aagman: The Arrival of The Bride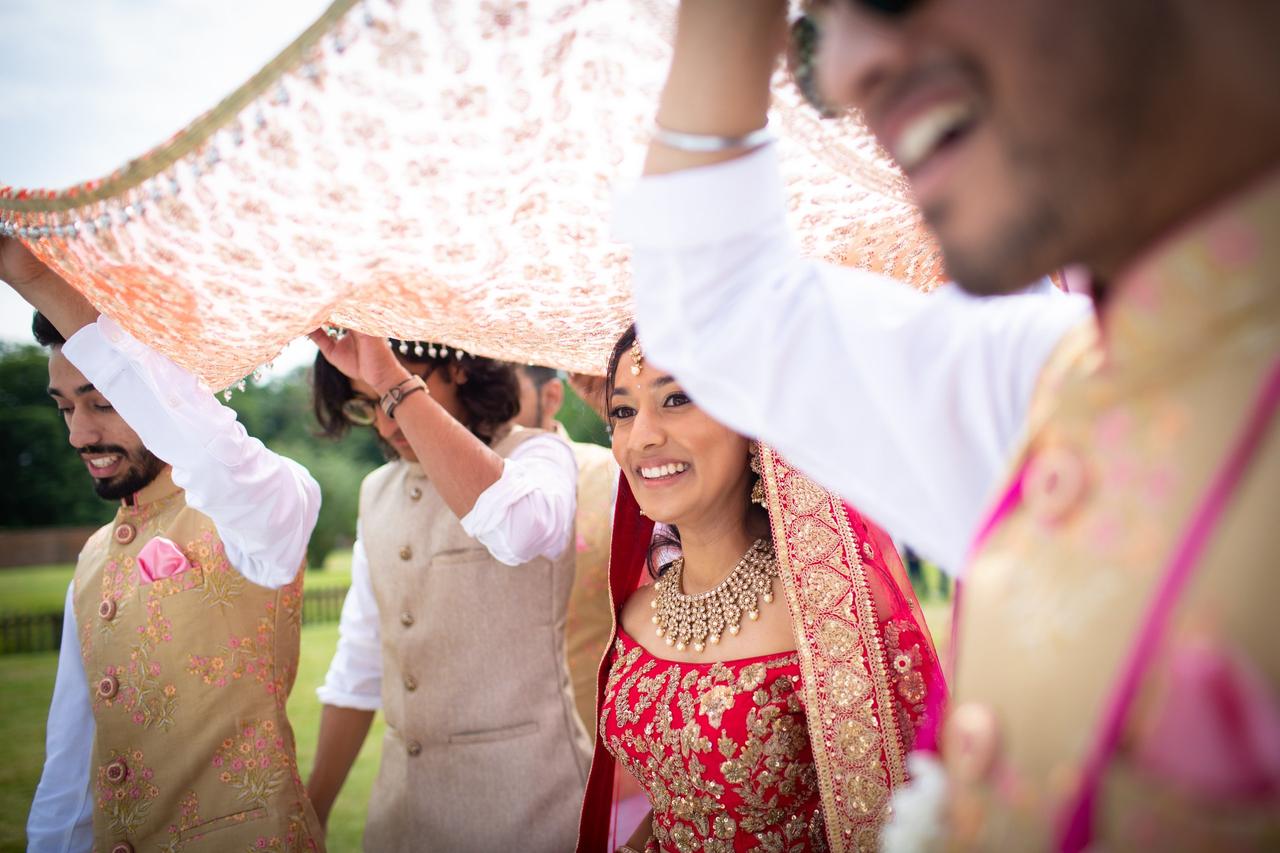 "The bride arrives at the mandap escorted by her uncles or her brothers, although nowadays Hindu brides are increasingly choosing for their dad to walk them down the aisle, as commonly happens in Western culture. This can be so beautiful too." The mandap is a decorative structure under which the marriage ceremony is performed. It's typically adorned with flowers, foliage, lengths of colourful fabric, crystals and often twinkling lights, with ornate chairs for the bride and groom and their parents to sit on.
READ MORE: A Dubai Destination Wedding with a Hindu Ceremony
Jai Mala: The Exchange of Garlands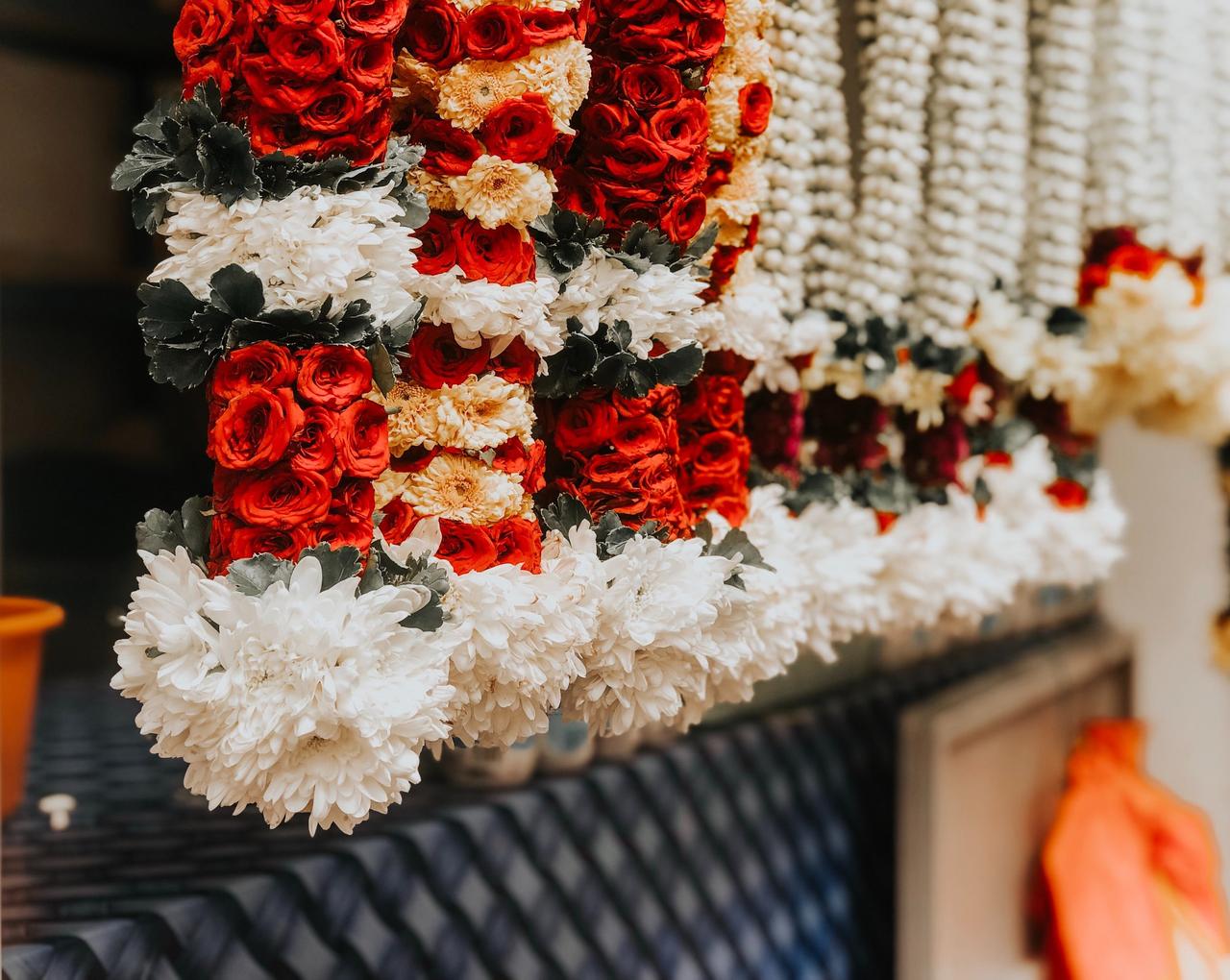 A jai mala is a flower garland exchanged between the bride and groom. "It's symbolic of the first step taken by the newlyweds into marriage", says Karishma. "Most couples follow a playful tradition whereby their uncles or brothers lift the bride and groom up and they compete to see who can garland the other first."
Kanyadaan: The 'Giving Away' of The Bride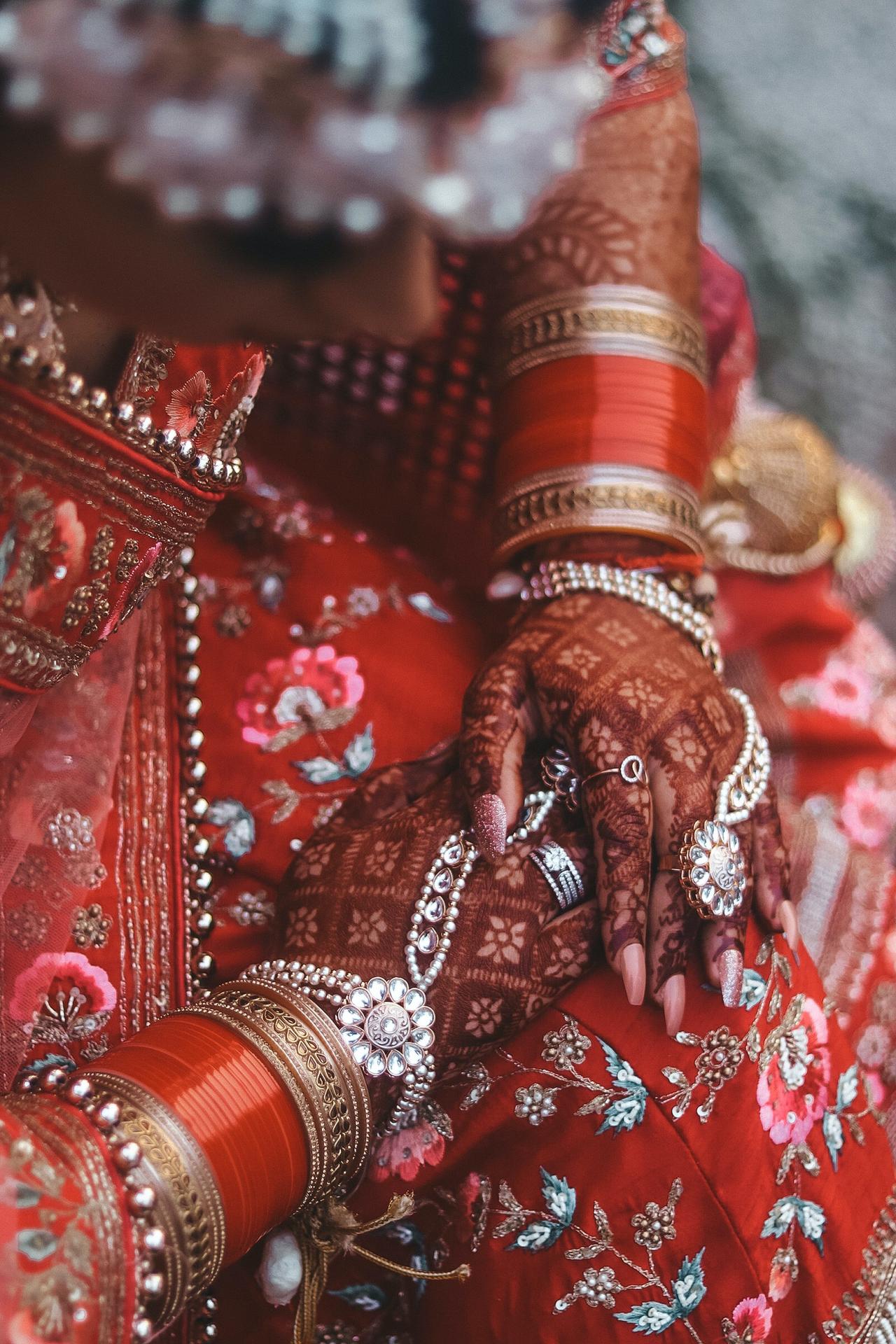 "'Kanya' means unmarried daughter and 'daan' means to offer or gift. According to Hindu scripture, there is no greater gift than the gift of one's daughter. The bride's father places the bride's right hand into the groom's right hand to symbolise their lifelong union as partners." Rohita explains that "a Hindu bride is also given a mangalsutra, which is a gold and black beaded necklace that symbolises that she is now married. It's said that the bride receives blessings throughout her marriage when wearing it."
Saptapadi: The Seven Sacred Steps Around the Fire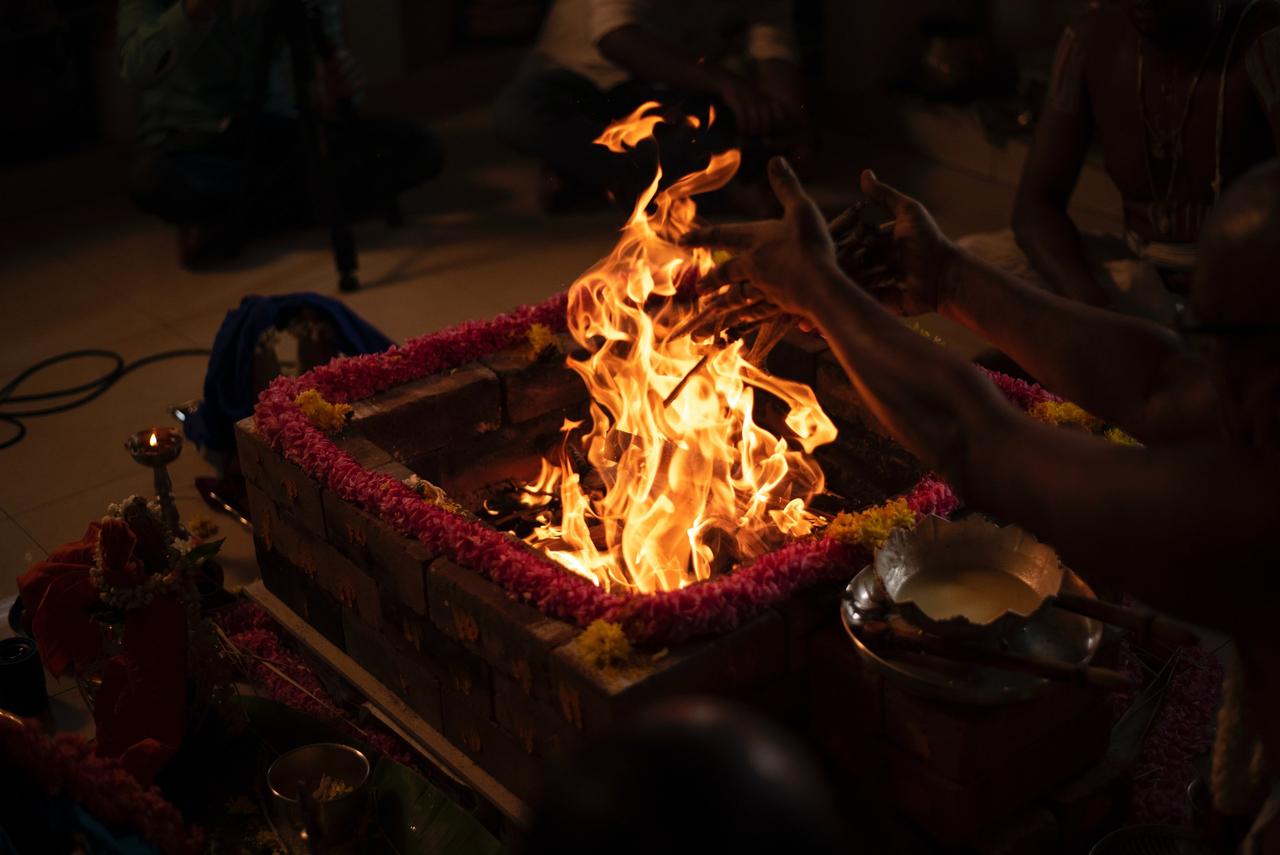 "To signify the viability of the ceremony, a fire is kept burning in the middle of the mandap to bear witness to the marriage", says Rohita. "Offerings are made to the fire during the ceremony". Karishma details that "the bride and groom hold hands and take seven sacred steps together around the fire while the priest chants Vedic mantras, representing the seven sacred vows of marriage. This ritual marks the beginning of the bride and groom's journey as a married couple."
Rohita highlights that the bride and groom are often physically joined to one another for the saptapadi too. "Before making their vows and circling around the fire, the bride and groom tend to each wear a scarf or piece of long material which are tied together – typically the bride's veil or dupatta and the groom's sash". This denotes their eternal bond.
Sindoor: Declaring the bride as married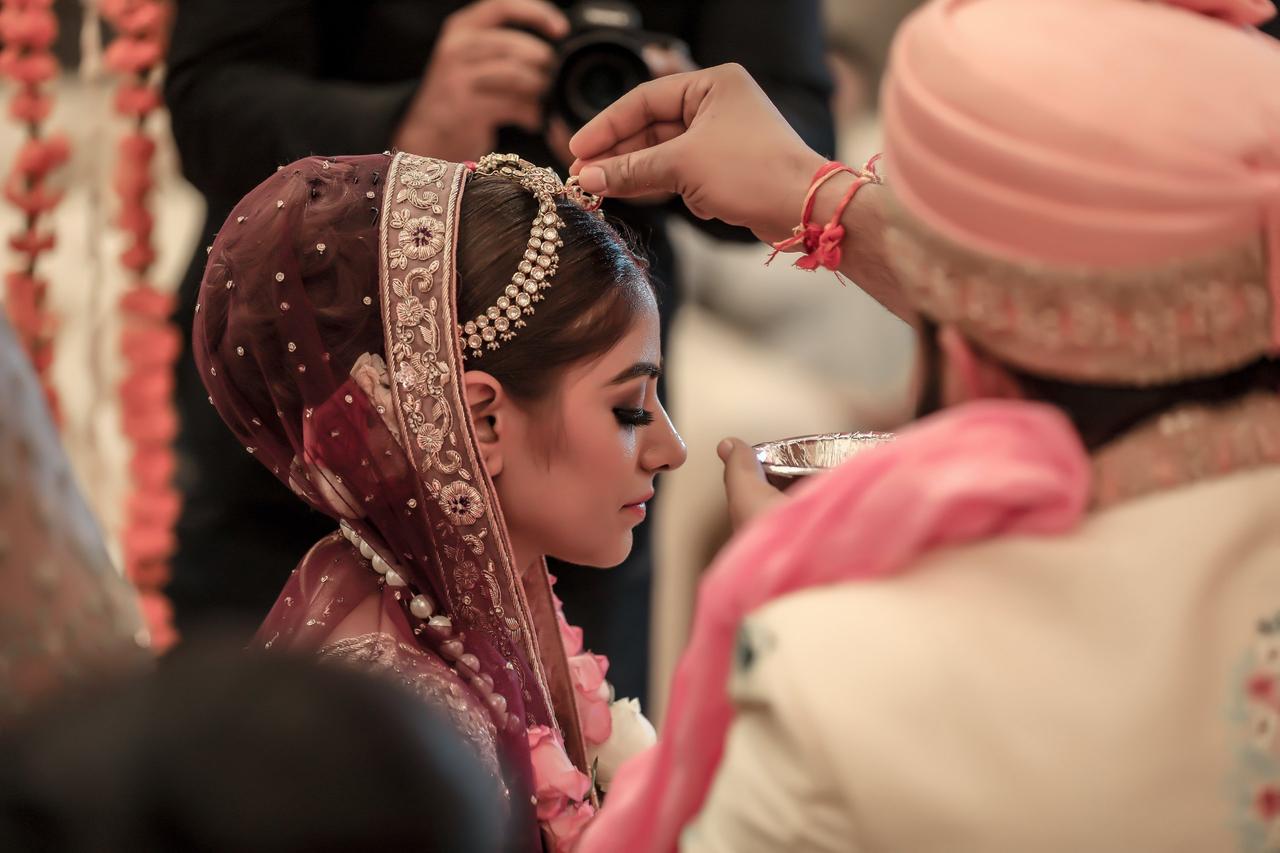 Depending on the couple's preferences and family tradition, "a red powder, called sindoor, is applied to the bride's parting by her new husband to symbolize that she is married", says Rohita. The bride may choose a bindi dot instead. "Some women carry on this tradition on a daily basis, or only when they have traditional family occasions" explains Rohita.
Vidai: The Send Off
"This is the most emotional moment of the marriage ceremony as the bride's family and friends bid her a teary farewell", says Karishma. "The family blesses the bride and wishes her a happy married life, then the father of the bride takes her to the car or the doli (a wedding carriage) and hands her to the groom."
What is a Hindu Wedding Reception Like?
"It's a huge, fancy party!", enthuses Karishma. The reception guests normally number into the hundreds so venues tend to be very large. "There's usually a gala dinner with lots of food, great entertainment, a DJ, an open bar and a big dance floor. This is the time when the bride and groom can finally relax and enjoy themselves – all they normally want to do at this point is have everyone on the dancefloor all night long!".
READ MORE: Asian Wedding Speeches: How to Deliver the Perfect Speech
What is Eaten at a Hindu Wedding?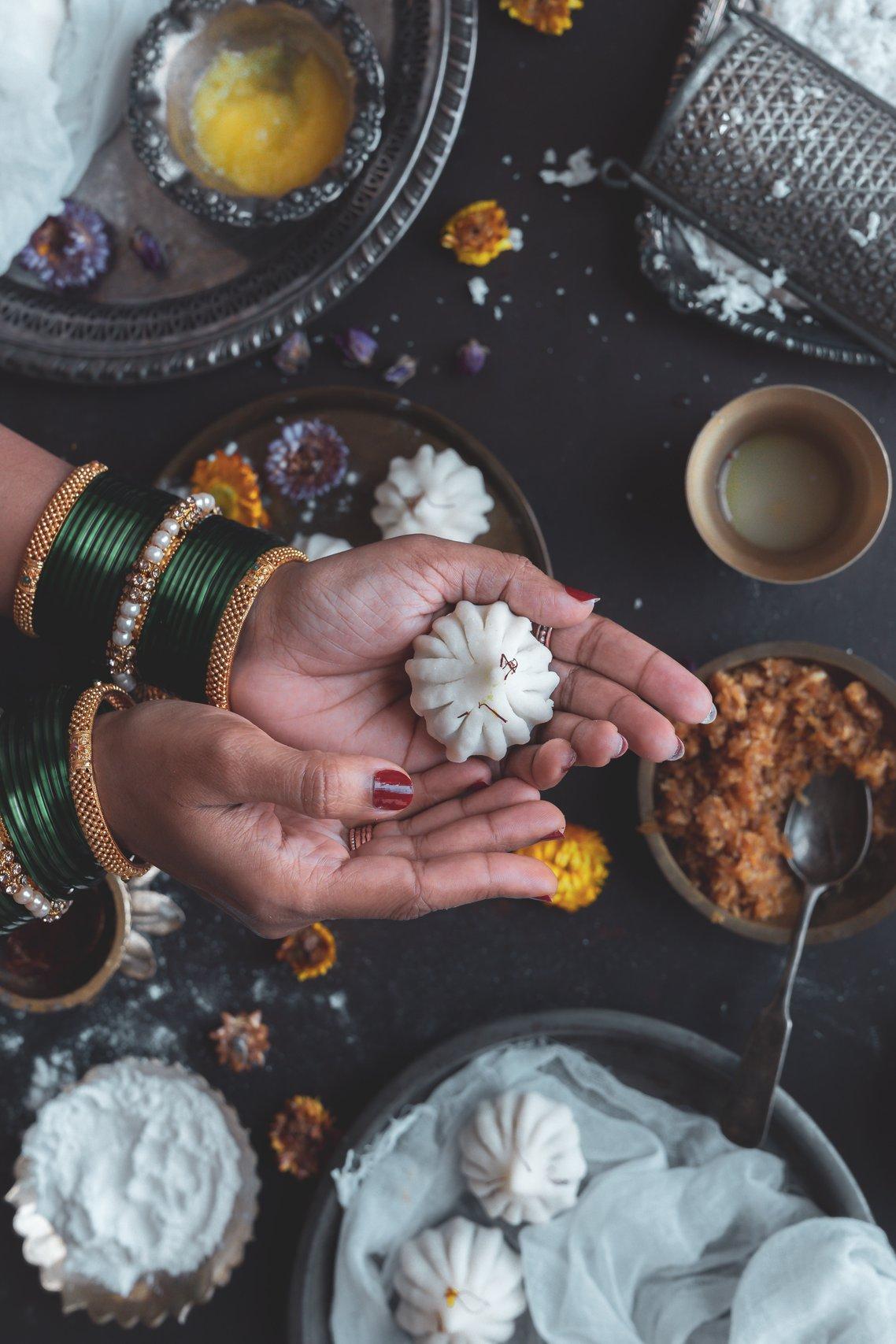 The wedding menu largely depends on where the bride and groom's family hail from, but Rohita outlines that often, "a traditional vegetarian meal is served". Expect "a generous buffet consisting of curries, dry vegetarian dishes, rice, bread, pickles, sides and a traditional sweet course".
Is Alcohol Served at a Hindu Wedding?
While some cultures are strictly alcohol-free, many modern Hindu weddings do have a bar. Just don't be tempted to toast the couple too early in the day. Rohita underlines that, "if alcohol is being served, it won't be consumed until the ceremony is completed – it's typically enjoyed much later into the evening at the reception."
What Gift Should I Bring to a Hindu Wedding?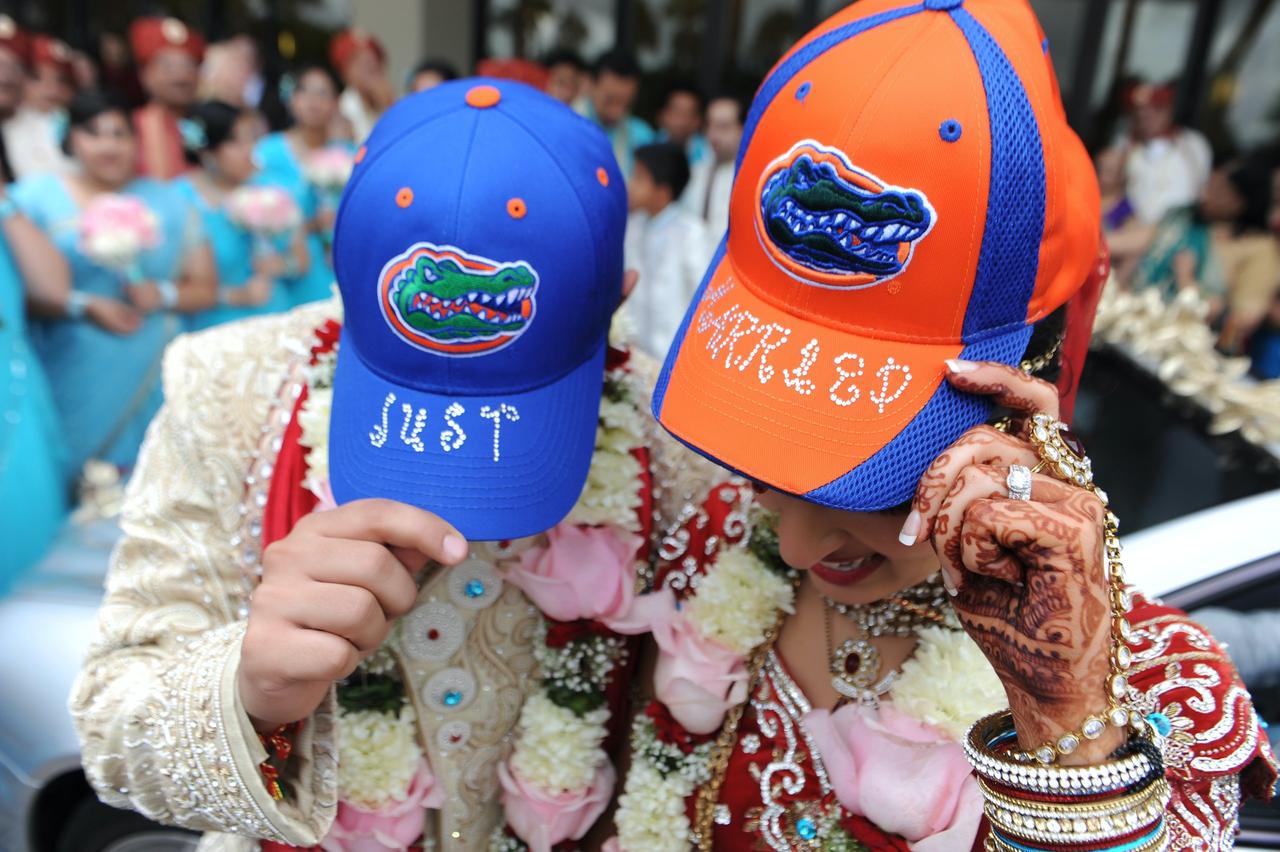 "Hindus, and Indian families in general, don't like to ask for gifts so it is unusual for couples to have wedding registries", says Karishma. "That said, wedding gifts are becoming more and more popular nowadays, especially if the bride and groom are a young couple who are looking to set up a home. Even then, any gift information or requests would only be shared with close friends and family – not all of the guests." If you're wondering how to honour the newlyweds, Karishma clarifies that "the most popular gift at Hindu weddings is money. A brightly coloured envelope containing a sum of your choosing would be the perfect way to offer a gift".
Is There Anything I Shouldn't Do at a Hindu Wedding?
As with any wedding, Rohita advises ensuring that "clothing is appropriate for each event that you're attending during the wedding". Your invitation should detail any specific dress codes but be sure to adhere to any dress requirements in Hindu temples in particular and be wary of upstaging the couple – think glamorous but not overly ostentatious. If in doubt, ask a Hindu wedding guest or consult an Indian wedding fashion specialist or stylist at an Asian clothing boutique. Try O'Nitaa in London, Nim's Boutique in Leicester or La Couture in Birmingham.
Rohita also emphasises that, while Hindu weddings are exuberant, loud and joyful occasions, "guests are expected to stay silent during the wedding ceremony itself. The priest will indicate if you should take part in any elements of the rituals, but on the whole guests are expected to listen intently."
Curious to learn about other religious wedding ceremonies? Discover the orders of service for Christian, Muslim, Jewish and Sikh Weddings too.