After a simple civil ceremony in Liverpool, Dimple and Andy whisked their wedding guests off to Dubai for a more elaborate Hindu ceremony.
Andy is the Finance Director for Liverpool Football Club, so the couple added a few Scouser touches to their big day in Dubai.
The couple got engaged for the first time in Santorini. After a long engagement, Andy popped the question once more at Anfield Stadium so they could celebrate with family and friends.
Dimple and Andy got married at Jumeirah Al Qasr Madinat hotel on Layali beach in February. They had a traditional Mahendi ceremony with a colour scheme of pastel blues, orange, white and gold. Don't miss their grand entrance into their reception and Dimple's gold evening dress!
Photographer: Adam Joe Roberts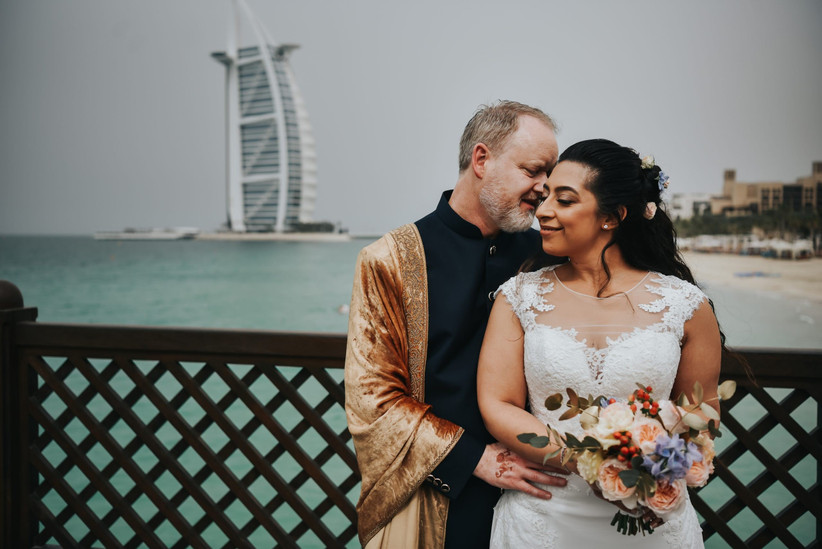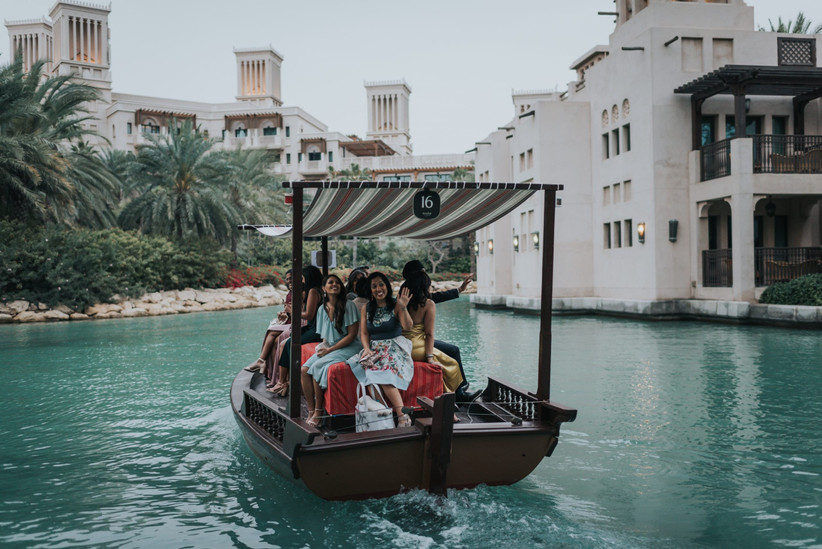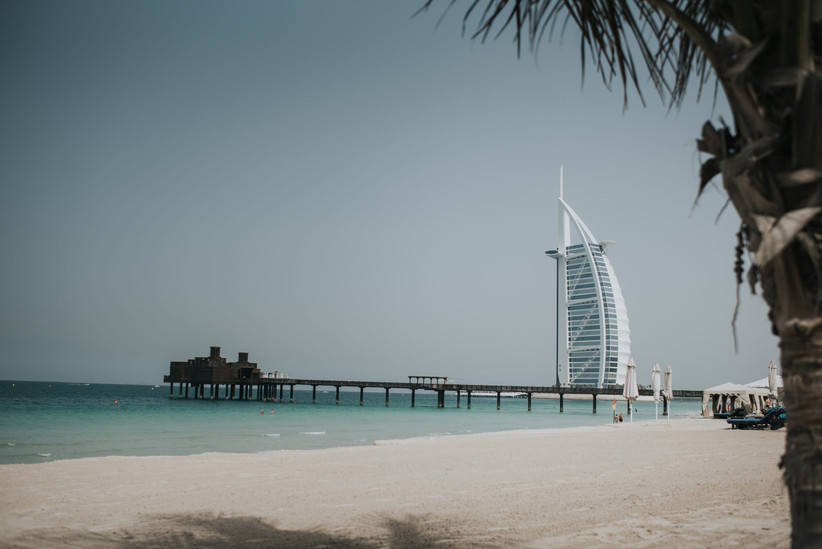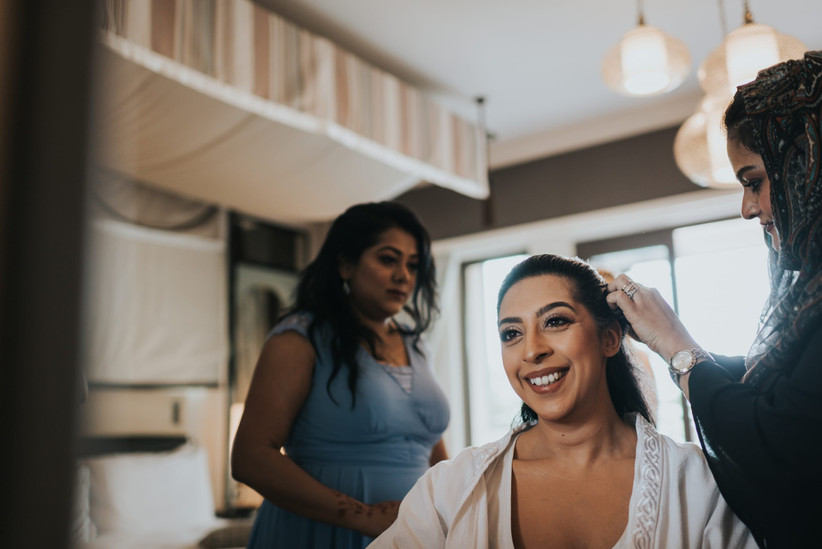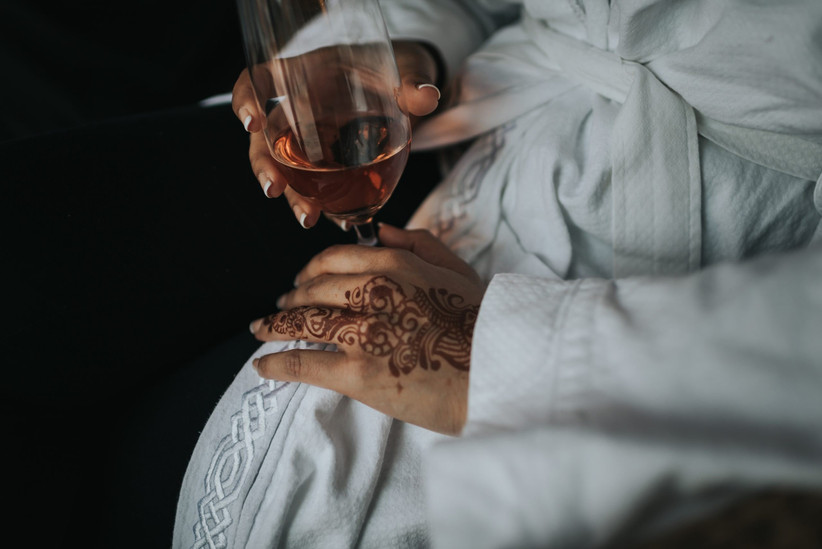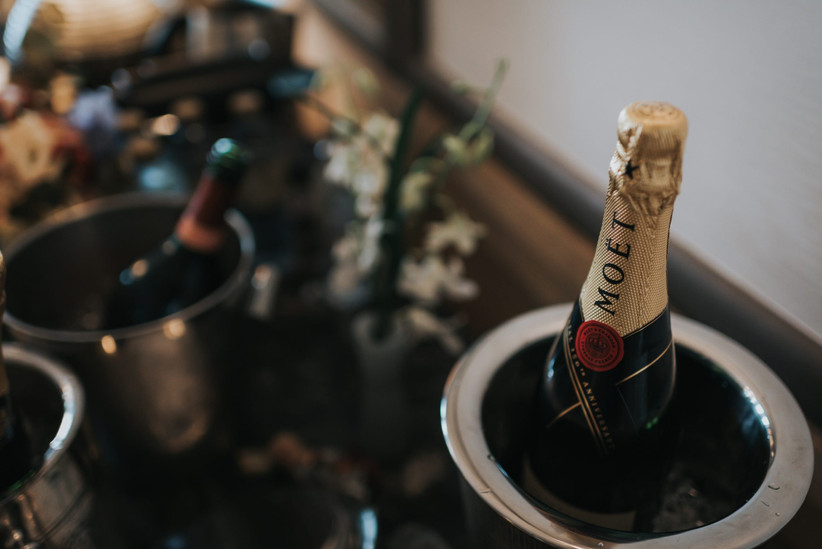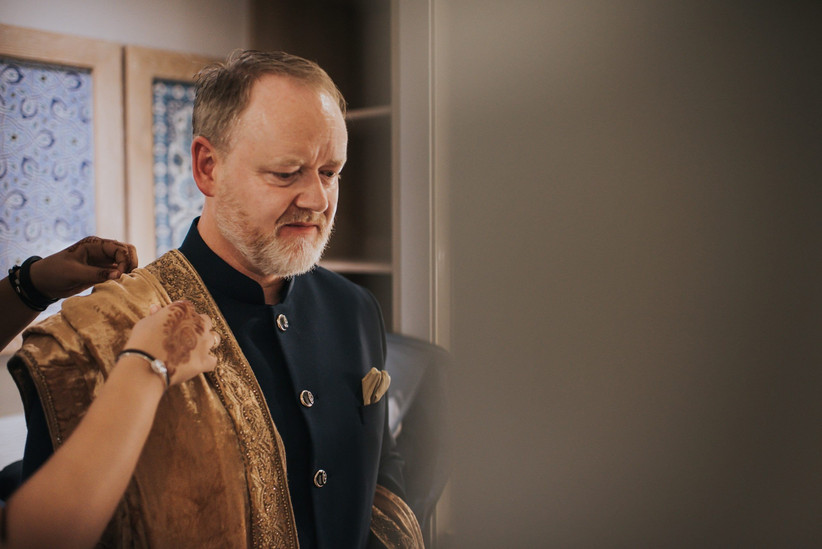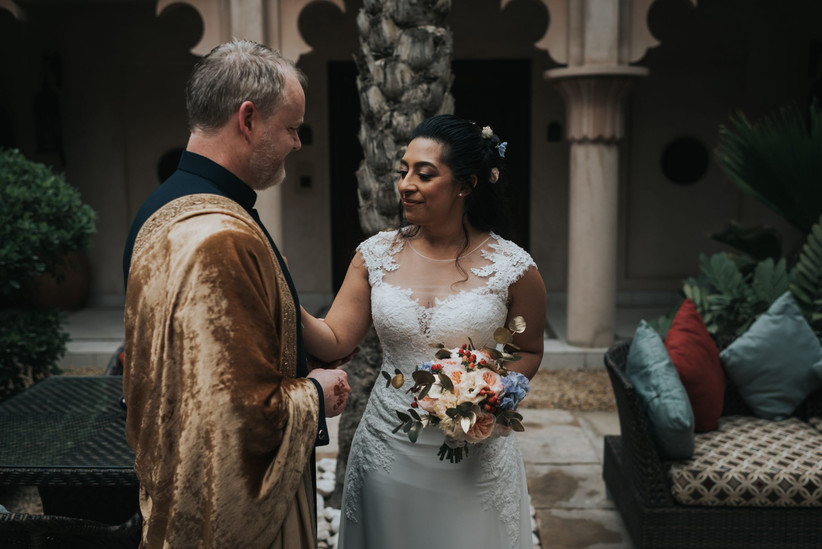 The Wedding Dress
Dimple chose one wedding dress for the couple's civil ceremony in Liverpool and another for their big day in Dubai.
"The dress for our Liverpool Town Hall ceremony was by Suzanne Neville from The Bridal Collection in Harrogate. I wanted a British designer to represent the wedding in the UK. It was daring and flattering and very different to the look I had in Dubai.
"My second dress was from Wed2B bridal shop in Liverpool. The wedding in Dubai was a Hindu wedding which meant sitting around a fire for an hour. My first dress from the civil ceremony just wouldn't have been comfortable so I went with the comfort factor.
"In Liverpool, I had a headpiece that I also got from the Bridal Collection in Harrogate. I had my hair up so it added extra sparkle. Andy's mum gifted me a Swarovski gold and silver bracelet which I wore in Liverpool and Dubai. I bought two simple silver necklaces from Debenhams to accessorise.
"I changed into a gold and black dress from Quiz for the evening reception in Dubai. I wore white stilettos with diamanté on the front and gold sandals for the evening reception.
"I spent some time with my stepdaughters and best friend before the wedding in Liverpool which was lovely. My mother-in-law and sister-in-law helped me into my wedding dress which wasn't easy!"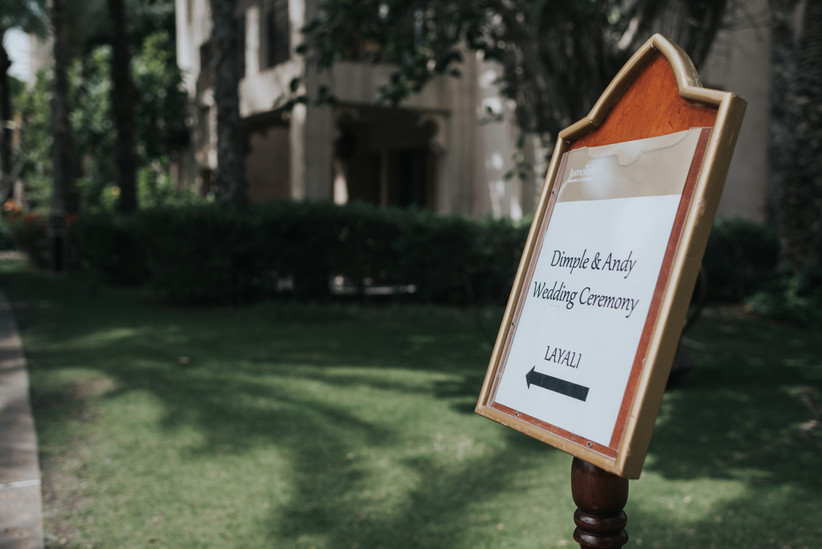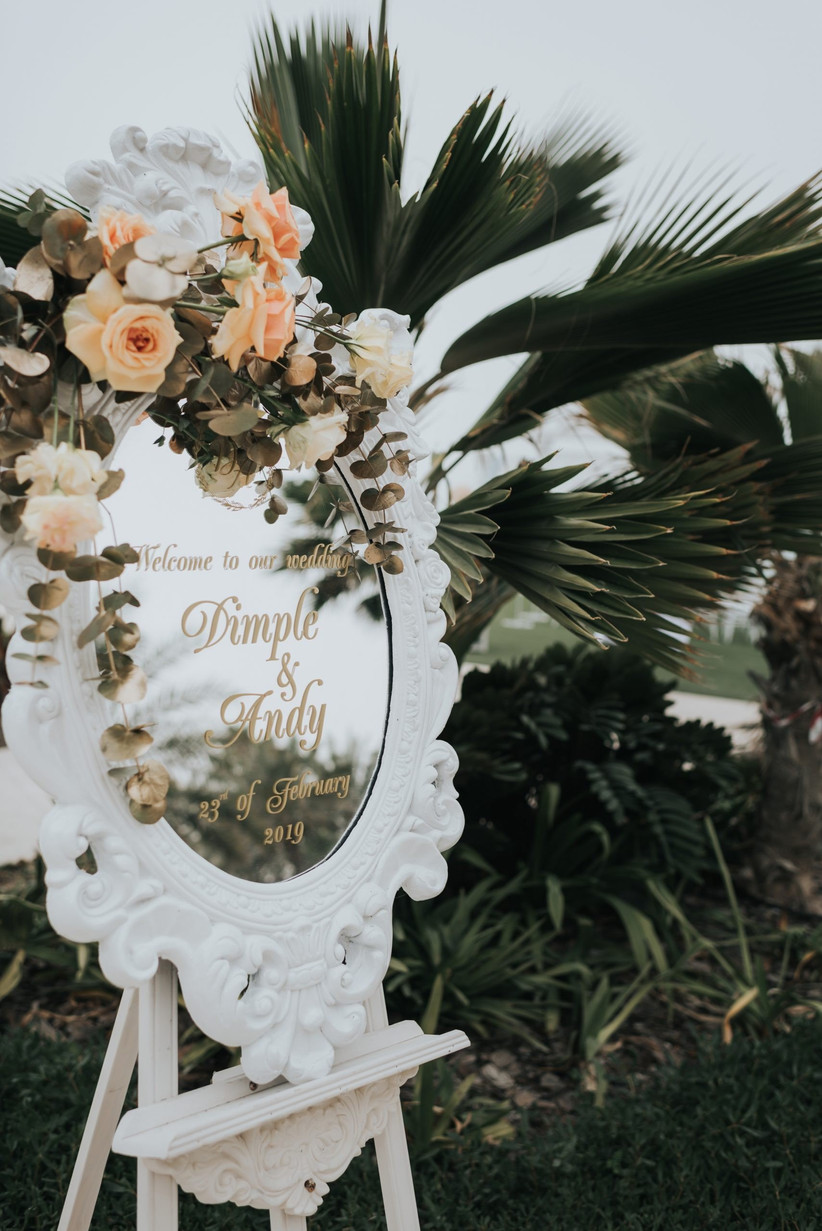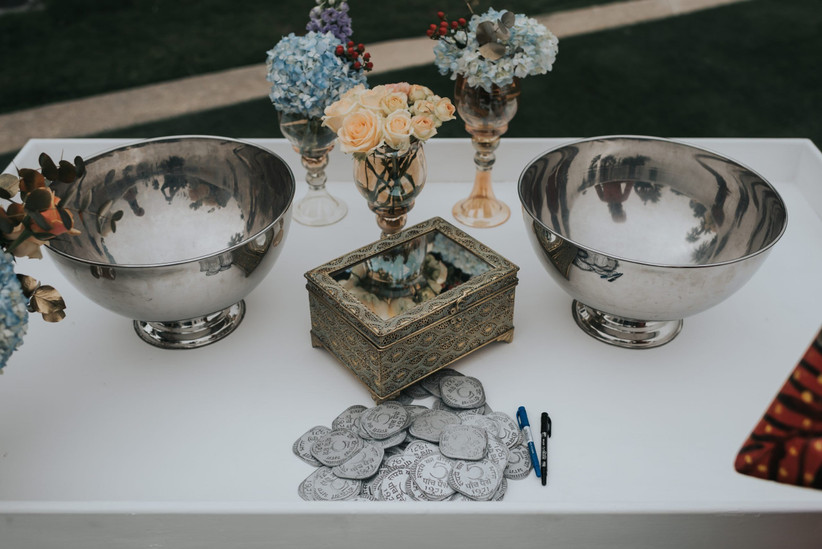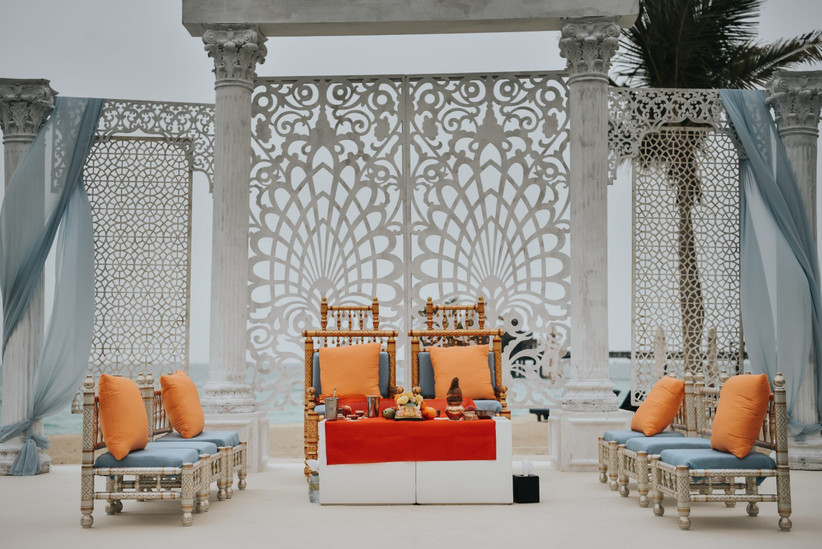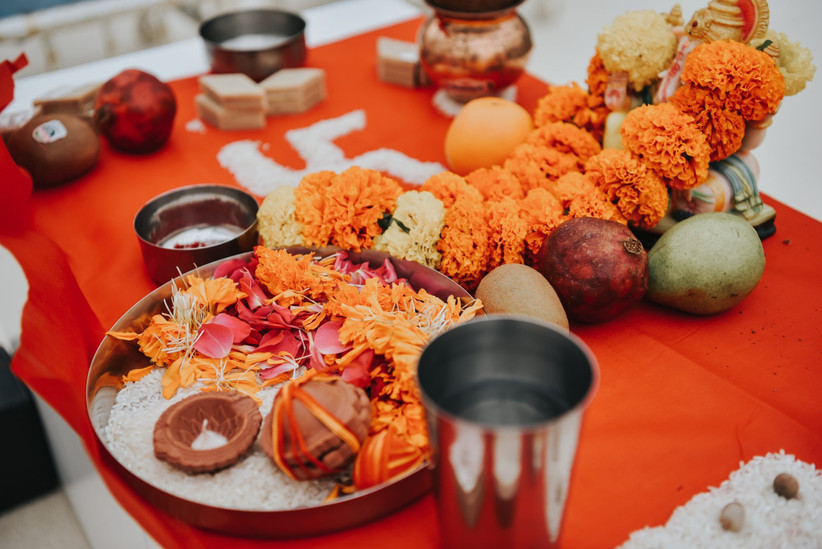 Bridal Beauty
Dimple's wedding hair and makeup in Liverpool was done by Andrew Collinge Hairdressing. In Dubai, she enlisted the help of Makeup By Aliya.
"I had my initial hair and makeup trial four months before the wedding when we went to Dubai to meet our wedding planner. We went with someone recommended by the hotel.
"Unfortunately, two months later when I text her she said she couldn't do my hair as she has other commitments! I was in a panic and luckily my wedding planner from Aghareed sent me a few to choose from.
"I went for a half up and half down look with curls. I had flowers pinned into the top half that matched the flowers we had selected for the wedding. My makeup was a bronze effect and simple."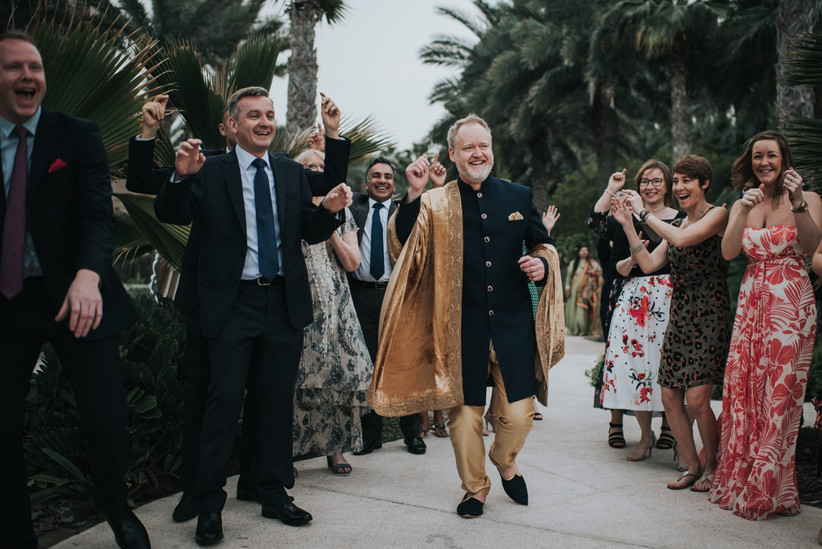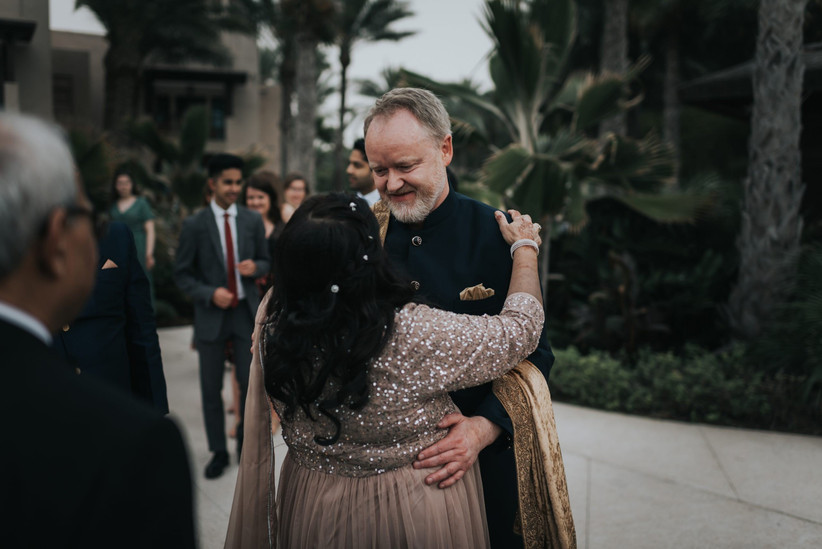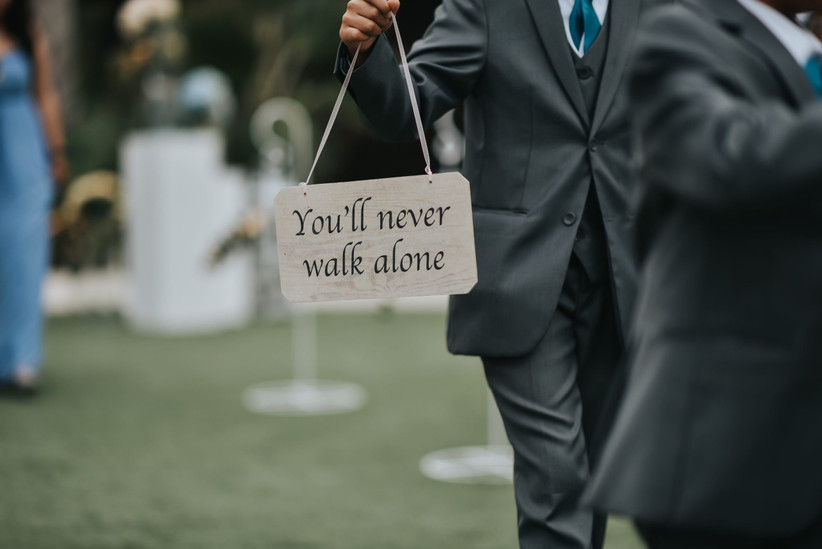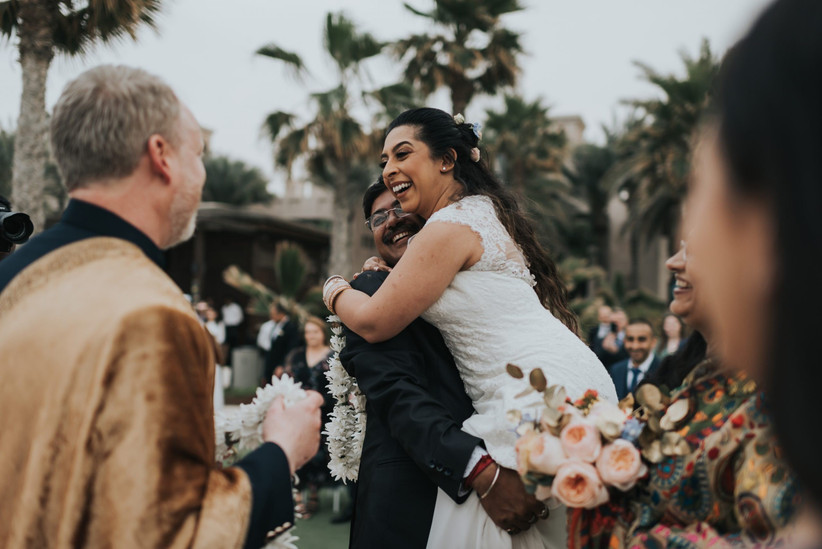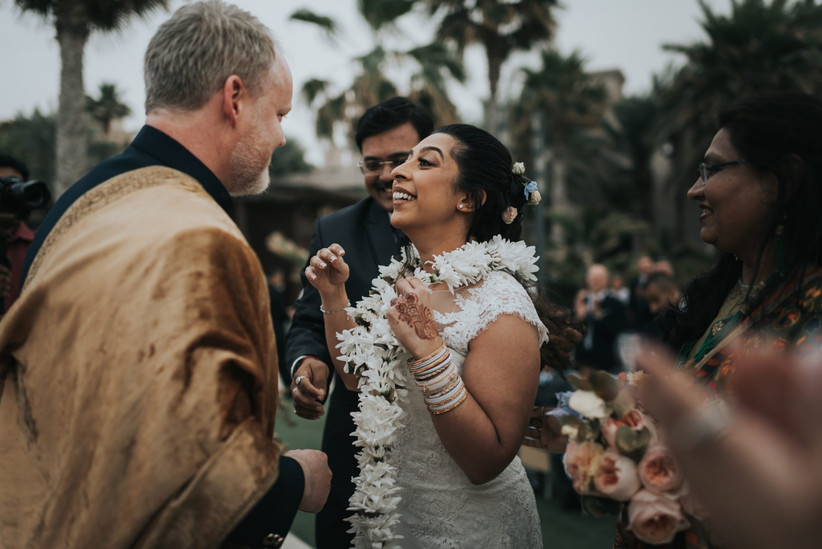 The Wedding Party
To match the colour scheme of the day, Dimple chose pastel blue dresses from ASOS for her bridesmaids.
"I had four bridesmaids: my two stepdaughters, my high school friend, and my cousin. I sent them a few different options on WhatsApp and they selected the best option.
"The groom wore an Indian outfit from Khan Collection in Southall. He went with my parents and the best man to buy it. He wore it with matching traditional shoes and an Afghani hand-stitched gold shawl."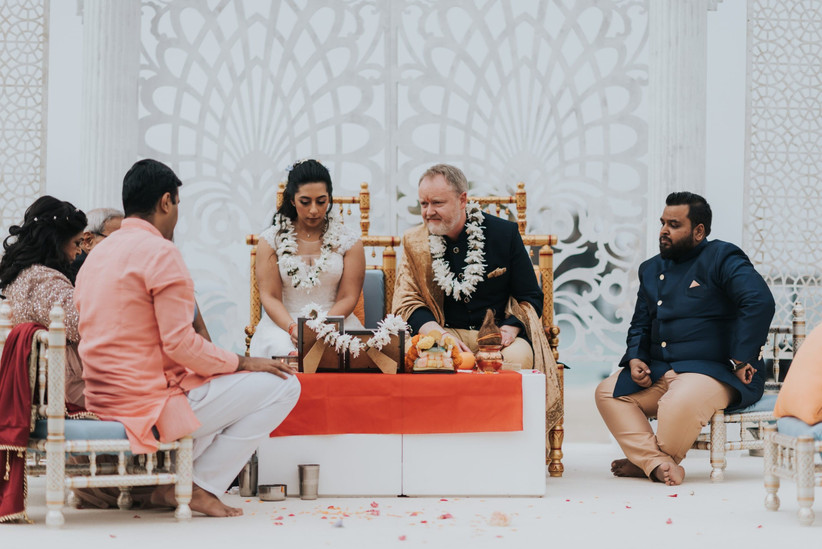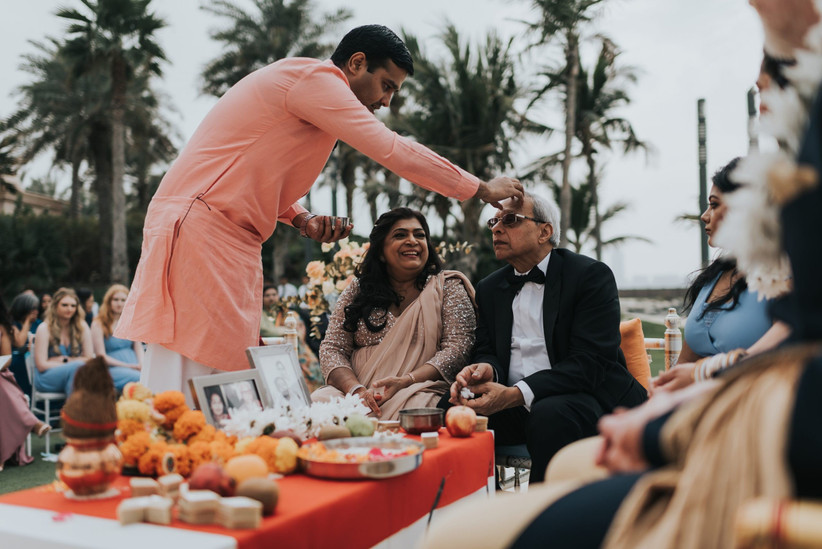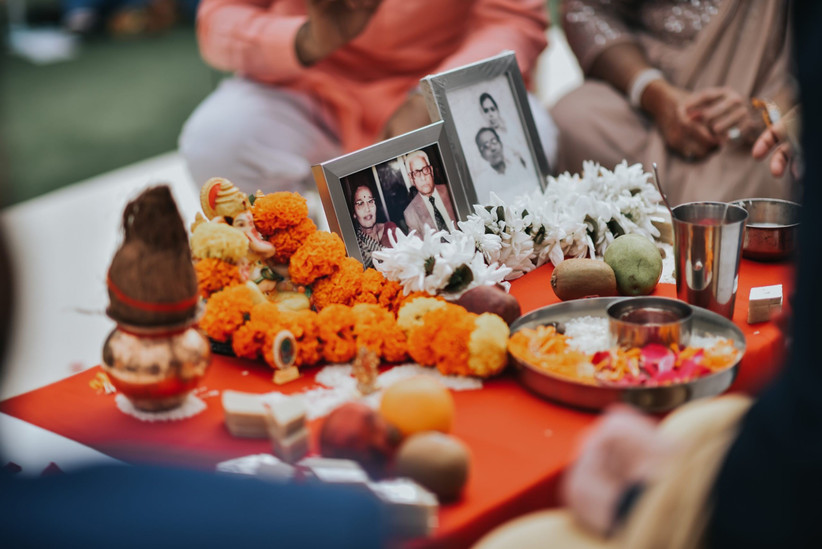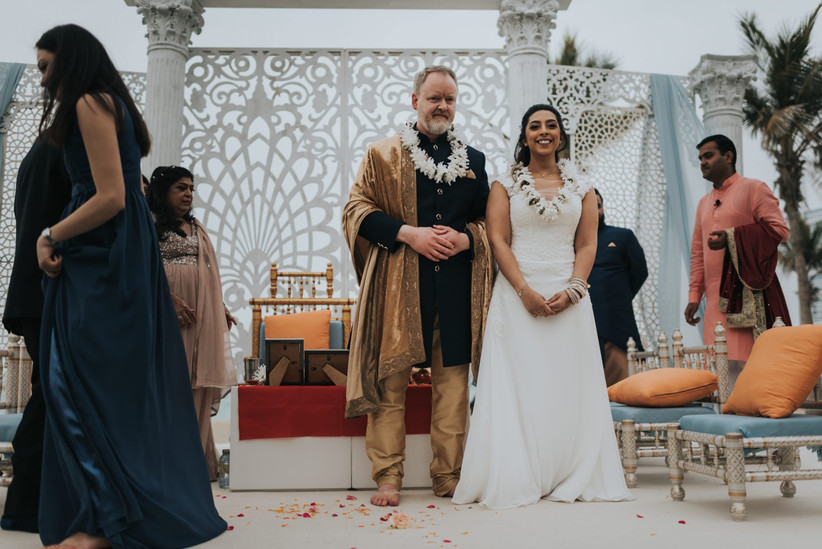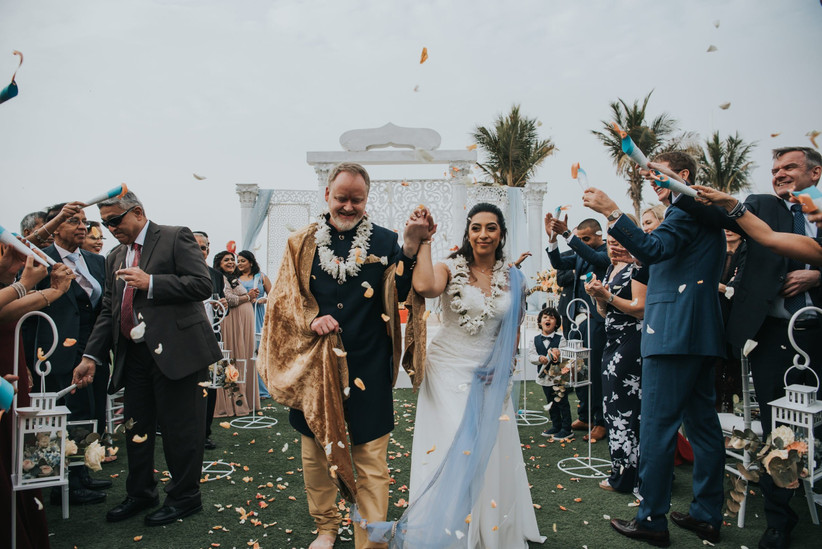 The Ceremony
The couple had a beautiful, religious Hindu ceremony in Dubai with an unconventional priest who had guests giggling throughout. During their civil ceremony in Liverpool, the couple exchanged rings from Ernest Jones.
"To transport guests to the ceremony, we had a 50 seater coach from Le Royal Méridien hotel, where most of our guests were staying. It was approximately 20 minutes to the venue.
"We had a civil service in Liverpool and a religious service in Dubai. In Liverpool, Andy's daughters did a reading each based on love and friendship.
"In Liverpool, my dad walked me down the aisle to Andy's sister playing Only You by Yazoo on the piano. But, in Dubai, as per Indian culture, my Mum's brother and his wife walked me down the aisle. We chose Begin Again by The Piano Guys."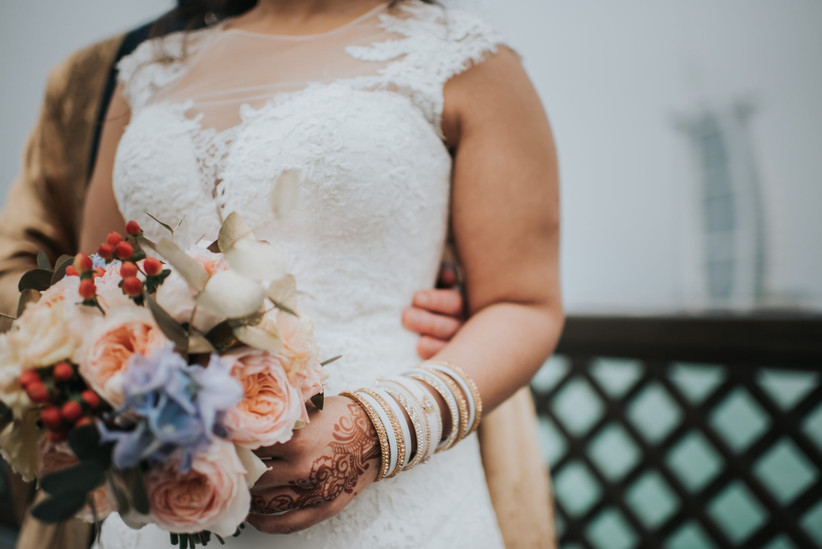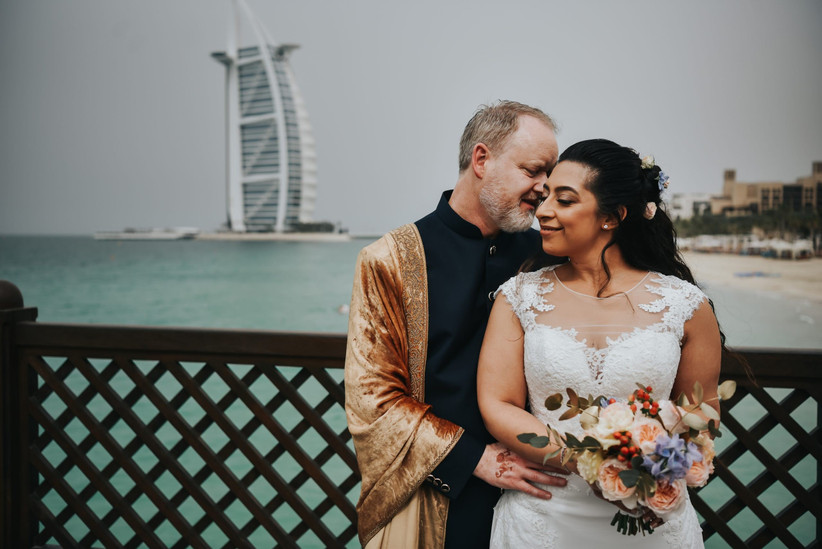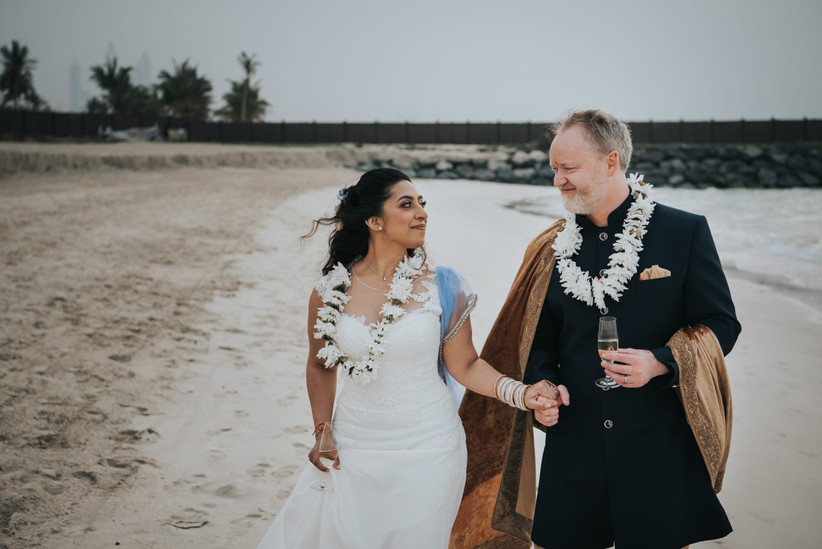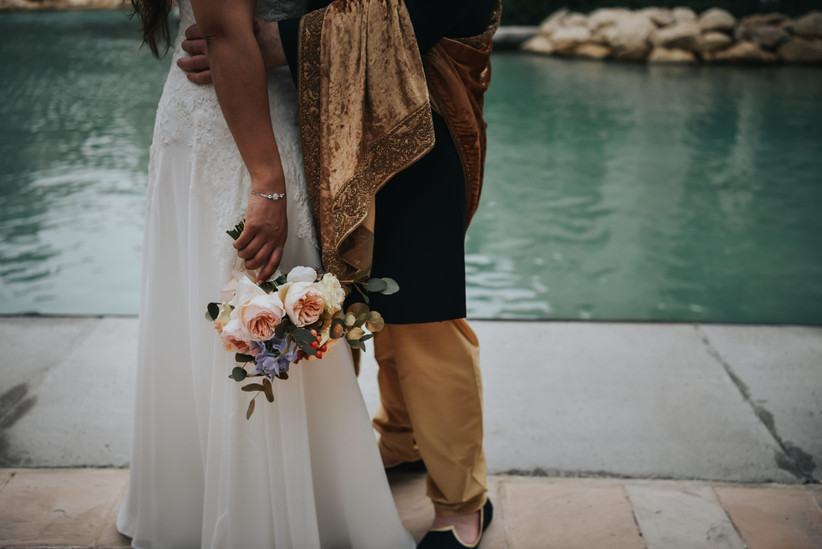 The Reception
The couple chose a colour scheme of pastel blues and orange. It was complemented by beautiful touches of white and gold, and gorgeous flowers arranged by 800 Flower.
"We got married in the Jumeirah Madinat hotel on Layali beach. The evening reception was in Magnolia, a private venue within the hotel grounds.
"We had stayed at the hotel while on holiday and thought the venue would be perfect and it was. The venue felt private even though it was on a beach that was open to hotel guests.
"Our tables were decorated with crystal candelabras and florals. We named each after a city that holds a special place for us. We had a variety of canapés and cocktails by the beach. The evening meal was an Indian buffet with a mix of vegetarian and meat dishes.
"Joumana from Aghareed was brilliant in helping manage the event and coordinate with the suppliers."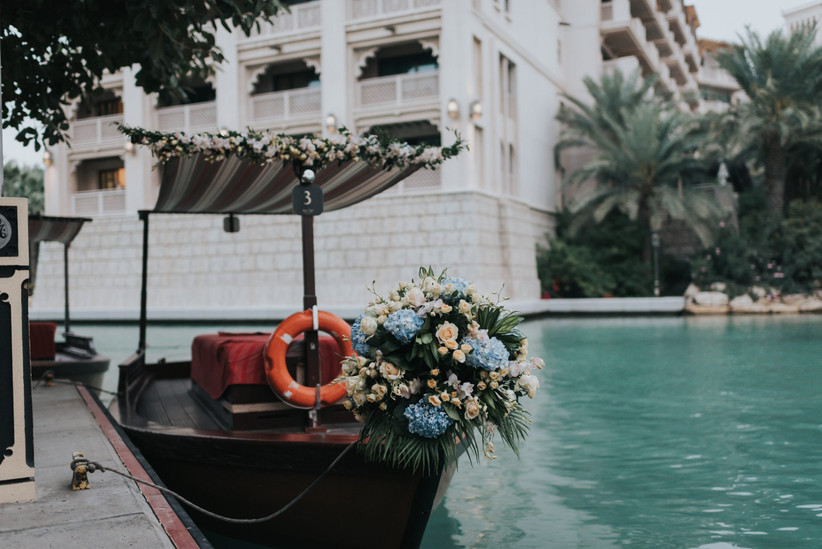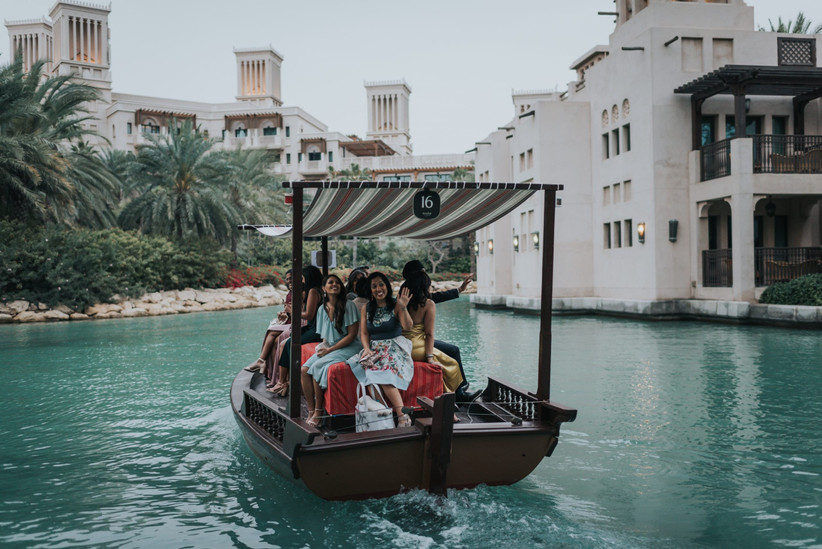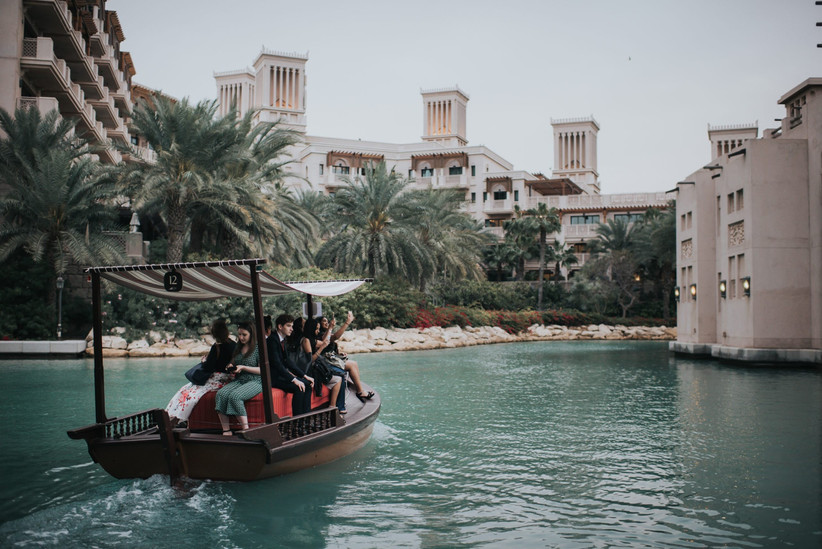 The Favours and Special Touches
Instead of a gift list, the couple decided to donate any money they were given to The Railway Children, a charity fighting for street children.
"We had a 'Welcome to Dubai' tote bag for our guests which we gave to them a few days before the wedding. On the day we had sand bottles with guest names on the table. These doubled as place holders and favours.
"We had a Polaroid area as our guests arrived at the reception venue. Their photo was taken and they were given a table name. We had midnight snacks for those continuing to party."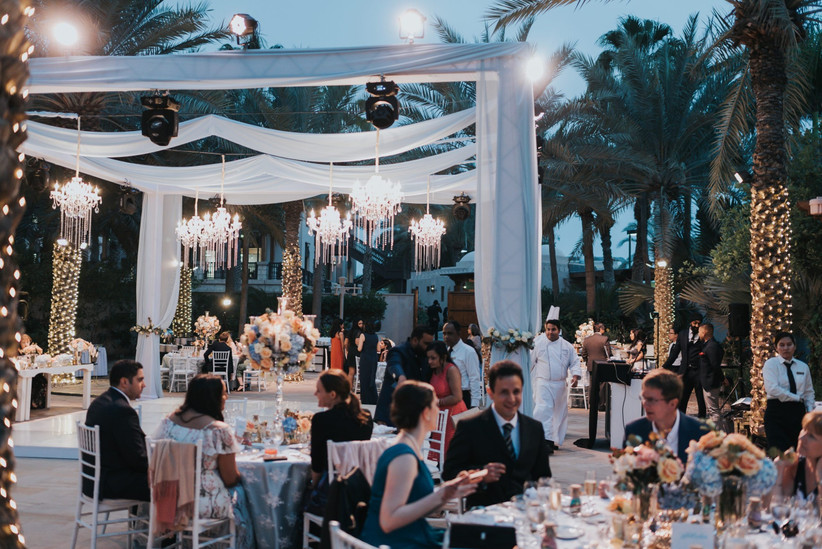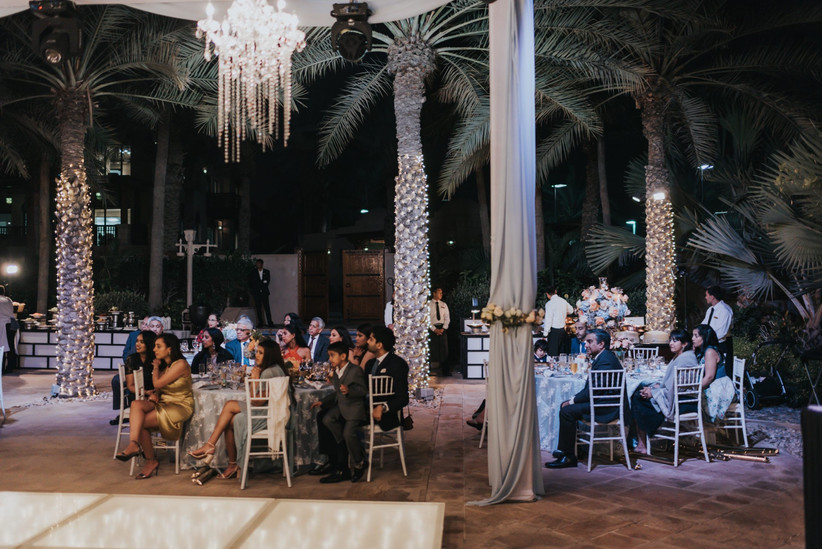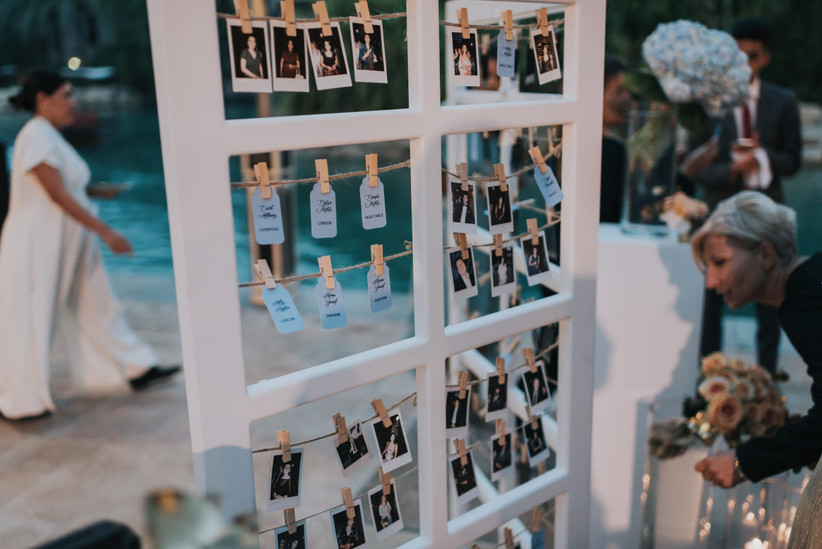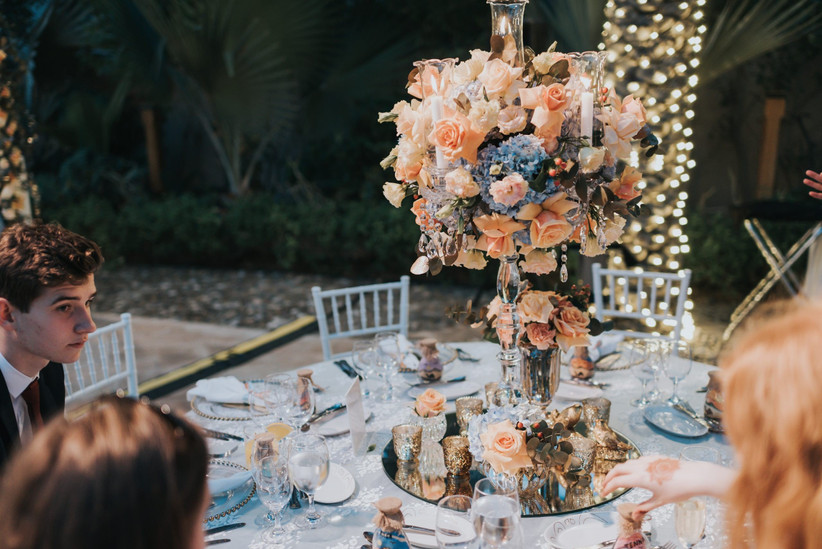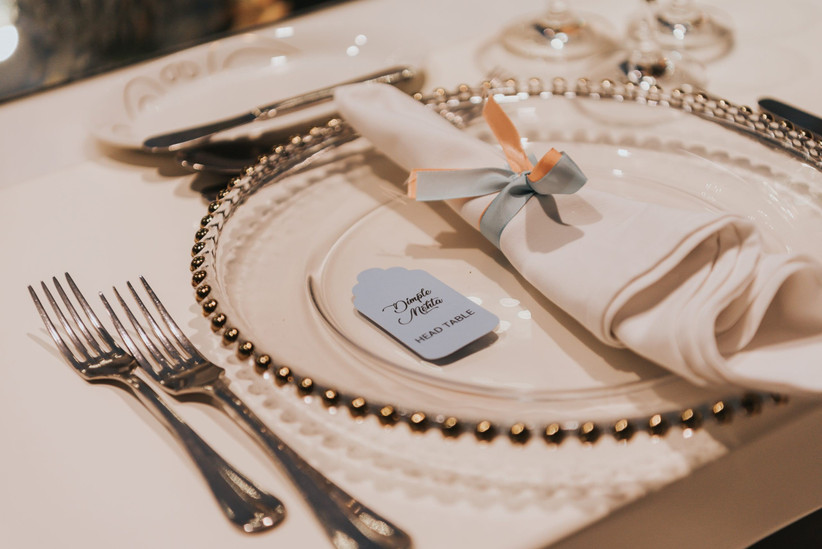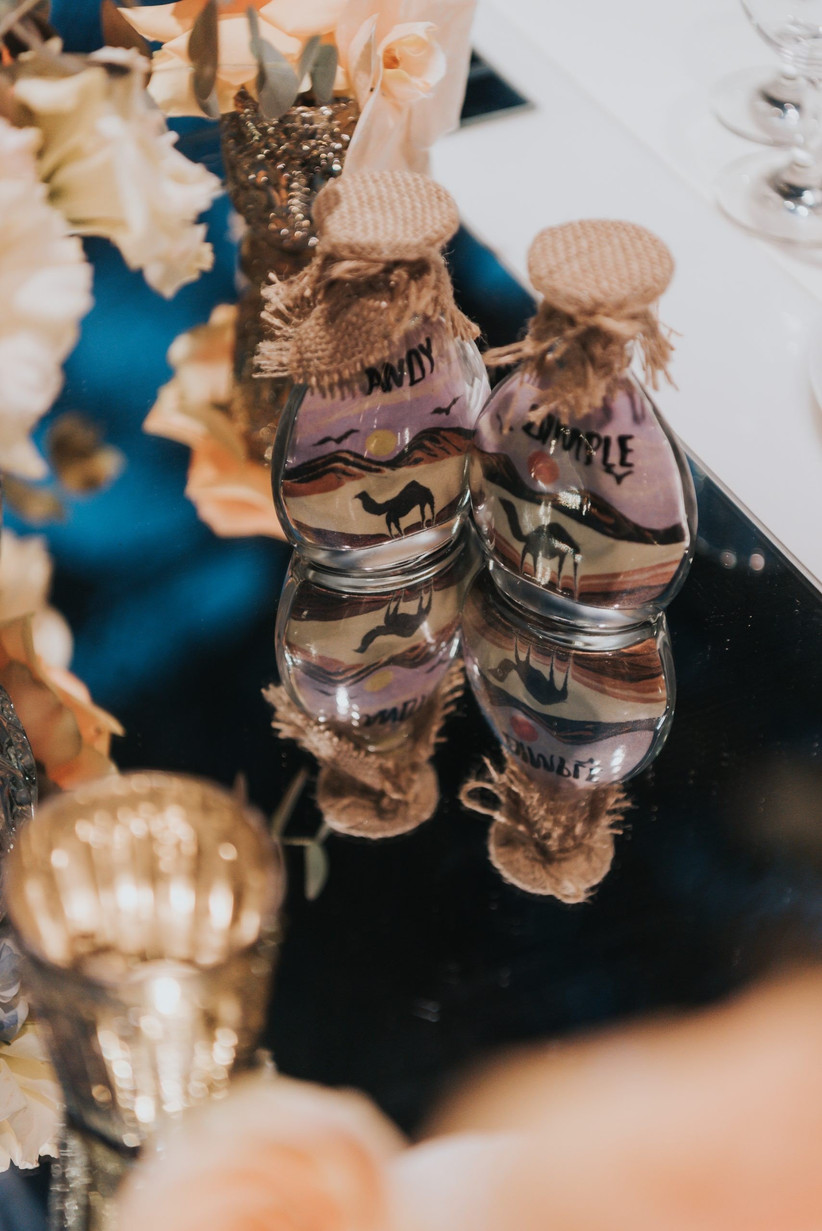 The Entertainment
The couple's first dance was to Wildest Moments by Jessie Ware. Dimple wowed guests by slipping into her gorgeous, gold evening gown from Quiz.
"We had a DJ who was recommended to us by the wedding planner. He was really helpful and downloaded some classic old school Bollywood playlists for my family which we played whilst we had our wedding meal and he really understood the music we wanted for the evening."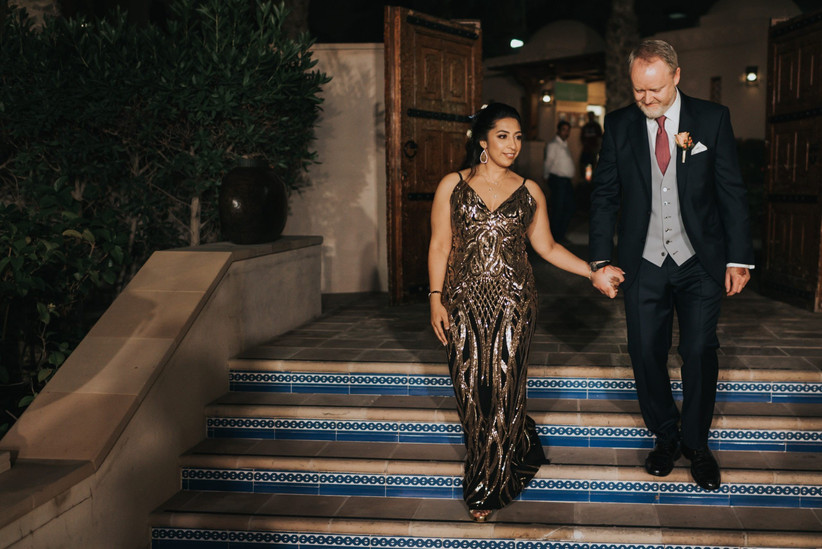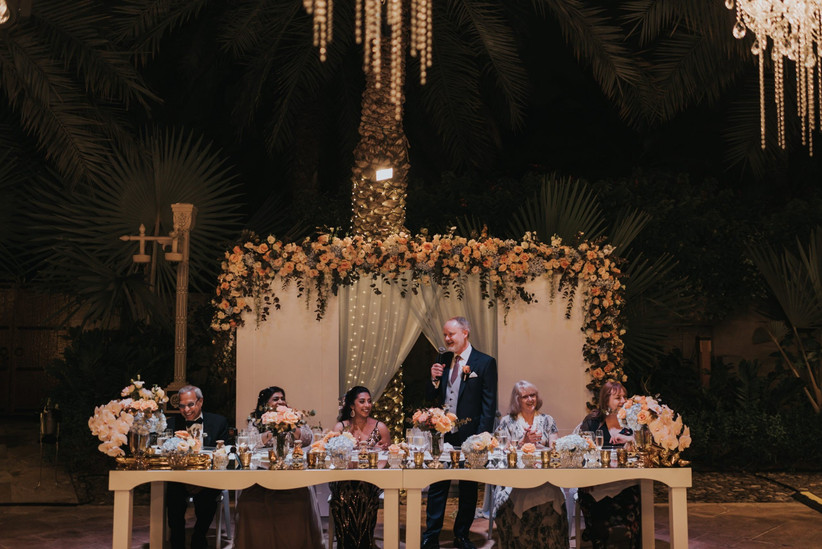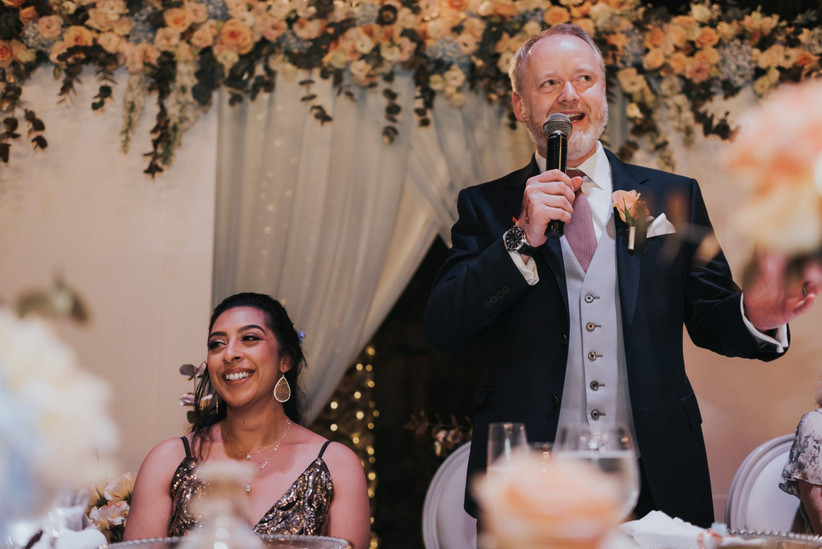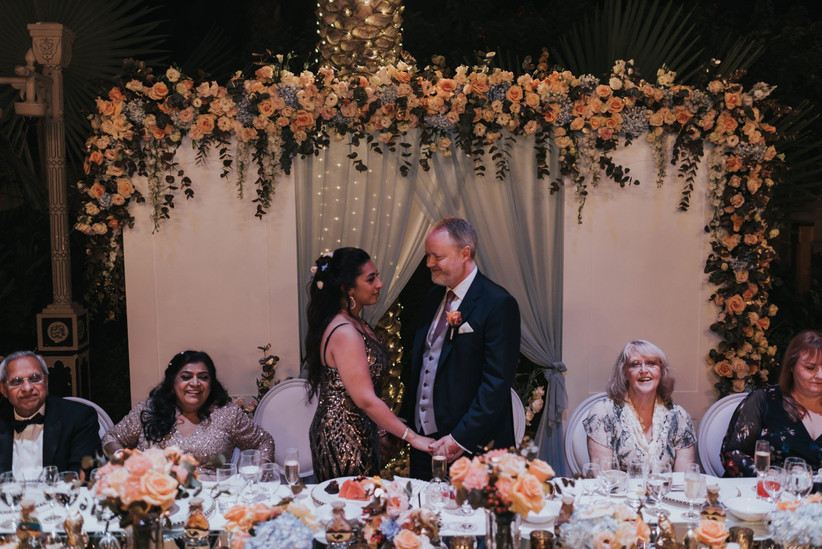 The Couple's Advice
After a honeymoon in Baros Maldives, the couple has had time to reflect on what made their big day so special. They have some useful advice for couples planning to go abroad for their special day!
"If planning a wedding abroad, think about the cost of living in the country. We underestimated the cost of alcohol in Dubai. Although we had all-inclusive drinks packages for all our events, it was an expensive experience for guests during their stay.
"Also, consider the popular times for the resort as this will impact hotel room prices. If your flight gets in early, it might be an idea to arrange an earlier check-in time for you and your guests with the hotel. They should be happy to accommodate if possible, especially if you have booked several rooms with them.
"We stuck to our wedding budget but it was revised several times leading up to the wedding so not sure if that counts!"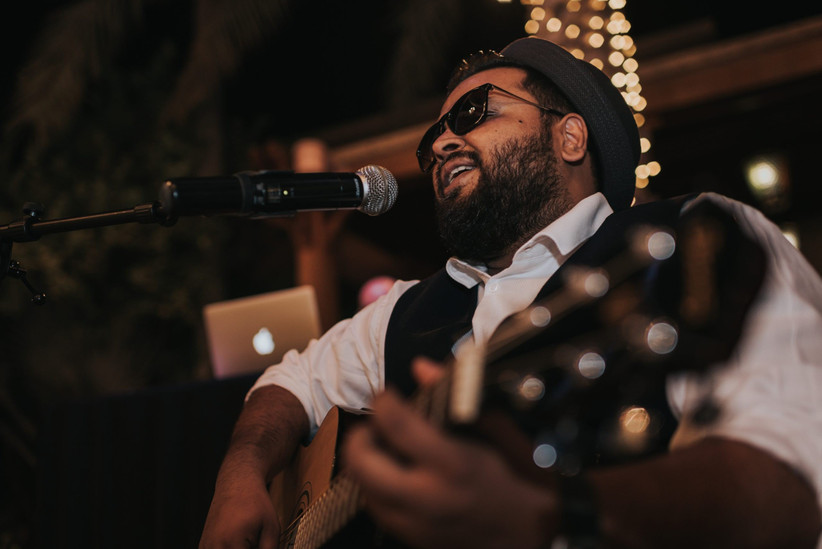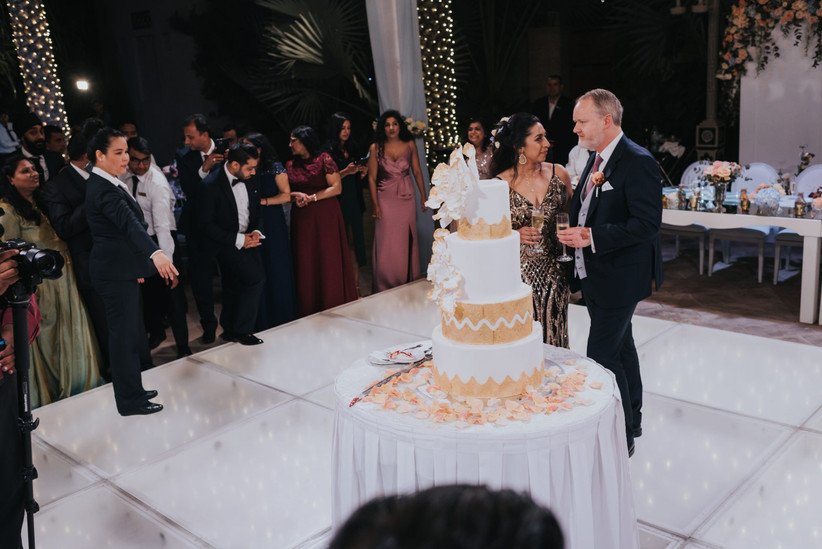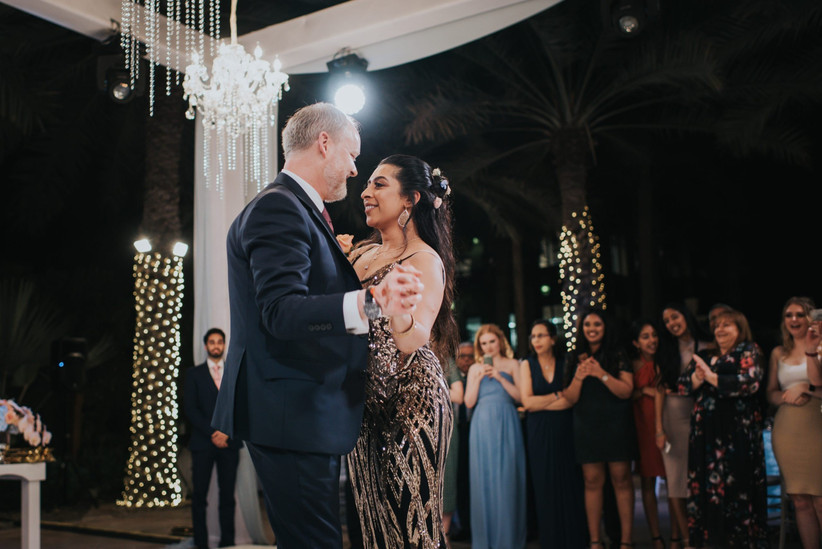 Suppliers
Photographer: Adam Joe Roberts
Videographer: WSSA Co.
Venue: Jumeirah Al Qasr Madinat hotel
Wedding Dress: Suzanne Neville from The Bridal Collection, Wed2B, and Quiz
Accessories: Swarovski and Debenhams
Hair: Andrew Collinge Hairdressing
Makeup: Makeup By Aliya
Bridesmaids Dresses: ASOS
Groomswear: Khan Collection
Wedding Planners: Aghareed
Flowers: 800 Flower
DJ: DJ Ash
A huge thank you to Dimple and Andy for allowing us to share their gorgeous wedding day!