Mothers-in-law can get a bad rap, but, as the mum of your partner, they're an important person in your life. No doubt you'll want to impress her and that means a really thoughtful gift that you know she'll love when it comes time for present-giving.
Whether it's her birthday, Christmas, Mother's Day or even a wedding day thank you gift, we've compiled a huge selection of mother-in-law gifts that are bound to put a smile on her face and get you a big gold star.
No matter what type of woman she is, and whether it's your first Christmas or 20th one together, we promise there's a gift in here for your mother-in-law. From guaranteed winners to unique presents that will tap into her hobbies and personalised treats, take a look through the ideas below.
The Best Gifts for Your Mother in Law
Cashmere Jumper - from £79, Marks & Spencer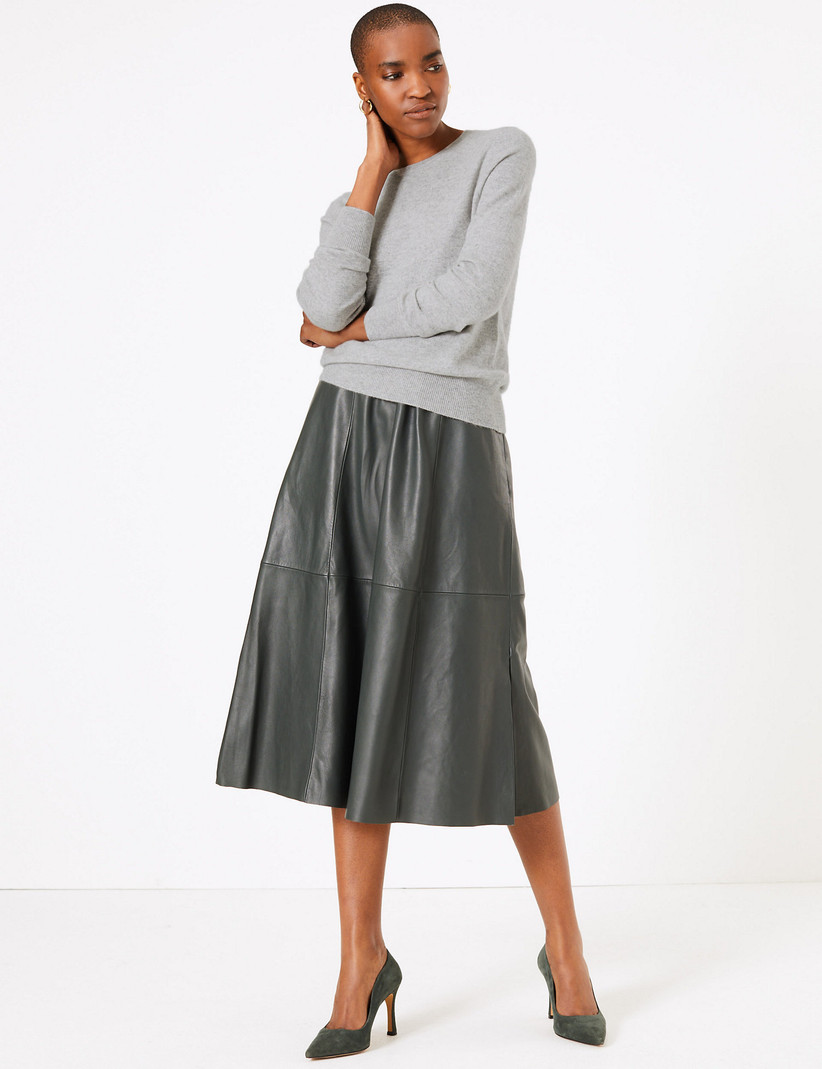 M&S do great quality, affordable cashmere that's the perfect gift for someone hard to buy for. It comes in a range of styles and colours so there's something for everyone (although a gift receipt never hurt for the trickiest of customers). Buy any time of year, but a cashmere jumper is particularly great as a luxe Christmas pressie.
Diptyque Set of Three Scented Candles - £75, Net-A-Porter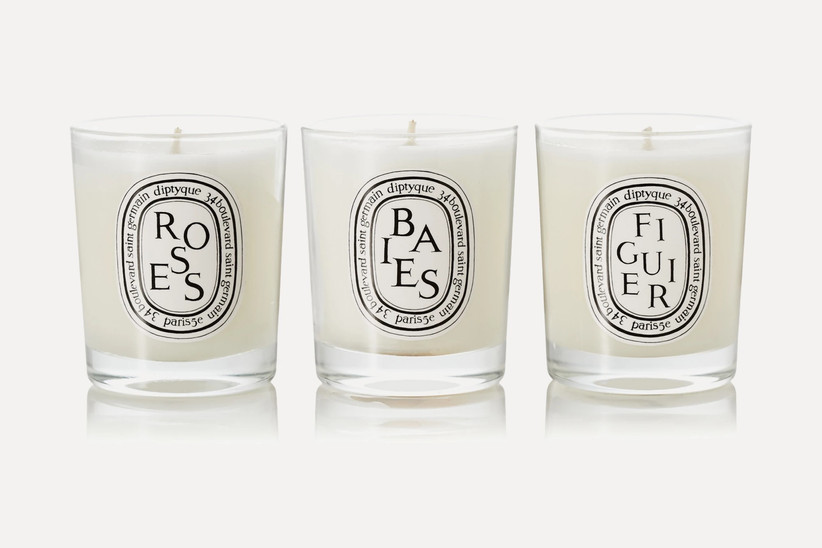 This three candle set comes in a beautiful presentation box and is the perfect gift for a consummate hostess. You get three of Diptyque's favourite scents: rose, fig wood, and a combination of rose and sweet blackcurrant leaves.
Pro Cork Yoga Mat - £85, Cork Space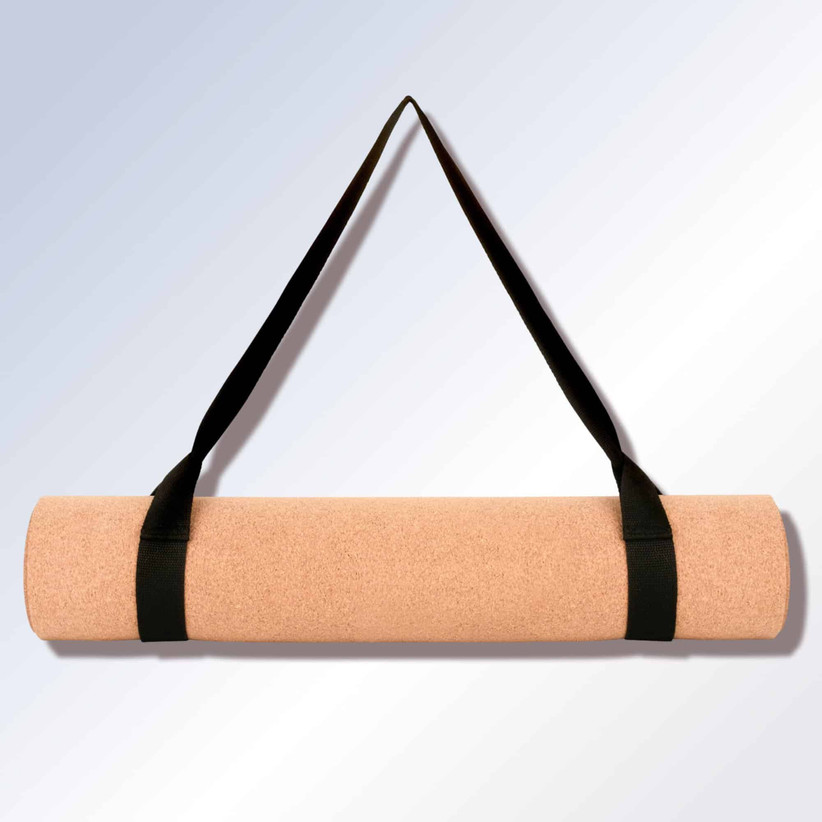 These soft, luxury yoga mats are made from sustainable cork and natural rubber and any yogi will love their amazing eco-credentials. Cork is naturally antimicrobial, which means it eliminates bacteria and odour, as well as being non-slip and sweatproof. Even better, the sturdy design doesn't curl up at the ends - perfect if your mother in law loves yoga.
READ MORE: 52 Funny Love and Marriage Quotes
Hot Dogs 1000 Piece Jigsaw Puzzle - £14.99, Oliver Bonas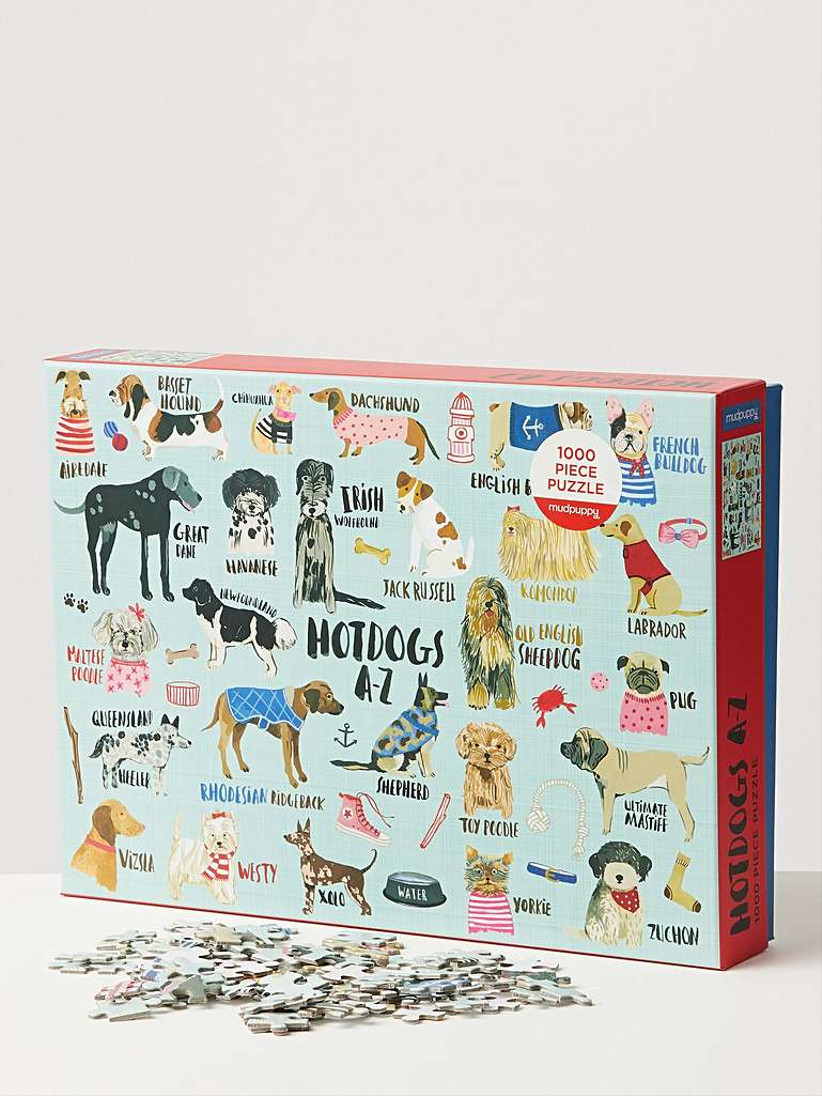 Jigsaws are a great gift and you can get one in any theme that your mother in law will like. Oliver Bonas have lots of fun puzzles, including this cute dog one and a cat alternative. For jigsaws in every theme imaginable, try Amazon.
Hummingbird Glasses Case - £18, John Lewis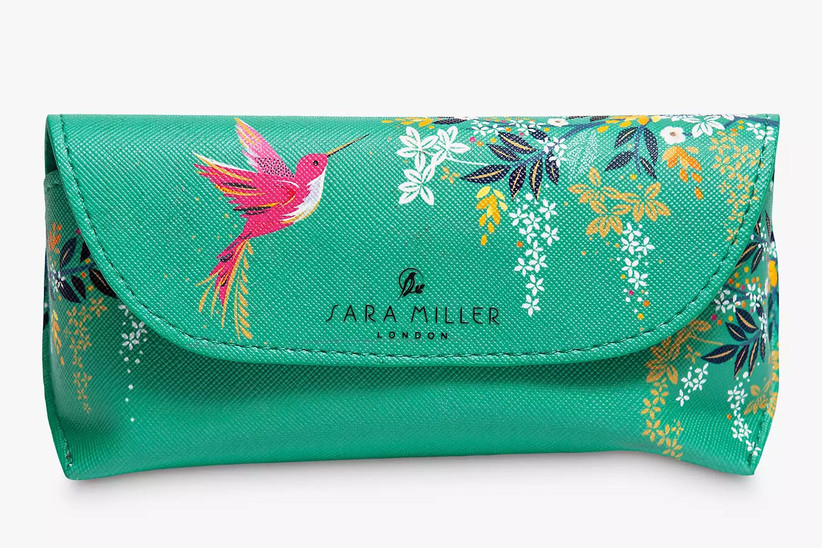 How gorgeous is this glasses case! If your mother in law usually wears glasses or has recently got a pair, give her somewhere special to store them. This bright design is easy to see in the bottom of your bag and is rigid and felt-lined to keep glasses safe and secure.
Mother in Law Candle - £24, Kindred Fires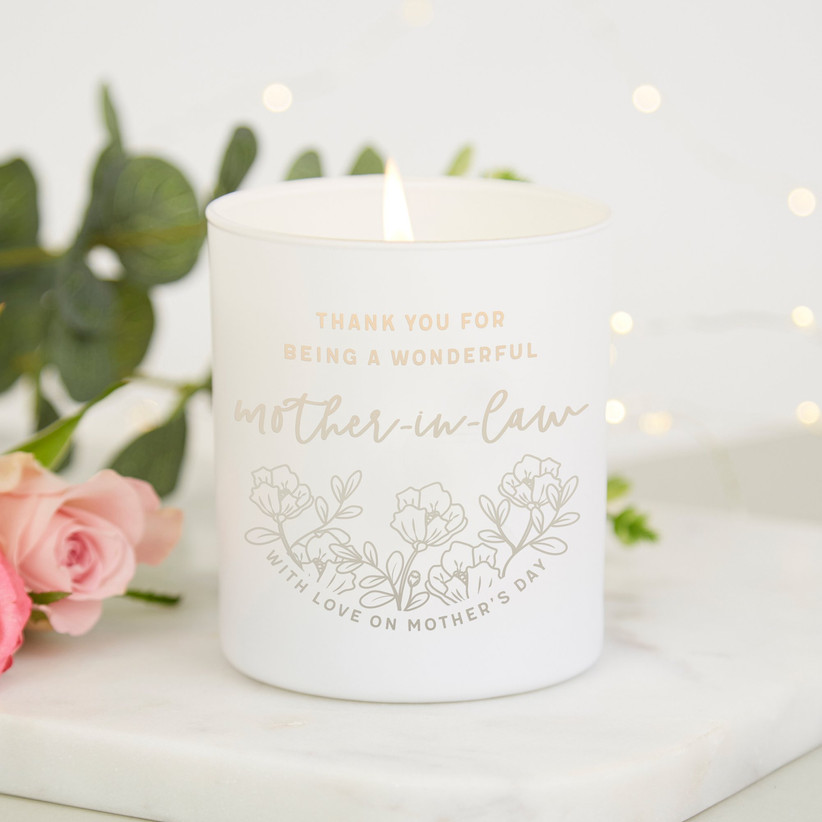 This hand-poured soy wax candle is a lovely gift for Mother's Day. You can choose from a selection of amazing scents like cassis & wild fig, and sandalwood & black pepper. With 40 hours of burn, this is a luxury candle they'll love lighting and every time it burns down, you'll see more of the message on the outside lit up.
Kate Spade Initial Notebook - £20, John Lewis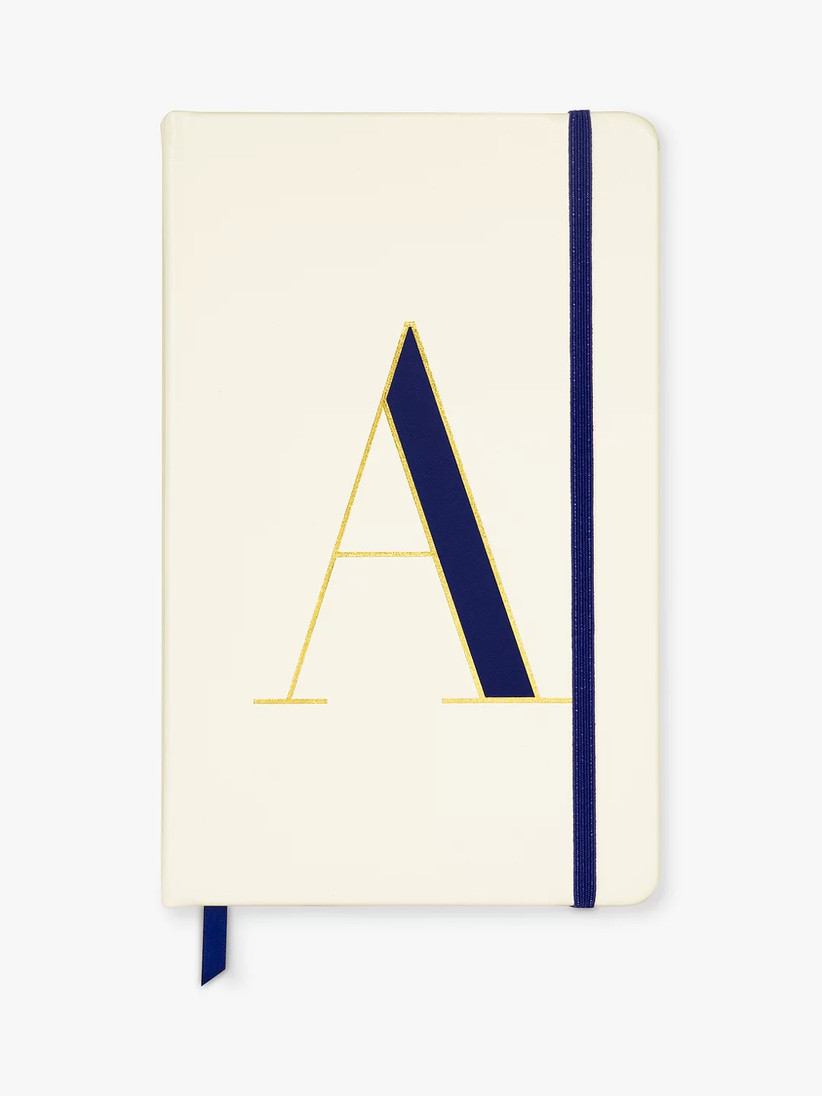 Anyone who says they don't like notebooks is telling a fib. Opening up to a fresh page, taking in the new notebook scent: it's magical. Get your mother in law a special notebook with her initial on, like this one by Kate Spade. If you're just getting to know her, this will go down a treat.
Panther Scarf - £28, Oliver Bonas
You can't go wrong with a pretty scarf. We love this one from Oliver Bonas which adds a botanical burst to any outfit. John Lewis and The White Company are great for basic scarves, and if you're buying one for a big occasion and have the budget, you can't go wrong with a Hermes scarf.
The Chocolate and Fizz Collection - £27.50, Hotel Chocolat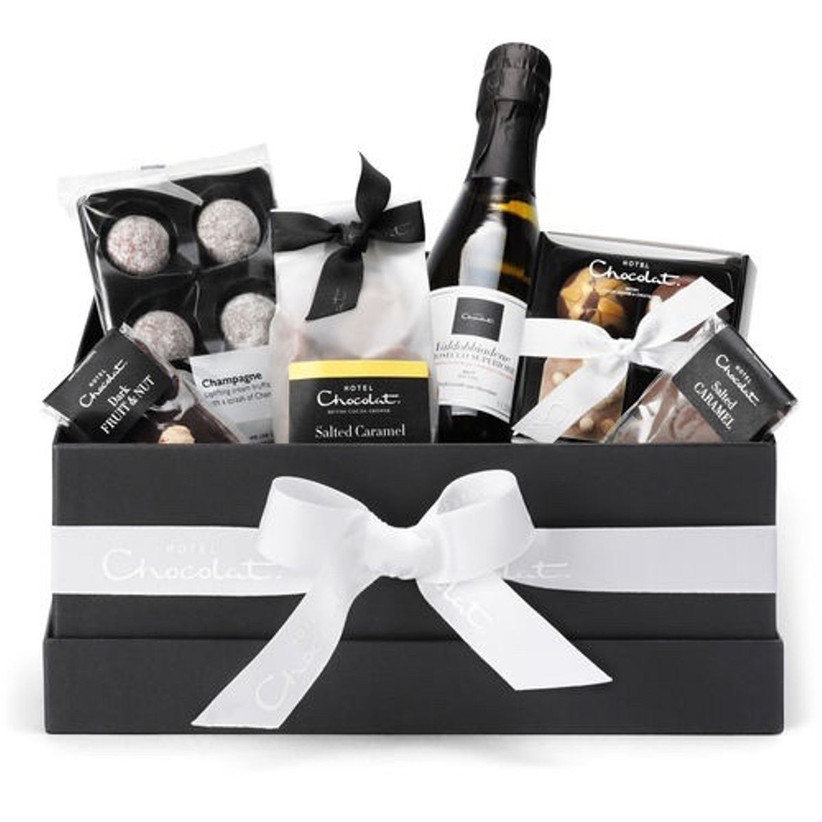 Hotel Chocolat have put their best-loved chocs into a gorgeous box and added a mini bottle of Prosecco to make a gift no one could turn down. Included in this are salted caramel puddles, Champagne truffles, chocolate slabs and more - delicious!
Khaki & Tortoiseshell Buckle Leather Belt - £39.50, Oliver Bonas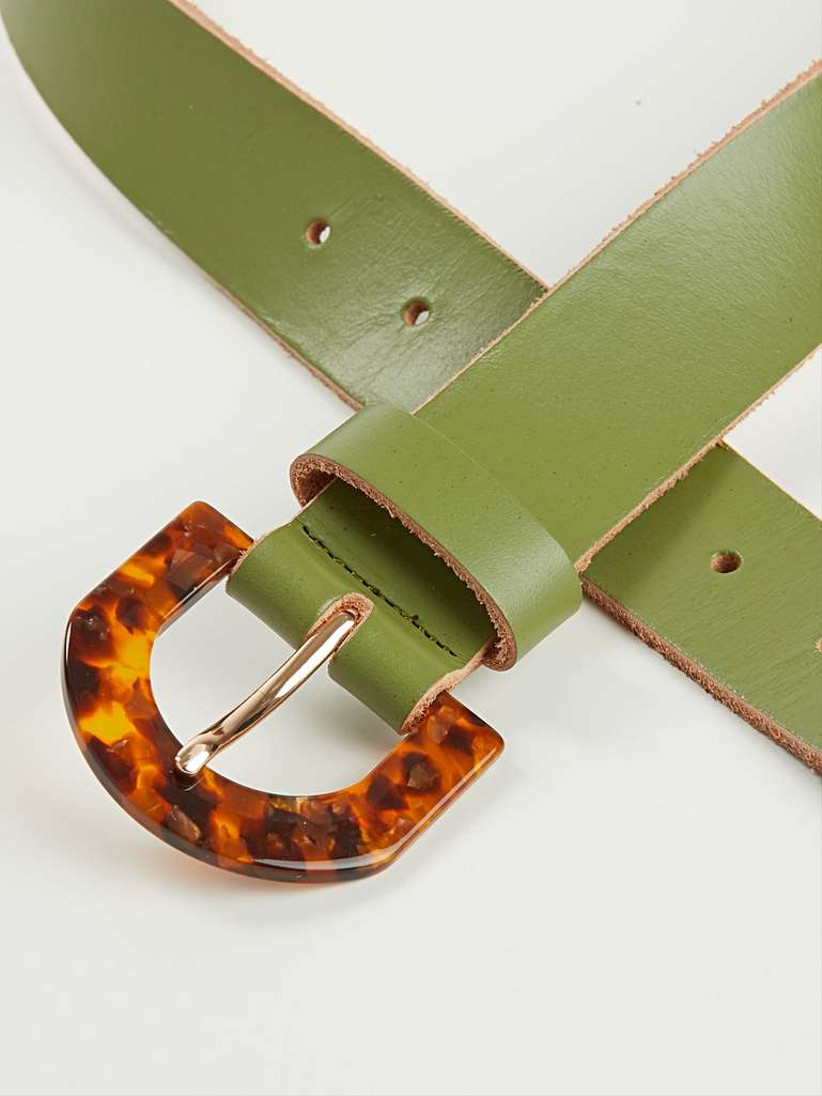 This gorgeous green leather belt with a retro tortoiseshell buckle will add a fashion-forward twist to any outfit. If you mother in law is a fashionista, she'll love this statement piece.
READ MORE: 25 of the Best Bridal Jackets for 2020
Slippers - from £25, The White Company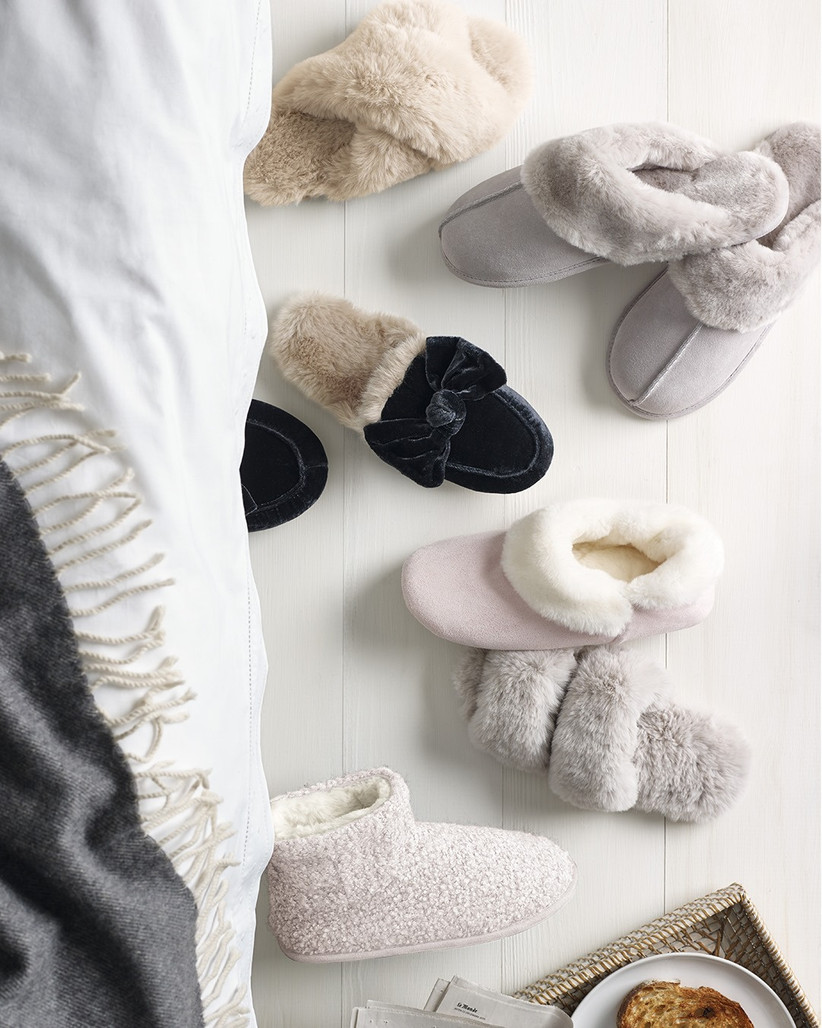 Comfy and stylish, The White Company have lots of different styles of slippers from furry boots to sliders and suede mules. Whatever style she loves, there's a perfect pair of these fancy slippers to gift (and lovely cashmere bed socks too).
Kintsugi Repair Kit - £28, Trouva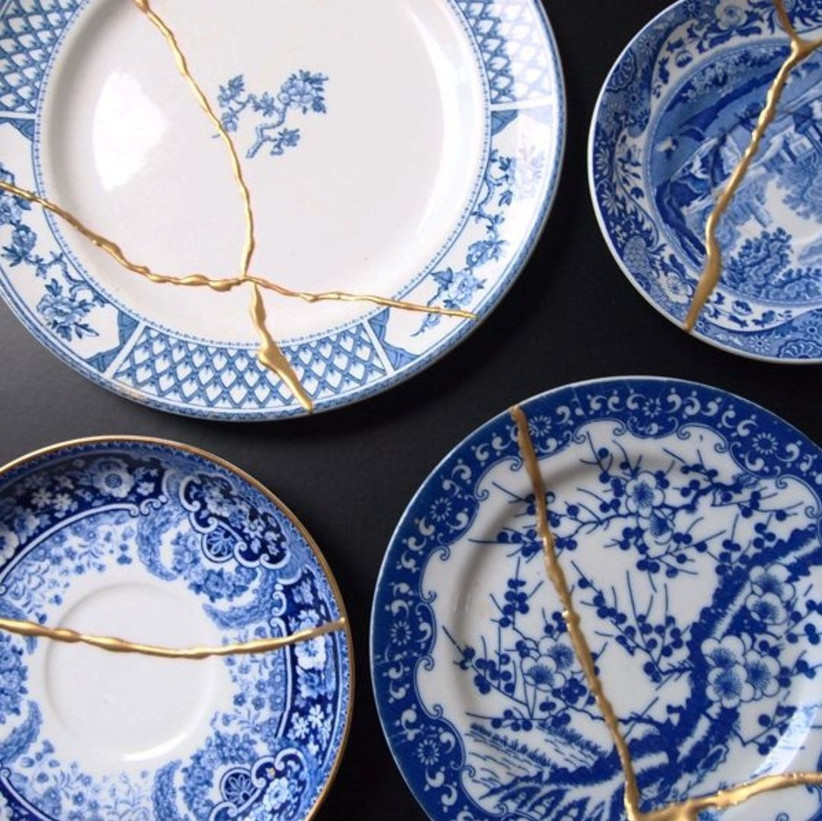 Kintsugi is the ancient Japanese art of repairing broken pottery with gold to create an even stronger and more beautiful piece of art. If your mother in law has a vase or plate that needs fixing, this is a gorgeous gift to give to help her create a new characterful piece of porcelain.
Retro Shapes Teapot - £25, John Lewis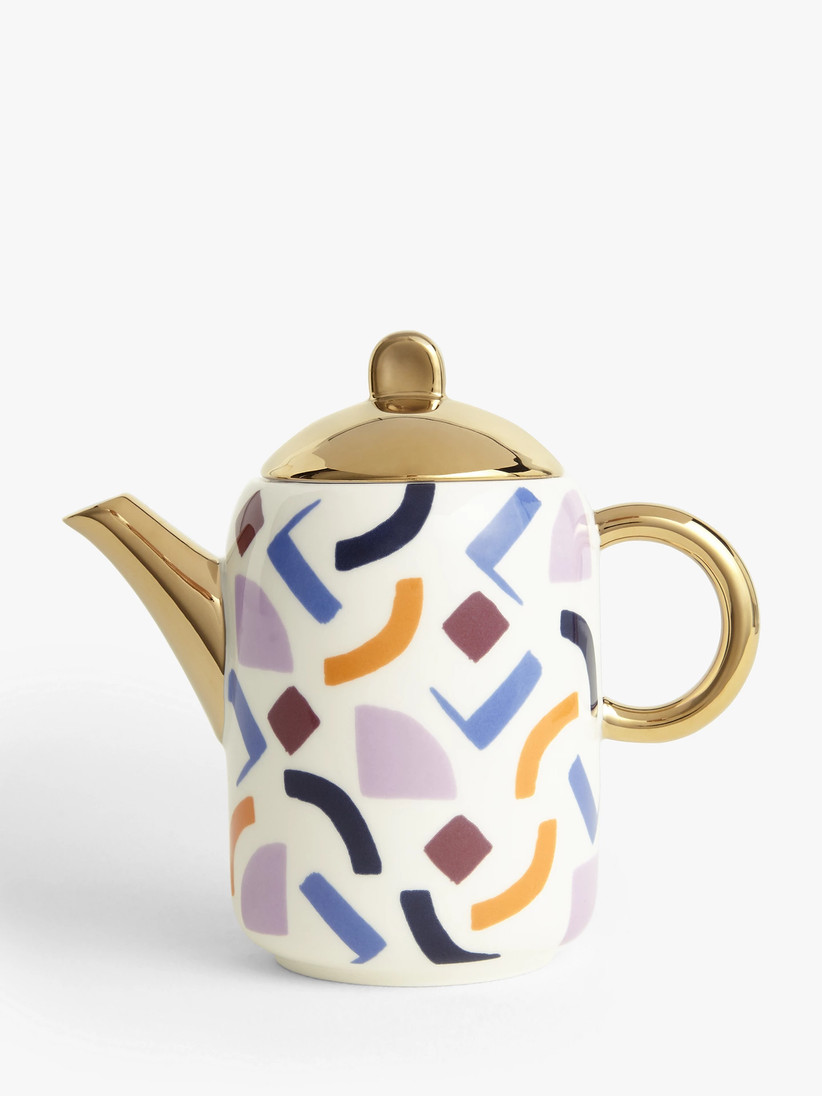 We love this eye-catching teapot with stylish gold detailing. It's a great decorative piece for the kitchen and looks amazing when you're serving from it. Your mother in law will love it.
Chan Luu Gold-Plated Pearl Necklace - £90, Net-A-Porter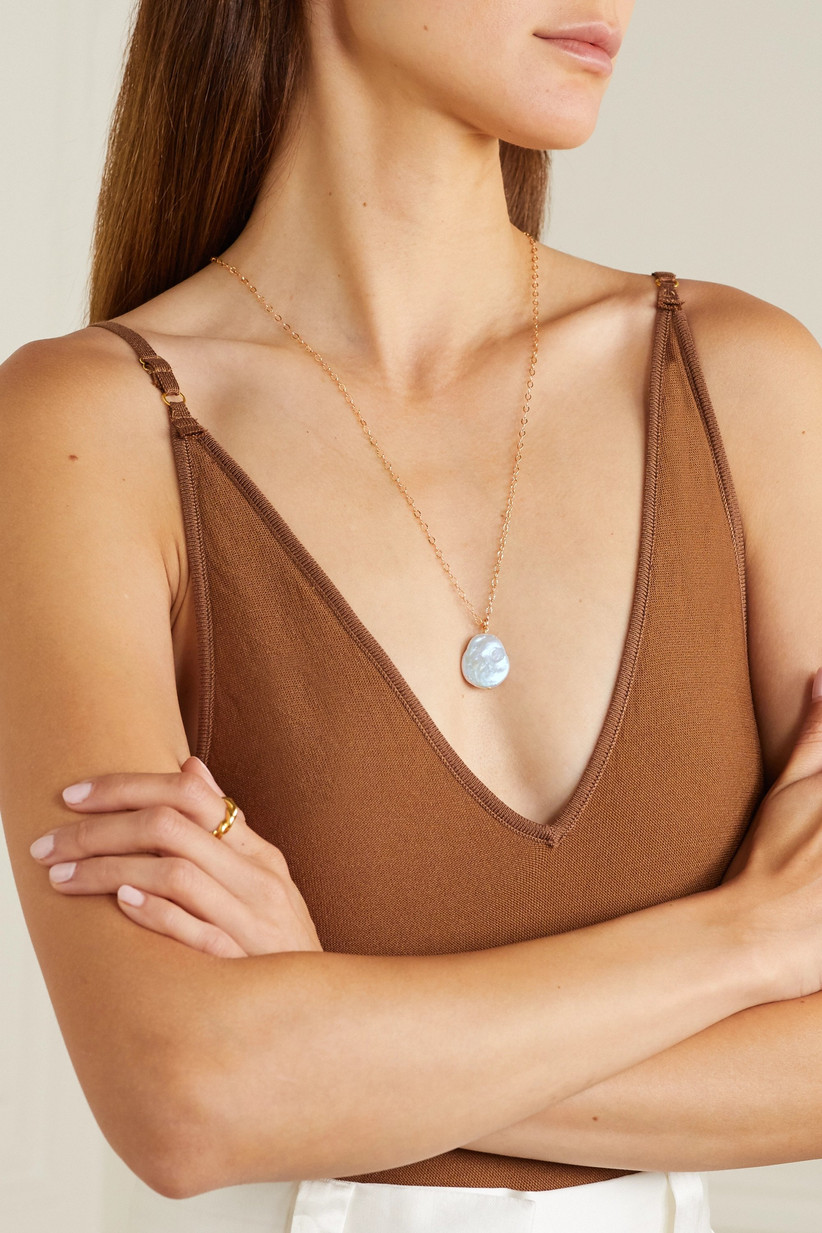 This delicate gold chain is finished with a single untreated pearl that reflects iridescent light from every ripple. It's a statement piece and a great alternative to a traditional pearl necklace for pearl fans.
Clementina Orange Ceramic Vase - £22, Oliver Bonas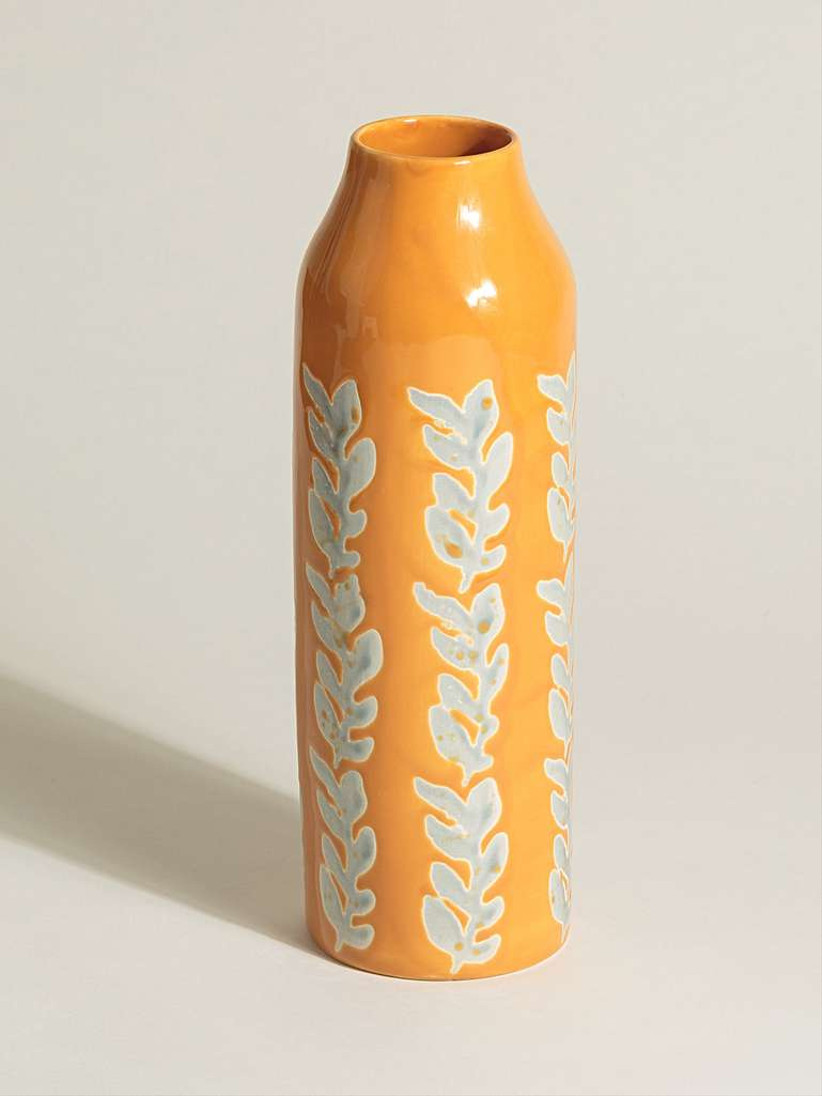 If you're gifting some flowers or even a flower subscription, how about adding in a cool vase too? This bright and bold, orange-glazed, cylinder vase is perfect for dried flowers too. We love the white floral motif.
Echo Dot - £49.99, Amazon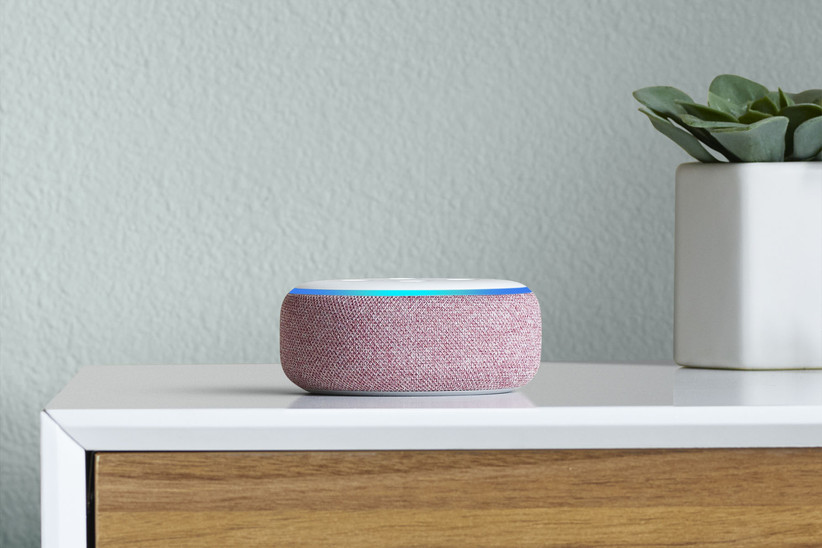 This voice-controlled speaker can play music, tell you the news and weather; check your calendar; make a to-do list and read aloud a recipe. You can use it to call almost anyone hands-free and control your home smart devices. It's linked to Audible, the radio and even your Fire TV. In short, the Echo Dot is a fab piece of equipment to have in the home.
Coffee Table Book - from £20, Waterstones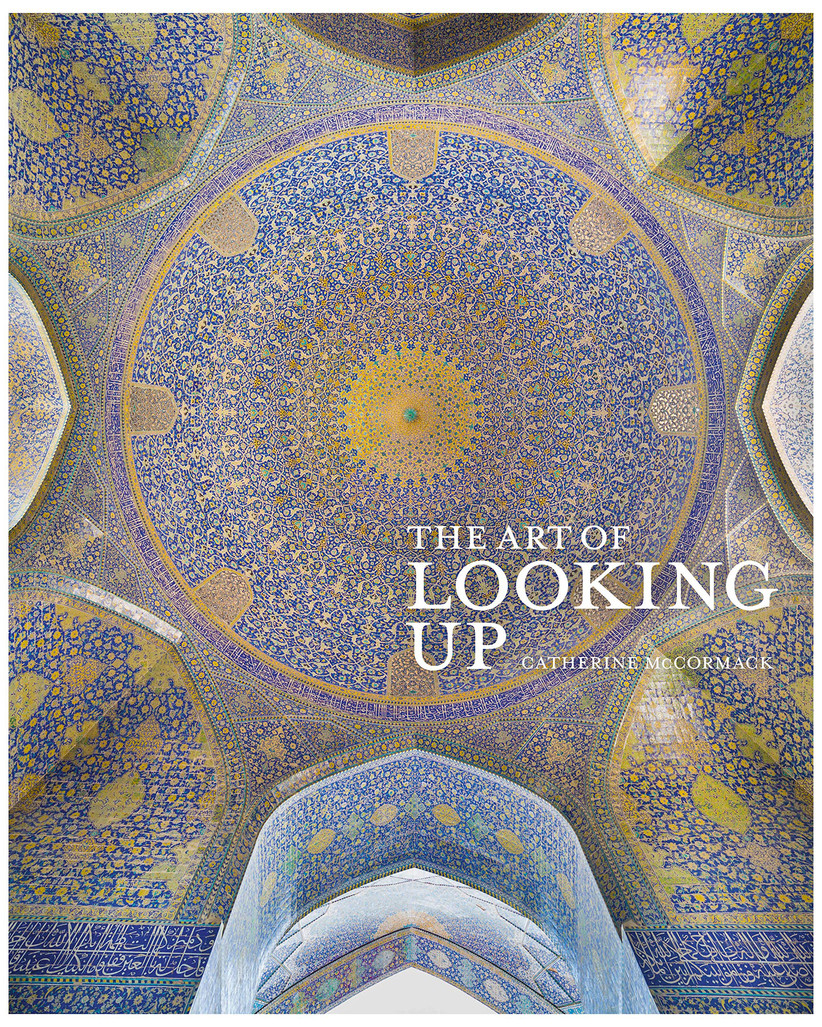 Whatever her hobby, there'll be a gorgeous coffee table book that'll fit right in with her home décor. For art lovers, try The Art of Looking Up, which takes you through the story of 40 ceiling frescos around the world. Gardeners will love Monty Don's Paradise Gardens, while ramblers will find new paths in A History of the World in 500 Walks.
READ MORE: 29 of the Best Places to Minimoon in the UK
Press Pause Mindfulness Journal - £25, Axel & Ash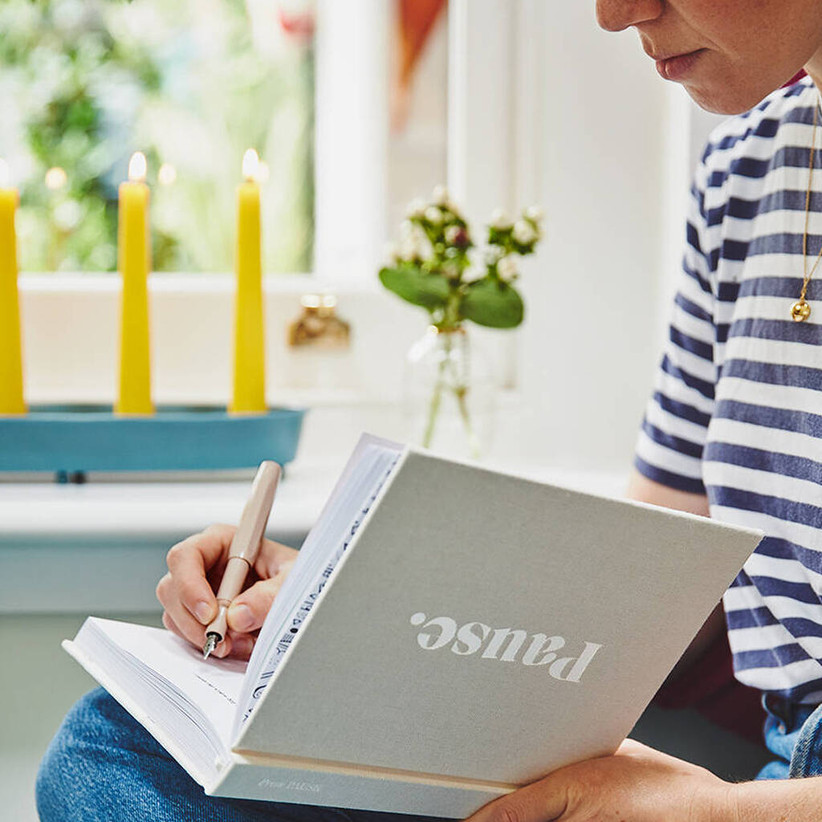 This beautiful mindfulness journal is worth its weight in gold for those trying to connect with themselves more. Featuring 52 weekly journalling prompts, inspiring stories and fun questions, it's a call to take 20 minutes out your week to reflect on where you are, to think, feel, appreciate, explore, re-calibrate, and celebrate life.
Chipolo One Item Finder - £25, Oliver Bonas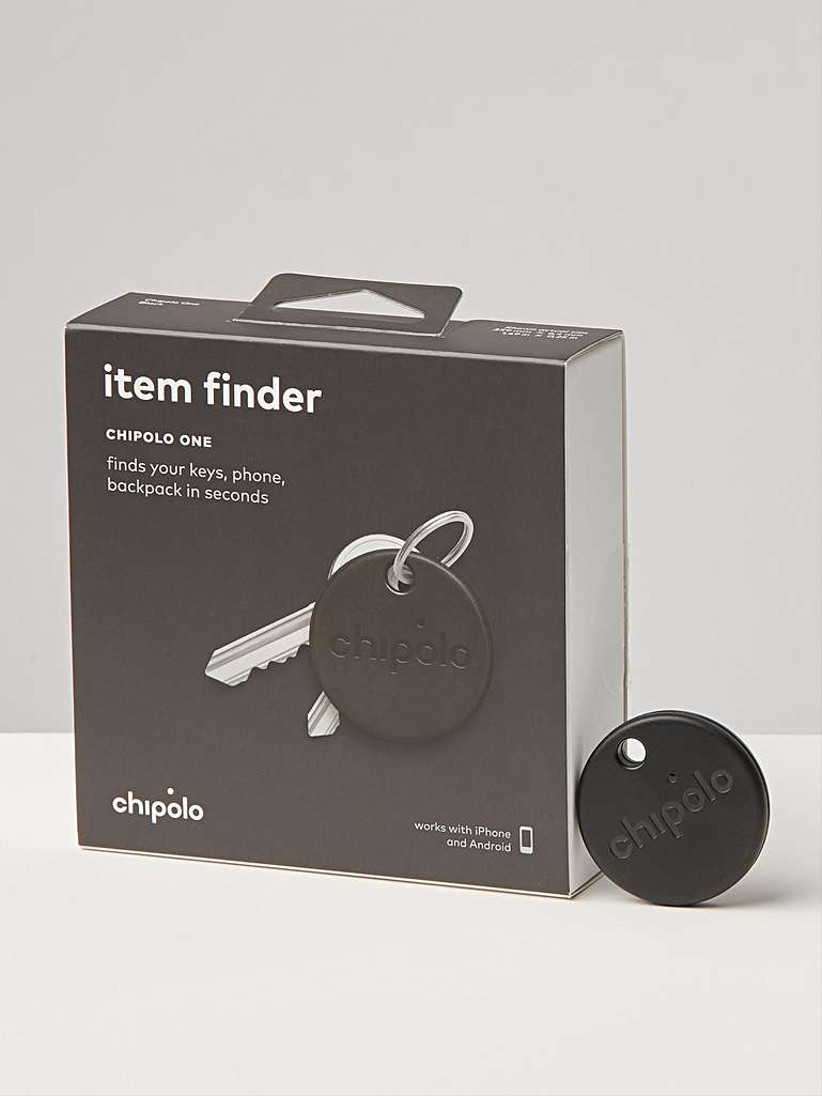 This is a delicate one to gift. If your mother in law is always losing things and can take a joke about it, she'll find this item tracker both hilarious and useful. Attach it to your keys or wallet and you can track them on the app or double click the chip to ring your mobile. You can also use it as wireless selfie button and to give voice commands with Google Assist, Alexa and Siri.
Weighted Blanket - from £49, Luna Blanket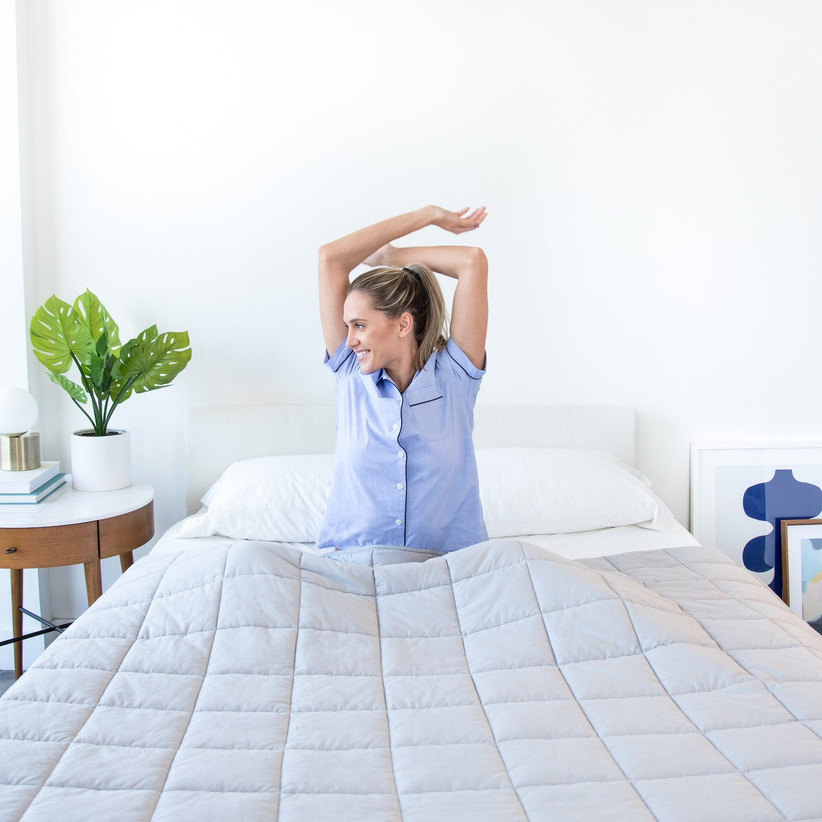 If you know your mother in law struggles to sleep (and even if they don't), a weighted blanket is a must. If you haven't heard of the concept, they weigh 7-12% of your body weight and simulate the 'deep touch pressure stimulation' of being given a hug, which increases the production of seratonin and melatonin. This helps reduce stress, relieve anxiety, soothe aches and pain, increase relaxation and reduce insomnia. A real winner.
Instant Pot - £84.99, Amazon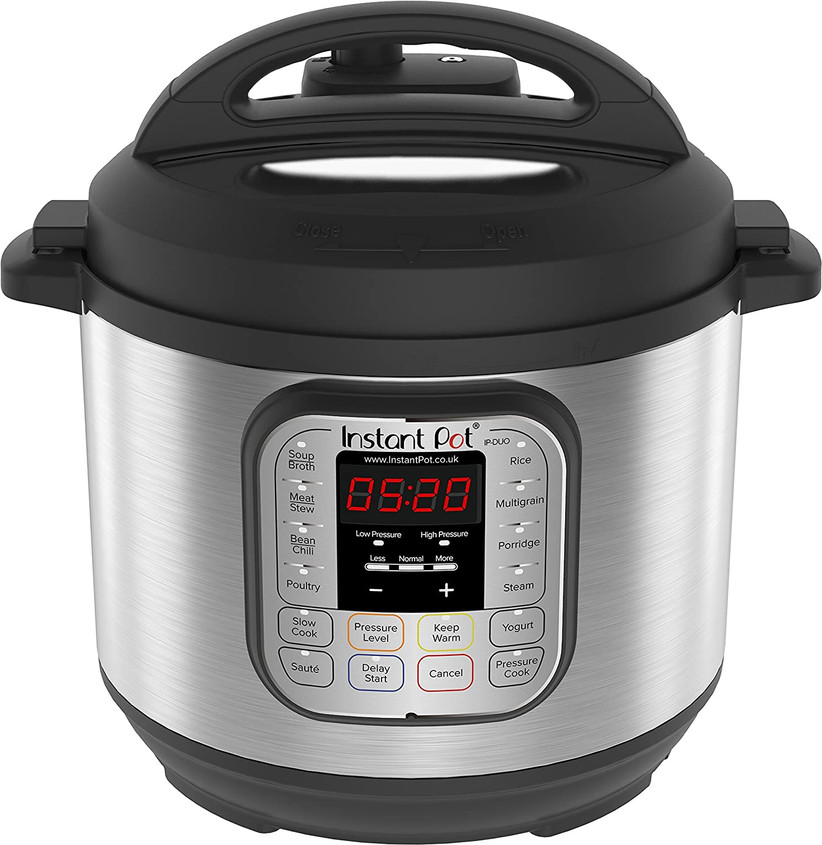 We've been lusting after one of these for ages. The Instant Pot is a bestseller that helps whip up family meals quickly and easily. It's loved by home cooks around the world so if your mother in law wants a 7-in-1 product that's a cooker, pressure cooker, slow cooker, rice cooker, sautes/browns, makes yoghurt, steams and warms in one, this is it.
Personalised Gifts for Your Mother in Law
Bespoke House Drawing - £19.99, Etsy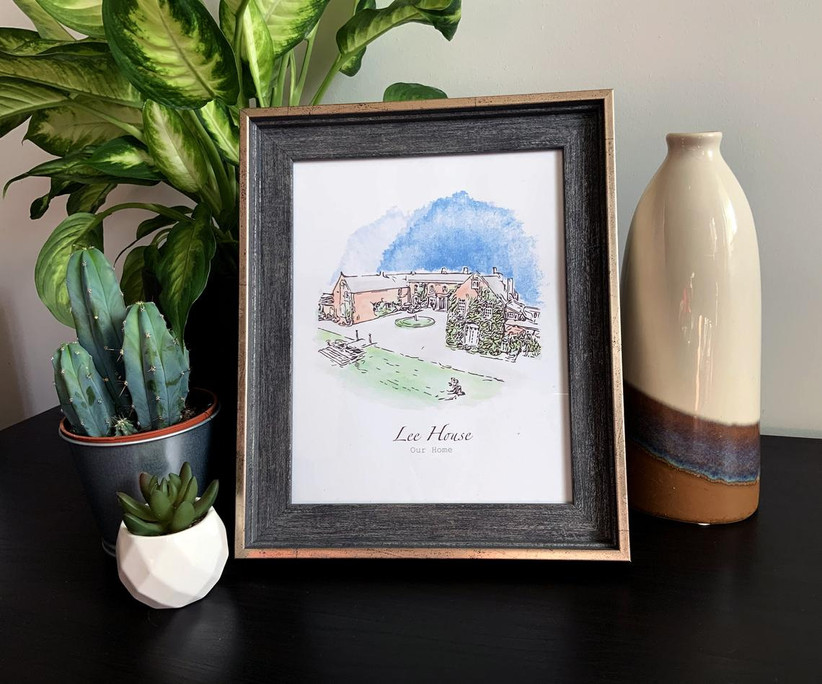 Send designer Michael a photo of your mother-in-law's house or favourite place and you'll get back a bespoke, lovingly-created, framed print to hang. It's a thoughtful gift and is especially sweet if there's a place where you've made happy memories as a family, like a holiday cottage.
Personalised Set of Notecards - £20, Papier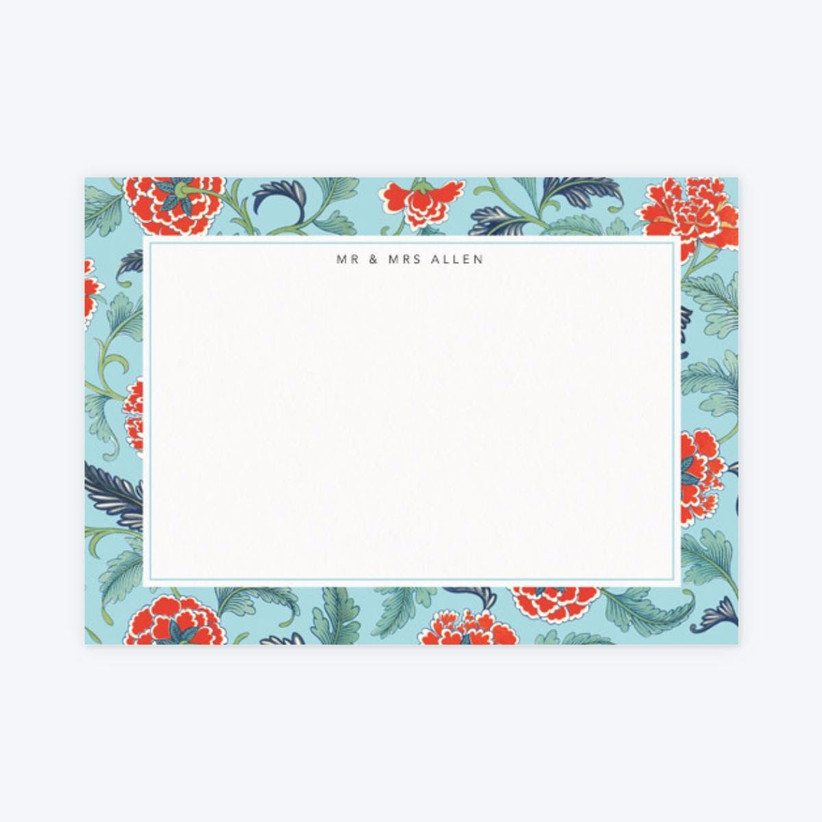 If your mother-in-law loves writing notes, there's nothing better than a set of personalised cards to send. Papier has lots of beautiful designs but we love this print from the V&A collection. You can customise with her intitals or name.
Personalised Oak Chopping Board - £49, Traditional Wooden Gifts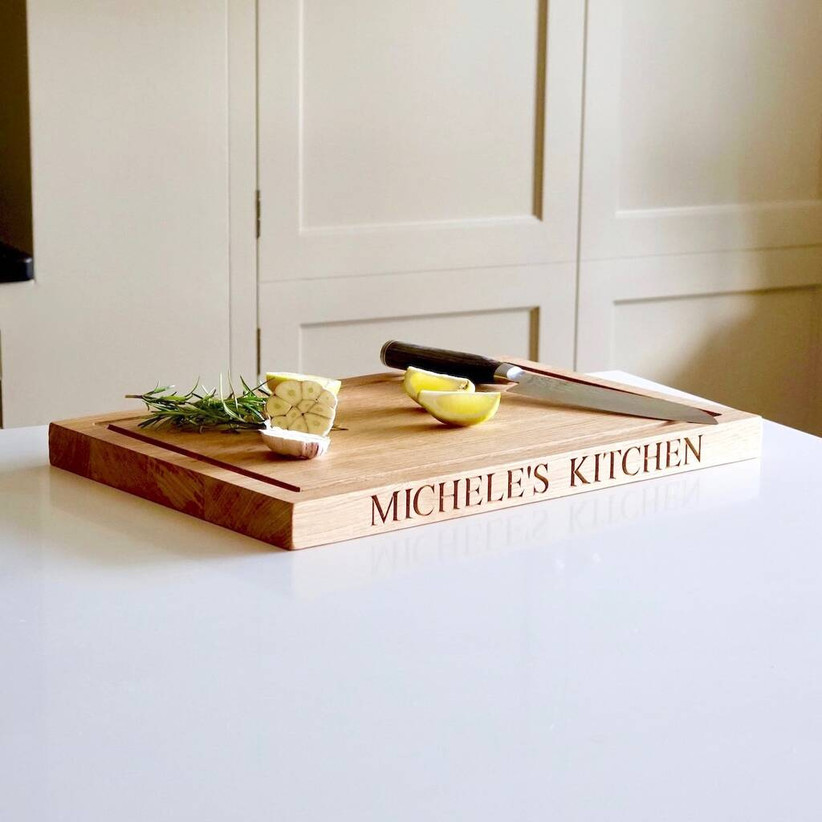 You can find this wonderful gift for cooks at Not On The High Street. Handcrafted in the UK from the finest oak, these stunning chopping boards are guaranteed to last a lifetime and will take pride of place in every kitchen.
Personalised Vegan Eco Pampering and Relaxing Kit - £26.90, Aphrodite & Ares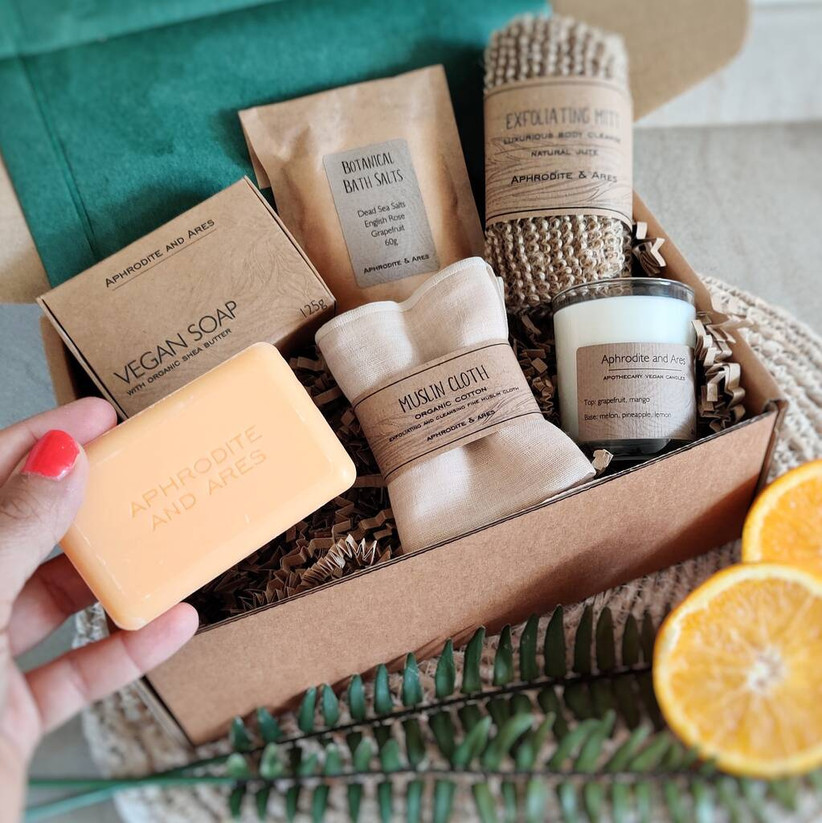 This luxury, eco-friendly and vegan pamper kit is the perfect gift for everyone environmentally-conscious. You can personalise the box too to make it even more special. Included inside is an artisan vegan soap enriched with certified organic shea butter, organic cotton exfoliating muslin cloth, natural jute exfoliating mitt, scented vegan candle and botanical bath infusion with dead sea salts and flowers.
READ MORE: How to Clean a Diamond Ring at Home
Personalised Wooden Pot Planter - £22.99, Not On The High Street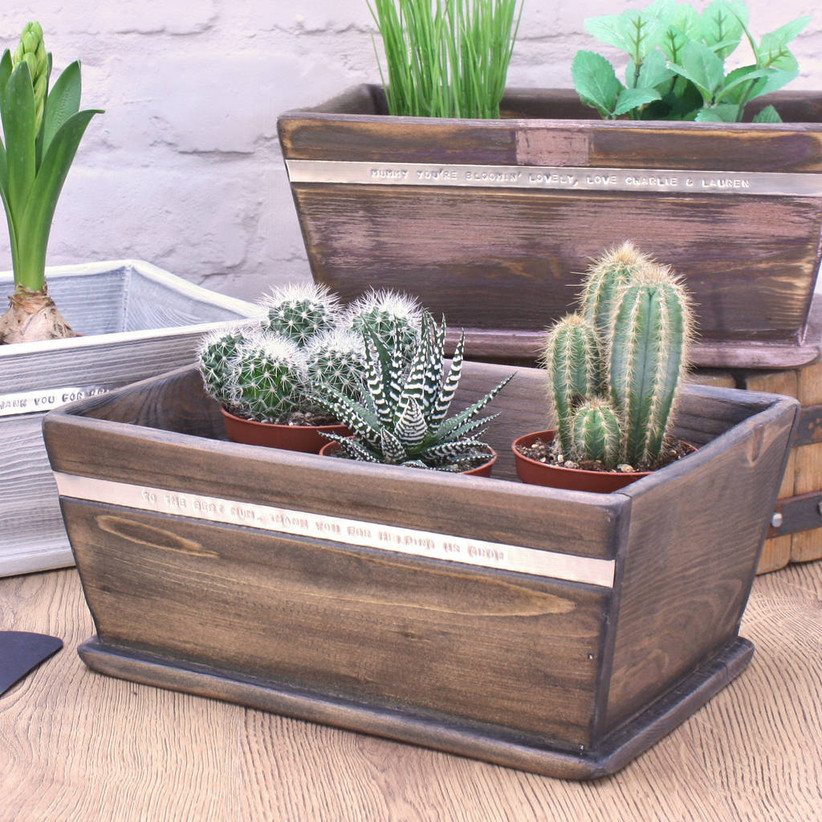 Got green fingers? Any gardening lover will go wild for these indoor wooden planters that come with an aluminium strip along the front which can be personalised with any message. It's ideal for growing fresh herbs in your kitchen or as a home for succulents and house plants.
Family Tree Necklace - £27.90, Etsy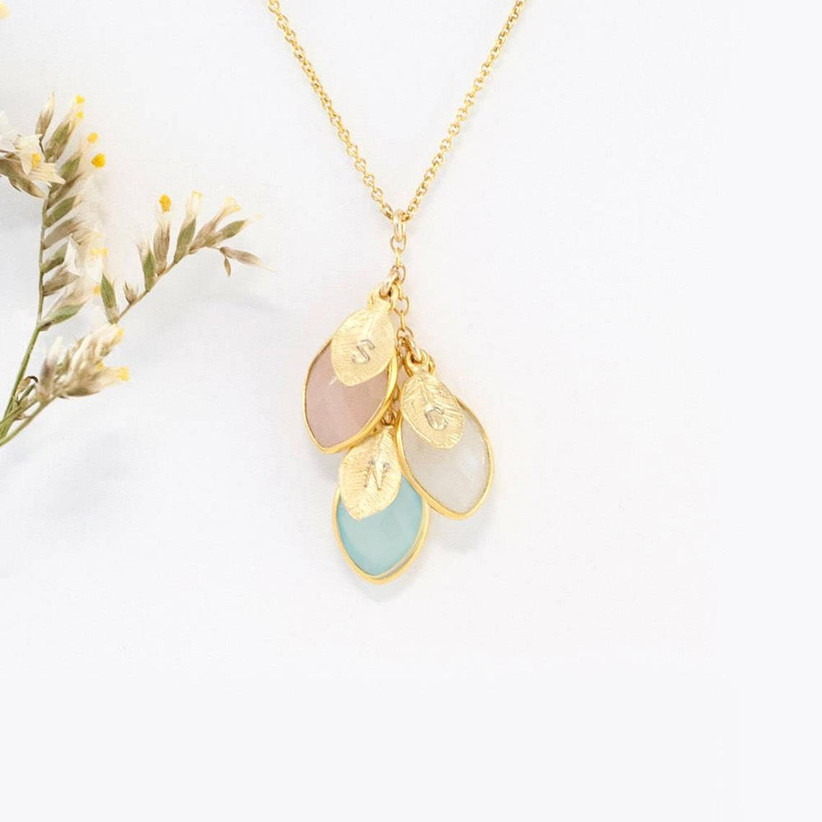 Have you given your mother in law grandchildren? We adore these family tree personalised necklaces, which come with birthstone pendants and initialled leaves. You can have up to 18 leaves added to a necklace and arrange them in order of your children's birthdays. It makes for a stunning piece of jewellery with loads of sentimental meaning.
Personalised Page Corner Bookmark - £9, Hurley Burley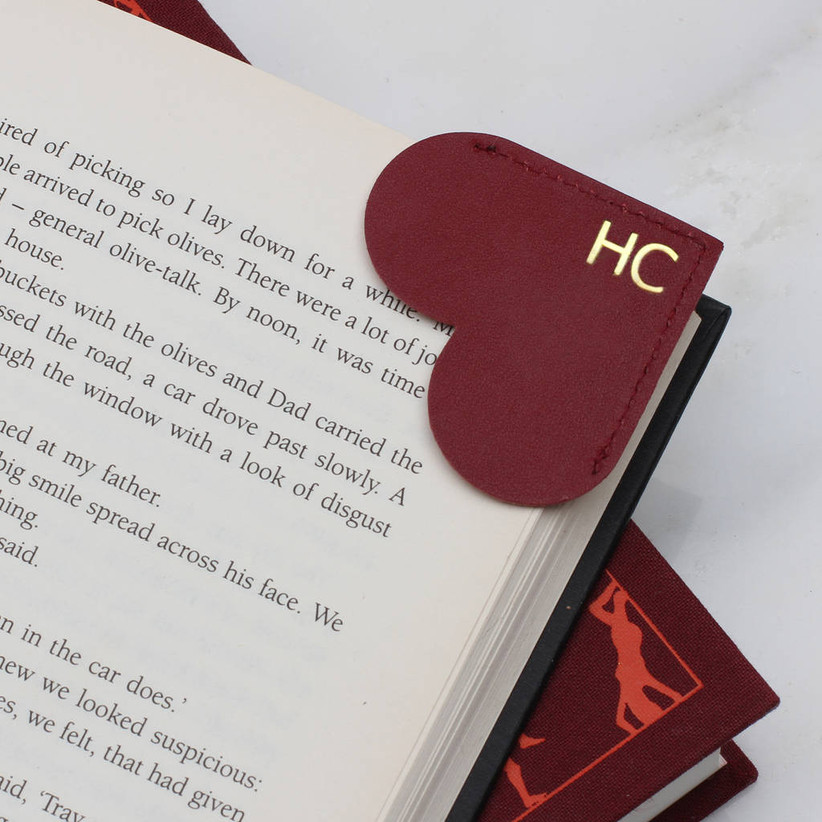 This heart-shaped Italian leather bookmark is a great bespoke gift. It's ideal for bookworms and is handy to keep inside a pocket of a bag for whenever they next pick up a book. Gift with a paperback you know they'll love for the ultimate gift for readers.
Engraved Leather Dog Collar - £35, Etsy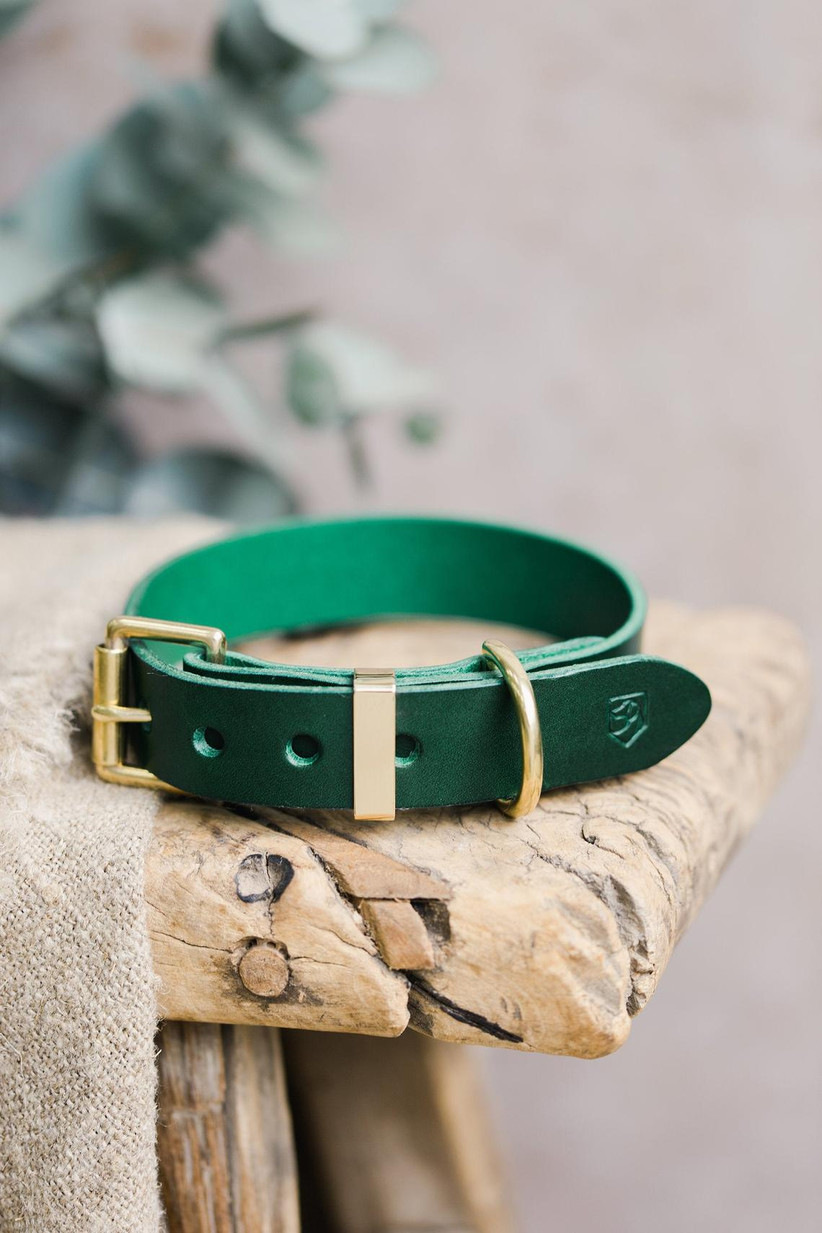 Dog lovers will be won over by this thoughtful gift for their beloved pooch. You can choose from 14 different colours of leather, which is all dyed naturally with non-toxic vegetable dye, and lots of different collar sizes. The collar can come hand-stamped with your dog's name or a contact number too.
Personalised Gin Goblet - £25.75, Becky Broome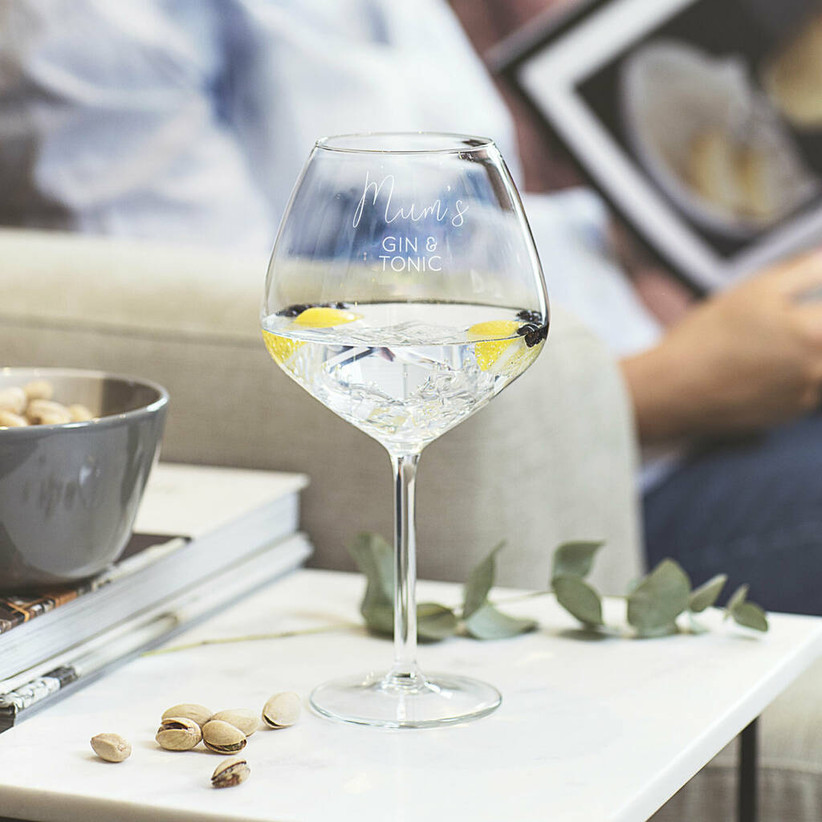 An evening G&T is made that much more special when it's drunk from your own personalised gin glass. Your mother-in-law's name and the drink of her choice can be etched into this goblet and remind her of your thoughtfulness every time she takes a sip.
Gift Subscriptions for Your Mother in Law
Letterbox Flower Subscription - £60 for 3 Months, Bloom & Wild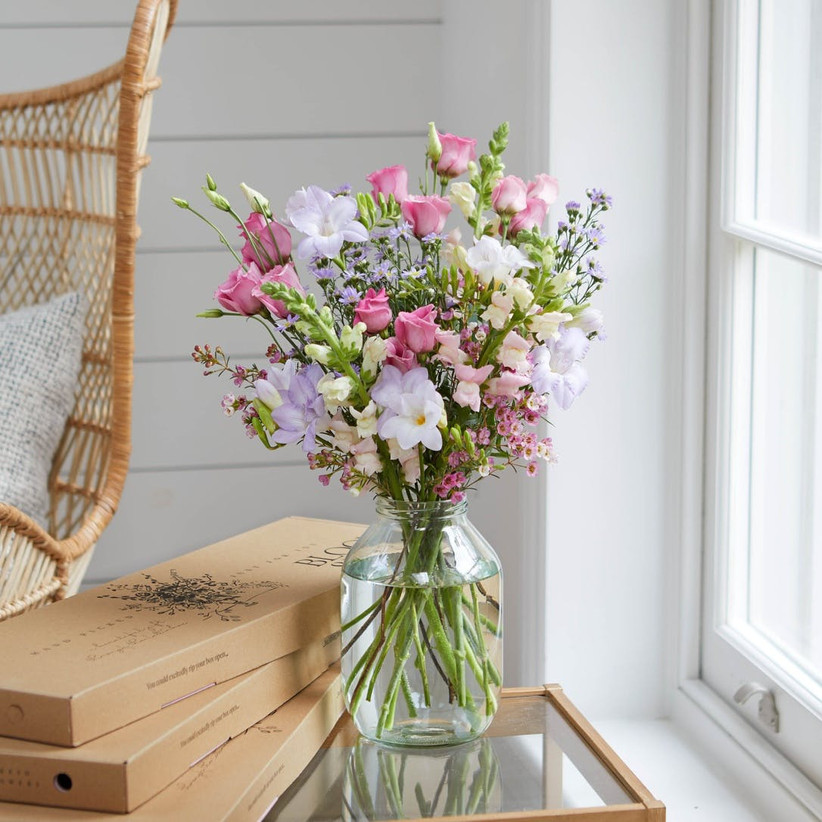 A subscription keeps the joy of a gift going. Flowers are a great choice as you'll have a beautiful reminder of the present each month. There are lots of letterbox flower subscription services, but we like Bloom & Wild for their nationwide delivery and fresh choice of flowers.
Houseplant Subscription - £35 a month, BloomBox Club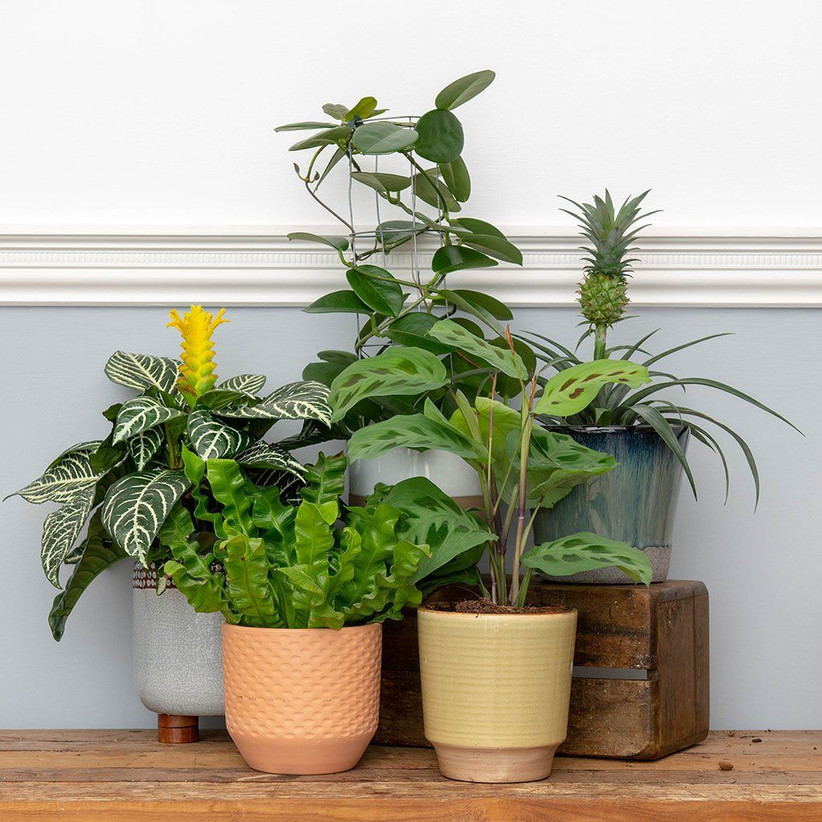 More a plant person? What about a houseplant subscription? A hand-picked plant is sent to you each month in its own pot or basket, each chosen for their natural benefits like air purifying, as well as look darn gorgeous!
Cheese Subscription - £88.50 for 3 Months, The Cheese Geek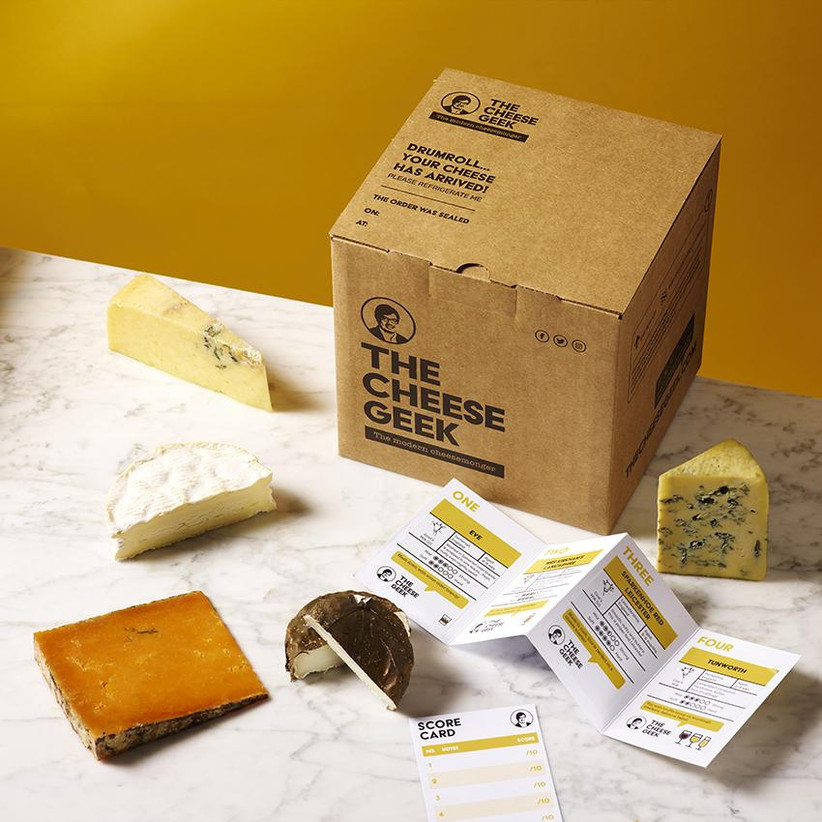 If cheese makes her smile, a cheese subscription is an obvious winner. This one from The Cheese Geek comes with four to five cheeses each month, tasting notes, pairing tips and a scorecard. You can choose requirements too, like no goat's cheese, vegetarian cheeses only, and no blue cheese. Who'd not love this?
Gin Subscription - £149 for 4 Boxes , Craft Gin Club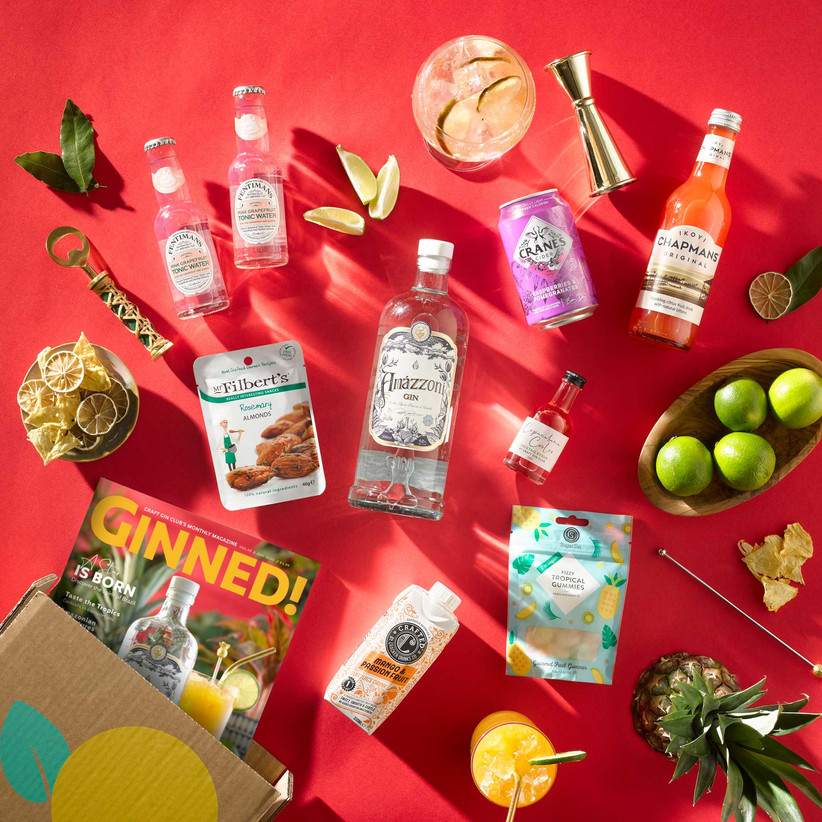 Whether you're new to G&Ts or a long time aficionado, a gin subscription will introduce you to new brands of premium craft gin, plus different cocktails and garnishes to try. The Craft Gin Club one comes with a full-size bottle of gin, garnishes and sweet and savoury treats to enjoy with it.
READ MORE: 20 Surprising Things Real Couples Have Learnt During Lockdown
Wine Subscription - from £29.95 a Month, Savage Vines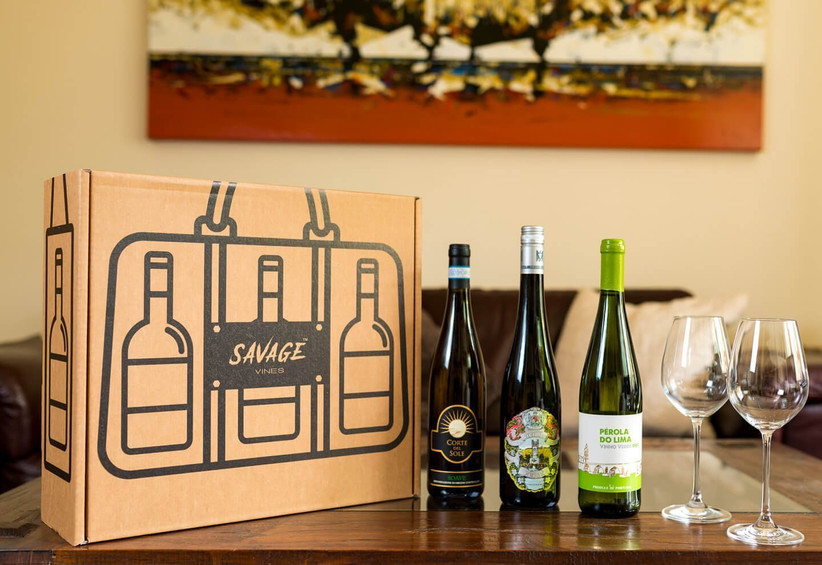 Choose either two, three, six or twelve bottles a month and have them delivered in a handy carry case. The wines are all from independent, family-run vineyards and come with tasting notes and food pairing suggestions. She'll also get access to a podcast talking you through each wine so it's like you get an expert tasting each month too!
Contemporary Fiction Book Subscription - £44.99 for 3 Months, The Willoughby Book Club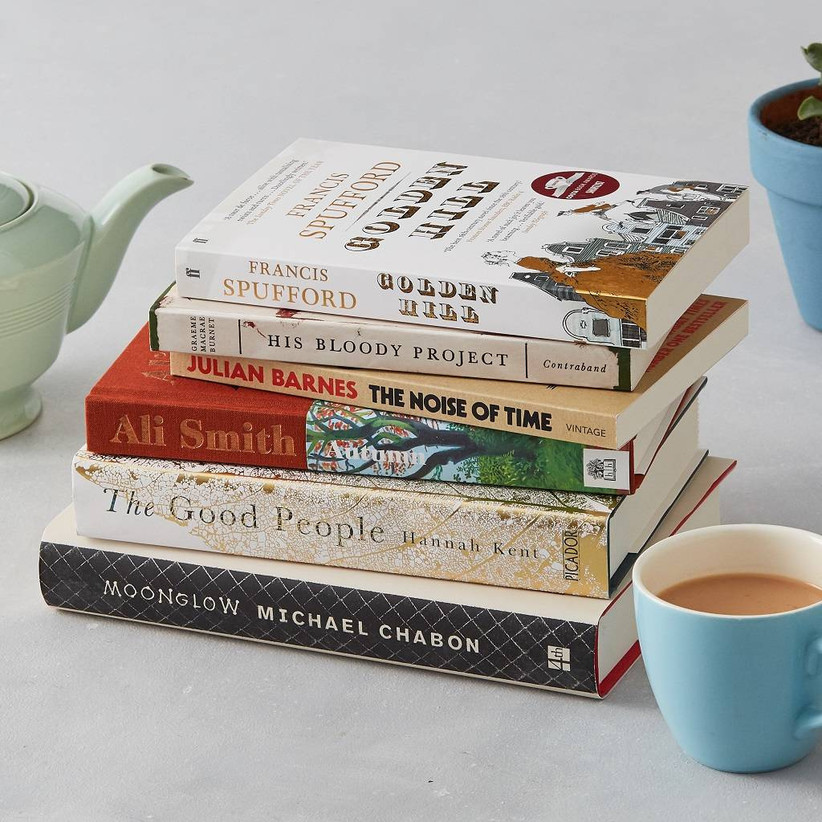 Love reading? She'll get sent a book each month, specially chosen for her taste. The book club team pick the best of new and award-winning fiction and send you a book in a presentation box. For each one they send, they donate a new book to reading charity Book Aid International too.
Tea Subscription - from £6.99, Blue Tea Box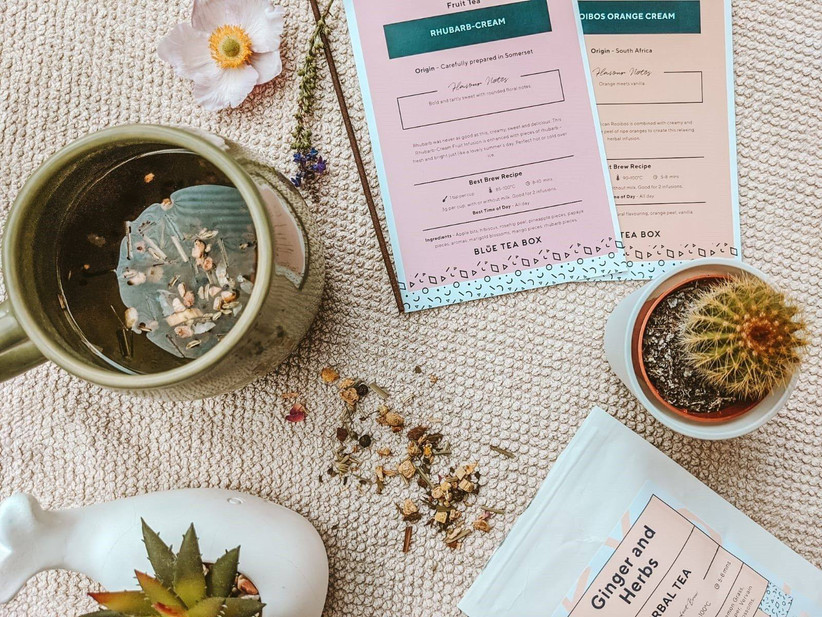 Can't function without a cuppa? What better gift than new tea to try each month. Blue Tea Box deliver delicious flavours of loose leaf tea to your door each month, and you can choose between a selection of black, green, fruit and herbal teas (or let them surprise her each month). A brilliant concept for those who love trying new flavours of tea - and their eco-credentials are excellent.
Wedding Day Gifts for Mothers in Law
Personalised Mother in Law Keepsake - £10.99, Etsy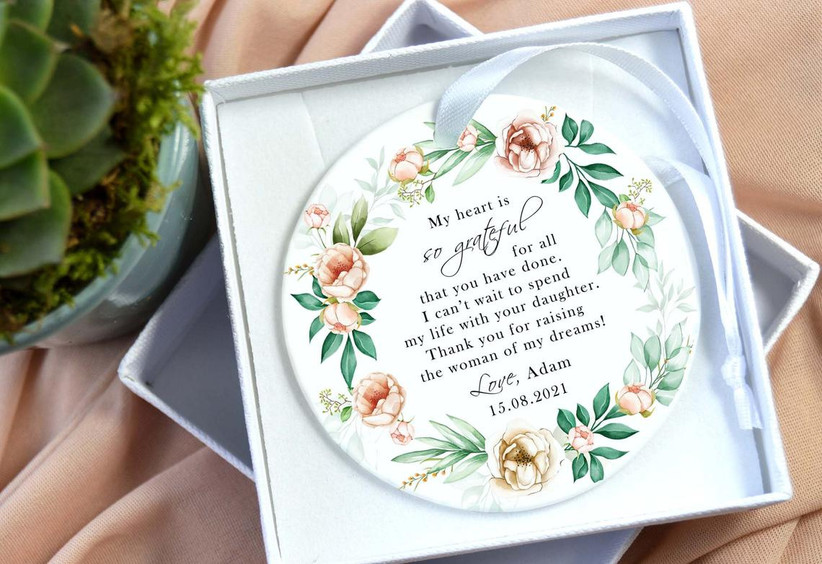 Weddings are an emotional moment and the perfect chance to say thank you to your partner's parents for raising the love of your life. This keepsake is seriously sweet and great to hang in the home.
Mother of the Bride Necklace - £19.95, Etsy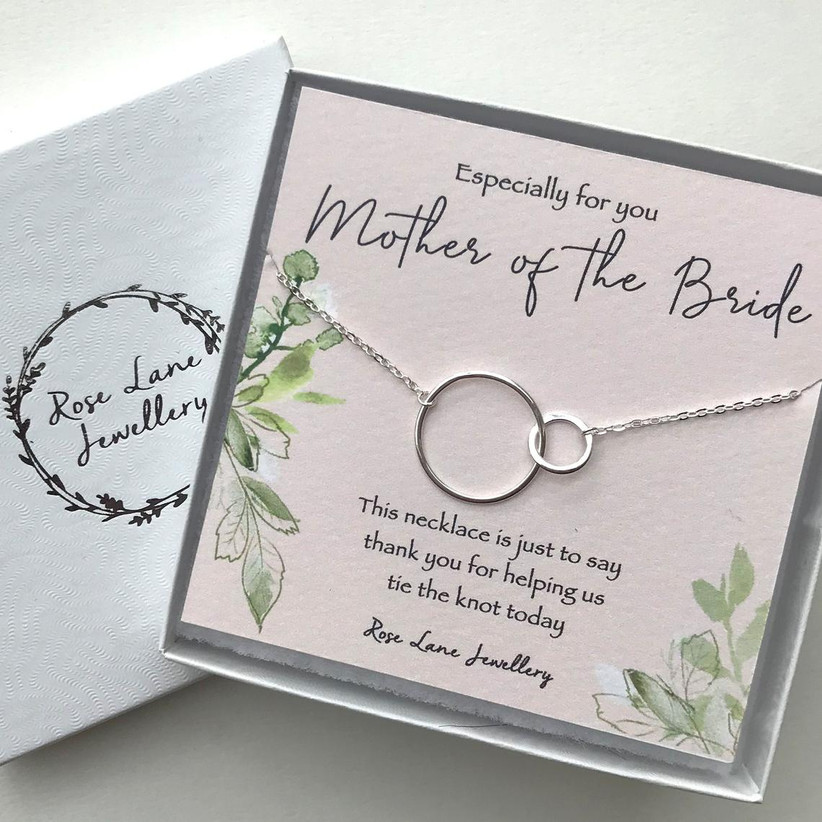 Hand your mother in law this sentimental, sterling silver necklace on your wedding day as a thank you gift and we guarantee you'll be in her good books forever. It's a contemporary design that can be worn every day and will remind her of your special day whenever she wears it. You can get mother of the bride and mother of the groom options.
Mother in Law Bracelet - £13, Etsy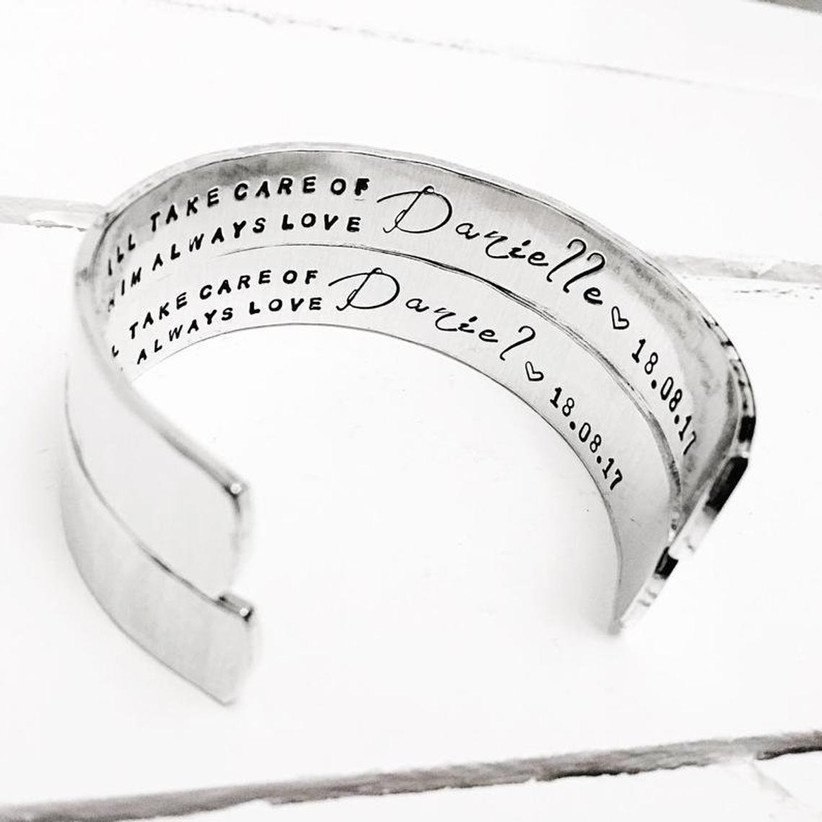 Hand-stamped into this aluminium bracelet is your choice of "I'll take care of her/him always", while the outside comes with a hammered or floral finish. For any mother in law that likes bangles or bracelets, this is a perfect addition to their wrist.
For more thoughtful gift ideas, see our guide to the best anniversary presents for couples (which are great at any occasion).