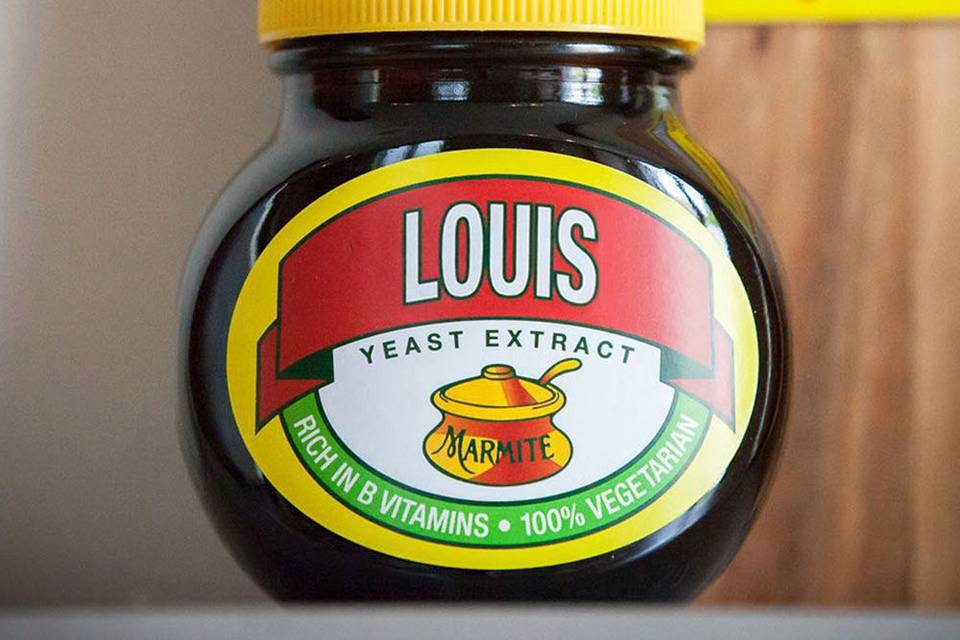 The word 'boyfriend' is so broad; you could have been with them a few months or a few years. It means how well you know your boyfriend and what they would love as a present can vastly differ, so you might need a few hints about presents he's going to fall head over heels for.
We've pulled together the best gifts for boyfriends, from personalised goodies to foodie treats and tech gifts that he'll become obsessed with. We've chucked in there some quirky buys and lots of romantic pressies that you an enjoy together.
Whatever the occasion - birthday, anniversary, Christmas, Valentine's Day - and however long you've been a couple, you'll find the perfect present for your boyfriend in this list. Get ready to lap up the brownie points!
Personalised Gifts for Boyfriends
1. Apple AirTag - £29, John Lewis
Apple have come up with a stylish and simple way to track everything from your keys to bag to bike. If your boyfriend is always losing his stuff, get him an AirTag so that he can track it on his phone. You can get the AirTag personalised with initials, text and emojis so leave him a cheeky message about his forgetfulness.
2. Personalised Photo Star Map - £18.38, Etsy
This star map is the perfect anniversary gift. You can choose a personalised saying like 'Where We Met' or 'Our First Date' and, with the location and the time, you'll be drawn up an accurate star map of that very moment against your favourite photo. It comes as a digital file, but you can print it out and frame it for a meaningful gift.
3. Personalised Photo Beer Stein - £21.99, Firebox
The next round is on him! Buy him a personalised beer stein that features your favourite photo and a message of your choice. It comes with a frosted finish and a trigger-style handle for easy holding and hearty cheers-ing.
4. Personalised Embroidered Long Waffle Robe - £40, Hitched Shop
This full-length, kimono-style, waffle knit robe is a seriously comfy gift and can be monogrammed with an initial or name. It comes with two deep pockets and a wrap-around belt tie and is ideal to lounge around the house, take on a weekend trip or on the walk to an outdoor hot tub.
5. Personalised Craft Beer Keg - £50, Not On The High Street
A five litre keg of craft beer? Yes, please! Even better when it comes personalised with a special year on the front and a Spotify Code which plays a cool, curated playlist of hits from that year for the recipient. You can choose their birth year, the year you first met or something else really special.
6. Super Large Man Bowl - £18, MenKind
Is your partner a fiend for massive bowls of cereal or pasta? He needs this HUGE personalised bowl which is perfect for any hungry boyfriend.
7. Personalised Cassette Tape T-Shirt - £26.95, Not On The High Street
If your boyfriend is a music buff, then he'll love this stylish t-shirt that's perfect for the guy who has everything. Get all his favourite bands printed on a high quality cotton tee and watch him smile as he wears it. It's a great talking point too!
READ MORE: 33 Best Advent Calendars for Men
8. Personalised Acrylic Light - £29.99, Firebox
This sleek and colourful LED light is perfect for brightening up office spaces or just putting by his side of the bed. With a touch of a button, you can switch between seven different colours or let it cycle through them. You can personalise it with any name you fancy - your boyfriend's might be best if it's a gift for him though.
9. Personalised Canvas Weekender Bag - £50, Hitched Shop
Lightweight and durable, this canvas travel bag is as perfect for a weekend trip as it is for a stylish way to carry gym gear. It features vegan leather accents, ample interior pockets to keep his stuff organised and can be personalised with his initials on the front.
10. Personalised Wall Mounted Bottle Opener - £28, Not On The High Street
Stylish and practical, beer drinkers will love this wall mounted bottle opener which has a cap catcher underneath. It can be personalised with his name and is made from gorgeous reclaimed wood for a rustic look.
11. Personalised Golf Balls - £17.99, Firebox
If he's always caught arguing with his friends about whose ball is whose, he needs these personalised golf balls which feature a picture of his face (or a boss/enemy if he wants to give them a cathartic whack!). He'll receive three regulation-sized golf balls - a perfect unusual golfing gift.
12. Personalised Whiskey Decanter Set - £30.32, Etsy
This set includes a decanter, two rock glass measures and a pine wood box with a long-lasting laser engraving of your boyfriend's name and initials. A good decanter set will enhance the pleasure of every sip of whiskey and look so good as part of your home bar.
13. Personalised Star Wars Galactic Atlas - £59.99, Firebox
A one-of-a-king gift for any Star Wars fan! This luxe, black leather atlas comes embossed with his name and inside you'll find literally every single tiny detail of the Star Wars universe. With trivia, timelines, charts, maps, illustrations and SO MANY FACTS, he'll be immersed all day. Planets, characters, factions, battles, vehicles and weapons - honestly, everything is in here.
14. Personalised Folding Cooler Chair - £40, Hitched Shop
This two-in-one gift is seriously useful: it's both a comfortable padded stool as well as a cooler that keeps up to 24 cans cool. It's great for camping, taking to the beach, going fishing, watching a sporting event and more! Monogram it for a special touch.
15. Personalised Decision Coin - £6, Etsy
Do you always argue about whose turn it is to choose the takeaway, take out the bins, or do the hoovering? This decision coin solves every debate! It comes personalised with your names on the front and the back of the coin and you can flip it to decide whose turn it is. A great gift for indecisive couples.
16. Personalised Marmite Jar - £12, Menkind
If you argue over who finished the last of the jar, you need to buy him his own personalised Marmite. Each 250g has space for 11 characters so go wild with his name, nickname or something cheekier. We're hoping this is a gift for someone more on the 'love' end of the spectrum than 'hate'...
17. Custom Engraved Stainless Steel Tie Bar - £15, Hitched Shop
Tie clips are a stylish men's accessory that look good with casual and formal looks. This sleek stainless steel tie clip is custom engraved with his initials and comes in three colours to suit his style - gold, copper and silver. It's the perfect new job gift.
Romantic Gifts for Boyfriends
18. 100 Movies Bucket List Scratch Poster - £13, Menkind
Even the biggest movie buff will find lots of new films to watch on this list of 100 must-watch movies! It's such a great date night idea - point randomly at the poster and snuggle up to watch whatever your finger lands on. You're guaranteed to have a fun night in AND your boyfriend gets a cool poster at the end of it.
19. Grow Your Own Bonsai Tree - £13, Menkind
Buying a small plant for your partner to grow is a great idea for long-distance relationships. It gives you something to tend and look after while you can't be with your love. This bonsai tree is a really cool option for those with green thumbs and without.
20. Smart Moon Lamp - £139, Not On The High Street
How cool is this levitating lamp! This gravity-defying moon lamp seems to magically float and it slowly rotates, emitting a soft glow in three different light modes. With a 3D printed textured surface, this looks exactly like the moon and will be a new favourite for anyone interested in space.
READ MORE: 25 Relationship Tips from Real Couples
21. Topman Nylon Zip Through Jacket - £50, ASOS
Gifting your partner a piece of clothing they'll love is such a romantic gesture. We love this navy jacket which is stylish and lightweight. Your boyfriend will treasure it.
22. Undercover Agents Date Night Box for Two - £35.99, Etsy
This awesome date night box has everything you need to solve a thrilling murder mystery from the comfort of your home. The box comes with a spy puzzle, indie brand snacks and drinks, a Spotify playlist to set the mood and lots of props. Inside you'll find optional themed menu and cocktail ideas too so you can make a real night of it.
23. Personalised Box of Dates - £28, Not On The High Street
Let's be honest, the best kind of gifts are ones that are also for you. If you want to make a great date night more of a regular activity, this box of date ideas has loads of fun and romantic suggestions for you to do together. There's 52 surprise activities and five blank cards for you to add your own date plans.
24. Simba Hybrid Pillow - £99, Argos
Good sleep is so important to overall health, so gift your partner his best night in bed ever (sleep-wise). The Simba hybrid pillow has over 4,000 five star reviews and features astronaut inspired temperature regulation to keep him cool all night. This pillow is unique in its nanocube technology so that you can tailor it to the height and firmness you want. This is no normal pillow!
25. Bleu de Chanel Eau de Toilette - £51, Boots
This Chanel cologne regularly tops lists of the best men's perfume and we promise your boyfriend will love it. Get him a signature fragrance that will make you swoon any time you smell it.
26. Campfire Popcorn Maker - £32.95, Not On The High Street
This vintage-inspired popcorn maker is perfect for taking on a camping trip. How about treating your boyfriend to a surprise trip? Present him with this and make him guess where you're going to use it!
27. 'I Love You More' Wallet Insert Card - £6.99, Etsy
This wallet card makes a great surprise gift. Hide it inside his wallet and wait for him to find it. It's guaranteed to make him smile.
28. Little Coupon Book - £9.99, Etsy
This bestselling coupon book comes with 27 redeemable sex-themed printed coupons and some blanks for you to fill in yourself. It's a fun and naughty gift that's perfect for anniversaries, Valentine's Day, as a stocking filler and for his birthday. The coupons are gender neutral so he can graciously give you a coupon too.
29. Scratch The World Map - £17.95, Not On The High Street
This amazing concept map allows you to scratch off countries you've visited, revealing a beautiful world map underneath. If the two of you love travelling, this is such a cool way to catalogue all the places you've visited and plot where you're going next.
30. Navy Leather Journal - £34.99, Papier
Whether he's a big note-taker, planner or into journalling, a handsome notebook will go down a treat. This monogrammed Papier one is covered in beautiful, upcycled leather and contains 96 pages of lined paper to fill with thoughts and future plans. It comes in a variety of colours like pine green and red too.
Fun Gifts for Boyfriends
31. The Small Viking Axe Throwing Game - £79.99, Firebox
If he has ambitions to be like Thor, he needs to bone up on his axe throwing skills. Handily, you can give him this axe throwing set which comes with three dinky axes, a chunky wooden stump target to throw them at, and a hessian sack to stow away your miniature weapons. It's insanely satisfying to play.
32. Nasa Rocket Lava Lamp - £34.99, Firebox
Bring a little retro back into his life with a lava lamp. This NASA-licensed rocket lamp is ideal for a home office and will help brighten up any space with the mesmerising red bubbling lava and calming blue water. The perfect bit of home styling for wannabe astronauts.
READ MORE: 21 Fun Topics to Discuss on Your Next Date Night
33. The Shame of Life Game - £21.95, theshameoflife.com
Spark weird and wild conversations with this game that features questions and topics for you to debate together. It'll provide hours of entertainment as you answer ridiculous dilemmas and discussion topics that range from the least sexy food for foreplay to the worst thing to whisper to someone as they fall asleep. A great date night idea and good to play with friends too.
34. Lego Old Trafford - £249.99, John Lewis
Man United fans will go crazy for this Lego set that allows them to build their own Theatre of Dreams. It has over 4,000 Lego pieces so only buy it if you don't mind sharing your boyfriend's time with this building project!
35. BrewDog Punk IPA Beer Making Kit - £45, Menkind
We've found the perfect gift for beer lovers. This BrewDog kit contains all the essential tools for the brewing of your own Indian Pale Ale and makes seven pints. Whether they're a homebrew aficionado or want to give it a go, this kit is an ideal pressie.
36. Real Book Safe - £15, Menkind
Hidden inside this very realistic book (real pages and everything) is a metal safe to keep valuables safe. It's such a great gift for storing special watches, jewellery or even just his passport. The book title? A brilliantly dry tome called 'A Sacred Landscape: The Search for Ancient Peru'. No one will ever think to look!
37. Purple Boxer Set - £25, River Island
Boxers are always appreciated as a gift and this fun, colourful set will go down a treat. In pastel pink, blue and purple, plus grey and black, your boyfriend will be excited to wear these.
38. BuzzFeed Ultimate Book of Quizzes - £13.99, Firebox
Replace binging quizzes online with binging them in book form. There's 200 viral quizzes in this book, covering life, love, food, TV, movies and more. If he's ever wondered which Friends character he is while on the loo, this book is for him.
39. Gentlemen's Hardware Bicycle Kit - £15, John Lewis
If he has a bike, he needs this kit. It's got everything you need to repair a puncture and get you back on your bike if it lets you down. It also comes in a cute tin, which doesn't harm its appeal if you share a house and have to store it in your communal space.
40. Become a Laird Gift Pack - £20, Menkind
Your boyfriend can become a genuine Laird with this pack which makes you the official owner of a real piece of land in the grounds of Duncans Castle in Scotland. This entitles you to use the title Laird, and comes with a free tour of Duncans Castle and lifetime access to the estate. You get fishing rights to the river on the ground and the right to use the Duncans' insignia, so you can make your own Laird email address.
41. Magnificent Bastard Mug - £11.95, Etsy
Looking for a cheeky gift? This naughty mug featuring a naked illustration of your boyfriend is guaranteed a laugh. You can buy it as it is or add a personalised message to the back of the mug.
READ MORE: 40 Awesome Double Date Ideas
42. Merino Wool Beanie - £40, Idioma
A beanie is a winter essential and we bet he'll be head over heels for such a stylish addition to his hat collection. The Jaffa orange colour is a favourite, but you can choose from 14 colours and patterns.
43. Tiger King Jigsaw Puzzle - £14.99, Firebox
If your lockdown was all Tiger King memes and Carole Baskin conspiracy theories, this is the perfect gift. This epic Tiger King jigsaw has 500 pieces featuring beautiful illustrations of all the heroes and villains from the show. It'll get you both ready for series two!
44. Cards Against Humanity 2.0 - £30, Menkind
This second iteration of the most horrible game around will either have you wincing or in fits of hysterics - there is no in between. This whole new set of Cards Against Humanity has 150 new and offensive cards, some weird new rules and is UK-focused for even more close-to-the-bone references. It's one of the best drinking games around.
Technology Gifts for Boyfriends
45. Theragun Mini Massage Gun - £175, Amazon
If your boyfriend does a lot of exercise, he'll appreciate this massage gun so much. Theragun are leading the market with their tech - the proprietary motor provides powerful yet ultra-quiet treatment with up to 150 minute battery life and three scientifically calibrated speeds for greater therapeutic benefits.
46. Nintendo Switch Lite Console - £199.99, Argos
Perfect for using on the go, this handheld gaming console gives access to a huge library of Nintendo games like Tetris. There's local wireless multiplayer options so your boyfriend can play with friends and family - and you, of course!
47. Apple AirPods Pro with Wireless Charging Case - £199.99, John Lewis
AirPods aren't cheap, but boy, are they worth it! With amazing fit, 24 hour battery life, and great sweat and water resistance, they're ideal for wearing in the gym and outside in all weathers. The active noise cancelling technology is really cool too - you can switch to Transparency mode to bring you back into the room. Any music lover will be overjoyed with these.
48. Amazon Echo Dot with Clock - £59.99, Amazon
This Alexa-enabled smart speaker has been updated to include a clock which makes it the perfect bedside table companion. Whether your boyfriend wants a new alarm clock or he just loves checking the weather and playing music as he gets up in the morning and goes to bed, this is a great gift.
Foodie Gifts for Boyfriends
49. Make Your Own Sausage Kit - £15, Not On The High Street
If your boyfriend is a foodie, he'll love this kit that has everything you need to make legendary, artisan-style sausages. You'll have a shedload of fun making and cooking these up for the ultimate taste test. There are five different kits: Cumberland, Farmhouse, Pepperoni, Chorizo and Pigs in Blankets. The only thing you need to buy is the pork.
50. Ooni Karu 12 Multi-fuel Pizza Oven - £299, Ooni
At nearly £300, this is an investment present, but one that will serve you for years. And what will it serve? Delicious, homemade, fresh, stone-baked pizzas in just 60 seconds! This pizza oven can be heated with wood, charcoal or a gas burner and is portable so you can use it anywhere - it would be so good to take camping!
51. Hot Sauce Challenge Set - £19.99, Sauce Shop
See if his spice tolerance claims live up to the test with this set of hot sauces in five flavours: Original Hot Sauce, Sriracha Chilli Sauce, Buffalo Hot Sauce, Habanero Hot Sauce and Habanero Ketchup. The hottest sauce has 22 habanero peppers in the bottle - can he handle it?
52. Cotton Canvas Apron - £23.99, Etsy
Every good chef needs the right outfit and that means a hardwearing and stylish apron. This design can be used for far more than the kitchen if he has other ideas: the large pockets are great for holding everything from BBQ tongs and gardening trowels to paintbrushes and woodworking tools. It would even look great worn while trimming his beard. The possibilities are endless but we love it in the kitchen.
53. Make Your Own Halloumi - £22.99, Firebox
This kit is ideal for his first foray into cheese-making! It has everything you need to make eight batches of mouthwatering halloumi that tastes so much better than the supermarket stuff. The squeak of a freshly-grilled slab of homemade halloumi is hard to beat.
READ MORE: 21 Gift Experience Ideas to Do as a Couple
54. From Crook to Cook: The Snoop Dogg Cookbook - £17.99, Firebox
Featuring 50 recipes straight from Snoop's kitchen, each chapter of this unusual cookbook has a playlist to accompany your cooking. Expect recipes like Baby Got Back Ribs, Go Shorty It's Your Birthday Cake and Cinnamon Rollin' - future modern classics.
55. Orient Santoku Chef's Knife - £38.99, Amazon
The right knife makes chopping a dream. Japanese knives are world-renowned for being light and sharp, with precision cutting and a good weight in your hand. This one is made from X50 Ultra+ Stainless Steel for a razor sharp edge and has a laser-tested edge ground to an incredibly fine 15 degrees. It's professional grade at a great price.
Best Subscriptions for Boyfriends
56. Shaving Subscription Box - from £39.95, The Personal Barber
If he's into grooming, then he needs a shaving kit that matches his aesthetic. The Personal Barber offers luxury shaving subscriptions for either six or 12 months, or one-off kits filled with goodies like a shaving brush, luxurious shaving cream, moisturiser and face scrub as well as their signature safety razor. It's much better for the environment than disposable razors and looks good too.
57. Coffee Subscription - from £31 for 3 Months, Monmouth Coffee Company
Get delicious whole or ground coffee delivered to your boyfriend every month. Monmouth Coffee Company are known for their expertly curated selection of beans and each box comes with information about where it's from, how it's processed and tasting notes, so coffee aficionados will be happy. The packing is gorgeous too and eco-friendly!
58. Craft Beer Subscription - £69 for 3 Months, Beer52
Each month your boyfriend will get a themed box full of eight delicious craft beers from around the world, plus a magazine and a quirky snack. You can pick from light beers only (which is vegan friendly) or a selection of light and dark beers (think yummy stouts and porters). They'll discover loads of new beers and might find a new favourite.
59. Book Subscription Box - £39.99 for 3 Months, Willoughby Book Club
If he loves to read, then a book subscription is a dream gift. You can choose from lots of different themes, like contemporary fiction, literary classics, crime thrillers, food and drink, and natural history. Each month a beautifully packaged book will be delivered through the letterbox with reading notes. A book is also donated to Book Aid International for every subscription!
60. Fashion Subscription Box - £10 per Box, Stitch Fix
Stitch Fix are like a personal stylist in a box. You or your boyfriend can go on the website, answer a quick style questionnaire, set a price range and tell them a little bit about his lifestyle. Then he'll receive a box in the post with a selection of clothing and accessories chosen by a stylist. He can try everything on and he'll only pay for the bits he keeps - which you could offer to buy for him as part of the present. The £10 styling fee is deducted from the cost of what you keep.
61. Plant Subscription Box - from £24 a Month, Leaf Envy
House plant ownership became hugely popular during lockdown. If your boyfriend wants to add to his collection or get his first plant, then a plant subscription is perfect. Leaf Envy's plant styling team choose a seasonal plant to send every month with expert aftercare and cool varieties he might not have seen before.
Got a special anniversary coming up? Check out our edit of the best anniversary gifts for boyfriends.