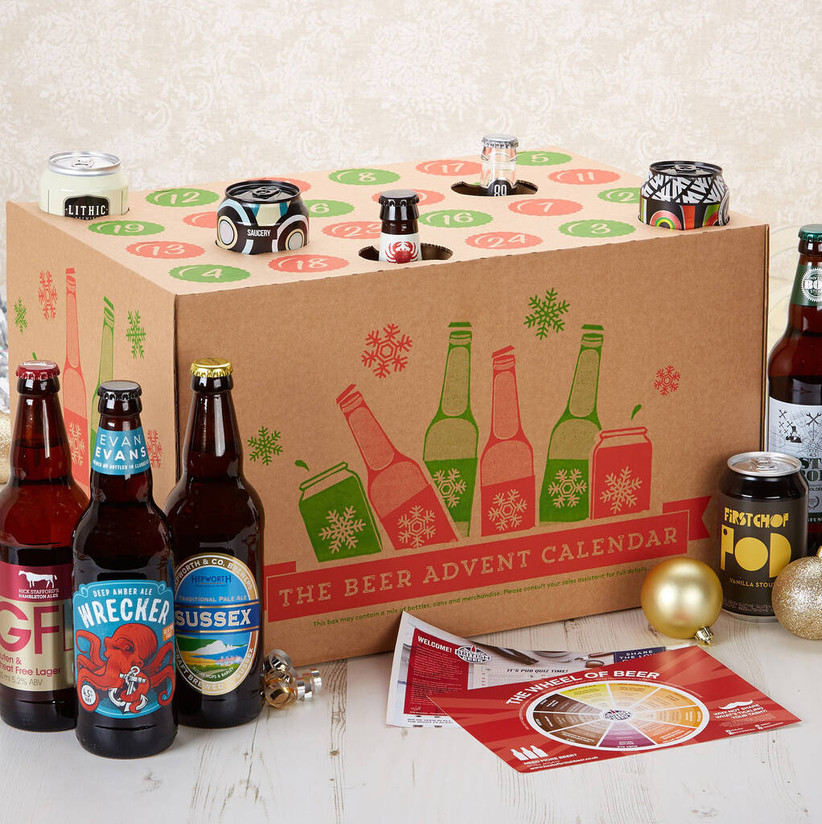 With December fast approaching, it's time to buy an adult calendar for the man in your life. And what's not to love about advent calendars? They encourage snacking before breakfast and make waking up in the freezing cold winter just that little bit more appealing.
It's also the perfect chance to treat your other half to something they love. From cheese to whisky, LEGO, hot sauce, socks and a whole host of grooming sets, these are the best advent calendars for men you can buy in 2020. Basically, if you can put it in a box, you can get it as an advent calendar this year.
These aren't just for your partner: there's loads of fab ideas that would work for dads, brothers, grandads and more. Keep reading for our round-up of the 30 best advent calendars for men!
1. ASOS Grooming 12 Day Advent Calendar - £35, ASOS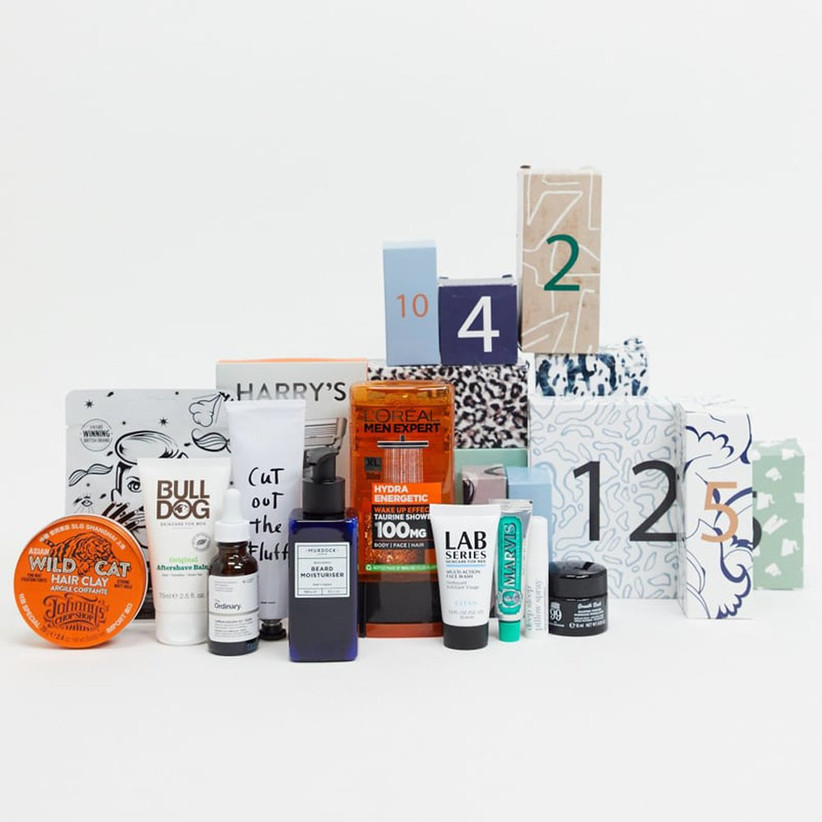 ASOS is catnip for us at Hitched and we're so happy to find a brilliant advent calendar for men among their traditional offerings. Worth £88, this great-smelling advent calendar comes with eight full-sized and four travel-sized grooming products. There's a mix of skin, body and hair care from brands like The Ordinary, Harry's Razors and Murdock London. He'll come out of December looking his best yet!
2. Snaffling Pig Pork Crackling Advent Calendar - £18, Menkind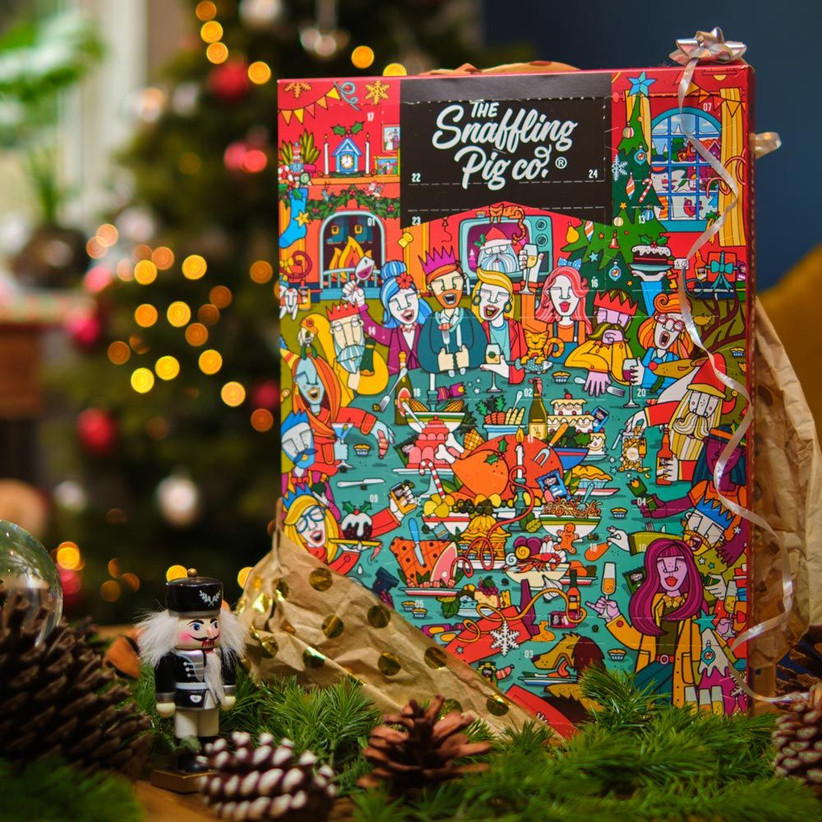 This pork crackling advent calendar is one of the best things we've seen in a long time. It's by The Snaffling Pig Company (a really cool brand who create pork snacks, beer and cider – aka the dream combo) and contains 24 bags of delicious pork crackling in flavours like Low & Slow BBQ and Pigs in Blankets.
They're super high in protein and being touted as a great keto/paleo/diabetic-friendly advent calendar option. Definitely worth checking out if your partner is following a high-protein diet too.
3. VW Camper Van Advent Calendar - £65, Not On The High Street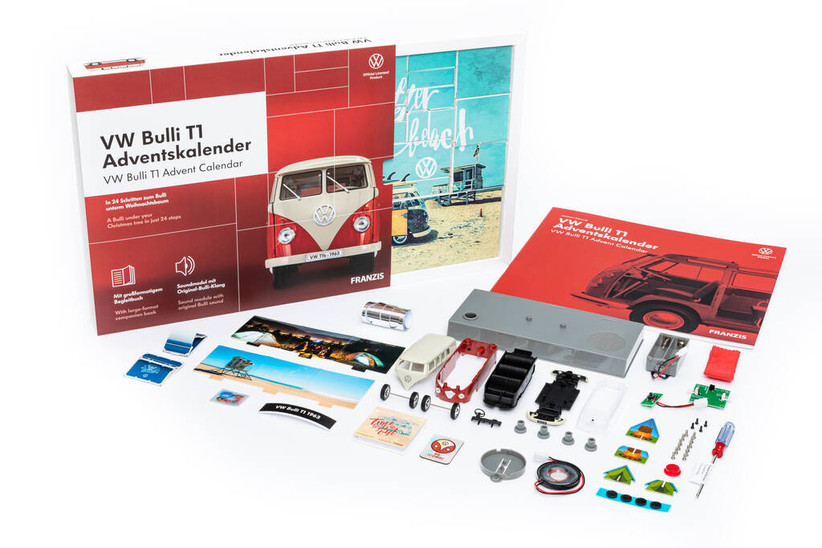 Introducing this 1:43 scale model of a 1963 Bulli camper van which makes authentic engine noise at the touch of a button. Car enthusiasts will love building this van, its plinth and replica sound box over 24 days. A large format companion book guides you through the history of the VW Bulli and how to build it.
READ MORE: The Best Christmas Gifts for Men
4. Lego Star Wars Advent Calendar - £24.97, John Lewis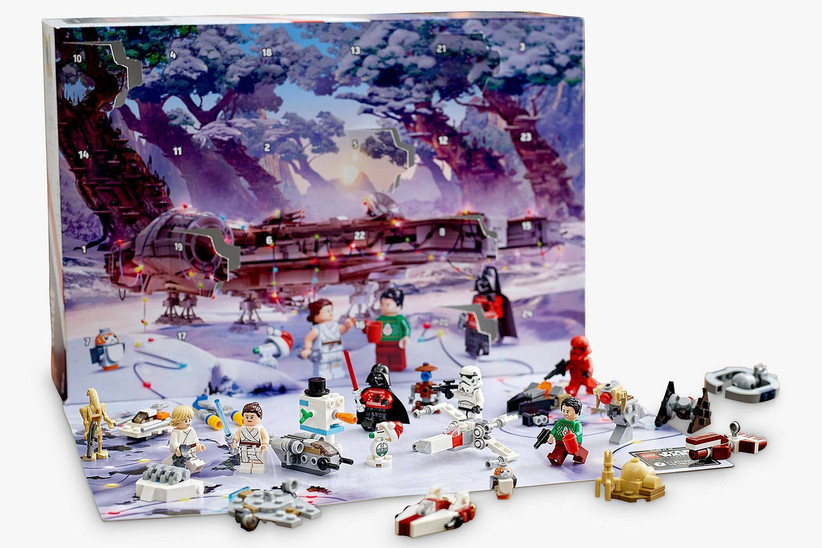 If your man is a bit of a child at heart, then he'll love this Star Wars advent calendar. You'll build six LEGO figures and six minifigures, including Poe Dameron, Darth Vader with a Christmas jumper, and Tauntaun with a red nose. There's also 12 mini builds like the Millennium Falcon, Anakin's Podracer and Darth Vader's Castle. Consider this essential for fans of all ages!
5. Personalised 12 Days of Socks Advent Calendar - £65, Not On The High Street
Got a sock lover (or someone who's forever losing their socks) in the family? Treat them to 12 pairs of the most gorgeous quality cotton socks, including one special pair personalised with their initials, and all others in wonderfully wearable designs. It's a great gift for someone hard to buy for or who loves unusual stuff. The entire calendar is made from 100% recyclable materials so it's great for eco-warriors as well.
6. Next Men's Grooming Calendar - £69, Next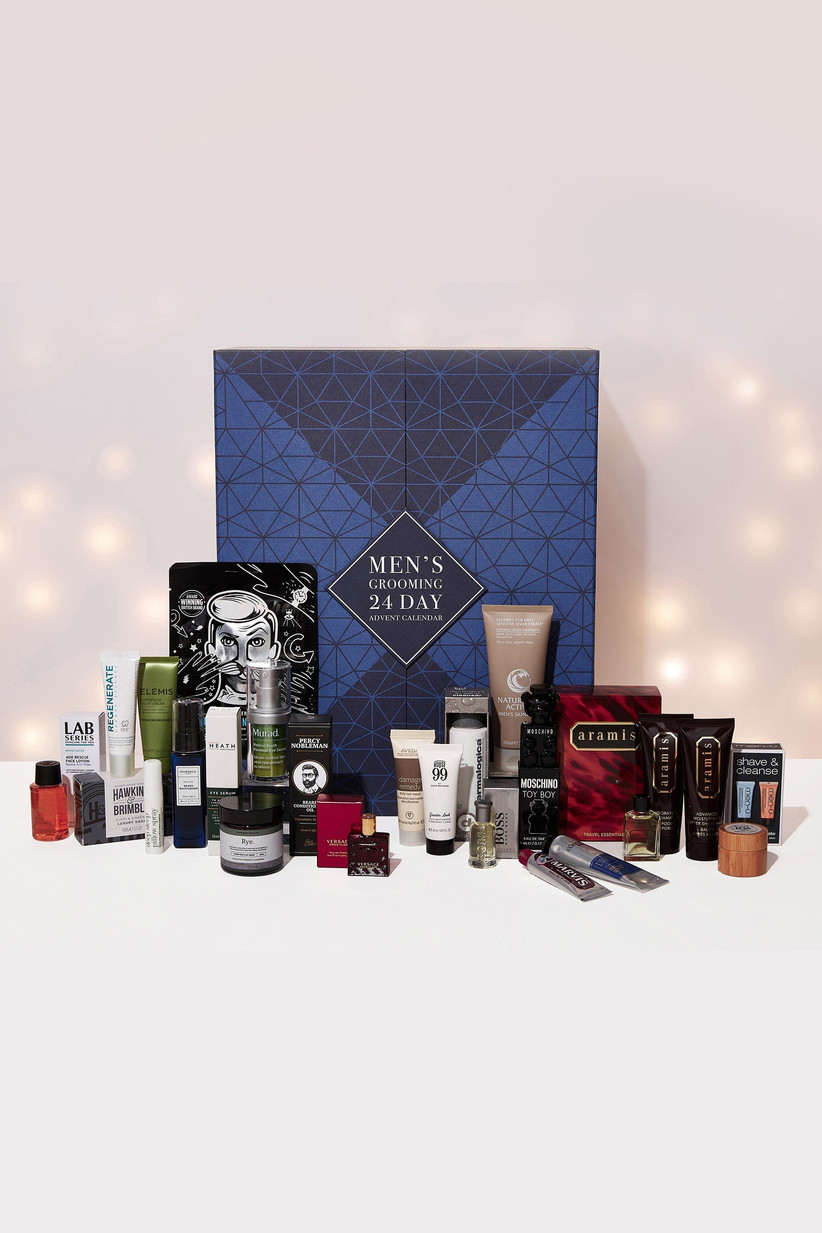 Chocolate is so 2019; this year is about self-care. Treat your loved one to this grooming kit from Next which contains products worth £215. It's filled with essentials from Liz Earle and L'Occitane, skincare from Elemis and Dermalogica, and fragrance by Hugo Boss and Versace. One of the absolute best value on the market this year.
7. The Bearded Man Beard Oil Advent Calendar - £25, Menkind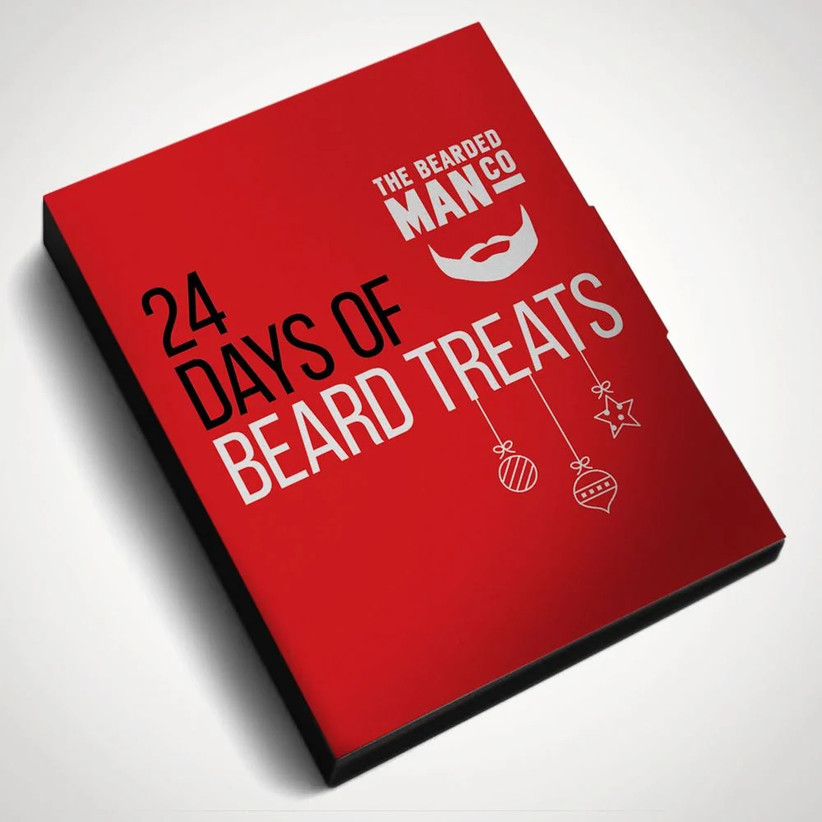 Got a bearded man in your life? For any men taking a leaf out of Santa's bushy book, gift them this advent calendar with 24 mini bottles of scented beard oil. Each oil is 100% natural and comes in scents like sandalwood and Sicilian lemon. His beard will smell and look incredible.
8. Cheese Advent Calendar - £39.99, Amazon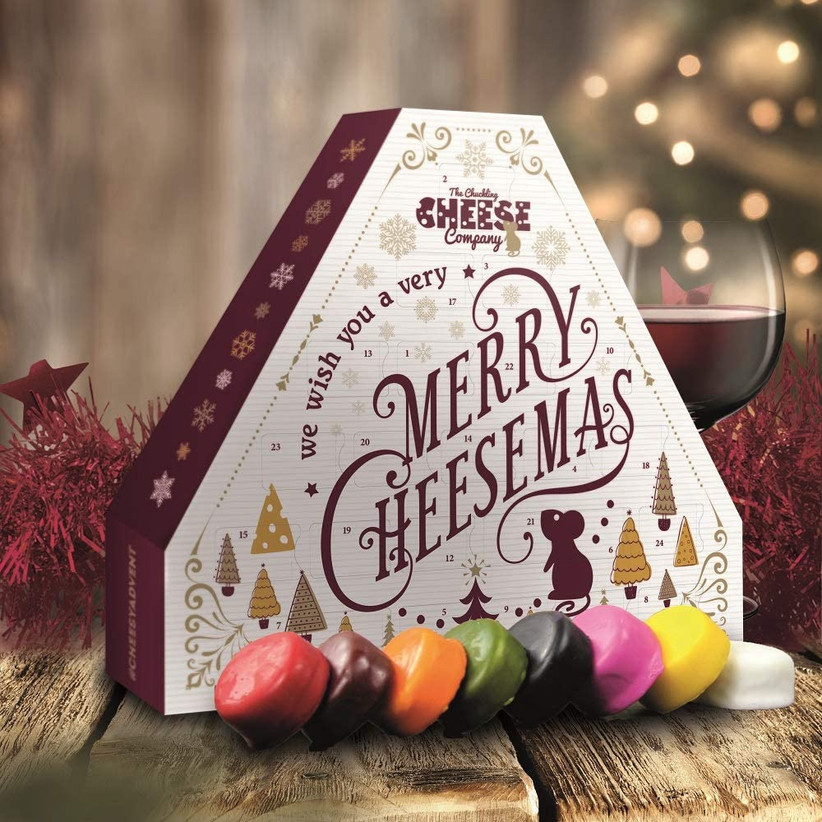 A beautiful advent calendar for anyone who dreams of cheese. You'll get a mini cheese truckle each day, and there are eight different flavours including Applesmoked, Charcoal, Caramelised Onion and even Sunday Roast! A creamy, cheesy twist on the traditional calendar.
9. Marvel Avengers: Infinity War Collectible Coin Advent Calendar - £29.99, I Want One Of Those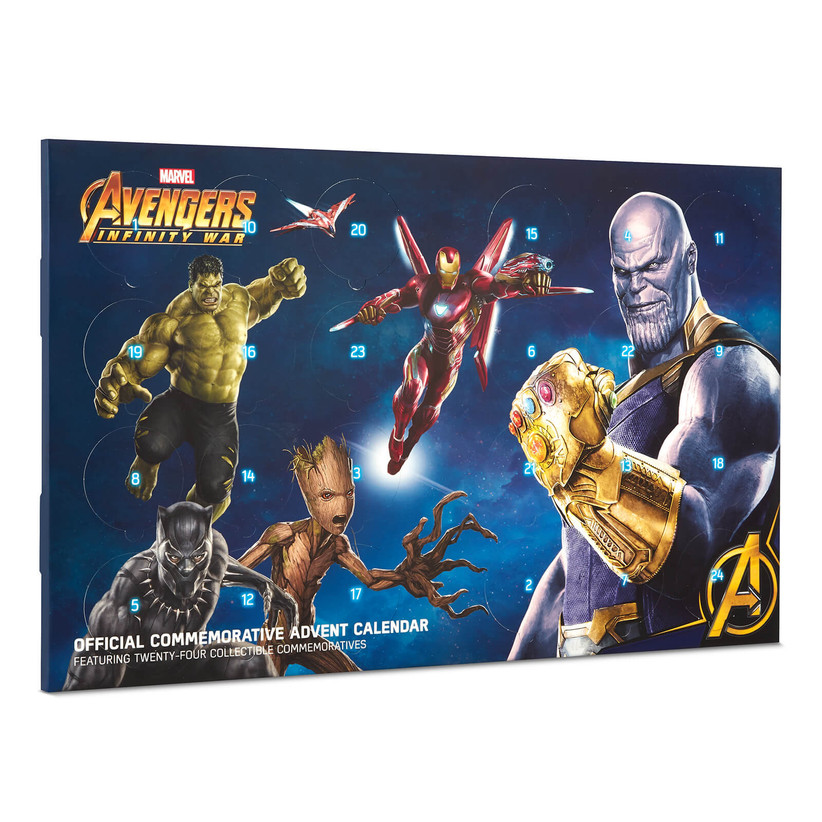 There's only 5,000 of these collectible calendars worldwide so bagging one of these is a coup. This calendar contains high-quality collectible coins (worth £20 each) featuring your favourite heroes and villains from Thanos to Thor. Each calendar is individually numbered and comes with a display folder to showcase your complete collection. Ideal for Marvel fans.
10. Coffee Advent Calendar - £38, Not On The High Street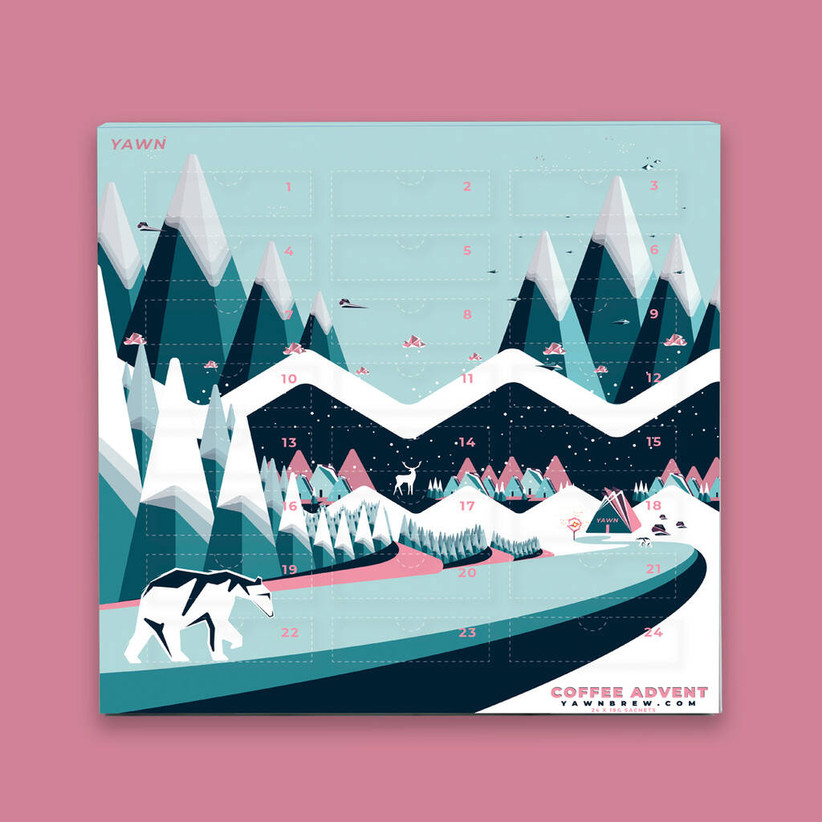 Any coffee lover will be obsessed with this advent calendar. You'll get 24 sachets of carefully-selected speciality coffee, including blends from Costa Rica, Colombia, Kenya, Jamaica's Blue Mountains and more. If you've got little ones who are up early excited about Christmas, this calendar is a necessity.
11. Wine Advent Calendar - £75, John Lewis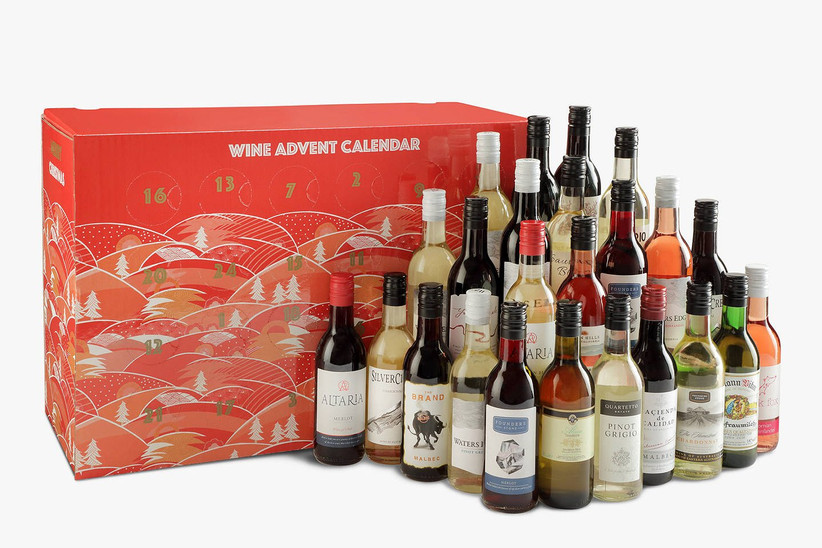 This huge advent calendar is full to the brim with bottles of wine to count down to Christmas in the most fun way possible. If your man loves a tipple or two, invest in this festive box which features reds, whites and rosés. You'll get a glass-sized amount of wine from each miniature bottle. Cheers!
12. Revell Radio Controlled Car Kit - £31.45, Amazon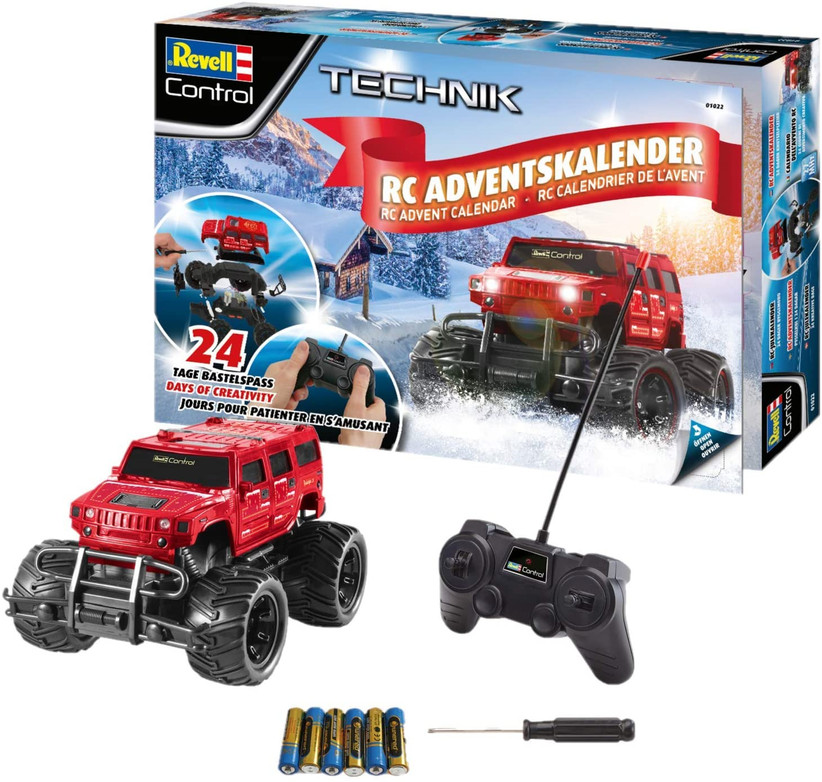 Is your man a bit of a techie? He'll adore this advent calendar where you get all the parts to build a radio-controlled car in time for Christmas eve. It comes with the screwdriver, batteries and full, illustrated instruction manual so he can throw himself into this fun, simple build.
13. Gourmet Popcorn Advent Calendar - £30, Not On The High Street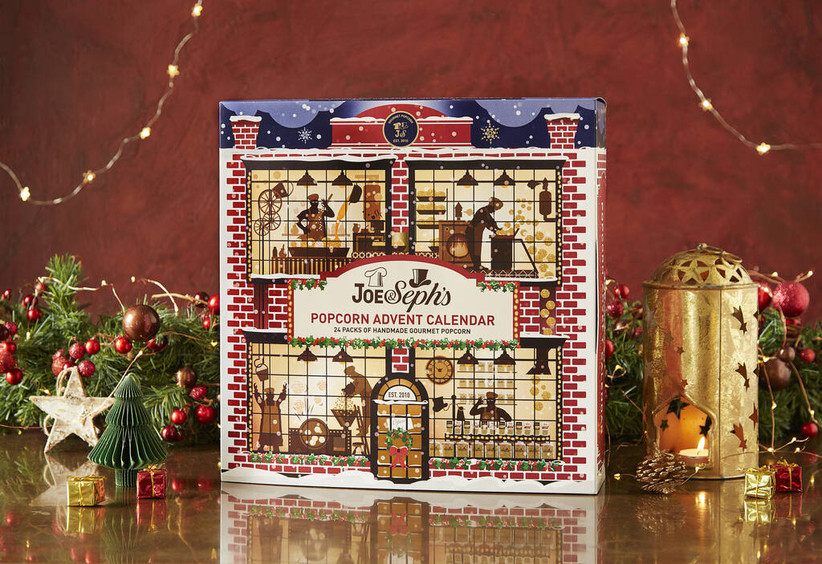 You get a whopping 19 flavours of Joe and Seph's award-winning gourmet popcorn in this advent calendar (don't worry there are still 24 doors). As well as Christmassy flavours like Brandy Butter and Gingerbread, there's also classics like Orange Chocolate, Banoffee Pie, and Toffee Apple & Cinnamon. Get a tissue, we're drooling.
14. Gourmet Chilli Powder Advent Calendar - £39.99, Not On The High Street
Always bragging about how hot they can handle their curry? Put chilli fans and budding chefs to the test with this seriously spicy advent calendar that contains 24 matchboxes, each with a vial of red hot chilli inside to try. From the legendary Carolina Reaper to the fruity flavours of Mexican Habanero and the colourful chillies of India, each day you'll get a new rare and delicious (if that's your thing) chilli to try. It's going to be a ho-ho-hot Christmas this year!
READ MORE: 21 Romantic Christmas Present Ideas for Your Fiancé
15. Electronic Games Advent Calendar - £22, Menkind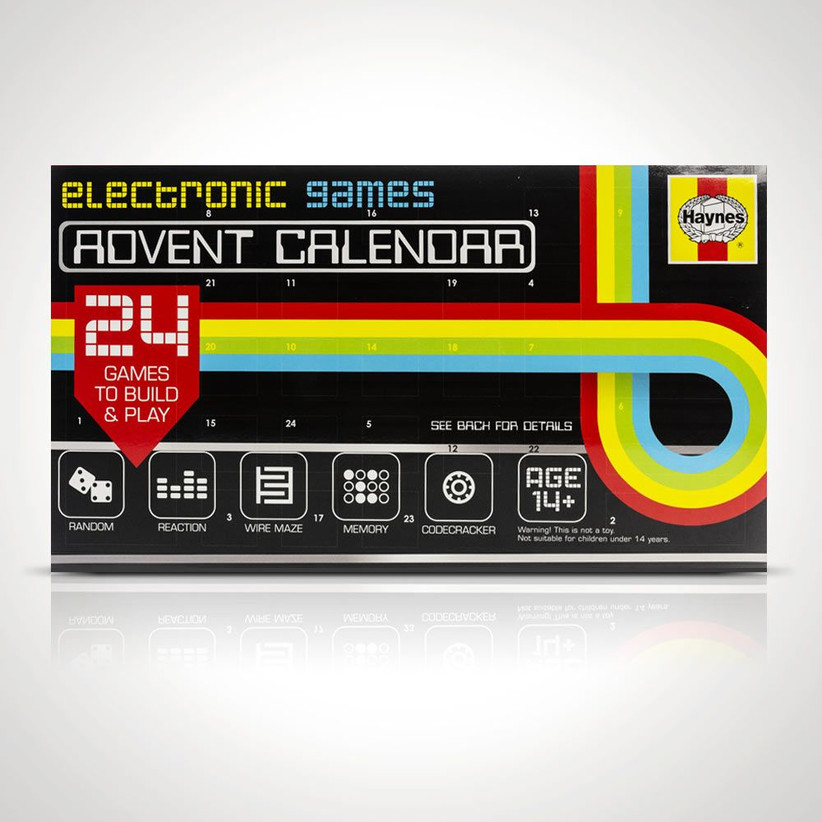 How about a calendar packed full of electronic components for build-it-yourself games? Anyone with a geeky side will be buzzing about this. It's got everything you need for 24 games like Code Breaker, Memory, Wire Maze, Whack a Mole and more.
16. 25 Bottle Craft Beer Advent Calendar - £74.50, Not On The High Street
Is your Dad/boyfriend/husband/brother/fiancé a craft beer fanatic? They'll have a hell of a lot of fun with this craft beer advent calendar that's filled with 24 full size bottles and cans from 24 different 'Best of British' breweries, including Freedom Brewery, Titanic and Firebrand. There's a few Christmas limited edition beers snuck in there too.
17. Personalised Retro Sweets Calendar - £11, Next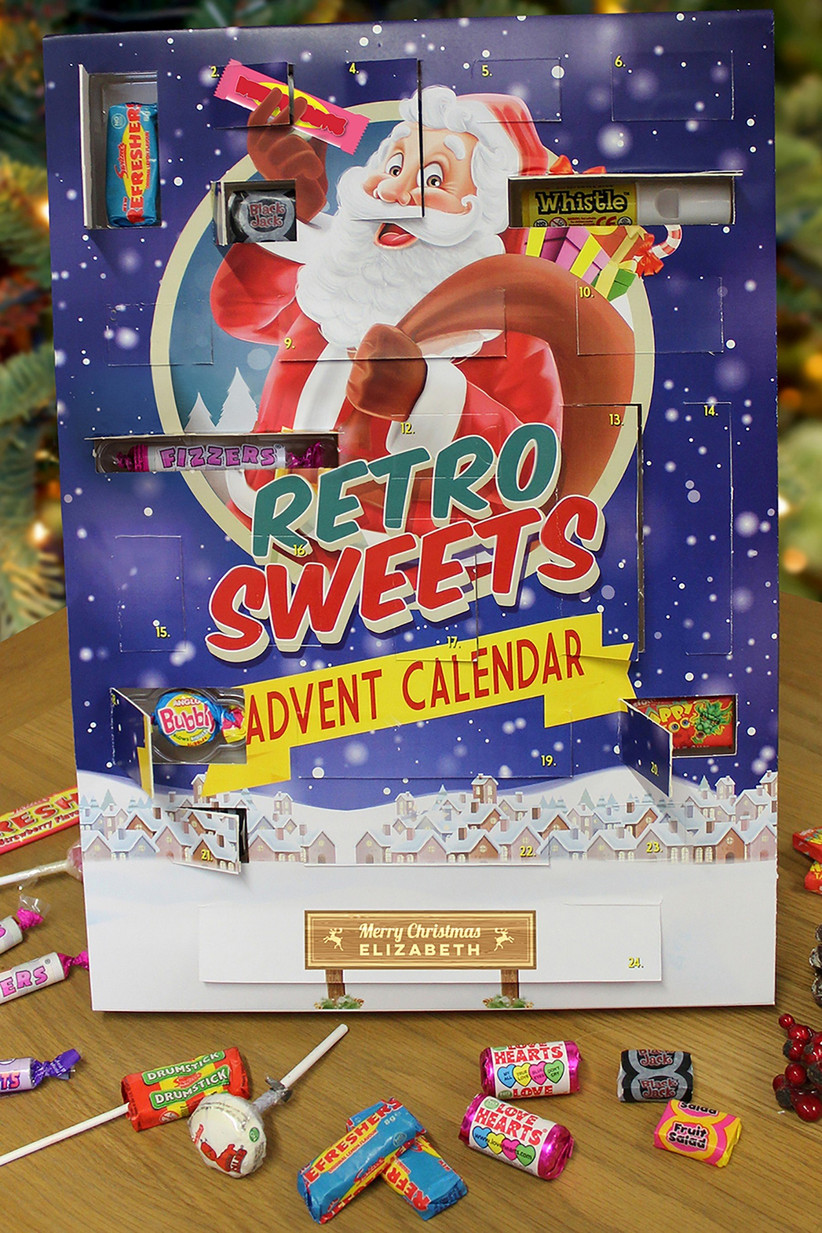 All the best bits of the tuck shop in one calendar! For everyone whose mouth is watering at the thought of some of these favourite chews and fizzers, get this nostalgic treat which can be personalised with your loved one's name on day 24. We think any door without their name on is fair game...
18. Gin Filled Giant Advent Cracker - £144.95, Not On The High Street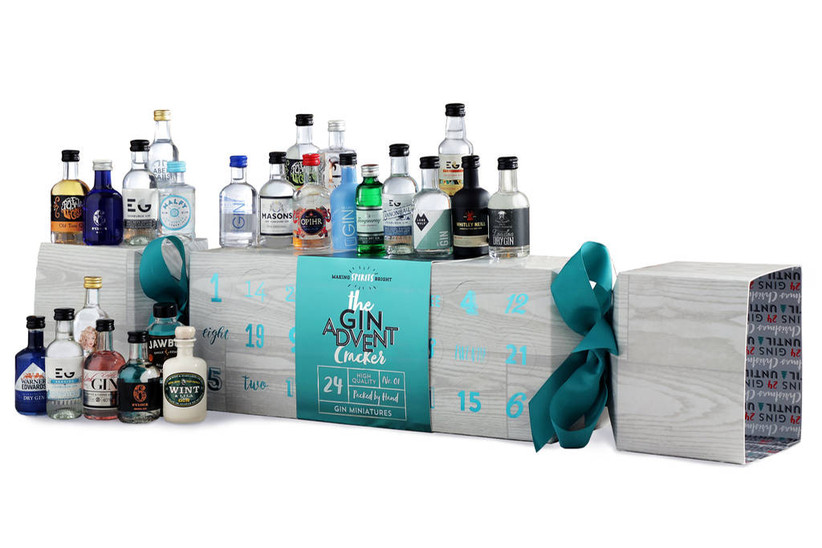 Yes, that's right, a delicious new gin for every single day of December (until the 24th)! With famous brands like Malfy, Edinburgh Gin and Opihr, you'll be on a taste voyage. Just add tonic and you've got the dreamiest countdown to Christmas. Now to convince them to share...
19. Harry Potter 24 Day Cube Advent Calendar - £59.99, I Want One Of Those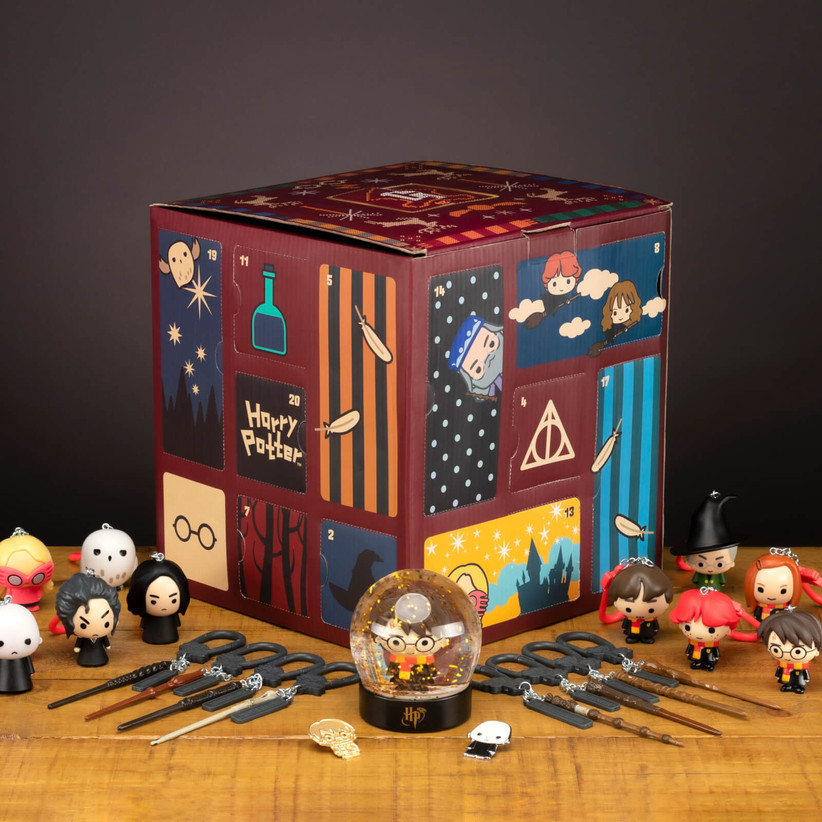 Potterheads will be grinning from ear to ear with this magical calendar. This hefty cube has a different Harry Potter treat behind every door, like pin badges, a snow globe, character and wand toys, and backpack buddies.
20. 24 Days of Hot Sauce - £20.48, Amazon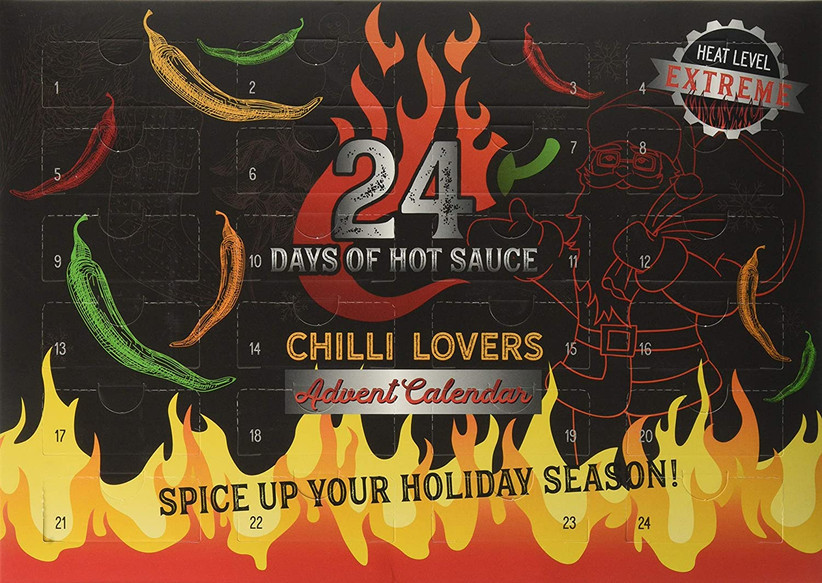 Try a new hot sauce every day with this chilli lovers' calendar. This comes with 24 pouches of varying burn with names like Hawaiian Lava Flow, Egyptian Fire Scarab and even Thunder Downunder... This is for men who loves extreme spice - you've been warned!
21. Haynes Retro Radio Advent Calendar - £20, Menkind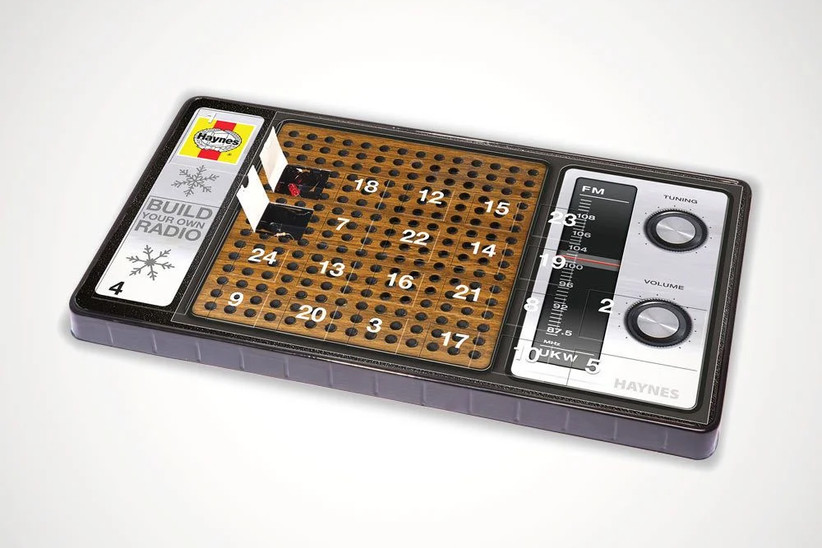 Want a calendar with a twist? This build-your-own retro radio comes in 24 parts so if you lose him on Christmas Day, check he hasn't snuck off to the garage to listen to his homemade radio. He'll love seeing the radio come together.
22. Japanese Whisky Advent Calendar - £199.95, Not On The High Street
It may be pricey but these delicious drams are worth every drop. Take a tour through Japan with 24 incredible 30ml whisky bottles - a new one for every day of Advent. You'll get 21 year old blended whisky, Distiller's Reserve single malt, boutique batches and more. It really is the greatest gift for any whisky lover.
23. Wera Tool Advent Calendar - £49.49, Amazon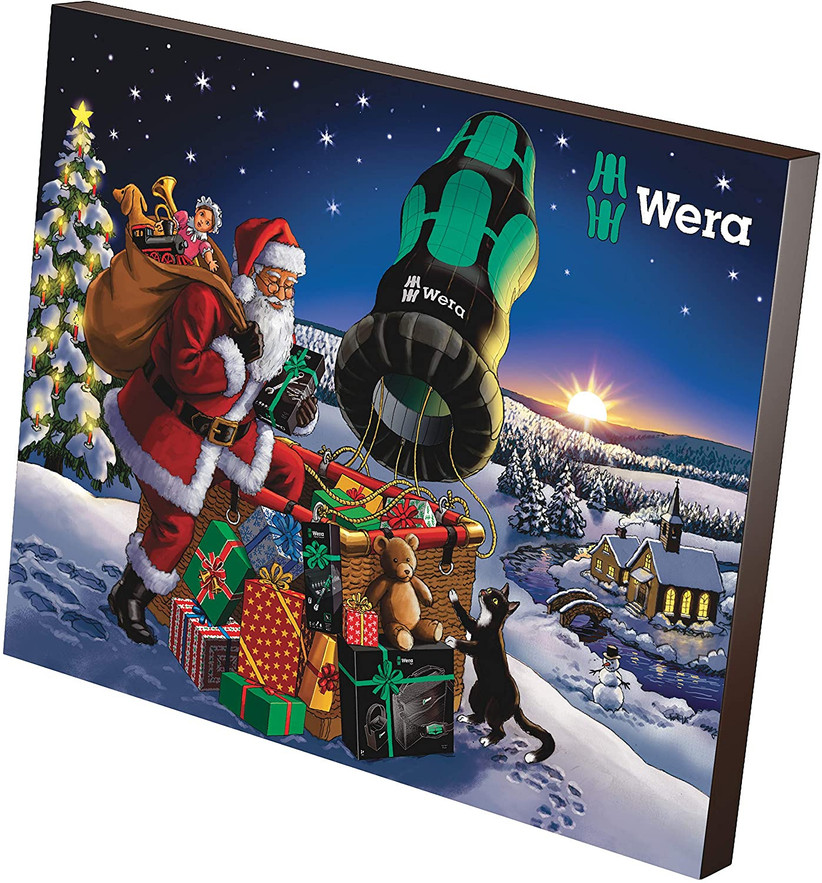 DIY-ers will be thrilled with this set of professional tools which features 17 different screwdriving applications. There's also a Zyklop mini 3 ratchet and stubby bit-holding handle, plus a new bottle opener in a stubby design. Nope, we don't know what it all means either, but it's the perfect practical gift for men who take pride in their tool box.
24. Man'Stuff Mega Festive Advent Calendar - £31.99, Amazon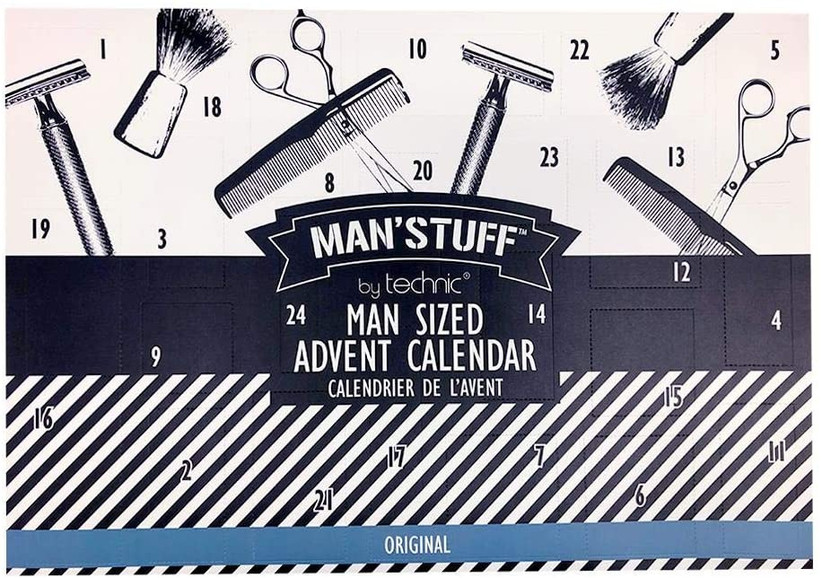 Is he new to grooming? This set has everything a man needs with 24 days of toiletries and tools, all with a delightful 'manly' scent. You'll get little travel sized bottles of things like face wash and shaving cream, plus combs, nail scissors, a pumice stone and more. It's a complete grooming starter kit or perfect for someone about to head off travelling.
READ MORE: 13 Things That Will Happen on Your First Christmas as a Married Couple
25. Date a Day Couple's Advent Calendar - £30, Not On The High Street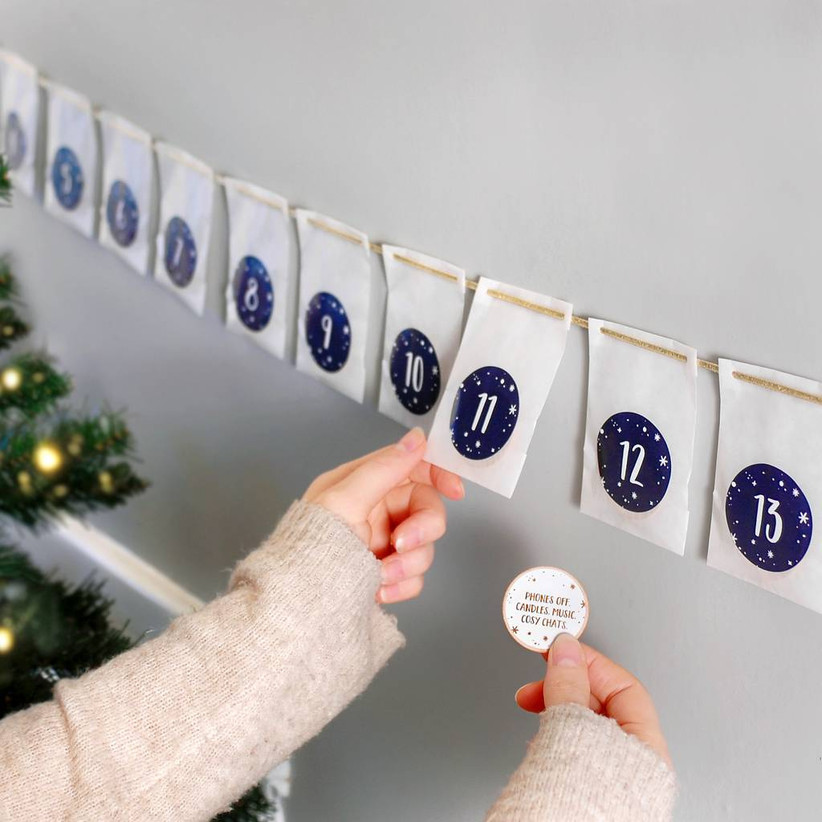 This one is a gift to both of you if you're loved up. You get 24 simple date night ideas in a lovely hanging envelope calendar that makes spending quality time together easier. Rather than watch another night of Netflix, you'll be prompted by some romantic date ideas that are easy to do in your own home and local area, like create a signature cocktail, have a fancy meal for two at home or to takeaway, and soak in a bubble bath for two.
26. Christmas Tree Advent Calendar - £8, Candy Kittens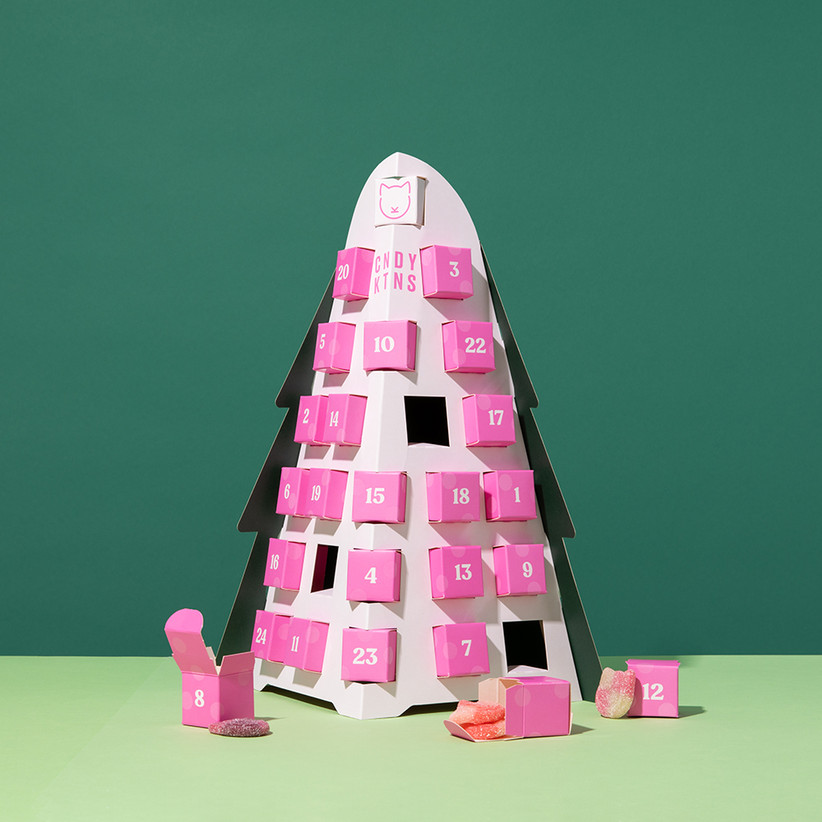 This cute flat-pack kit lets you build your own advent tree and fill it with delicious sweets. The four candy flavours are Wild Strawberry, Sour Watermelon, Tropical Mango and Blueberry Bliss, which are vegan and palm oil free. It's a lovely little gift to put together as well as a sweet treat everyday.
27. OFFBLAK Tea Advent Calendar - £19.99, Holland & Barrett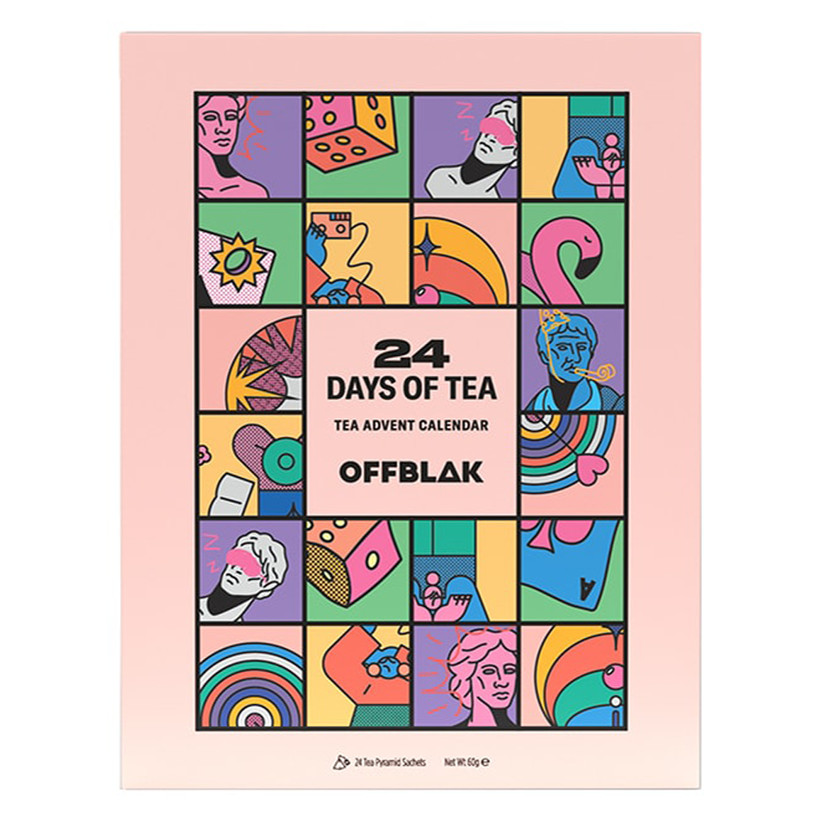 OFFBLAK is a fab new tea brand that does innovative flavours of black, green, herbal and fruit teas. You'll get 12 unique flavours in this calendar that every tea drinker will be excited to try. You can always go for a more traditional tea calendar from John Lewis or Whittard, but we love this unique one.
28. Clarins 12 Days of Christmas Advent Calendar for Men - £60, Harrods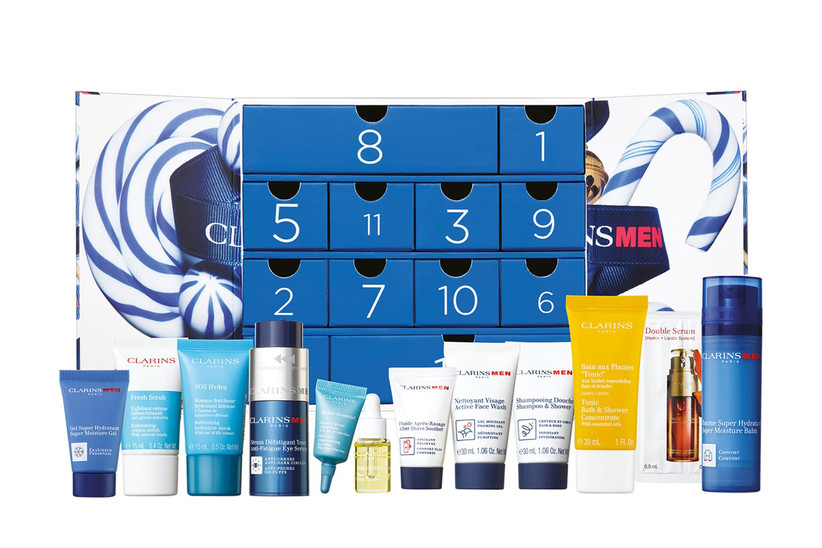 This Clarins set will make a great advent treat for any discerning gent. It's packed with 12 of Clarins' best products for men, including Anti-Fatigue Eye Cream, Fresh Face Scrub and Super Moisture Balm. There's over £119 worth of skincare goodies to give you a natural and hydrated complexion.
29. Organic Seed Advent Calendar - £37.45, Amazon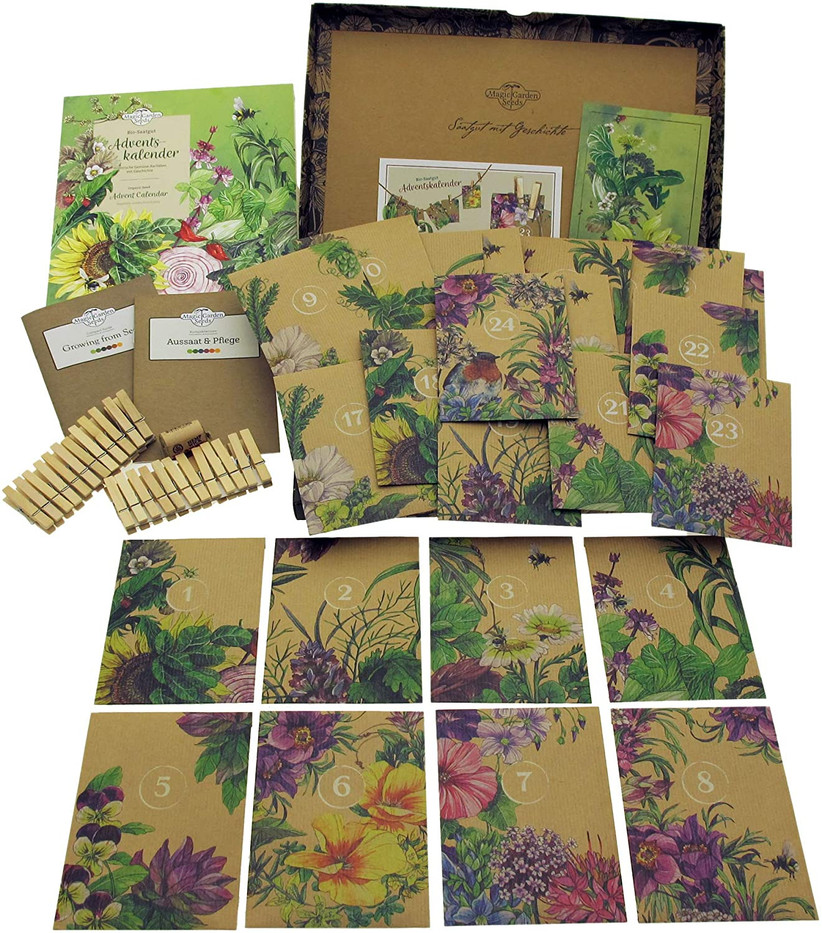 Got a green fingered man in your life? Gardeners will love these organic seed advent calendars. You can actually get a whole range, from wildflower seeds to medicinal plants, but we like this 'rare plants from history' calendar. It contains 24 seed sachets with selected organic seeds for special old vegetable varieties, herbs and flowers. It's all ecological, plastic-free, sustainable and regional, and the flowers are bred for a high success rate so you're guaranteed lots of yummy veg and beautiful flowers once they're sown.
30. Chocolate Truffle Advent Calendar - £30, Harrods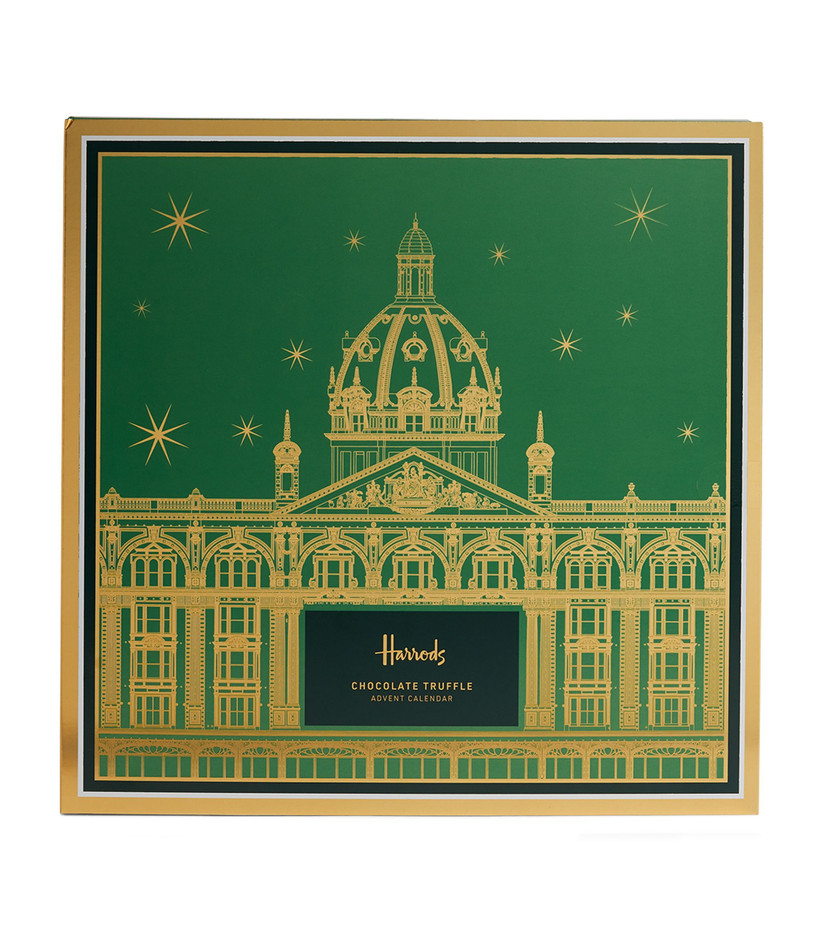 If you're going to go for a chocolate calendar, at least make sure it's an uber-luxe one. The Harrods' truffle calendar contains 24 naughty-but-nice Belgian truffles, hand finished by artisans in Kent, and filled with delectable flavours like hazelnut praline, salted caramel, Marc de Champagne and Christmas pudding. Let's see if it lasts all the way up to Christmas or someone eats them in one go!
Need a card to go with all of this? Find the best Christmas cards for your fiancé or fiancée here.