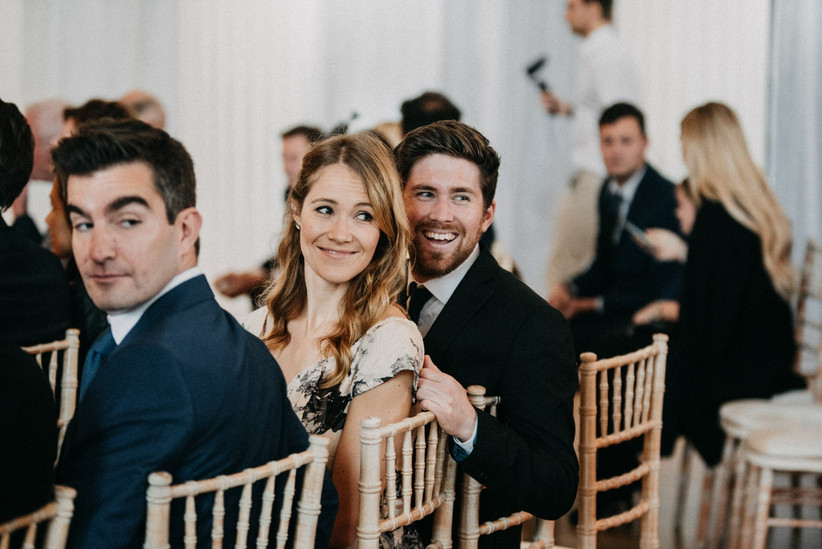 The guest list is already a huge headache for most couples, but there's one group of potential invitees who can turn your decision process into a nightmare – ex partners.
On a day that should be about celebrating you and your partner's love, is it awkward to have people you've previously dated there? Or is it fine, if you're now just good friends? What if one of you is happy with it, but the other isn't? Unsurprisingly, exes at weddings is a hugely sensitive issue.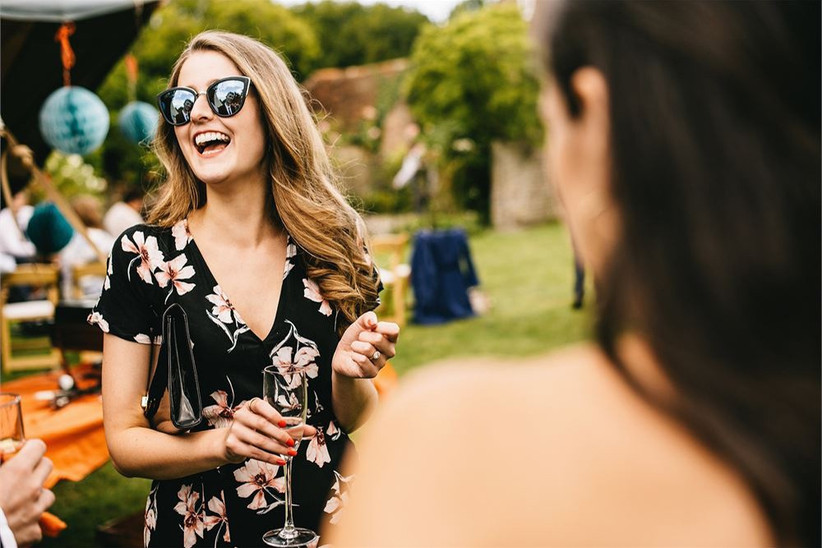 Image: Alex Tenters Photography
Even Prince Harry hasn't been able to escape the ex drama, as he's reportedly invited three ex-girlfriends to his wedding to Meghan Markle. In attendance will be singer Ellie Goulding and her new beau Caspar Jopling, actress Cressida Bonas and his former girlfriend of seven years Chelsy Davy.
So, should you invite your ex to your wedding? Are there are big dos and don'ts? We spoke to etiquette expert William Hanson to find out.
Should You Have an Ex at Your Wedding?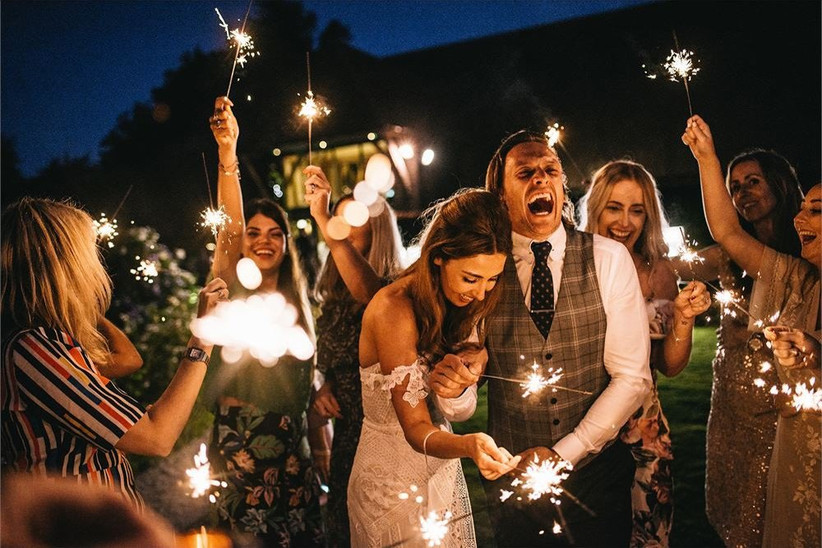 Image: Alex Tenters Photography
Almost every person will have a relationship history before they find the person they're going to marry. They may even have been married before.
In many cases, especially if it was a boyfriend at secondary school or someone you had a fling with, you'll have moved on and either they'll no longer be a part of your life or you'll be friends. When it comes to getting married, this means deciding if they'll be on the guest list.
Even the most secure couple can feel rattled by the idea that the person their partner has previously been in a relationship with, or even loved, will be at their wedding. It's a huge reminder of the past on a day that's supposed to be about your love and future together.
READ MORE: How To Seat Divorced Parents At Your Wedding
So, should it be a blanket rule that no ghosts of relationship past are invited to your wedding?
"I would say it's pretty much a hard and fast rule not to invite an ex to your wedding," says William. "It's just going to be awkward for them and you.
"Unless, that is, it was so long ago and you have moved well into the 'friend' zone and there are, hand on heart, no feelings towards them from your side then perhaps it is acceptable.
"But your wedding is not the chance to show off to previous partners as to what they missed out on."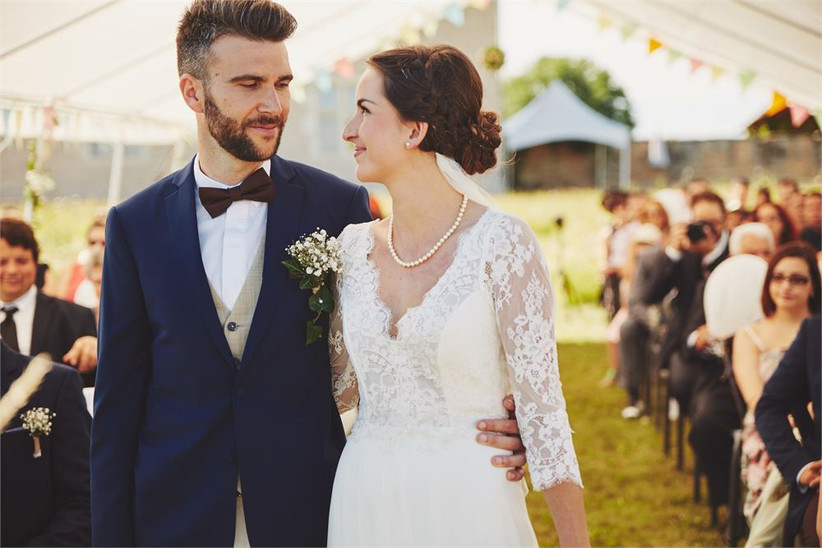 Image: Cooper Studios Photography
Should Meghan be worrying then about Harry's three exes getting an invite?
"I think His Royal Highness Prince Harry will have much more to worry about on his wedding day than his reported three ex-girlfriends!  I am sure he will treat them like all other guests with charm and good grace," says William.
READ MORE: 15 Questions Every Bride is Too Embarrassed to Ask – Answered
Clearly it's difficult to draw a definitive rule on this and it comes down to your feelings as a couple. We can safely assume Meghan is OK with Harry's exes coming, but that won't be the case for all couples.
How to Decide If You Should Invite an Ex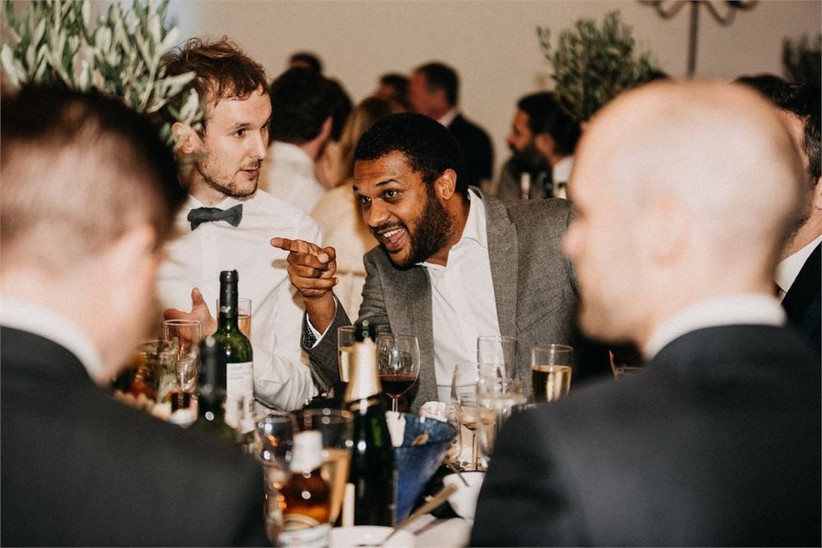 Image: Emily Black Photography
Here's some simple rules for how to make the decision if it's appropriate to invite an ex or not. If there's any doubt, it's best to err on the side of caution.
Invite them if:
Everyone is happy with the decision. Most important is your partner, but that means everyone including your parents and other guests. If your mum still holds out hope you'll end up with that university boyfriend who's now a millionaire entrepreneur, it'll be an uncomfortable service.
It ended long ago and there's absolutely no romantic feelings. If it was a childhood crush, one-off date or something that finished years ago which is drama-free and you're now good friends, then you might want them to come. Recently-ended relationships are too raw.
They're a part of both your lives. If that person is in your joint social circle, your partner knows them and accepts them, then go ahead! If you've never mentioned them in your three years together and suddenly want to invite them to your wedding, that's weird.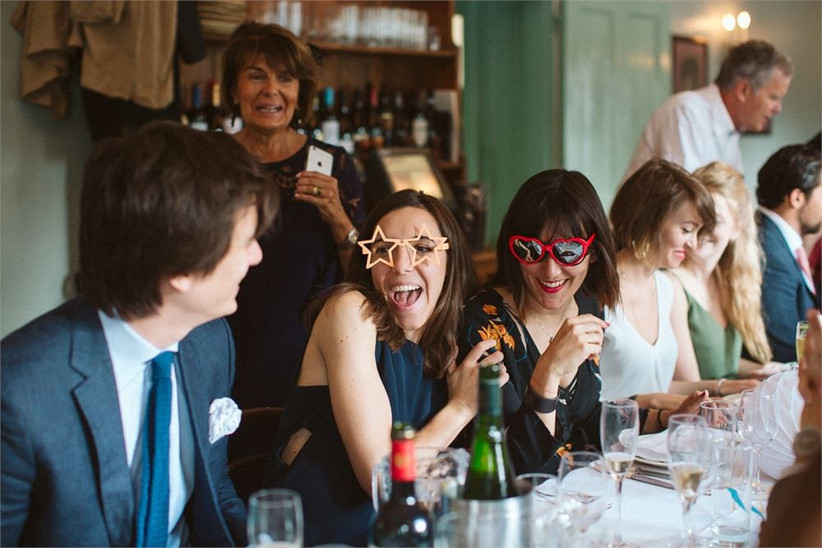 Image: Slawa Walczak Photography
Don't invite them if:
It'll distract from your day. If your annoying cousin is going to gossip about the fact your ex is there, or worse, make comparisons between your ex and new partner, then don't put them on the list. The day is about the future not the past.
You don't know how they'll act. Could a bit of alcohol stir up some old tears for them? Or worse, cause a fight in the middle of the reception? Best to avoid any unnecessary drama.
You don't like their new partner. If you've never met their new partner or aren't fond, then avoid the awkwardness and cut both of them.
You feel like you have to. So what if they're in the same social circle? Just because you have mututal friends doesn't mean they need an invite. Do this kindly though and explain the situation; don't make them feel left out.
You're doing it for closure. Getting your ex there to prove how over them you are isn't a mature response. A wedding is a fresh start – don't drag an ex back into it.
Is It Unreasonable to Get Upset if My Partner Wants to Invite Their Ex?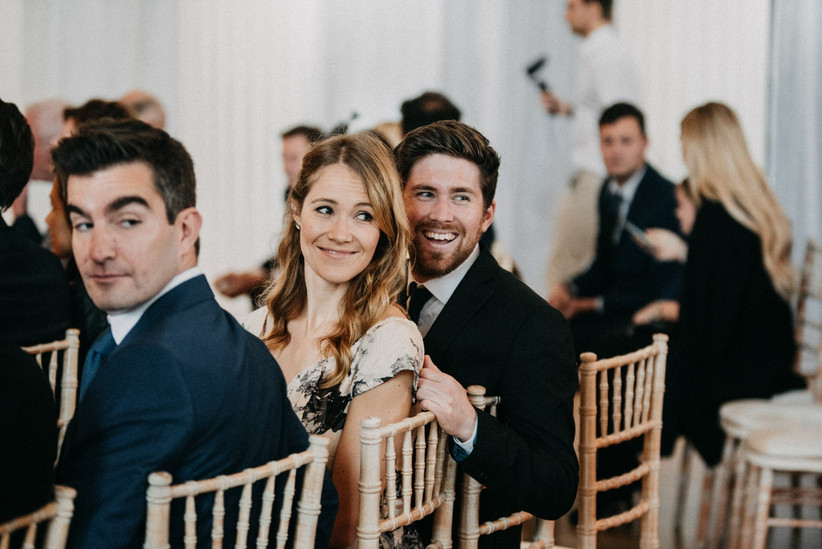 Image: Emily Black Photography
"For your fiancé/e to get upset is totally understandable," says William. "What is your motivation for inviting them?  Focus on your current partner rather than your previous ones."
Let's make one thing clear: this shouldn't be about jealousy. If you don't want your partner's ex to come because you're worried they might still love them, then there's some serious problems at play. If it's because you want to walk down the aisle without any distractions, then it's your day and that's fair.
READ MORE: What Is a Prenup and Do I Need One?
Be totally honest with your partner about the reasons why you don't want their ex there and try not to turn it into an argument. This situation will take one of you compromising but if it's genuinely upsetting you, then your partner should understand your reluctance and take their ex off the list.
If the tables are turned and you're trying to convince your partner why you want your ex there, then gives your reasons and reassure them that they're the one you want to marry. If you can't convince them, consider if your ex is worth this argument. The happiness of your current partner should be paramount.
What If I Have Kids With My Ex?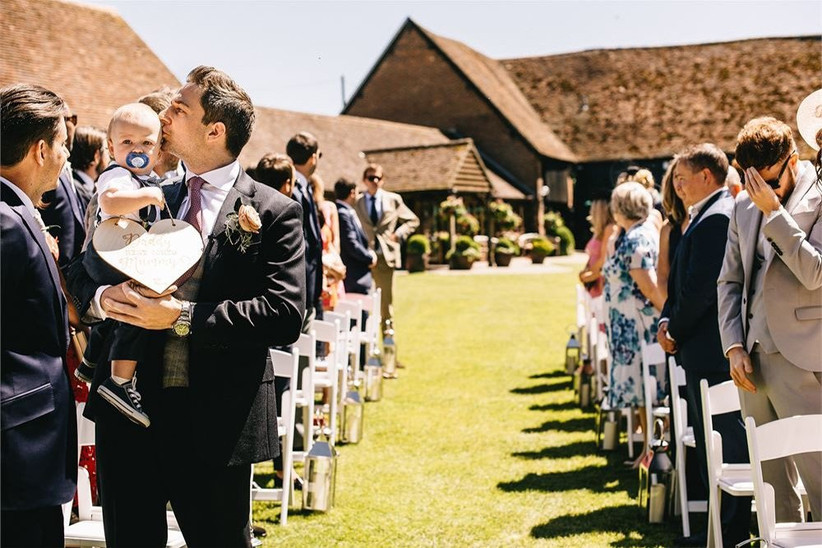 Image: Alex Tenters Photography
Some ex-partners are the mother or father of your children and those children will be at your wedding. If you're on good terms with them and everyone feels comfortable with your former wife or husband being there, then a show of friendliness is OK and may help the children feel more settled. It's a big change to get a step-parent and if they see that both their parents are happy about the new marriage, it can help the transition.
READ MORE: Top 10 Wedding Worries for UK Brides
However, if your ex-partner may cause any drama or upset – there's always a friend who after a few drinks might make a thinly-veiled dig about how it ended – it's not worth ruining the happiness of your big day.
Should I Invite My Ex Partner's New Partner?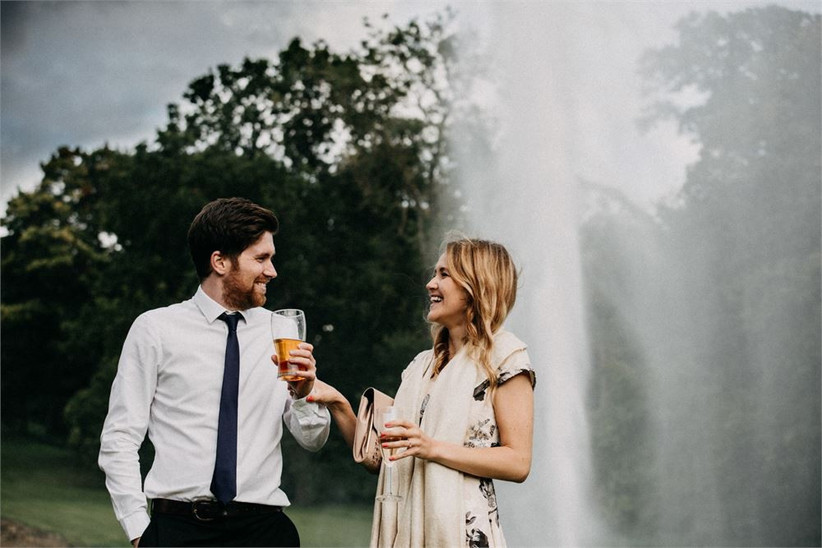 Image: Emily Black Photography
If you've made the decision to invite your ex, then etiquette says you should invite their new partner too. It's awkward enough being a singleton at a wedding, even more so if you've had a romantic history with the bride and groom.
Williams says, "Your ex's partner should be invited if you have socialised with them.  You needn't be as chummy with them as your ex but an invitation should be extended to them."
READ MORE: The Wedding Dates To Avoid In 2018, 2019 and 2020
On the other hand, if you don't get on with their new partner, it's best not to invite either party. Don't allow the rumour-mill to start with gossip as to why you didn't want their new partner there. (Then you don't have to pay for a meal for a person you don't like either!)
What If Our Past Relationship Comes Up?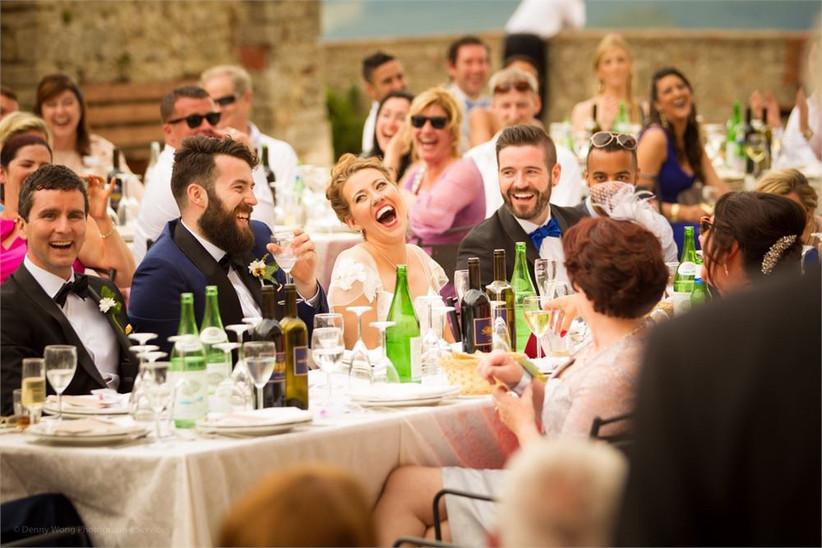 Image: Denny Wong Photographic Services
God forbid the best man mention it in his speech, but it happens.
"Gracious, plastered on smiles is the best approach," William recommends. "Don't look mortified – even though you may be dying inside."
If you've any fears that the best man will turn your previous liaisions into prime speech material, nip it in the bud early.  "Words with the best man in advance can help ease this problem – but you should chose a best man who has your best interests at heart rather than looking to get a kick off delivering a roast," says William.
READ MORE: Etiquette And Advice For Parents Paying For Your Wedding
If you're worried about a friend or family member bringing it up on the day, speak to them in advance too. Warn them that the ex will be there, you're happy with the situation and you'd like them to try their best to get on for the enjoyment of everyone.
Unfortunately you can't control what happens on the day. Should it get brought up, try to laugh it off and move the conversation back onto your new husband or wife and your exciting future together.
If your ex is marrying at the same venue, then check out our advice on making your wedding day stand out, or if you're looking for ways to cut down on your guest list without losing your friendships, then we asked an etiquette expert for the best ways.